The Good, Bad and Ugly: WWE SmackDown (01/29/2019)
Did Smackdown deliver a Good, Bad, or Ugly show to kick off the blue brand's Road to WrestleMania?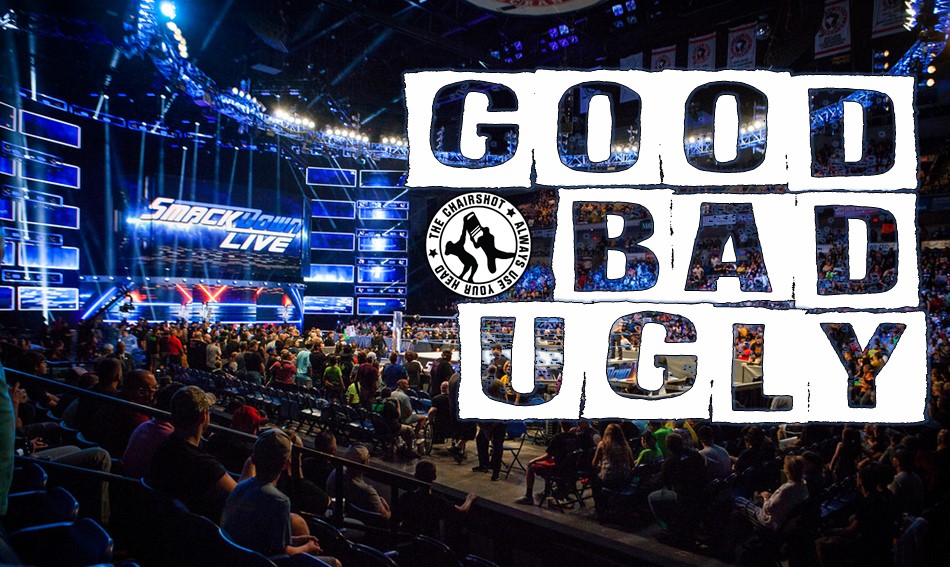 Smackdown ends an enormous string of events for WWE in Phoenix. But was the finale Good, Bad, or Ugly? Bobby lets you know!
Raw was successful in keeping the action going and the story strong.  A lot of Good as of late, SmackDown is up to bat.  SmackDown notoriously is a strong, amazing show, and now with the Road to Wrestlemania fully under way, the pressure is at it's highest.  Can the ever popular SmackDown brand thrive under pressure?  Or will it lose steam and leave us all feeling flat?
THE GOOD
Opening Segment with "The Man" Becky Lynch
Becky continued her impressive streak of being awesome!  She has the crowd, she has the whole fan base, and now has The Raw Women's Champion "Rowdy" Ronda Rousey in her sights.  Becky Lynch is now Clint Eastwood in a Western "Good."  Not to ever be outdone, The "Queen" arrived.  Charlotte is still in the picture.  Charlotte always seems to get in Becky's head every time.  This is excellent all around.  Becky struck first this time, then tried to just dismissively walk away.  Charlotte got her back and the two were able to be separated.  Solid opening.    
United States Championship Match – Shinsuke Nakamura (C) vs. R-Truth w/ Carmella
I like this a lot.  R-Truth may be comic relief but he has been doing this consistently for a very long time.  Nakamura can go at it with a lot less.  Good use of talent and keeping it fresh.  Obviously this was very physical, we a big guy and a striker.  R-Truth is a very interesting wrestler as a whole, completely own style.  Nakamura appeared to be completely limp and knocked out but kicked out of multiple pin attempts and even took control.  Seriously shocking, R-Truth his a tight roll into a small package type pin and the ref counted 3.  R-Truth has won the United States Championship! Wow! R-Truth out of no-where!  Out comes another person robbed of their spot in the Rumble, Lana.  She came with Rusev.  Rusev then completely insulted R-Truth and challenged him for his brand new United States Championship. 
United States Championship Match – R-Truth (C) w/ Carmella vs. Rusev w/ Lana
After some push and shove Rusev got his match.  This whole thing is shocking.  R-Truth out of the blue getting the US Strap and Rusev coming right out for it.  Rusev being fresh after R-Truth just had a hell of a match with Nakamura, took full advantage and control.  Just when Rusev looked to have him, again R-Truth gets a big time roll up for the second big win of the night.   Rusev and Nakamura then laid the boots to R-Truth completely breaking down the new US Champ. 
Rey Mysterio vs. Samoa Joe (plus Andrade w/ Zelina Vega)
Zelina Vega was a pleasant but unfortunate distraction for Rey Mysterio.  Andrade attacked Mysterio and although Rey tried to fight back he just wasn't good enough.  Andrade took him out.  Decent little segment. 
The Miz & Shane McMahon Championship Celebration
Shane put together the night's festivities.  A highlight reel of course was in order.  No matter how crazy this all is, Shane and The Miz are the SmackDown Tag Team Championships.  Aside from that, the video was long and almost like a recap than a celebration.  It seems the audience is fully behind the New Champs.  Shane gave The Miz something he will always cherish, his Father.  Miz's Dad, Mr. Miz Miz hit the ring in celebration to a warm crowd.  Miz achieved his Father's praise.  A huge moment for the guy.  Another point of business is the 4 Way Elimination for a shot at their belts.  Great set-up again, very unpredictable.
The Usos vs. The Bar vs. The New Day (Big E and Kofi Kingston) vs. Heavy Machinery (Otis and Tucker)
Heavy Machinery lead by Otis tossed around the competition.  Otis beat up Kofi before getting the better of Big E.  The looked like they were all having fun in there.  It was all over the place, each team getting their time in.  The New Day is the first to go, getting taken out by Heavy Machinery.  That is huge for this team.  The Bar took out Jimmy Uso destroying him on the outside.  The Bar is a huge intimidating team but when Otis was let loose he just took out everyone, caterpillar and all.  The Bar lead by a huge "Brogue Kick" took out Heavy Machinery, then shortly after the Uso's locked it up and won their way to a Tag Team Championship Match at Elimination Chamber. 
Daniel Bryan Segment (Change the WWE Climate)
Don't be "Fickle" the Champ has something to say.  Daniel Bryan and Rowan hate everything on Earth now, not the Earth itself but everything else. Daniel Bryan literally threw the Heavyweight Championship in the trash and whipped out a wooden all natural, completely unique new belt.  AJ Styles came out appalled by Daniel Bryan's actions and had enough.  Randy Orton also got involved, the Jeff Hardy, Mustafa Ali, and Samoa Joe.  This was just insane.  Not a great way to end the show, it was just a promo.  However the audience was captivated and everyone had heat.  Everyone killed each other while Daniel Bryan berated the whole group from the outside on the mic with Rowan.  HHH then announced he will be facing all of them in a huge Elimination Chamber Match.  The payoff was worth it that is fantastic!   
THE BAD
THE UGLY
FINAL
OVERALL
Another Good SmackDown.  It is incredible the difference in the amount of matches and total content Raw and SmackDown have.  It really isn't because of the extra hour either.  SmackDown seems to take their time and give a lot of quality over quantity.   This was another successful showing and great way to continue the story. 
Raw was Good, SmackDown was Good, will NXT be Good?  Well it usually is for sure.  After another amazing Takeover and NXT being solid Gold, this week should be more of the same.  Let the Good times roll.