The Streak Part 4: Darkness Falls – 1998-99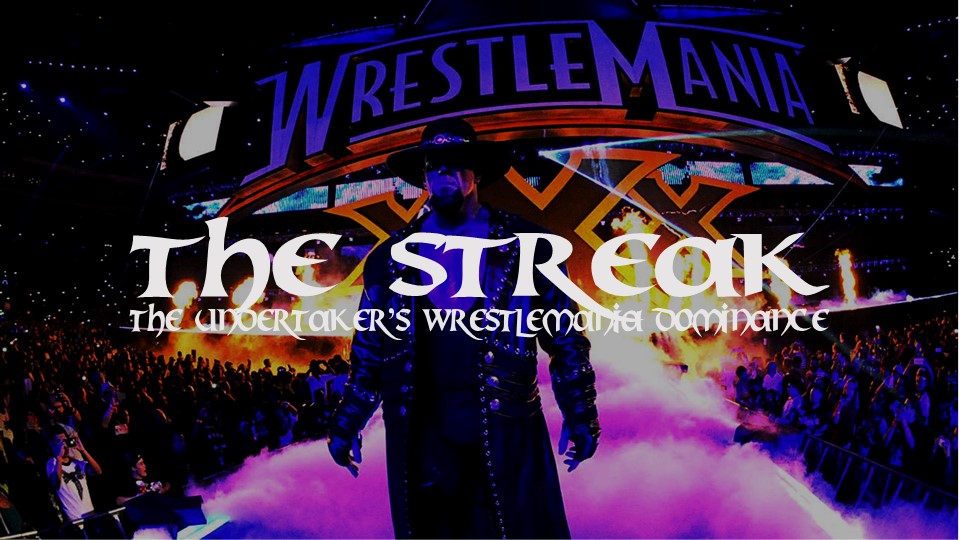 Tiffany MC brings you the next two matches as part of The Streak, as The Undertaker battles Kane and the Big Boss Man at WrestleMania!
The years of 1998-99 were turbulent times for WWF and the Undertaker. The Monday Night Wars, started by the advent of WCW Monday Nitro were heating up and the question of which company would prevail was on everyone's mind. In order to compete, WWE began featuring edgier, sexier, more reality based storylines.
For the Undertaker, this meant the introduction of his long-lost brother, Kane, setting off a storyline and partnership that has lasted 20 years and had more twists and turns than a daytime drama. Also in these years, Taker would reunite with Paul Bearer and unleash his disturbing Ministry of Darkness on the WWF, igniting a feud with Vince McMahon, which would culminate in one of the most shocking reveals in wrestling history.
WrestleMania XIV: Cain vs Abel Part 1: Of all the matches Taker had in this period, this WrestleMania match with Kane is not only one of the best in terms of quality, but had a very compelling storyline. The story has become a little convoluted over the years and there have been a lot of twists and turns, but the story in 1998 was this: Undertaker and Kane were brothers, there was a fire at the funeral home their parents owned, their parents were killed and Undertaker thought Kane had been killed as well, but Kane had only been horribly burned. Paul Bearer nursed Kane back to health and raised him while encouraging his hatred of his older brother.
When it was  revealed to Taker that Kane was not only alive, but looking for revenge, he actually refused to fight his brother due to a promise he'd once made to their parents. It wasn't until Kane and Paul Bearer cost Taker the WWF Championship at Royal Rumble 1998 and set the casket containing Taker on FIRE, did Taker finally fight back and vowed to unleash unholy vengeance on his brother and his former manager.
Before this match gets started, we're introduced to Pete Rose, who was going to be guest ring announcer for this. Ol' Charley Hustle was never afraid to shoot his mouth off and proceeded to insult the Boston fans and the Boston Red Sox, who at that time hadn't won a World Series in 80 years. Before the riot could get going, Kane came out and attacked Rose and Tombstoning him, much to the delight of the crowd.
Taker's entrance was simply AMAZING! It was such a cool entrance that a clip of it was used in WrestleMania promo videos for a few years. It started with a Gregorian chant while the druids, with lit torches, came out and since there was a long entrance ramp at WrestleMania XIV, there were a lot of druids when the chanting reached its crescendo, the lights went out and the gong started. Taker came down the ramp in a coat that made him look like Dracula, but it looked SUPER cool with all the lit torches.
Taker's matches are never pretty or extremely technical, and this match was no exception. It started with punches and shoves and stayed there. Kane dominated much of the match and caught Taker during a crossbody attempt. Kane had the Tree of Woe in mind but the 6'10" Undertaker was way to tall for that.
Kane did a really great job of hanging with Taker on a big stage, but he was definitely a little rough around the edges. It wasn't quite 'Do I Owe You Money?' territory, but it was close.
Throughout the match, Paul Bearer made his presence known, chastising Undertaker throughout the match in that annoying voice of his and getting in some cheap shots whenever the ref wasn't looking. Have to say that Bearer was clearly whiffing a lot of his punches, but Taker sold his butt off anyway.
The match went out to the floor, but Jack Doan was very reluctant to do a count or do anything other than get out of the way. Even using the steps Kane had thrown to get back in the ring.
One of the craziest parts of the match was Taker going for the running dive and being…directed into the Spanish announce table, which was being manned by WWF Legend Tito Santana, who kept doing commentary on the floor while his colleagues tried to get up.
Taker's self-preservation would finally kick in, but it would take THREE Tombstone piledrivers to put Kane away, and Kane still nearly kicked out at the last possible second.
Enraged at his son's defeat, Paul Bearer grabbed a chair and attacked the Undertaker just for the hell of it. Kane joined in the attack and Taker was left in a heap in the ring, which made the win over his demented brother less than the sterling victory he'd wanted. However, Taker sat up and was able to leave the ringside area under his own steam.
Highlight: Pete Rose being a damn good sport and taking that tombstone like a champ. Taker's entrance. Tito Santana continuing to do commentary in the wreckage of the Spanish Announce Table.
Rating: 7/10 This was a fantastic match and my favorite of Taker's WrestleMania matches in the 1990s.
WrestleMania XV – Boss Man Goes to Hell: This match came about through one of the most disturbing storylines of the Attitude Era. The Undertaker had reunited with Paul Bearer and became the Lord of Darkness. Then he began recruiting superstars to form The Ministry of Darkness, which would be the launching pad for teams like Edge and Christian and the APA. Taker began demanding that Vince give him a title shot and began targeting Vince's family, specifically Vince's daughter, Stephanie McMahon. In an attempt to end the threat, Vince sanctioned the first ever WrestleMania Hell in a Cell Match and sent the Corporation's Chief of Security, the Big Boss Man to end the threat of the Undertaker.
Boss Man comes out and still didn't get in a great reaction, despite being the nominal babyface in this match. Undertaker, despite being a very scary heel, got a pretty good pop when the gong hit, though the pop died a little during the 'Accept the Lord of Darkness' stuff. Undertaker came out looking like a 90s horror film maker's idea of Satan.
I'm going to be honest, I really hated this match. I wasn't a fan of Taker's Satanic stuff  and that killed my enjoyment of this match. Boss Man, though being a good half a head shorter than Taker was still large enough to really be able to take it to Taker, including cuffing Taker to the cell and beating him with the nightstick. One funny thing was Taker going for Old School and then realizing that he was too tall to be able to pull that move in the cell, which was much shorter then, and then getting nut shot by Boss Man.
That said, this was a pretty good Hell in a Cell match and it was as brutal as you'd expect it to be in the days when bloody matches were a staple of WWE shows.
It wasn't until after the match was over that the thing I hated most about this match happened. The Brood (Edge, Christian, and Gangrel) descended from the rafters and helped Taker 'hang' Boss Man from a noose from the roof of the cell. Even knowing that Boss Man had a harness on and wasn't in any real danger, the sight of that…lynching was so disturbing that I can hardly stand to watch it. If I had to consider who would think that was 'edgy' and not 'disturbing', I'd say this spot came from the brain of Vince Russo.
Highlight: It ended.
Rating: 4/10 The match was fine, but I HATED what happened afterwards.