Top 5 Matches: Week Ending 1/6/2019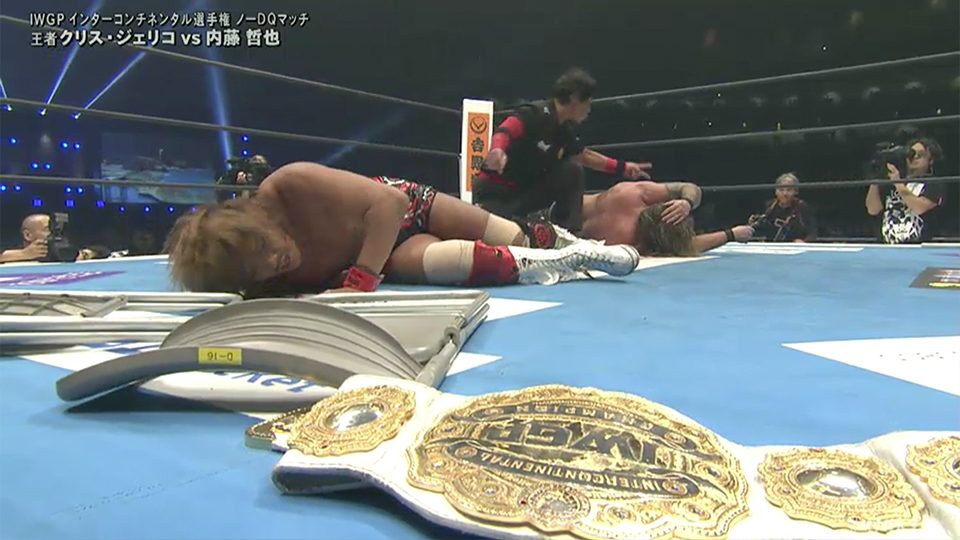 Continuing how we did it last year. Top 5 Matches will feed Match of the Year monthly pools. Let's see what made it to kick off the new year!
So our first full year of doing voting like this happened, and I'm fairly happy with the result. Our pool was a little different, and I'm pretty sure our Match of the Year was unique for 2018.
If it ain't broke, don't fix it. However with there being so many early year events, in the interest of fairness, I included a few more ties in the Top 5 than will be normal moving forward. So between the 7 matches in the Top 5 and the Honorable Mentions, this could be a solid sign of a healthy year to come for wrestling.
Let's get to the match list!
5.  Impact Wrestling Homecoming Impact Tag Team Title: LAX (c) vs Lucha Bros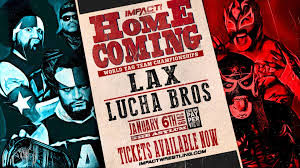 Well now, LAX and Lucha Bros start off at a blistering pace and never really slow down. Some of the transitions were faster than the other partner were ready for though. Most notably when Pentagon and Fenix hit their Double Footstomp/Fear Factor tandem and Ortiz doesn't quite push Fenix into the pin to break it up, so Santana has to kick out. But the match was fast, a lot of crisp moves, but very much a spot fest. Also the awkward use of tags and the fact that camera caught Pentagon just kinda standing on the outside watching the finish instead of even trying to get in the ring. So yeah…very fun, the crowd loved it, but plenty of noticeable issues
Winner: LAX via Tandem Inverted Suplex
Rating: **** 1/4
4 (tie). AJPW New Year Wars Heavyweight Tag Team Championship: Joe Doering & Dylan James vs Suwama & Shuji Ishikawa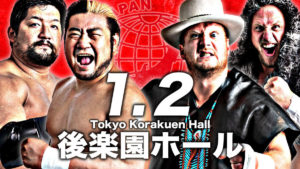 The only match that doesn't have a coverage link ( YET! Mathew should be working on that soon). But this is also the only match that felt like there was a real challenge for the champions. New Year Wars are fun shows to get the year going with most of the titles up for grabs, but the challengers were really fairly weak to begin the year. All Japan has a tendency to hit weird lulls the last few years.
But regardless of the commentary on their booking, this match was exactly what you would expect from these four. Doering and James are known as The Bombers, and Suwama and Ishikawa are Violent Giants. So lots of power moves, haymakers and just heavy hitting moments made for a fun match. After both teams got reasonable near falls, James is left in the ring with Ishikawa, and he starts lighting him up with knee strikes, before finishing the match with the seldom used, but always effective Giant's Slam.
After retaining Okabayashi and Daisuke Sekimoto come out to challenge. This promises to be another hard hitting, top contender match up.
Winner: Ishikawa via Giant's Slam
Rating: **** 1/2
4 (tie). NJPW Wrestle Kingdom 13 IWGP Junior Heavyweight: Kushida (c) vs Taiji Ishimori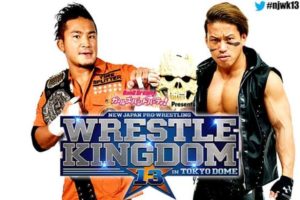 From My Wrestle Kingdom Notes:
Goofy entrance by Kushida with a kid coming out dressed as him and Taguchi playing Doc Brown to make him to correct size. And the match was tremendous. A little bit of everything, Ishimori showcases his prowess as he unseats the Ace of the Junior Division. This is the first must watch of the night. Damn good match.
Winner: Ishimori via Bloody Cross
Rating: **** 1/2
4 (tie). NJPW Wrestle Kingdom 13: Kazuchika Okada vs Jay White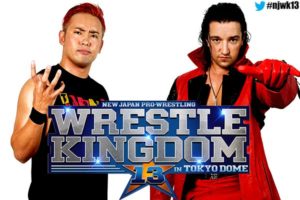 Okada has been living his best life since losing the heavyweight title
He seems to be having a lot more fun wrestling
New Japan has strapped the rocket to Jay White's back and he's delivered
He's delivered more than I thought he could and is heading towards being a legit main eventer
Jay White is the correct moniker…only thing more fitting is Jay Casper
Okada's so damn good in the ring
Wow. Don Callis quoting Lex Luger
He made up for it by calling Gedo a human wood tick. Classic
I do like that NJPW makes wins and loses count. There's something to that
Okada throws a pretty legit flying elbow
Excellent heel work by Jay White in this bout
The crowd is into it for really the first time this evening
That's a testament to both Okada being the man and Jay White's heel persona
Good match with Jay White picking up the win.
Honestly thought this one could have used a little more time
It appears New Japan is basically using the Tanahashi story for Okada
Winner: White via Blade Runner
Rating: **** 1/2
3. NOAH Navigation for the Future GHC Heavyweight Championship: Kaito Kiyomiya (c) vs Kenoh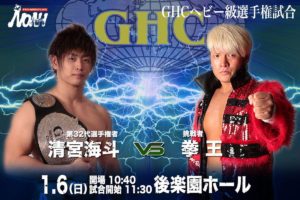 From My Navigation for the Future Notes:
Kenoh and Kiyomiya have had an interesting rivalry. It definitely comes off as brotherly where there's elements of jealousy and Kenoh thinking he has Kiyomiya's best interest in mind by taking the title off of him. This match definitely had the personal undercurrent where both men were trying to prove a point to one another. Kiyomiya pulled out a few more stops than usual and Kenoh seemed to be taken by surprise on multiple occasions.  Some could compare this to the old AJPW feud between Toshiaki Kawada and Mitsuharu Misawa. Which is fitting since Kenoh likes to kick and Kiyomiya is a walking homage to Misawa. The crowd was a little split at times, but no one sounded upset about Kaito's victory.  Kotoge and Kitamiya coming out to challenge at the end is interesting, but given Kaito's age either of them could be an intriguing match.
Winner: Kiyomiya via Tiger Suplex Hold
Rating: **** 1/2
Honorable Mentions:
AJPW New Year Wars Triple Crown Championship: Kento Miyahara (c) vs Kai
Rating: **** 1/4
WWE SmackDown #1 Contender 5 Way for WWE Championship: AJ Styles vs Rey Mysterio vs Samoa Joe vs Randy Orton vs Mustafa Ali
Rating: ****
Impact Wrestling Homecoming Impact World Championship: Brian Cage vs Johnny Impact (c)
Rating: ****
AJPW New Year Wars Junior Heavyweight Championship: Yusuke Okada vs Koji Iwamoto (c)
Rating: ****
NJPW Wrestle Kingdom 13 NEVER Openweight Championship: Kota Ibushi (c) vs Will Ospreay
Rating: ****
Impact Wrestling Homecoming Knockouts Championship: Tessa Blanchard (c) vs Taya Valkyrie
Rating: *** 3/4
NOAH Navigation for the Future GHC Heavyweight Tag Team Titles: Yuji Hino & Maybach Taniguchi (c) vs Go Shiozaki & Katsuhiko Nakajima
Rating: *** 3/4
NJPW Wrestle Kingdom 13 IWGP Heavyweight Titles Triple Threat: Guerrillas of Destiny (c) vs EVIL & SANADA vs The Young Bucks
Rating: *** 3/4
NJPW Wrestle Kingdom 13 Rev Pro Undisputed British Heavyweight Championship: Tomohiro Ishii (c) vs Zack Sabre Jr
Rating: *** 1/2
NOAH Navigation for the Future: HAYATA, Tadasuke & Daisuke Harada vs Kotaro Suzuki, YO-HEY & Yoshinari Ogawa
Rating: *** 1/2
Impact Wrestling Homecoming: Willie Mack vs Sami Callihan
Rating: *** 1/2
NJPW New Year's Dash NEVER 6 Man Title: Tama Tonga, Tanga Loa & Taiji Ishimori vs Ryusuke Taguchi, Toru Yano & Togi Makabe
Rating: *** 1/2
AJPW New Year Wars All Asia Tag Team Championship: Yuma Aoyagi & Naoya Nomura (c) vs Takao Omori & Black Menso-re
Rating: *** 1/4
NJPW Wrestle Kingdom 13 NEVER 6 Man #1 Contender Gauntlet
Rating: *** 1/4
NJPW Wrestle Kingdom 13 IWGP US Title: Juice Robinson vs Cody w/Brandi Rhodes (c)
Rating: *** 1/4
Impact Wrestling Homecoming Falls Count Anywhere: Eddie Edwards vs Moose
Rating: *** 1/4
NJPW New Year's Dash: YOSHI-HASHI, Kazuchika Okada & Hiroshi Tanahashi vs Jay White, Bad Luck Fale & Gedo
Rating: *** 1/4
WWE SmackDown: John Cena & Becky Lynch vs Andrade Almas & Zelina Vega
Rating: ***
NOAH Navigation for the Future: Hitoshi Kumano & Hajime Ohara vs Junta Miyawaki & Seiya Morohashi
Rating: ***
AJPW New Year Wars Gaora TV Title: Tajiri (c) vs Minoru Fujita
Rating: ***
2. NJPW Wrestle Kingdom 13 Intercontinental Championship No DQ Match: Tetsuya Naito vs Chris Jericho (c)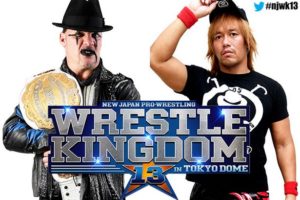 From My Wrestle Kingdom Notes:
Naito started off with more urgency and the match had much better chemistry than their first meeting, and that was still damn good. we saw numerous call backs, big false finishes and near falls. Naito even got to delve into his love of Baseball a little bit with a few kendo stick spots. But still, great match, told a great story and these two work well together. Now does this set up an entire night of title changes, or is this building a false expectation for the surprising Omega retain?
Winner: Naito via Destino
Rating: **** 3/4
1. NJPW Wrestle Kingdom 13 IWGP Championship: Kenny Omega (c) vs Hiroshi Tanahashi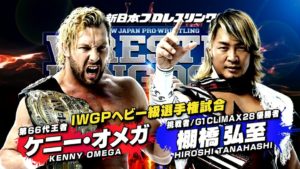 Now we have our main event with Omega defending his World Heavyweight Title vs Tanahashi
New Japan has done an excellent job of telling the Tanahshi road to redemption story
The outcome of this match will tell us quite a bit about the immediate future of pro wrestling
Apparently, Omega killed an eagle on his way to the ring
Wonder how the lack of his 'partner' at ringside will affect Kenny
There's a definite big fight feel that's coming through the tv
Is Kenny the best big match wrestler in the game?
I'd really like to see Omega wrestle Ricochet or AJ Styles
I'd like to see Tanhashi versus Cena or Pentagon Jr
Omega playing the good cocky heel
Callus having a good night on the stick
Tanahashi's chest looks like hamburger meat
Red Shoes!
Kenny tweaked his knee
Tanahashi tweaked Kenny's knee
That cloverleaf gotta hurt in real life
Styles Clash!
Damn! That sounds like it hurt
Which one goes through the table?
Welp. Asked and answered
Oh shit! I don't know how you fake some of this stuff
Here we go with the dick check….but they've earned it
They been wrestling for a minute now
I hate to agreed with Ballz and Meltzer but this is a damn good match
Hell of a reverse of the one winged angel
The crowd is bananas
Omega kicked out of 2 consecutive frog splashes
DRAGON SUPLEX OFF THE TOPPPPPP!
And the crowd goes wild!
Tanahashi picks up the win
Which pretty much means Kenny's going to All Elite
Overall the show started off strong, lagged in the middle, but pick up steam in the last 2 matches
Omega/Tanahashi did the damn thing. Match of the night, and set the bar high for the rest of the year
Winner: Tanahashi via High Fly Flow
Rating: ******
Thoughts:
Alright, so even though I opened up many more ties just to give respect to many of the great matches this week, come on…is there a question? I mean Omega/Tanahashi even got Chris Platt to agree with me. So now he may vote something else to spite me, but Omega vs Tanahashi captured the hearts and imaginations of most watching. Omega was trying to prove that his vision was better than Tanahashi's tradition, and Tanahashi was trying to cap off his redemption storyline.
For as over as Kenny is, Tanahashi is beloved in Japan. So even if the Omega fans are more vocal, don't think that Tanhashi somehow doesn't have support. Great pacing, great psychology, just a great week of wrestling.
If you didn't like our Match of the Year pool last year, then make sure you vote on Twitter, Facebook, where ever you see this article. Always Use Your Head!
News From Cook's Corner 9.27.21: Held Under Extreme Rules
New gimmicks, no gimmicks, bad gimmicks…show gimmicks. Cook breaks out the gimmick bag and funnily enough, it's all News worthy! Check it out!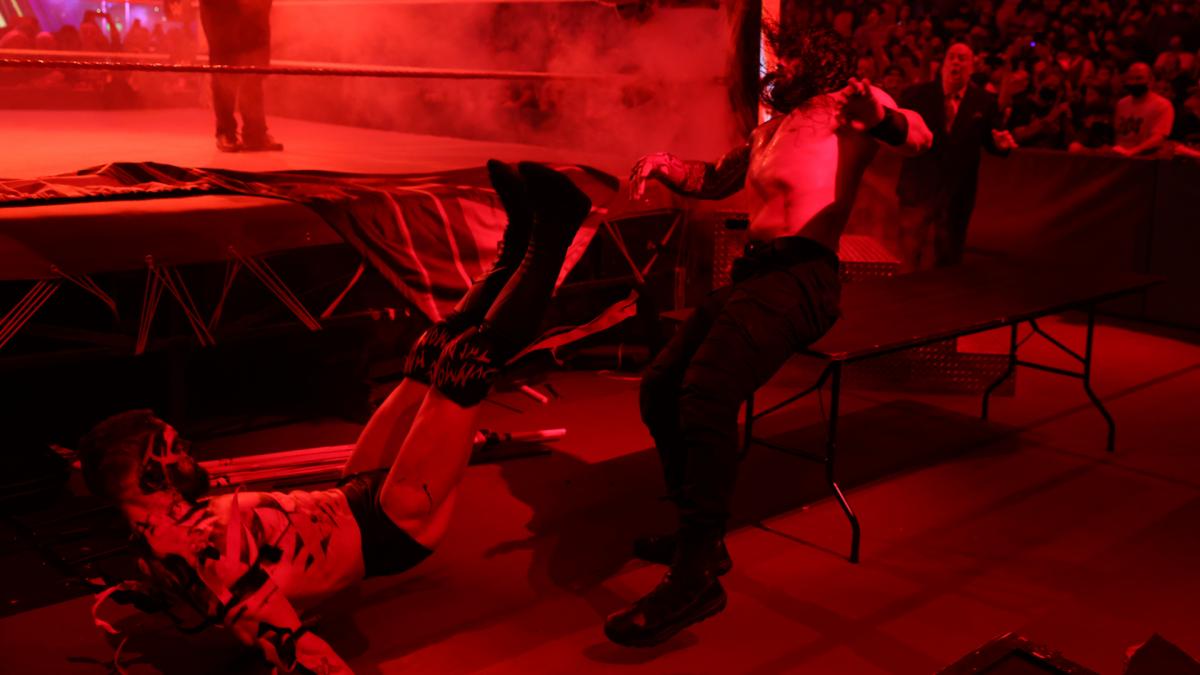 Hi, hello & welcome to News From Cook's Corner! I'm Steve Cook, and frankly I'm not sure what's going on around here. The Bengals beating the Steelers by double digits surely qualifies as one of those signs of the apocalypse. Though, I've seen so many signs of the apocalypse by now that it should have already happened.
(Wouldn't it be hilarious if it came sometime between my typing this and getting it posted? Nobody would be around to notice that I called it, but I could at least take some satisfaction in it.)
Quick Programming Note: There will be no News From Cook's Corner next Monday, as I'll be out of town for work this Friday, Saturday & Sunday. The Week 4 NFL Gambling Picks will drop on Thursday, then you probably won't read me on here until the Week 5 NFL Gambling Picks. Or if something tremendously important comes up. I never rule anything out, but I am looking forward to a few days away from staring at my computer and hoping words appear eventually.
Owen Hart's Legacy Honored By AEW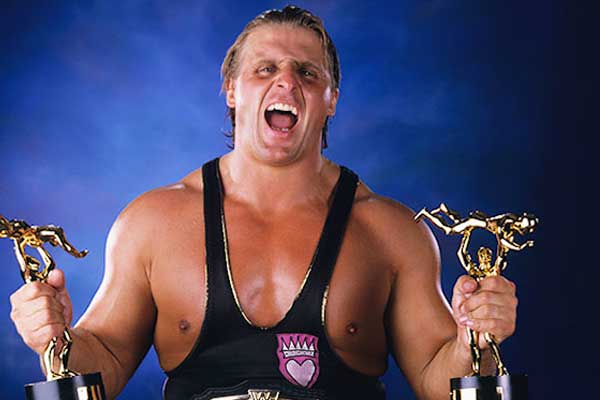 This news broke just after last week's News column was submitted, and I want to talk about it here because it's pretty great. AEW & the Owen Hart Foundation reached an agreement where AEW would honor Owen's legacy a number of different ways. One will be an annual tournament known as the Owen Hart Cup. Hart will also be featured in AEW's upcoming video game, along with action figures, apparel, posters & other items.
Last week we talked about some of the fallout of the Dark Side of the Ring episode about the Plane Ride From Hell & the negative effect its had on some folks. On the flip side of that, the episode on Owen Hart featuring his family has largely had a positive effect. Doing the show and seeing the feedback from Owen's fans helped Dr. Martha Hart realize that her late husband still had many fans that cared deeply for him. She also discovered there was a way for those fans to honor Owen that wouldn't allow World Wrestling Entertainment, the company that set up the events leading to Owen's passing, to make money off of his name.
I would comment on some of the negative opinion circulating online about this, but it's not like anybody with an ounce of credibility expressed such things. I know it's 2021 and the in vogue thing is to pick a side and spend all day telling you how the other side is wrong, but I'd still like to think there are some things we should be able to agree on. Honoring Owen Hart is one of those things, as should be honoring the wishes of his family. We hope AEW proves as up to the task as they appear to be.
Rampage No Longer Moving
It's official that AEW Dynamite will be moving to TBS on January 5. TNT released their NHL schedule last week, which revealed that double headers will take place the first two weeks of the season, then 10 PM games will air from October 27 until December 29 with Dynamite as the presumptive lead-in. None of those games feature the Nashville Predators, because TNT doesn't want to make things easy for me.
AEW Rampage was originally scheduled to move to TBS at the same time, but will be staying at its current slot on TNT. Rampage's ratings in a time slot where people allegedly go out and do things have been impressive, and there won't be NHL or NBA games on the station except during the playoffs. Tony Khan is happy with the idea of having shows on both channels, and it's won't be like WWE's Fox/USA relationship where people get mad because Roman Reigns isn't on their show or because they don't want to promote a streaming service they don't own. TBS/TNT heat is mostly limited to arguments over who has to clean the office microwave.
TBS Championship?
Speaking of TBS, Andrew Zarian reported that AEW will be establishing a secondary championship for their women's roster, & will call it the TBS Championship. See, I'd been wondering if they would change the TNT Championship's name when Dynamite moved to TBS, but with Rampage staying there we won't have to worry about that confusion.
One definitely wonders if AEW's women's roster can support two championships, but they already kind of did that for a minute when Thunder Rosa & Serena Deeb were making defenses of the NWA World Women's Championship. That title hasn't been mentioned on TV since Kamille won it, with the exception of a segment building up Leyla Hirsch challenging for it at NWA Empowerrr.
The best argument for a second women's championship in AEW? Simple: Dr. Britt Baker shouldn't be losing their Women's Championship any time soon. Gotta give the other women something to fight for.
Shane Thorne Wants Us To Know His New Gimmick Is His Idea
So word came out this week that Shane Thorne is doing an Outback Jack/Aussie gimmick in his dark matches. I hadn't really had time to form an opinion on a gimmick I hadn't seen yet when Thorne took to the Interweb to let us know not to blame WWE for it:
Just to let yous know what I'm trying now is all me and my ideas 🤠
A huge inspiration for me is @WWENikkiASH and you can't deny that she is doing incredible!
Wrestling can be fun!
So relax mate and let's have a good one 👍 pic.twitter.com/Rsmu9VOxX2

— Shane Thorne (@WWEThorne) September 25, 2021
We've said it before, but the whole trend of workers taking to the Interweb to let us know that WWE writers aren't to blame for whatever they're doing now & it's Actually Good is rather odd. That being said, a stereotypical Aussie gimmick at least has to be better than being part of Retribution.
Joe Gacy's New Gimmick Is Already His Old Gimmick
Thorne can only hope his Crocodile Dundee character has a longer shelf-life than that of Joe Gacy's recent contribution to NXT 2.0. Gacy appeared on last Tuesday's episode to wrestle Cameron Grimes and introduce his new persona, that of a man that doesn't need male privilege talking about conflict resolution & safe spaces and hugging his opponents after their match ends. This seems to have lasted all of one match, as the clips were pulled from WWE's YouTube page and all references to it were removed from other social media outlets.
It seems that this was one of those things that certain audiences liked a lot, as Fox News & the New York Post were all about WWE taking a shot at the woke left. The assumption is that this media attention led to WWE pulling the character, as WWE really doesn't want politics to seep into their presentation for a litany of reasons. For what it's worth, I don't think any left-wing outlets even noticed whatever was happening on NXT 2.0, so Joe Gacy's cancellation was definitely thanks to the right-wingers.
I do wonder if the character had much of a long term future. It's tough to challenge for championships and be in favor of conflict resolution over conflict.
Let's Get Extreme!
Extreme Rules went down Sunday night. I have to be honest with you folks. I made it through two matches of this show and tapped out. Now, some of my peeps at offtheteam.com frequently comment about how the LED lighting & camera cuts and all that stuff that have become trademarks of WWE television. It doesn't typically bother me as much, but for whatever reason, the neon green & yellow all over the screen had quite the negative effect on my old man eyes and I had to turn the darn thing off.
That isn't really a knock, to be honest. I know that kids love bright lights & special effects and all of these things that old people like me with declining vision can't take. Better to market to them, as they have many more years of WWE viewing in their future than I do. Here's what happened on the show in case you were wondering:
Liv Morgan beat Carmella on the Kickoff Show: Liv is over with the WWE Universe and has more upside than Carmella at this point. Nothing against Carmella, she seems like a friendly gal, but it seems like we've already seen her best while Liv still has room to improve.
The New Day defeated Bobby Lashley, AJ Styles & Omos: This match is one of those things that's a sign of the difference between pro wrestling then & pro wrestling now. Back in my day, PPV matches were supposed to be built to for a certain period of time. Wrestling groups that threw stuff together the day of the show were mocked, because who was going to put their money down if there wasn't anything announced? Here in 2021, nobody cares. They've either already subscribed to Peacock or they haven't. So what if nobody knew this was happening before it happened?
-It was a good match, which is what the Internet crowd cares about.
-The New Day was there, which is what the live crowd cared about.
-Lashley, Styles & Omos got to do something instead of nothing, so we feel good for them.
It's completely against anything the experts would describe as "good booking", but that isn't what WWE is about, and their fans aren't bothered by it. I've already spent too much time on something that was fun, but was just something to fill time until Lashley challenged Big E to a title match on Raw.
The Usos defended the SmackDown Tag Team Championships against the Street Profits: I felt bad for my buddy that bet on the Street Profits based off my tip. In my defense, my idea was that this would be a hot opener that would feature a happy ending to get the crowd excited. I wasn't aware they were going to book something with the main event acts on Raw to fill that spot. Once I saw it going on second, I knew my goose was cooked. Well, not mine since I can't legally gamble on these things.
Match was good, but those darn lights were too distracting, and when I saw what was coming up next…well…
Charlotte Flair retained the Raw Women's Championship against Alexa Bliss: There was actually a finish to this one. The spooky nonsense would be saved for later. I still dislike Alexa's current act, but people keep telling me it's Actually Good for Reasons, and I don't care enough to argue with them since the whole thing is easy enough to ignore. Shockingly, Alexa lost in her hometown. Who would have guessed?
Damian Priest defended the US Championship against Jeff Hardy & Sheamus: We went over how this was the obvious outcome, and the right outcome. Not much else to say here, other than the fans getting behind Jeff Hardy speaks well for a guy that's been booked into a state worse than oblivion for most of the past few months. People gonna like who they like. Well, not me. I'm pretty fickle.
Bianca Belair beat Becky Lynch by disqualification when Sasha Banks interfered: I suspect these three won't be on the same show for too long, so expect a triple threat match on this week's SmackDown. Should be a good one.
Roman Reigns retained the Universal Championship against Demon King Finn Balor: Reigns put on a mask to brawl through the crowd. On one hand, it's smart, but on the other hand it establishes masking up as a heel move. And here I thought WWE wanted to stay out of politics. The Demon demoned up with red lighting like he was the Fiend or something, and was on the verge of winning with a double stomp when…the top rope broke. Certainly a different choice. People will tell you that this keeps Demon Finn Balor strong, but does it really? Dude lost because of a broken ring rope. He'd be stronger if he lost because it was Roman Freaking Reigns.
So that was Extreme Rules. Raw comes to downtown Cincinnati tomorrow, which means I have to deal with WWE semi trucks along with anti-vaxx truckers trying to shut down interstates. Fun!
Well, that's all we have time for this week. Thanks for reading, and until whenever we come back with more news, keep your stick on the ice.
Random NXT Stuff 2.0: Worlds Collide
Brad gives his 2.0 cents about some Worlds Collide fantasy booking! So the NXT opinion isn't over…just…different. Check it out!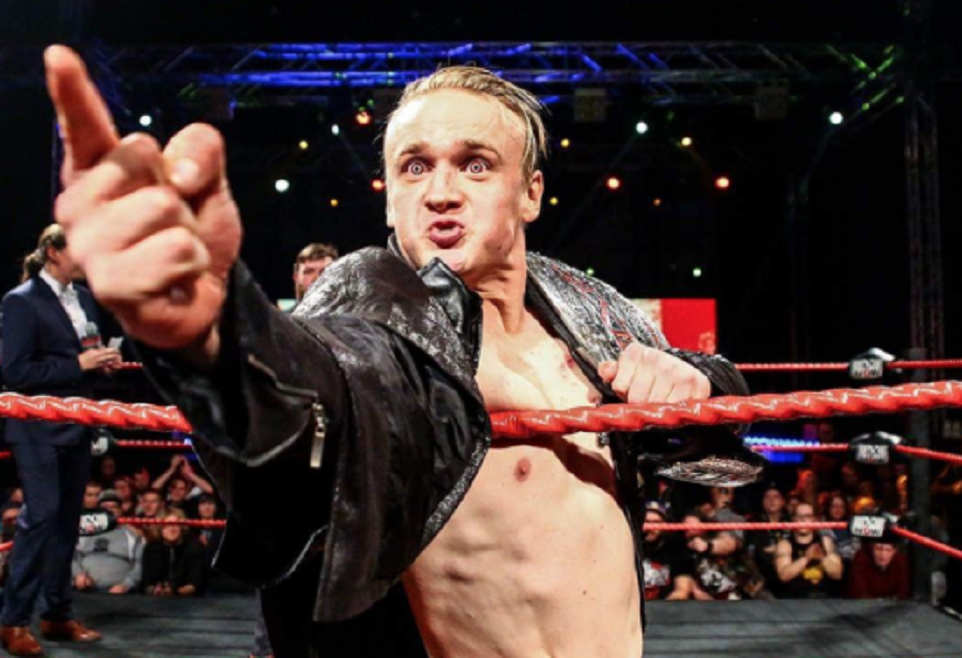 It's time to fantasy book NXT Worlds Collide, the mashup special that always produces top quality matches. And I renamed my column. Catchy, right?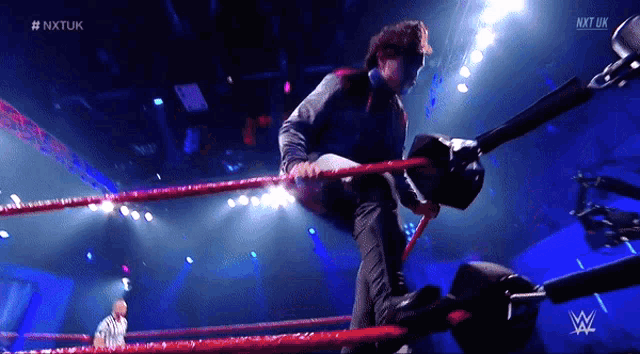 6. Noam Dar versus Swerve Scott for the North American Championship – Dar deserves a bigger platform so the entire world can experience his greatness. It might as well be for a title. The personality clash between these two would produce more fireworks than any bloated, overproduced WrestleMania opener. 
5. Meiko Satomura versus Dakota Kai for the NXT UK Women's Championship – Champion versus champion is too easy and lacks drama. Kai can hold her own against Satomura, and it is entirely believable that she could win and move to NXT UK. That is the extra level of storytelling and drama we wouldn't get with Satomura versus Raquel Gonzalez. And I'm still a Dakota Guy.
4. Johnny Gargano versus Kenny Williams versus Jordan Devlin – I love triple threat matches. I love all three of these guys. I love that the winner of this match gets a title shot of his choosing on either NXT brand. 
3. Tyler Bate versus Pete Dunne for the Heritage Cup – So much history between two of the founding fathers of British Strong Style. This rivalry should be Flair/Steamboat of British wrestling. Let's add another chapter to what I hope is a very long story between two of the best wrestlers on the planet.
2. Tommaso Ciampa versus Ijla Dragunov – Remember when I said champ versus champ would lack drama? Forget that. I want to see these two stiff shot the stuffing out of each other to see who is the roughest, toughest, most violent champion in the company. And in the spirit of NXT 2.0, they are also fighting for control of Cameron Grimes' estate, because he's currently MIA after his one-man space flight goes horribly wrong.     

1. MSK versus Pretty Deadly – The main event. Yes, the main event. I want to headline a show with the two best tag teams in a place where tag team wrestling still gets the respect it deserves. For now. Both teams have been absolutely crushing it in 2021. It really is too close to say who has been better, so we might as well settle it in the ring. And it might as well be for the first time ever winner takes both titles.