WWE News: Details On How To Watch World Collide Tournament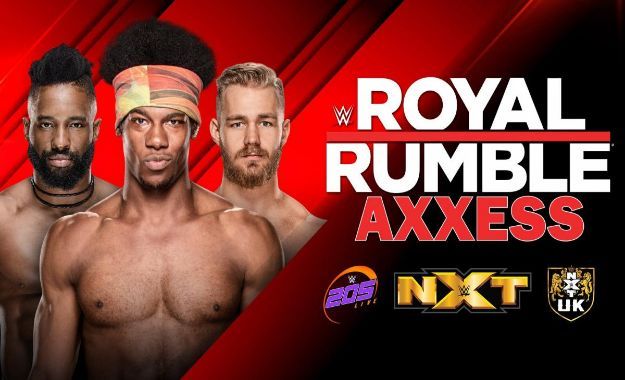 WWE announces when fans can watch this weekend's Worlds Collide Tournament!
As was previously announced, this weekend's Royal Rumble Axxess in Phoenix, Arizona will feature the Worlds Collide Tournament (see the original story here) as Superstars from NXT, NXT UK and 205 Live compete for a shot at a championship.
While the action will be limited to fans who attend live for the time being, today WWE has revealed all of the details on how members of the WWE Universe who aren't going to be in town can tune in:
The first-ever Worlds Collide Tournament — featuring Superstars from NXT, NXT UK and 205 Live competing for a guaranteed championship opportunity — will stream on WWE digital channels and the award-winning WWE Network on Saturday, Feb. 2.
Coverage begins at 12 p.m. ET/9 a.m. PT, when the tournament's opening rounds will stream on WWE.com, the WWE App, YouTube, Facebook and Twitter. Then, at 8 p.m. ET/5 p.m. PT, the action continues with the Worlds Collide special on WWE Network, featuring a Battle Royal with all 15 competitors and matches from the later rounds, including the tournament final.
The historic Worlds Collide event is utterly unique in every way. Each brand will be represented by five Superstars, meaning never-before-seen, brand-versus-brand dream matches will become a reality for the very first time. The tournament begins with a 15-Superstar Battle Royal that determines the bracket seeding, and the winner of the entire tournament will receive a future NXT, NXT UK or 205 Live championship match of their choosing. Anyone can become a champion on any brand!
Representing NXT are Adam Cole, Velveteen Dream, Dominik Dijakovic, Keith Lee and Shane Thorne. NXT UK representatives include Mark Andrews, Tyler Bate, Travis Banks, Jordan Devlin and Zack Gibson. Participating Cruiserweights from 205 Live, meanwhile, include Cedric Alexander, Tony Nese, Drew Gulak, TJP and Humberto Carrillo.
Don't miss a second of the tournament action next Saturday, Feb. 2.
Chairshot Wrestling News Shuffle: Hart Foundation Are Hall Of Famers, Women Main Event WrestleMania, Kofi vs Bryan and More!
News here! Commentary today on the Hart Foundation as Hall Of Famers, Women Main Event WrestleMania, Kofi vs Bryan and More!
News here! Commentary today on the Hart Foundation as Hall Of Famers, Women Main Event WrestleMania, Kofi vs Bryan and More!


Hart Foundation To The Hall Of Fame
The Hart Foundation had been rumored to be a inducted into the hall of fame class this year for the past few months. Now, WWE has made it official.
On March 1985 in Brantford, Ontario, Jim "The Anvil" Neidhart and I officially became the Hart Foundation. On April 6, 2019, we take our place in the WWE Hall of Fame. I wish Jim was still with us to celebrate this moment, but I know he'll be on stage with me in spirit. pic.twitter.com/hFasuj385Q

— Bret Hart (@BretHart) March 25, 2019
Jason's Take
This is well overdue as the Hart Foundation were one of the top five tag teams in WWE history. The only disappointment is the induction comes after the passing of Jim The Anvil Neidhart.
Women To Main Event WrestleMania
It had been speculated since November, and now it will finally happen. The women will main event WrestleMania for the first time in history. Becky Lynch, Ronda Rousey, and Charlotte Flair will face off in a triple threat match for the RAW women's championship.
BREAKING: #WrestleMania 35 will feature the first-ever women's main event when @RondaRousey, @BeckyLynchWWE, and @MsCharlotteWWE battle for the #RAW #WomensChampionship! https://t.co/kZvtY1hUo3

— WWE (@WWE) March 25, 2019
Jason's Take
No surprise here, but I am glad the WWE has announced this in advance, rather than handling it like the Hell In A Cell match between Flair and Banks. Depending on who you ask, this match is ever over-hyped, or will be the greatest women's match in company history. Regardless, the media is all over this announcement, so you can be all eyes will be on this main event. So hopefully fans will be able to last through the 8 hours of WrestleMania prior to this match.
Nikki Bella Announces Her Retirement
On this week's episode of Total Bellas, Nikki Bella announced her retirement. "I feel like I'm too old for that travel," Nikki said about the last WWE tour. "I really am ready to hang up the jersey. I can say it fully."
WWE Spoils WrestleMania World Title Match
We know that Kofi Kingston will most likely take on Daniel Bryan at WrestleMania for the WWE World Championship. Apparently, a reddit user came across a sponsored ad from WWE's Instagram account today that "spoiled" the match announcement.
Jason's Take
No real surprise here, we all knew this match was going to happen. I can't say that WWE's Instagram "spoiled" this match announcement.
Becky Lynch Offered Multi-Year Deal
Becky Lynch has been "The Man" when it comes to the women's division in 2019. With that in mind, Pro Wrestling Sheet has noted that WWE has offered Becky a multi-year deal to stay with WWE and it includes a significant pay raise. She is expected to sign the new deal soon.
Jason's Take
Some love Becky, and some love to hate Becky. Regardless, the contract extension is deserved, as she has been part of the shot in the arm the women's division has needed the last 10 years.
Chairshot Wrestling News Shuffle: WrestleMania To Get Stone Cold? Alexa Bliss Returns To The Ring, Gronk To WWE? and more!
News here! Commentary on WrestleMania To Get Stone Cold? Alexa Bliss Returns To The Ring, Gronk To WWE? and more!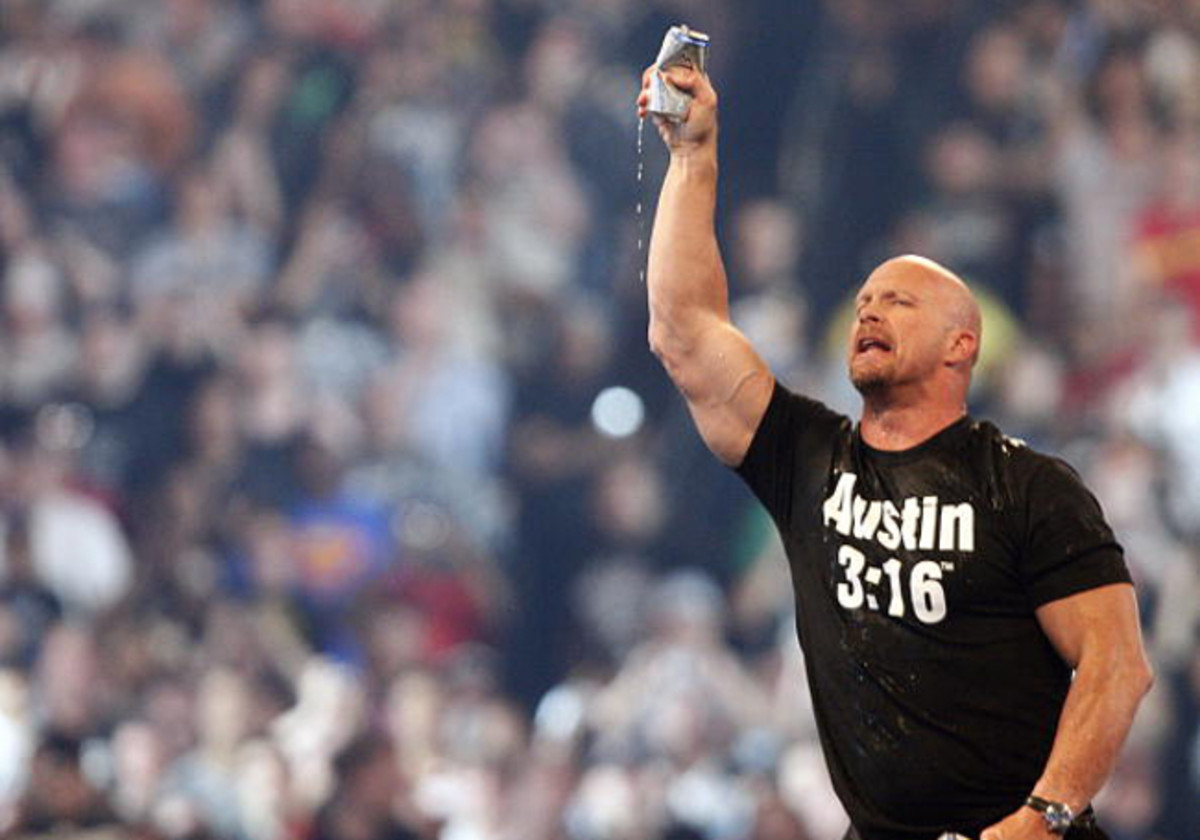 News to start out your week! Commentary on WrestleMania To Get Stone Cold? Alexa Bliss Returns To The Ring, Gronk To WWE? and more!


Is WrestleMania Getting Stone Cold?
WrestleMania is often the time many legends of wrestling's past return to WWE for the weekend festivities. According to PWInsider, WWE is looking at having arguably their biggest star in history involved with WrestleMania, Stone Cold Steve Austin. Austin has not been on WWE TV since the RAW 25th Anniversary show in January 2018.
Jason's Take
To me, and many others, the card and storylines leading up to the pay per view have seemed the weakest they have been overall in years. Bringing in a few big names may help spark more interest.
Alexa Bliss Returns To Ring At Live Event
This past week, I discussed Alexa Bliss and her absence from the ring. It had been rumored that Bliss had been injured, however that no longer seems to be the case as Bliss returned to in ring action Friday night for WWE's Trenton, NJ live event.
@NikkiCrossWWE wanted to play with the goddess @AlexaBliss_WWE ? well she was served last night 🤚🏼👩🏼 #WWELive #LetsPlayNikki pic.twitter.com/NxLLi5zGtU

— Loan Lubrano WWE (@LoanSbaraglione) March 23, 2019
Jason's Take
So there it is, don't believe everything you read on the internet. Looks like Alexa Bliss wasn't injured after all. or the injury was minor.
Rob Gronkowski Retires From NFL
I know what you are thinking, why are you posting NFL news in a wrestling news article? Bare with me. New England Patriots tight end Rob Gronkowski retired today. The timing of this is interesting, as WrestleMania is two Sunday's away. Also, let me point out to you what HHH had said to Sports Illustrated last month:
"Gronk has mentioned WWE before, that he loves it and said had so much fun doing it. I don't know if it's something he'd be seriously interested in, but that's how the conversation started with Ronda Rousey, too. Certainly, the door is open for him at WWE."
Jason's Take
I am purely speculating here. But, when you break it down, Gronk to the WWE makes perfect sense.
Huge Match For SmackDown This Week
After all the backlash the WWE has received regarding Kurt Angle's retirement match opponent, it looks like they are doing something right with Angle for a change. It was announced today that Kurt Angle will be taking on AJ Styles on this weeks episode of SmackDown Live. This is being announced as Kurt Angle's final match on SmackDown Live.
.@RealKurtAngle will have his final match on #SDLive against @AJStylesOrg this Tuesday!https://t.co/qDKzmL5Ygo

— WWE (@WWE) March 24, 2019
Jason's Take
Now why couldn't something like this be Angle's retirement match at WrestleMania? I know Styles isn't as big of name as John Cena, but the match would be a hell of a lot better with him in it than Baron Corbin.