WWE Week In Review: January 21-27, 2019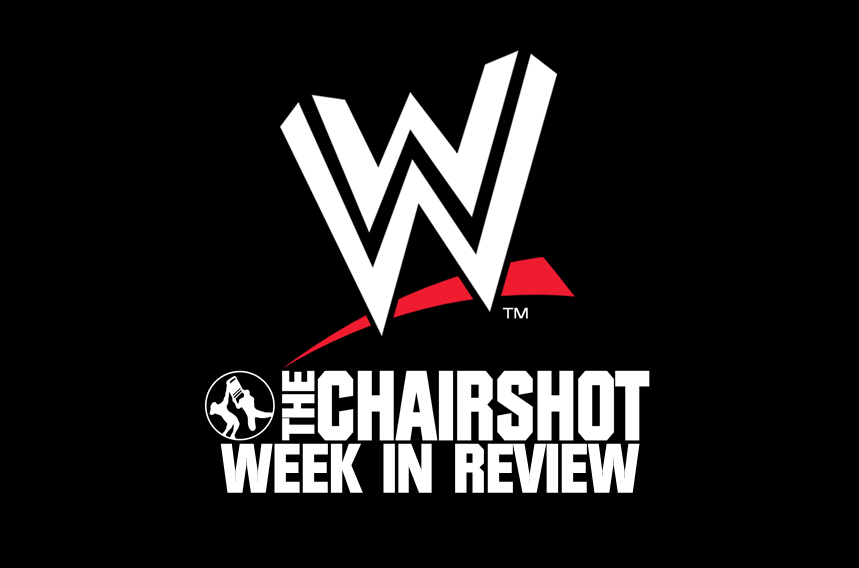 A WWE Big Four week, usually implies a fair bit of action. How well did this week lead into Takeover Phoenix and Royal Rumble? Did the big shows pay off? Tiffany let's us know!
RAW
Universal Championship: Brock Lesnar and Paul Heyman kicked off RAW with a promo for the upcoming title match against Finn Balor. In addition to his usual hype about Lesnar, Heyman congratulated Balor and professed himself to be a believer in Balor, but that doesn't mean that he thought Balor had a snowball's chance in Satan's bedroom of BEATING Brock Lesnar, even though Lesnar had trained to face Strowman and now has to deal with the inconvenience of having a new #1 Contender on such short notice, but that doesn't really matter since Lesnar's going to win anyway.  Balor will just have to pay the price for thinking he could beat the unbeatable (except for Undertaker, Triple H, John Cena, and Roman Reigns) Brock Lesnar.
We're then joined by Vince McMahon himself who seemed to think Heyman was understating things. Heyman points out that Balor vs Lesnar is David vs Goliath, then completely revises the story of a young man defeating a giant with a slingshot and added in reincarnation for good measure (I couldn't make this up if I tried).
Just to make this mess even messier, Braun Strowman came out. Strowman, despite being SOUNDLY defeated by Lesnar two or three times in the past still believed that he could've beaten Lesnar for the title and he still wants to fight the Beast and said that he'd be waiting on Lesnar.
Finally bored to death with this proverbial penis measuring contest, Balor came out and chewed everyone out for selling him short AND not getting the story of David and Goliath right, reminding us that everyone thought David didn't have a chance until Goliath ended up face down in the mud.
Inspired, Vince suggests that Balor and Strowman have a match and let Lesnar sit at ringside to watch the real thing in action.
The match, biblical story cosplay or not was pretty good. Strowman dominated much of the match, but Balor's quickness kept him in the match. Lesnar seemed content to just stand at the side and smirk, but it became clear that he viewed Balor as little more than a nuisance and still wanted another round with Strowman. That arrogance got a kick in the pants when Balor went after Lesnar AND Strowman. That…pluckiness would end up costing Balor when an enraged Lesnar attacked him right after Balor hit the Coup de Grace on Strowman.
Intercontinental Championship: Last week, Bobby Lashley stunned everyone when he, with a lot of help from Lio Rush, won the Intercontinental Championship in a Triple Threat match with Seth Rollins and Dean Ambrose. This week, Lashley and Rush had a celebration over the victory, which includes talking about Lashley's physique.
Apollo Crews interrupted this Mr. Olympia rip off by joining the fun. He's glad Lashley won and admires his physique but reminds him that no one paid good money to see Lashley do a Hogan all night, so how about a match instead. Lashley and Rush laugh it off, Apollo's not in Lashley's league, but if Apollo would be willing to do a pose off, they'd think about it.
I'm not a body-building expert, so I'm not going to judge how well this went. Lashley seemed more at home with this than Apollo, but the fans were more in Apollo's corner as the pose off reached its inevitable conclusion with Lashley getting mad and attacking Crews which lead to a match.
The match was okay. Both guys suffer from a huge amount of talent but not a ton of personality. Lio Rush was the most interesting part of the match and played a huge roll in securing the victory by Spear for Lashley.
As Lashley and Rush were leaving, Seth Rollins came out and there was a staredown, but nothing came of it…at least, not yet.
RAW Women's Division: Alexa Bliss' Moment of Bliss was back and Little Miss Bliss had her sometime BFF, Nia Jax, on the show. The two ladies chatted about the Women's Royal Rumble and Nia's chances, but they were rudely interrupted by Ember Moon, and that's when things got heated. Pretty soon, every member of the RAW Women's Roster not named Rousey, Banks, Bayley, and Neidhart, were duking it out on the set.
Trying to calm the chaos Bliss got on the chair so that her 5' Goddess self would tower over the mortals and reminded us that this was HER show and they were embarrassing her and themselves. When that didn't work, she made her special announcement: She will be returning to the ring at the Royal Rumble.
The surprises weren't over yet, the self-proclaimed Lady of NXT, Lacey Evans made her debut, decrying the classless little girls of RAW. According to Evans, a runt like Bliss has no business winning the Royal Rumble over a lady like herself. Bliss is stunned into silence, but we can be sure Evans will pay for disrespecting the Goddess of RAW?
The war of words between Ronda Rousey and Sasha Banks as they head into their RAW Women's Championship match at the Royal Rumble got even more heated this week. Rousey tried to play the victim blamed Sasha for the increasingly nasty turn of events, then says Banks is too busy living the Boss life to be a real champion and that she's not hungry for it anymore.
Rousey would end up eating those words when Sasha, along with Bayley, got to the ring. Sasha EVISCERATED Rousey, reminding us of all the history the Boss and Bayley have been a part of, while Rousey just showed up and got handed opportunities. Rousey wanted to talk about worthy opponents, Sasha earned her shot by making Nia tap out, just like she will do to Rousey on Sunday.
After that start, the match wasn't nearly as good as it could've been. It was clear that the plan was to have Rousey and Banks talk trash and face off but not throw down, but sticking to that plan was easier said than done and meant that Nattie and Bayley took all the punishment. We did get a glimpse of a POSSIBLE outcome for Sunday when Sasha caught Rousey in the Banks Statement, but only briefly. In the end, Nattie would tap out to the Banks Statement, giving Rousey her first defeat on the main roster.
After the match, more words were exchanged and it was getting ugly as RAW went off the air.
RAW Tag Team Division: If at first you don't succeed, try, try again. That's certainly been the Revival's unofficial motto as they keep trying to win the RAW Tag Team Titles from Roode and Gable only to be consistently frustrated by bad luck and ref calls. Refusing to give up on their quest to redeem the RAW Tag Team Division, the Revival pleaded with Vince to give them another chance and ask for a special guest ref that could be counted on to not miss thing. Speak of the Devil and he shall appear, this time in the form of Curt Hawkins, who is also looking for another chance, this time to break his epic losing streak. This gives Vince an idea: Make Hawkins, a former tag champ, the ref!
Unfortunately, when the Revival agreed to this deal, they failed to consider that Hawkins would actually be a better ref than the official ones. Hawkins caught everything alright, and being a former heel tag champion, knew every underhanded trick in the book…and he wouldn't let them get by with it, much to the Revival's frustration. When Roode and Gable won again, the enraged Revival attacked Hawkins. Fortunately for Hawkins, old friend Zack Ryder came to the rescue and the two former Edegheads chased the Revival off. Not sure where this is going, but it's interesting.
Lucha House Party has been bringing the party with them wherever they go for a few months, but on Monday, they took on Jinder Mahal and the Singh Brothers. Why? I have no idea, but let's just go with it.
The match was okay, but it definitely felt like a time-filler. Mahal stood out like a sore thumb with all the Cruiserweights. The Singhs showed very little ring rust, which was surprising since neither of them have wrestled much, if at all, since becoming Mahal's lackeys, but the Party would reign supreme this time, much the fury of Mahal.
For the last couple of weeks, Heavy Machinery have been teasing their arrival on the Main Roster and this week was the week. Knight and Dozovic took on the Ascension in their debut match.
How did it go? Not great if you like the Ascension. Dozer and Knight FLATTENED the Ascension and Dozer showed off his amazing 'Caterpillar' before poor Viktor got hit with the Compactor. Look on tag division, Heavy Machinery are here!
Seth Rollins vs Drew McIntyre: Seth Rollins and Drew McIntyre have been feuding for months and the fact that McIntyre lost the opportunity to face Lesnar for the Universal Title last week guaranteed that the Scottish Psychopath was NOT in a great mood this week.
Before the match, Seth did some reminiscing about the past year. He once had titles and brothers, now he's got one brother fighting a life-threatening illness and another brother who has turned into a very vicious enemy. However, Seth is looking forward and vows to win the Royal Rumble. On Sunday.
Speaking of the Scottish Psychopath, McIntyre had a rebuttal for Rollins tale of growing up in a small town with a pack of lies and half-truths, namely claiming to have destroyed the Shield. McIntyre vowed to be the last man standing at the Royal Rumble.
The match was incredibly great to watch. Rollins and McIntyre work really well together and this was definitely the match of the night, as far as I'm concerned. Despite a dominate effort by McIntyre, Rollins would pull off a shocking roll-up win over the Scottish Psychopath, making a great case for himself as Royal Rumble winner.
Dean Ambrose: Last week, Ambrose lost his coveted Intercontinental Championship to Bobby Lashley in a brutal Triple Threat Match. Since the automatic rematch clause is null and void, Ambrose isn't going to get a rematch, and that's an injustice. At the Royal Rumble, the Moral Compass of WWE promised to bring justice back to WWE by winning the Royal Rumble. Don't think Ambrose has forgotten about 'Bend Over' Bobby Lashley or Rollins, however, he'll get his justice on them on Sunday.
Elias vs Baron Corbin: The ongoing rivalry between Elias and Baron Corbin continued this week. Elias came out and sang another song of insults about Corbin, or he would have if Corbin hadn't interrupted him before the song got started, which is RUDE. Corbin was angry that Elias had told Strowman where Corbin was hiding last week, which resulted in Corbin almost getting killed. It should be pointed out that the fallout of that incident lead to Corbin being in the Fatal Four Way, so he should probably THANK Elias, not whine.
ANYWAY.
Elias got bored of Corbin's complaining and pointed out that Corbin was still dressed like the RAW GM, despite being fired last month.
The match was standard for these two. It was good, but since we've seen this match up every week for at least a month, it wasn't much to get excited about. Corbin would get the win with a sucker punch into an End of Days, much to the fans' fury.
SmackDown
WWE Championship: The rivalry between Daniel Bryan and AJ Styles keeps getting nastier week after week and this week was no different. Vince was on hand to mediate a face to face between the two rivals, but if you've ever watched these things on WWE TV, you know how this went.
Bryan refused to get in the ring, claiming he didn't want to be in the ring with a sociopath because Styles slammed him on animal carcasses last week, never mind the part where Bryan attacked him first. Plus, Styles panders to the people, because what babyface does that? Bryan wants to use the title for the Greater good.
I wish I could say it got better, but Bryan kept ranting about the environment, income equality, and basically embody what average people hate about vegan, environmentalists, and liberals until Styles finally got tired of it and attacked. Bryan managed to get the upper hand on Styles, but only because Styles wasn't willing to risk hitting Vince, though it should be said that Vince would've been hit by worse. Either way, the distraction gave Bryan the wiggle room to nail Styles with the Knee and make his escape.
SmackDown Women's Division: Becky Lynch kicked off SmackDown, looking for a fight, but she wanted to get some stuff out in the open. This time last year, she was overlooked and unappreciated, now everyone and their uncle has an opinion about her. As far as Becky's concerned, there's only one thing the fans need to know: The Man will main event WrestleMania, no matter who she has to fight to get it, and that starts on Sunday with beating Asuka.
Becky's well-aware of Asuka's skills, but no one is better than the Man. Asuka didn't even beat Becky for the title, but she'll be dethroned just like Becky dethroned Charlotte.
At this point, Becky was joined by Asuka, but before anything could be said, Charlotte came out. The Queen is confident of victory on Sunday and confident she'll win her already assured WrestleMania match since she's beaten everyone involved. Before Becky could respond, Asuka attacked her from behind and the fight was on. Becky would end up getting the better of Asuka before storming off, but Asuka caught up with her in the back and it took all the refs to get the brawling women apart.
For months, Naomi has been dealing with Mandy Rose's malicious mind games over Jimmy Uso, which culminated in a hotel room brawl last week. This week, the two women were given a chance to settle their differences in a surprisingly good one-on-one match. Naomi definitely had righteous aggression on her side, but Mandy had an ace up her non-existent sleeve: Sonya Deville, who seems to have put aside her concerns over Mandy's mind games in the name of supporting her best friend and she would play a deciding role in Mandy's victory. Jimmy Uso tried to calm his furious wife, but the match was over, but I have a feeling Naomi's going to make both members of Absolution pay for this.
SmackDown Tag Team Division: Last week, Miz's attempt to throw a birthday party for Shane ended like just about any celebration involving food in WWE: A fight and someone's face getting covered in cake. This week, Miz took on Cesaro as the Bar looked for revenge for their loss and forced cake eating last week, in a fabulous match that did more to whet the fans' appetite for this match than last week did.
This week, Cesaro and Sheamus were better prepared for Miz and Shane and a timely cheapshot by Sheamus allowed Cesaro to get the win, but the fight wasn't over. Shane went to avenge his partner's loss, but Sheamus and Cesaro are little more skilled at this sort of brawling than Miz OR Shane and the Greatest Team not only got the snot beat out of them, but were left in a heap after Shane was powerbombed through Miz, through the commentary table.
Mustafa Ali vs Samoa Joe: Mustafa Ali vs Samoa Joe didn't get a chance to start last week, but both the Beacon of Light and the Destroyer are looking to gain some momentum heading into the Royal Rumble.
One difference from last week was that Ali got to finish his entrance before Joe got the jump on him. The match was really good, if a little short, but at least Ali got to show off his skills before falling victim to the Coquina Clutch, but Joe won't settle for a simple win, he keeps attacking until Ali is OUT.
Rey Mysterio vs Andrade Almas: Rey Mysterio and Andrade Almas have been feuding for a month or so and Almas was able to get a win over Mysterio with the help of Zelina Vega last week, so both men hope to settle the score with a 2-Out-Of-3 match, with Vega BANNED from ringside.
This match was so good, I lost track of what fall we were in. It didn't really matter since Almas and Mysterio put on a Lucha Libre clinic, plus it stood to reason that WWE wouldn't set aside the last half hour of SmackDown for this match just to have one or the other get the win quickly. We got down to the last fall and all hell broke loose. It LOOKED like Mysterio was going to get the win with 619 when Samoa Joe bulldozed his way in and attacked, giving Mysterio a DQ win and the match.
Joe didn't care, he went after everyone, friend and foes. Getting on the mic, he vowed to win the Royal Rumble, but before he could finish his destruction, Orton came out of nowhere with an RKO and was the last man standing. Could Orton do what only Stone Cold Steve Austin has done and three-peat at the Royal Rumble?
205 Live
Gran Metalik vs Humberto Carrillo: Humberto Carrillo has been bouncing around various WWE shows for a few months now, but he's currently hanging his boots in 205 Live, making his debut against Buddy Murphy last week, this week, Carrillo took on Gran Metalik.
The two men started out with a friendly handshake and then the fight started. It was a really great match that let Carrillo show his impressive skills and let Metalik get out of the shadows of Lucha House Party. Carrillo hit the missile dropkick but didn't cover, which usually means the veteran (Metalik) would take advantage of the error and get the win, but the wrestling gods smiled on Carrillo, he got the win over Metalik, to everyone's astonishment, bring his record to an even 1-1.
Drake Maverick's Office: Drake was having to deal with Gulak and Gallagher, who weren't happy about a high-flyer being the new signee to 205, even when Maverick pointed Carrillo's undeniable skills. Next up was Tony Nese, who wants a rematch with Noam Dar, which Maverick promised to think about. Much like a child, Nese didn't want to wait and promised to make his own chance if Maverick didn't give him the match.
Triple Threat Match – Kalisto vs Akira Tozawa vs Hideo Itami: Buddy Murphy put this match together as a preview of the Fatal Four Way coming up on Sunday, but he might've wanted to rethink that decision. The match was amazing, but that was expected of the three men involved. It was a great preview of what could be expected on Sunday without giving the match away. At the end of the day, Hideo Itami would be the last man standing after hitting Kalisto with the Sakura knee. Look out, Buddy Murphy.
NXT UK
NXT UK Championship: Pete Dunne kicked off NXT UK this week, still the NXT UK Champion. Dunne has been champ for 610 and it all started in Blackpool. However, Joe Coffey and Gallus aren't willing to slink off just yet. Joe still considers himself the king of NXT UK and he's still coming for that title. However, Dunne was saved by Walter or was he? While Walter did help Dunne fend off Gallus, it was clear from the stand off that he is very interested in that NXT UK Title.
NXT UK Women's Division: Nina Samuels was back in action this week, breaking in newcomer Lana Austin in a really good match for both women. Austin was clearly the fan favorite, which just seemed to bring out the Pink Devil's nasty side.  Austin showed a lot of fight but Samuels would get the win with the Prima Donna. Looks like Toni Storm has another challenger to worry about.
NXT UK Tag Team Division: Sid Scala tried to congratulate Grizzled Young Veterans on their victory at TakeOver: Blackpool, but GYV weren't interested. Moustache Mountain got all the media attention leading up to Blackpool while GYV were ignored. GYV will address the audience at another time.
Moustache Mountain came up short at TakeOver: Blackpool, but they're taking it in stride. No excuses, they didn't give it everything they had and that's why they came up short, but they haven't given up on those titles.
In response to that, GM Johnny Saint had an announcement to make: Moustache Mountain will take on the European Alliance. A second chance at the tag titles wasn't promised, but it's clear that Moustache Mountain is getting primed for another shot at the titles.
Eddie Dennis vs Jaime Ahmed: Eddie Dennis definitely came out on the short end of his No DQ Match with Dave Mastiff, but his nasty streak hasn't diminished, even worse, he was up against Jaime Ahmed, who is just as grouchy and bitter as Dennis. It was quite a fight. Dennis is used to overpowering any opponent not named Dave Mastiff, but Ahmed battled back every time. At the end of it, Dennis' surliness was just a little nastier than Ahmed's and he would emerge the victor, but it remains to be seen just what the future holds for the Headmaster from Hell.
Jordan Devlin vs Travis Banks: Jordan Devlin cost Travis Banks a chance to compete at Blackpool with his sneak attack, hoping to avoid answering for his seemingly unwarranted attacks on Banks' character. Johnny Saint and Sid Scala may have pulled a fast one by having Devlin lose to his mentor, Finn Balor, but the Kiwi Buzzsaw wasn't satisfied. So the match that should've happened at TakeOver is one.
It. Was. A. FIGHT! Banks was so set on getting his hands on Devlin, he didn't wait for the bell and the ref just did his best to get out of the way. Devlin is undoubtedly skilled, but I doubt he thought Banks would give him this much of a fight. Unfortunately, we weren't to get a winner to this brawl as both men were counted out after beating the living hell out of each other to the point of not being able to stand up.
That wasn't to be the end of it as both men got a second wind and started fighting again. It took ALL the refs, and Sid Scala to get these two apart but they kept fighting. This war is just getting started.
NXT
NXT Championship: Aleister Black will get his rematch against Tommaso Ciampa at Phoenix. Ciampa says that Black is nothing without the NXT Title, while he has made the title worthy and no one has been able to stop him.
Black said he'd absolved Gargano of his sins, but Ciampa has yet to find forgiveness.  Black vowed to make the puppet master pay for his manipulation and theft and walk out with his NXT Championship.
NXT North American Championship: Ricochet will face Johnny Gargano for the North American Championship in Phoenix, but he took to the mic on Wednesday to address his challenger. Ricochet said that the only difference between the Johnny Gargano of this time last year and now is that Gargano has shown his true colors. He's a selfish liar, but Ricochet said that he also showed his true colors when he won the North American Championship and he IS the One and Only. He's also a champion, which Gargano has never been outside of the tag titles.
Gargano came out and decried the comments pointing out that a year ago, he would've just attacked Ricochet, but he's learned that lesson and has a plan. That plan seems to be having Ciampa cheapshot Ricochet and the fight was on, Black came to Ricochet's aid and got superkicked by Gargano.
It looked like Ciampa and Gargano were on the verge of shaking hands and making up when Candice LeRae runs out to stop it. Johnny is not that person anymore and she won't let him go back to being that person, but will that hold in Phoenix?
NXT Women's Division: Shayna Baszler and Bianca Belair both cut promos about their match at Phoenix. Baszler was all confidence, she's unstoppable, especially with the Horsewomen behind her. Belair is the strongest, etc and she doesn't care if she's taking on just Baszler or if she's taking on Baszler and the Horsewomen
Kairi Sane and Io Shirai have been teaming up against Baszler and the Horsewomen, this week, they took on Tanea Brooks and Amber Nova in a fantastic match that let the two Japanese superstars show their impressive skills in the ring and they would pick up the win. In a backstage interview, Shirai and Sane vowed to take care of business, which Jessamyn Duke and Marina Shafir found very amusing. Looks like things aren't over between these four women.
NXT Tag Team Division: A NXT UK/NXT Crossover happened this week when Oney Lorcan and Danny Burch took on the European Alliance of Fabian Aichner and Marcel Barthel in a short but brutal match that saw Lorcan take flight and let Aichner show off some pretty impressive moves for a muscle guy. Lorcan and Burch would get the win, but Aichner and Barthel definitely made a statement about their capabilities as a tag team.
Velveteen Dream vs Bobby Fish: Velveteen Dream returned to Full Sail University this week and he had an announcement, he was going after the North American Championship. Then the Undisputed Era came out, namely Cole and Fish. Cole seemed to have forgotten that he lost his rematch and isn't entitled to one and neither is Fish, but Cole claimed that 2019 will be the year that the Undisputed Era hold all the belts, with Fish scolding Dream for laying to the people.
Dream wasn't impressed and tried to get his point across when Fish tried to bum rush him, only to be thrown out of the ring and the same happened to Cole, while Dream got away, mocking both men as he left.
GM William Regal made a match for Dream and Fish to settle their differences. Fish had Cole in his corner, but Cole ended up not being much help as Dream dominated much of the match, getting the win with the Purple Rain Maker for the win. Guess the Year of the Undisputed Era is off to a bad start.
TakeOver: Phoenix
NXT Championship Match – Tommaso Ciampa vs Aleister Black: It's taken six months, a sneak attack, and a lot of fighting, but Aleister Black FINALLY got his rematch against the man who stole it from him back in August thanks to Johnny Gargano.
The match was really good, but after Gargano/Ricochet, it didn't get the same buzz going, but it was still a really great match. Ciampa targeted Black's knee, nose, whatever he could to get the advantage. It would take FOUR  Fairy Tale Endings, but Ciampa would retain the NXT Championship.
After the match, as Ciampa was celebrating on the ramp, he was joined by Johnny Gargano, and after a face off, both men raised their belts. DIY is back in business. Look out, NXT.
NXT North American Championship – Ricochet vs Johnny Gargano: Gargano put his name in the hat for this match under the advise/manipulation of Tommaso Ciampa, but that hasn't stopped him from playing mind games with Ricochet.
It was an incredible match up. These two were all over the place and broke out moves that had to be seen to be believed. In terms of quality, it didn't matter who won because everyone looked great and the audience was happy, but Gargano would win  the championship, his first singles title in NXT. Part One of Ciampa's Plan has come together.
NXT Women's Championship Match – Shayna Baszler vs Bianca Belair: The feud between Shayna Baszler and Bianca Belair has been short, but very personal as neither woman seems to have much respect for the other. It's Two-Time Baszler against the Un-De-Fea-ted EST of NXT.
The match was okay. I'm not a fan of either of these ladies either, but the match was okay. Baszler's Horsewomen cohorts tried to help, but Belair was ready for them, but the distraction was enough for Baszler to slap on her submission hold and retain her title. The EST is defeated. Now what?
NXT Tag Team Championship Match – Undisputed Era vs War Raiders: Undisputed Era vowed that 2019 would be the year that they held all the belts in NXT, but that got off to a rough start as they took on the War Raiders for the NXT Tag Team Championship.
Raiders DEFINITELY had the edge in terms of psychology, coming out in their Viking gear and having a small army of fellow Vikings (including Sarah Logan of the Riott Squad).
It was an AMAZING match. War Raiders are huge, but they can move around like much smaller men and were more than capable of keeping up with Undisputed Era, who used every trick they could think of to win the match, but the Raiders would FINALLY emerge victorious after a vicious Fallout and there are NEW NXT Tag Team Champions!!!
Matt Riddle vs Kassius Ohno: This feud has been going on for months and has only gotten nastier after Ohno's dirty victory over Keith Lee on Wednesday, and Matt Riddle was out for revenge.
I'm not a fan of either guy, so I really wasn't invested in the match, but it seemed okay. Ohno got a little more offense in than in previous encounters, however Riddle would get the win by literally beating Ohno into submission. The King of Bros stands tall, but will Ohno let sleeping dogs lie?
Royal Rumble
Universal Championship Match – Brock Lesnar vs Finn Balor: Brock Lesnar was originally scheduled to face Braun Strowman at the Royal Rumble, but when Strowman's temper got the better of him, Vince McMahon put together a Fatal Four Way, which Balor won, turning the Clash of the Titans into David vs Goliath.
Unlike the biblical showdown, David got a jump start on Goliath and gave him quite a fight. Unfortunately for Balor, he forgot his slingshot and was forced to tap out to the Kimura Lock by Lesnar, and Lesnar retained the title.
WWE Championship Match – Daniel Bryan vs AJ Styles: The New Daniel Bryan has been causing a stir and rolling some eyes since he beat AJ Styles for the WWE Championship shortly before Survivor Series in November. Since then, the two men have been exchanging words and fists over the Championship, culminating in this match.  
The match was really good, but after the thrilling Women's Royal Rumble, it felt a little flat to me. The most shocking part of this match was the return of Erick Rowan who would help Bryan retain by attacking AJ Styles, letting Bryan get the pin.
WWE Cruiserweight Championship  Match – Buddy Murphy vs Kalisto vs Akira Tozawa vs Hideo Itami: This match was put together by Drake Maverick after some tournament matches to give Cruiserweight Champion Buddy Murphy some competition.
The match was really good, though there seemed to be some…collusion, agreement, understanding between Murphy and Itami in parts of this match.  However, all's fair when it comes to championship gold and Murphy would pin Itami to retain his Cruiserweight Championship. Who is going to stop the Juggernaut?
WWE United States Championship Match – Rusev vs Shinsuke Nakamura: Rusev defeated Nakamura for the United States Championship on the Christmas Day edition of SmackDown, and since then Nakamura has been plotting to get his title back, attacked Rusev and Lana from behind.
Rusev dominated the match from the start, even though Nakamura would get in a lot of offense. It was a really great match, much better than I would've expected from Nakamura given his track record on the Main Roster. Unfortunately for Rusev, Lana's attempt to get the ref's attention on Nakamura's shenanigans would cost them as Rusev accidentally knocked Lana off the apron and Nakamura used to the distraction to get the victory we have a new US Champion.
RAW Women's Championship Match – Ronda Rousey vs Sasha Banks: This is a dream match many fans thought they would never see. When Sasha Banks defeated Nia Jax for the #1 Contendership, it's hard to say who was more excited, the fans or Ronda. Problem is that the win reawakened the Boss and Banks minced no words about what she thought of the RAW Women's Champion, leading the two to nearly come to blows.
There were a lot of questions about whether or not this match would live up to the hype, but I think it did. Sasha proved more than able to scrap with the Baddest Woman on the Planet. Rousey did make Banks tap, but it didn't count because they were outside the ring. Sadly, Rousey would take home the victory, but Sasha Banks put her on notice about underestimating your opponents. Rousey seemed to have gotten the message as she showed great sportsmanship as Sasha left the ring. However, Sasha threw up the Four Horsewomen sign, so Rousey better look out.
SmackDown Women's Championship Match – Asuka vs Becky Lynch: At TLC, Becky Lynch lost her SmackDown Women's Championship due to interference from Ronda Rousey. Since the New Era did away with automatic rematch clauses, the Man had to win a battle between herself, Charlotte Flair, and Carmella to earn the right to regain her title.
It was such a good match, I didn't want to type this review because I wouldn't be able to enjoy the match fully. Asuka would force Becky to tap out, but the Man made a statement that she's not a flash in the pan champion.
The Revival and AoP (with Drake Maverick) vs Rood and Gable: This match was announced by Drake Maverick and the stipulation is that if AoP and Revival win, they'll get title shots down the road. Why this match had to be put on an already crowded card and not be for the titles is a little beyond me.
The team was one half of AoP and one half of the Revival against Roode and Gable. It was a good match, but the teaming of AoP and Revival was no a comfortable match and it would end up costing both teams as Roode and Gable would pick up the win and Razar wasn't fast enough to stop the pin, leaving the tag team field wide open on the Road to WrestleMania.
SmackDown Tag Team Championship Match – The Bar vs Shane McMahon and the Miz: Shane McMahon and Miz are the most unlikely team, but they have managed to gel, aside from several hiccups, pretty smoothly as a team, quickly coming to each other's aid in their sudden feud with the Bar.
To no great surprise, this was a really great match. Shane is NOT a great wrestler, but Miz and the Bar were good enough to cover for him, especially Miz, who was the imperiled babyface…I guess. In a truly shocking turn of events, Shane and Miz were actually able to put the Bar away with a Skull-Crushing Finale and a Shooting Star Press by Shane that I had to back up to see again. NEW Tag Team Champions!!!
Men's Royal Rumble Match: The Men's Royal Rumble (and it's still weird to have to clarify it) has been the launching pad for lots of careers over the years, whether or not you actually win the match. Elias was the first entrant in the Rumble, giving the audience a concert, as always and Jeff Jarrett, in his old Double J gear, as #2.
The match was plugging along when R-Truth came out at #30 and was attacked by Nia Jax, who tried to fill his spot in the Rumble for some reason. She lasted longer than Chyna and Beth Phoenix before being eliminated by Rey Mysterio. At the end of the night, it came down to Seth Rollins and Braun Strowman and this time, David remembered his slingshot. Seth Rollins has WON the Royal Rumble and will face either Brock Lesnar or Daniel Bryan at WrestleMania!!
Women's Royal Rumble Match: The second ever Women's Royal Rumble had a lot of hype to live up to, namely the buzz last year's Rumble generated. The number 1 entry would be NXT call up, Lacey Evans with Nattie Neidhart as #2. Liv Morgan got the dubious distinction of being eliminated the quickest in the Rumble when her eagerness to get a hold of Nattie resulted in her getting eliminated. Naomi managed to get some measure of revenge on Mandy Rose, eliminating her from the Rumble. Nattie Neidhart was the Iron Woman of this year's rumble, lasting almost full hour before being eliminated.
The biggest shock of the night was Becky Lynch entering after it was clear that Lana, who had been injured earlier in the evening, was not going to be able to compete, especially after being attacked by Nia Jax. Fit Finlay tried to stop Lynch, but Lynch made a forceful argument and was allowed to enter.
The final two would be Charlotte and Becky. The Queen pulled out every dirty trick she had, but The Man refused to take no for an answer and eliminated her rival and Becky Lynch is going to WrestleMania!!!
BWN Nerds' Movie Review: Godzilla vs Kong (2021)
Big boy monster throw down of the year! The Nerds return with a current movie review, and this one should be interesting. Is Dave too forgiving? Is Patrick taking his role as the German judge too seriously? Find out where the overall ratings lands between these two!
Welcome to this week's edition of the Nerd Review!  Every week the Nerds give you their take on a different movie from the Nerdosphere.  This week Dave and Patrick review the fourth installment of kaiju cinematic universe Godzilla vs. Kong!
The Flick:  Godzilla vs. Kong (2021)
What's it About:  A researcher believes a hollow world beneath the Earth's surface is the birthplace of the mighty Kaiju.  He convinces and old friend to help him take the mighty Kong to find his birthplace even if it means incurring the wrath of the King of Kaiju Godzilla.   The battle between the two alpha Kaiju could result in the end of all mankind.
Metacritic Score: 59
The Nerds' Take on Godzilla vs Kong (2021):
Dave It is time for the Main Event of Legendary's MosterVerse, the showdown we have been waiting for: Godzilla v. Kong. If you have been following along with our Nerd Reviews, then you knew this was coming. What you don't know is whether we feel the climax to the series is worth your time or not. Well allow me to give you my take on that topic.
Plot wise, it has been some five years since Godzilla defeated Ghidorah and things have been relatively quiet and peaceful. Meanwhile, on Skull Island, Monarch has created a dome like structure to observe and try and control Kong. Kong has developed a relationship with a little girl, Jia, who seems to be the last surviving member of her clan. Jia has, for lack of a better term, been adopted by Dr. Ilene Andrews. Jia is deaf and she seems able to communicate with Kong through sign language.
Halfway across the globe, Apex Cybernetics is engaged in some sort of experimentation that attracts the attention of Godzilla, who shows up and annihilates their facility in Florida. Godzilla's attack shatters humanity's notion that he is their friend. Bernie Hayes is an employee of Apex, but he also hosts a Podcast focusing on conspiracy theories involving the Titans. He is soon joined by Madison Russell (from Godzilla: King of the Monsters) who is a fan of the Podcast, and her friend Josh as they start poking around the remains of the Apex site in Florida. We soon discover that Apex is looking for a massive power source that they believe is located in Hollow Earth. Hollow Earth is really more of an Earth within the Earth (Middle Earth, perhaps?) and the quandary is how to survive the trip to Hollow Earth. Nathan Lind is a Hollow Earth expert whose brother perished in a prior expedition to Hollow Earth due to a reverse gravitational effect. But Apex has developed vehicles that can survive the voyage. They just need Kong to lead them there.
In the process of transporting Kong to Antarctica, which has an entry point to Hollow Earth, Godzilla senses his old rival and attacks. Godzilla definitely gets the better of this battle, forcing the expeditionary force to transport Kong by air to Antarctica to avoid detection by Godzilla. Kong gets the group to Hollow Earth and it becomes clear there has been an ancient rivalry between Kong's ancestors and Godzilla's. Kong discovers an axe made out of portions of Godzilla's ancestor's skins. Back on the surface, Bernie, Madison, and Josh have been whisked away to Hong Kong and they discover what Apex is really up to….Mechagodzilla. Mechagodzilla can be telepathically controlled and it is Dr. Serizawa's son who is pulling the strings, using the severed head of Ghidorah to do so. The problem is that to utilize Mechagodzilla to its full potential, they require more power, much more power to be exact. This is where the search for the Hollow Earth power source comes into play.
Mechagodzilla is activated and this attracts Godzilla. Godzilla also senses what Kong is doing in Hollow Earth and he sends a blast of atomic breath from Hong Kong to, in essence, the center of the Earth. Kong and the Hollow Earth expeditionary force follow the hole made by Godzilla to the surface. Everyone emerges in Hong Kong for a massive fight between Kong and Godzilla. Kong fares better this time around but is ultimately rendered near death by Godzilla. At about this time, Mechagodzilla is imbued with the power source from Hollow Earth and he also achieves sentience. This leads to the big brawl between Godzilla and Mechagodzilla and it is a mismatch in favor of Mechagodzilla…. until Kong is revived, evening the odds in an enormously predictable moment. Godzilla supercharges Kong's ax with his atomic breath and the two Titans take down Mechagodzilla. Godzilla and Kong show each other a sign of respect and go their separate ways. Apparently, there can be two alpha Titans after all.
Let's talk about the good stuff first: the monster fights. They are all fantastic. The battles between Kong and Godzilla feel as big as you would expect. They are titanic clashes in every sense of the word. Godzilla fans will have bragging rights after watching this movie because it is clear that Godzilla whups Kong's ass on more than one occasion. Kong fans save face though by noting that without Kong, Mechagodzilla would surely have triumphed. As for Mechagodzilla, his appearance in the movie was not a secret and he did not disappoint. The clash between Godzilla and Mechagodzilla was done very well to show just how much more powerful Mechagodzilla was and why it took the combined might of Godzilla and Kong to turn the tide. If massive Kaiju action is your thing, then Godzilla vs Kong is definitely your movie.
Now for the bad: The people. Now, I know what Patrick is going to say. That the movie shifts the focus to the people too much and detracts attention from the monsters. I know he thinks the concept of humans using a defibrillator on Kong is absurd. I am OK with those points in a movie like this. The problem I have with the people is this: They don't matter. Not at all! They are white noise in the purest sense of the word. 90% of the characters are wholly uninteresting and meaningless. They add little to the plot and just get in the way. So, to be real, Patrick and I are, to a certain extent, talking about different sides of the same coin. The exceptions to this involve Jia, who is quite important to the whole notion of establishing Kong as the "good guy", and Bernie, who is a fun character and kind of represents a microcosm of conspiracy theorists that are quite common in the real world today. Bernie epitomizes the notion that just because you are paranoid, doesn't mean they aren't watching you. But, beyond those two, the characters are quite dull and just felt very pointless.
As far as this being the series finale, I greatly enjoyed the movie. The dynamic between Kong and Godzilla is interesting and keeps you engaged, regardless of whether you are rooting for one, the other, or both. There are some interesting concepts in the movie, specifically how Hollow Earth is different than you might expect and much more interesting, no matter how far-fetched the idea might be. Interestingly, this movie really showcases just how bad ass Godzilla is. I am not sure why it took three movies to get it right, but I digress. Then there is Kong, who ends up being a multi-layered creature that is shown even more heroically than he was in Kong: Skull Island. As for me, I always favored Kong over Godzilla and I left the movie feeling fine with the outcome of everything. If there is a downside it's that it appears the MonsterVerse has come to an end, just when it was getting really good. That's too bad. As for Godzilla vs Kong, the awesome action sequences and special effects vastly outweigh the issues involving the people. This is a very good final installment (we think) in this franchise. It is the best of the movies involving Godzilla. I still liked Kong: Skull Island more, but this was a close second.
Dave's Rating: 4/5
Patrick:  Here we are again covering the fourth film in the Warner Brothers/Legendary produced Kaiju Monster universe.  And once again this film somehow finds a way to mess up a simple concept.  If you recall, in my review of Godzilla King of the Monsters I said good kaiju movies minimize the involvement of human beings in the film and let the monsters take center stage.  Unfortunately, the folks at Warner Brothers still have not quite grasped the concept here in its fourth Kaiju film. The result is an uneven film that shines when the monsters are on screen and leaves me tuning out when the focus shifts to the little primates.
In this fourth installment, we learn that Monster research organization Monarch I closely monitoring Kong.  Going so far as to create an enclosure around Skull Island so that he is safe from Godzilla.  This of course will not last because, well, humans.  One human in particular, a man named Nathan Lind comes with the backing of a mysterious tech corporation called Apex to search for "Hollow Earth." Hollow Earth is a world beneath the surface of our Earth that is believed to be the birthplace of all Kaiju.  Lind visits his friend and Monarch researcher Ilene on Skull Island.  Lind believes Kong is the key to finding this hidden world.  Despite knowing, Godzilla will attempt to kill Kong, Ilene agrees to embark on the expedition.  Of course, Godzilla attacks and we get the first of three rounds of monster battling that we paid for.
Unfortunately, to get to round two and three, the audience has to sit through overwrought dialogue and subplots all in an attempt to help the audience connect to the experience.  It's all really boring.  You know why?  PEOPLE DON'T WATCH KAIJU MOVIES FOR THE HUMANS. But, I digress.  Naturally the tech corporation Apex is not on the up and up with Lind.  Color me stunned, but Apex turns out to be the real enemy to both Kong and Godzilla.  I haven't even covered the conspiracy theory guy and his gang of teenagers trying to expose Apex from the inside.  Again, no one cares because, read it aloud…NOBODY WATCHES KAIJU MOVIES FOR THE HUMANS.
But this isn't the end of the dumb.  The audience is treated to an ancient history between Kong's ancestor and the other Kaiju where we see Kong find the ancient axe of his ancestors.  Because a monkey wielding an axe is cool looking.  Did I mention Kong can charge the thing up with Godzilla's radioactive breath?  AWESOME?  How about the humans using a high tech battery as defibrillator to revive a dying Kong?  Just dumb on top of dumb followed by more dumb.  And humans.  All of the humans.
The cast for Godzilla vs. Kong is quite the list of names.  Alexander Skarsgard essentially fills the role of human protagonist Nathan Lind.  Honestly, he is the only human character given anything to work with.  Kyle Chandler is back in his role as researcher Mark Russell, but if you blink you miss him.  Millie Bobby Brown is also back as Madison Russell, but horribly wasted in a sidekick sort of role to the previously mentioned conspiracy theorist.  She is limited to trying to discover why Godzilla has started attacking human cities.  Someone of her talent could have and should have been used better.  There are tons of other folks in this movie, and yet I struggle to understand why we needed them all.  All they do is distract from what the audience wants to see which is GODZILLA and KONG FIGHT.
Ok.  So what's good about this film?  Well, the Kaiju.  The special effects team outdid themselves crafting these battles.  Kong and Godzilla's bouts all feel epic.  I was also impressed with how much more well lit some of the night scenes were.  As Kong and Godzilla battle at night in a Chinese city, everything is well lit without appearing phony.  The choreography of the battles are terrific, albeit a little silly at times.  Again, radioactive monkey axe.  But the joy of Godzilla vs Kong is in these epic clashes.  I watched the movie on HBO Max, I can only imagine how amazing it would have appeared on an IMAX movie screen with Dolby sound shaking my eardrums.
I came into Godzilla vs. Kong with pretty low expectations.  I want to stress that I loved, loved, loved the action sequences involving the Kaiju.  Unfortunately, you have to sit through an inordinate amount of human exposition to get to those epic moments.  That's not to say the humans and their stories need to be gone entirely.  The audience does need a guide and some context.  But Godzilla v. Kong would have been so much stronger with a pared down human side of things and a focus on the monsters. It seems Warner Brothers and Legendary pictures still haven't learned the key to Kaiju: it' all about the monsters.
Patrick's Rating: 2.24/5.0
Overall Nerds' Rating on Godzilla vs Kong (2021): 3.12/5.0
NXT Minus 6: Stand and Deliver…After
Brad breaks down the NXT Takeovers and his favorite matches! Do you agree?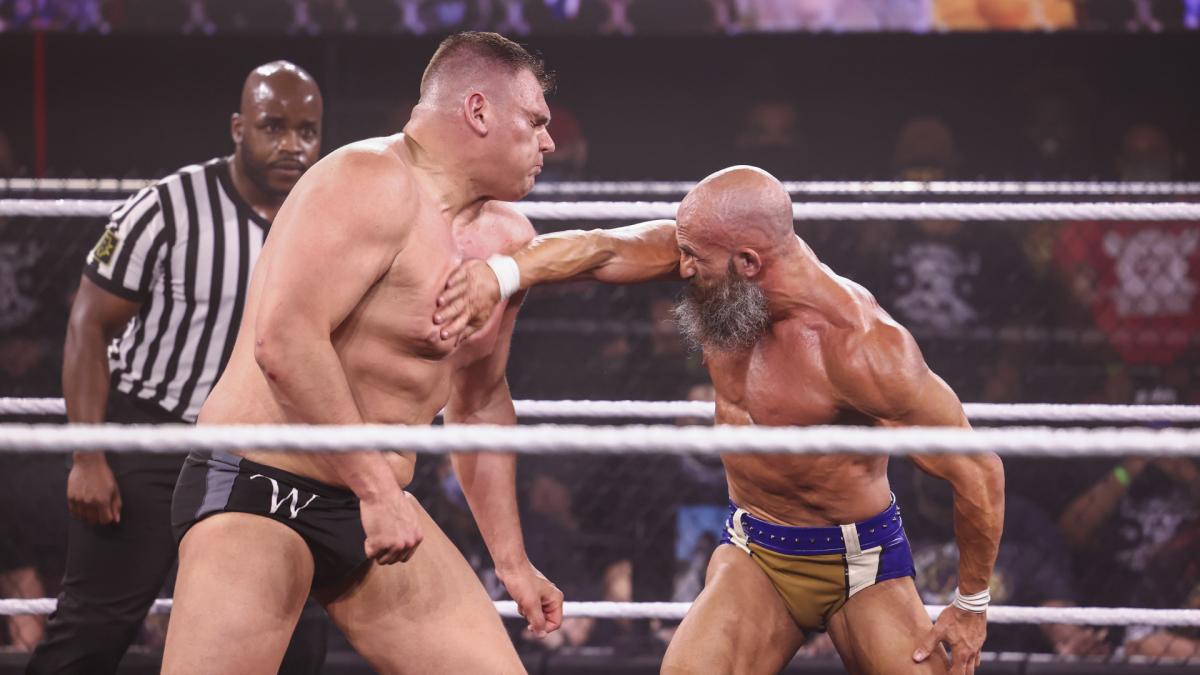 These are the six best matches from Takeover week, plus a new bonus feature! 
6. Jordan Devin versus Santos Escobar, 4.3 stars Devlin turned in a star making performance. His moonsault off the ladder was absolutely perfect and batshit crazy. Escobar is technically so sound, everything he hits looks great, and he's top notch on the mic. But he's not a cruiserweight, and I will never forget that fact. Still, an exciting match that surpassed my expectations.  
5. Tyler Bate versus Noam Dar, 4.3 stars This match was a blast. Both guys have such a wide array of moves, you'll never see the same match twice from either of them. The only thing holding this back was the Heritage Cup format. I like it, but it's hard to have the sustained exchanges necessary to elevate a match to greatness. The breaks slow things down right as they are speeding up. Give these two a straight 20 minutes for the NXT UK championship #1 contender, and you're look at a MOTY.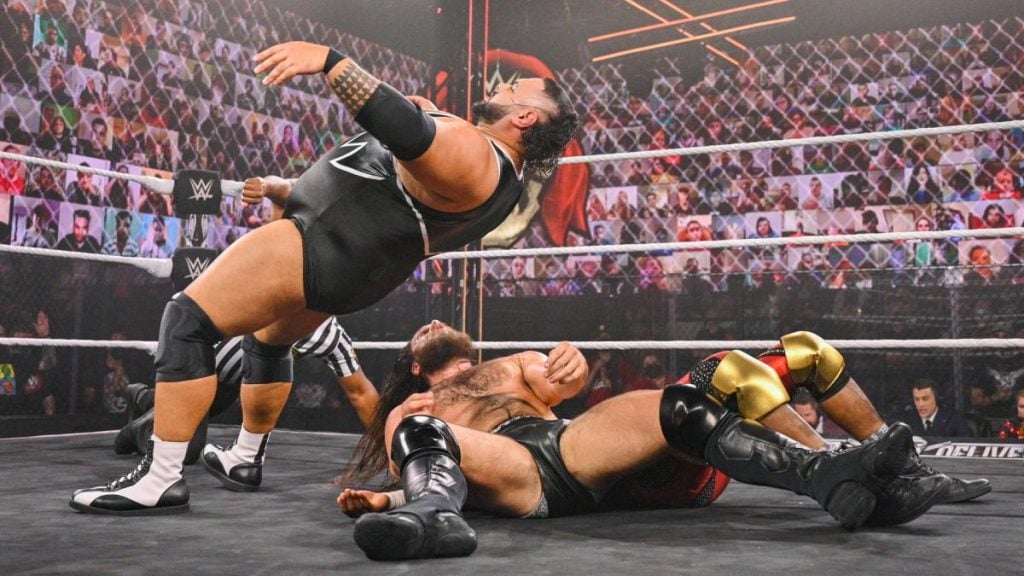 4. Gauntlet Match, 4.4 stars Another match that was just pure fun. Leon Ruff continues to prove he's not a fluke champion. Cameron Grimes is 100% working the rich hillbilly gimmick. They made the right call by getting L.A. Knight and Dexter Lumis out quickly. And in another star making performance, Swerve Scott started the match against flyweight Ruff and ended it against Bronson Reed. That kind of versatility is enough to earn my #3 Star of the Night. 
3. Io Shirai versus Raquel Gonzalez, 4.5 stars
This was the intense, inspired Shirai I don't think I've seen since her match with Dakota Kai at Takeover 30. If this was her last match, as some are speculating, then she's leaving on a high note worthy of her greatness. As good as Gonzalez was in ring, her performance after the match was even better. You could tell she kept flipping from "Holy crap, this is real and I couldn't be happier" to "Yes, I'm a bad ass and I'll power bomb every one of you chumps." 
2. MSK versus Legado Del Fantasma versus Grizzled Young Veterans, 4.5 stars
Some other federation might be on their level, but nobody does tag teams better than NXT. All three teams got considerable time to shine. In a match stuffed with terrific action & individual performances, Wes Lee shined the brightest. His hot tag was Cesaro-level awesome, and his athletic ability rivals Ricochet. He is a star in the making, and his performance earned him my #2 Star of the Night.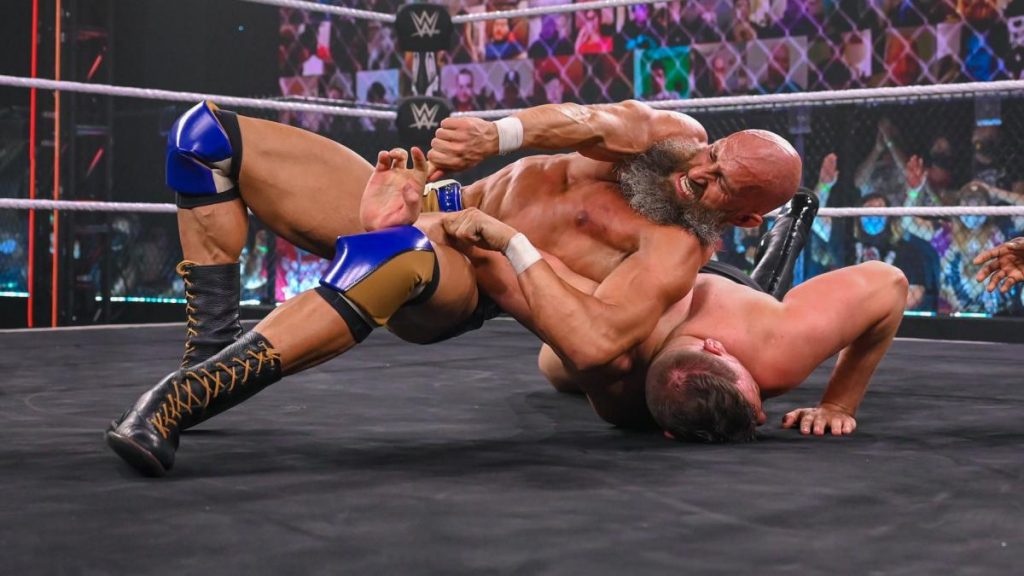 1. WALTER versus Tommaso Ciampa 4.7 stars
I gave Ciampa about a 1% chance of winning. Despite the lack of necessary drama, these two told a masterful story with near flawless execution. Something about WALTER brings out the best in whoever he faces. He did it with Tyler Bate and Ilja Dragunov. He did it with Ciampa. This was easily his best performance since his return from neck surgery. People say he's a brawler, while guys like Johnny Gargano and Roderick Strong are known for their gas tank. Ciampa showed that he can run with the best. His effort against WALTER earned him the respect of Imperium and my #1 Star of the Night.