AAA Review & Results (2/16/2019)
Triple A coverage, brought to you by our Lucha genie Joe Dinan!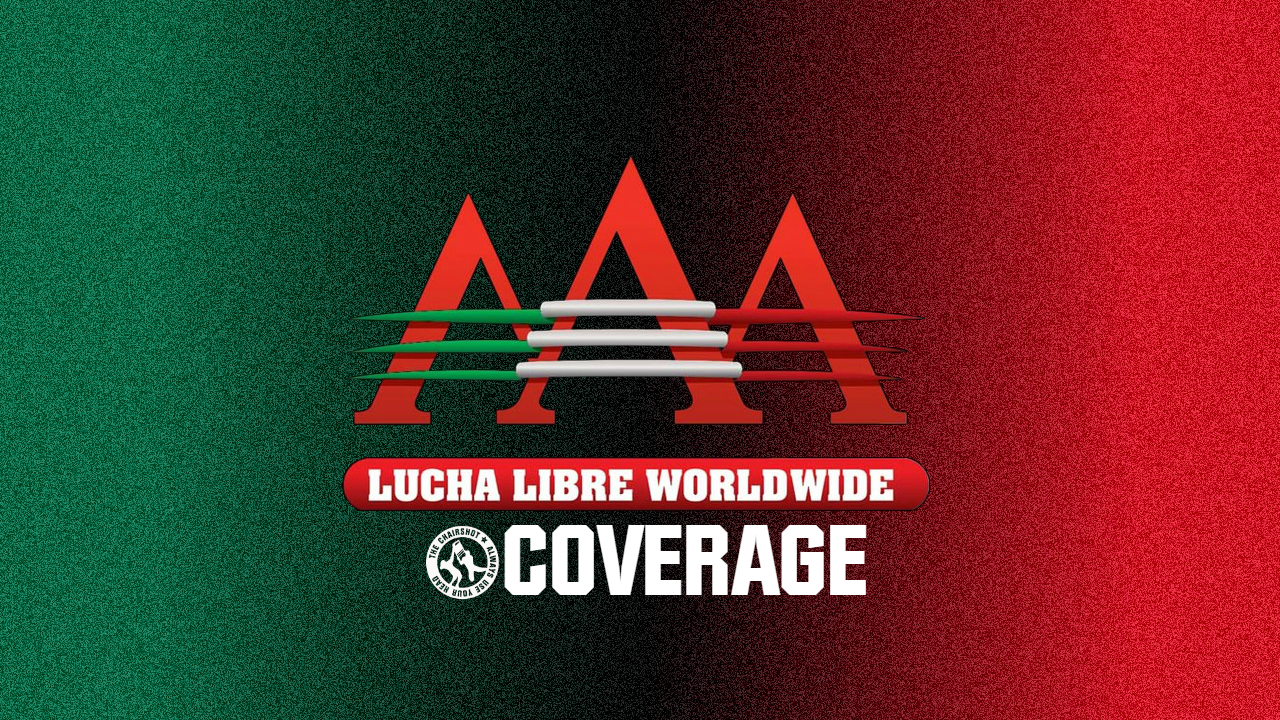 AAA coverage, brought to you by our Lucha genie Joe Dinan!
Live on Twitch 2/16
Dinastia (Draztik Boy), Dragon Bane, and La Parkita vs Mini Murder Clown, Mini Monster Clown, and Latigo
I don't usually like reviews minis matches from AAA because they don't do stories for them. CMLL does for the midgets even if they are dry stories. It's still something, but I'd like to make note that La Parkita nearly killed himself cracking his skull on the ground doing a swanton bomb. Later in the show they revealed he was okay.
Winners: Draztik Boy, Dragon Bane and La Parkita
Super Porky or Brazo de Plata comes out to cut a promo. Mascara confronts him and Psycho Clown then confronts him. Porky has a walker. :/
Nino Hamburguesa, Lady Shani (Golden Magic), and Starfire vs Villano III Jr, Keyra, and Lady Maravilla
Magic and Villano start out with some acrobatic spots. Maravilla and Starfire come in and trade spots. Hamburguesa then comes in with Keyra and shoulder blocks her to oblivion. Villano hits a missile drop kick on Hamburguesa. Maravilla holds Nino in place and Keyra kicks him. Golden Magic gets drop kicked in the corner by Keyra. Starfire is getting teamed on now. Villano drops Starfire on Maravilla's knee. Keyra hits a moonsault. Keyra prevents Nino from getting in then throws Maravilla to the corner. Starfire drop kicks Keyra into the corner and Nino runs into all of them. He then does a flipping senton. Nino then does it again. Magic gets in with Maravilla and super kicks her. Maravilla then trips him on the apron, drop kicks him to the outside then hits a splash off of the top. Keyra and Starfire trade pinning combinations. Starfire hits knees to Keyra's back then hits a flip dive off the apron. Villano hits a code breaker on Nino then poses. Villano goes for a moonsault and he moves. Nino goes to the top and hits a guillotine leg drop. He goes back to the top. Maravilla tries to distract him. She succeeds and Keyra hits a sunset flip on Starfire and then a german suplex for the win. Keyra pins Starfire with a german suplex.
Winners: VIllano III Jr, Keyra, and Lady Maravilla
(Cruiserweight Championship) Laredo Kid vs Sammy Guevara (Champ)
Guevara fakes out Kid to pose in the beginning. They actually do acrobatic flips until Laredo just drop kicks him. Laredo Kid flips out of the ring, Sammy does the same and then Kid gets back in the ring and hits a middle rope missile head butt basically. Kid then hits an asai moonsault. He got impressive air. Kid goes to the ground then Sammy pretends he's hurt. He pushes the ref into the ropes to crotch Laredo. He goes to the top and throws Kid up from a fireman's position and he falls on the turnbuckle for a two count. Kid runs at Sammy and gets power slammed. Sammy then misses a moonsault, lands on feet, misses standing moonsault, lands on feet, then hits a standing shooting star. Sammy hits a standing spanish fly and Laredo no sells it and hits a flipping DDT. Kid kicks Sammy to the outside and hits a 450 off the apron onto the floor. Laredo misses a corkscrew tornado dive and Sammy hits a reverse GTS for a two count. Villano III attacks Laredo from behind when he was setting up the Laredo Fly. Sammy then kicks Laredo to the outside and hits a corkscrew dive over the top rope. Sammy goes to the top and hits a big shooting star press but Laredo kicks out. Everyone is surprised. Villano grabs Laredo by the head and La Parka pulls him down and attacks him on the apron. Sammy goes for a slam but Kid flips out of it and super kicks him. Sammy leaps up to the ropes and jumps but Kid catches him with a cutter. Laredo goes to the top and Sammy leaps to the top rope and hits a Spanish fly for a close two. Sammy goes to the top and Laredo leaps up and kicks him and goes up and hits the Laredo Fly for the win. And naturally he gets beat down by the Mercenaries afterwards. Vikingo and Myzteziz come to his rescue. Laredo Kid wins with a Laredo Fly.
Winner: Laredo Kid
Taya (Lady Shani), Aerostar (Dinastia), and Myzteziz Jr vs Faby Apache, Jack Evans (Super Fly), and Sammy Guevara (La Parka Negra)
This match got picked apart. Dinastia drop kicks Negra and he no sells it. Dinastia hits a head scissors then springboard splash. Super Fly comes in to work with Shani. Faby comes in and kicks Shani. Parka beats on Myzteziz on the outside. Shani gets teamed on in the ring. The technicos try to stop the teaming up but can't just yet. Faby and the heel ref push each other. Faby kicks Shani and Negra kicks her butt. Myzteziz bounces on the ropes and hits a hurricanrana on Negra. Shani back breakers Faby and Dinastia takes out Super Fly. Apache and Shani meet in the ring now and Faby attacks her butt. Shani kicks Faby and then Super Fly beats on Shani. Shani hits an arm drag then a DDT on Super Fly. Negra runs over Myzteziz. Negra throws Myzteziz in the air but he gets caught for a hurricanrana. Myzteziz back drops Super Fly to the outside. Shani then dives to the outside on Super Fly. Myzteziz then dives over the top on Negra. Dinastia flips Faby in the ring then super kicks her. Faby hits a face buster and the ref counts slow so Dinastia kicks out. Faby then hit a Tiger suplex after dodges Dinastia and this time the ref counts but Faby is still upset with him. Faby Apache pins Dinastia with a tiger suplex.
Winners: Faby Apache, Super Fly, and La Parka Negra
Maximo, Mamba, and Pimpinela Escarlata vs La Mascara, Taurus, and Chessman
Maximo starts out against Mascara and goes for a dive off the apron but misses and Mascara beats on him. Escarlata and Mamba get taken out and they team on Maximo. Escarlata gets kicked in the groin but since he/she is playing a girl. No dq. Escaralata goes for a cross body and turns it into an arm drag on Taurus. Mamba hits an apron dive on Mascara and Maximo on Chessman. Escarlata tries to choke Taurus but he shrugs her off. Escarlata puts her butt in Mascara's face to his disgust. Escarlata hits a double arm drag on Chessman and Taurus. She tries to kiss Mascara but he moves his head. She hits an arm drag then finally kisses him. She must be poison ivy. Mamba twerks a little bit in the ring with Chessman but then he slaps her ass and flips her over. Mamba hits a hurricanrana then an arm drags followed by the kiss of death twice. He falls out of the ring and she twerks. Maximo gets in with Mascara and Mascara leaves the ring. Maximo hits hurricanrana's on Chessman and Taurus, then Mamba hits a flip dive through the flip rope. Maximo walks the ropes and hits a flip dive to the outside. Mascara goes to the top with Escarlata but Maximo goes up and kisses him. Escarlata school boys him for the win. Pimpinela Escarlata school boys Mascara for the win.
Winners: Maximo, Mamba, and Pimpinela Escarlata
Drago, Laredo Kid (Aerostar), and Hijo Del Vikingo vs Mocho Cota Jr, Carta Brava Jr, and Tito Santana
Porde de Norte drop kicks everyone to start to get the advantage. Vikingo hits a drop kick to change momentum. He chops Tito Santana's chest. Afterwards Porde de Norte continues to work over everyone. Not much detail to say, just constant triple teaming. Drago hits a head scissors on Santana then launches Vikingo into the others for a drop kick. Aerostar then does a dive through the middle rope where he goes flying into the crowd. Vikingo does an asai imploder 450. In the ring Cota hits a belly to belly on Drago for a two count. Aerostar comes in and hits a running cutter on him. Brava crotches Aerostar on the ropes and does the double foot stomp off of the top. Vikingo catches Carta for a swinging slam that Santana breaks up. Santana jumps into a brutal Canadian destroyer and Drago breaks it up. Drago rolls into a code breaker and Brava breaks it up. Aerostar and Vikingo hit drop kicks on Brava and Santana. Aerostar hits a moonsault, Vikingo a 450 and Drago gets a pinning combination all for a two count. Drago then hits a dive through the middle rope on Cota. Vikingo drop kicks Santana then hits a dive through the middle rope on Santana and Cota. Aerostar dumps Brava to the outside and does a cannon ball splash on Brava and Cota. In the ring Drago sprays mist in Santana's eyes and Vikingo hits an imploder 450 for the win. Hijo Del Vikingo pins Tito Santana with an imploder 450.
Winners: Drago, Aerostar, and El Hijo Del Vikingo
Psycho Clown, Dr. Wagner Jr, and Pagano vs Jeff Jarrett, Rey Escorpion, and Texano Jr
Escorpion attacks Clown with a chair. Texano ties his rope around Pagano's neck. Jarrett works over Wagner. Texano then chokes Wagner, and Rey continues to beat on Psycho Clown. Clown gets Rey to the outside and hits a dive over the top. Pagano then hits a dive through the middle rope. Wagner hits a cutter on Jarrett then dragon screw leg whips Texano. Psycho Clown grabs the rope and hits Texano with it. Clown breaks a broom over Escorpion's back. They hit multiple clotheslines in the corner on Jeff Jarrett. Clown works with Rey and Rey hits a power slam for a two count. Clown hits a head scissors followed by a sunset flip for a two count. Rey hits a draping DDT with Clown caught in the ropes for a two count. Rey postures on the top rope and Clown drop kicks him off. He goes on the turnbuckle post and leaps off onto Esocrpion. Wagner gets distracted by the ref and Jarrett breaks a guitar over his head. Pagano hits a leg drop to stop the count. Pagano hits a cutter on Texano and sets up a table. Pagano head butts a chair into Texano then smacks himself with said chair. Pagano goes to the top with the chair but Texano hits a crucifix power bomb through the table on him for the win. Texano Jr pins Pagano with a crucifix power bomb off the top. 
They continue to beat on the technicos post match. They steal Psycho Clown's mask, yet again as they do every taping.
Winners: Jeff Jarrett, Rey Escorpion, and Texano Jr