Andrew's Impact Wrestling Ratings & Review 2/22/2019
Andrew brings us IMPACT! The first show since UNCAGED, let's see what went down!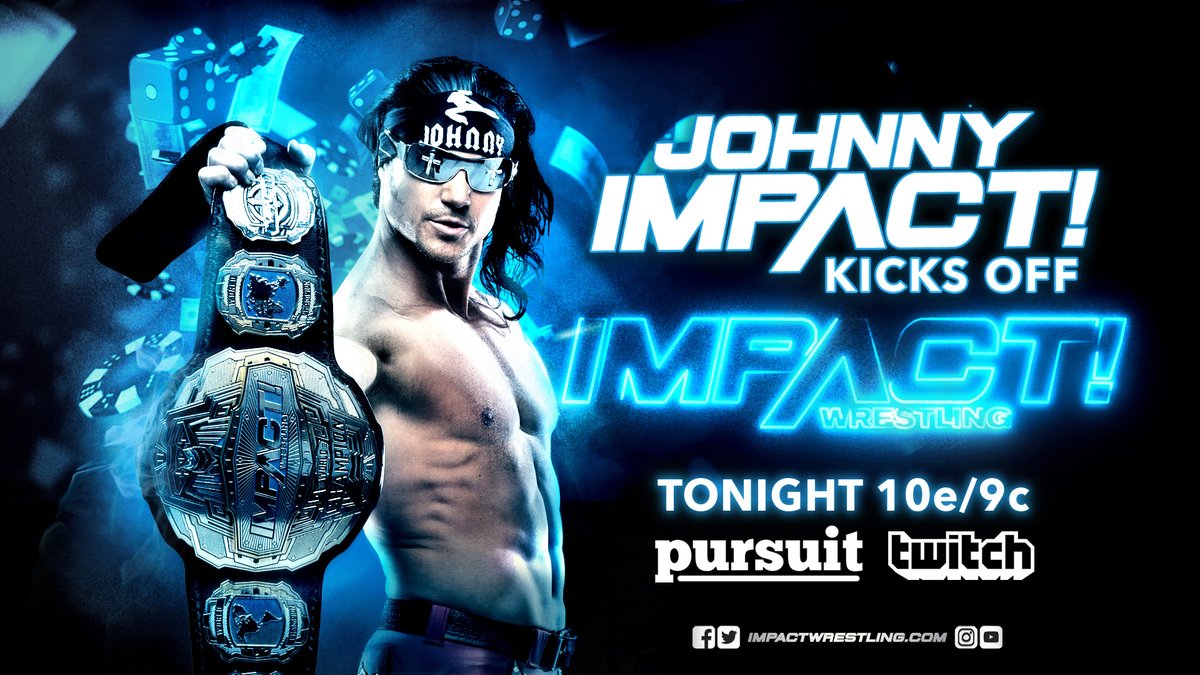 Andrew brings us IMPACT! The first show since UNCAGED, let's see what went down!
So from last week, we know Johnny Impact barely retained his title, Eli Drake hit Eddie Edwards with the kendo stick, and Sami Callihan beat down Rich Swann. Also we get a debut from Delilah Doom this week!
LAX vs Lucha Bros "the final chapter" is happening tonight as well. Quite a lot going on that should be good.
It's…showtime!
Hopefully you can find the show, easier than Glenn finds his way around.
Somebody backstage was kind enough to show @TheRealDisco the door. #IMPACT

WATCH NOW – https://t.co/jyZYT6QL46 pic.twitter.com/8TPPgIBn8I

— IMPACT (@IMPACTWRESTLING) February 23, 2019
Ratings:
Number 1 Contender Match: Killer Kross vs Moose: NO CONTEST – * 1/2
Desi Hit Squad vs Trey & Dez: Trey wins via Meteora – ***
Eli Drake vs Eddie Edwards: Edwards wins via Jacknife Cradle – *** 
Alisha Edwards vs Delilah Doom: NO CONTEST – 1/2
Impact Tag Team Titles: LAX vs Lucha Bros (c): Lucha Bros retain via Spike Fear Factor – *** 3/4
Review:
Johnny, Moose and Kross are doing the in-ring talking segment. Moose and Kross are arguing with one another, a few funny spots about John Paul Gotye, and outfits. But Johnny uses the power of the championship belt to create a number 1 contender match. So Moose sneaks Kross, and the match begins!
Decent in-ring work to begin with, an amusing spot where both Moose and Kross distracted the ref and then kicked the other below the belt…and tried to complain to one another. Then Kross throws coffee in Johnny's face (cause he was at commentary of course), Moose hits Johnny with a Pump Kick and then Johnny gets involved causing the match to get thrown out. Kross and Moose gang up on Johnny, but Cage comes out for the save.
Quick segments of Don Callis hiring Glenn Gilbertti (Disco Inferno) and LAX hyping their 'final' shot against the Lucha Bros.
Melissa fixes her audio feedback issue during the second break, thank god! She wasn't using earbuds at first so the squawk feedback ear killing noise of death was going on. Love Melissa, but someone should've checked her audio first.
Johnny and Cage are backstage, now without shirts. Johnny asks Cage to help him take out Kross and Moose, because they will keep interfering in their business if they ever tried to have a one on one match. He then offers Cage a contract that gives Cage the power to challenge whenever he wants to. So it looks like Johnny Cage will ride again, at least one more time.
Tommy Dreamer vs Eddie Edwards from Slammiversary 2018 won the vote for the Flashback match of the night.
Rascalz smoke break segment, and Gama Singh shows up and  teaches the boys the real smoke. Good comedic segment.
The Rascalz come out dazed and disoriented looking, selling the smoke segment. It's hard not to be entertained by The Rascalz. Trey was busy pandering to the crowd, so he missed the tag initially. But when he turns around, Dez slaps him in the face and Kid Ref calls it a good tag. Lots of quick spots, personality filled sells and the old school style of the Hit Squad meshes well with The Rascalz. Good stuff, plus we saw a Double Tiger Feint, so that's a cool spot.
Eli Drake promo with Melissa doing the interview, good stuff. Eli is always a great a promo.
Damn good promo from Sami Callihan. Meets Rich Swann at the hospital has a big heart to heart, the 'doctor' comes in and tries to say it's only family visiting hours. Rich cuts in an says "He is family…", Sami smiles, puts an oVe shirt on Rich's chest and walks off.
Not only did @TheSamiCallihan VIOLENTLY put @GottaGetSwann in the hospital, he was sick enough to visit him there and rub it in.

WATCH NOW – https://t.co/jyZYT6QL46 pic.twitter.com/El6gf4GPOx

— IMPACT (@IMPACTWRESTLING) February 23, 2019
Eli and Eddie is a solid match with a solid slow build. Eli keeps pushing Eddie to use wrestling and not hardcore, but the same thing we've seen this entire story – Eddie introduces the weapon, Eli tries to use it, and something happens. In this case, Eddie counters the attempt, and shoots the double leg and gets the Jacknife pin. Not a bad match at all.
Tessa ranting promo against management, utilizing the Rolando Melendez investigative reporter guy again.
Glenn in the next backstage segment, asks for directions to Management's office, the person he asks isn't helpful. Glenn takes the wrong turn and gets locked out of the building. Keeps saying he's a big star, so it's nice he can take some jabs at himself.
The match was sloppy to begin with, Alisha is not the best in the ring. Delilah comes off as a spunky ball of energy. She hit a 619, had a small flurry and then Tessa Blanchard storms out, Gorilla Press Slams Alisha onto the ramp. Delilah tries to fight back, but a dead-lift Liger Bomb sets up the Buzzsaw DDT and Tessa stands tall.
After the commercial break, a quick Ace Austin vignette followed by Delilah Doom challenging Tessa to a match next week.
Impact apparently joined up with the NFL Alumni Association Las Vegas chapter, so they run a video package showing that.
Rosemary makes a deal with James Mitchell for Allie. There will be a Dark War coming soon. If Mitchell's team wins, Rosemary joins them. If Rosemary wins, Allie is set free.
.@WeAreRosemary wants a Dark War?

Father James Mitchell is willing to give it…only if both Rosemary and @AllieImpact's souls are on the line. #IMPACT

WATCH NOW – https://t.co/jyZYT6QL46 pic.twitter.com/H5V9zTQQXL

— IMPACT (@IMPACTWRESTLING) February 23, 2019
Melissa Santos interview Taya in the back about the Tessa situation.
This match was slower and started off like a Street Fight. I appreciated the slower pace, some spots had space to breathe and we even see Ortiz hit Fenix with a chancla (flip-flop for those who don't know), which is a super Latino spot. LAX had great tandem moves, Lucha Bros had great moments as well. Fenix hopping up to the top rope to kick Ortiz in the face, as opposed to a high risk move, was nice to see. The finish was a little sloppy, but generally speaking this was a solid match for only having about 12 minutes. Not their best match, but at least on par with the match where the Lucha Bros won the titles. Then LAX turned heel at the end by taking Fenix and Pentagon's masks!
.@SantanaLAX and @Ortiz5150 just TOOK THE MASKS of @PENTAELZEROM and @ReyFenixMx. @Konnan5150's worst fears have come true! #IMPACT pic.twitter.com/mfQrRpEymB

— IMPACT (@IMPACTWRESTLING) February 23, 2019
Overall Score: 6.5/10
This show was odd. It started off a little slow with the formulaic talking segment that breaks down, and ends in a no contest. Then another no contest later, as well as the Flashback Match went too long.  So the first hour was a little rough to get through, but between Eli, Sami, the tag match and a few fun video segments helped the show pick back up.
Oh also to note, this is the first episode since the move to Pursuit that Scarlett wasn't on. AND IN LAS VEGAS TOO?! They probably have big plans for her, but her skipping an episode is odd. I think, Raw, SmackDown and Impact all scored the same this week. I'm…not sure if that's good or bad.
Twitch Views:
Week 1: High – 10,350 / Low – 8,500
Week 2: High – 8,000 / Low – 6,500 
Week 3: High – 8,500 / Low – 7,900  
Week 4: High – 7,100 / Low – 5,300
Week 5: High – 7,450 / Low – 5,650
Uncaged: High – 9,000/ Low – 8,000
Week 6: High – 8,025/ Low – 5,300
As for the views, they are a little misleading. It took the show a while to grab viewers, but after about 10-15 minutes it never dipped below 6,500. So the on average viewership for tonight was a little better than the scale would have you believe, especially since the last hour stayed about 7,000 the whole time. So nothing crazy, no huge spike or plummet, basically 6,000-7,000 seems to be the Twitch audience on a week to week basis.