Andrew's Impact Wrestling Ratings & Review 2/22/2019
Andrew brings us IMPACT! The first show since UNCAGED, let's see what went down!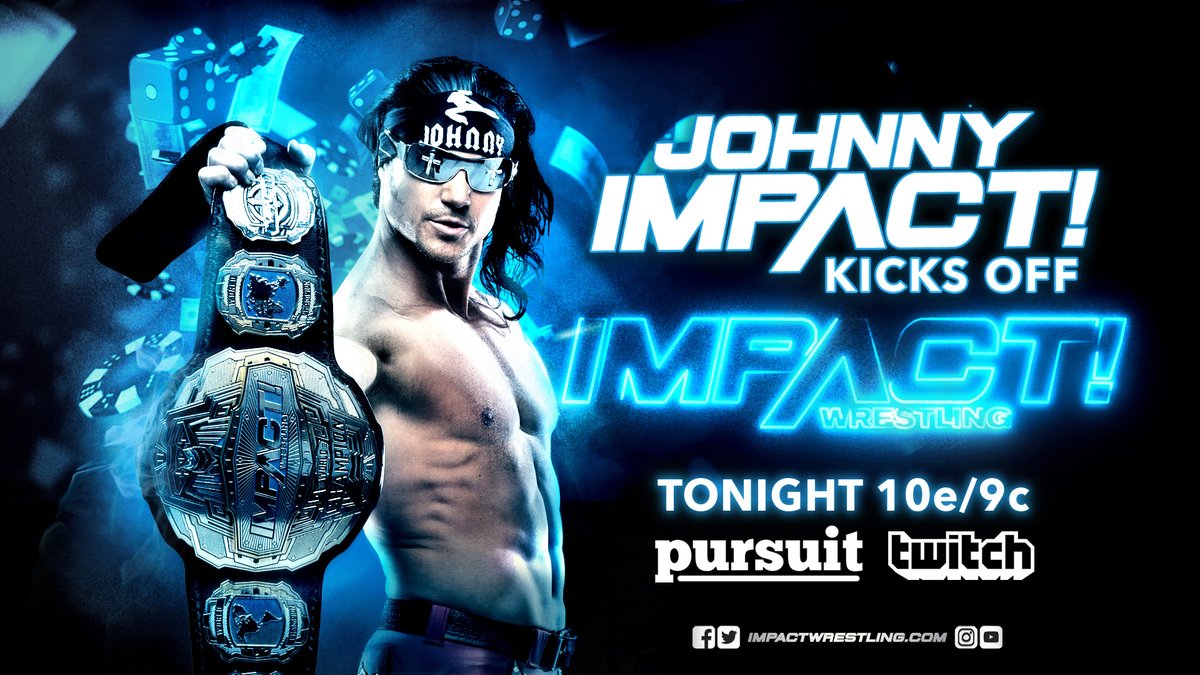 Andrew brings us IMPACT! The first show since UNCAGED, let's see what went down!
So from last week, we know Johnny Impact barely retained his title, Eli Drake hit Eddie Edwards with the kendo stick, and Sami Callihan beat down Rich Swann. Also we get a debut from Delilah Doom this week!
LAX vs Lucha Bros "the final chapter" is happening tonight as well. Quite a lot going on that should be good.
It's…showtime!
Hopefully you can find the show, easier than Glenn finds his way around.
Somebody backstage was kind enough to show @TheRealDisco the door. #IMPACT

WATCH NOW – https://t.co/jyZYT6QL46 pic.twitter.com/8TPPgIBn8I

— IMPACT (@IMPACTWRESTLING) February 23, 2019
Ratings:
Number 1 Contender Match: Killer Kross vs Moose: NO CONTEST – * 1/2
Desi Hit Squad vs Trey & Dez: Trey wins via Meteora – ***
Eli Drake vs Eddie Edwards: Edwards wins via Jacknife Cradle – *** 
Alisha Edwards vs Delilah Doom: NO CONTEST – 1/2
Impact Tag Team Titles: LAX vs Lucha Bros (c): Lucha Bros retain via Spike Fear Factor – *** 3/4
Review:
Johnny, Moose and Kross are doing the in-ring talking segment. Moose and Kross are arguing with one another, a few funny spots about John Paul Gotye, and outfits. But Johnny uses the power of the championship belt to create a number 1 contender match. So Moose sneaks Kross, and the match begins!
Decent in-ring work to begin with, an amusing spot where both Moose and Kross distracted the ref and then kicked the other below the belt…and tried to complain to one another. Then Kross throws coffee in Johnny's face (cause he was at commentary of course), Moose hits Johnny with a Pump Kick and then Johnny gets involved causing the match to get thrown out. Kross and Moose gang up on Johnny, but Cage comes out for the save.
Quick segments of Don Callis hiring Glenn Gilbertti (Disco Inferno) and LAX hyping their 'final' shot against the Lucha Bros.
Melissa fixes her audio feedback issue during the second break, thank god! She wasn't using earbuds at first so the squawk feedback ear killing noise of death was going on. Love Melissa, but someone should've checked her audio first.
Johnny and Cage are backstage, now without shirts. Johnny asks Cage to help him take out Kross and Moose, because they will keep interfering in their business if they ever tried to have a one on one match. He then offers Cage a contract that gives Cage the power to challenge whenever he wants to. So it looks like Johnny Cage will ride again, at least one more time.
Tommy Dreamer vs Eddie Edwards from Slammiversary 2018 won the vote for the Flashback match of the night.
Rascalz smoke break segment, and Gama Singh shows up and  teaches the boys the real smoke. Good comedic segment.
The Rascalz come out dazed and disoriented looking, selling the smoke segment. It's hard not to be entertained by The Rascalz. Trey was busy pandering to the crowd, so he missed the tag initially. But when he turns around, Dez slaps him in the face and Kid Ref calls it a good tag. Lots of quick spots, personality filled sells and the old school style of the Hit Squad meshes well with The Rascalz. Good stuff, plus we saw a Double Tiger Feint, so that's a cool spot.
Eli Drake promo with Melissa doing the interview, good stuff. Eli is always a great a promo.
Damn good promo from Sami Callihan. Meets Rich Swann at the hospital has a big heart to heart, the 'doctor' comes in and tries to say it's only family visiting hours. Rich cuts in an says "He is family…", Sami smiles, puts an oVe shirt on Rich's chest and walks off.
Not only did @TheSamiCallihan VIOLENTLY put @GottaGetSwann in the hospital, he was sick enough to visit him there and rub it in.

WATCH NOW – https://t.co/jyZYT6QL46 pic.twitter.com/El6gf4GPOx

— IMPACT (@IMPACTWRESTLING) February 23, 2019
Eli and Eddie is a solid match with a solid slow build. Eli keeps pushing Eddie to use wrestling and not hardcore, but the same thing we've seen this entire story – Eddie introduces the weapon, Eli tries to use it, and something happens. In this case, Eddie counters the attempt, and shoots the double leg and gets the Jacknife pin. Not a bad match at all.
Tessa ranting promo against management, utilizing the Rolando Melendez investigative reporter guy again.
Glenn in the next backstage segment, asks for directions to Management's office, the person he asks isn't helpful. Glenn takes the wrong turn and gets locked out of the building. Keeps saying he's a big star, so it's nice he can take some jabs at himself.
The match was sloppy to begin with, Alisha is not the best in the ring. Delilah comes off as a spunky ball of energy. She hit a 619, had a small flurry and then Tessa Blanchard storms out, Gorilla Press Slams Alisha onto the ramp. Delilah tries to fight back, but a dead-lift Liger Bomb sets up the Buzzsaw DDT and Tessa stands tall.
After the commercial break, a quick Ace Austin vignette followed by Delilah Doom challenging Tessa to a match next week.
Impact apparently joined up with the NFL Alumni Association Las Vegas chapter, so they run a video package showing that.
Rosemary makes a deal with James Mitchell for Allie. There will be a Dark War coming soon. If Mitchell's team wins, Rosemary joins them. If Rosemary wins, Allie is set free.
.@WeAreRosemary wants a Dark War?

Father James Mitchell is willing to give it…only if both Rosemary and @AllieImpact's souls are on the line. #IMPACT

WATCH NOW – https://t.co/jyZYT6QL46 pic.twitter.com/H5V9zTQQXL

— IMPACT (@IMPACTWRESTLING) February 23, 2019
Melissa Santos interview Taya in the back about the Tessa situation.
This match was slower and started off like a Street Fight. I appreciated the slower pace, some spots had space to breathe and we even see Ortiz hit Fenix with a chancla (flip-flop for those who don't know), which is a super Latino spot. LAX had great tandem moves, Lucha Bros had great moments as well. Fenix hopping up to the top rope to kick Ortiz in the face, as opposed to a high risk move, was nice to see. The finish was a little sloppy, but generally speaking this was a solid match for only having about 12 minutes. Not their best match, but at least on par with the match where the Lucha Bros won the titles. Then LAX turned heel at the end by taking Fenix and Pentagon's masks!
.@SantanaLAX and @Ortiz5150 just TOOK THE MASKS of @PENTAELZEROM and @ReyFenixMx. @Konnan5150's worst fears have come true! #IMPACT pic.twitter.com/mfQrRpEymB

— IMPACT (@IMPACTWRESTLING) February 23, 2019
Overall Score: 6.5/10
This show was odd. It started off a little slow with the formulaic talking segment that breaks down, and ends in a no contest. Then another no contest later, as well as the Flashback Match went too long.  So the first hour was a little rough to get through, but between Eli, Sami, the tag match and a few fun video segments helped the show pick back up.
Oh also to note, this is the first episode since the move to Pursuit that Scarlett wasn't on. AND IN LAS VEGAS TOO?! They probably have big plans for her, but her skipping an episode is odd. I think, Raw, SmackDown and Impact all scored the same this week. I'm…not sure if that's good or bad.
Twitch Views:
Week 1: High – 10,350 / Low – 8,500
Week 2: High – 8,000 / Low – 6,500 
Week 3: High – 8,500 / Low – 7,900  
Week 4: High – 7,100 / Low – 5,300
Week 5: High – 7,450 / Low – 5,650
Uncaged: High – 9,000/ Low – 8,000
Week 6: High – 8,025/ Low – 5,300
As for the views, they are a little misleading. It took the show a while to grab viewers, but after about 10-15 minutes it never dipped below 6,500. So the on average viewership for tonight was a little better than the scale would have you believe, especially since the last hour stayed about 7,000 the whole time. So nothing crazy, no huge spike or plummet, basically 6,000-7,000 seems to be the Twitch audience on a week to week basis.
Andrew's Impact Wrestling Ratings & Analysis 7/19/2019
Impact Mash Up Tournament tonight! Winning team earns a 1v1 match with a title shot attached! WCW Lethal Lottery is back!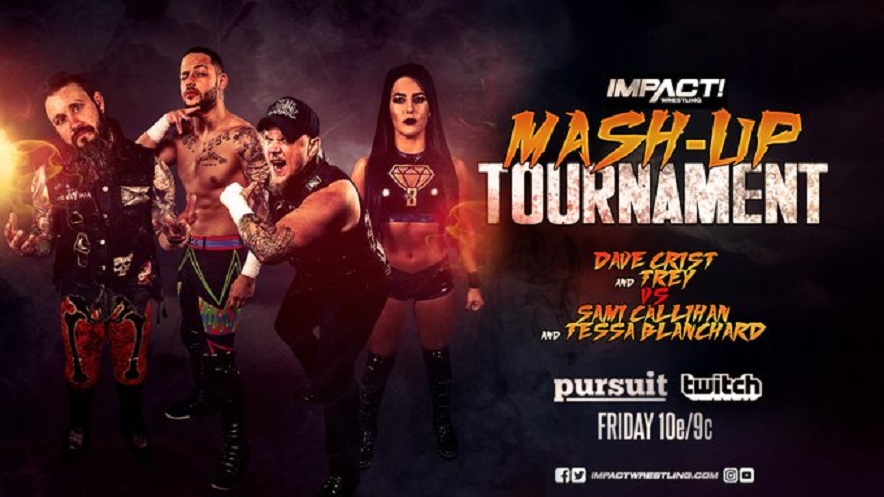 Impact Mash Up Tournament tonight! Winning team earns a 1v1 match with a title shot attached! WCW Lethal Lottery is back!
WCW Lethal Lottery show!
Wait – I mean Mash Up Tournament…no wait, I was right the first time. I wonder if there's a Battlebowl at the end.
From a clip show to a filler show, I'm not really sure how to feel. Tonight could be cool, but I doubt it will matter much in the grand scheme of things.
Damn you Impact and Dragonball for your non-canonical movies!
Looks like @The_Ace_Austin has found a rather ADVENTUROUS partner for tonight!

WATCH HERE: https://t.co/sWu6SEiYN7 #MashUp @DSSAdventure pic.twitter.com/O6w4cCzesV

— IMPACT (@IMPACTWRESTLING) July 20, 2019
Ratings:
Moose & Eddie Edwards vs Rohit Raju & Cody Deaner: Edwards wins via Boston Knee Party – * 1/2
Rich Swann & Madman Fulton vs Jake Crist & Wentz: Jake wins via Fisherman Buster Hold – ** 1/4
Michael Elgin & Willie Mack vs Ace Austin & Stone Rockwell: Elgin wins via Elgin Bomb – **
Trey & Dave Crist vs Sami Callihan & Tessa Blanchard: Callihan wins via Piledriver – ***
Havok vs Madison Rayne vs Taya Valkyrie: Havok wins via Tombstone Piledriver – ** 1/2
Mash-Up Finals Elimination Match: Eddie Edwards & Moose vs Willie Mack & Michael Elgin vs Jake Crist & Wentz vs Sami Callihan & Tessa Blanchard: Tessa & Sami win – *** 1/4
Analysis:
So the inaugural match of this Mash Up Tournament and it's decently established wrestlers against two jobber halves of a tag teams. This had no chance of being taken seriously. Things break down, Moose and Eddie win, Desi Hit Squad and Deaner brawl a little. This really got the night kicked off with a yawn and fart.
Zombie Princess is interviewing Ace Austin and Eddie Prince, Austin insults his mish mosh teammate and now he's hung out to dry. Will he find a replacement?
Well this was a little odd since it was 3 Cruiserweight sized people and Madman Fulton. We got some decent Cruiser style wrestling until the inevitable turn from Fulton happened and he assisted Jake in beating Rich. So maybe Jake will be in line for an X Division shot.
Is it hard for me to care about some of this? That's a resounding yes. Austin gets saddled with the comedy act of Stone Rockwell and we hate all of these things. Of course Elgin and Mack mostly dominate, this wasn't close, Ace is a jerk, yadda yadda…Lethal Lottery nap time!
.@TheSamiCallihan has a plan to ensure total dominance for oVe in the #MashUp Tournament!

WATCH HERE: https://t.co/sWu6SEiYN7 @TheJakeCrist @TheDaveCrist @FultonWorld pic.twitter.com/6eRNDscrqO

— IMPACT (@IMPACTWRESTLING) July 20, 2019
Well we finally had a somewhat competitive match. Dave and Sami planned a finger poke of Doom spot since we don't already have enough WCW references tonight. Trey also decided to dress up exactly like Sami and channels his inner Sami. Tessa and Sami start dysfunctional but they put it together enough. Tessa hits Magnum on Trey but tweaks something so Sami picks up the pinfall with the Piledriver. Solid match with a lot of drama and character spots.
ImpactPlus Flashback Momenet: oVe vs Eddie Edwards, Moose & Tommy Dreamer House of Hardcore Match Redemption 4/22/2018
Well the writing was on the wall with this match too. Havok is twice the size of the other women and Taya is a self preserving champion, so we had to figure that Madison was eating the pin here. The match wasn't awful or anything, but a lack of suspension of disbelief just kinda has it linger and happen.
So the Mash Up Tournament was kinda like Battlebowl. The four winners, come together in a giant four way tag, and the winner of this four way gets a one on one match at Unbreakable for a World Title shot.
We got the finish that most of us probably wanted, and everyone actually looked solid. Moose and Eddie going out first is fine since they were the least cohesive unit. Elgin and Mack only lost because Elgin eventually turned on Mack and just walked out on the match. The we saw Jake Crist defy Sami's wishes. Sami tried the finger poke, but Jake was playing possum and went for an Inside Cradle, but Sami kicked out. An interesting development was when Tessa faced off with Elgin, Sami shoved her out of the way, like he was protecting her. Then towards the end, her and Sami were in sync trading strikes with Jake and Wentz. So there is tension between the two, but they also came together when it mattered, regardless of the dysfunction. That was a neat wrinkle.
Overall Score: 6.5/10
The show was alright for being mostly filler. But the real highlight of the night was on Twitch, watch Melissa play Fortnite with Sami Callihan and Dave Crist. Between the comments, Melissa being awful at the game and just the general banter, it was all good stuff. Sami's shoe fetish is a little odd though.
Either way, the show was fine, Twitch made it better when the first hour was pretty obvious and boring. Tessa, Sami and Jake are probably the biggest players to look out for coming out of this Lethal Lottery.
Andrew's Impact Wrestling Ratings & Analysis 7/12/2019
Slammiversary was a great PPV! What does Impact bring to the table after a successful event?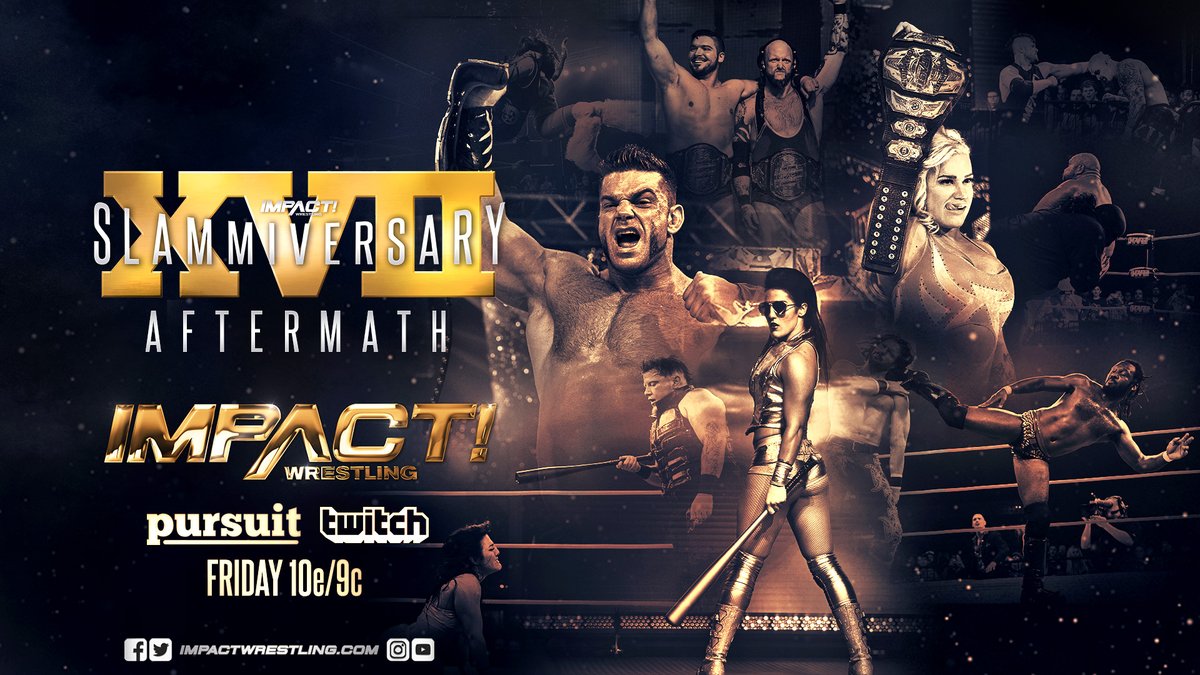 Slammiversary was a great PPV! What does Impact bring to the table after a successful event?
With the news of some people being free agents along with all of the title defenses, we've got some work to do!
Wait…Don Callis and Josh Matthews are in front of a Slammiversary LED screen?
We're getting a clip show? OH- a clip show with 1 new match and the full main event of a A Night You Can't Mist.
Really? You follow up a hot PPV with a clip show.
Talk about not understanding momentum.
Ratings:
IMPACTplus Match: Michael Elgin & Johnny Impact vs The Great Muta & Tommy Dreamer: Muta wins via Shining Wizard – ***
Kiera Hogan vs Jordynne Grace vs Madison Rayne: Grace wins via Grace Driver – ***
Analysis:
Well I must've overlooked something, since this is mostly a clip show. Seems like they're going over the Slammiversary matches with post match comments interspersed from wrestlers.
Surprisingly, Melissa is on the Skype host of Twitch chat duty tonight. She just got married and this is a clip show and she's still around. Points for her.
Ugh – yup just clips of before and after promos for Killer Kross vs Eddie Edwards. I don't really care. These feel like they should be extras for the Slammiversary DVD, not a standalone IMPACT episode.
Jimmy Jacobs weighs in on the Monster's Ball information. Gotta love the Zombie Princess.
To give you an idea of what we've been dealing with:
.@TheTayaValkyrie beat the odds and defeated @WeAreRosemary, @realsuyung & @FearHavok in a VIOLENT Monster's Ball for the Knockouts Championship at Slammiversary!

WATCH HERE: https://t.co/sWu6SEiYN7#IMPACT pic.twitter.com/JKqYkxtmqB

— IMPACT (@IMPACTWRESTLING) July 13, 2019
Oh now we get to hear the thoughts of the Real Deal now. D'lo Brown discusses the tag team match.
The best thing to come from these post match comments was the promo Konnan cut on The North afterwards. Still definitely a waste of time episode, but Konnan is still fire on the stick.
After @OfficialEGO & @Walking_Weapon retained the Tag Team Championships at Slammiversary, @Konnan5150 sent them a very direct message!

WATCH HERE: https://t.co/sWu6SEiYN7#IMPACT pic.twitter.com/CnLDbgmd3E

— IMPACT (@IMPACTWRESTLING) July 13, 2019
Well thankfully they trimmed out the portion of the Night You Can't Mist main event so we didn't see the long stall because of the shitty fan. As for the match, it was a good house show style match. A few moments of awkward spots, physical comedy and Muta slides in with a broom, Kid Ref admonishes him and he decides to just sweep the ring a little like he had no ill intent. Solid match honestly, the fact that Muta goes over after some Misting shenanigans was just a nice moment.
Tommy joins Josh and Don talking about Tessa versus Sami Callihan. The interviews afterwards definitely drive home the fact that Sami has respect for Tessa. It was a well done video package, but this really shouldn't be a stand alone episode.
Petey Williams joins the aftermath show to discuss Swann and Johnny. Nothing really of merit was said or shown, especially since most of us figure Johnny lost since his contract was up. So trying to frame it in a sports way, doesn't really resonate with this generation of wrestling viewer. I mean that more by available information, not hands down "smart" remarks.
So we know where it's going. They talk about Cage and Elgin with Scott D'Amore and it seems like this angle might persist. Since Cage won with a wrestling move and not his usual seek and destroy style, Elgin is taking that as a moral victory. Any matches with those two will be good stuff, but got this has been hard to sit through.
Well this women's Triple Threat was kind of a mess early on. Mistimed spots, competitors or referees out of position, awkward transition and partially missed moves. Granted, they had a good amount of time and kept the intensity up, so it helped to save the match from an enjoyment and storyline perspective. Things culminate with Grace getting the win, but Rayne turns heel. So Hogan and Rayne gang up on Grace, and Hogan walks out exchanging glances with Rayne, but never quite cementing if they will be a team moving forward.
Overall Score: 3.5/10
A clip show with one new match and one match from a show last month. I mean, Jesus this was not a good idea. Yes the video packages were solid, sure they helped to flesh things out a little bit…but holy hell it was a boring show. Plus you have to wonder how people who paid for the PPV must feel when a good bit of the footage was given away during this clip show.
Of course Twitch viewers were the lowest they've ever been since people were not happy with a clip show.
Just a dumb choice coming off the heels of a great PPV.