Andrew's Impact Wrestling Ratings & Review (2/8/2019)
Impact Wrestling, coming off the worst Twitch viewership, and worst rated show of the year…do we see a bounce back leading into Uncaged?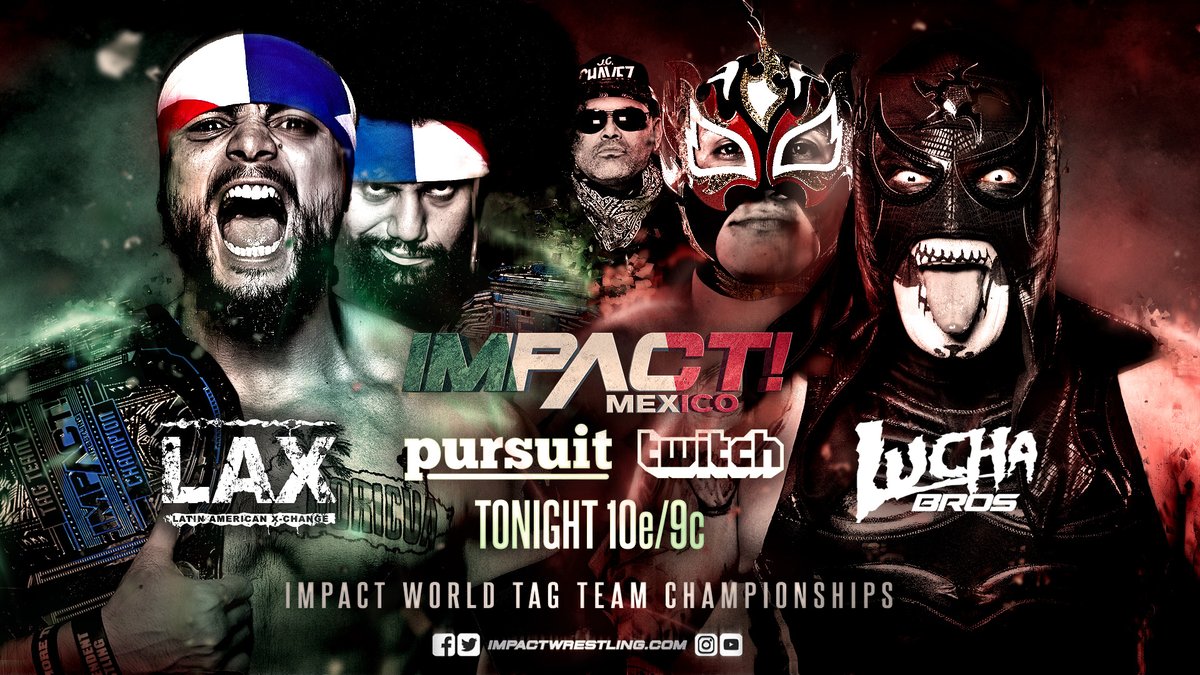 Impact Wrestling, coming off the worst Twitch viewership, and worst rated show of the year…do we see a bounce back leading into Uncaged?
With my assumed direction for the main event to become a 4 way, Allie's ongoing struggle with Demons and Zombies, Team Impact vs Team AAA and Sami's history with Rich Swann, Uncaged has a lot to build towards.
Let's not overlook that we're getting an Impact Tag Team Championship rematch between LAX and the Lucha Bros. So it's gonna take some impressive fail for this episode to fall short.
Time to find out.
.@PENTAELZEROM and @ReyFenixMx are ready for LAX TONIGHT! #IMPACT

WATCH NOW – https://t.co/jyZYT6QL46 pic.twitter.com/Kmw8zfACK4

— IMPACT (@IMPACTWRESTLING) February 9, 2019
Ratings:
Rich Swann & Willie Mack vs Dave & Jake Crist: Swann wins via 450 Splash – ***
Kiera Hogan vs Allie: Hogan wins via Face the Music – ** 1/4
Rohit Raju vs Trey: Trey wins via Meteora – ***
Sami Callihan vs Puma King: Callihan wins via Piledriver – *** 1/4
Impact Tag Team Championship: LAX (c) vs Lucha Bros: Lucha Bros win via Spike Fear Factor – *** 3/4 – TITLE CHANGE!!
Review Notes:
Tag action starts us off. The Crists come out to continue the story with Swann and Sami Callihan. We get a solid match. Crowd was asleep, so that did make it come off a little flat, but lots of good action from both the Crists and Mack/Swann. So it's a good start.
Lucha Bros promo, followed by the announcement that the Uncaged main event is now a 4 Way match. Johnny vs Cage vs Moose vs Kross. Obvious twist with how things have been going, but no complaints.
Flashback moment is the last few minutes of Pentagon's World Championship victory against Austin Aries and Fenix at Redemption 2018.
We see the storyline move forward with all the Darkness, Su Yung gets wiped out and Allie has a fit thinking Su disappeared and Rosemary might show up. So because she freaks out and doesn't just grab the bloody glove, Kiera takes the opening to hit her Cradle Neckbreaker finish. No appearance by Rosemary though.
They announce RVD & Sabu vs Lucha Bros for United We Stand.
Allie and Su are seen in the back, with Allie muttering "she's here". Screen flickers and a message is seen " The witching is upon us. Don't say we didn't warn you."
The contrast in styles between an old school heel and the new school "flippy" guy, worked fairly well. Old heel tactics kept Trey grounded for the most part, but he still pulled off a Triangle Enzuigiri as well as his Head Tucked in the Turnbuckle Tiger Feint ( think Will Ospreay's Cheeky Nandos Kick, but tucking the head and then hitting a 619 instead). Trey winning with the Meteora off the top, punctuated the shenanigans more than looking cool.
Quick Scarlett bumper about her in-ring debut next week.
Sami and Puma King starts off with a lot of Sami brawling with some nice heel work. Puma King has a nice Headscissors out of a Tree of Woe, and then starts putting some offense together. After a huge miss on the dive to the outside, Puma King is on the back foot, but they do put together a nice sequence to pick things up a little. We get an odd Drop Toe Hold into La Magistral spot, but the finishing sequence is solid. All in all in the best match on the show so far, a damn solid episode already.
Video hype package for Taya versus Tessa.
Eli confronts Eddie Edwards about next week's match, trying to convince him to drop the hardcore style.
Melissa Santos interviews Moose and Kross. Moose turns on a little more goofiness, trying to say it's unfair to the others because they're a team and have one another's blind sides. Moose says "Just like Bill Belichick says, there's no I in team" and Kross nods, " That's good. But I prefer the one with the Frog and the Scorpion". Moose doesn't get the reference, but it alludes to Kross using Moose to get to a goal. So we'll see if it falls apart next week.
.@TheMooseNation and @realKILLERkross seem to have some different ideas about next week's four way championship match. #IMPACT

WATCH NOW – https://t.co/jyZYT6QL46 pic.twitter.com/LONSFrNpdh

— IMPACT (@IMPACTWRESTLING) February 9, 2019
They had a lot to follow after their Homecoming match, but this wasn't bad. It starts quick again, and this match had the same issue the last one did, where it felt too fast. Moves weren't hitting flush, double clutching or waiting too long to take a spot hurt the match a little. Both tag teams kicked out of the respective finishers, so no one looks bad. Lucha Bros have to hit a second Spike Feat Factor, as Fenix lays out Ortiz with a tope. Konnan makes them shake hands, but there's still a little heat.
This is exactly how @SantanaLAX and @Ortiz5150 put away The Lucha Bros at Homecoming but it's not enough tonight. #IMPACT pic.twitter.com/Q8nQA9vir1

— IMPACT (@IMPACTWRESTLING) February 9, 2019
Overall Score: 7.25/10
Nothing about this show was bad. Stories moved forward, big announcement for United We Stand with the RVD & Sabu vs Lucha Bros main event. Also coming off of the AEW news that Lucha Bros will show up there, winning the Impact Tag Championships could lead to some interesting cross over. Who knows.
But like I said, good show. Nice to see Impact bounce back a little from the lack luster show last week.
Week 1: High – 10,350 / Low – 8,500
Week 2: High – 8,000 / Low – 6,500 
Week 3: High – 8,500 / Low – 7,900  
Week 4: High – 7,100 / Low – 5,300
Week 5: High – 7,450 / Low – 5,650
As you see, the overall numbers were a little better than last week when it comes to Twitch audience, and it held steady at 6,000 for most of the show. So the product was a little better, as the 'Go Home' to Uncaged. So maybe we'll see a spike next week for the bigger show.