Andrew's Impact Wrestling Uncaged Ratings & Review
With the tag titles changing hands last week, do we see more changes with Impact Wrestling Uncaged?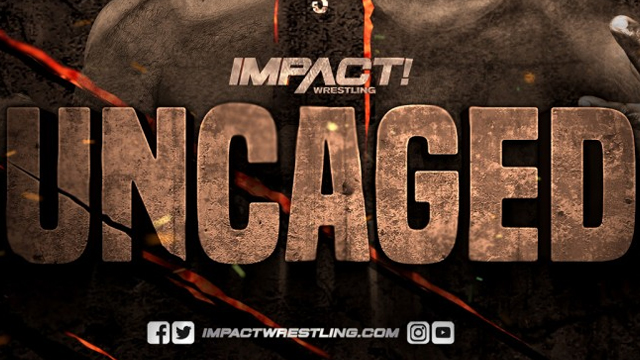 With the tag titles changing hands last week, do we see more changes with Impact Wrestling Uncaged?
The pseudo-PPV atmosphere is sure to bring in more consistent viewership, but they're in an interesting spot. Taya and Tessa are really the only two credible Knockouts unless Gail comes out of retirement (since Rosemary, Su and Jordynne are in the same storyline), so we'll probably see this get extended somehow. As for the other title match, The Machine has a lot of support and wrestling fans all know the money is in the chase. So I could see Cage getting "screwed" again, but I'd much rather see Cage with the title.
So let's get hype for the show with a video package of the returning Reno Scum!
Reno Scum return to IMPACT in 2 weeks! #IMPACT @Thornstowe_Scum @legendbaby81

WATCH NOW – https://t.co/jyZYT6QL46 pic.twitter.com/hyHnwi2E4s

— IMPACT (@IMPACTWRESTLING) February 16, 2019
Ratings:
Knockout's Championship Street Fight: Tessa Blanchard vs Taya Valkyrie (c) – Taya retains via Double Footstomp through Table – *** 3/4
'All Ego' Ethan Page vs Willie Mack: Mack  wins via Stunner – ** 1/2
Elimination 4v4: Team Impact (Fallah Bahh, Sami Callihan, Eli Drake & Eddie Edwards) vs Team AAA (Puma King, Psycho Clown, Hijo del Vikingo & Aerostar): Team AAA 4-3 – *** 3/4
Fatal 4 Way Impact World Championship: Killer Kross vs Moose vs Johnny Impact (c) vs Brian Cage: Johnny retains via Starship Pain on Moose – *** 1/4
Review Notes:
Both women come out with throwback shirts. Tessa comes out with the old school Four Horsemen shirt and Taya comes out in her Perros de Mal shirt (old Triple A stable she was in with Perro Aguayo Jr). This match was a little awkward at times, and the first table they had " La Wera Loca vs Diamond" painted on, didn't break after two spear attempts. Really good hardcore style action, with chairs, insults, ring posts and another table. Definitely more of a brawl than wrestling, but after the table didn't break the subsequent spots seemed to be a little off. Still a solid match, entertaining to watch, good way to start off the Uncaged show. Dios perdona, los perros no.
After a quick promo with Team Impact, Scarlett joins Melissa during the commercial break moment and she's barely dressed and her and Melissa start doing squats. I mean they're doubling down on sex sells, and I'm not even mad.
Mack and Page was a solid match. Good brawling, Willie's agility outlasted Page's strikes. One would assume the winner should be closer to an X Division title shot at least. So it should be interesting where this leads.
Killer Kross follows that with his typical chilling, slightly unhinged promo, and damn it was well done.
The interesting thing about the commercial break stuff tonight is Melissa doing live interviews with different people. It's kinda neat, like extra content.
Team Triple A has a clap back promo after the commercial, which says the Cup is staying in Mexico. If memory serves, Team Triple A beat Team TNA in the first World X Cup, so I'm curious if they'll pull from that for a storyline.
Sami Callihan calls out Swann one more time, Swann throws the shirt at Callihan, so a fight ensues. Swann gets the best of things momentarily, but an eye gauge allows Sami the opening to toss Rich around a little, Piledriver him on the stage and then Powerbomb him off the stage through a table. So I guess Sami will get the X Divison shot, but might have to go through Willie Mack first in the following weeks before Rebellion.
A lot of fun fast paced action, good dives, good strikes, nice story telling and only one slip so far from Aerostar. Eli Drake is the first one eliminated by Puma King because he tries to tell Eddie to not use the kendo stick, but tries to use it himself, Eddie catches him and takes his stick back, then pushing Eli. So one Gedo Clutch later, Eli is eliminated by pinfall. Fallah Bah eliminates Vikingo after a Twisted Running Powerslam. Aerostar eliminates Bahh after a Crucifix Pin when Bahh misses the Banzai Drop. Boston Knee Party from Eddie eliminates Aerostar. Piledriver from Sami eliminates Puma King. Two on one advantage with Sami and Eddie against Psycho Clown. Eddie hits a Boston Knee Party lays out Psycho Clown, but Sami pushes Eddie off and tries to steal the spotlight, only a two count, Psycho Rolls Up Sami for the pinfall elimination. Eddie has Psycho on the ropes, but Eli returns, takes Kenny the Kendo Stick and distracts Eddie. Then he hits Eddie to give Psycho a shot to hit a Backstabber, followed up the La Magistral for the victory. So Impact kinda played themselves, but it was a damn good match with a lot to unpack.
Melissa finally returns after a few commercial breaks off, with Sami Callihan and David Crist. This was ridiculous but great. Just erratic idiocy, they steal Melissa's sandals at some point, David sings "Hey there Samuel" and Sami does a pitch like a dating service while Melissa is getting her sandals. So dumb, but great.
.@TheSamiCallihan stealing @ThisIsMelSantos's shoes is the sort of amazing content you only get if you're a Twitch subscriber. #IMPACT

WATCH NOW – https://t.co/jyZYT6QL46 pic.twitter.com/uKf5PKFSpu

— IMPACT (@IMPACTWRESTLING) February 16, 2019
Small promotional video package for Reno Scum. Returning to Impact for the first time since the first wave of GFW "invasion" (nearly 2 years).
A quick little moment with Dark Allie, Su Yung and Rosemary, followed by a commercial with Melissa and KM & Fallah Bahh. Very funny, Melissa plays off the wrestlers well. She needs to stick around since she's got a nice personality and seems to work well with most of the guys.
Scarlett with a weird video package, her in a bed, a little moan and showing cleavage is her formula. So if it ain't broke, I'm not gonna fix it, shut up, stop judging me!
LAX joins Melissa before the main event and the Latina comes out in her. She's more animated that usual, very fun and entertaining. She even busts their chops a little, but they take it in stride and seem to enjoy each other's company.
Since the match starts with only about 12 minutes before time limit the match wasn't going to be a technical masterpiece, but for what it was it was fun. It was more of a brawl, since there were 3 bigger guys. Kross had a bunch of moments looking like a beat, Cage looked like a million bucks hitting the Drill Claw on both Moose and Kross. But Johnny pulled the opportunistic thing, and while Kross and Cage were tied up, Johnny pulls Moose to the corner, barely hits Starship Pain and sneaks in a pinfall before Cage finishes the Drill Claw + pin on Kross.  So Johnny retains while looking like a punk, and the crowd wanted nothing to do with him. Terminator claps most of the match.
.@MrGMSI_BCage had the World Championship right within his fingertips once again…

But @TheRealMorrison escaped with the title by the skin of his teeth. #IMPACT pic.twitter.com/pzg4gPZIhB

— IMPACT (@IMPACTWRESTLING) February 16, 2019
Overall Score: 7.5/10
Solid solid show from start to finish. Tessa and Taya got things kicked off well, Melissa doing backstage interviews as the Twitch commercial break stuff was great. World Cup match was fun and set up a few storylines for the Impact stars while Team Triple A got the home field advantage win. Main event was a little disappointing to be honest. Johnny has worn out his fan support both in Mexico and on Twitch chat. Granted yes, I'm hopeful this is building towards a big blow off at Rebellion, maybe with Cage going over and Austin Aries returning, but I guess we'll have to see.
Also from the main event, we see some cracks in the Moose and Kross alliance, so that could definitely be an interesting match in the near future.
So yeah, we have a lot to chew on moving into TV tapings for the shows leading up to Rebellion, but from a completely playlist mentality view point, Cage got screwed. Brian Cage better be getting this damn title soon, or I want him to put Don Callis through the announce table.
Now the weekly Twitch viewers portion:
Week 1: High – 10,350 / Low – 8,500
Week 2: High – 8,000 / Low – 6,500 
Week 3: High – 8,500 / Low – 7,900  
Week 4: High – 7,100 / Low – 5,300
Week 5: High – 7,450 / Low – 5,650
Uncaged: High – 9,000/ Low – 8,000
Well it looks like people just need a reason to tune in. Not only was this week mostly main event talent, but since the event had was named, I feel like people just expected better quality. So still no record breaking high, but solid numbers throughout the entire show.
Mitchell's WWE WrestleMania 37 Results & Report! (4/11/21)
Who wins THE WrestleMania main event?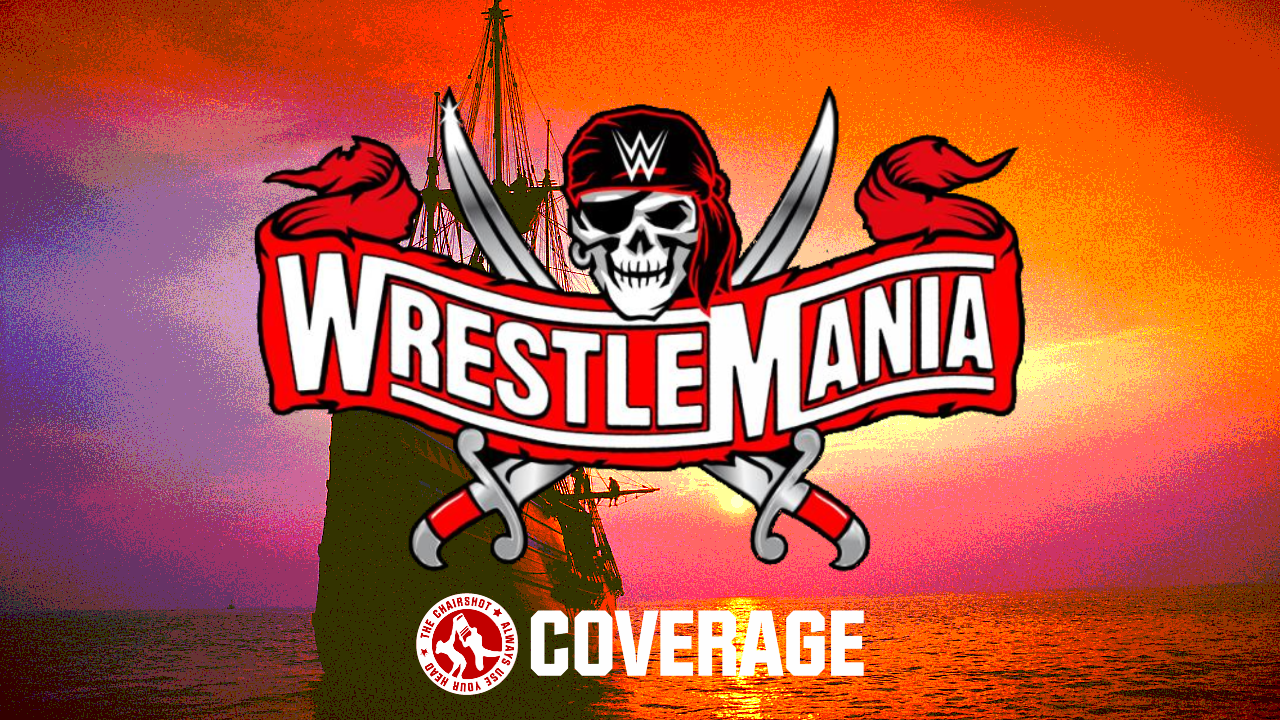 WrestleMania 37's two night adventure reaches its conclusion!
After an epic first night, how can WrestleMania 37 possibly get any greater? Perhaps with Daniel Bryan VS Edge VS Roman Reigns for the Universal title! Will the Head of the Table still be at the helm of the WWE?
OFFICIAL RESULTS
Randy Orton VS The Fiend w/ Alexa Bliss; Orton wins.
WWE Women's Tag Team Championships: Nia Jax & Shayna Baszler w/ Reginald VS Natalya & Tamina; Jax & Baszler win and retain the titles.
Kevin Owens VS Sami Zayn; Kevin wins.
WWE United States Championship: Matt Riddle VS Sheamus; wins and
WWE Intercontinental Championship Nigerian Drum Fight: Big E VS Apollo Crews; wins and
Raw Women's Championship: Asuka VS Rhea Ripley; wins and
WWE Universal Championship Triple Threat: Roman Reigns w/ Paul Heyman VS Edge VS Daniel Bryan; wins and
PLAY BY PLAY
It's the WrestleMania 37 Night Two Kickoff Show!
Join Kayla Braxton, Booker T, Jerry "The King" Lawler, JBL and Peter Rosenberg for yet another round of discussing, analyzing and predicting the action tonight!
Sonya Deville joins the panel again!
Does anyone really understand the implications of the Nigerian Drum Fight? It might just be Apollo Crews who understands. His power and his culture are going to define what happens tonight. Booker asks, "What do I look like? Chopped liver?" Well okay, he would know, yes. Booker says this goes back a long time ago, the Zulu nation and the Mandingo. This will play out in front of the world so the world needs to understand, and Booker says Apollo will make you understand. Sonya wishes she'd heard more about this. But Jerry wants to know why it's drums. Booker asks, "What do you do to a drum?" You beat it. Exactly!
Rosenberg says the bottom line is, Apollo is in control. Big E may be on the kick of being in his hometown- JBL asks why Rosenberg's hands are everywhere. But the point is, Apollo knows what this is about because this is his match. Booker says this will be a great night for everyone back home. JBL and Jerry can't say anything without getting canceled, so they will agree with him.
Ashlyn Craft sings America the Beautiful!
We've waited patiently for this moment.
"Finally…!" The biggest event in LIVE entertainment is BACK! Back with the spectacle, the excitement and the pageantry! WrestleMania is #BackInBusiness! And tonight, WWE sets sail on the high seas with epic epicness bigger than the history of history! Wait, what? Did he just say all that? That's what was written. Okay, mate, let's get this cold open done right. We pick up where we left off just last year. Our heroes are obnoxiously heroic as they battle for the ultimate prize: immortality. But no more tall tales, let's get real, as the kids say. Tonight, we witness the global event that spans decades, created unforgettable moments, and has the memories we will remember forever.
But let us tip our caps to you, the fans, who made this possible. You over there, and them up there, and even those at home who "can't not watch." We raise the sails as fate still awaits. The course was corrected, the wind cannot be stopped, and the quest continues! Now how's that? Impressive. But where's the big finish? That's cold open 101. Good point. Pyro montage! "Welcome back… to WrestleMania!"
The WrestleMania cohosts are back!
Titus O'Neil and Hulk Hogan return to kick off Night Two of WrestleMania 37, but this time they're Captain Titus and the Hollywood Privateer! "I dunno about you, Hulk, but I think we look damn good tonight." Well, T-man, it's a little hot, too. But either way, AHOY MATIES! Yo ho, brothers, and welcome to Mania Sunday! Last night was incredible, but tonight will be no different! Seven matches, and FIVE are for gold! That means they need to batten down the hatches. No room for scurvy dogs or scallywags! Whoa, don't be calling the people that. Hogan's not gonna walk the plank, is he? No, Titus will take care of that. The first match is a tale of terror, dark than the depths of Davey Jones' Locker! YARRGH!
Randy Orton VS The Fiend w/ Alexa Bliss!
The Viper thought he'd finished this at TLC, but some evil never dies. And now, this horror movie in real-life opens the Showcase of the Immortals! Lil' Miss Twisted Bliss is still by his side, but will Orton finally #LetHimIn?
As he makes is entrance through a mysterious tunnel, The Fiend… has been restored! Alexa makes her way out first, with spooky face paint on to clash with her Punky Brewster outfit. She frolics along, and has a GIANT jack-in-the-box?! Alexa winds the handle and Orton already has an idea what's coming. All around the mulberry bush, the Fiend chased the Viper~. And out rises The Fiend's new form! Orton isn't sure what to make of this, and The Fiend suddenly LEAPS into the ring to CLOTHESLINE Orton down! The bell rings, Fiend SPLASHES in the corner, reels Orton in and hits an URENAGE! Fiend sits Orton up for a NECK SNAP! "YOWIEEEE WOWIEEE~!"
Orton writhes as he clutches his neck and Fiend goes to a corner. Fans fire up as The Fiend spider-walks! Orton gets up, Fiend copies him as he takes aim! Orton flounders up, but he avoids a punt kick! Fiend pursues, Orton kicks low and gives him a back suplex to the desk! But Fiend clamps on with the CLAW! Orton grabs at the ring, gets in, and the ring count is still climbing! Orton gets free but Fiend gets in, only for Orton to kick low. Orton gets Fiend through ropes, for a DRAPING DDT! But Fiend springs right back up! Fiend blocks the RKO, but Orton throws him into his own jack-in-the-box! Fiend flounders, Orton gets Fiend through ropes again and KICKS him!
Orton wrenches the arm, KICKS again, and drags Fiend into ANOTHER DRAPING DDT! Orton looms over Fiend and stomps a hand! Fiend barely flinches, so Orton stomps the other hand! Orton throws hands and clubbing forearms but Fiend just gets up! Orton kicks low, runs, but into a LARIAT! Fiend and fans fire up, things speed up, Fiend BODY CHECKS Orton! Fiend rains down forearms over and over! Fiend gets up to run and drop a back senton, but Orton dodges it! Orton throws Fiend out but Fiend gets right back on the apron. Orton kicks him between ropes, gives away more kicks, then drags Fiend back in, for a THIRD DRAPING DDT!
Orton paces as Fiend slowly stirs. Orton hears the voices and wants Fiend to get up now. Fiend rises, but still no RKO, because Fiend has the MANDIBLE CLAW! Fiend smothers Orton, Orton starts to fade but he grabs at Fiend. Fiend brings Orton up, gives him a kiss good night, and the FLAMES erupt as Alexa is now in a new form! She has a tiara of barbed wire and there's black ink pouring out. Wait, this distracts the Fiend?! ORTON HITS AN RKO!! Cover, Orton wins!!
Winner: Randy Orton, by pinfall
What is going on with Alexa?! Did she mean to ruin tonight for The Fiend?! Either way, the Viper slithers away before he has to worry about this any longer. Is Orton finally done being haunted by these ghouls? Fiend looks up at Alexa, but the lights start to go out again. And when the lights return, Fiend and Alexa are gone. Just what is happening inside the Firefly Fun House?
DING DONG~! Hello!
Bayley asks Titus and Hogan what happened to them texting her back. She says hello to Eric Bischoff, she's a big fan of his podcast, and says if he ever feels like being on a real show, he can be on hers. Well he's more of a book guy, not into TV. But that match of Sasha VS Bianca, the SmackDown Women's Champion on his podcast would be awesome! Yeah, yeah, flavor of the month. But they're not a role model like Bayley! Bayley is the longest reigning women's champion, has her own talk show, and is on both nights of Mania! Bischoff brings up Hogan's new boat, and they decide to go see the boat. Titus wants to ride a boat… Sorry, Bayley, Hall of Famer stuff.
WWE Women's Tag Team Championships: Nia Jax & Shayna Baszler w/ Reginald VS Natalya & Tamina!
The Tag Team Turmoil is over, but now the real battle begins! Will the Irresistible Force & Queen of Spades still be standing after battling the Daughter of Superfly & Queen of Harts?
The introductions are made, the belts are raised, and the battle of alpha females begins!
The teams sort out and Shayna and Natty start. They circle, tie up, Natty headlocks and hits a takeover, but Shayna headscissors. Natty kips free but Shayna smirks as the two reset. They tie up again, Shayna headlocks to hit the takeover, but Natty gets up to power out. Shayna runs Natty over, dusts off her hands, then runs. Natty drops, hurdles, but Shayna blocks a hip toss to get a headlock, only for Natty to trip her up! Shayna scrambles to avoid the Sharpshooter, and tags to Nia. Nia and Natty stare down, fans duel, and they tie up. Nia shoves Natty down and says, "I don't want you." She's calling out Tamina! Tamina reaches out, and Natty tags her in!
Fans fire up as Tamina and Nia stare down. Nia pie faces, headbutts and talks trash but Tamina HEADBUTTS back! It's a battle of headbutts! Tamina fires off haymakers but Nia denies the scoop! Nia runs but Tamina fires off forearms! Tag to Natty, Nia ROCKS her and Tamina! Nia runs, Shayna tags in, Natty & Tamina DOUBLE BACK DROP Nia! Shayna BOOTS Natty, Tamina ROCKS Shayna back! Natty is up, she and Tamina DOUBLE GOURD BUSTER Shayna onto Nia! Fans fire up as Natty gets the legs again and steps through, but Shayna cradle counters, TWO! Natty waistlocks and GERMAN SUPLEXES! Natty drags Shayna up to stomp her down, then tags Tamina.
Natty keeps Shayna from her corner and feeds her to Tamina's clothesline! Tag back to Natty, Natty gets the hand-off to trip Shayna, and catapult her into a SUPERKICK! Cover, TWO! Natty keeps on Shayna with forearms, then scoops Shayna, only for Shayna to slip out and fire off a strike fest, topping it off with a KNEE! Natty and Shayna are both down, Nia YANKS Tamina off the apron! Tamina fires off on Nia, but Nia scoops her to SLAM her! Natty is shocked, Shayna KNEES her down in a corner! Shayna snapmares to a cover, TWO! Shayna goes after a leg and bends it! Natty endures, kicks with her free leg but Shayna throws a forearm. Shayna pulls on the leg and twists the ankle!
Natty kicks at Shayna more, Shayna turns Natty over and has the foot stuck, to STOMP IT!! Tag to Nia, and Nia looms over Natty as she clutches the foot. Nia soaks up the heat, and drags Natty to drop a leg on the leg! Nia has a standing toehold and Natty endures. Natty fires off haymakers, but Nia stomps the leg! Cover, TWO! Nia is annoyed but she drags Natty up. Natty fights back, Nia CLOBBERS her! Tag to Shayna, Nia has Natty in a STRETCH MUFFLER! Shayna KNEES Natty while she's upside-down! Cover, TWO! Shayna taunts Natty as Tamina is still down. Shayna SMASHES Natty's knee into the mat, then pushes Natty around.
Shayna drags Natty up, Nia tags in, and Shayna feeds Natty to a scoop and SLAM! Natty gets to her corner, Nia soaks up heat and runs in, but Natty POSTS her! Natty catches her breath, runs at Nia and throws clothesline after clothesline, then the DISCUS! Cover, TWO!! Nia still has a lot of power but Natty rallies the fans! Natty drags Nia up but Nia headbutts her! Nia reels Natty in, gets her up, and hits the ONE HAND SLAM! Cover, Tamina breaks it?! Tamina is back in this and Shayna is furious! Nia crawls over to tag Shayna in, but fans fire up for Natty as she tags Tamina in! Tamina rallies on Shayna with elbows, then dodges to CLOBBER Shayna!
Shayna blocks a punch to fire off kicks, but she kicks into a DRAGON SCREW! Tamina runs but gets buckles. Shayna blocks Tamina's boot, twists the ankle, but Tamina BOOTS her down! Nia storms over but Tamina DECKS her! Shayna gets around, wants the Kirafuda but Tamina blocks it to SAMOAN DROP! Cover, TWO!! Tamina grows frustrated but she drags Shayna to a drop zone. Fans rally as Tamina goes to a corner! Tamina climbs up, but Shayna KICKS her first! Tag to Nia, and Nia storms over to get up top! Nia fireman's carries but Natty saves Tamina! Shayna gets in but Natty CLOBBERS her! But Nia adjusts, DOUBLE CROSSBODY!! Double cover, TWO!!
Natty and Tamina survive but now Nia clutches a leg. That was a rough landing for everyone but Nia manages to get up. Nia sees Tamina is still down, fans rally for Tamina and Nia gets annoyed. Nia brings Tamina up, but Tamina scoops Nia!! Tamina SLAMS NIA!! Cover, TWO!!! Tamina drags herself to a corner, and fans fire up again as Tamina climbs! Tamina aims, SUPERFLY!! BUT SHE FLOPS! Nia moves and Tamina is down again! Nia and Tamina both crawl for their corners as fans rally again. Hot tag to Natty! Natty runs and swipes at Shayna, but Nia gets Natty for a fireman's carry! Shayna tags in, Natty slips off and DECKS Shayna!
Natty basement dropkicks Nia, and she's after Nia's legs! But Shayna's the legal one! Natty doesn't know that as she works to get the turn! SHARPSHOOTER, but Nia isn't legal!! Shayna gets in to get the KIRAFUDA!!! Shayna drags Natty down, Natty endures but she's OUT! The champs win!!
Winners: Nia Jax & Shayna Baszler, by submission (still WWE Women's Tag Team Champions)
So close and yet so far for Tamina & Natty! Does this mean no team can stop the Irresistible Force & Queen of Spades?
Kevin Owens VS Sami Zayn!
Two men who have known each other for two DECADES, ranging everywhere from friends to rivals to bitter enemies, finally have their moment together on the Grandest Stage of Them All! But given the Great Liberator's ludicrous behavior as of late, the Prizefighter promises to beat some sense into him! Will Kevin snap Sami out of it? Or is Sami too far gone?
WWE Hall of Fame inductee JBL joins commentary for this one to bring back a classic combination of him and #MAGGLE. Sami gets a mic to say, "Please, ladies and gentlemen. I know you're all just as excited as I am." Please give a warm WrestleMania welcome for Sami's special guest of honor, and show some respect to the only ally Sami has had in fighting the conspiracy against Sami! This is… LOGAN PAUL! Logan Paul does walk out to the ring and Sami breaks it down to the theme music again. Sami hugs Logan, and fans are of course divided. Sami apologizes to Logan for the booing. But here comes Kevin! The bell rings and Sami runs, right into a POP-UP POWERBOMB!
Sami flounders out of the ring before Kevin can get him, but Kevin just goes out after him! Kevin brings Sami in and there's NXT flashbacks as Sami fights the apron bomb! Kevin gets in after Sami, drags him up and CHOPS him! And CHOPS him! Kevin hangs Sami out to dry on ropes and Sami springs right off to hit the mat! Kevin runs in to clothesline Sami down! Kevin goes corner to corner to CANNONBALL! Sami is in a drop zone, Kevin goes up top, but Sami gets out to the apron. Kevin climbs down but walks into a BOOT! Sami reels Kevin in, Kevin elbows free of the half nelson, but Sami kicks low! Sami reels Kevin in, for an APRON BRAINBUSTER!!
Everyone is shocked, even Logan Paul! Sami drags himself back into the ring, Kevin stirs but the ring count is already 5 of 10! Sami wants it to be faster but it's already at 7 as Kevin stands. Kevin is in at 8 and Sami is on him with furious fists! Sami seethes, kicks Kevin while he's down, then throws crossface forearms! Logan nods as Sami looks to him, but Kevin throws haymakers! Sami kicks low, scoops Kevin and MICHINOKU DRIVERS! Cover, TWO!! Kevin survives and Sami is furious! Sami goes back to Kevin in a corner, hauls him up to the top rope, and then climbs up to go after him. Kevin resists the superplex, throws heavy body shots, then haymakers.
Sami gives those back, they brawl up top, fans cheer Kevin but boo Sami, until it's all the same from the pace quickening! Kevin HEADBUTTS Sami down! Kevin adjusts, FROG SPLASHES, and covers, TWO!! Kevin drags Sami up, throws hands, then whips him, to pop-up, but Sami leap frogs and kicks low! Kevin wrenches, ducks a kick, tucks Sami in, PACKAGE USHIGOROSHI! Cover, TWO!! Sami survives and Kevin grows frustrated. Fans fire up with Kevin as he drags Sami back up. Kevin reels Sami in, tucks the arms, but Sami slips out of the package driver to EXPLODER Kevin into buckles! Sami goes corner to corner and HELL-
NO! Kevin dodges the kick, but Sami denies the stunner to BLUE THUNDER BOMB! Cover, TWO!! Sami is losing his cool, but he CORNER EXPLODERS to a HALF 'N' HALF! To a BRAINBUSTER!! Cover, TWO!?!? Kevin lives and Sami can't believe it! "This is Awesome!" and far from over as Kevin gets to a corner. Sami SLAPS Kevin, Kevin SLAPS Sami, it's a FAST & FURIOUS SLAP FIGHT!! Sami gets the edge, throws body shots and uppercuts, but the ref has Sami back off. Sami gets Kevin up, hauls him up top but Kevin fights. Sami still gets Kevin to the top and he headbutts from below!
Sami climbs, brings Kevin back up, but Kevin counters to a SUPER FISHERMAN BUSTER!! Even Logan is reeling from that one! Both men are down, Sami slowly sits up and drags himself to a corner. Kevin sits up and is in the opposite corner. Kevin grits his teeth, runs corner to corner at Sami to clothesline! Kevin keeps going, and clotheslines again. Kevin goes, Sami follows, HELLUVA KICK!! Sami keeps Kevin from falling over, and tells him this is because of Kevin. Sami goes corner to corner, into a SUPERKICK!! Sami staggers, into another SUPERKICK!! Fans fire up for Kevin as he looks Sami in the eye. "You did this." STUNNER!! Cover, Kevin wins!
Winner: Kevin Owens, by pinfall
Logan seems to be the only one shocked, but he still applauds this victory! Whether Kevin has knocked some sense into Sami is yet to be seen, but he did get a big win at #KOMania5! Logan checks on Sami, tries to talk with him, but Sami says someone screwed him! The ref, the managers, someone! Logan tells Kevin that this was awesome stuff. Sami won't let Logan shake Kevin's hand! Sami says Kevin conspired against him! Sami wants Logan to listen to him, but Logan shoves Sami! Sami says to hell with Logan! Sami storms off, Logan raises Kevin's hand in victory. Logan sure is a bandwagoner, huh?
Kevin doesn't like that, either, and he gives Logan a STUNNER!! "This is MY ring!" Will this win lead Kevin back to another prizefight?
Matt Riddle encounters Great Khali!
What's up, bro! Riddle wants to congrat Khali on being inducted into the HOF. Can he check the ring? Yep. WHOA, look how big his hand is! It's as big as Riddle's head. Khali must have a hard time finding gloves and socks. Khali should open a store that sells giant stuff! Giant shoes, giant socks, giant toilets, and giant scooters! What does he think? No? Nothing? Translator? Wait, RVD is here!! RVD translates for Khali and says that in order to corner the market, we'll need creative branding. RVD has that right here with RVD rolling papers.
Sweet! Hey, what about a #KhaliTrolley? Khali and RVD say Riddle should focus on Sheamus. Good luck from Khali and R! V! D! Riddle rides off towards gorilla, but will he be ready to smoke the Fella?
WWE United States Championship: Matt Riddle VS Sheamus!
Bro… The Fella has had beef with Riddle since day one, but perhaps it's just Riddle's personality being so nonchalant, it's like he doesn't care. Will Riddle show Sheamus how serious he can get with the gold on the line?
The introductions are made, the belt is raised, and bro, this one's going to be lit!
AJ's WrestleMania 37 Night One Results & Review 4/10/21
AJ continues with the WWE coverage this Mania week! Night 1 of WrestleMania may have been rain delayed; but did that dampen the excitement?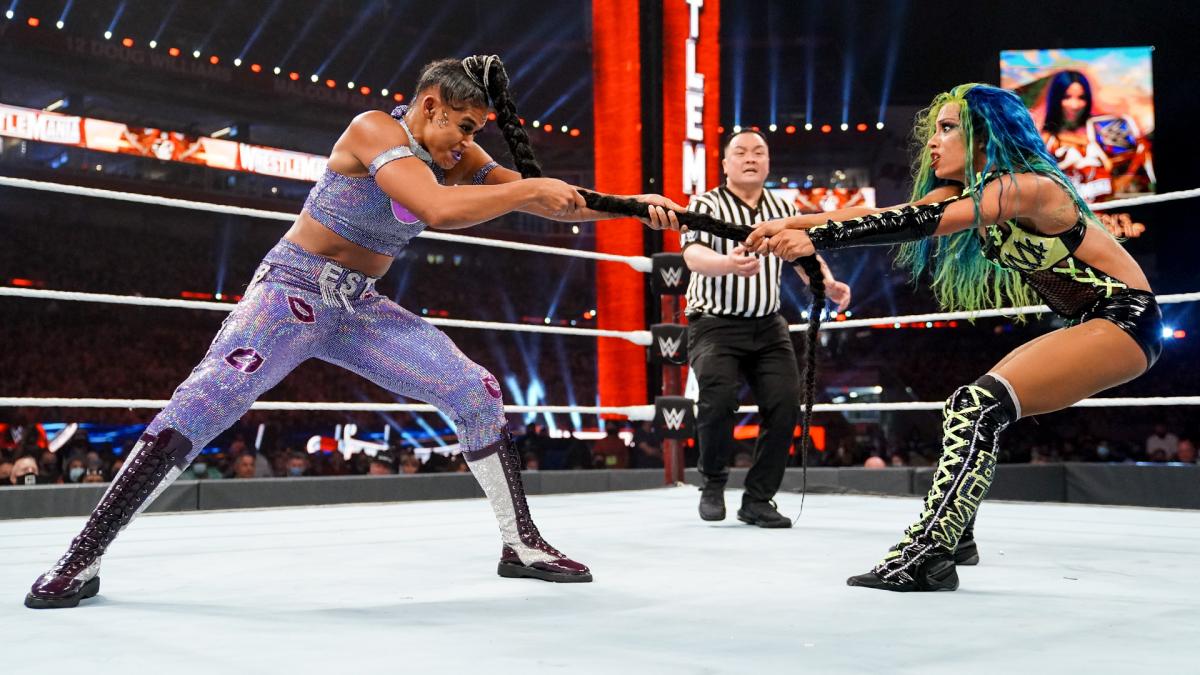 Ladies and Gentlemen, boys and girls. Children of all ages… WrestleMania is finally upon us once again and this time we are for real going to have it at my champion Tampa Bay Buccaneers stadium, Raymond James  and we get fans involved! We will hear the cheers, the boos and of course the ugly in the whole the but it's still the grandest stage of them all. We have some decent matches for night one that will take place, sadly a thunder storm but if we know Vince McMahon, that's not going to stop him.
Welcome to the Thirty-Seventh installment of WrestleMania!!!!!!!!
Results:
Drew McIntryre vs Bobby Lashley(c) for the WWE Championship:  Bobby Lashley wins via Hurt Lock – ****  – TITLE DEFENSE!!!!!
Tag Team Turmoil: Naomi & Lana vs Carmella & Billie Kay vs The Riott Squad vs Dana Brooke & Mandy Rose vs Tamina & Natalya: Tamina wins by last Elimination the Riott Squad – ** ½
Seth Rollins vs Cesaro: Cesaro wins via Gotch Neutralizer – *** ¼
AJ Styles & Omos vs The New Day(c) for the WWE Raw Tag Team Championships:  Omos wins via Two-Handed Chokeslam – *** – TITLE CHANGE!!!
Steel Cage: Braun Strowman vs Shane McMahon: Braun Strowman wins via Running Powerslam – ** ¼
Bad Bunny & Damien Priest vs Miz & John Morrison: Bad Bunny wins via Electric Chair Crossbody combination – *** ¼
Bianca Belair vs Sasha Banks(c) for the WWE SmackDown Wom0n's Championship: Bianca Belair wins via KOD – **** – TITLE CHANGE!!!
Review:
Drew McIntyre vs Bobby Lashley
Both men try to get a strength advantage with a Collar & Elbow tie up before breaking it and going to holds now and still getting even ground. Now both men get some fighting in the corner going, delivering punches and strikes until they go to the outside where Lashley takes control and ragdolls McIntyre into the barricades before tossing Drew back in. Lashley keeps the onslaught on Drew and gets a quick pin attempt for a one and continues to get the beat down on the former champ. Lashley gets a lot of steam going as he goes to do another shoulder tackle into the corner, only to miss and Drew targets the arm of Bobby. Momentum shifting into Drew's favor as Drew getting things going for him, suplexes and strikes galore as he goes for the Future Shock DDT. Lashley puts Drew into the corner to get separation but Drew catches the strike attempt and catches lashley into Northern Lights Suplex for a nearfall.
Bobby gets a reversal into a slam, a near fall and both men get some signature moves in. Drew hits the Glasgow Kiss and Bobby hits back with a one handed Spinebuster. After another near fall, Drew gets caught in a Hurt Lock but gets out of it quickly as they both go to the corner. Drew getting the swing this time and lands a good ol' Alabama Slamma for a near fall of his own before trying to set up a sky-high superplex to the champion. Lashley fights off the attempt as Drew gets a Kimora Lock in to weaken the arm, Lashley fights him off again, catching Drew into a Tree of Woe but Drew sits up to launch Bobby in a Belly- To Belly. Lashley hits another one armed Spinebuster until Drew kips up and tells him to bring it, delivering a trifecta of Future Shock DDTs for a two count.
Drew in shock but goes to the corner, doing the countdown to the Claymore but Lashley rolls out of the ring. Drew tapping into a little bit of Undertaker and does a Tope Con Hilo to take MVP and Bobby out and takes Lashley back to the ring, setting up for something in from the top. Lashley catches the challenger and goes to apply another Hurt Lock but Drew runs out of the way to stun Lashley. As Lashley goes to do another Spinebuster, Drew rolls it into a Kimura Lock, perfectly on before Lashley inches slowly to the ropes to kick out. Lashley now, getting his aggression out, taking it to McIntyre in the corner until Drew gets separation, going for another Claymore until MVP distracts the former champion and misses the Claymore for Lashley to get the Hurt Lock in. Drew looked impressive to break out but Lashley didn't break when Drew pushed off the corner and passes out from the pressure.
Tag Team Turmoil
Naomi & Lana vs Carmella & Billie Kay to start off the gauntlet style matchup as Naomi and Lana take the early advantage against Carmella. Carmella gets a tag onto Billie Kay but the advantage is still Lana and Naomi. When all four get in for chaos, Billie Kay goes for a roll up and beat Naomi and Lana for the next team to come out…
Riott Squad come out and take it to Billie early on but Carmella gets a tag and starts a beat down against Liv Morgan. Ruby breaks up the pin attempt but as Billie goes for the same pin attempt, the ref catches it and the Riott Squad get a tag and the advantage as Billie Kay gets brutalized, pinned and Carmella starts to beat up Liv before the next team come in…
Dana and Mandy come out and Ruby fights the two alone from the beat down as the fresher team gets things going and Liv barely gets a break of a pin attempt as Mandy and Dana work Ruby's neck now. As Mandy cuts the ring off from Ruby, Ruby starts to fight out of the corner and gets Liv into the match now as they start the beat down of Mandy Rose. As the Riott Squad lose the advantage, Rose and Brooke get some damage with a superplex and Swanton combination but Liv gets a reversal on Dana and get the pinfall.
Natalya and Tamina are the last two to get in the match up and start the powerhouse assault on the Riott Squad. The two getting the best of the most tenured tag team in the whole match up as Liv tries to break out of their grasp. Ruby gets the tag and hit the codebreaker/senton combination to Tamina only for a two though and Tamina gets the advantage back, gets the tag to Natalya and they hit a Hart Attack. Natalya looks to get the Sharpshooter but changes her mind and tags Tamina in for the Superfly Splash to get the Day Two Tag Team Championship opportunity.
Seth Rollins vs Cesaro-
Cesaro goes quick into the offense with an Uppercut and goes for the Swing early but Seth rushes out and panics with Cesaro getting more and more of a beat down. Cesaro getting a good amount of offense going as Seth starts to target Cesaro's arm and starts to pick things up after with his Superplex/Falcon Arrow combo after getting distance. Seth getting cocky again as he tries to take it to Cesaro but the Swiss Cyborg gets his strikes in again, taking down Seth with Uppercuts and goes for the swing again constantly, first time gets countered into a cradle, second time Seth gets to the ropes but the third time is the charm for nine rotations of the Swing and Sharpshooter. Seth breaks out of the hold and moves out of another Uppercut attempt from the corner, hurting Cesaro's arm again as Rollins gets his high offense in, knees, Slingblades and a 360 Splash but nothing keeps Cesaro down. Seth tries for a ripcord knee but Cesaro changes it into a Neutralizer and a two count. Rollins crawls to the ropes and gets his legs grabbed again for yet ANOTHER Swing but flips out of it, into a Pedigree but fails to get the victory again.
Rollins gets his speech in about being God as he hits Cesaro in time to set up the Curb Stomp. Rollins gets caught into a Uppercut (second best Stomp counter) and takes Rollins spinning, first with a no handed Airplane Spin, Giant Swing and finishes it with a Neutralizer.
(Now get my Red and Pewter out of my sight on Rollins. They are winners unlike you tonight, Seth.)
New Day vs AJ Styles and Omos-
We… are getting Omos to start off against Kofi…? Oh no. New Day goaded AJ to start.
Kofi and AJ using their speed to go off and do some of their big moves or attempt them as AJ thinks he gets an advantage but Kofi gets it, with a slam and near fall, teasing AJ after a beat down as the champs get frequent tags, even getting a Unicorn Stampede off before Xavier holds AJ down for a bit. They keep teasing Omos to tag in but to no avail, New Day beating AJ down more. Kofi goes to tease AJ to get to tag AJ but tags Woods in to cut him off from tagging Omos. After a flurry from AJ to separate from Woods, Kofi tags himself in and fights AJ from tagging the big man in until AJ separates himself from the two and realizes, "I can tag the big man…? I CAN TAG THE BIG MAN!"
Omos comes in and Xavier can't knock Omos down as Kofi tries to tag in and chop down the big man as The New Day… well to quote the remake of The Longest Yard… they shit themselves. Omos dismantles and smashes The New Day in the ring. Omos basically is breaking them apart as AJ flings over Omos for a Phenomenal Forearm and Omos two handed Chokeslams Kofi down for the win… Jesus Christ. They made him look like a billion dollars in the ring tonight.
Braun Strowman vs Shane McMahon-
As Braun comes in second, Elias and Ryker goes and beats Strowman down with chairs before the bell and Shane tells them to bring Braun in for it to start.
Shane grabs one of the chairs and beats Braun down with the chair over and over, going for a quick win and escaping but Braun, limping, stops Shane and taking more strikes from Shane for a good amount, limping and weakened as Shane breaks sheet metal from the top of the cage to continue the beat down and near fall. Braun now taking the fight to Shane as he stops Shane from escaping and tossing Shane into the cage walls over and over as Shane gets Braun's hands now before getting squashed between the cage walls. Braun gets the full advantage in the match until his legs give out from earlier and Shane slides out, doing a swinging DDT and setting Braun up to go from Florida all the way to Cali with the Coast to Coast for a second near fall. Ryker and Elias climb the outside to get Shane out but Strowman runs into the cage to loosen all three of them. More offense goes on before Shane gets away and climbs out almost until he pisses off Braun and… gets caught, pulling the cage apart and dragging Shane back in. Braun getting a bright idea as he props Shane up on the cage, going up himself before Braun launches Shane off the cage and climbs back in, stumbling and standing up for himself and everyone who was bullied that's watching before hitting a Running Powerslam for the win.
We get a small break for the cage to be taken down to honor the inductees to the 2020 Hall of Fame, Shatner, Liger, JBL, The Bella Twins, The British Bulldog, Titus O'Neal with the Warrior Award and the New World Order, Waltman, Hall, Nash and Hogan.
Bad Bunny & Damien Priest vs Miz & John Morrison-
Priest and Miz start it off and Miz goes to the corner and goads Bunny to come in and tags in as they walk around a little bit and Miz being an ass saying he can get the first shot as Bad Bunny pops Miz down. Bunny actually goes for a waist lock as Miz swings wild, Bunny ducks and gets another jab in before Miz gets pissed off and both of them trade blows in the corner of the ring before Miz gets the advantage, taking Bad Bunny into one corner and gets cocky a little before getting countered and Bunny flings Miz down with an arm drag. Miz rolls out and gets caught INTO A LA MAGISTAL AND A NEAR FALL! Miz had to get cheap after a a short pep talk with Morrison as Bad Bunny showing he's better than Enzo with the rope spot. Bunny gets the advantage again as he slides under the ropes and does a well done Tilt-A-Whirl Head Scissor on Miz before tagging Morrison and getting some control in the match for M&M.
Miz gets back in and taunts Damien Priest by putting Bad Bunny in a headlock, inches away from Priest until Bunny gets some fight in him, dropping Morrison from the apron and almost getting to Priest, countering Miz's stop with a Sunset Flip but getting beaten down after the pin attempt. Miz and Morrison take it to Bunny on the outside a bit. Morrison gets tagged in and taunts Booker T with a Spinarooni (A perfect one at that) as the tag to Miz gets in and Priest tries to get the crowd amped up. Miz cheap shots Priest and takes the ref's attention away as M&M just keep embarrassing Bad Bunny with kicks in the corner. Miz gets cocky again and goes for his signature clothesline in the corner but Bunny stops him, dropping Morrison's attack from the apron and hits a Tornado DDT onto Miz as he finally tags Damien Priest.
Damien goes to both men with his speed and strength, suplexing Miz into Morrison and hitting a chokeslam into a nearfall as all four men now get in the ring. Stereo Falcon Arrows, Damien Priest getting his step up Tope Con Hilo and Bunny with a crossbody. Priest gets Miz into the ring and Miz counters it into a Skull Crushing Finale into a pinfall. Bad Bunny goes to break it up and almost gets a tag in before Morrison pulls Bunny down. Bad Bunny having none of it from Morrison, hits a God Damn Destroyer as Priest props Miz up, gets the tag and lands a crossbody on the Miz for the win.
(Okay… Bad Bunny actually impressed me. Showed he cared. I give him props for that. I really do.)
Bianca Belair vs Sasha Banks-
Both women size each other up for Collar & Elbows and Sasha shoves Bianca down, getting the trash talk started before Bianca kips up and shows a good amount of her –est's, being Strong, Quick, Fast against Sasha as Sasha gets annoyed and gets caught by Bianca, rolling her out of the ring as Bianca goes to the outside. After some fighting on the apron, Sasha goes for a good suicide dive attempt but Bianca catches her and carries her to the ring as the match gets back to the ring. Bianca gets her usually offense going but Sasha actually grabs the hair of Bianca during the cartwheel and takes control this time around, getting her edge back and weakening the challenger. Sasha takes her to the corner and goes for the double knee attempt from the apron before Bianca catches her and drops her on her shoulder as they both go to the outside. Bianca's hair gets caught by Sasha and Bianca takes control on the outside before the ref gets to 8 and both come back in. Bianca showed off her strength this time after a cradle attempt and does an impressive amount of time on a stalling suplex. Sasha keeps using Bianca's hair to try to stop her after the Suplex but Bianca uses her hair as a ripcord effect into a clothesline. Sasha gets beat down from a Standing Shooting Star and getting propped into the corner as Belair goes for a 450 attempt from the top rope and Sasha counters, getting the momentum change momentarily.
Bianca catches some of Sasha's high speed offense and does powerbomb pinfalls as Sasha kicks out of the first two, reversing the third with an X-Factor and taking control back with a Tornado DDt for another near fall. Banks now goes to the top for a Frog Splash. Sasha gets her anger and ruthlessness to wrap Bianca's hair around her opponent into a Bank Statement and somehow, Bianca powers through and gets to the ropes before Sasha starts stopping on Bianca's face after the break. Banks keeps going with the trash talking but Bianca shoves her into the corner post with some Shoulder Tackles and sets her up for a Superplex. Sasha fights her off and attempts a cartwheel kick before Sasha grabs the feet into a Tree of Woe position to land a Meteora. Sasha misses the first one, goes to a knee strike from the Tree as Bianca sits up so Sasha lands knees first into the turnbuckle and eats a 450 Splash for a near fall. Sasha tries to get control again after but gets whipped in the midsection with Bianca's hair and after a fight to swing around, Bianca grabs Sasha up and lands the Kiss Of Death to win her first Women's Championship in WWE.
Overall Score: 8/10
Well not too bad for the first fan attended event for WWE… barring NXT of course. Bad Bunny showed he can actually care about wrestling, wasn't expecting a Canadian Destroyer… or I guess Puerto Rican Destroyer. Cesaro gets his moment, Bianca gets her moment. AJ Styles is now a Grand Slam Champion and every match except for the Tag Team Turmoil thing was pretty solid. I actually can't wait for night two of Mania. Did it match Stand and Deliver Night One? No. That is still the best match of the week so far but they brought a good amount of fire this night and held a candle to Night Two all things considered. Well we have one more day for me to do Mania Week writing so let's see if Night two can live up to Night One.
Just… people stop wearing my Bucs colors and lose in the process. Seriously. Disappointed me tonight Seth and New Day.