Andrew's Japan All Star Battle Giant Baba Memorial Show Ratings & Review 2/19/2019
Andrew gives his take on the very special All Star event, remembering Giant Baba!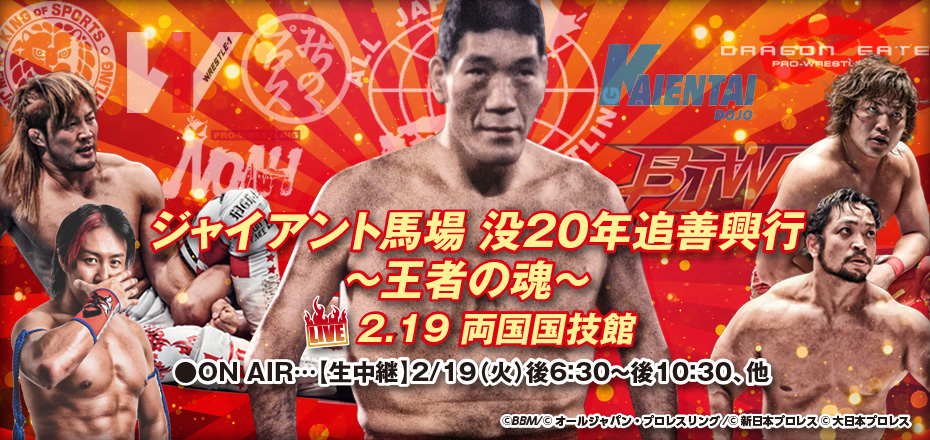 Andrew gives his take on the very special All Star event, remembering Giant Baba!
The 20th Anniversary of Giant Baba's passing and Abdullah the Butcher's official retirement ceremony are encapsulated in this show.
Some of the match ups are a little random, some people wouldn't be on a normal wrestling card nowadays, but this is a special event. There are memories and connections in every match and nearly every wrestler involved in this show. No one expects the Pro Bowl or All Star game to be the best game of the year, just good ole fashioned fun.
That's what this should be. Having fun, match ups we haven't seen in years or have yet to see, all in memory of a legend.
Let's see what went on.
Ratings:
Giant Baba Memorial Battle Royal: Mitsuo Momota wins via Double Legged Cradle – *
Kazushi Miyamoto, Tomohiko Hashimoto, Daichi Hashimoto & Takuya Nomura vs Tomoaki Honma, Yuji Okabayashi, Naoya Nomura & Ren Narita: Okabayashi wins via Torture Rack – **
Bunkhouse Deathmatch: Atsushi Onita, Hideki Suzuki, Hideki Hosaka & Kendo Kashin vs The Great Kojika, Shuji Ishikawa, Mitsuya Nagai & Hikaru Sato: Suzuki wins via Double Arm Suplex – ** 1/4
TAKA Michinoku, Taichi & Yoshinobu Kanemaru vs Yuma Aoyagi, Masanobu Fuchi & Yoshiaki Fujiwara: Taichi wins via Inside Cradle – **
SANADA & BUSHI vs Jake Lee & Koji Iwamoto vs Shota Umino & Ayato Yoshida: SANADA wins via Moonsault – ***
Naomichi Marufuji & Jinsei Shinzaki vs Masaaki Mochizuki & Shun Skywalker: Marufuji wins via Perfect Inside Cradle – *** 3/4
Takao Omori, Jun Akiyama & Taiyo Kea vs Yuji Nagata, Satoshi Kojima & Osamu Nishimura: Akiyama wins via Wristclutch Exploder – ** 1/2
Kaz Hayashi & NOSAWA Rongai vs Mil Mascaras & Dos Caras: Mascaras wins via Flying Body Press – *
Kento Miyahara & Daisuke Sekimoto vs Hiroshi Tanahashi & Yoshitatsu: Kento wins via Shutdown German Suplex – **** 1/4
Review:
Anotnio Inoki opens the show to a great reaction. He ends with his 1,2,3 catchphrase, and the crowd loves it.
Battle Royals are rarely taken seriously in Japan, and this has numerous veterans and interesting wrestlers. Mighty Inoue is the special guest referee. As expected, this is mostly comedy. Addullah Kobayashi does all the Abdullah the butcher stuff. Stalker Ichikawa gets a special entrance, and eliminates himself when he slips off the top turnbuckle. The finish sees Mitsuo Momota pin Mens Teioh with a Double Legged Cradle. It's fun since Momota is Rikidozan's son. Rikidozan being the father of Puroresu and the man who trained both Baba and Inoki. So it's a feel good moment.
Miyamoto and Honma have history, since they were once a tag in All Japan, called Turmeric Storm. This is the first serious match on the card, and each member played their part well. Narita got beat on for a while since he's a New Japan Young Lion, Naoya had a small flourish to support him currently being one half of the All Asia Tag Team Champions and Okabayashi was the dominant powerhouse he's known to be (also helps to lend credence to him being 1 half of  the AJPW World Tag Team Champions) . The finish was a little sloppy since Takuya slipped off his shoulders during the Torture Rack attempt, but redoing it allowed for the tap out. Not bad all things considered.
Well now, a Bunkhouse distinction in the match, Onita's Wild Thing entrance song, and being seconded by Freddie Krueger – is it 1988? I mean, this wasn't a technical classic, but it was what most expected. A few veterans in a hardcore match that had fun spots. A notable spot was Great Kojika taking an unprotected seat popping Chairshot to the head, followed up by Onita wanting to Piledriver him through a table. Kendo Kashin implores not to do it, since Kojika is an old man, so he goes and grabs Sato to offer him as sacrifice. Sato took all the major bumps in the match. Piledriver on the table, he got hit with a barbed wire baseball bat, put through a barbed wire table on top of chairs, and then ate the Double Arm Suplex finish. He's gonna need some ice and Advil…damn.
At this point we get Abdullah the Butcher's retirement ceremony. Dos Caras, Mil Mascaras, Jun Akiyama, Tiger Mask (Satoru Sayama), Dory Funk Jr, Seiji Sakaguchi, Stan Hansen (who remarks "I really want to beat you over the head with this", referring to the bouquet of flowers) and Keiji Mutoh come out to present Abdullah with flowers and have a few words with their old friend. Mutoh even goes as far as trying to goad him into a fight, with a big smile on his face.  There's even a video from Minoru Suzuki. Abdullah grabs the mic and references that his friend and former manager Billy "Honest John" Robertson passed away. Reminds people to never put their parents in a home, since you'll get old eventually. Obviously has a deeper meaning to him, but still words that are very true.
As Taichi makes his entrance with Miho, it looks like Kawada is on coverage. So this is interesting given the fact that there are many people who hate Taichi and think he's an embarrassment to Kawada (being one of his students). So I'm curious how that little moment hit Japanese fans. As for the match, it's what you'd expect from a heel team against 2 veterans and a younger guy. The veterans got their moves in, the crowd popped. When the heels did stuff to the veterans, they got massive boos. It should be noted that Taichi did pull out very half-assed Kawada kicks on Fuchi, and the camera panned to a less than happy Toshiaki Kawada. After Taichi's roll-up victory, which was set up by a low blow, he has words with Kawada. Kawada doesn't emote, doesn't really respond, and from the angle of the camera doesn't even seem to make eye contact. So since Kawada has stated he doesn't see himself ever wrestling again, I'm curious if that's building to anything.
Okay this match was fun. The Young Lions and Sweeper took out LIJ early and took it to one another. Iwamoto beat on Shota, Yoshida managed to get a few good licks in, but Los Ingobernables were the stars here. BUSHI kept finding ways to goad Jake or Koji into their corner so SANADA could tag in. A lot of fun and quick tag offense, BUSHI mists Koji, SANADA puts Jake in the Paradise Lock and has him stuck in the ring while he finishes off Shota with a Moonsault. Jake seems quite insulted afterwards and has words with SANADA. So maybe if All Japan and New Japan stay on good terms, maybe one of the teams enters the respective Tag League.
Well now we've got three legendary names and Shun Skywalker who tends to be Masaaki's tag partner in many special bouts. But Marufuji is the Ace of NOAH and Jinsei, many may know as Hakushi from WWF, but he's still going damn strong. This was a fun match, but a crisp, well wrestled kind of fun. Not goofy fun like we've had in a few of these matches. Marufuji took most of the bumps in the match, but Jinsei did get in a good bit of offense. His Prayer Rope Walk Chop, Diving Shoulder Tackle and a gorgeous Cartwheel Thrust Kick that makes you forget he's 52. But yes, with Masaaki and Marufuji's past, coupled with the finish, cause I haven't seen Marufuji use the Perfect Inside Cradle in like forever…this was great.
Ahh the 6 man Dads match. Akiyama, Taiyo Kea, Nagata and Kojima can still put on a damn good match, but they're obviously a bit beyond their primes. It's nice to see some old rivalries relived that we haven't seen in years, but this was alright. Nishmura ate the pin as to keep Kojima and Nagata protected a bit, especially with All Japan's Champion Carnival coming up. We could always see one of the non-AJPW talents from this match, show up in the Carnival.
The semi-final match is this? Dos Caras and Mil Mascaras? Mil is like 76 and Caras is pushing 70…Mil had to be basically carried to the ring. Ugh, okay this is one of those moments when feel good moments go a step too far. I feel bad for Kaz Hayashi. Now I'm not new the Japanese wrestling, so I understand their love and propensity for nostalgia and legends. I'm also aware that he had matches with Baba back in the day, so I get his reason for being there. Semi-main however is what bothers me, but hey, the crowd loved it, Hayashi played up the heel role and I guess that's a thing. I give it the one star out of respect for the legends, and the fact that it obviously played well for the Sumo Hall crowd.
Kento comes out with the current and original Triple Crown Championship belts. Very nice tribute for Baba's memorial show. Surprisingly the crowd is a Kento crowd. The Kento chants drown out the Tanahashi chants, so Yoshi and Tana play heel for most of the match. This was exactly what you'd expect from an All Star match. EVEN Yoshitatsu held his own. Sekimoto looked great and hit his I'm Helping Double German Suplex – at least that's what I call it. When Kento did his against the post spot to Yoshitatsu, the referee saw Tanahashi coming over, called him faster and instructed him to pull Kento's hair to break up the hold. Slingblades and Blackouts aplenty, this was a fun match and definitely worth being the main event. Kento playfully chided Tanahashi after the match, but the crowd started chanting for Tanahashi to join the Triple Crown Champion, and they both pose while saying a combination of one another's catch phrases. Very nice moment.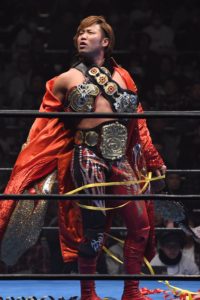 Overall Score: 7.5/10
Johnny Ace, Ricky Steamboat and Ric Flair have nice video messages to close out the show dedicated to Baba, followed by a 10 bell salute. As for the show, it was fun. A great combination of legends with ties to Baba and current talent to deliver good in-ring product. No one expected this to be 5 star matches everywhere, and yes some things about it were very Japanese, so the casual fan may not appreciate some stuff, but there were still some solid matches to search out if the historical aspect doesn't do it for you.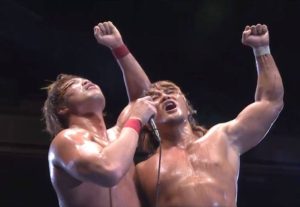 Mathew's AJPW Champion Carnival B Block Results & Review: Part 3
Another few days, Mathew brings us another part of the Champion Carnival! All Japan's biggest tournament of the year keeps churning in quality! How is B block going?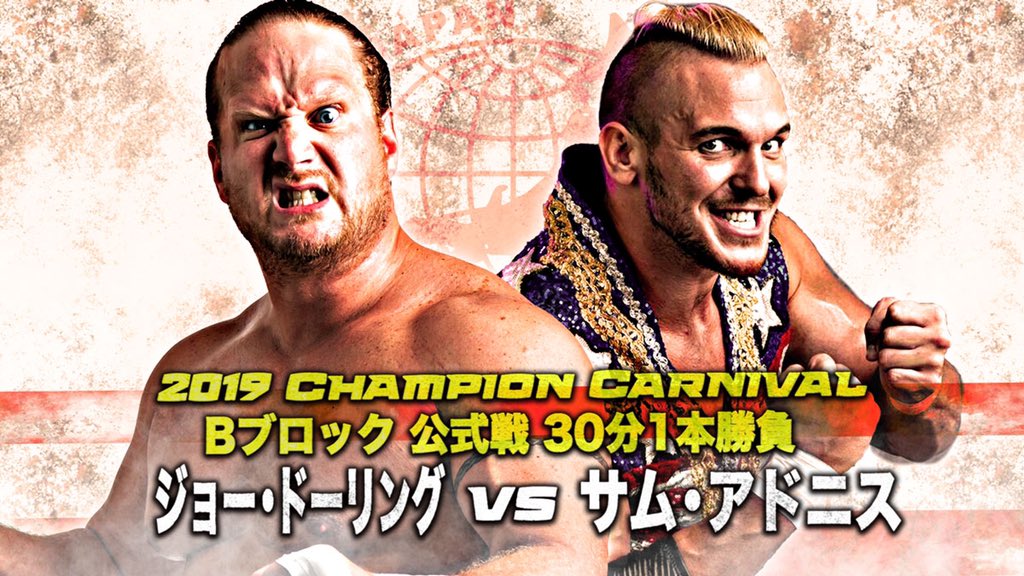 Another few days, Mathew brings us another part of the Champion Carnival! All Japan's biggest tournament of the year keeps churning in quality!
Welcome back to the Carnival, as we look at the next three shows for the part of the ongoing tournament.
The last part had a lot of solid matches and some nice victories that changed the game a little bit. As we get a little bit closer to the finals, the standings for this set of matches should be interesting.
Will Yoshitatsu remain the only one undefeated now or someone breaks that? Let's see who will move up or down in the standings as we…dive right in.
Rating System:
0 Stars: Dave Meltzer
1 Star: Vince Russo
2 Stars: Tony Schiavone
3 Stars: Eric Bischoff
4 Stars: Bruce Prichard
5 Stars: Jim Cornette
4/11/2019
Champion Carnival B Block Match
Jake Lee vs. Yoshitatsu
Review: Our first match for this show is Jake Lee taking on Yoshitatsu. Jake Lee was recently able to get his first win when he defeated Joel Redman. Yoshitatsu is currently the only one undefeated when he won against Suwama at the last show. Jake would need to have another win here to move up while Yoshi winning would move him to the top spot. Can Jake get another win or will Yoshi remain undefeated?
Yoshi, I know you spent money on Hunter Club gear and I'm sure you're very proud of yourself but I think you should let that go. You're not in New Japan anymore, no real need for it and just move forward. Anyway, I thought this was an enjoyable match but if I had to nitpick one thing, it would be that I wish there was a lot more intensity in the match since you kinda felt that when they had a tag match in the last big show I did for them and it didn't feel like a grudge match or anything for the first half of it. Yoshi having good matches back to back is a very pleasant surprise and I hope that momentum keeps on going as we go forward with the tournament. The chemistry between them was a really nice touch with a great showing by both these men. Jake psyched Yoshi out with a punch to the gut and ran towards him only to get caught in a Koji Clutch which Jake rolled him up for a two count. Yoshi would eventually hook the Koji Clutch all the way after countering his Backdrop and it looked like he had him tapped but Jake answered the referee, making him break it up and pin him for a two. Jake would deliver two knees to his chest before hitting the Backdrop Driver to get the three count, ending the only winning streak we had for B Block.
Rating: Eric Bischoff and a half
Champion Carnival B Block Match
Suwama vs. Sam Adonis
Review: Our next match is Sam Adonis taking on Suwama. Suwama recently lost to Yoshitatsu but he's still in a good position with only one win and one loss as he still has time to bounce back. Sam currently has zero wins and two losses, so he would need to get a win here if he would wanna stay in the game a little longer. Can Suwama bounce back or does Sam sweep his chances under the rug?
Suwama is a great opponent for Sam as they have similar styles, making it easier for Sam to work with and show more of what he could do in the ring as he gave a much better performance here than his previous match against Joel. They were able to showcase enough power and strikes to make it rather engaging for the audience who are fans of this type of style, to begin with. It also shows how helpful Suwama can be with his opponents to help make them look good while bringing out your potential as the match progresses. Sam would get Suwama down with a few hits such as the Blockbuster and even lifted him for a Running Powerslam as Suwama was still able to kick out and gets frustrated as he goes to grab a chair for later. Suwama would attempt another Last Ride after failing the first time as Sam would use a dirty tactic of biting his fingers to make him let go as he grabbed the chair to try and strikes him, but Suwama grabbed it and threw it to the side. When the referee wasn't looking, Sam would hit him with a low blow and roll him up for a two count. Sam isn't done as he hits a Lariat and a modified Brainbuster it looked like as he shocked the fans by picking up his first win in the tournament. More of this Sam and he'll be in good shape.
Rating: Eric Bischoff and a quarter
4/13/2019
Champion Carnival B Block Match
Naoya Nomura vs. Joel Redman
Review: Onto the next show as the one opening this up is Naoya Nomura taking on Joel Redman. Nomura recently suffered his first loss when he fought Joe Doering but he's still in a good spot as he's still in first place with the three wins he already has under his belt. Joel recently got his first win when he defeated Sam Adonis and he now has a chance to climb up the ladder a little bit more if he can take Nomura down here. Will Nomura get another win and secure his spot or will Joel pull him down a bit?
I see Joel went back to his better gear than his previous one, thank goodness because he looks a lot better without the singlet. Speaking of Joel, he delivers another great performance in his match against Nomura who also performed just as great as Joel did. Joel was able to do arm manipulation once he threw Nomura into the turnbuckle to know where he needed to take the advantage over him. Nomura did great selling the injury and getting the crowd behind him when he hits Joel with the Spear to try and get momentum back on his side. Nomura would be able to hit a Northern Lights Suplex and another Spear with a roll-up as Joel would still kick out of it. Joel was able to catch him into the Fujiwara Armbar and it looked like he had him ready to tap but Nomura would grab the ropes. Joel saw him going towards the apron and hits a Suplex from the other side and catches him for a Spinning Tombstone and Nomura would still kick out of it, but he quickly turned it back into the Fujiwara Armbar and Nomura tapped out! I know it's been 7 years since this match happened, but I would love to see Joel Redman fight Zack Sabre Jr again, like immediately.
Rating: Eric Bischoff and three quarters
Champion Carnival B Block Match
Suwama vs. Takashi Yoshida
Review: Our match to close our block for this show is Takashi Yoshida coming back as he takes on Suwama. Suwama has one win and two losses while Takashi is one win and one loss as of right now, so they're pretty much about even right now. Suwama would need to win the match here though if he can stay in the game. Which one of these two giants comes out the victor in this brawl?
I wasn't too fond of the first half of the match due to it being a little bit clunky and the fighting around the outside of the arena dragged on a little bit longer than it needed to, plus the camera angles for most of it didn't help out at all. Outside of that though, the middle of the match was a lot better than I highly anticipated since you got two giants duking it out as best they could with the throat thrusts, Lariats, and a Powerbomb from Takashi along with other power moves. While I'm still not a big fan of Takashi, he has been performing in this tournament much better than anticipated since he used this time to actually showcase his move set properly. Suwama was also able to help Takashi out in the match to make him perform better like how he did with Sam the previous night.
Takashi would have Suwama in his clutches as he hits him with a Diving Elbow Drop for a two count and would do his throat thrusts with a Lariat as Suwama would counter the Lariat with a Lariat of his own on his arm. Suwama would be able to hit the Backdrop and Takashi would be able to kick out of it and Suwama wants to call for the finish when he sets him up for the Last Ride. Once he had Takashi up for the Last Ride, he would just drop him down without doing the full move and I'm not exactly sure what happened there. Suwama would pick him up instead of pinning him as he hits one more Backdrop to get the pinfall victory in a solid match but sloppy beginning and end.
Rating: Eric Bischoff and a quarter
4/14/2019
Champion Carnival B Block Match
Joe Doering vs. Sam Adonis
Review: Our final show for this article as our opening match is Joe Doering taking on Sam Adonia. Both of these men are currently with one win and two losses under their belt, meaning one of them is going to have to suffer a third loss and be in a rather bad position with the standings. Which one of them will be in last place?
The first minute or so was basically Sam hiding behind the rope so he wouldn't be touched as you have Joe waiting by the ropes, not having any of his crap today as he just wants to beat him up. Which is exactly what he does do when they're outside of the ring for a couple of minutes as the two were back and forth, but it was mostly Joe that was getting the upper hand. Joe got him back in the ring as he would look to put him away as Sam would distract the referee long enough to kick Joe in the dick and down goes the giant. Joe is unable to move as Sam would pin him down to get the pinfall victory, leaving Joe in last place with three losses.
Rating: Tony Schiavone and a quarter
Champion Carnival B Block Match
Joel Redman vs. Takashi Yoshida
Review: Our final match for this set of matches is Joel Redman taking on Takashi Yoshida. Joel is even right now with two wins and losses while Takashi only has one win still but with two losses, meaning things aren't looking so hot for Takashi right now. Is Joel does win here, then he'll be in first place next to Naoya Nomura and if Takashi wins, the majority of them will all be tied up except for Joe and Nomura. Which one of them will get the victory?
It's so weird seeing Takashi trying to chain wrestle Joel at the beginning of the match and the shocking part of it is him doing it well on top of that, scary sight if you ask me. Joel is, of course, more technically sound compared to Takashi, so of course, he would win this part of the bout. Takashi performed a lot better here than he did in his previous match with Suwama from beginning to end while Joel keeps on proving his worth with all the matches he's been in. Joel would give Takashi a couple of kicks to take him down before he does his Diving Knee Drop off the top rope for a two count. It looked like Joel was gonna go for the Spinning Tombstone but Takashi would fight out of it to pick him up as Joel gets off him to go for a Backslide with Takashi kicking out. Takashi would hit the Kong Lariat to knock him down and Joel would still kick out, leaving Takashi frustrated and would pick him up to hit the Cyber Bomb as he gets the victory over Joel.
Rating: Eric Bischoff
Overall: Aside from one match, the rest of the show was solid again as usual as I'm very happy with my results so far as it comes to the quality of the matches with an exception for a couple that happened. Our next set of shows should give us a better assessment to see where people stand and who will have no chance of making it.
Favorite Match: Joel Redman vs. Naoya Nomura
Least Favorite Match: Joe Doering vs. Sam Adonis
Score: 7/10
Current Standings:
Naoya Nomura: (3-2) (6 Points)
Yoshitatsu: (2-1) (4 Points)
Daichi Hashimoto: (2-1) (4 Points)
Suwama: (2-2) (4 Points)
Jake Lee: (2-2) (4 Points)
Joel Redman: (2-2) (4 Points)
Takashi Yoshida: (2-2) (4 Points)
Sam Adonis: (2-2) (4 Points)
Joe Doering: (1-3) (2 Points)
Andrew's AJPW Champion Carnival 2019 A Block Ratings & Analysis: Part 3
A Block and Andrew bring out Part 3! Champion Carnival is rolling, and after a few interesting results already…this will be an interesting tournament.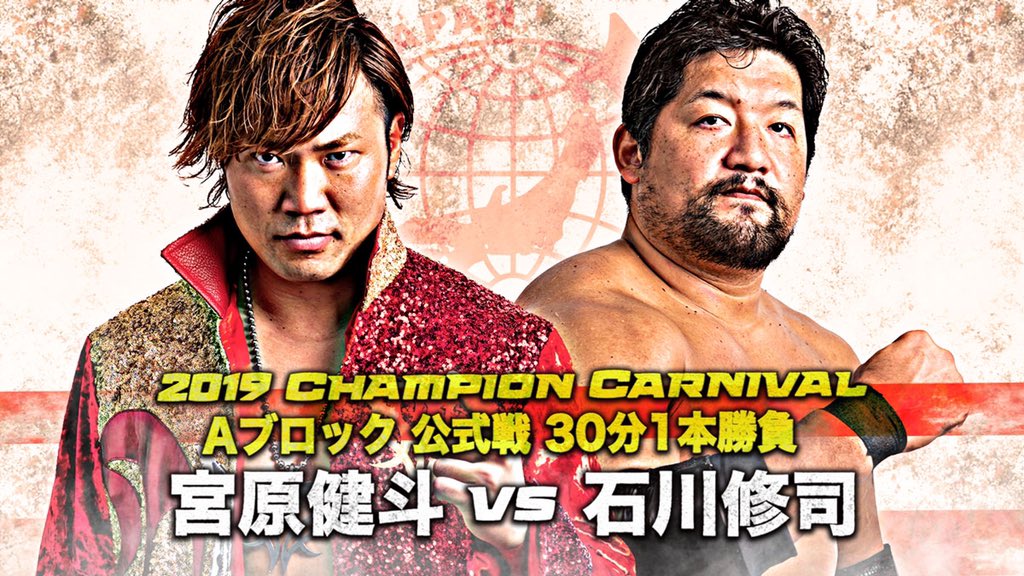 A Block and Andrew bring out Part 3! Champion Carnival is rolling, and after a few interesting results already…this will be an interesting tournament.
Welcome to Part 3 of the Champion Carnival A Block!
This will cover matches on 4/11 – 4/13 – 4/14.
Shuji and Ryoji's draw already make some of these outcomes different. Let's dance the dance, shall we?
Ratings:
Gianni Valletta vs Yuma Aoyagi: Aoyagi wins via End Game @11:25 – ***
Kento Miyahara vs Dylan James: Kento wins via Shutdown Suplex Hold @20:40 – **** 1/2
Shuji Ishikawa vs Yuma Aoyagi: Ishikawa wins via Splash Mountain @13:40 – *** ½
Gianni Valletta vs Ryoji Sai: Sai wins via Sky Kick @11:45 – ** 1/4
Zeus vs Dylan James: Zeus wins via Jackhammer @16:55 – *** 3/4
Zeus vs Ryoji Sai: Sai wins via Nachi Waterfall @22:30 – ****
Kento Miyahara vs Shuji Ishikawa: Ishikawa wins via Giant Killer @19:15 – **** 3/4
Analysis:
Well now, this was Valletta's most entertaining match of the carnival and it's probably because it was much simpler. The stupid chain didn't play a part in the match and he stuck to biting and short cuts. They brawled up into the crowd and Valletta even scared a fan in the aisle. So where it may have lacked in general in-ring action, it was entertaining on a whole. Plus if Aoyagi lost to Valletta after the big win over Zeus…I…I don't think I'd be able to take the rest of the tournament seriously.
Miyahara is the ace for a reason. Even though I've been admitting that Dylan has gotten better over the year, this was a very good match. Dylan is proving himself to be in contention for main event titles soon when he can mostly hold his own. It was a lot of expected spots and personality from Senior referee, Kyohei Wada, when he was interacting with Kento. Nothing bad to say about this match, it's just really good and main events the 4/11 show.
Shuji is already starting to make my comment from the previous part come true. Stringing a few wins together, makes his Draw against Ryoji very interesting so far when it comes to tie breakers and overall points. Yuma was the underdog the entire match since he's the smaller man. But he had some believable moments where he caught Shuji unawares. A nice Guillotine with Body Scissors gave Yuma his closest near fall, but Shuji's power is too much.
Well now we've got Gianni's less than talented self, against Ryoji who tends to have awkward singles matches with gaijin. Things start off with Gianni putting his chain in the back of his pants, and even though he's rattling, referee Nikkan Lee can't seem to locate it, so the opening salvo is a comedy spot. Great…one of these matches. Ryoji loves to sell a knee like he's starting a war dance, but then forget when it's time to suplex people. It's beyond frustrating. It gets to the point where I think Sai taught Seth Rollins how to sell a knee…like a complete imbecile. As for the match, it's…serviceable.
Rounding out the 4/13 matches, Zeus and Dylan James main event the show. This was a lot of heavy strikes, some outside brawling, but just a good back and forth power match. I'm bias to all things Zeus, but it is always amusing to see the taller power guys try to pick on the fact that he's chiseled, but not the tallest. Both men attempt signature Chokeslams which are usually the set up for their finishes, but neither successfully pulled them off. After a nice flurry and Biceps Explosion from Zeus, he hits the Jackhammer and gets his 2 points. WASSHOI!
The first A Block match of 4/14 is the hometown Osaka thiccboy Zeus versus…Ryoji, great. Ryoji was chiding Zeus before the match even started, and took an early advantage, dominating most of the first few minutes out of the ring as well as within. After Zeus fired up a little the match got better, but there's always something with Ryoji's matches where moves just don't look good, or a momentum swing spot just stick out as illogical. For the near falls, story telling and general intensity this was a pretty good match. But I'm never gonna be very high on Ryoji Sai, but having him beat Zeus in Osaka is surprising. So there's that at least.
Shuji and Kento have a bit of history, and most of their encounters are usually quite high quality. This was paced well and the strikes resonated through the screen. You got a little bit of everything, a bunch of great near falls and Shuji going deep into his arsenal to put this one away. Like I said in his earlier match, that Draw is just making standings more and more interesting. Plus Kento has one more person to worry about after the Carnival, since he is the current Triple Crown champion.
Overall Score: 8/10
We had a lot of quality matches over these three days, and some fun wrinkles. Sai and Ishikawa are currently 1 and 3 in the block thanks to the draw that was mentioned a few times. Zeus continues his hot and cold spurts in All Japan, but thanks to his fan appeal and him being positioned fairly strongly on the card, his opponents gets elevated a bit by beating him. So my pizza snacks are a little scared, maybe a little cold, but Zeus still has 3 more matches left, one of them being against Shuji. He had a similar set up last year, so he's not out of it yet.
A Block has been so damn swingy. Either the best of matches of the tournaments, or a few snoozers. Definitely makes for an interesting dice roll depending on the show.
Current Standings:
Shuji Ishikawa (3-1-1) – 7 Points
Zeus (3-2) – 6 Points
Ryoji Sai (2-1-1) – 5 Point
Yuji Okabayashi (2-0) – 4 Points
Dylan James (2-2) – 4 Points
Kento Miyahara (2-2) – 4 Points
Yuma Aoyagi (2-2) – 4 Points
Gianni Valletta (0-4) – 0 Points
Atsushi Aoki (0-2) – 0 Points