Andrew's WWE Raw & SmackDown Live Ratings & Review Notes (2/4 & 2/5/2019)
How did Raw and SmackDown rate out this week?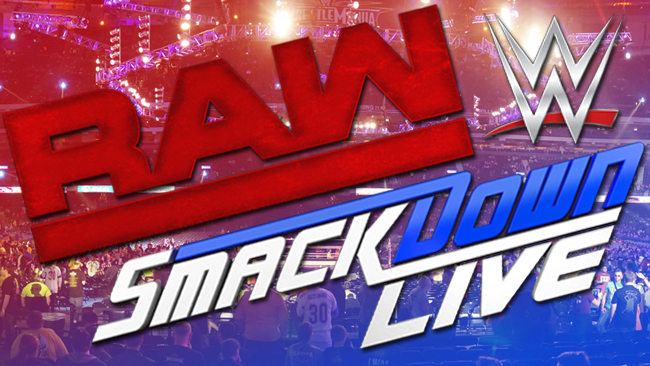 A week after technical difficulties caused a skipped article, Andrew brings us his breakdown of WWE Raw and SmackDown Live!
Well last week there was no article because my TV and internet are both Verizon FiOS, and FiOS decided to blackout in my area from 1pm Monday until like 11am Wednesday. So that makes it hard to review things in a timely fashion with work and technical difficulties.
But we're back this week, maybe the week off helped? Maybe it was like a pallet cleanser?
No?
Same old crap?
Eh…let's find out.
Raw Ratings:
Ronda Rousey vs Liv Morgan: Rousey wins via Arm Bar – * 1/2
Ronda Rousey vs Sarah Logan: Rousey wins via Arm Bar – *
Raw Tag Team Championship #1 Contenders Fatal 4 Way: Heavy Machinery vs Lucha House Party vs The Revival vs The B-Team: Revival win via Shatter Machine – ** 1/2
Sasha Banks & Bayley vs Nikki Cross & Alicia Fox: Bayley wins via Roll Up – * 3/4
Jeff Jarrett w/Road Dogg vs Elias: Elias wins via Drift Away – ** 1/2
Finn Balor vs Lio Rush: Balor wins via Coup de Grace – ** 3/4
EC3 vs Dean Ambrose: EC3 wins via Jacknife Cradle – *
Braun Strowman & Kurt Angle vs Drew McIntyre & Baron Corbin: McIntyre & Corbin win via DQ – **
Review Notes:
Becky and Stephanie start the night out with a highly divisive promo. Many people seem confused at Becky's actions, but it's a beautiful wrinkle in her character. The Man is afraid of no tangible object; a fight, a Heavy Machinery concoction, man or woman…but intangible things cause fear. The way her voice wavered a little, and how quickly she was answering back to Stephanie, was all fear. Fear that the McMahon family are looking for an angle to screw her, and fear that Doctor Jail will force her out of yet ANOTHER opportunity. This is great, differentiates Becky from the other anti-corporation figures of the past and makes me love her even more. Everyone has fears of things they can't control, even The Man.
Ronda has a forced promo next, sure "Ice Up and Pop Advil" or whatever she said was a good line, but the words felt rehearsed. It would've been a good promo from Heyman or Samoa Joe, but Ronda, it's just odd.
Granted then she takes her frustrations out on two-thirds of the Riott Squad, and sure, they happened. Liv is a better character than she is wrestler, but there's still something enjoyable about watching her work. Forgettable matches though.
Couple promos, only memorable thing was Nikki Cross making sense about her being judged and not accepted by anyone, except the other weird girl. Don't Cross the Fox was a cute line as well.
The tag match…happened. Two joke teams, a worthless Lucha thing and the only legitimate tag time…and I was supposed to believe or care that someone not named The Revival were winning? Come on now.
Zack Ryder can't spell his name and neither can WWE. Hooray lovable losers!
Kurt Angle heads to the ring to give an assumed retirement speech. Drives us down memory lane without falling asleep at the wheel, but Corbin and McIntyre interrupt, attempt to beat down Angle, but Braun Strowman shows up on Angle's side. The Monster who was always in his face for competition, challenging him and fought against him…suddenly goes respectful babyface. Yeah no. The Braun character is dead to me, I don't care.
Foxy and Cross jump Banks and Bayley before the match starts. So the match that we all thought was a slam dunk, became almost in doubt, if you were dumb. The beatdown lasted a while, but after the commercial break Bayley is in the ring and Sasha looks dead on the outside. Long and short, this is a Bayley handicap match, save for one save by mostly dead Sasha. So good for the Boss & Hug Connection?
Apollo says he's got Angle's back, but then gets stared down by Rezar and Drake Maverick, so he must've just left the building in fear of Rezar.
Jarrett and Road Dogg sing "With My Baby Tonight" again after a weird mish mash of Road Dogg era promos, but that's fine since Jarrett is a weird reference of different versions too. Elias shows up, a nice verbal spar and a solid match afterwards. Jarrett and Elias was the highlight of the Men's Rumble, and I'm alright with this for now.  Dogg and Jarrett do get the best of Elias, even after Elias gets the win, so this ain't over yet.
Dana Brooke is apparently not loud enough to break through Natalya's magical ear buds. So hooray a miscommunication proving ground match next week. Noticeable thing to me was the Nattie did something different with her hair (to cover the ear buds before the punchline obviously) but it's actually a better look for her, keep it.
Injured Balor is apparently not taken seriously by Lashley. So he changes the match to being against Lio Rush instead, beats on Finn pre-bell, interferes before being kicked out and then yea, Finn wins in an alright match. The one cool move Lio had was missed by the camera, so it was alright save for a few psychology nit picks. But I guess seeing Finn as the bigger guy was…different.
Paige shows up! *goes to the bathroom*
Moment of Bliss! Alexa is doing her flirty thing with EC3, sure. Before Ethan can talk, Nia interrupts, then Dean interrupts her interrupting. Alexa plays flabbergasted well. Dean gets in a few amusing questions, but it leads to EC3's debut match (Where are EC1 &2 being the best line of the show). As for the match, the crowd was dead, in the moment when they were supposed to rally EC3 up from a hold, they chanted for Ambrose. EC3 gets a Jacknife Cradle, Ambrose doesn't even try to kick out and EC3 acts like he just won the Super Bowl. This match was a boring waste of time…similar to the Super Bowl…so…okay maybe that comparison worked too well.
Mojo is the man in the mirror. The promo had some passion, he's shown glimpses of something…just can't ever seem to hold it.
Main event time, it was…fine. Corbin and McIntyre tried to control Angle so Braun couldn't get in, when he finally did, they held their own. Braun actually needed to tag out, but then we get the most moronic application of the tag team rules ever. Braun is told if he hits McIntyre while not the legal man, he'll be disqualified. DISQUALIFIED FOR HITTING THE OTHER PERSON JUST BECAUSE YOU WEREN'T TAGGED?! Next week tags aren't legal unless you hold the rope, then to follow that, if you throw your opponent over the top rope, that's a disqualification too. WELCOME TO ASININE BULLSHIT BOOKING!
Overall Score: 4.5/10
The wrestling wasn't inspired, the main event ending ruined what could've been an alright match. Hell the only real bright spot was Becky's opening promo cause it gave the character depth and a chance to give Ronda space to breath and not be so overshadowed by The Man. I also shouldn't understate Elias/Jarrett, but that wasn't so much a bright spot, as much as, I just enjoyed the whole thing for personal reasons.
So this episode was close to average purely because only the ending of the main event really bothered me, the rest put me to sleep.
SmackDown Ratings:
Shinsuke Nakamura & Rusev vs Gallows & Anderson: Rusev wins via Machka Kick – ** 1/4
Randy Orton vs Mustafa Ali: Ortion wins via RKO – ***
Mandy Rose & Sonya Deville vs The IIconics vs Carmella & Naomi: Rose wins via Moneymaker – * 1/2
Daniel Bryan vs Jeff Hardy: Hardy wins via DQ due to Rowan interference – **
Review Notes:
Charlotte opens up the show, showing us Becky's Monday promo and then chiding her afterwards. Becky shows up under the Wrestlemania sign in the crowd and walks down. Charlotte tries to get in a dig with the "First you took my dad's saying and now Roman Reign's entrance", but no one cared about her and all popped for Becky. Becky was allowed into the ring, stared down Charlotte before HHH came out and basically reiterated what Stephanie said. Becky lent a little more credence to her actions by stating she doesn't trust them, Trips basically said it doesn't matter how she feels, she has to get cleared. Becky takes the "How's Stephanie" jab, so Hunter starts going off about he thinks the injury is fake and she just wants an excuse to get out of the fight and play martyr cause she's scared of Ronda. Becky slaps Hunter and they stare off for a bit before Becky smirks and walks off. Becky is still the best thing the WWE Main Roster has going for it.
The odd pairing of Rusev and Nakamura, faces off against The Good Brothers, because, well they're friends with R-Truth. The match was alright, but Lana screaming at Shinsuke to get up and get back into the ring, and physically helping him back to his feet was interesting. Not sure if Lana will piss off Shinsuke eventually and cause him to lay out Rusev (or Lana for that), or if she'll somehow push him and maybe Shinsuke tries to get her to manage him too, so then Rusev versus Shinsuke for Lana's services could be a thing. I don't love the last idea, but it just popped into my head as I'm writing this, so…hooray stream of consciousness.
Now I'm marginally biased when it comes to Randy Orton. Yes he's very calculated, some of his matches are slow or boring, but generally he's always a solid hand. This match with Ali was a great storytelling match. Ali looked like a real threat, got around a few Orton classic moves, including his Back Body Drop through an announce table that usually happens whilst playing Fling the Singh.  Ali also avoided one RKO, just to fall victim to another when he was setting up for the 054. Solid match, plus Samoa Joe running in to choke out Randy was good to lead to Elimination Chamber.
Daniel Bryan is a face in Washington state, cause they're a bunch of west coast hippie vegans weirdos too. So he panders, they pop, hemp belts and whatever. Don't get me wrong, this evil Captain Planet, Vegan Christ Superstar, whatever you want to call it, is a great character. I just can't really say he said anything with weight or merit, so it all blended in as white noise to me.
A tag match that no one really cares about, at least finishes correctly since Mandy & Sonya are probably the least credible team in the eyes of the public. Yes the IIconics aren't much more successful, but at least they're protected by that aura of bestie power that gives them enough reason to have an edge as a tag team.  Yes, I'm also a sucker for an Australian accent, but that doesn't sway anything here really.
Andrade and Zelina talk smack about Rey, so I'm very happy that's not dead in the water. More Andrade vs Rey! We still have 25 matches to go!
Daniel and Hardy never really get to the next gear. The action was solid, they both had moments to shine. Jeff hits the Swanton, but before we see if Daniel kicks out or not, Rowan pulls him out and Bryan gets DQ'd for interference. So both main shows have DQ finishes for the main events, but SmackDown decides to have Joe and the rest of the Elimination Chamber participants show up for a big donnybrook.  That doesn't make it better, but the crowd pops for Styles and what not, so they prolly went home happier.
Overall Score: 6.5/10
Well, WWE added to the Becky story which I love, so hopefully that helped to smooth over any odd interpretations of her character. SmackDown, even with a slightly below their average show, was still quite enjoyable and easy to digest. The Nakamura and Rusev angle is probably the most interesting new thing with the Lana aspect. So aside from us all knowing Elimination Chamber will be fun with everyone involved, it's nice to have a lower card story that has some intrigue. Plus Andrade/Rey got furthered and it was mentioned the McMiz TV will have the Usos on next week. So even if they weren't on, SmackDown does a solid job at keeping all the players visible somehow. Hell even Asuka had a video package.
So yea, WWE has a slightly below average week, but nothing terrible.
Greg DeMarco: Box Office Brock Lesnar And The New WWE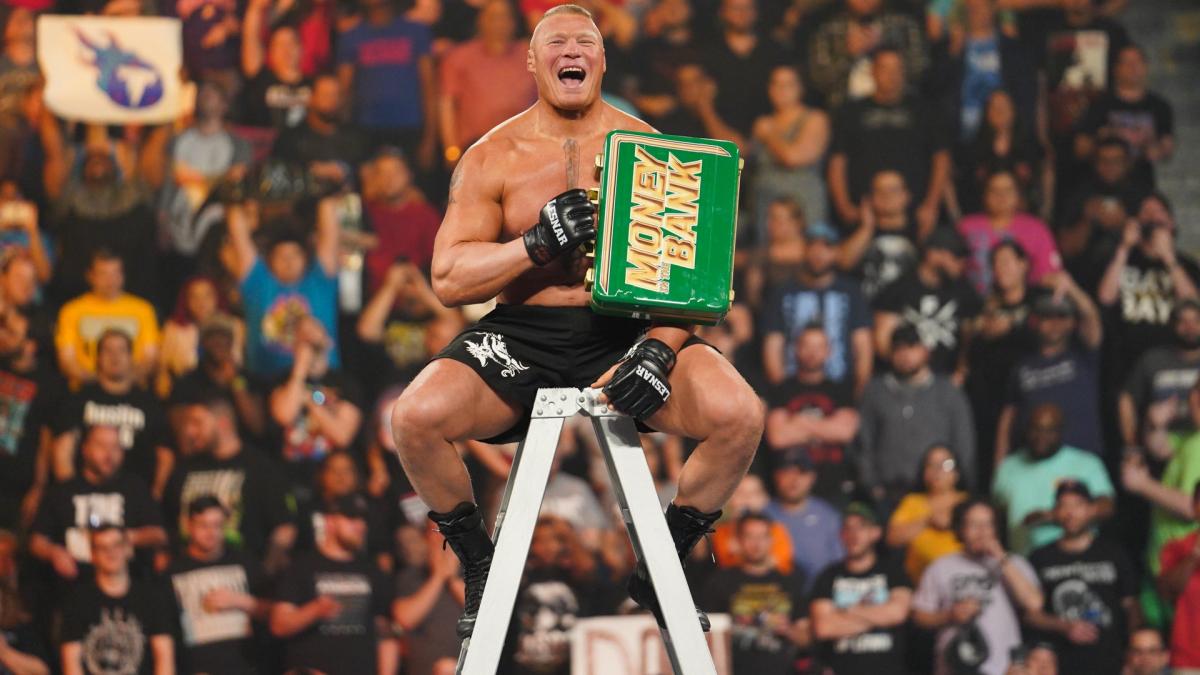 After a hard-hitting WWE Money In The Bank, Greg DeMarco offers perspective on Brock Lesnar winning the Money In The Bank briefcase and the obvious shift in the WWE product & presentation.
I know you read that headline and wondered what in the hell I was smoking. Brock Lesnar leaves Hartford with the Money In The Bank briefcase, and I'm calling it a new WWE? I have to be insane, right? Well, that perspective is 100% wrong. (I mean…I may be insane–but not for that reason!) WWE Money In The Bank was shock and awe from start to finish, and you have every reason to be excited. The reactions I am seeing prove that the online community doesn't want to enjoy WWE. Hopefully, for me, some mainstream fans will read this article too!
Box Office Brock Lesnar
I know what you're thinking…same ol' sh*t, right? I can't say I agree. On the technicality side, Brock Lesnar has never held the Money In The Bank briefcase, so it's wrong there. But I get it, you're tired of seeing Brock on top. The truth of it is, he's Box Office. And WWE needs box office.
What is "Box Office," exactly? It's the ability to get fans to spend money, which is how WWE makes money. Brock Lesnar sells the WWE product–to fans, to viewers, to advertisers, and to networks. Wrestling Twitter is a vocal minority, and appeasing them got WWE nowhere with WrestleMania 35, or as I was calling it for the months leading up to it, "HappyMania." Brock is back, and I think it's fantastic.
Disagree with me? Great, but the sold out crowd in Hartford blew the roof off the joint when his music hit, so they obviously agree. Brock will likely cash-in in advance, proclaiming his championship opportunity for WWE Super ShowDown in Saudi Arabia on June 7. Then we get to give the briefcases a rest, as we continue to shuffle the rosters up and use fun words like Wild Card (bitches…yeehaw!).
One prevailing thought I have seen is that the other seven guys in the match busted their asses for no payoff. I can't agree with that either–their payoff is a paycheck. They're businessmen. Those who complain about how they are booked don't get the business. And as All Elite Wrestling is proving, they don't take too kindly to people complaining about booking, either.
A New WWE?
I know a lot of people don't see it, because they're too worried about booking. But the WWE product shifted tonight. And as dangerous as it is, I hope it sticks.
The product got way more physical at WWE Money In The Bank–way more physical. It started with the Women's Money In The Bank Ladder Match, which in reality doesn't need a gender specific distinction. Money In The Bank describes both ladder matches tonight, as both delivered in both brutality and story. Everyone put their bodies through hell during those matches, and they deserve to be praised.
But it didn't end there:
Rey Mysterio vs. Samoa Joe…brutality.
Shane McMahon vs. The Miz…brutality.
Tony Nese vs. Ariya Daivari…brutality.
The entire segment with the Women's Championships…brutality.
Roman Reigns vs. Elias…brutality.
Seth Rollins vs. AJ Styles…brutality.
Lars Sullivan and The Lucha House Party…brutality.
Kofi Kingston vs. Kevin Owens…say it with me…brutality.
Sense a theme, here? WWE provided a more physical product, and did things that make sense. Yes, there were botches that everyone wants to blame on the refs. In each instance, it appeared to me that the talent messed up, and the commentators covered by blaming the officiating. And that makes sense to me. You didn't think they were going to blame the wrestlers, did you?
It's really funny that this comes after AEW reveals that they'll present a more realistic, athletic oriented product after the onset of their TV deal. It's probably the single bad move they've made (okay, maybe second to the whole PAC/Page ordeal), announcing their plans to the world and giving WWE a heads up on what's coming so they can beat AEW to it.
Seriously, it's like they went "Here's our formula!" without even realizing WWE had a high profile PPV to air 6-days before Double Or Nothing. C'mon guys… #UseYourHead.
At the end, it looks WWE is going back to what works for them: giving the fans what they need, and not what they want. Imagine going to the doctor and misdiagnosing yourself. Would you rather the doctor provides you with what you want and now what you need? You'd sue that doctor for malpractice! It's getting to be that same way with WWE. Prescribe to us what we need, Vince. Even if we don't like the taste when it goes down, it's for the best in the end.
Andrew's Top 5 Matches: Week Ending 5/19/2019
Best of Super Juniors 26 and Money in the Bank are the big things this week. Let's see what matches made the cut, and if there were any surprises!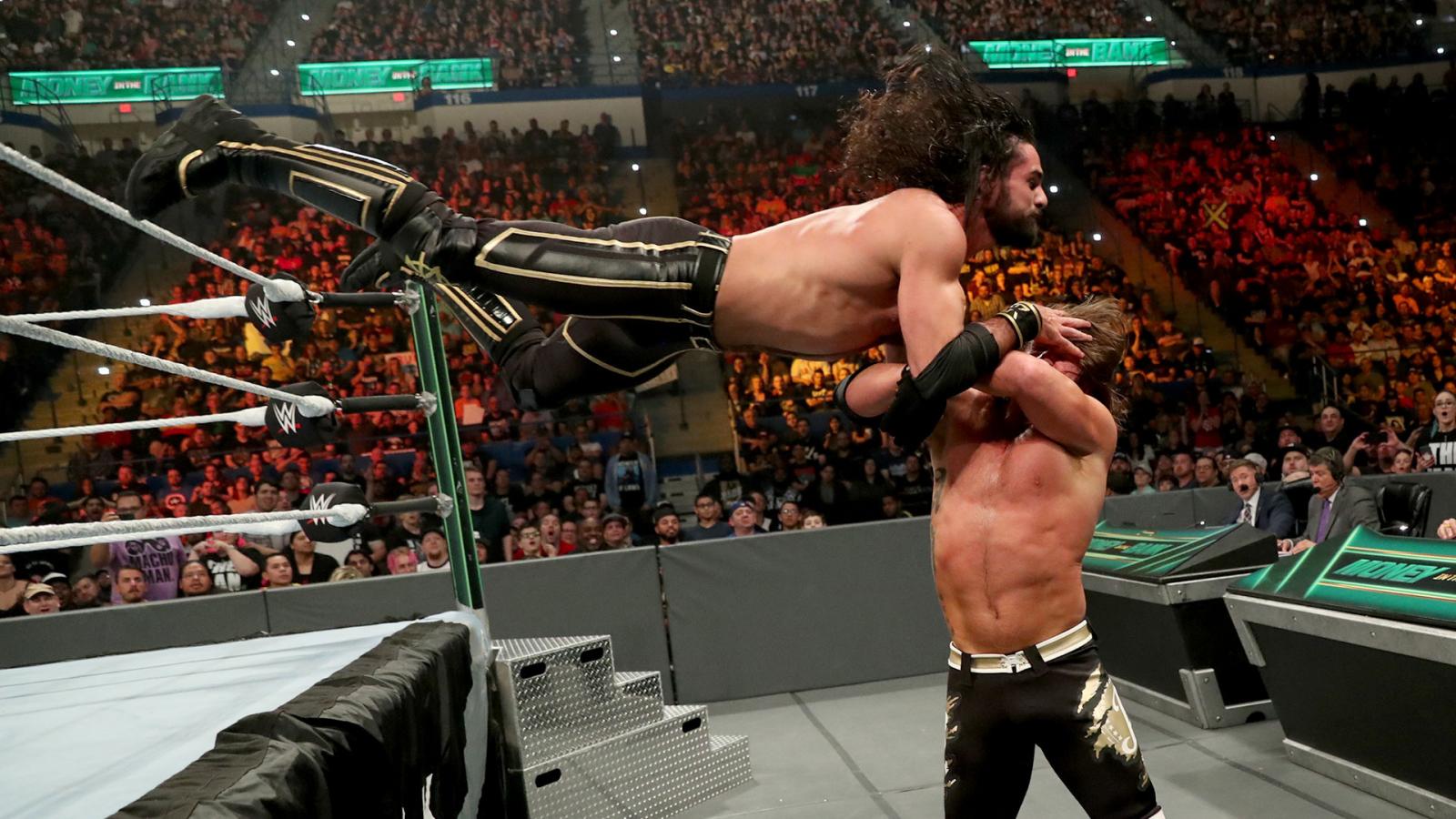 Best of Super Juniors 26 and Money in the Bank are the big things this week. Let's see what matches made the cut, and if there were any surprises!
Last week was an interesting week since it wasn't a normal Top 5 and we had two Sami Callihan matches. When it came down to it though, IMPACT: oVe Rules 8 Man: oVe vs Tommy Dreamer vs Fallah Bahh vs Rich Swann vs Willie Mack, won the vote for the week. I'm always a happy when less popular matches or companies get a fair shake in the rundown.
Either way, let's see exactly how much New Japan shows up and if anything from Money in the Bank was worth a watch!
5. NJPW BOSJ 26 Night 2: Ryusuke Taguchi vs YOH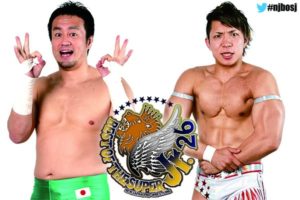 Taguchi has been having a crisis of character so to speak. He's become more of a comedy wrestler who's history doesn't really inject respect or fear into his opponents. YOH is up and coming, and was trained by Taguchi in the New Japan Dojo. So YOH is trying to establish himself beyond the tag realm and Taguchi is trying to refind himself.
We saw an interesting match. Taguchi showed a little of both worlds from comedy to more of his extensive moveset. YOH was a walking reference to older wrestlers; he even mastered the Paradise Lock apparently. Taguchi picks up the win with the variation of the Dodon that he used to remove Prince Devitt from New Japan. Very good match.
Winner: Taguchi via Dodon's Throne
Rating: ****
4. NJPW BOSJ 26 Night 4: Will Ospreay vs Rocky Romero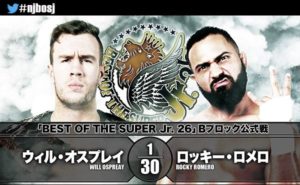 This was a little similar to the earlier Taguchi match. Rocky had something to prove. CHAOS members, and Rocky is perceived as being past his prime, but he wanted to prove he can still hang. It's been 3 years since his last BOSJ, how does the most decorated Junior Tag wrestler fair against the Aerial Assassin?
We got a great match. Rocky had numerous hope spots, hit the Forever Lariats, his half of Strong Zero and reversed the Stormbreaker first attempt into a legit Huricanrana. Ospreay turned out too be just a little too big, a little too athletic and a Shooting Star Press followed by a Stormbreaker ends this great match. Very good.
Winner: Ospreay via Stormbringer
Rating: **** 1/4
3. IMPACT: Michael Elgin vs Rich Swann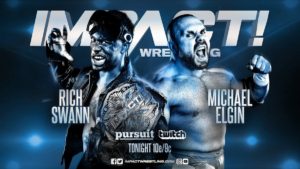 From My Analysis:
So damn this main event went 2 commercial breaks, but it was really solid. Swann wouldn't stay down and even had great hope spots. A Super Frankensteiner countering the Avalanche Powerbomb, Lethal Injection, 450, but Elgin kicked out. Swann tried a top rope Phoenix Splash, and missed. Elgin hits Splash Mountain, and Rich kicks out. Elgin rolls to the outside, catches Rich and repeatedly Powerbombs him into the post. Kid Ref tries to get the match back in the ring, Elgin pushes Kid Ref and Powerbombs Swann again for posterity. Kid Ref calls for the DQ and then runs for his life. This was a great match, the "non-finish" is rather annoying coming out of a roughly 25 minute match. But love him or hate him, Elgin can wrestle.
Winner: Swann via DQ
Rating: **** 1/4
Honorable Mentions:
NJPW BOSJ 26 Night 3: Dragon Lee vs SHO
Winner: Dragon Lee via Desnucadora
Rating: ****
WWE MiTB: Men's Money in the Bank Ladder Match: Drew McIntyre vs Baron Corbin vs Finn Balor vs Ricochet vs Andrade vs Randy Orton vs Ali vs Brock Lesnar
Winner: Brock Lesnar
Rating: *** 3/4
NJPW BOSJ 26 Night 1: Dragon Lee vs Taiji Ishimori
Winner: Ishimori via Bloody Cross
Rating: *** 3/4
WWE MitB: WWE Championship: Kofi Kingston (c) vs Kevin Owens
Winner: Kofi via Trouble in Paradise
Rating: *** 1/2
NXT UK: Ligero vs Jordan Devlin
Winner: Devlin via Snap Saito Suplex
Rating: *** 1/4
NJPW BOSJ 26 Night 2: Robbie Eagles vs Rocky Romero
Winner: Eagles via Ron Miller Special
Rating: ***
SmackDown Live: Randy Orton vs Finn Balor vs Andrade vs Ali
Winner: Andrade via Hammerlock DDT
Rating: ***
NJPW BOSJ 26 Night 2: El Phantasmo vs Bandido
Winner: Phantsmo via Greetings from Chasewood Park
Rating: ***
205 Live: Tony Nese vs Ligero
Winner: Nese via Running Kneese
Rating: ***
WWE Raw: Fall Count Anywhere: Braun Strowman vs Sami Zayn
Winner: Zayn via Claymore
Rating: ***
NJPW BOSJ 26 Night 4: Ren Narita vs Robbie Eagles
Winner: Eagles via Turbo Backpack
Rating: ***
WWE MitB: The Usos vs Rowan & Daniel Bryan
Winner: Usos via Double Uce
Rating: ***
2. WWE MitB: Universal Championship: AJ Styles vs Seth Rollins (c)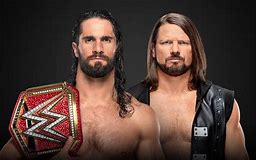 Snippet from Mitchell's Coverage:
Now it's Rollins who has to come up with something else to put Styles away. Fans rally up as Rollins stands. Rollins still has the tried and true, "Burn It Down!" He mule kicks then runs, but Styles dodges to roll Rollins to a Calf Crusher! Rollins endures but Styles cranks back hard! Rollins rolls it back and kicks Styles away! His leg is free but it is hurting! Styles crawls away but Rollins pursues. Styles hops up, moonsault DDT! Cover, TWO!! Rollins escapes with one good leg! Styles gets back up and waits for Rollins. Rollins stands and SUPERKICKS Styles down! Both men are down again, but fans rally and duel again. Styles and Rollins crawl for each other to start throwing hands! Rollins hits, Styles hits, repeat. Rollins CHOPS but Styles punches again.
Fans duel, Styles goes for the Phenomenal Blitz, but Rollins dodges to enziguri! And dodges the Pele! Mule kick! Curb Stomp countered! STYLES CLASH!! Cover, TWO!?! Rollins survives THE Styles Clash?! No one can believe it, but the fans are loving it! Styles grits his teeth as Rollins starts sitting up. Styles goes to the apron, takes aim and springboards. Phenomenal misses! Revolution Knee hits! And then, SUPERKICK! Styles is on his face, but Rollins gets back up! CURB STOMP!! Rollins put so much into that, he has to crawl to a cover! Rollins wins!!
Winner: Rollins via The Stomp
Rating: **** 1/4
1. NJPW BOSJ 26 Night 1: SHO vs Shingo Takagi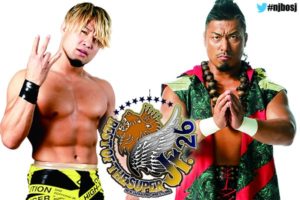 This match has had a great build all year. SHO is the power of Roppongi 3k, and throughout the LIJ and Roppongi feud for the Junior Tag Titles, we always saw SHO try to go at Shingo. Shingo called him out a little and this is a great rivalry. SHO has something to prove, but Shingo doesn't want to be upstaged by someone who was a Young Boy only a few years ago.
We saw the story unfold beautifully. Shingo dominated early, until SHO fired up and showed he wasn't just going to roll over. As the match progressed SHO started to anticipate Shingo's moves and stay a step ahead. Both men hit all of their signature moves, and neither wanted to really budge. This was just so well done, and more of a heavyweight style because they are both bigger Juniors. Shingo edged out SHO by hitting Last of the Dragons after numerous Pumping Bombers. But damn this was great.
Winner: Shingo via Last of the Dragons
Rating: **** 1/2
Thoughts:
Shingo and SHO, there is no other answer. This has been a feud that started at the end of last year and persisted through the entire year so far. Long term booking is always fun, and when both men put on a great story telling match, it's even better. Plus there's no guarantee it's over since SHO still has to surpass Shingo to feel completed.
Don't sleep on Ospreay and Romero though, that was a great match, just didn't quite match up to SHO and Shingo.