Levin: Becky Lynch Needs Charlotte Flair To Remain "The Man" in WWE
Becky Lynch remains WWE's biggest draw. With her current storyline against Ronda Rousey, what role does Charlotte need to play?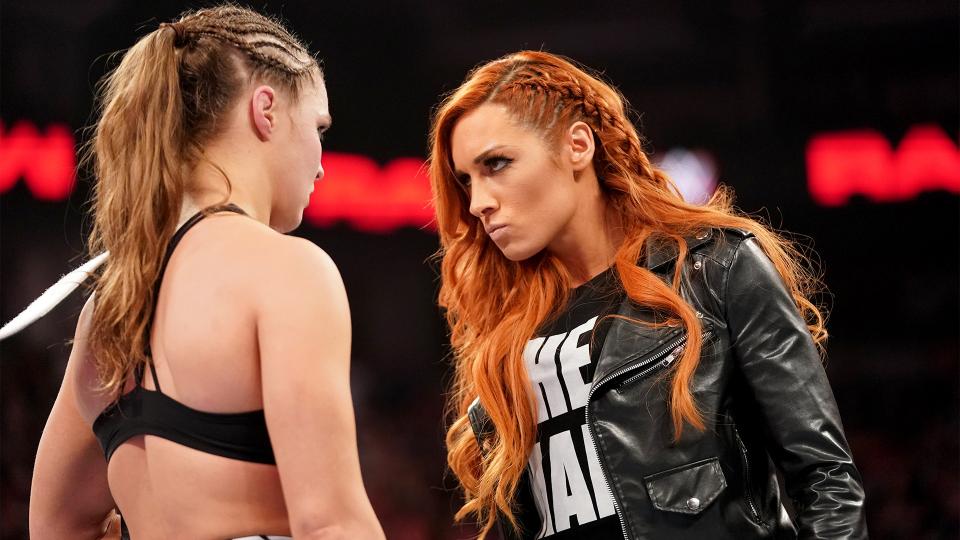 David takes a look at the hot button topic involving the IWC's favorite daughter Becky Lynch, and Charlotte Flair
Watching the saga between Becky Lynch and WWE unfold is an old-school wrestling fan's dream.
As someone who believes in the foundations of the old NWA, I see a lot of similarities in building the character of "the man" and how other superstars begin their road to fame. Lynch would enjoy success as a dominant figure in any one of the promotions in the early 1980s, whether it be down in Florida owned by Eddie Graham war in the Pacific North West owned by Don Owens or possibly in Texas with either Fritz Von Erich or Joe Blanchard.
Lynch has become the figure in the women's division, adding balance to what the company has done with Charlotte Flair's character. The build and storyline the writers have developed is nothing short of brilliant. Add Ronda Rousey to the storyline, who may have become the forgotten figure in a potential triple-threat match as the main event at WrestleMania 35, and professional wrestling has hit gold.
I have said this before on many occasions, but I think it bears repeating. Just like other sports, professional wrestlers need other superstars to make them better. Ric Flair needed Ricky Steamboat and Dusty Rhodes. The Rock needed Steve Austin. Jack Brisco needed Dory and Terry Funk. Lita needed Trish Stratus. Today, Becky Lynch needs Charlotte Flair.
The best part of this feud is that the current Raw women's champion is almost a non-factor. When you look at the body of work that WWE has put together to create history with a women's title match closing out WrestleMania in April, it's hard to believe that the woman holding the gold isn't as important as the storyline that's built in spite of her.
Bravo! Take a bow. Give yourself a pat on the back. WWE gets it.
The fact that it crosses brand lines is even more genius. Now that WWE has broken it's blue and red barrier, the setting for more cross-brand competition has been established. This will make the fans happy, this will make the McMahon family happy and this will make the business of professional wrestling happy.
And as a sidenote, as AEW continues to gain steam, I will be interested to see how many more of these storylines in Connecticut get some legs and run for a while.
Growing up in the 1970s and 1980s, professional wrestling was based on an antagonist who challenged the fans to come out to house shows. Business was predicated on a Saturday morning show that irritated the masses, that force them to come out and see what would happen, where the babyface would lose most of the time on television but won with a live audience. This could have been Countyfair in South Carolina or a school gymnasium in Ocala, Florida.
WWE has taken this rivalry cross country and made it the best thing going today. Given that the current women's champion will no longer be part of weekly programming after WrestleMania, the creative team has punched all the right buttons to make this the feud of the year. And with it, there is a chance that Lynch could do something that maybe should've been done along time ago. Maybe she becomes the top performer and wrestler in the world, leapfrogging the men who are good, but in this case, not good enough.
WrestleMania is two months away. There are plenty of layers to this storyline. The inclusion of Stephanie McMahon is reminiscent of the old Steve Austin/Vince McMahon storyline. It works well with what WWE is trying to accomplish. I'm curious to see how far the company will go to achieve wrestling perfection.
If done properly, this is a spot the company can go back to many times over, just like Flair and Steamboat almost 20 years in the making. It's one that won't be forgotten anytime soon, and could be the catalyst for more women to be involved in dramatic story lines in the future.
Chris: Examining The WWE SmackDown Live Shake-Up
Did the Superstar Shake-Up turn WWE Smackdown into the A-Show?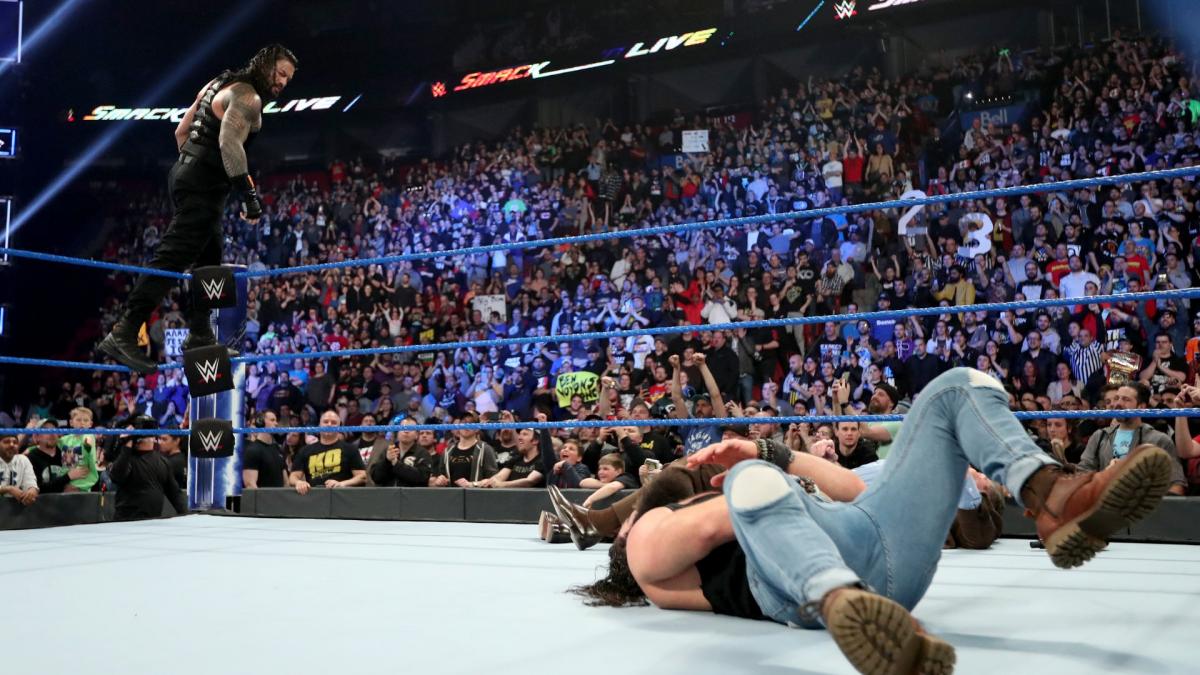 Christopher McManus takes a deep dive into the WWE Smackdown Live side of this week's Superstar Shake-Up!
The smoke has cleared and now the RAW and SmackDown Live rosters have changed dramatically over the span of 48 hours. The WWE Universe has seen an entirely new landscape with locker room leaders switching brands, tag divisions finding balance, and a women's division stronger than ever. Today, I highlight the moves that were made to the SmackDown Live brand and what this means in a very pivotal year for the show going forward.
It is no secret that with SmackDown moving to the Fox Network in October, the brand was going to have a large number of star power and a roster that's is presentable for a prime time slot that's going to be available in every household possible. The Superstar Shake-Up did that in droves, creating strong moves that will make the blue brand an intriguing show going into its transition.
Roman Reigns
Let's get to one of the main reasons SmackDown will be benefitting heavily with their impending move to the Fox Network and that is The Big Dog in the WWE. The former WWE and Universal Champion made his jump during the closing moments of SmackDown Live, delivering a Superman Punch to WWE Chairman Vince McMahon and spearing Elias. This was the play that the company had in mind for well over a year, as Reigns swapping with AJ Styles was necessary for a number of reasons.
Reigns, much like Styles, have done all that he could on Monday nights. Highly regarded as the top male star in the company and the main locker room leader, Reigns bring the star power and motivation to a young SmackDown roster ready to transition. He will still be in the background as he's still recovering from his leukemia treatment. Until then, he will be working small programs with Elias to pick up on his ring condition. When that happens, it's going to be an exciting time with all the new match-ups at his disposal.
Finn Balor
A move that was a year in the making, Finn Balor has the opportunity to be one of the top three names on the SmackDown Live roster. Balor also brings the WWE Intercontinental Championship with him, for who he is in his second reign. It is possible that like before, the midcard titles could effectively switch brands with Samoa Joe and the United States title going to Monday Night RAW. Balor also has Karl Anderson and Luke Gallows lurking around, so if creative was interested in pairing "The Good Brothers" again then that's a direction worth looking into.
Lars Sullivan
The Boulder Beast has finally found a home. After his debut was postponed due to him no-showing a couple of events in January, the Leviathan made his long-awaited presence felt by destroying WWE legends such as Kurt Angle and The Hardy Boyz during Mania Week. It seems like the WWE brass is still high on The Freak Man, having him decimate a number of super popular stars. With Sullivan officially being on the blue brand, many could expect some big plans heading his way.
Ember Moon
"The War Goddess" made her return at WrestleMania after recovering from elbow surgery and didn't miss a beat with her showing in the Women's Battle Royal. As what was shown leading up to WrestleMania was the severe lack of depth to SmackDown's women's division, leading to Charlotte Flair to regain the title from Asuka to help with the brand's credibility at the time. With the Shake-Up approaching yesterday, Ember was one of the easy candidates in providing balance to a depleted women's roster and an opportunity to be a perennial title contender in the coming months.
Bayley
While expected, this still came as a surprise that the former Women's Tag Champion would now be on Tuesday nights. Bayley has been indirectly involved with the current fiasco surrounding Sasha Banks, who has taken a leave of absence following their defeat at WrestleMania. Whether it played a factor in Bayley moving over or has yet to be determined, but this was also needed for lovable babyface. Prior to her tag run with Sasha, Bayley tread throughout the RAW's waters barely finding consistent footing. Far too often and even now, she is seen as the fourth wheel of "The Four Horsewomen" of wrestling and. This is her chance to "be the change," as she likes to put it and make a name for herself as a solo star.
Kairi Sane
As promised by Paige last week, she would bring in an impressive team to SmackDown Live to combat against The IIconics. "The Pirate Princess" made her SmackDown debut aligning with Asuka as two STARDOM alumni and instant contenders for the Women's Tag Team Titles. Sane has been featured on both Women's Royal Rumbles and WrestleMania Battle Royals to moderate success and participated in WWE's sole women's pay-per-view Evolution. The casual audience that knows her should fall in love with the Disney character come to life, as her charisma and mannerisms will have her as a longtime fan favorite for years to come.
Buddy Murphy
It was a foregone conclusion that Buddy Murphy would be making a jump to the big boys after losing the Cruiserweight Championship at WrestleMania, the only question is where he would go. When Cedric Alexander was announced he'll be heading to RAW, Murphy was the next name to be leaving 205 Live to join Team Blue. This is an incredible story for "The Best Kept Secret", who just in 2017 was grinding on the NXT Florida loops and having heavily-praised classics with Johnny Gargano and Aleister Black. He would continue to chase for the brass ring in shedding enough weight to join the 205 Live roster and stealing the show on a weekly basis.
The former "Cruiserweight Juggernaut" will have a chance to do the same thing on Tuesday nights, with a fresh set of faces to display his skills against. He can rekindle his old feud against Ali, trade strikes with Finn Balor, and even step up to Roman Reigns himself. The possibilities are endless for him and if there's one man that can prove his opportunity is worth it, it is him.
Elias
Vince McMahon's "biggest acquisition in SmackDown history" turned out to be RAW's former drifter Elias. Feeling that now he longer have to deal with the interruptions on Monday, Elias was quickly dealt with by Roman Reigns. This is likely to be his first program on the blue brand, as SmackDown has always been the breeding ground for midcarders needing to break through to the top of the card. He's always been a serviceable act on RAW and now will have to step it up a notch on the show full of workhorses.
Liv Morgan
The Riott Squad started like a ball of fire nearly two years ago only to fizzle out throughout 2018. As with many members of the main roster, they became victims of circumstance, often fed to Ronda Rousey and The Four Horsewomen. It was only a matter of time that the trio would run their course and had to split in order to truly get the most out of each other. In Liv Morgan's case, this is a show-and-prove moment for the mischievous, plucky superstar. It will be her first true test as a potential singles competitor, which means she will have to go out of her way to stand out on a now stacked division. Hopefully, she has grown enough not to draw similarities to Carmella, who both developed a brash and urban-influenced gimmick in NXT and are both billed from the Tri-State.
Chad Gable
Gable's run on the main roster has been flashes of brilliance marred with being lost in the shuffle. After being swapped to RAW last year in hopes of a solo run, he was paired with Bobby Roode in a makeshift tag team with moderate success. Then he got stuck again after losing the tag team titles and was sent to SmackDown when it looked like the duo was starting a heel run. Now on his own again, this might be the last shot for Gable to make something worthwhile after so much push and pull.
Getting placed in a tag team with Shelton Benjamin again would only defeat the purpose of Gable's desire of wanting a solo run. With Fox focusing on a sports-oriented product for their weekend slots, Gable could be seen as a potential athlete to promote. He's a former Olympian and can be seen as the heir to Kurt Angle if given the right push.
Mickie James
Mickie James has been absent over the past few months before returning for the Women's Battle Royal at WrestleMania. She returns to SmackDown as a veteran leader into the SmackDown locker room full of talented women. I doubt that she will have much of a bigger role on a roster that includes Charlotte Flair, Asuka, Bayley, and Ember Moon, but she will be a great hand to get younger stars like Kairi Sane and Liv Morgan over and will have good matches.
Heavy Machinery
Heavy Machinery was built for SmackDown Live. The comedic powerhouse duo of Tucker and Otis is a great fit to a dynamic tag team division full of colorful individuals. I wouldn't be shocked if they have a small run with the titles, though there will more interactions between Mandy Rose and Otis for my amusement.
Apollo Crews
Apollo, much like Chad Gable, was a victim of being bottlenecked on such a top-heavy RAW roster over the years. He would find some success with Titus O'Neil and Dan Brooke as a part of Titus Worldwide but later went solo facing Jinder Mahal and Baron Corbin in small TV programs. Now back on SmackDown, Crews help in a diverse midcard where no matter where he is placed, he's gonna do well. He may not be a future world champion now, but Crews have the ability to get to the next level.
SmackDown Live continues to be the beacon of in-ring athleticism and new faces making their mark in the company. This year, the roster has a chance to truly cement themselves as THE A Show.
You can follow more of Chris' musings on Twitter: @RappersRActors 
Greg DeMarco's Three Stars Of The Night: WWE Raw (4/15/19)
Who killed it? Sami Zayn, thats's who!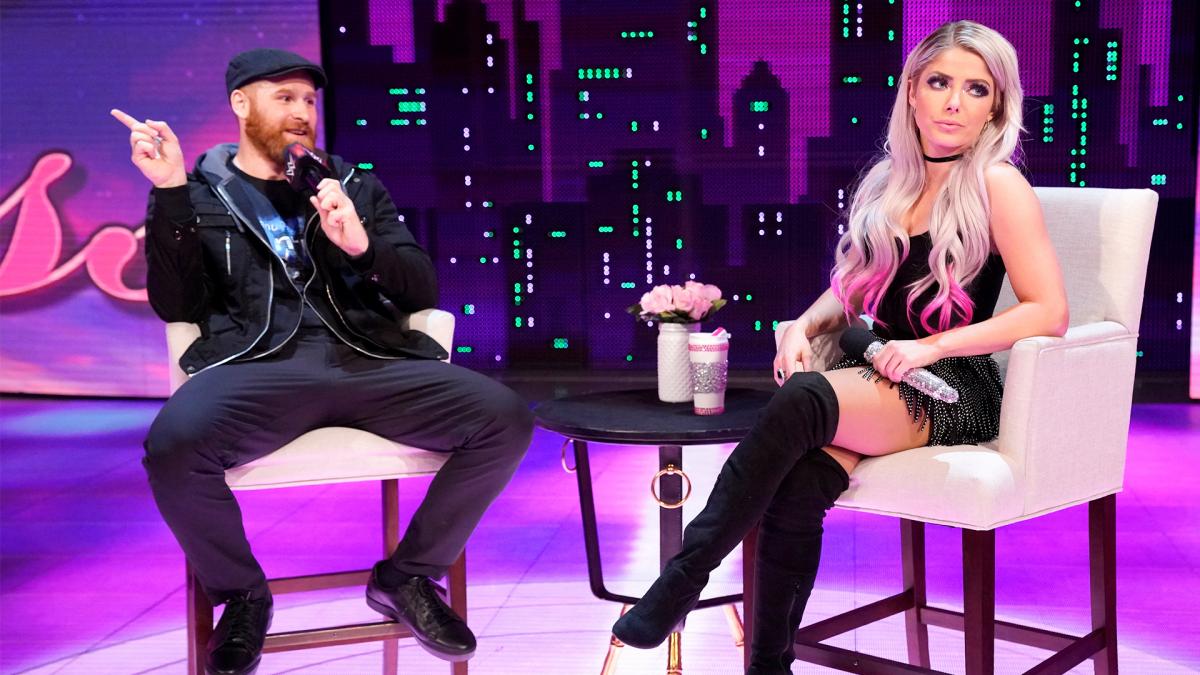 Monday's Raw kicked off the 2019 WWE Superstar Shake-Up, which was the catalyst for three hours of TV. Who stood out to Greg DeMarco?
It was a wild night as expected, when new stars from Smackdown (and NXT) made their way to WWE Monday Night Raw. I am here to deliver the biggest stars of the night! You know the basis for the Three Stars (and if you don't, it's at the end of this article). The problem with this card is that more than three performers deserve the distinction.
Now then…
The Third Star: The Viking Experience
Let me guess–you don't like the name? I don't care! No matter the name Erik and Ivor are The Viking Experience and they are going to kick ass on the main roster. Did it look like they cared? Nope. Instead it looked like they are one of the best tag teams in the entire freaking world, and they're ready to make that main roster money and get over regardless of name. And if you think WWE is out of touch, think again. Viking culture is huge, and commentary did a great job selling why they are who they are. And Erik and Ivor are two of the most popular Viking names. So suck it.
---
Elisa looks great in her Chairshot gear.
You can, too!
Be like Elisa and get yours at:
https://www.prowrestlingtees.com/related/thechairshot.html
---
The Second Star: Andrade (and Zelina Vega)
Another name change you forgot you hated, Andrade and Zelina Vega joined WWE Raw this Monday. He (along with Finn Balor) absolutely killed it and delivered the best match of the night. While no one loves to see champions continually lose non-title matches, that's how we set up new challengers nowadays, and Andrade is really a tailor made Intercontinental Champion. I look forward to seeing what this duo can deliver on Raw
Honorable Mention: The Miz, Lacey Evans, Alexa Bliss
I usually don't post a video for the honorable mentions, but Miz killed it Monday.
The First Star: Sami Zayn
Sami Zayn is the man. He completely used and owned Montreal. It was a masterful heel performance that I really hope people in high places are taking notice of. I have a feeling he went "off script" a little, really more ad-libbing. The camera crew was not ready for him to run down the ramp. But he had the crowd eating out of the palm of his hand, and then he turned them on a dime. It was beautiful to see someone who wants to be hated, and then deliver on that. Good on you, Sami Zayn! Today, you are my hero.
---
Who are your Three Stars of WWE NXT Takeover New York?
Comment on social media @ChairshotGreg, @theCHAIRSHOTcom,
and use the hashtag #UseYourHead!
---
In hockey, a game's "Three Stars Of The Night" represent the top three performers of the night. For more clarification, I defer to this Pittsburgh Gazette explanation:
"The tradition dates to the 1936-37 season, when Imperial Oil became the principal sponsor of Hockey Night in Canada radio broadcasts and was seeking a way to promote one of its products, Three Star gasoline. The idea of doing so by selecting the top three performers in a particular game purportedly came from a Canadian advertising agency.
Many clubs do recognize the player with the most three-star selections with an award or trophy, usually in conjunction with a corporate sponsorship, at the end of the season (or sometimes, each month). All six Canadian franchises, for example, have an affiliation with a well-known brewery.
The NHL keeps track of its own Three Stars Of The Night selections, but that is done on a league-wide basis. The league employs a system that awards 30 points to a first star, 20 to a second star and 10 to a third – a running total can be found on the league's website – but it does not present an award based on them."
In hockey tradition, the first star represents the best of the three, but all three are considered to be receiving a high honor.