Chairshot Wrestling News Shuffle (2/12/19)
Start your Tuesday off with comments on news regarding Batista, a new IWGP Champion, Bayley/Sasha Banks, and more!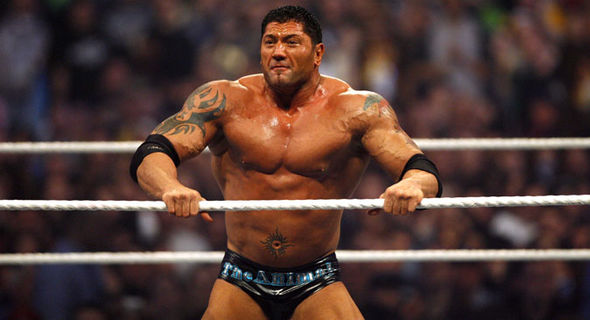 Jason shuffles in to your Tuesday with the Chairshot Wrestling News Shuffle! Today we take a look at Sasha Banks, Batista, a new IWGP champion, and more!

Sasha Banks and Bayley Are #1
As seen on RAW Monday night, Bayley and Sasha banks lost a 3 way match against the Riott Squad and Tamina/Nia Jax. By virtue of losing the match, Sasha and Bayley will be team #1 in the Elimination Chamber match. Team #2 in the match will be determined on Tuesday's SmackDown Live.
Batista Coming Back, But Where?
ProWrestlingSheet has noted that Batista is negotiating a deal for a possible WrestleMania 35 match. However, there also appears to be interest from All Elite Wrestling.
And The New IWGP Champion Is……..
In what many in the wrestling media are considering a bit of a shock, Jay White defeated Hiroshi Tanahashi earlier today at "The New Beginning In Osaka" to become the new IWGP Heavyweight Champion.
'THE NEW BEGINNING in OSAKA' (Feb 11th) is now available on #NJPWWorld! Don't miss this amazing night of action, only on https://t.co/Tj7UBJ4PjP#njpw ##njpwworld @tanahashi1_100 vs. @JayWhiteNZ pic.twitter.com/PGmqSVMemM

— njpwworld (@njpwworld) February 11, 2019
Mustafa Ali Pulled From Elimination Chamber ?
Fightful.com has reported that Mustafa Ali will be pulled from the Elimination Chamber pay per view, and a storyline explanation will involve Randy Orton being blamed for an an injury to the up and coming star. There are no updates as of right now for a possible replacement for Ali. Backstage sources at RAW confirmed Ali is being removed from the match despite his assurances that he could still work.
RAW Results
Did you miss RAW? Did you fall asleep during terrible booking? For anything you missed, make sure to check out Steven Mitchell's results from RAW HERE.
Jason's Thoughts On Today's News
Everything is back to normal now as there is some AEW roster rumors going down! In all seriousness though, I'm sure AEW is interested in Batista, but it's highly unlikely they are interested in him. Why he be? He isn't going to work a weekly schedule. The money would probably be good, but the WWE would provide a profile matchup at WrestleMania. Plus the exposure and marketing machine behind the WWE would be a great benefit to whatever movie he will be working on next. But then again, if AEW signs Brock Lesnar…….
Banks and Bayley being #1 in the Elimination Chamber is good booking. We don't know the severity of the Banks injury so creative could have Bayley end up entering at #1 herself, outlasting all the other tag teams, only to lose at the very end, thus building up legit toughness with the character. It could (unlikely) also finally lead to a match between Bayley and Sasha at WrestleMania.