DeMarco: Predicting The Becky Lynch Roller Coaster To (And At) WrestleMania
The roller coaster for Becky Lynch is going to continue–see how!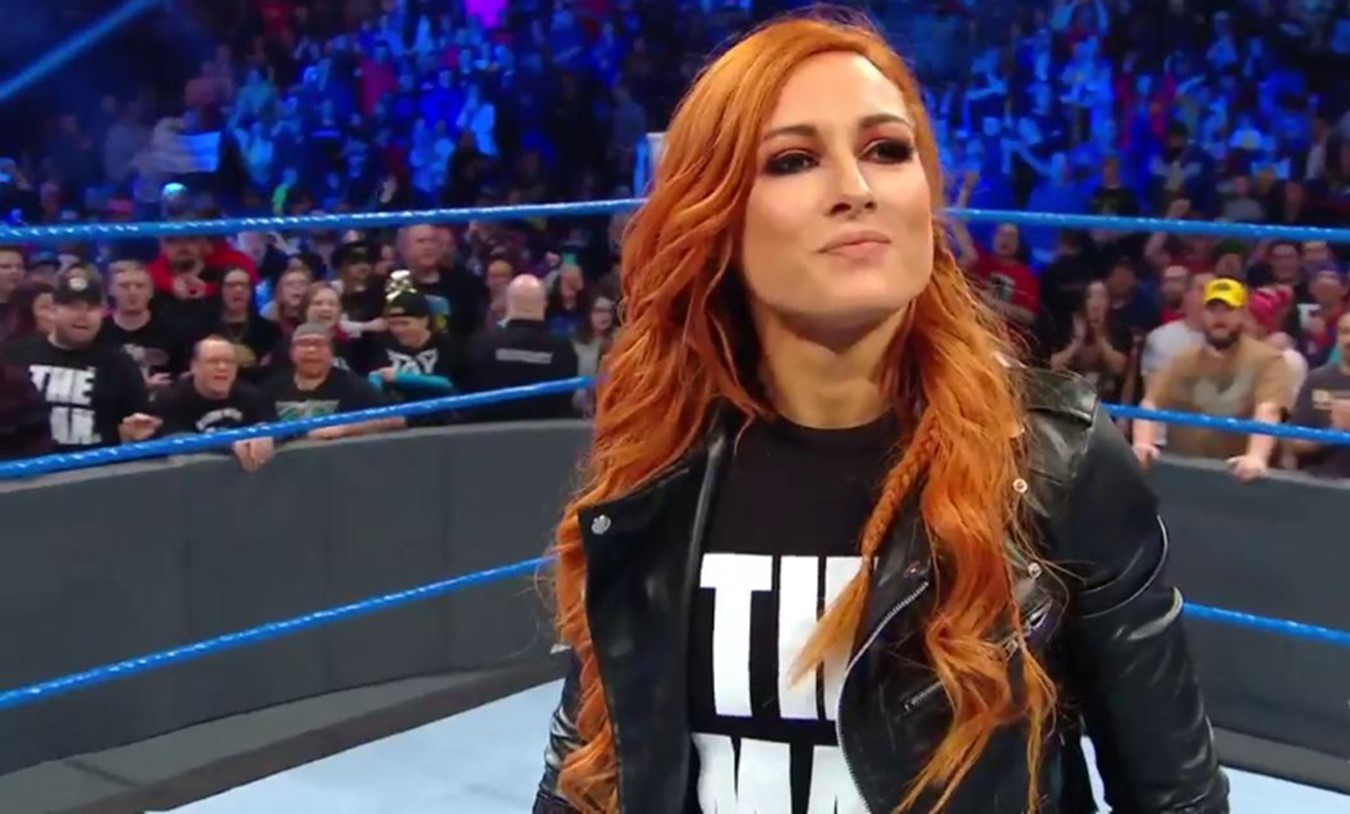 Becky Lynch has taken the fans along her journey to prominence in WWE. Now "The Man" is primed to continue that roller coaster all the way to the WrestleMania main event.
I'm a huge Becky Lynch fan. I've always been one. I wanted her to win at WrestleMania 32, and was bummed to see her in the battle royal at WrestleMania 34. Her success is amazing, and fully deserved. Being added to the showdown with Ronda Rousey and Charlotte Flair in what will likely close WrestleMania 35 is the ultimate reward, and one she has earned.
WWE is using the roller coaster approach with Becky Lynch, much like they did with Daniel Bryan at WrestleMania 30. And Roman Reigns at WrestleMania 32, but y'all don't wanna hear that. How about Austin? They're also following the WrestleMania 15 story with Steve Austin.
The ride didn't stop at the Royal Rumble, in fact it was just getting going. Let's take a look:
HIGH – Booked to face Ronda Rousey at Survivor Series, invades Raw along the way.
LOW – Removed from the Rousey match due to injury (which, at the time, was speculated to be a storytelling move associated with the real life injury).
HIGH – Cleared to return and booked to defend her Smackdown Women's Championship against Asuka and Charlotte Flair in the main event of WWE TLC (the third ever women's Main Event on a non-women's WWE PPV, fourth if you count NXT).
LOW – Loses her Championship to Asuka, but isn't pinned or forced to submit.
HIGH – Booked to challenge Asuka in front of 48k fans at the Royal Rumble PPV.
LOW – Taps out to Asuka and isn't an entrant in the Women's Royal Rumble, where Charlotte Flair is favored to win.
HIGH – Takes Lana's spot in the Royal Rumble match, and overcomes injury at the hands of Nia Jax to eliminate Charlotte Flair and win the chance to main event WrestleMania.
LOW – Is suspended by Stephanie McMahon for refusing medical evaluation out of fear that her opportunity will be taken away, a move that is reinforced by Triple H the very next day (and another reaffirmation from Vince McMahon will probably happen this week on Raw and/or Smackdown).
So what happens now? I can promise you this, it's more Highs and Lows for Becky Lynch. And that's a good thing, as this is the best story WWE is telling to date.
Here is what I see happening:
Step 1: The LOW will continue when Becky is officially removed from the match with Ronda Rousey at WrestleMania, and Charlotte Flair is either given or wins the spot (it's probably awarded to Charlotte for being the runner up in the Royal Rumble, as it furthers the notion that everything is "handed to" her).
Step 2: The next HIGH is achieved when Becky Lynch is cleared for action by WWE doctors.
Step 3: Another LOW as she's informed by a member of the McMahon Family that she lost her spot, but will be given another WrestleMania opportunity.
Step 4: A HIGH when Becky Lynch earns her way back into the match, either at or before WrestleMania itself. It makes perfect storyline sense for her to earn this over Nia Jax. (It won't be over Charlotte, unless it's to join Charlotte in the triple threat match. Don't kid yourself–Charlotte Flair was always going to be in this match.)
Step 4: An unexpected LOW when Nia Jax attacks Becky Lynch, either right after her loss to Becky (if it's at WrestleMania) or either when Becky is headed to the ring or is early into the Triple Threat Match.
Step 5: The ultimate HIGH (and also basically a repeat of the Royal Rumble entry high) when Becky Lynch returns to the ring during the Triple Threat Match.
Now, that last step is key because it will blow the non-existing roof off of MetLife Stadium. It can happen one of two ways:
One option is Becky returning when both Charlotte Flair and Ronda Rousey are down, resuming the Triple Threat. either Charlotte or Becky wins.
But let's add some serious storytelling and say Charlotte Flair beats Ronda Rousey while Becky is gone, but before she can celebrate Becky comes back out and says "it's not over because I'm still breathing" and makes her way to the ring to beat Charlotte and close the show victorious.
THAT second bullet point is the story I want to see. Give Charlotte the win over Ronda Rousey (thus stealing it once more from Becky Lynch). This creates a future one-on-one match-up with Ronda Rousey when she returns (assuming she takes time off) and gives Charlotte Flair more reasons to battle Becky again. Plus it creates an issue for the Raw Women's Championship–was it on the line when Becky beat Charlotte? Is she really the champion? Storytelling at it's finest.
Greg DeMarco's 205 Live, NXT UK, and WWE NXT Star Ratings (2/12-2/13/19)
The WWE Network brands delivered in a big way this week!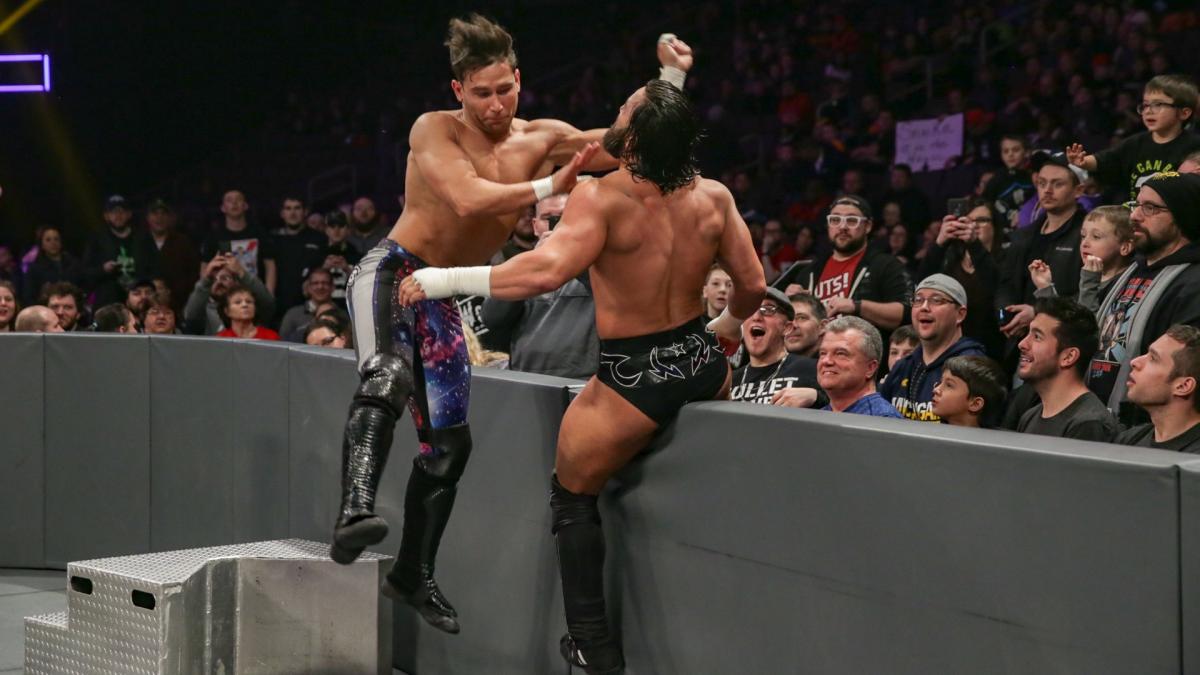 Greg DeMarco rates this week's WWE Network shows, and they deliver in a very consistent way!
Three shows. One week. I was a busy man this week with the new job and the birthday, but I finally got the rest of NXT hammered out! I hope you enjoy the ratings as much as I enjoyed the shows because they delivered in all three this week.
WWE 205 Live
Lince Dorado vs. Jack Gallagher – ***1/4
Underrated match here. Great mix if styles and both men had a chance to shine. Loved the finish. Don't sleep on this one. I like that the match was left open-ended. I feel like we'll see Gulak/Gallagher/Humberto Carrillo vs. Lucha House Party, and I'm not upset by that.
No Disqualification – Noam Dar vs. Tony Nese – ****
I've been wondering out lout about who steps up to challenge Buddy Murphy at WrestleMania. Now, the answer is really simple. That challenger should be Noam Dar. Hell of a match here, both men kicked each other's ass, but told a story while doing it. I've never been the biggest Tony Nese fan (in WWE, I loved him on the independents), but he delivered every bit as much as Noam Dar. This could have sold a crowd on a main roster show.
WWE NXT UK
Noam Dar vs. Jordan Devlin – ***3/4
One hell of a match between Dar and Devlin. From a televised perspective, Noam Dar low key had a hell of a week. I won't get off of my Dar vs. Murphy idea anytime soon, and Jordan Devlin would be a fantastic addition to 205 Live. The Travis Banks involvement didn't hurt it for me, as that story is a big part of 205 Live. Plus it keeps Devlin strong in the loss.
Jinny vs. Mia Yim – ***1/4
I enjoyed this way more than expected, since Jinny is in it. The match built from the start, kicking it up another notch in the middle and finding a third gear in the end. Can Jinny win me over? The jury is still out on that, but I highly recommend this match.
WWE UK Championship Match: Pete Dunne vs. Wolfgang – ***1/2
Gallus is a vastly underrated heel stable. Dunne should be in NXT Takeover main events with Tommaso Ciampa. I would love to see that match at Takeover: New York. This match delivered, yet another in a great week.
WWE NXT
Dominik Dijakovic vs. Shane Thorne – ***
Good match that, for me, did way more for Shane Thorne. Don't sleep on Thorne, he deserves a chance. As for Dijakovic, it's gotten to the point of repetition. Give this man something more to do.
Side Note: Interesting that they basically declared that Bobby Fish and Kyle O'Reilly were a tag team again, and Strong and Cole were going after singles gold. Could Undisputed Era hold all the (men's) gold at some point this year? I'd be shocked if that happened.
Side-Side Note: Kassius Ohno, who I love, still looks like a fat dude wrestling in his pajamas.
The Street Profits vs. Humberto Carrillo & Stacey Ervin Jr – ***1/4
This match, for me, might end up being viewed as the night The Street Profits "got it." They turned up the intensity in all aspects, from character to ring work, and it really enhanced the match. Carrillo is also a star in waiting, and Ervin shows some promise as well. This was really good.
Taynara Conti vs. Aaliyah – **3/4
Aaliyah being paired with Vanessa Bourne is…odd. But for me, this is the best Aaliyah has ever looked in the ring. Props to WWE for being patient. Conti is a missed opportunity. When she helped Undisputed Era (that one time lol) she should have become a member. That would have done wonders for her, and given them yet another wrinkle. Outside of the post-match attack, this felt like an NXT Florida house show loop match (which it probably has been in the past).
Ricochet vs. Adam Cole – ***3/4
If you know me, you know my Adam Cole man-crush runs deep, BAY BAY. So I am obligated to tell you that the wrong guy won here. But if I set that love aside, it makes total sense for Ricochet to win while Undisputed Era stands tall at the end. It was all set up during the earlier promo.
That said, both men delivered another Takeover quality performance in this match.
---
The WWE Network shows (205 Live, NXT UK, and WWE NXT) had a total of 9 matches this week. One of them had 4 stars, one was below 3, meaning we still had seven other matches in the 3 star range. This was an entertaining three hours of content, and one of the most consistent weeks I have ever seen. Good on the fine folks on all three WWE Network brands, both on and backstage.
#RAWisDVR: Greg DeMarco's Accelerated Review of WWE Raw (2/11/19)
How much got the FAST FORWARD treatment this week?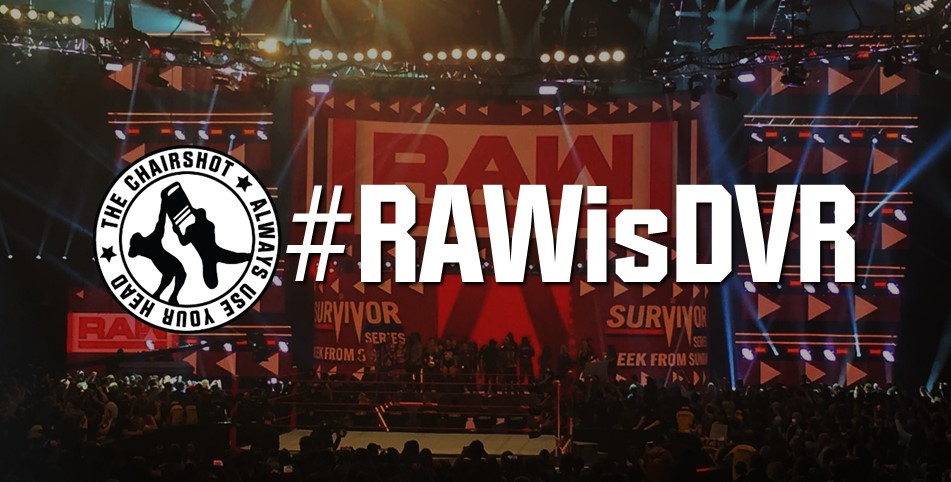 Each week Greg DeMarco watches WWE Raw on DVR with a stopwatch and sense of urgency. How much time will he save?
Let's see how we go home to Elimination Chamber!
FAST FORWARD the opening nope. They did that for us!
Stephanie McMahon & Triple H start WWE Raw
Fake excitement Steph is so terrible
Okay, FAST FORWARD the PPV talk
It's WrestleMania season when the Brand Split means nothing
FAST FORWARD Becky walking
Triple H should know better than telling women to calm down–he's married!
The McMahon family is still in charge of the WWE–and this is about reminding everyone.
Enter Sasha & Bayley–super fast start to Raw!
FAST FORWARD the entrances and commercials
Timestamp: 10:53
Sasha Banks & Bayley vs. Liv Morgan & Sarah Logan vs. Nia Jax & Tamina (losers enter the Chamber first)
FAST FORWARD some of the boring match
Watch some wrestling, FAST FORWARD the commercials
More wrestling, FAST FORWARD Tamina
Bayley stealing offense from Ronda!
And that's finally over.
Nia Jax has become such a strong character
FAST FORWARD the replay, talking, and commercials
Hello I Am Elias
The multiple interruptions were stupid
FAST FORWARD the commercials
Elias is JUST NOW talking? This must suck live.
Thas was one hell of a guitar shot
Enter Lashley (and Lio).
FAST FORWARD so much stuff. Seriously, what is up with this episode?
Timestamps: 22:09 (real time 58:47)
Finn Balor vs. Drew McIntyre
FAST FORWARD the entrance and video for Finn Balor, and McIntyre's entrance
The problem with this match–and it's not a bad match–is that we are just waiting for Rush & Lashley to get involved
And there's the expected DQ!
FAST FORWARD and now we have Kurt Angle and Baron Corbin Sucks. Braun NOVELTYman, anyone?
Yep, 6-man tag time, HOLLA HOLLA PLAYA!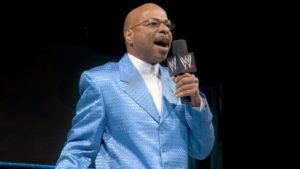 FAST FORWARD the commercial
Timestamp: 27:03 (real time: 1:11:39 )
Finn Balor, Braun NOVELTYman, & Kurt Angle vs. Drew McIntyre, Bobby Lashley, & Baron Corbin Sucks (plus Lio Rush)
SHIELD camera shaking only works for SHIELD
Angle Slam and there's no way that finishes it
FAST FORWARD Baron Corbin Sucks
FAST FORWARD more commercials (geez!)
WWE's attempts to keep us from going away during commercials are so transparent. I don't blame them one bit.
FAST FORWARD Baron Corbin Sucks
I just hit 30 minutes on the clock.
Finn takes out Lio to sell Sunday's match
And Finn eats the fall. So terrible, "blown call from the official." That shit is dumb.
And here's DEAN AMBREF to restart the match. Because we can do that now?
WWE just reminding us that things are never going to be consistent. To quote Batista, DEAL WITH IT.
FAST FORWARD the commercials
I feel like the entire stretch of Balor/McIntyre to this has taken 90 minutes.
Love the way Lio holds the Intercontinental Championship on the outside.
You know, what if Finn Balor is The Demon this Sunday?
BRAUN SMASH! NOVELTY ACT!
At least he's good at what he does.
8 hours later, this is over.
Kevin Owens promo from the bowling alley
"One more month or so." You can set your watch by it!
FAST FORWARD the entrances
Backstage Becky–this really is an Austin episode of Raw
FAST FORWARD more entrances and commercials
Timestamp: 1:44:00 (real time: 38:37)
Nikki Cross vs. Ruby Riott
Nikki crazy, y'all
Nice touch for Ronda, wearing Reebok UFC gear backstage
See, Ronda wants to see the match, too!
I hate the mid-match interruption, this is a good match so far
Michael Cole voice change signifies commercial? NOPE! But lots of fake Ruby hair on the floor.
Riott Kick CONNECTS! (with nothing)
Do not fast forward Paul Heyman
FAST FORWARD the commercials
Timestamp: 44:49 (Real time: 1:55:24)
Seth Rollins promo
Seth here to remind us that he exists
Accomplishment, accomplishment, attach by Brock, good news
BROCK not here–crowd went nuts, too
Babyface Seth is the worst Seth. HE BROKE UP THE SHIELD!
FAST FORWARD the commentary
And here's DEAN AMBROSE, who supports Rollins?
FAST FORWARD stuff
Timestamp: 50:09 (Real time: 2:11:22)
Dean Ambrose vs. EC3
Who else is in the Top 1%?
This whole show has become a chore as we wait for Becky's decision.
Dean wins. YAY.
Don't know if you know, but Becky must apologize tonight.
One does not FAST FORWARD Alexa Bliss.
FAST FORWARD the entrances
Timestamp: 55:50 (Real time: 2:25:07)
WWE Raw Tag Team Championships: Bobby Roode & Chad Gable (c) vs. The Revival
#SAVETAGTEAMWRESTLING!
Gable & Roode are no makeshift team
FAST FORWARD the commercials
Computer and timer issues hit, but THE REVIVAL WON!
Don't give me that "it should have been on PPV," THE REVIVAL WON!
FAST FORWARD
Becky Lynch Promo (with Ronda Rousey, Vince McMahon, and Charlotte Flair)
Masterfully done yet again, Charlotte Flair is in the match (like I told you), Becky Lynch now has to fight her way back in (like I told you), and this story continues its twists and turns all the way to (and at) WrestleMania.
Note that this was the central focus of Raw, as it's the most important program in the company. This will main event the show.
Estimated Timestamp: 1:25:00 (real time 3:00:00)
Time Saved: 1 hour an 35 minutes!
Overall this edition of Raw was just…weird. The show was cued up different than normal, and it showed. Let's not yearn for the Attitude Era ever again. Onto the Smackdown!