We Don't Need PPV's Between Royal Rumble & WrestleMania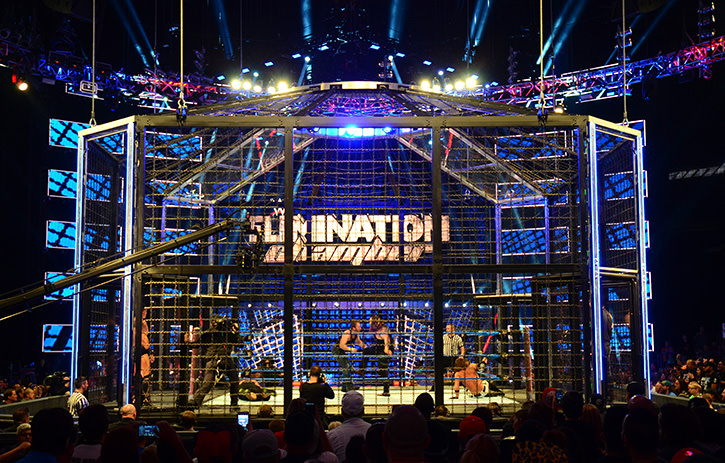 Kevin makes a pitch to rid WWE of PPV event between the Royal Rumble and WrestleMania. Could it work?
Let's get crazy, ladies and gentlemen.
I'd like to make a proposition that may not sit well with everyone. It's in regards to the Road to WrestleMania that we finds ourselves traveling down at the moment. We're just 50-some odd days away from the Show of Shows, and all of WWE's creative juices should be focused on making WrestleMania into the biggest show it could possibly be.
So, with that in mind, here's my idea (direct all hate and vitriol to @KevinCWrestling): Let's abolish the February and March pay-per-views.
I don't think this is that far-fetched of an idea, to be perfectly honest. I mean, how many times have we all collectively complained about the WWE PPV schedule being just too packed? Last year, there were a grand total of 15 pay-per-views/special events like Crown Jewel and Super Showdown.
I would personally be in favor of chopping that in half, for a number of reasons. It would be easier on the talent, easier on the writers, and most importantly to me, easier on the viewers. It would allow us a little bit of a chance to breathe in between big shows.
Trust me, I could write a whole column just on my fixing of the WWE PPV schedule, but that's not why I'm here today. I'm just focusing on Elimination Chamber and Fastlane for now, the two PPV's that fall between the Royal Rumble and WrestleMania.
Axe them. Both.
Do We Really Need WWE Elimination Chamber and FastLane?
This is the Road to WrestleMania we're talking about, people. Why do we need to clutter the road with unnecessary construction in the form of not one, but two major shows when we're supposed to be building to the biggest show of 'em all?
We just had the Royal Rumble two weeks ago, and already we've got Elimination Chamber coming to us this Sunday, with scarcely any time in the middle to actually build towards the show. Sure, the Chamber matches are always fun regardless of the story involved, but the whole thing feels really cobbled together, no?
It's almost an entirely inconsequential show, as well. None of the main title belts will change hands, the only one I could foresee MAYBE switching is the Smackdown tag belts, and that would be in service to a larger story being told at WrestleMania with the Miz and Shane McMahon. A story that could be furthered along on Smackdown without much of a hassle, honestly.
Nothing that terribly important will happen at Elimination Chamber because, frankly, why would it? We're less than two months away from WrestleMania, now's not the time to introduce some radical change to an existing storyline.
I think having these shows is a burden on the writers because they know what their job is supposed to be this time of year, it's supposed to be getting busy making sure that everyone's WrestleMania plans are sliding into place. How are they supposed to do that when they're working on such a quick turnaround from the Rumble to ensure that we get not one, but TWO PPV's in between, shows that they have to make us care about without disrupting stories that are already being put in place.
So with the tight spot that the writers are in, we get a PPV like Elimination Chamber, where the card is pretty bland, to put it mildly. Is it really necessary to have a bad pay-per-view here? Wouldn't it be easier to just try and make RAW and Smackdown more exciting with some PPV-quality matches over the next two months?
And this is just me talking about the Chamber, I'm not going to even touch on FastLane. I think most fans are wondering just why FastLane has found itself on the PPV schedule just three weeks after Chamber. What possible matches could you throw on there without a reasonable build and with WrestleMania just under a month away at that point? It's oversaturation, and I'm not here for it.
I also have this beef with the Chamber PPV being now: is it really a wise idea to, with WrestleMania rapidly approaching, to throw a bunch of your top male and female superstars into the most dangerous match in WWE? I know this isn't a new concept, the Chamber match/PPV has been in February for years now, but with WWE reeling from injuries the way it is now, wouldn't it be safer to hold off on a match that most every superstar has spoken up about and said that it's the hardest match to work?
We don't need the Chamber. We don't need FastLane. Take this month to get healthy, get focused, and to get going on some dynamite storytelling heading into WrestleMania.