The Good, Bad and Ugly: WWE Smackdown (2/26/19)
Did Smackdown provide a Good show on the Good-Bad-Ugly scale?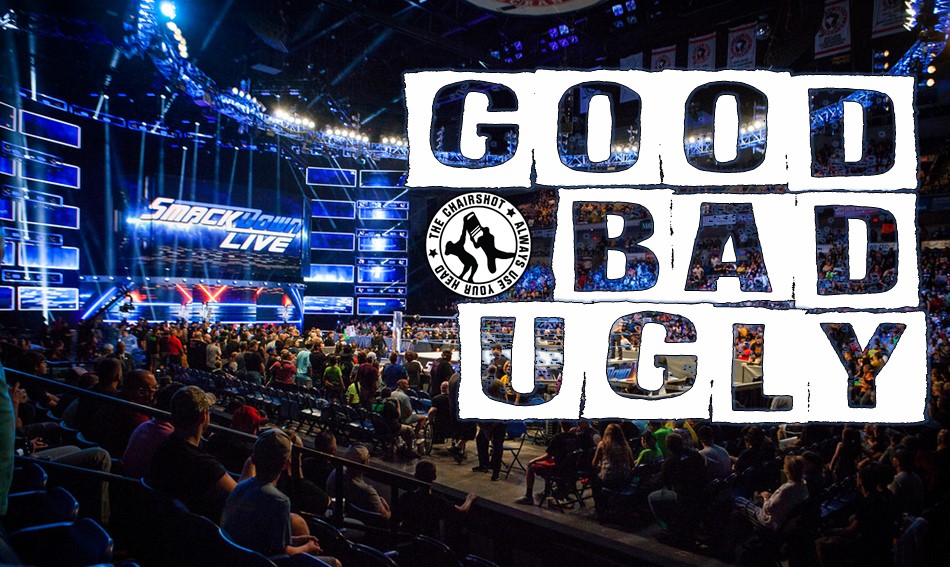 Bobby Fernandes saw Raw as Bad, will WWE Smackdown raise the bar…or is it already the bar?
After Raw was subpar and flat out Bad, we come to SmackDown in hopes of redemption.  We need it to be Good and the Blue Brand is typically up for the task.  Can they deliver or will the Bad vibes continue?
GOOD
The Hardy Boys vs. The Bar
Welcome Back Matt Hardy!  This is great news anytime, and more Hardy Boys is a winner.  Great contrast against a team like The Bar this match was a Good set up.  Comebacks are the Hardy's thing.  The other thing is being awesome!  This match more than delivered and obviously hit some nostalgic notes along the way.  The Bar did their job beating down the glutton's for punishment The Hardy's.  It was a solid, full speed match.  The Hardy's bring it every single time and always lay it all on the line.  This was fun and entertaining and did the job well.  The Hardy's hit their big moves for the big win over the former Tag team Champions.  Chalk up another Good match! 
Open Challenge- United States Championship Match- R-Truth w/ Carmella (C) vs. Rey Mysterio vs. Andrade w/ Zelina Vega
Apparently John Cena is R-Truth's childhood hero, and he will be doing the US Open Challenge in his honor.  Andrade w/ Zelina Vega answered the challenge and this is a great thing.  To make it better so did Rey Mysterio who came out hot and dropped Andrade on the ramp before the match was even official.  The matches so far have been fire between the Mysterio and Andrade and R-Truth is far too talented to ruin such a Good mix.  Everyone as expected was impressive and on their A Game.  Lots of unique spots, and 3 man moves.  Some sick high flying feats by everyone lead by Mysterio the Master of the sky himself.  This was high impact and fast.  Top caliber Pro Wrestling action.  Even the tribute to Cena's "You can't see me" was great!  Carmella getting at Vega was a nice touch.  Mysterio was just a maniac.  After a "619" attempt that hit Andrade, R-Truth got a quick roll up on Mysterio for the impressive win, and huge title defense.  Andrade being the passionate hot head he is attacked Mysterio but was not successful, having to retreat.  This is such a sick rivalry, I hope it never ends.    
Charlotte Flair
This was purely Heel Heat seeking material.  This was simply to get more hatred to the villain the Evil Queen.  It worked to, as the Negan like Charlotte really pissed off everyone.  She did well on her turf.  Charlotte was tall and sharp this go around looking and sounding ready for the fight.  It was convincing and Good for the story.  Charlotte apparently in fantasy world thinks she will be handed the Title on this coming Raw from the hands of Mr. McMahon himself.  As it so happens, this is possible in this crazy WWE Universe.  This was a little long in the tooth but passed the test and gave us a Good feeling about what is to come!  It's about to blow up!
Aleister Black and Ricochet vs. Shinsuke Nakamura and Rusev w/ Lana
Both Aleister Black and Richchet's entrancing are mesmorizing.  I love the way Black rises for the fight.  Ricochet is pure energy also.  Then of course the classic Nakamura entrance doesn't get old either although they didn't show it.  These are awesome teams for an awesome match.  A real treat for the NXT mix up as of late.  This is Pay Per View steal the show talent, ironically enough though Rusev and Nakamura are forgotten on Pay Per Views most of the time and it's a crime.  As this should be no surprise this match was absolutely awesome.  This is what it's all about, a little bit of everything, and a whole lot of Good.  Not to be outdone and needing to mention it, Rusev looked really Good out there.  He really has a great aggressive streak going and it has made him sharper and tighter in the ring.  Hopefully it was noted backstage that Black vs. Nakamura has to happen as it just is so perfect.  This sometimes was unorthodox and sometimes so textbook, but it just worked well all around.  Ricochet took a sick bump on a powerful slam by Rusev.  Rusev is straight money at all times.  He needs another push sooner than later.  Back to the match, Nakamura had it locked but was hit with "Black Mass" and defeated.  Ricochet and Aleister Black Win!  Sick Match!  We need more and more of this!
Kevin Owens and Kofi Kingston vs. (WWE Champion) Daniel Bryan and Rowan
I get the heat seeking going on, much like with the Charlotte/Becky situation but this is outrageous.  K.O. being back is Good though.  He brings a ton of all around talent every show and can work with the best of them.  It's surprising given his history with the McMahon's that he is now seemingly aligned with Vinnie Mac.  All the same, Owens acting like he was surprised was so cheesy but that is part of the charm of the story in this case and makes it better.  Onto the match, we have some talent, but Rowan is way out of place here.  Better talent for the likes of Owens and Kingston need to happen fast.  As expected, Kofi Kingston got completely stomped by the heel team the whole match.  There was decent action though and everything looked Good.  Finally after all the build up, it Kevin Owens finally answered his call.  He took the hot tag and unloaded nearly finishing off Daniel Bryan and Rowan on his own.  Kofi got back into it but again went high risk.  It was Kevin Owen's though who his a "Stunner" on The Champ for the impressive comeback win!  Owens was sick and looked like he hasn't lost a step but only got better.  Great win for Kofi and Owens!
BAD
Contract Signing (Kofi Kingston vs. Daniel Bryan Championship Match at Fastlane)
Kofi Kingston is the man right now.  He has been a long time but now is getting his proper respect.  It looked like everything was going to plan.  Everything being set up to be done the way it should.  Kofi going to sign a huge opportunity.  Then Vince McMahon arrived.  He not only insulted Kofi but replaced him with returning Superstar Kevin Owens who signed his name instead for a title shot at Fastlane.  This is really stupid and pointless. If the point was just to get everyone upset, great job but Kofi Kingston is the match everyone wants and needs.  Bad Opening. 
UGLY- Goose Egg!
FINAL
Overall
Good Week for team Blue! More than redeemed for the short mess that Raw was Monday Night.  The matches were just better, as is the talent.  Only being outdone every week by NXT which is not a Bad thing.  Gold star for the SD Live crew on a killer week! 
NXT not only making the other shows better is also Great and hopefully the NXT Women's Division will see some action as well.  This trend is such a treat and the more NXT integrates the better everything will Go.  Next up is the stars of the night on their home turf, NXT.  I'm sure it will rock out!  See you right back here, on the Good, Bad and Ugly.