Good, Bad, and Ugly: WWE Raw (02/04/2019)
Still a lot of Good from WWE Raw this week?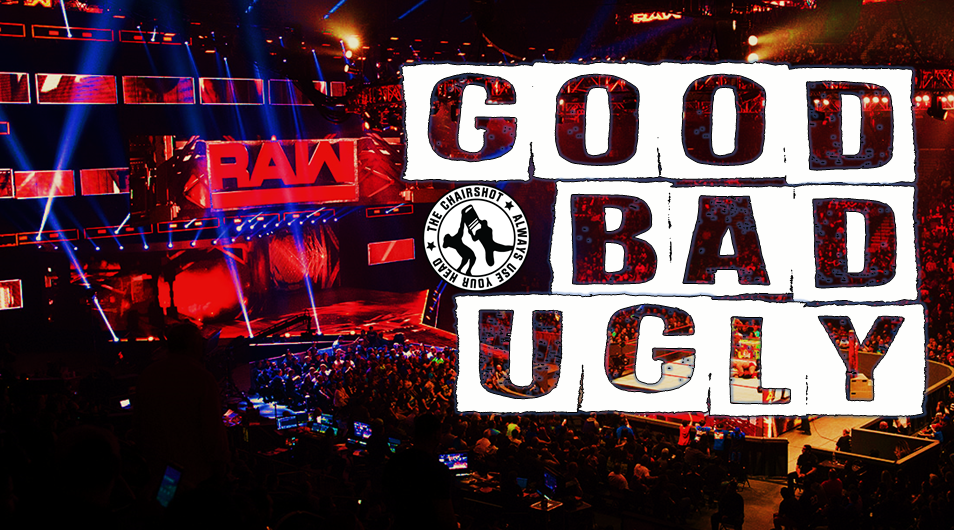 Did WWE Monday Night Raw continue to be good, or did things get ugly this week? Bobby Fernandes tells you–now!
The Road to WrestleMania continues with imperative action ahead on all of the major WWE shows.  As always the week starts with Monday Night Raw.  Raw has been filled to the max with content weekly, almost doubling both SmackDown and an extremely scarce NXT last week.  It seems to be making up for lost time getting everything set up for the Grand Finale at WrestleMania.  Will the super flow of Monday Night Raw continue, or will the pipeline get clogged up before the big day?
THE GOOD
(Post Liv Morgan's Match) Non-Title Match – Sarah Logan vs. Raw Women's Champion Ronda Rousey (C)
Sarah Logan came in hot and surprised Rousey before getting locked into an arm bar and escaping out of the ring.  Logan put up a hell of a fight until a quick turnaround.  Rousey beat Logan down and got Logan into an arm bar for the win.  It looked like Ruby Riott was next but she decided to retreat to her girls. Logan and Rousey looked a lot better than the first match with Morgan. 
Heavy Machinery vs. Lucha House Party vs. B Team vs. The Revival
Non-stop action, all teams making themselves known.  Good to see the B Team and of course the new popular kids, Heavy Machinery.  The Revival especially looked Good while locking up with Heavy Machinery.  Otis and Tucker cleaned house and dominated everyone clearing the ring, Bushwhacker walk and all.  Dorado did some amazing stuff as well, but it was The Revival that took advantage and won with a "Shatter Machine."  Good match, great Tag Team Content! 
Kurt Angle Retiring?
Kurt Angle having a historic, insanely successful career and life, seemingly was about to retire.  Out comes Baron Corbin.  As things got heated, when Corbin is talking, out comes Drew McIntyre.  As Corbin and McIntyre were about to kill Angle, out comes Strowman.  Angle with such a Monster backing him made Corbin and McIntyre flee.  Not sure how or what this will become but this looked and played out well.  Good segment. 
Sasha Banks and Bayley vs. Alicia Fox and Nikki Cross
Nikki Cross and the even more psycho Alicia Fox attacked Sasha Banks and beat the hell out of her.  Bayley fought back but to no avail after being slammed into the screen.  Fox and Cross made their way to the ring however it looked as though nothing further could happen as their opponents were already beaten down.  Bayley would not be denied and would fight even with a visibly hurt partner.  Bayley held her own beating both Cross and Fox all around the ring, but ran out of steam and had no help. 
Again this week Alicia Fox was just horrible.  She really needs to stop.  Nikki Cross on the other hand looked great as always.  Cross is very impressive and could potentially be a Good fit with just about anyone on the roster.  Just when it seemed that Fox had Bayley down, Bayley rolled up Fox for the victory.  Although Alicia Fox was horrible in this match, overall it was okay.  Bayley and Sasha are natural fits for the Women's Tag Team Championship picture. 
Jeff Jarrett w/ Road Dog vs. Elias
It was awesome seeing Road Dogg do his whole DX deal.  Nostalgia is a safe and Good bet with WWE always.  Jarrett has seen better days, but don't let that fool you, he can work.  The man has been wrestling a very long time, and single handedly fist fought WWE with multiple ventures in his career.  It is a Good thing to see him around.  Elias is absolutely talented all around and hopefully will continue to be used often.  They need to stop singing that song already, enough is enough.  Elias interrupted this mess and the crowd applauded him.  Elias was savage.  Even when heeling out, the crowd cheered.  Jarrett pursued Elias and held his own.  Elias never stays down long though and took control.  Honestly it is very impressive how Jarrett hung in there.  After coming back and looking strong, Elias hit a "Driftaway" and got the win over Jarrett.  Road Dogg then attacked Elias.  Road Dogg strutted and saluted Elias with a "suck it" while Jarrett hit Elias in the back with a guitar.  There was some crap stuff here but the match overall wasn't bad and certainly not ugly.    
Lio Rush w/ IC Champion Bobby Lashley vs. Finn Balor
Good way to open up the third hour.  Finn Balor is a crowd pleaser and a huge talent.  Lashley is red hot right now, and since winning the IC Title has been even more impressive.  Surprisingly Lio Rush came out in his gear ready for a fight.  Bobby Lashley beat the hell out of Finn Balor abusing his already bruised up ribs.  What looked like a non-title match Balor vs. Lashley became Lio Rush vs. injured Finn Balor.  Lio Rush really is a talented worker and can really go.  Balor came back hard but was taken out by Lashley before the ref barred Lashley from ringside.  This did not stop Lio Rush who continued his assault. 
Even when Balor would get ahead, Rush would take control back with a great counter.  It really looked like Rush had the match won several times but Balor prevailed.  He came back hit the "Coupe de Grace" and got the Win!  Lashley ran out but Balor rolled out to safety.  Good, solid and surprising.  This Match was Good. 
Paige
She was just promoting her movie, but always Good to see her.  She was knocked off way to soon.  She just was so talented.  No matter her history, controversy and all Paige was and is Awesome! 
Moment of Bliss w/ EC3
Wow!  Good choice, and great wuperstar.  EC3 is very interesting here, as it is unclear how he will be used and has so much potential.  He really is a star.  Bliss was impressed.  Out comes Nia Jax and Tamina Snuka.  It seems the deep hate for Nia Jax has dissipated.  Just as she was about to ruin it for herself, Dean Ambrose came out.  This is where things got hot.  Dean Ambrose deeply disrespected EC3 until EC3 had enough and started a fight.  Looks like he will finally see some action, and against a name like Dean Ambrose. 
Dean Ambrose vs. EC3
This match has a ton of potential and can be a huge thing for EC3 especially with all of the hype around Ambrose possibly leaving after Wrestlemania.  Not to mention both guys can really work well.  Both guys looked sharp in there and Ambrose looked particularly aggressive.  This could have been a Good long drawn out match but EC3 gets a very quick rollup for the surprising win.  The end was stupid but it's a big win and a Good win for EC3.
Kurt Angle and Braun Strowman vs. Baron Corbin and Drew McIntyre
Strowman and McIntyre are literally a big deal.  This could be a huge feud with amazing results and a pushing point for either guy.  As expected early on Angle was hot but was overcome by the heels and taken down most of the match.  Angle would constantly fight back but couldn't get ahead.  The Monster laid in wait, foaming at the mouth.  McIntyre again got Angle into his own "ankle lock."  Angle persevered and got the tag.  Strowman came in just destroying everyone.  Strowman was all worked up and let it all out in there, but the heels got control once again.  McIntyre and Corbin worked well together.  McIntyre really is a great superstar with unbelievable talent.  Now Angle fully recovered waited for his turn.  He wanted another shot in at Corbin and McIntyre.  Angle came back in big time, with German Suplexes to take control.  He hit the Angle slam but McIntyre made the save.  Then the absolutely most absurd moment took place.  Braun was disqualified for hitting Corbin and was not the legal man.  Corbin and McIntyre win by DQ.  Decent match with a stupid finish.  Corbin and McIntyre continued the assault but Strowman overpowered them and destroyed them on the steel steps to finish the show.
THE BAD
Opening Segment w/ Stephanie McMahon and Becky Lynch
Before her name could be introduced, "The Man" graced the masses on Monday Night Raw.  Rousey was angry last week, and told Becky what she plans to do at Wrestlemania. The back and forth was Good, but there was a lot of recap material.  McMahon's reasoning for this public meeting, is Becky now mandatory will have to see a doctor before she is allowed to compete again.  Becky Lynch resisted and even insulted the "Billionaire Princess."  She made the wrong enemy, and Stephanie again claimed a suspension for Becky Lynch if she doesn't get cleared.  Becky then threatened Stephanie.  Becky then attacked Stephanie and couldn't be stopped until McMahon kicked her in the knee and quickly retreated.  This was not great, kind of pointless and didn't need to happen.  Not a Good start.  The follow up with Rousey in the back didn't help anything either.  Rousey is getting better week by week though.
Non-Title Match – Raw Women's Champion Ronda Rousey (C) vs. Liv Morgan w/ Riott Squadd
Liv Morgan getting some much deserved air time is a Good move, even if it is to be feeder fish to Rousey.  Of course Morgan wanted no part of the Champ.  This was literally quick and awful.  If this was the plan, why? 
THE UGLY – It wasn't pretty but nothing pure ugly either. 
FINAL TALLY
OVERALL
Good* but it needs to be mentioned that this week was Not as Good as Raw has been lately.  Again there was a ton of content, a lot of faces onscreen and stories continued.  There was an abundance of action.  However, Raw was a little off tonight, something wasn't right.  It did the job but wasn't up to par. 
Well there we are, another Raw closer to the Big Night.  SmackDown is up next followed by the ever popular NXT brands.  WrestleMania's pot continues to simmer and will soon boil over.  Every step from here out is for the sake of WrestleMania, which should mean that we are all in for some big things. 
NXT Minus 6: The Most Pointless Match Ever
There are some things Brad really enjoyed, and others that made no sense. Do you agree with his assessments?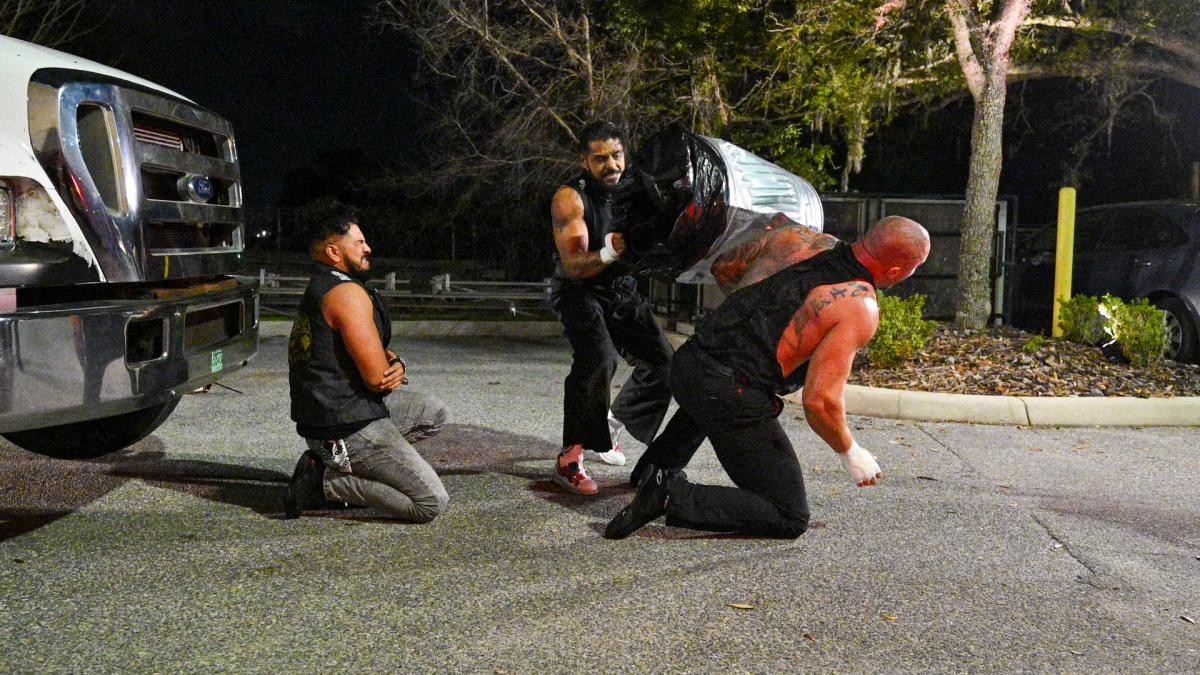 Not just pointless. It was Charles Barkley turrible. 
6. Dexter Lumis is in dire need of a makeover. Since his debut two years ago, the only thing that's changed is the possible addition of new arm tattoos. Great athlete. Deceptively agile. No depth to his character. He is the worst thing you can be in wrestling. Boring. 
5. Zack Gibson strikes again. Drake Maverick & Killian Dain are Shrek and Donkey. Savage! Gibson is on the mic what Wade Barrett needs to be. I like watching him wrestle. I love listening to him talk.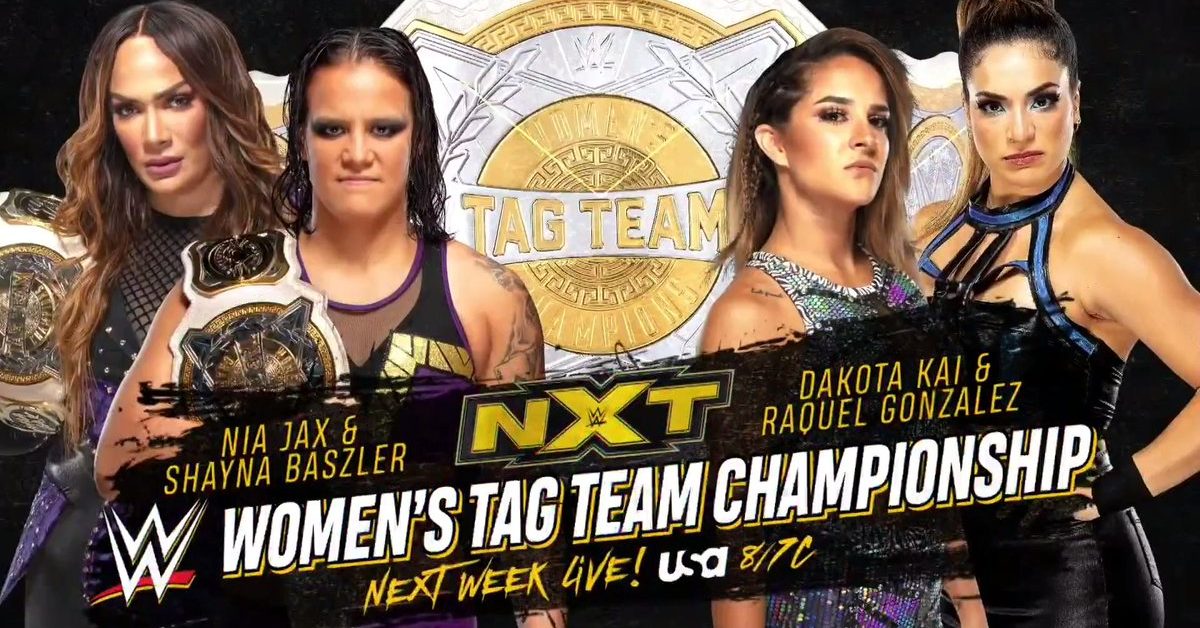 4. How good was it to hear Shayna Baszler's music again in NXT? I am cranked to 11 for the women's tag team title match. So many stories. Baszler and Dakota Kai have a long history. Raquel Gonzalez and Nia Jax, the two biggest, baddest bitches in WWE are out to prove who is the alpha bitch. Titles on the line. Baszler's homecoming. Kai's shot at validation. I'm smelling MOTY contender.
3. I am fully and deeply committed to the notion that Xia Li is the baddest person in the entire NXT locker room, male or female. Madame Li, I will never get on your bad side. If I accidentally cross that line, I will change my name and flee the unidentified state in which I currently reside. Un-Lished.  
2. That thing between Santa Claus Ice Cream Bar and Doomsday Saito was possibly the most pointless match ever. The feud was based on nothing. Why is a heavyweight going after a cruiserweight? Why do they continue to pretend Ice Cream Bar is a cruiser when he clearly isn't? How does Saito survive a 3-on-1 beat down to pop up fresh as a daisy and get the victory? It dragged on and on and on and on and on and on and on, clocking in at just under 92 hours. Let us never speak of this match again. No, it doesn't get a pic. 
1. This week's That's Why I Love Wrestling goes to…unidentified camera man! I'm on my couch, digging Leon Ruff's entrance. BTW, his music kicks all kinds of ass. Ruff is hanging on the ropes, loving life, when BAM! Kick to the head from Swerve Scott. I was genuinely surprised, never saw it coming, because the camera man was fully focused on Ruff, and so was I. Nice work, unidentified camera man.  
Cook's Top 5: Miz Moments
Cook brings the most must see Top 5 of the week! Is it obvious or a MIZtery?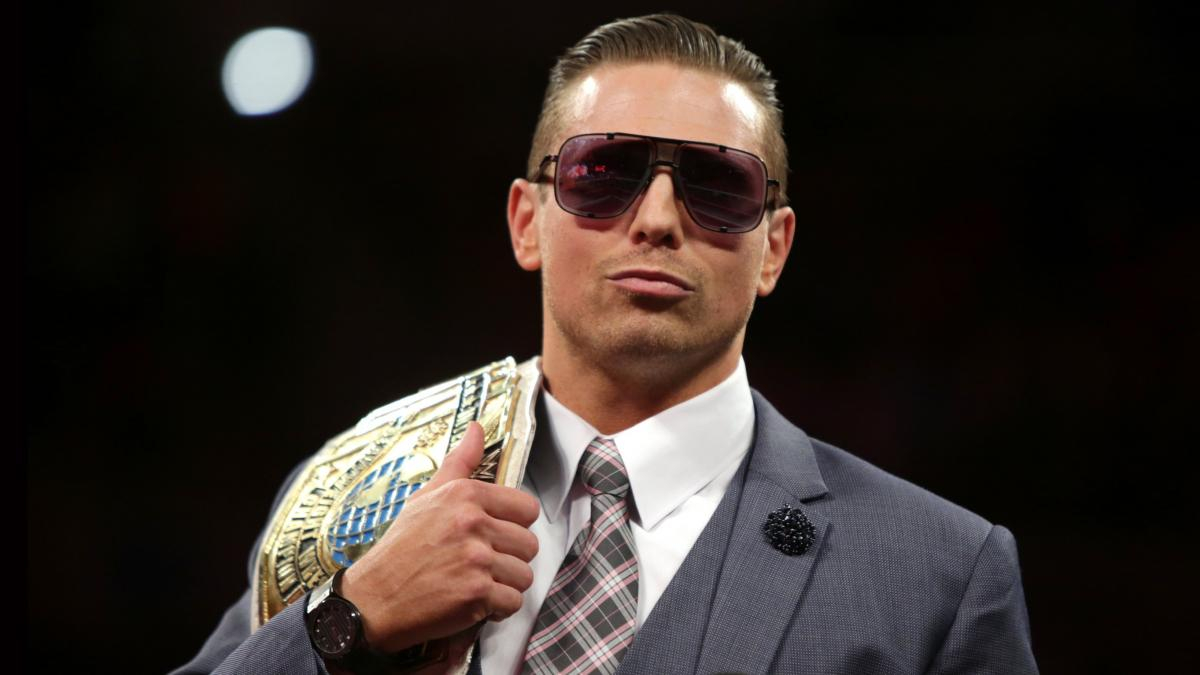 This week is all about our new WWE Champion, The Miz!
Let's be honest, Miz might not hold the Championship for too long. He's got a big match with Bobby Lashley next week. We wish him luck, and maybe something unlikely will happen resulting in Miz holding on to the title longer than anybody expects. Still, I feel the need to get this particular edition of the Top 5 out there as soon as possible.
Here are the Top 5 Miz Moments!
5. Main Eventing WrestleMania
The match itself…not so great. Miz was obviously the third most important person in the match. He also suffered a concussion. But the guy still main evented WrestleMania and beat John Cena, which is something that not too many other people can say. This will remain Miz's biggest WrestleMania match unless they get Bad Bunny to wrestle him this year.
4. A Ladder Match with Dolph Ziggler
Miz & Ziggler have quite a bit in common. Both hail from the Cleveland area. Both prefer to think of themselves as being from Hollywood. They're both egotistical characters that make up for what they might lack in size with ego. They've been in WWE forever with limited changes to their character, pretty much on the same level of the card. Naturally, they get along pretty well & have good chemistry.
2016 saw the best incarnation of their on-screen issues, with Miz & Ziggler trading the Intercontinental Championship back & forth. The Ladder Match ending the feud at TLC is considered by most to be Miz's best match. I don't have a ton of other options off the top of my head, so we'll go with that.
3. The First MITB Cash-In
You always remember your first. At this point in time, much like here in 2021, Miz wasn't seen as the most believable choice to be WWE Champion. However, the man had a briefcase, and, importantly, this was back before the briefcase gimmick was completely run into the ground. So when Miz ran down at the end of Raw to cash in on Randy Orton, it got a tremendous reaction.
People were either really happy or really angry. I was on the angry side of the spectrum, especially since I had a cold and was writing a news column during all of this. Man, I remember when the week or so a year I would a cold was the only time I really felt like crap.
What can I say, Miz has grown on me over the years.
2. Feuding with The King
A lot of old school wrestling fans found it hard to believe that The Miz had become WWE Champion when more deserving wrestlers from their childhood never had been. Heck, Jerry Lawler, a God of Memphis rasslin who piledrove Andy Kaufman into oblivion, had never even gotten a shot at that title, even though he'd worked for WWE for nearly twenty years. Seemed wrong to a lot of people, but nobody expected that wrong to be addressed.
Lawler was celebrating his sixty-first birthday the week after Miz defeated Randy Orton for the WWE Championship. One thing led to another, and Lawler got his very first WWE Championsgip opportunity. In a TLC match! They got the fans believing that Lawler could win the title…until that pesky Michael Cole kept Lawler from climbing further up the ladder.
It was nice to see the King get another important run on WWE television long after we thought it was possible. A large part of the reason it was possible? The Miz. He portrayed himself as just beatable enough that the title change could happen. Also held up his end of the bargin in the promos, which was never easy for Lawler's opponents.
I know everybody likes a title change, but this was the best work Miz did during his first WWE Championship reign by a wide margin.
Honorable Mention: Marrying Maryse
You knew I had to mention this, right?
1. Talking Smack to Daniel Bryan
I've always been a Daniel Bryan guy. Back when he was Miz's "rookie" on NXT, I thought the idea that Miz would have something to teach him was a bit outrageous. It was an interesting pairing though, and the Miz/Bryan relationship/rivalry has provided plenty of compelling moments over the years.
None moreso than the night where Miz did something that a lot of people didn't think was possible: make himself seem right & Daniel Bryan seem wrong. The way Miz defended himself in this tirade was pretty much impossible to argue with. Maybe Miz doesn't wrestle the way that hardcore wrestling fans would like, but he is pretty much the prototypical WWE Superstar of his era. He always works hard, is never hurt, and you don't have to worry about him embarrassing himself or the company.
This promo raised Miz's character to another level at the time, and definitely added some fuel to the fire for Bryan's eventual return. If you want to see one Miz promo that sums up who he is & was, this would be it.