The Good, Bad and Ugly: WWE Raw (02/25/2019)
Led by Roman Reigns and Big Dave Batista, Bobby's thoughts on Raw may surprise you.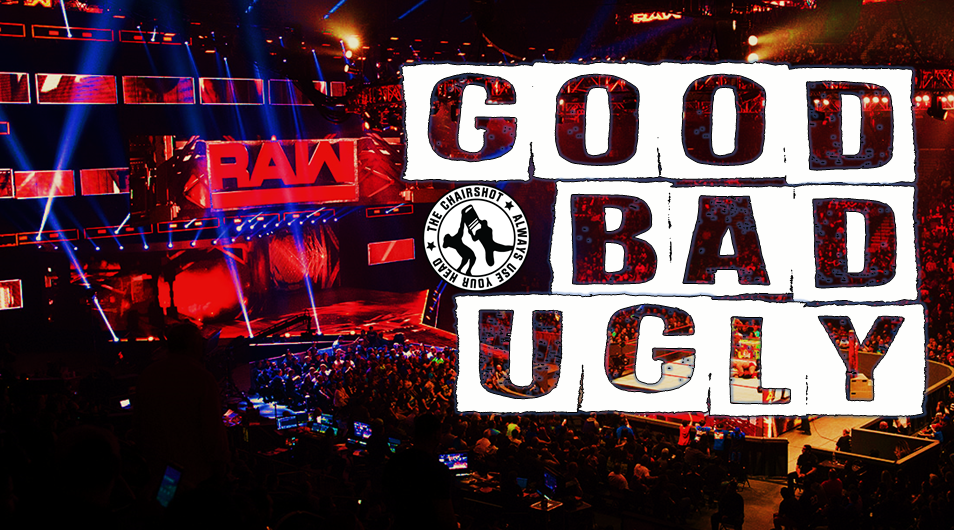 Raw is ROMAN, and WWE Raw was Batista, too. But was WWE Raw Good, Bad, or Ugly? This week's results from Bobby may surprise you.
Welcome to another Good, Bad and Ugly WWE Raw Edition.  WrestleMania gets closer and closer every day, and every week something seems to happen that shapes the big day.  FastLane is a small bump in the Road to WrestleMania but still on the way.  Tonight as promised we will see "The Big Dog" Roman Reigns and even the haters have to be impressed by him.  What other big things does Raw have planned? And are they Good, Bad or Ugly?  Let's watch this week's Monday Night Raw. 
GOOD
Roman Reigns
He is bravely and successfully fighting one of the most, vile diseases on the planet and still took the time to entertain the masses this week.  The Universal Champion is seen less and is a healthy, and capable person in every way.  He slowly went down the ramp, hugging and shaking hands with member of the audience.  David Arquette and some of Roman's family where standouts.  Respect is earned, and he has it.  The crowd was genuinely loving and gave him a standing, loud pop.  This was a long, very heartfelt promo with the Big Dog, as always, Reigns made an impact.  His cancer is in remission and of course that is just a miracle!  Great news!  Congrats Roman!  To literally add fuel to the fire, out comes fan favorite Seth Rollins embracing his brother in arms.  It is Good to see Roman, honestly in any form, this is All Good!  Welcome back Big Dog!  Heads up to the locker room, Roman is coming for his spot. 
Non-Title Match- Ricochet and Aleister Black vs. (Raw Tag Team Champions) The Rival
They are hyping the arrival of NXT's top guys.  Aleister Black is crazy hyped and for Good reason.  Ricochet is even better and let's his freakish talent show everyone show everyone what he is all about.  Revival really kicked ass in this match working insanely Good talent from NXT shined.  This was a short match as Aleister Black after taking a lot of punishment in little time, hit "Black Mass" winning a huge match against the Raw Tag Team Champions.  Good match but short.  Wish we could have had more. 
Intercontinental Championship Match- Finn Balor (C) vs. Lio Rush
After a short lived "Moment of Bliss" with the Goddess herself, this match happened.  This was action packed and both guys just know how to move around that ring with pure athleticism.  These guys are so Good and sharp.  Lio Rush working with Lashley has been tremendously successful, but Lio in the ring has been even better.  This was back and forth and impressive work by both competitors.  It's funny watching Balor overpower someone but that is what we saw.  Coup Ge Grace for the Win!  Balor victorious.    
Braun Strowman vs. Bobby Lashley
Battle of the big men, again Lashley was impressive.  This really looked Good.  For the amount of size in there they both move around fantastic.  This was very physical.  They laid it into each other but it was Braun Strowman who Out-Beasted, Lashley and crushed Lio Rush as well in his mayhem.  I guess this wasn't an actual match though, as they just hit Strowman's music and the whole thing ended.  Very strange way to do the segment.  Good action but very odd ending.
Drew McIntyre vs. Dean Ambrose
Decent match.  This was very physical and both guys beat the hell out of each other which is normal for McIntyre and Ambrose.  This was a No-DQ as both guys did all they could to 1-up each other.  As Ambrose had it under control, Elias made a run-in, giving McIntyre a wounded Ambrose.  McIntyre hit a Claymore Kick to finish him off.  After the match, Ambrose was in trouble as Lashley, and Corbin ran down to jump in.  Out of nowhere, with all hope lost, Reigns and Rollins saved their Shield Brother.  Great run in and way to get Roman involved. 
BAD
Elias
Elias was up to his usual stuff when unexpectedly, Dean Ambrose was the one who interrupted and beat up a very upset Elias.  This was really stupid to be honest.  Not really a waste of time though as it was really short.
Kurt Angle vs. Jinder Mahal
Open Challenge and openly horrible.  This short little stint was an open challenge to any attendees of the Flair Birthday Bash.  Angle answered and snapped Jinder's ankle for the win.  Considering who was involved this really was Bad, even though it was short.
Bayley vs. Nia Jax
Nia Jax completely squashed the Tag Team Champ and dominated the entire match.  It looked sloppy and scary in there.  Luckily she made the mistake of going after Banks.  Bayley got a huge knee to the head and finished the Irresistable Force with a beautiful elbow drop for the win.  This was just not Good, even with Bayley who is fantastic, this was a subpar, pointless match. 
Raw Women's Champion Ronda Rouse and Natalya vs. Ruby Riott and Sarah Logan w/ Liv Morgan
Logan is the real deal.  She really looks sharp and has some major power behind her moves.  Ruby Riott also works sharp and seems to not hesitate when pulling some big moves.  Rousey and Natayla always seem to struggle, of course there were some dramatically horrible moments here as well.  However Natalya and Rousey looked better than they could have, that had a lot to do with who they were facing.  Even the Liv Morgan spot was done well.  This was far from perfect even a little Bad.  Rousey and Natalya of course Win this one.  Then, Lynch of course ran in through the crowd to attack Rousey again but was arrested this time. This also wasn't the best work ever.  Starting to get a little to repetitive with big, special moments.  She isn't Stone Cold, she is The Man. 
Rousey Post Match Promo
It went from Bad to worse when Rousey then got on the mic.  She called out Mr. Mahon but his daughter took the call.  Rousey wants Lynch reinstated and Lynch had just been "arrested."  Sometimes things are just so obvious and just overacted and overdone.  This was all of those things.  Keep Rousey off of the mic, and if you are going to have her cut a long promo, do it with someone who can carry her.  Rousey then laid the Title down in the middle of the ring and walked out.  What does this mean? Who knows! 
16x World Heavyweight Champion, Hall of Famer Ric Flair's 70th Birthday Party
With the entire locker room watching, HHH, Stephanie, HBK, Ricky Steamboat, Kurt Angle, and Sting!  WOW for the Stinger!  Of course the WWE Video tribute is always money and this was no exception.  Although completely unexpected, Batista accosted a camera man and attacked Ric Flair in his dressing room.  All of this to get HHH's attention.  HHH ran back to aid an injured Ric Flair to end the show.  Everything should have worked out splendidly here but to do this whole show around Ric Flair's birthday and then not even have him come out is horrendous.  This was a really Bad ending even if it means HHH vs. Batista.   
UGLY- Not Quite but they tried.
FINAL
Overall
Bad News friends.  Bad news indeed.  We had ourselves a crap Raw this week.  This was just a big disappointment all around.  We had a few peak moments including mostly Roman Reigns but really, this should have been Good easily.  It simply wasn't.
Well this week is starting out Badly.  Can SmackDown and more importantly NXT be able to give their much needed Good quality to pick WWE back up into the Good column?  We will find out this week with more Good, Bad and Ugly.