Greg DeMarco's Star Ratings & Analysis for 205 Live, NXT UK & WWE NXT (2/20/19)
The WWE Network shows deliver again!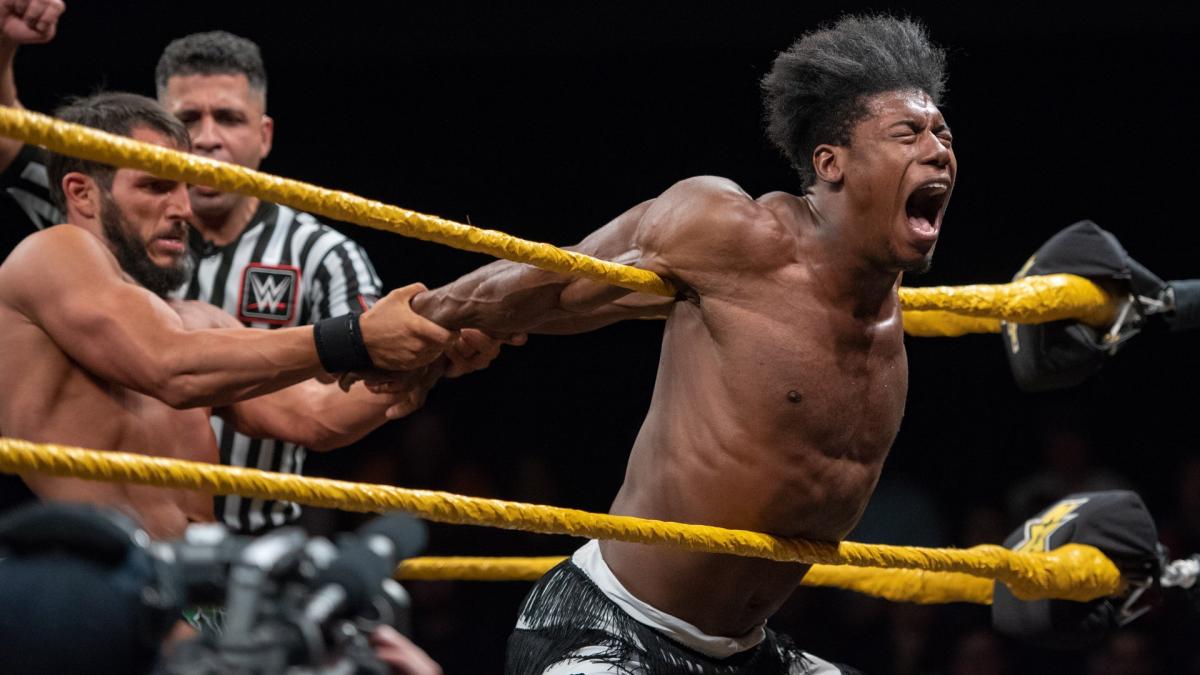 Greg DeMarco reviews the solid slate of in-ring programming offered this week on the WWE Network: 205 Live, NXT UK, and WWE NXT!
WWE presented another good set of programs on the WWE Network this week with 205 Live, NXT UK, and WWE NXT. If you want more in-ring product from WWE, these are the shows you should be watching.
WWE 205 Live (air date 2/19/19)
TJP vs. Humberto Carrillo – ***
This would end up being TJP's last televised WWE match. Who knew! (Probably someone checking their DMs within the last few weeks?)
Humberto is a star, and obviously the right guy went over here.
I think Humberto is going to join up with Drew Gulak & Jack Gallagher for a bit, possibly feud with the Lucha House Party, before finally having enough of their garbage and going on his own, elevated.
Ariya Daivari vs. Johnny Lyons – **1/4
Daivari went for cheap heat, but it makes sense since he hasn't done much recntly.
The crowd was more behind the local kid than Daivari, but it was like the Raw crowd from Monday.
Quick, and effective squash for Daivari.
Mike Kanellis vs. Cedric Alexander – ***
I was so excited for Mike & Maria to come to WWE. I was wrong in my excitement.
Mike's aggressive ways continued, but he fell to another former Cruiserweight Champion.
I know he wants to go to NXT UK, but it could be a good chance for him to show both sides–in-ring and character. If they let him go, they might want to let him go sans Maria.
This match got crazy good time–nearly 20 minutes–and they told a good story. The near fall was beautifully done–so much so that someone on Raw or Smackdown will steal it for WrestleMania.
Overall: This was a transitional show, as we are gearing up for the 8-Man Cruiserweight Tournament to name Buddy Murphy's challenger at WrestleMania 35. I would have chosen Noam Dar, but something tells me it's going to be Cedric again.
---
Exclusive podcasts, ad-free content, and more!
Join The Chairshot on Patreon for just $5 today!

---
WWE NXT UK (air date 2/20/19)
Mark Andrews & Flash Morgan Webster vs. Gallus members Mark & Joe Coffey – ***
The Coffey Brothers being in the tag team division seems to hurt Joe, IMO. But we don't know when the next UK Takeover is, so there's time.
The way he was booked, Joe Coffey should be able to beat both these guys by himself.
The right team went over, but taping NXT UK in Phoenix wasn't the best idea.
Side note: I am here for a Nina Samuels push. Give me her over Jinny any day of the week.
Trent Seven vs. Shane Thorne – ***3/4
This is where things get weird. Different crowd, different ring announcer, etc. Obviously this was taped as a random match and thrown into the broadcast. But it's Trent Seven and Shane Thorne, that's all we need!
Any young wrestlers, in training, should watch this match. They made the most out of the basics, and built to the bigger spots. Great match overall.
Trent Seven wins, which makes sense for a throw away match. Thorne winning and continuing a program with the two at the next tapings in the UK makes sense to me, but that's my playlist.
Side note: Another different announcer for the Grizzled Young Veterans, so I think this whole production was taped and then organized after the fact.
Another side note: Next week's show is setting up like a mini-Takeover.
NXT UK Women's Championship: Toni Storm (c) vs. Rhea Ripley – ***1/4
Hot start to the match, with Ripley on the attack.
No offense to Nigel McGuinness or Vic Joseph, but no one cares if Jinny is watching.
I know modern wrestling gets a bad rap at times, but one thing they've accomplished is making the headbutt effective AND safe.
Several near falls, which I get–but could you imagine the title changing hands at Axxess? I sure can't.
Storm gets the win, but I really hope that wasn't the blow-off to this feud (unless Ripley is moving to NXT).
Overall: Good episode, but these matches would have better resonated in the UK. I know taping in the US was a need and not a want, but I hope they didn't give too much away.
WWE NXT (air date 2/20/19)
Aleister Black vs. Roderick Strong – ****
Takeover quality match to start NXT this week? I'm here for it, but I feel like it could have benefited from more fanfare.
"Tattooing the back of the Dutch Destroyer" is a crazy funny line from Nigel, considering the tattooed state of Aleister Black's back.
There wasn't much doubt about who was winning here, but Roddy looked great in defeat. A Takeover quality match to start the show indeed!
The post-match attack was assumed, as it puts Aleister Black and Ricochet together–remember that this was taped in January, so don't pretend that the whole Dusty Classic thing came out of nowhere.
Mia Yim vs. Xia Le – ***1/2
Xia Le is crisp as hell, and if they can find a way to connect her withe fans, she could be huge.
Speaking of connecting, Mia Yim as a challenger for Shayna Baszler is something I can get behind.
Yim picks up the win, but Le has a future as well.
NXT North American Championship: Johnny Gargano (c) vs. Velveteen Dream – ***3/4
Dream, of course, earned a championship opportunity by winning the World's Collide Tournament at Axxess in Phoenix. He selected the North American Championship for his shot.
Tommaso Ciampa watching from the rafters works for me, because we all know this is continuing.
That was a SHOT from Velveteen Dream to Johnny Gargano's mouth.
Dream doesn't need to show off the technical skill, especially when he doesn't have a ton of it. That's not what he has, and that's not why he's over.
Long term, Dream's career isn't going to be about championships. It's about being an iconic character. But he will have some accolades, and this is one.
I actually hated Dream winning with the Purple Rainmaker. In this case, it makes more sense for him to pull out a win with something else, really giving fans that shocking high.
Overall: Another great episode of NXT–long gone are the days where the brand lost its footing. They are back in full stride, making them hard to beat.
All three of these shows were fantastic, and each one gave you a reason to watch and to come back for more. They are what wrestling is all about, and if you want more wrestling from your wrestling, it's right here for you.