Greg DeMarco's Star Ratings & Analysis for 205 Live, NXT UK & WWE NXT (2/20/19)
The WWE Network shows deliver again!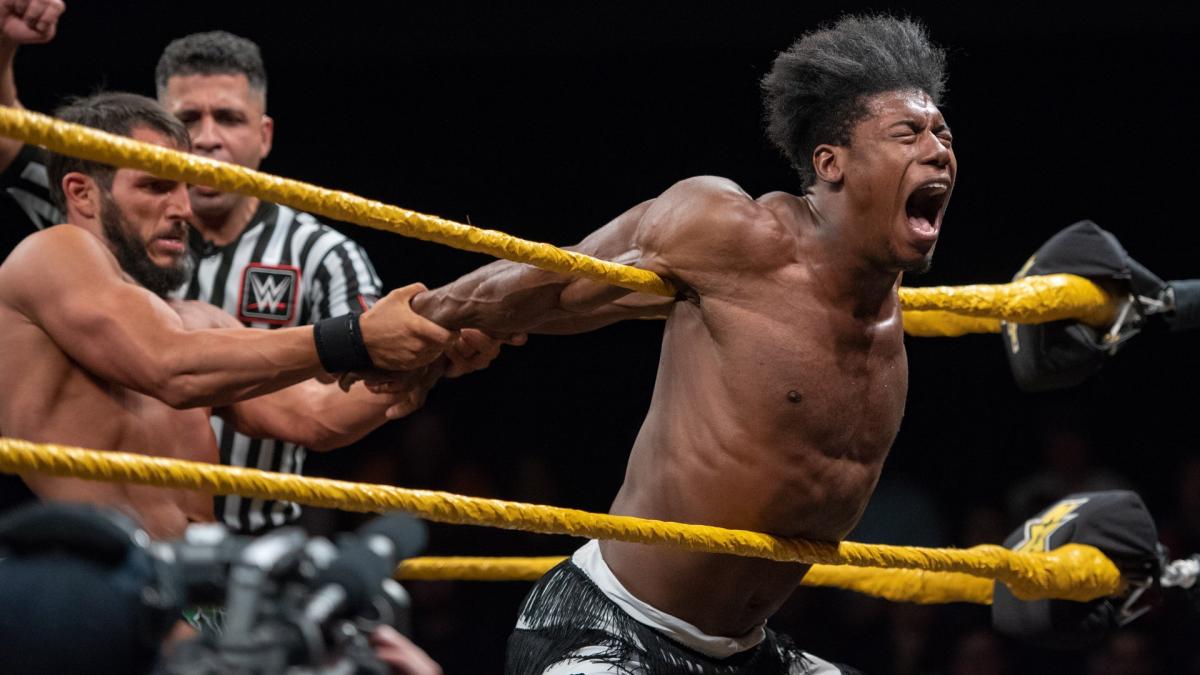 Greg DeMarco reviews the solid slate of in-ring programming offered this week on the WWE Network: 205 Live, NXT UK, and WWE NXT!
WWE presented another good set of programs on the WWE Network this week with 205 Live, NXT UK, and WWE NXT. If you want more in-ring product from WWE, these are the shows you should be watching.
WWE 205 Live (air date 2/19/19)
TJP vs. Humberto Carrillo – ***
This would end up being TJP's last televised WWE match. Who knew! (Probably someone checking their DMs within the last few weeks?)
Humberto is a star, and obviously the right guy went over here.
I think Humberto is going to join up with Drew Gulak & Jack Gallagher for a bit, possibly feud with the Lucha House Party, before finally having enough of their garbage and going on his own, elevated.
Ariya Daivari vs. Johnny Lyons – **1/4
Daivari went for cheap heat, but it makes sense since he hasn't done much recntly.
The crowd was more behind the local kid than Daivari, but it was like the Raw crowd from Monday.
Quick, and effective squash for Daivari.
Mike Kanellis vs. Cedric Alexander – ***
I was so excited for Mike & Maria to come to WWE. I was wrong in my excitement.
Mike's aggressive ways continued, but he fell to another former Cruiserweight Champion.
I know he wants to go to NXT UK, but it could be a good chance for him to show both sides–in-ring and character. If they let him go, they might want to let him go sans Maria.
This match got crazy good time–nearly 20 minutes–and they told a good story. The near fall was beautifully done–so much so that someone on Raw or Smackdown will steal it for WrestleMania.
Overall: This was a transitional show, as we are gearing up for the 8-Man Cruiserweight Tournament to name Buddy Murphy's challenger at WrestleMania 35. I would have chosen Noam Dar, but something tells me it's going to be Cedric again.
---
Exclusive podcasts, ad-free content, and more!
Join The Chairshot on Patreon for just $5 today!

---
WWE NXT UK (air date 2/20/19)
Mark Andrews & Flash Morgan Webster vs. Gallus members Mark & Joe Coffey – ***
The Coffey Brothers being in the tag team division seems to hurt Joe, IMO. But we don't know when the next UK Takeover is, so there's time.
The way he was booked, Joe Coffey should be able to beat both these guys by himself.
The right team went over, but taping NXT UK in Phoenix wasn't the best idea.
Side note: I am here for a Nina Samuels push. Give me her over Jinny any day of the week.
Trent Seven vs. Shane Thorne – ***3/4
This is where things get weird. Different crowd, different ring announcer, etc. Obviously this was taped as a random match and thrown into the broadcast. But it's Trent Seven and Shane Thorne, that's all we need!
Any young wrestlers, in training, should watch this match. They made the most out of the basics, and built to the bigger spots. Great match overall.
Trent Seven wins, which makes sense for a throw away match. Thorne winning and continuing a program with the two at the next tapings in the UK makes sense to me, but that's my playlist.
Side note: Another different announcer for the Grizzled Young Veterans, so I think this whole production was taped and then organized after the fact.
Another side note: Next week's show is setting up like a mini-Takeover.
NXT UK Women's Championship: Toni Storm (c) vs. Rhea Ripley – ***1/4
Hot start to the match, with Ripley on the attack.
No offense to Nigel McGuinness or Vic Joseph, but no one cares if Jinny is watching.
I know modern wrestling gets a bad rap at times, but one thing they've accomplished is making the headbutt effective AND safe.
Several near falls, which I get–but could you imagine the title changing hands at Axxess? I sure can't.
Storm gets the win, but I really hope that wasn't the blow-off to this feud (unless Ripley is moving to NXT).
Overall: Good episode, but these matches would have better resonated in the UK. I know taping in the US was a need and not a want, but I hope they didn't give too much away.
WWE NXT (air date 2/20/19)
Aleister Black vs. Roderick Strong – ****
Takeover quality match to start NXT this week? I'm here for it, but I feel like it could have benefited from more fanfare.
"Tattooing the back of the Dutch Destroyer" is a crazy funny line from Nigel, considering the tattooed state of Aleister Black's back.
There wasn't much doubt about who was winning here, but Roddy looked great in defeat. A Takeover quality match to start the show indeed!
The post-match attack was assumed, as it puts Aleister Black and Ricochet together–remember that this was taped in January, so don't pretend that the whole Dusty Classic thing came out of nowhere.
Mia Yim vs. Xia Le – ***1/2
Xia Le is crisp as hell, and if they can find a way to connect her withe fans, she could be huge.
Speaking of connecting, Mia Yim as a challenger for Shayna Baszler is something I can get behind.
Yim picks up the win, but Le has a future as well.
NXT North American Championship: Johnny Gargano (c) vs. Velveteen Dream – ***3/4
Dream, of course, earned a championship opportunity by winning the World's Collide Tournament at Axxess in Phoenix. He selected the North American Championship for his shot.
Tommaso Ciampa watching from the rafters works for me, because we all know this is continuing.
That was a SHOT from Velveteen Dream to Johnny Gargano's mouth.
Dream doesn't need to show off the technical skill, especially when he doesn't have a ton of it. That's not what he has, and that's not why he's over.
Long term, Dream's career isn't going to be about championships. It's about being an iconic character. But he will have some accolades, and this is one.
I actually hated Dream winning with the Purple Rainmaker. In this case, it makes more sense for him to pull out a win with something else, really giving fans that shocking high.
Overall: Another great episode of NXT–long gone are the days where the brand lost its footing. They are back in full stride, making them hard to beat.
All three of these shows were fantastic, and each one gave you a reason to watch and to come back for more. They are what wrestling is all about, and if you want more wrestling from your wrestling, it's right here for you.
The WWE TV YouTube Experiment (Week 5: RAW/ July 15, 2019)
Monday Night RAW happened. Or did it? Let's talk about what we saw on YouTube and discuss whether anything actually occurred at all.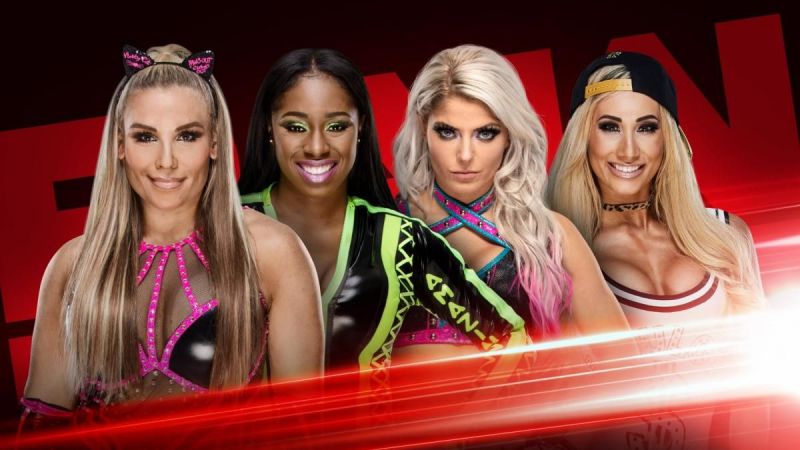 __________
The WWE TV YouTube Experiment
Week 5
Monday Night RAW/ July 15, 2019/ Long Island, New York
I had Night 3 of New Japan's G1 Climax to watch on Sunday (and Night 4 on Monday), so I didn't see Extreme Rules. The results seemed okay, but it's worthless to cover it here if I didn't actually see it. I did, however, take advantage of a 3-month subscription for 99 cents a couple of days ago, which follows the 2-month subscription for 99 cents that ended this week. So that's awesome. I can justify spending what translates into less than 40 cents a month on the WWE Network. I can't justify 10 bucks a month. And it has nothing to do with the current product.
I'm not going to get on a soapbox, but in short, I signed up on day one and kept my subscription even after I stopped watching regularly, and even after I stopped watching altogether. But when they signed the Saudi deal, I was not happy. And then they doubled down by continuing on with the show after the murder of an innocent journalist. It runs deeper than that, but that's the gist. As soon as they decided to run that show, I decided that morally, I couldn't give them $120 bucks a year any longer. So that's that. I started a free trial at the end of January. Got a second one at the beginning of April, and then accepted 2 months for 99 cents in May and 3 months for 99 cents in July. A buck ninety-eight for 9 months? Yeah, I don't have a moral obligation that stops me from throwing couch change at someone. In reality, when my subscription ends in mid-October, I'll have paid 22 cents a month. Hey, I'm even doing numbers analysis up here. How about that?
__________
Monday Night RAW 7/15/2019
Total Number of Clips: 13
Total Time: 34 minutes, 18 seconds
*Note: In the interest of saving space, I won't be embedding every clip, only the ones that I feel are necessary.*
__________
Brock Lesnar's SummerSlam opponent to be revealed (4 minutes, 56 seconds)
This was the longest clip of the small batch this week, running more than a full minute longer than the second longest, and that one (Truth, Maverick, and the 24/7 Title) was one YouTube clip but 3 actual TV segments. The next longest video that was only one segment was a full minute and 56 seconds shorter than this. The Women's 4-Way and angle afterward got a 3-minute video. More on that later. This was fine, standard fare from Heyman, and although the outcome at the end of the night was disappointing, at least based on this segment it felt like maybe someone fresh would get a title match. Good enough. (1 for 1)
__________
2-out-of-3 Falls Six-Man Tag Team Match (2 minutes, 59 seconds)
This got Robert Roode on TV, which is good. He actually feels like a guy who would fit well as a regular partner/ally for The Revival. Match seemed fine, and the aftermath was good, with Ricochet getting taken out by The Club, which means they aren't done with him even though AJ took his belt at the PPV. I hope something big happens with The Club and it's not just AJ as a mid-card guy with 2 guys as his backup. Or even AJ as a main event guy with 2 guys as his backup, like they did in his feud with Roman Reigns in 2016. If that's all they do, eh, it's fine, but it's nothing special. Finn has to become part of this when he returns in the fall, right? (2 for 2)
__________
The Viking Raiders vs. Vinny Gruner & Jackson James (1 minute, 36 seconds)
Man, they came really close to killing that guy with the pop-up powerslam finish. It's good to see these guys aren't getting the Ascension treatment, but they have been on TV for exactly 3 months as of this episode of RAW. It's time to start doing something with them because the crowd doesn't seem to care very much. It was just an inoffensive squash and they're not being beaten up by 60-year-old men every week, so I'll take it. Next week is the RAW Reunion, though. If I were these guys, I might consider not showing up. (3 for 3)
__________
Cedric Alexander vs. Drew McIntyre (2 minutes, 17 seconds)
After the unbelievably bad angle they did last week to close the show, they needed to give Cedric something, and thankfully they did in the form of a quick win over Drew McIntyre. I get the feeling Drew probably isn't going to be challenging, much less defeating, The Undertaker at SummerSlam. He'll probably just be in Shane's corner for his match against Kevin Owens. Oh well. That's close, right? I'm interested in seeing if they follow up with Cedric now, or if this was just an apology match for the shit that happened on the previous show. Either way, this was exactly what they needed to do. (4 for 4)
__________
Finn Balor vs. Samoa Joe (1 minute, 47 seconds)
Joe picks up another win in extremely quick fashion (the match was under a minute and a half long), which is good after losing his 50th title match in a row. Getting beat up by Finn immediately after was completely unnecessary, though. I know that Finn is a fighter, but why bother? Instead of Joe getting what was essentially just a fluke roll-up, why not have him tap Finn or choke him out? Finn is leaving in a few weeks, and it's going to be The Demon, not Finn Balor, who is going to take on Bray at SummerSlam, so at this moment Finn Balor is a disposable entity. This did nothing for Joe. (4 for 5)
__________
Bray Wyatt returns and attacks Finn Balor (1 minute, 21 seconds)
I will say, the mask is definitely scarier in the ring the way it was presented here than it was when it was revealed in the Firefly Fun House vignettes. It looked like a corny, failed attempt to look scary, at least to me. I liked the outfit with the striped pants and whatnot since it's a different attire than he was wearing when he left, but the mask was uninspiring. It was scary as shit on Monday, though. This was very well done, and I really hope Bray beats The Demon at SummerSlam. Hopefully, they can do that and then drop the silly gimmick that The Demon is a creature that uses Finn as a host (that's pretty much what they've made it) and just let Finn be Finn, a cool dude in a leather jacket who sometimes likes to paint himself up because he enjoys the showmanship of it. This was about as good as they were going to get for the re-debut of Wyatt. I hope, almost exactly 6 years after his original main roster debut, they get it right this time. I also wonder if he's going to wrestle in the mask and if the mask looks a little different because it's not the exact same one from the promos, and instead has been altered to be worn in the ring. (5 for 6)
__________
The Street Profits predict Brock Lesnar's next challenger (1 minute, 59 seconds)
Can they be done with this now, please? It started off as amusing, but now it's getting annoying. This is a terrible use of a pair of guys who are absolutely terrific. If they aren't joining the RAW tag division, please just keep them in NXT. (5 for 7)
__________
Zack Ryder vs. Mike Kanellis (1 minute, 50 seconds)
Next. (5 for 8)
__________
Lucha House Party vs. The Club (2 minutes, 51 seconds)
This was exactly what it needed to be, with AJ, Gallows, and Anderson picking up a win as a team in what appeared to be a solid match. My big issue with this is similar to other omissions that don't make much sense. Ricochet interfered in this match and went after AJ (it's what they used to stop the match for the commercial break). Why not show that? It's important in the build of the feud that Ricochet isn't going to let these guys walk all over him. Outside of that, this was still an entertaining clip and the right thing to do for The Club, so I won't let that drag it down. (6 for 9)
__________
Natalya vs. Naomi vs. Carmella vs. Alexa Bliss
I assume that between entrances, the match, and the post-match promo this probably took around 40 minutes of the show to itself, and that would be why this week there are only 13 clips instead of the usual 17-to-19. The only parts of the match that they showed were the 3 eliminations, which means I only saw a minute and 21 seconds of what everyone is agreeing was a Very Bad 25-minute match. That means to me, as a viewer of only the YouTube content, this was actually just fine. Sadly, the last fall did include the "Let's Go Cena/Cena Sucks" dueling chant, along with a very, very brief "Goldberg" chant immediately after. Natalya is suddenly a heel, maybe, or maybe she's just trying to get on Becky's level in terms of being a loose cannon on the microphone. I guess we'll see next week. It was a bit cringeworthy, but I also like Natalya more than a lot of people do, so I'm okay with this. Thanks to the fact that the only parts of the match they showed here were good, this gets a thumbs up from me. (7 for 10)
__________
The Miz pummels Dolph Ziggler on "Miz TV" (2 minutes, 57 seconds)
It was a different promo than the one that Ziggler has been cutting for the last 3 years, so that was good. The last thing we need is another feud between these two. I have enjoyed most of the stuff they've done together over the years, but we don't need more. I sort of thought this was going in the direction of Ziggler helping Miz get his head back on straight, possibly leading to them forming a tag team that would be somewhat similar to the Awesome Truth. Maybe that is the plan. I'll wait and see with this. I also might be the last person outside of Vince McMahon and Dolph Ziggler himself who still thinks DZ can be rehabbed and do something good, so I may be judging this on a bit of a curve. Going with a thumbs up for this. (8 for 11)
__________
R-Truth Invades Drake Maverick's hotel room (3 minutes, 52 seconds)
As I mentioned earlier, this video was all 3 of the night's segments all put together, which made sense to do. This may have been the best 24/7 stuff I've seen since I started 4 weeks ago. This was a lot of fun. (9 for 12)
__________
Cross-Branded All-Star Top 10 Battle Royal (2 minutes, 53 seconds)
Boy, oh boy, there is a LOT to unpack from the name of this match. I won't do it, but wow. That's something. I don't know… the excerpts from the match itself were good, as you would expect with the talented guys involved. The winner was disappointing but Seth was really the most obvious winner, and nobody should have expected WWE to go an unexpected route like Big E, even though the crowd seemed to be supporting him the most, and the fact that he's been ready for the spot for like 3 years, or more. Again, this was fine. I don't really care very much. I will say, though, that I thought Rollins was showing a ton of fire in the post-match promo, and it almost made me care. And then he had to shoe-horn in the "reigning, defending, undisputed Universal Heavyweight Champion" line, and it ruined the whole thing for me. I'm listing this as a negative because I wish they would explore different directions. This was a perfect opportunity. Whatever. (9 for 13)
__________
Final Analysis
The July 8 episode, the final RAW before Extreme Rules, was really quite awful. I hated it. This week is a step above that. I'm mostly apathetic toward it. I felt nonplussed by pretty much everything. I'm glad that it was under 35 minutes long because it went by extraordinarily quickly, but when I was done it felt like I watched a whole lot of nothing. With the exception of the Bray Wyatt return, this week's episode could have not happened at all, and nothing would be different.
Come to think of it, that's probably worse than a bad show because contrary to what I said last week it wasn't bad TV that drove me to stop watching. It was the fact that with the exception of some really strong matches, the show was the same thing every single week. There were a number of occasions where I would miss 2 weeks and not check out the reviews, and when I saw the show again, there had been such a minimal amount of storyline progression that the episodes I missed might not have even existed at all. I hope something happens next week. At least they appear to be doing fun stuff on SmackDown, with Kevin Owens if nothing else.
__________
Straight Numbers
Average Clip Length
Week 5: 2 minutes, 38 seconds
Week 4: 2 minutes, 10 seconds
Week 3: 2 minutes, 33 seconds
Week 2: 2 minutes, 44 seconds
Week 1: 2 minutes, 32 seconds
The average length of each clip is back on par with the first 3 weeks after last week's sizeable drop. After a little under 48 hours, here are some viewership numbers:
Bray Wyatt's return has over 2.5 million views
Just over 2 million views for R-Truth pinning Drake in the hotel
The Battle Royal has over 1.7 million views, as one might expect
The Women's 4-Way has 555k views
Over 400k for Cedric vs. Drew
Viking Raiders at under 87k views, by far the least-watched
Bray's return came very close to outclassing, in under 48 hours, the most-watched clip from last week's show, which was the Roman/Cedric vs. Shane/Drew match. That had around 2.6 million views as of last Friday night, more than 2 days longer than the Bray return clip. As of the writing of this, Wednesday evening July 17th, that clip has only earned about another 100,000 views, at just over 2.7 million.
The 24/7 Championship saga must have had some buzz, which it hasn't had for the last 2 weeks. It's the second-most-watched clip for the July 15th RAW. The 24/7 stuff didn't even earn enough views last week for me to even mention it in more than a single sentence — there were 3 clips (probably should have just put them all together in one) and only one of them was over 100k. The one with the word "consummation" in the title was just under 300k last Friday and sits at 662k as of Wednesday evening. The other two videos are well below 350k. Hitting over 2 million views this week is back up to form and makes me happy.
I don't recall any other video featuring the women's division going above 300,000 views, especially not in under 48 hours. I would wager that the reason it's at more than half a million views is that people heard the match was awful, and they were curious to see it for themselves. Those people were likely both disappointed and relieved at the same time. No disrespect to the women, but this match had a ton of buzz online and it wasn't positive attention. Very few people checked the 4-way match video out because they were interested in the outcome, and Becky Lynch isn't in the thumbnail, her name isn't in the title of the video, and the title doesn't even specify that the match was for a title shot.
The Viking Raiders continue to be one of, if not the least-viewed videos every week. After just under 48 hours, they have well under 100,000 views, Even the Street Profits hit 104k. Also, after hitting 1.4 million for Maria's in-ring destruction of Mike Kanellis a few weeks ago, that angle has stalled out big time both in development and in YouTube hits. Ryder squashing Kanellis has only 284k views. The "pickles and ice cream" video from the July 8th episode, which was the awful follow-up to the original angle from July 1st (which peaked at 1.8 million as of this writing) is at a pitiful 184k after more than a week. Maybe they should be glad that nobody is checking them out. The fewer eyes, the better.
Well, that's all I have for this week. I'm officially at the halfway mark, as there are 3 more episodes of RAW before SummerSlam and my last will be the night after. So far, I'm not leaning toward going back to being a regular RAW viewer. I might start checking out SmackDown, though. It seems like fun.
__________
Nick Marsico/ Writer (kinda)
The Chairshot Dot Com
__________
The WWE TV YouTube Experiment (Week 4: RAW/ July 8, 2019)
Not a good episode of Monday Night RAW. Join me as we traverse the truncated world of WWE on YouTube.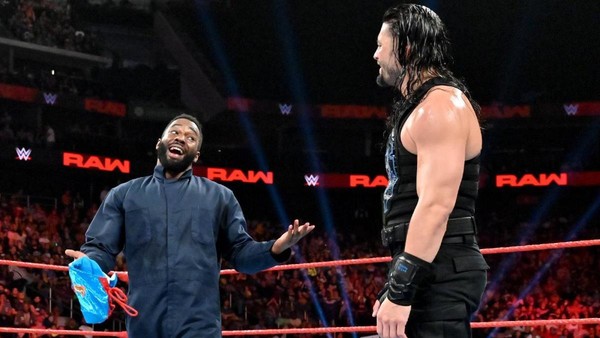 __________
The WWE TV YouTube Experiment
Week 4
Monday Night RAW/ July 8, 2019/ Newark, New Jersey
I've been bleating on and on about how this isn't a review column, how there was time for that elsewhere and that what I was doing here was more for analysis than anything else. When I looked back at the original article, in which I laid out my tentative plans, I stated that this was about seeing if the content WWE chooses to upload to YouTube is good enough to get me watching their shows regularly like I used to. If it drew enough interest for me to invest hours of time into watching full shows.
I'll admit that Week 1 was far more enjoyable than I anticipated. Week 2 was a drop, but definitely not bad. Week 3 was the best yet.
Week 4 was trash. I liked what I've seen from SmackDown (especially the Kevin Owens stuff), but RAW was a nightmare. So bad that I'm not going to write about SmackDown because I'm tired after watching RAW. And it was supposed to be the "go-home" show for Extreme Rules! The first week of this little experiment was the go-home for Stomping Grounds. They hit every note, didn't waste any time, and used the entirety of the show to focus on only the matches featured on the PPV. That was not the case this week.
__________
Monday Night RAW 7/8/2019
Total Number of Clips: 19
Total Time: 41 minutes, 14 seconds
*Note: In the interest of saving space, I won't be embedding every clip this week, only the ones that I feel are necessary.*
__________
Seth Rollins & Becky Lynch vs. Andrade & Zelina Vega (2 minutes, 59 seconds)
This was a "mixed tag team elimination match". Something like that. It makes no damn sense and was probably the biggest stretch yet to find a reason to not wrestle during commercials. I know it's been said a million times online by now, but I have to get it out. If it's a mixed tag match, that means men fight the men and women fight the women. Therefore when Becky eliminated Zelina, she eliminated herself, right? What if Andrade were to then defeat Seth? Is it a draw? It must have been a poorly explained mini-Survivor Series style match. One of the four competitors would be the sole survivor, winning it for their team. Jesus. Why not just make it a 2-out-of-3 falls match instead of doing something convoluted and not explaining it? (0 for 1)
__________
Baron Corbin and Lacey Evans revel in Seth Rollins and Becky Lynch's misery (49 seconds)
This was SO BAD. It's worse than porn dialogue, and without context based on the poor acting and the way they're dressed, one might even think that this was the beginning of a porno movie. Good lord. (0 for 2)
__________
Paul Heyman propagates paranoia before WWE Extreme Rules (2 minutes, 14 seconds)
Typical Heyman fare. That's not a bad thing or a good thing. It's just a thing. I will say one positive thing about Brock holding the briefcase is that it's being done differently than ever before. In the past, we've had a number of tropes that have repeated themselves. There have been immediate cash-ins (on the night of the win as well as the next night or a couple of weeks later). There have been guys who have waited a long time and picked their spot (Edge, the first, is the best example of this — he stopped carrying the briefcase after a while and many of us forgot about it until that night in Puerto Rico).
There has been a litany of "fake-outs", foiled cash-ins that guys have claimed were fake-outs, actually foiled cash-ins that were stopped before the match could take place, and a few failed cash-ins. There have also been a couple of cash-ins that were announced ahead of time (RVD in 2006 and Cena in 2012). This time, the tropes are going to be limited. I can handle having Paul Heyman muse about it and threaten the champions every week or so. It's different, so that's good. (1 for 3)
__________
The Miz & The Usos vs. Elias & The Revival – 2-out-of-3 Falls Match (1 minute, 29 seconds)
This was a thing. Sounded like a fine match based on the reports. Usos get the win and earn a tag title shot on Sunday. Miz vs. Elias is such an insane placeholder, though. They're only on TV to fill a non-existent void, and nothing ever happens. (2 for 4)
__________
Drake Maverick and his wife are still not on their honeymoon (3 clips/ 1 minute, 28 seconds/ 1 minute, 28 seconds/ 48 seconds
None of this was nearly as fun as it has been in recent weeks. It wasn't actively bad, but they have to move on from the honeymoon gimmick. At this point, it's only happening so they can put a pair of big tits on the screen since they're allegedly moving away from TV PG and looking to get a stranglehold on the teenage demographic. Getting them to put a stranglehold on themselves by using attractive women has certainly worked in the past. The YouTube views for 2 of the videos after just under 48 hours were around 240k for two of them and around 575k for the one that best featured his wife's chest. Drake and Truth are still great, though. Also, is "the honeymoon" just going to be some sort of gag? They referenced that they already went, and now… they're going again? Continuity error or joke? It's tough to say. (5 for 7)
__________
Shane McMahon searches for Roman Reigns' tag team partner (2 minutes, 27 seconds)
Nope. Still can't get behind this angle. (5 for 8)
__________
Bobby Lashley obliterates Rey Mysterio (2 minutes, 57 seconds)
Nothing wrong with this. People are upset that Lashley isn't selling his injuries, but it was already established that even though he's the one who took the spear, Braun suffered worse injuries. I'm also not upset that Mysterio made his comeback only to get his ass handed to him. That's the point! (6 for 9)
__________
No Way Jose vs. Cesaro (1 minute, 31 seconds)
It's nice to see Cesaro beating people up as he should be. This was the entire match. We also now know that they didn't change their mind as rumored, and Cesaro will indeed be facing Aleister Black at Extreme Rules. Should be a great match if they let them do it, but are they sacrificing Cesaro to Black? I'm hoping they figure out a way to protect both guys without making either of them look like goons. (7 for 10)
__________
The Street Profits make Extreme predictions (3 minutes, 57 seconds)
They ran down the card for Sunday. It was somewhat entertaining because these guys are great, but it felt like a gigantic waste of time and talent. Why are they here? What the fuck is "the smoke"? Interested in the team, not interested in… this. (7 for 11)
__________
Maria Kanellis craves pickles and ice cream (2 minutes, 12 seconds)
You drop a bombshell and start an angle in such a dramatic fashion and do it in a way that actually upstages RAW's top stars, who are also in the segment, and follow it up with THIS? Holy shit. To everyone who said the angle had Paul Heyman's fingerprints all over it last week, I say that this week, it had Vince McMahon's asscheeks all over it. Hot garbage. Awful, stupid, dumb, not entertaining, cringe-inducing. Every trope of every pregnant, emotional woman on TV was used in 2 segments (this clip was two segments that aired at different times in the show). Wow. I had an open mind. I did. Now they're going to have to get some Russian goddamned scientists to open it back up again. (7 for 12)
__________
The Viking Raiders vs. Colin & Devin Justin (1 minute, 47 seconds)
Just keeping the guys on TV. No harm here. There are two sets of tag titles and yet somehow the tag team scene is actually really jammed up. It's a good problem to have, I guess. (8 for 13)
__________
Ricochet vs. Luke Gallows (2 minutes, 30 seconds)
Ricochet vs. Karl Anderson (2 minutes, 57 seconds)
Nothing extraordinarily wrong here. I don't see the reason that they needed to have Ricochet beat both guys, though, and it is a problem. They just turned last week, but they're still just a couple of losers. Why not have him defeat Gallows and then have AJ and Gallows interfere when it looks like he has the upper hand on Anderson? Why pin them both? It's little things like this that actually turn me off of the product just as much as awful stuff like Mike and Maria. (9 for 15)
__________
Bayley vs. Sarah Logan – Beat the Clock Challenge Match (2 minutes, 31 seconds)
This was fine. Match seemed okay. The crowd chanted "CM Punk" during a perfectly good match because, despite all of the "women's evolution" bullshit, they still have a terrible women's division. The women range from decent to great. The use of them ranges from terrible to okay-ish. Impact just had a PPV with a really good four-way match for the Knockouts Title that saw the women doing weapons spots better than most men do. They also ran a man vs. woman main event that was totally fucking believable, and outside of a handful of mentions that it was the first intergender main event on a major (well, they were a major promotion at one point) PPV, they didn't act like it was some earth-shattering event. It was a pair of wrestlers who had a personal rivalry and were settling the score. The end. (10 for 16)
__________
Dana Brooke vs. Nikki Cross – Beat the Clock Challenge Match (3 minutes, 2 seconds)
I still hate the storyline. Glad that Bayley showed some backbone, though. (10 for 17)
__________
The Man and The Man's Man come around at WWE Extreme Rules (1 minute, 40 seconds)
Corey Graves tried to stir the shit. This is so unbelievably contrived that it almost physically hurt to watch it. We know one can lose the other's title by taking the loss, and we know that something like that could potentially hurt a relationship. It doesn't need to be shoved down our throats. Trust your audience. Just a little bit. (10 for 18)
__________
Roman Reigns & Gary "THE GOAT" Garbutt vs. Shane McMahon & Drew McIntyre (2 minutes, 28 seconds)
What was this? Earlier in the night, Roman said that he was fucking with Drew and Shane, not the other way around. I have to assume, based on the fact that THEY STILL LOST IN 2 MINUTES that all Roman was doing was protecting some poor hobbling janitor from getting hurt and not staying one step ahead of Shane by getting an opponent that could help him win. This was an unbelievably dumb segment that made all four guys look bad. (10 for 19)
__________
Final Analysis
Wow. This was bad. Just not good television. Or in this case, not good YouTube clips. Even the 10 clips that I rated positively weren't all that good, including the 24/7 Title stuff. Nothing was more than, I guess, kinda okay. At best. Episodes like this were the reason I quit in the first place. I can't even further articulate how bad it was. Illogical, silly, dumb, often pointless, unfunny crap. Ugh.
__________
Straight Numbers
Average Clip Length, Week 4: 2 minutes, 10 seconds
Week 1: 2 minutes, 32 seconds // Week 2: 2 minutes, 44 seconds // Week 3: 2 minutes, 33 seconds
Shorter than usual average by 20 to 30 seconds. None of the segments reached 4 minutes in length (recent weeks, at least one has hit 5) and the longest was the 3 minutes and 57 seconds of somewhat entertaining silliness from the Street Profits, a segment that had no business even being on the show.
I didn't catch viewership numbers after 48 hours, but as of Friday night, here are some figures:
Over 2.6 million views for Roman and Cedric The Janitor
193k views for Becky & Seth with Corey, and 173k for Mike & Maria
Just under 2.2 million for the Becky/Seth mixed tag match
Just over 530k for Lashley beating down Rey Mysterio
Lashley's segments have been performing well every week, which is somewhat interesting. His booking had been trash for a while. I wonder if the feud with Braun brought some eyes to him, and I wonder how much Mysterio's involvement factored in. None of the 24/7 Title stuff reached over 300k views, after being so popular for the first few weeks.
See you next week. Hopefully with a better show to talk about.
__________
Nick Marsico/ Writer (kinda)
The Chairshot Dot Com
__________