Rob: How About Naomi?
Asuka needs a WrestleMania opponent? How about Naomi?
With Charlotte Flair and Becky Lynch tied to Raw's Ronda Rousey for WrestleMania, Rob has a suggestion for Asuka's opponent on the grandest stage in all of WWE: Naomi.
It's pretty obvious at this point that the main event of WrestleMania is going to be a triple threat match with Charlotte Flair, Becky Lynch and Ronda Rousey so now the question is what to do with the Smackdown Women's Title match?  One of the 'concerns' that made some people want to keep Charlotte out of the main event was that Asuka needed a credible challenger for the Smackdown Women's Championship so that match wouldn't feel like an also ran.
Well first off, that logic was nonsense – just say you didn't want Charlotte in the main because you don't like her or whatever, no need to pretend you're trying to address some other need.  But second of all, there's a plenty credible enough challenger for Asuka sitting right there on Smackdown Live right now, and that's Naomi.  It was very likely that he impromptu challenge the night after TLC was a foreshadowing of sorts and indeed a prelude to a matchup on the  biggest stage but we don't know for sure just yet.
So allow me to advocate for it right here.  Put Naomi in that spot, give them 15 minutes on the MAIN SHOW, and let them set the table for the main event that will come later.  We won't be disappointed.  What, you don't think Naomi is on that level?  OK, they haven't promoted as an elite competitor but we got 7 weeks to make that happen.  But before we see how that unfolds let me explain it for you in case you're not sure if you should buy it. Oh, and if you're one of those jerks who likes to jump in twitter threads of hers of her fans and say she's overrated or ghetto trash, go take a long walk off a short pier (thanks for teaching me that one, Mom and Dad).
Naomi is good enough
Naomi brings a level of athleticism that no other woman on the main roster possesses; you don't see anyone else doing springboard moves, split legged moonsaults, etc like she does on a regular basis and she moves faster than any of the ladies up there now.  That alone adds a dynamic to a big match that isn't a regular thing and would be a good contrast to what is likely going to be an intense, physical brawl/grappling session in the main event.  And that would be a perfect to shine without stealing anyone's thunder.  And the potential for counter spots based off of that is enormous.
Remember Charlotte going for the moonsault and Asuka catching her in a triangle choke on the way down last year?  Now multiply that times two or three.  You may be wondering if she can go in a big singles match on a big stage and I'm going to say yes.  I know, i know…on TV she's mostly relegated to short matches and hot tag situations.  But if you watched a few weeks ago she literally carried Mandy Rose for a good 10 minutes on TV while Mandy did barely anything in the match.  If you don't think she can go for 15 with someone who can actually return fire and be pretty innovative herself you're crazy.  And another note, she is definitely the jump out of the screen kind of character that's right for the moment.  Her entrance in that size venue alone will be worth it.
There's no one else anyway (and nothing else for her to do)
None of the other ladies on the Smackdown side are ready for that stage (I'll allow a triple threat with Carmella, but with a triple threat main event I don't see that happening.  I'm all for her winning the battle royal though).  Not the Iconics or Mandy Rose (I explained some of that with her here) or Lana.  Sonya Deville is close but she needs some more singles matches that aren't TV match length first.  If they wanted to switch someone over from there aren't a lot of options either.  Nia Jax is going to be fighting some guy on the show and Ember Moon is out injured.  Sasha and Bayley are going to be involved in the Tag Team title business some kind of way.  So she's pretty much it.
And finally Naomi won the battle royal last year so there's no point in going back there with her.  She's gets enough TV time matches, wins, etc that it's obvious somebody likes her in the back at least a little bit so going from the battle royal last year to a title match this year seems like a good progression (it's ok for Becky so why not Naomi too?).  There is room for one more in the top tier for sure, especially someone who brings a different in ring style to the table.  And I'll say it, there's room for one more who doesn't ahem, look the same as most of the other ladies already there.  That's not a shot at Charlotte or Becky or Ronda at all; in their own ways they're all doing a great job.  But it's high time that a little more diversity got added to the ranks and someone who is as physically talented as them, has a dedicated fanbase, and has shown an ability to excite the crowd is the right call in my opinion
Naomi has earned it
I don't do the whole 'you deserve it' thing much but I will go halfway there in this case.  Naomi has earned this spot.  If you like to tout people have 'clawed and scratched their way up' well she fits the case here.  She was an NXT runner up back in 2011 (back when it was a competition show) and was relegated to being a backup dancer for Brodus Clay for well over a year.  Then she got lost in the shuffle while the then-Diva's division got thrown completely in the crapper of two minute matches on TV every week but managed to survive that.  Even in a depleted division her name was not bandied around at all in consideration for a title program.  And when the women's revolution started in 2015 she was included in the program but was clearly portrayed as second/third fiddle.  If they were going to do a purge of all the remaining divas before the brand split to make room for NXT callups her name may have come up in discussions.
But she got better in the ring as all that was going on, then took it upon herself to change up her ring gear and come up with her own entrance to get more attention.  That's the kind of initiative that a lot of people who you guys like to claim are being underutilized need to take for themselves.   She's done the work to impress enough people backstage to put her where she is now, clearly higher than a lot of the ladies but not in the top tier.  If overcoming long odds to forge out a good career is a good enough story for Becky Lynch then it applies here just as well.  Naomi had no family in the business when she came aboard, had no connections in the back, and did not have a previous history in another profession that guaranteed a big push, or an indie wrestling history to give her instant credibility with so called smart fans.  She's been proving she belongs there from day against all kinds of doubts from stupid and often racist internet trolls and more than likely some people backstage.
So that's my pitch, and I'm sticking to it.  If you can give me a better idea I'll listen but I'll be honest and say that you're probably not going to convince me.
King's WrestleMania Rewind: Eddie Guerrero vs. Rey Mysterio (WrestleMania 21)
In the next WrestleMania Rewind, Chris King takes us back to WWE WrestleMania 21, and Rey Mysterio vs Eddie Guerrero in a battle of tag team champions!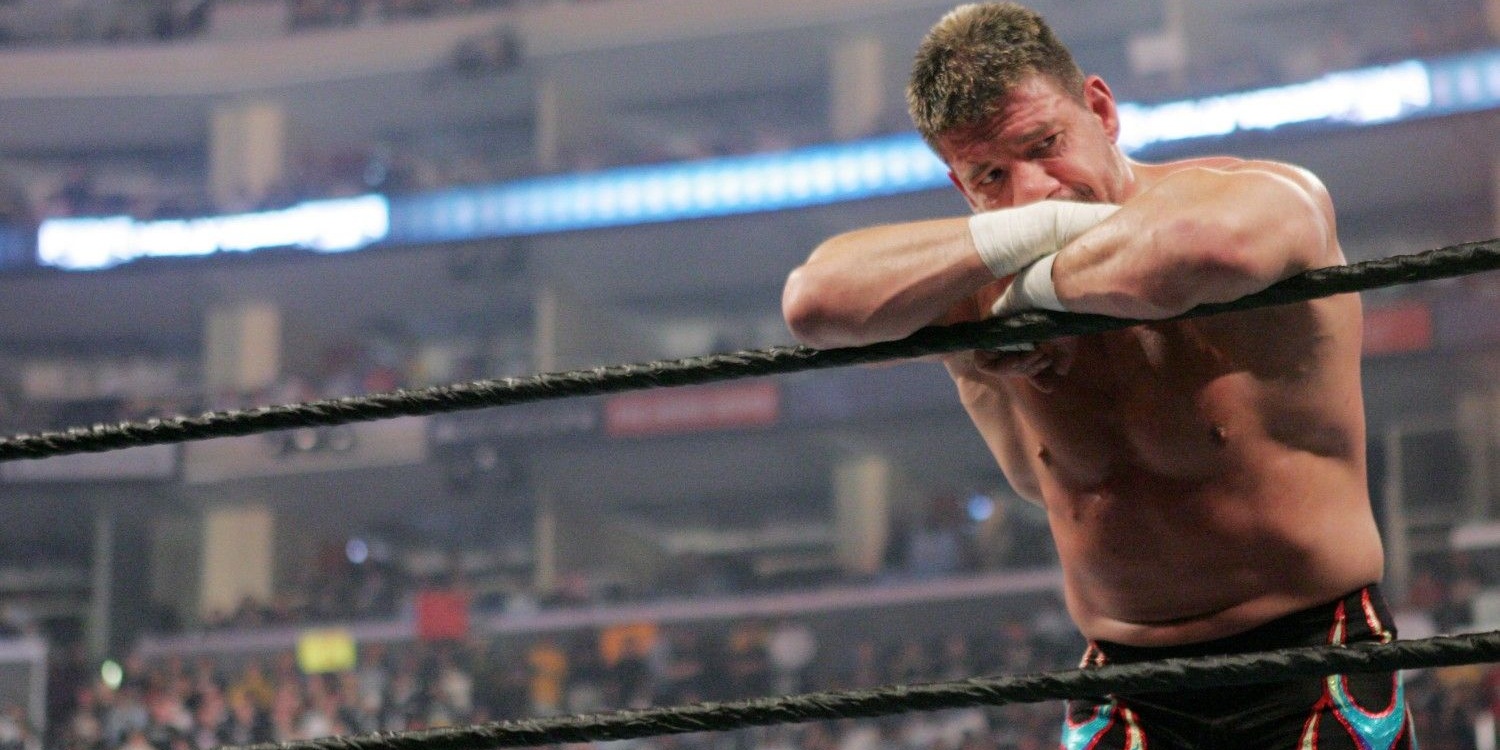 In the next WrestleMania Rewind, Chris King takes us back to WWE WrestleMania 21, and Rey Mysterio vs Eddie Guerrero in a battle of tag team champions!
Chris King is back with his third edition of WrestleMania Rewind. This week he's bringing us back to some 'Latino Heat.' We're rolling back to WrestleMania 21 where Eddie Guerrero faced longtime friend and rival Rey Mysterio.
This would be Guerrero's last Mania match caused by his unfortunate death. Over on SmackDown, Mysterio and Guerrero would become the tag team champions at No Way Out where they defeated MNM.
Chavo Guerrero would get into the head of Latino Heat by making him believe Mysterio was trying one-up his tag team partner. Chavo went as far as to tell his uncle to stop using the Guerrero name.
Guerrero would finally give in to his nephew's manipulation and went on to challenge Mysterio to a one-on-one match at WrestleMania 21. I For the first time in history, both tag team champions would face each other. Guerrero vs. Mysterio was the first match on the stacked card. Both partners threw everything at each other including the kitchen sink in a battle of one-up-manship.  In an incredible high-octane match that saw both superstars delivering counter for counter, Mysterio pulled off the win with a surprise pin roll up.
A few months later, what once was a friendly battle turned into a nasty fight involving the custody of Mysterio's real-life son Dominik Mysterio. After several torturous weeks, both former tag team champions would face off in a ladder match with the custody of Dominick on the line. I forgot how amazing this rivalry was and it's definitely worth a watch. Sadly, we would lose Latino Heat in November of 2005. There will never be another Eddie Guerrero. Viva La Raza!
King's WrestleMania Rewind: Stone Cold VS. Scott Hall (WrestleMania X8)
Chris King is back with another WrestleMania Rewind, looking at the NWO's Scott Hall battling Stone Cold Steve Austin at WWE WrestleMania X8 from Toronto!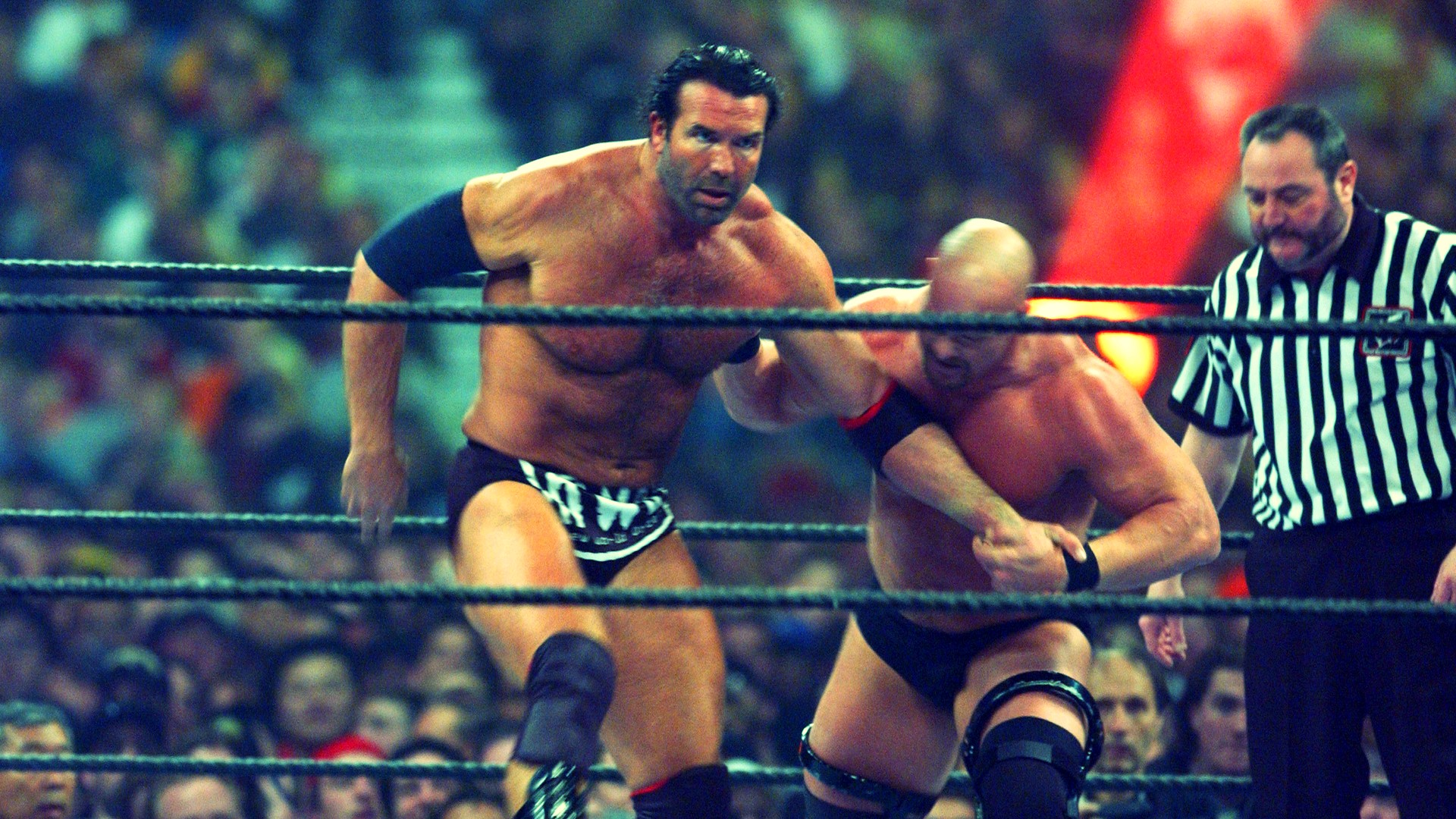 Chris King is back with another WrestleMania Rewind, looking at the NWO's Scott Hall battling Stone Cold Steve Austin at WWE WrestleMania X8 from Toronto!
Chris King is back this week with another edition of WrestleMania Rewind, where he is rewatching all the past Mania matches and feuds. This week you're in for a treat as we look back at 'Stone Cold' Steve Austin vs. Scott Hall at WrestleMania X8.
In late 2001, Vince McMahon bought out his competition WCW and acquired the rights to a plethora of talent including Booker T, Eddie Guerrero, Chris Benoit, and the iconic trio known as NWO. Hulk Hogan; Kevin Nash, and Scott Hall were hell raisers, and what better way to make a name for yourself than take out the two top superstars in the WWE The Rock, and Stone Cold?
The NWO cost Austin his chance at becoming the Undisputed Champion at No Way Out during his match with Chris Jericho. Adding insult to injury, the NWO spray-painted 'The Texas Rattlesnake' with their brand logo just like they did in WCW. As you can imagine, Austin was pissed and out for revenge against the group and primarily Scott Hall.
Hall would challenge Stone Cold to a match at WrestleMania 18. Both superstars beat the living hell out of each other leading up to this highly-anticipated match for who runs the WWE.
The glass broke and Stone Cold made his iconic entrance, and black and white NWO covered Halls' entrance alongside Kevin Nash. With the odds stacked against 'The Toughest S.O.B' could Austin or NWO prove their dominance? Sadly the NWO  broke up that very night when Hulk Hogan came to the aid of his adversary The Rock after their 'iconic' dream match. Stone Cold would ensure the victory with the Stunner. Hall would perform an Oscar-worthy sell over the finisher.
What a time to be a wrestling fan in the 2000s when nothing was impossible for WWE. Who would've thought WCW would go out of business and Hogan would make his long-awaited return to WWE?