How Many People Watched Halftime Heat?
How many people watched Halftime Heat?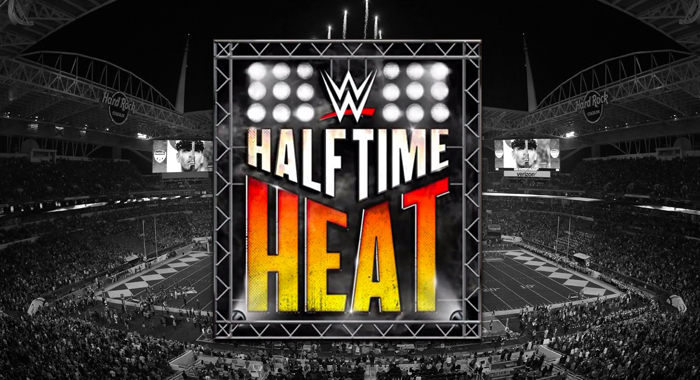 WWE NXT presented Halftime Heat during halftime of the NFL Super Bowl. How many people watched it?
Twenty years after the original, WWE presented Halftime Heat–this time featuring the top 6 stars from WWE NXT. The six-man tag team match emanated from the WWE Performance Center, live, and turned out to be a great match. All six men got a chance to shine, Adam Cole even broke our the Panama City Sunrise (his version of the Canadian Destroyer). You couldn't ask for a better showing out of the NXT Six–Ricochet, Aleister Black & Velveteen Dream vs. Adam Cole, Johnny Gargano & Tommaso Ciampa.
But how did it perform?
Our own Greg DeMarco did a little research, and here's what he came up with:
YouTube: 1.1 million views
Facebook Watch: 623,701 views
Twitter: 160k views
That's 1.8 million views right there.
From what I can find, #HalftimeHeat did at least 1.8 Million views:
– 1.1 million on YouTube
– 623k on Facebook Watch
– 160k on Twitter

This doesn't count WWE dot com or WWE Network, which I can't get view counts for. Still, it's reasonable to assume it surpassed 2 million.

— Greg DeMarco (@ChairshotGreg) February 4, 2019
If you factor in the WWE Network and WWE.com, we're easily looking at more than 2 million views, and probably closer to 2.5 million.
Yo, that's a lot.