Joe's Lucha Libre Weekly: News & Analysis through 2/24/19
The world of Lucha Libre continues to turn, and Joe Dinan works hard to make sure you're keeping current!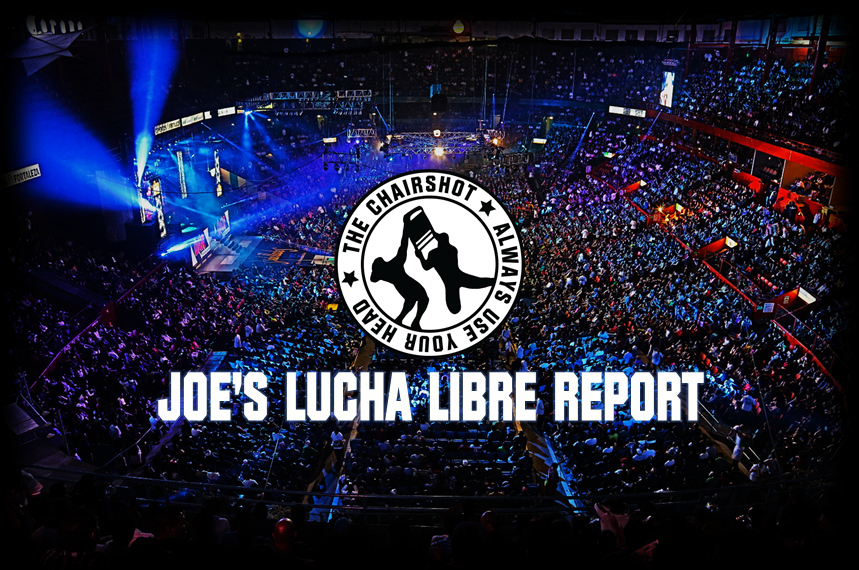 The world of Lucha Libre continues to turn, and Joe Dinan works hard to make sure you're keeping current!
CMLL
The big news for CMLL that we have to start out with is them going back to Televisa almost immediately after AAA made the move to TV Azteca 7 (Friday 4:30-6:30 local time). CMLL will be getting AAA's old time slot where they'll have an hour on TV. So probably the last two matches on the Friday show, on 8 day delay. Televisa Canal 9 at 2pm local time. No news is out about how this will affect the live stream on Friday night or the uploading to youtube. I assume it won't change because AAA still uploads to youtube and airs on Twitch. They probably won't want those 4 other matches to get no exposure. But in the event that the final two matches only air on Televisa and no longer Friday then I assume they'll air the Sunday show and if they don't then I'm not sure if there's a point of just reviewing the Puebla and Tuesday show. But I'm pretty sure everything will be okay.
Arena Mexico Last Friday/This Friday
Last Friday we saw Niebla Roja facing El Terrible for the Champion of the Universe championship in which El Terrible won in two falls. He cheated to win the final fall with La Bestia interfering. Angel de Oro was Niebla Roja's extra. Basically all of this was done to set up a hair vs hair match between Roja and Terrible. But at the press conference it evolved into a tag team match between Niebla Roja and Angel de Oro vs El Terrible and Bestia del Ring at the Homenaje dos Leyenda card on March 15. Caristico, Volador Jr, and Mistico will face Sanson, Cuatrero, and Forastero in the main event of this Friday's show. Angel de Oro, Niebla Roja, and Diamante Azul will face Gilbert El Bourica, El Terrible, and Bestia del Ring in the co-main event. There will be a match relampago between Titan and Cavernario as well.
Arena Puebla Monday
Angel de Oro, Niebla Roja, and Kraneo faced El Terrible, Euforia, and Bestia in the main event of this show. Roja won the match when Terrible punted Roja in the groin. Atlantis, Dragon Lee, and Vangellys faced Villano IV, Ultimo Guerrero, and Hijo del Villano III in the co-main event and Ultimo Guerrero pinned Vangellys with a school boy and held the ropes to win. I don't know if they are setting up a Vangellys for a face turn.
Arena Mexico Tuesday
Mistico, Atlantis, and Valiente faced Mephisto, Luciferno, and Ephesto in the main event in a pretty good match. Atlantis pinned Mephisto with a hurricanrana in the third fall for the victory. The real match here was the c0-main event saw Audaz, Flyer, and Soberano in a great match facing Bucanero, Templario, and Kawato. There was great action in this match and great spots and it saw Flyer pinning Kawato with a Spanish Fly.
AAA
AAA has no show this week, there next show is March 3rd so they're no point in going over the card because who knows what could change. They had a show last Sunday which was hit or miss and it saw Jeff Jarrett be there for whatever reason. It was his first show since losing his hair I believe and it already grew back so him losing his hair really didn't matter. I guess Jeff can work AAA since WWE doesn't see him as a threat. Jeff Jarrett, Escorpion, and Texano defeated Psycho Clown, Dr Wagner, and Pagano. And they did the traditional ending to a AAA show which is get the heat by stealing Psycho Clown's mask. We'll see where they go with all of this. With LA Park being insubordinate it seems like they're going with Dr. Wagner Jr in a hair vs Mask match again Blue Demon Jr at TripleMania, that's the rumor at least. I can't imagine there will be much interest in it. Everyone knows Blue Demon will win to continue his father's legacy. It also probably won't be a very good match. More news is Australian Suicide and Vampiro did English commentary for whatever reason. It was so bad during the preshow I had to switch to Spanish. It's not like Vampiro will actually translate and inform people on storylines anyway. If you like car crash commentary then that's for you.
---
I can't think of any Here and There news that I haven't said already. I think the Lucha Brothers will be on the CMLL show on the 15th and on AAA's Rey de Reyes two days later. So let's hope Fenix doesn't get hurt as he has a tendency to do. I don't know why AAA doesn't strip him of the Mega Championship but Konnan must have a plan for him somewhere.