Joe's Lucha Libre Weekly: News & Analysis (2/16/19)
Stay up to date on the world of Lucha Libre!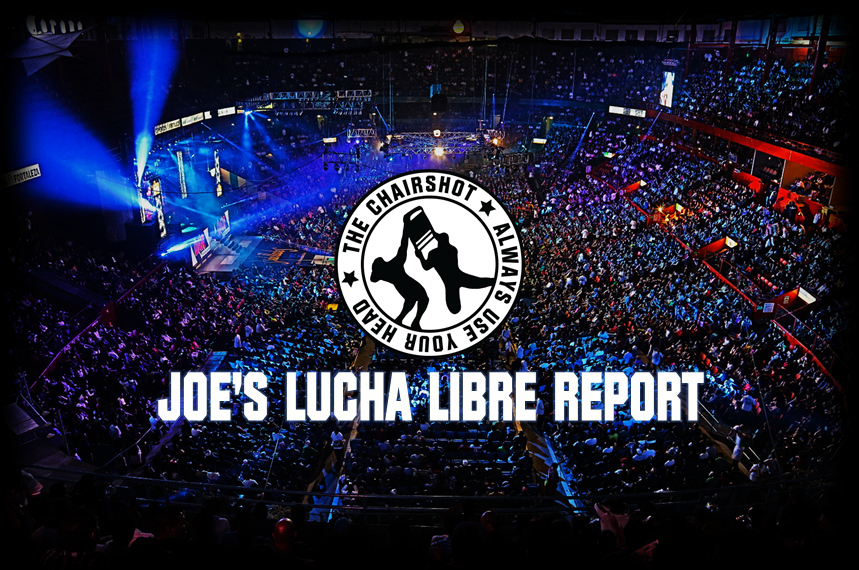 Joe Dinan has you covered with Lucha Libre news and analysis for the week! What happened in and around Mexico?
CMLL
Arena Mexico Friday/Next Friday
This continued the Champion of the Universe tournament in which Niebla Roja won this round so this Friday he is going to square off against El Terrible to crown the champion of the universe. That was the selling point of these last two shows. The main event for this Friday's show is obviously Niebla Roja vs El Terrible. The co-main event is Caristico, Mistico, and El Valiente taking on Ultimo Guerrero, Euforia, and Gran Guerrero. Angel de Oro, Stuka, and Soberano take on Mephisto, Ephesto, and La Bestia del Ring. We will also get Triton, Titan, and Esfinge facing Vangellys, Templario, and Polvora. Very good card.
Arena Puebla Monday
Rush faced Cuatrero in a very good main event. It went over 20 minutes and had some good back and forth action. Rush won with the Rush Driver which is like the Jay Driller but he kinda spiked Cuatrero. I don't think Cuatrero was pleased with it as he kinda rolled out of the ring and walked to the back through the crowd. But who knows, could just be the story. The co-main event saw Atlantis, Vangellys, and Atlantis Jr facing Villano IV, Ultimo Guerrero, and Hijo del Villano III. Atlantis Jr and Hijo Villano III were very impressive to me in this match. They're showing much improvement. Atlantis' team won this match.
Arena Mexico Tuesday
Atlantis, Volador Jr, and Diamante Azul took on Sanson, Cuatrero, and Forastero. It was a shorter match but it was still good. Diamante Azul pinned Sanson with a german suplex in which Sanson got taken out on a stretcher. It looked like it hurt his neck, but with CMLL you can't be too sure what's an angle. Blue Panther, Stuka, and Esfinge took on Cavernario, Luciferno, and El Felino in the co-main event which saw Blue Panther getting pinned by Luciferno with a Styles Clash. Flyer defeated Polvora with a spanish fly in a lightning match in the third match from the top.
AAA
AAA on the last broadcast said English commentary was coming to this February 16th show. So let's all light candles and say prayers that it won't involve Vampiro. No offense to him, he's just miserable at commentary. AAA is going to have a show on February 16, then March 3rd, then the Rey of Reyes show on March 17th. Let's just hope Fenix, who will be wrestling Texano and Rey Escorpion for the tag belts, 1. Loses his Mega Championship by then, and 2. Doesn't get hurt before then. The top of the line up for this Saturday looks like this, Psycho Clown, Dr. Wagner Jr, and Pagano vs Jeff Jarrett, Rey Escorpion, and Texano Jr. Drago, Laredo Kid, and Hijo Del Vikingo take on Mocho Cota Jr, Carta Brava Jr, and Tito Santana. Maximo, Mamba, and Pimpinella Escarlata face La Mascara, Taurus, and Chessman. Taya, Aerostar, and Myzteziz Jr vs Faby Apache, Jack Evans, and Sammy Guevara. We'll see who shows up and who doesn't. Especially Jeff Jarrett. He is on a legends deal and can work shows WWE doesn't feel threatens them, however, since they're working with All Elite and All Elite isn't running any shows until May, who knows if they decide to show up at AAA in the time being. I doubt it right now but it's possible. My guess is Jeff can work until All Elite starts. WWE is just always paranoid with this stuff.
Here & There
Rush is going to face Bandido at the Ring of Honor Anniversary show. I'd suggest checking that match out whenever it happens. MLW is returning to Chicago on March 2nd. LA Park is going to take on Mance Warner. I'm sure his son will wrestle on the card. I wonder with CMLL and AAA having big shows coming up in or around March if LA Park starts to get booked by them soon.
Reminder, CMLL airs the Monday Puebla show live on YouTube at 10pm Eastern time. The Tuesday Arena Mexico show airs on YouTube at 8:30 Eastern time. You can find the Friday Shows on their website if you look around airing at 9pm or you can go to Luchablog where he will usually have a YouTube link of the Friday show. AAA air lives FOR FREE on Twitch IF you watch it live. It costs $5.99 to watch their product on demand. It's worth it to catch it live if you have the time and don't want to pay.