Kenny Omega vs. Chris Jericho: The Perfect Rivalry to Kick off AEW
The best rivalry to start All Elite Wrestling?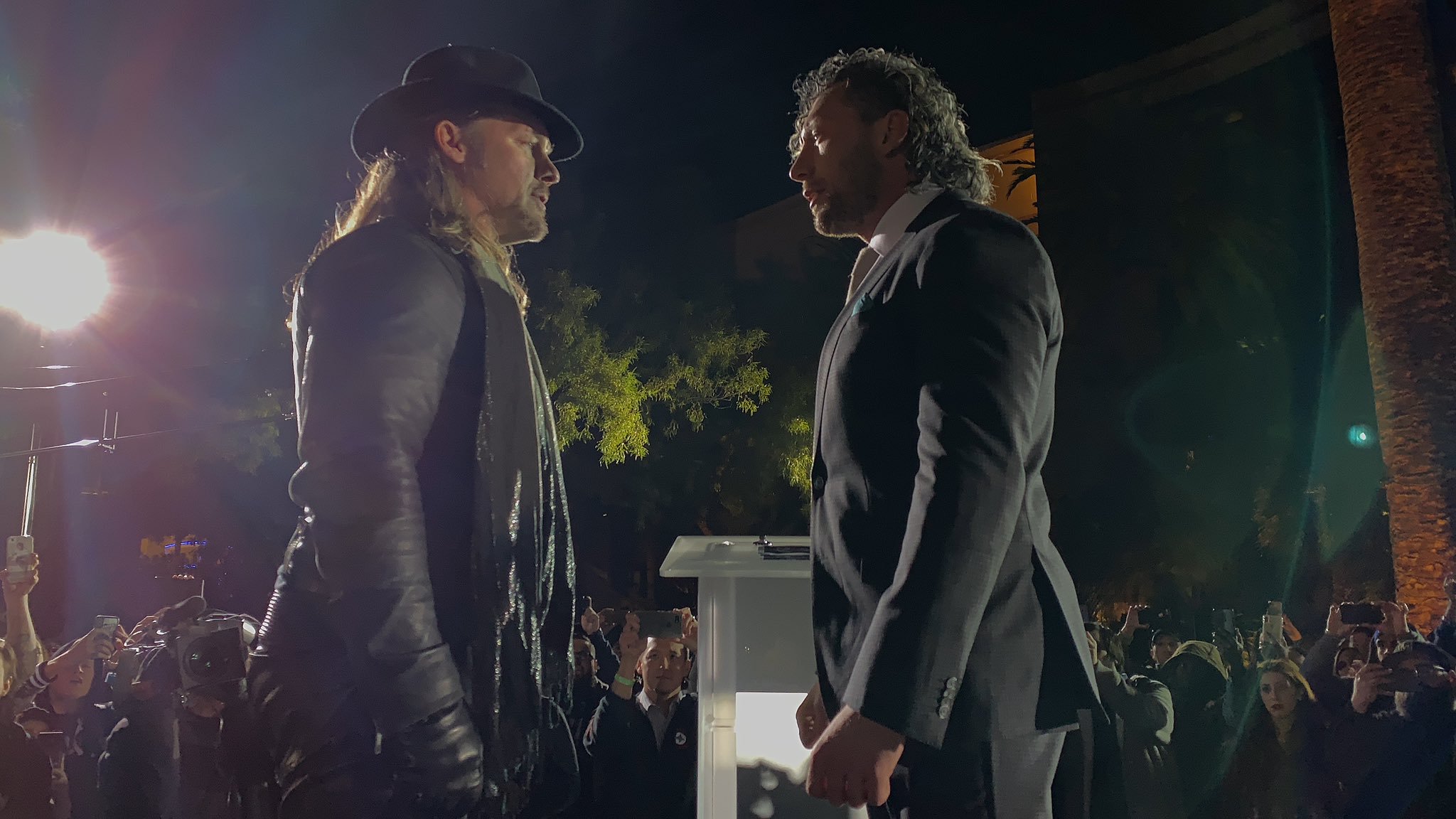 Are you ready for Kenny Omega and Chris Jericho at All Elite Wrestling's Double or Nothing?
Kenny Omega's decision to join All Elite Wrestling didn't exactly come as a surprise to many pro wrestling fans. Omega had reportedly turned down a sizable offer from WWE and when that news broke, it became obvious that the former IWGP champion was likely rejoining his Elite teammates.
But his announcement at the February 7 Double or Nothing rally was exciting nonetheless. The new Executive Vice President reminded fans of his mission to change the world and now that mission will resume in AEW. Of course the most important moment that came from Kenny's promo was the appearance of Chris Jericho. 
From the moment that he was announced as AEW's first major main event signing, it was clear that Jericho was the company's first top guy. Cody Rhodes is one of the company's founders and he will certainly be an active wrestler. But Jericho is such a legendary name that it was hard for fans to imagine that he would play second fiddle to anyone.
Chris made it clear on his Talk is Jericho podcast that he was taking his new role very seriously. He didn't sound like a man that was content with just being part of the team. He sounded like a man that was honored to be at the forefront.
It was definitely smart business on AEW's part. Jericho has name recognition, not only in pro wrestling but in pop culture as well. Chris has become a crossover star, in TV, music and Hollywood. He's got the respect of his peers and he has the business acumen to realize just how important he is to this brand new company.
But now that Kenny Omega is onboard, everything has fundamentally changed. Jericho is no longer the Alpha Male of AEW. He now has to make room for the man that defeated him during their first run together. But that's the point.
Chris has every reason to be angry and that rage will manifest itself over the coming months. He was supposed to be the top dog in All Elite Wrestling and now he has to share the spotlight. It's the perfect scenario for AEW and one that should generate some very entertaining moments.
This rivalry is at the heart of what AEW is as a company. On one side is the veteran, the man that has worked 29 years to establish himself as a legendary figure in the business. Jericho represents tradition, history and respect. He is the bridge between today's generation and yesterday's generation of fans.
Kenny Omega is the new face of pro wrestling. He is the modern day legend, the man that is building his Hall of Fame career one match at a time. He represents hope, ambition and passion. Omega is the one that makes today's pro wrestling fans care about the business once again.
Both men have their differences, but they definitely have their similarities as well. They are opposite sides of the same coin and it's that dynamic that makes them the perfect opponents for each other.
The rematch didn't have to happen and it was obvious that it wouldn't happen in New Japan. But now that they're back on the same roster once again, it's only a matter of time until AEW makes it official. This match is just too good to pass up and it could very well be that Cody and The Young Bucks were well aware of what Kenny's decision would be long before the Double or Nothing Rally.
Signing Jericho was a great move for all of the obvious reasons. But understanding that he would be positioned as the cornerstone helps fans understand why signing Omega was equally as important.
Every top star needs a top opponent, someone to push the envelope and cause both men to step up their games. This is precisely what Jericho does for Omega. When the time is right, they will make magic in the ring once again. But will that eventual rematch involve a championship?
AEW is positioning Hangman Page and Pac in the lead main event spots and that's understandable. Both stars are the future of the company. But does that mean their imminent rivalry will include the freshly minted AEW World Heavyweight Championship?
Or will that prize be decided between Kenny Omega and Chris Jericho? It seems like another perfect bit of booking, especially because Jericho and Omega are AEW's top marquee names. If the company decides to book them for the gold, it could be the best way to kick off the company when the time comes.
That moment could come as soon as May 25, when Double or Nothing takes place in Las Vegas. Both men would certainly deliver in the ring, thus getting AEW off to a great start. But despite what happens, the facf is that Kenny Omega and Chris Jericho are indeed reigniting their rivalry at the right time and in the right company. The remainder of 2019 should be very interesting indeed.
King's WrestleMania Rewind: Eddie Guerrero vs. Rey Mysterio (WrestleMania 21)
In the next WrestleMania Rewind, Chris King takes us back to WWE WrestleMania 21, and Rey Mysterio vs Eddie Guerrero in a battle of tag team champions!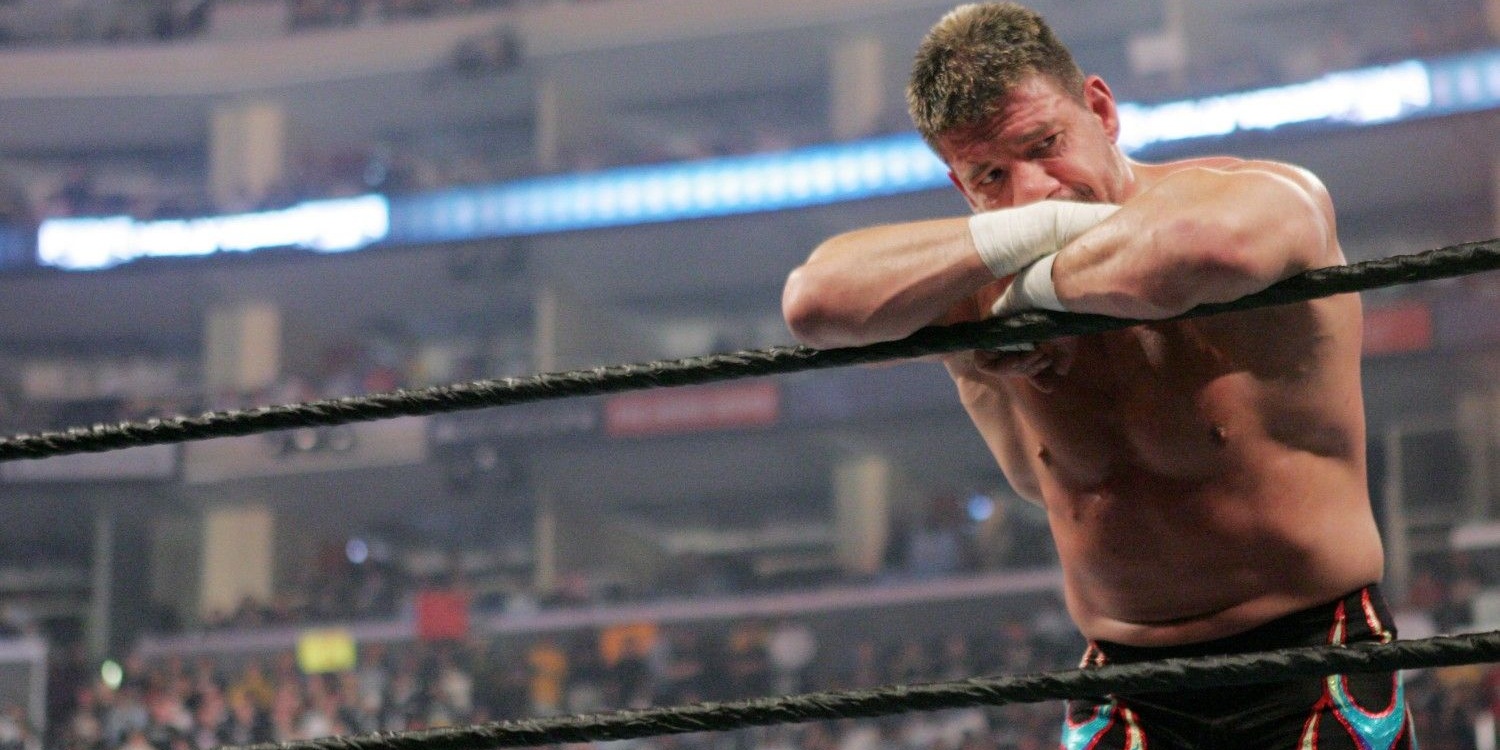 In the next WrestleMania Rewind, Chris King takes us back to WWE WrestleMania 21, and Rey Mysterio vs Eddie Guerrero in a battle of tag team champions!
Chris King is back with his third edition of WrestleMania Rewind. This week he's bringing us back to some 'Latino Heat.' We're rolling back to WrestleMania 21 where Eddie Guerrero faced longtime friend and rival Rey Mysterio.
This would be Guerrero's last Mania match caused by his unfortunate death. Over on SmackDown, Mysterio and Guerrero would become the tag team champions at No Way Out where they defeated MNM.
Chavo Guerrero would get into the head of Latino Heat by making him believe Mysterio was trying one-up his tag team partner. Chavo went as far as to tell his uncle to stop using the Guerrero name.
Guerrero would finally give in to his nephew's manipulation and went on to challenge Mysterio to a one-on-one match at WrestleMania 21. I For the first time in history, both tag team champions would face each other. Guerrero vs. Mysterio was the first match on the stacked card. Both partners threw everything at each other including the kitchen sink in a battle of one-up-manship.  In an incredible high-octane match that saw both superstars delivering counter for counter, Mysterio pulled off the win with a surprise pin roll up.
A few months later, what once was a friendly battle turned into a nasty fight involving the custody of Mysterio's real-life son Dominik Mysterio. After several torturous weeks, both former tag team champions would face off in a ladder match with the custody of Dominick on the line. I forgot how amazing this rivalry was and it's definitely worth a watch. Sadly, we would lose Latino Heat in November of 2005. There will never be another Eddie Guerrero. Viva La Raza!
King's WrestleMania Rewind: Stone Cold VS. Scott Hall (WrestleMania X8)
Chris King is back with another WrestleMania Rewind, looking at the NWO's Scott Hall battling Stone Cold Steve Austin at WWE WrestleMania X8 from Toronto!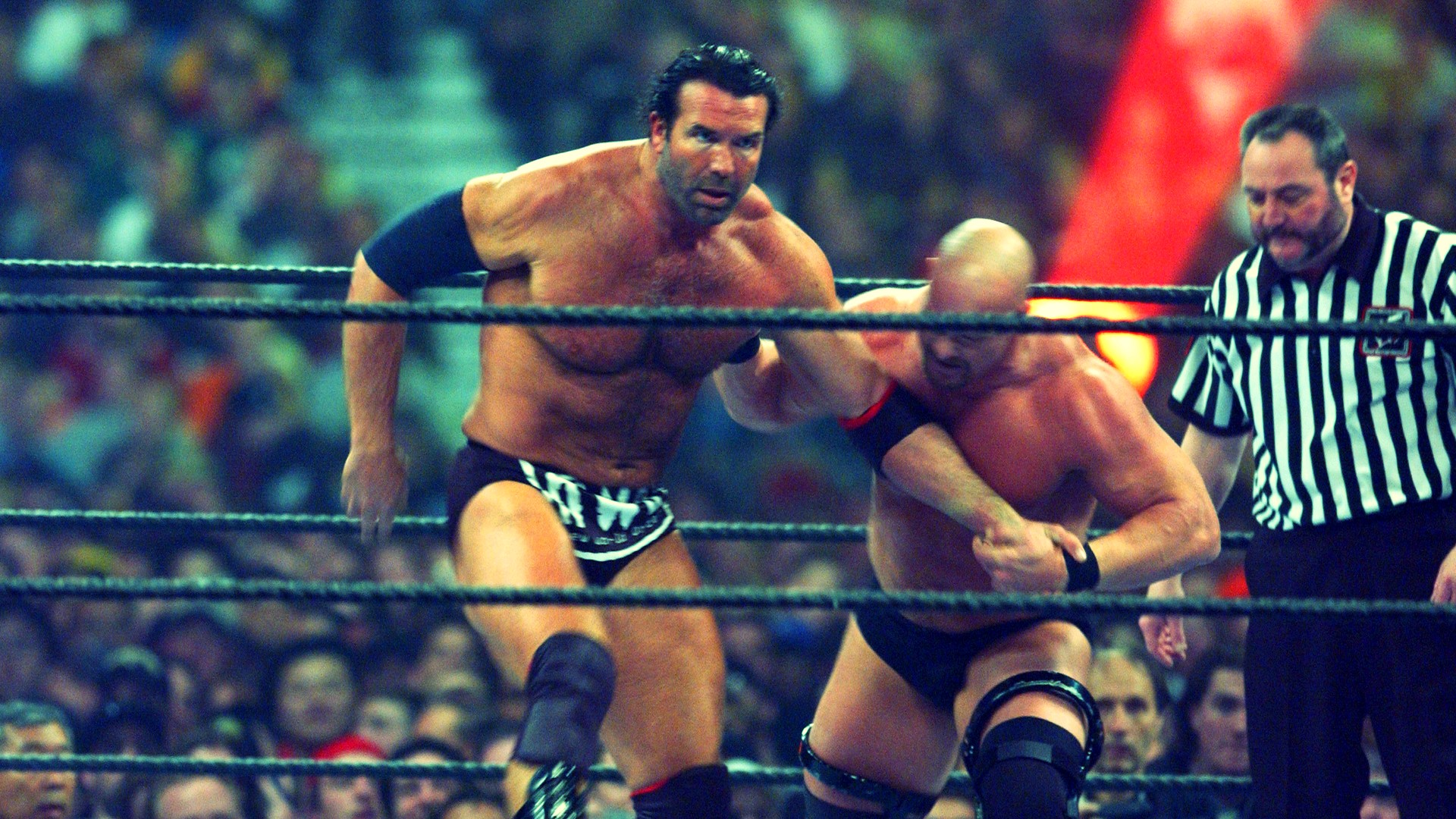 Chris King is back with another WrestleMania Rewind, looking at the NWO's Scott Hall battling Stone Cold Steve Austin at WWE WrestleMania X8 from Toronto!
Chris King is back this week with another edition of WrestleMania Rewind, where he is rewatching all the past Mania matches and feuds. This week you're in for a treat as we look back at 'Stone Cold' Steve Austin vs. Scott Hall at WrestleMania X8.
In late 2001, Vince McMahon bought out his competition WCW and acquired the rights to a plethora of talent including Booker T, Eddie Guerrero, Chris Benoit, and the iconic trio known as NWO. Hulk Hogan; Kevin Nash, and Scott Hall were hell raisers, and what better way to make a name for yourself than take out the two top superstars in the WWE The Rock, and Stone Cold?
The NWO cost Austin his chance at becoming the Undisputed Champion at No Way Out during his match with Chris Jericho. Adding insult to injury, the NWO spray-painted 'The Texas Rattlesnake' with their brand logo just like they did in WCW. As you can imagine, Austin was pissed and out for revenge against the group and primarily Scott Hall.
Hall would challenge Stone Cold to a match at WrestleMania 18. Both superstars beat the living hell out of each other leading up to this highly-anticipated match for who runs the WWE.
The glass broke and Stone Cold made his iconic entrance, and black and white NWO covered Halls' entrance alongside Kevin Nash. With the odds stacked against 'The Toughest S.O.B' could Austin or NWO prove their dominance? Sadly the NWO  broke up that very night when Hulk Hogan came to the aid of his adversary The Rock after their 'iconic' dream match. Stone Cold would ensure the victory with the Stunner. Hall would perform an Oscar-worthy sell over the finisher.
What a time to be a wrestling fan in the 2000s when nothing was impossible for WWE. Who would've thought WCW would go out of business and Hogan would make his long-awaited return to WWE?