Making the Case for Every WWE Elimination Chamber Entrant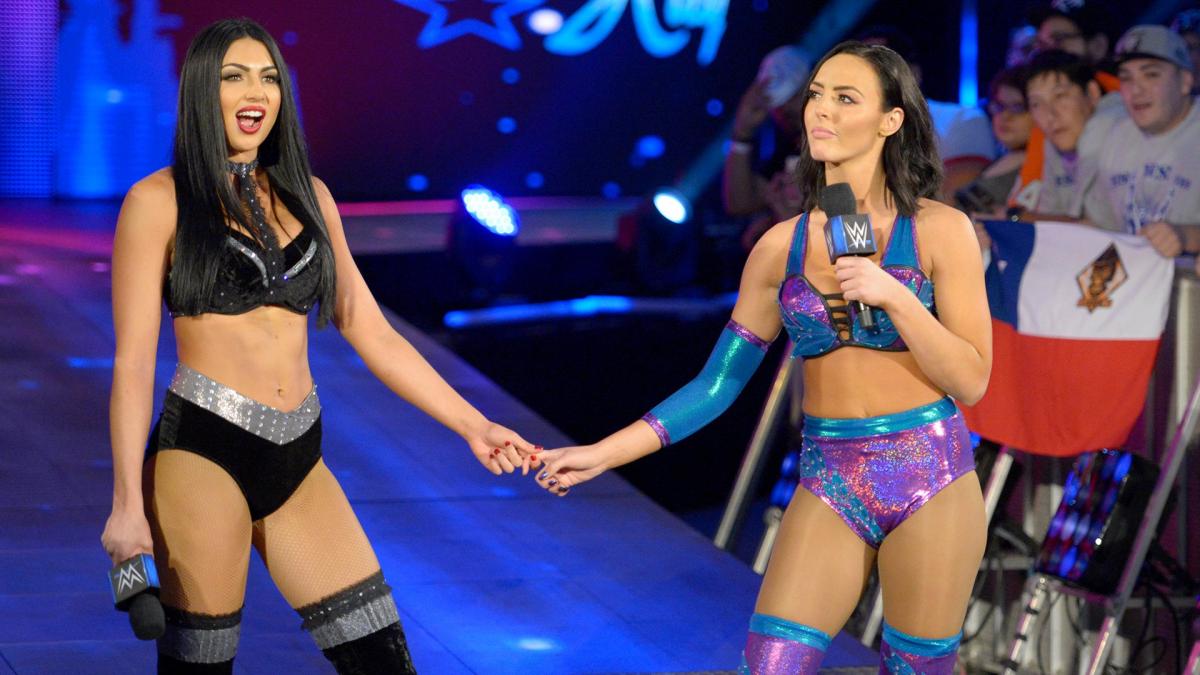 In the past, I've been able to forecast some winners of Money in the Bank matches and Royal Rumbles. However, I'm having a really hard time predicting the outcome of Sunday's two WWE Elimination Chamber matches. WrestleMania is right around the corner so these are the some of the most significant storylines of the year.
Women's Tag Team Championship Elimination Chamber Match
The Riott Squad
Sarah Logan's and Liv Morgan's win/loss record isn't as great as I would like but they've been a main roster team the longest. They arguably have the best chemistry in terms of kayfabe as well as off-screen friendship. I wasn't a big fan of them when they debuted back in 2017 but they've grown on me quite a bit since then. When I see them together, it just makes sense. Maybe winning the belts can give them the extra push they've been looking for.
Nia Jax and Tamina
Easily the toughest team to eliminate. Just from a physicality standpoint, there's few reasons they should lose. Nia was in the Raw Women's Championship picture for the majority of last year. This could be the way they transition her out of it while still keeping her in a prominent position. The way she was booked in the men's rumble shows they clearly think very highly of her.
Sasha Banks and Bayley
My pick to win. They're the safest pick that will provide a pop in the moment as well as long-term sustainability within the division. In terms of talent, popularity, and chemistry, nobody has them beat.
Naomi and Carmella 
The things I said about Sasha and Bayley could be applied here, minus the chemistry factor. Aside from Becky, they're the two most popular women on Smackdown. The big problem is that they've only been a team for a week. I'd be surprised if they put the tag belts on women that have minimal experience working together.
Mandy Rose and Sonya Deville
I want to be as high on them as The Riott Squad. I couldn't figure out why I'm not but then it hit me. They debuted with Paige the same week as the Riott Squad. But once Paige separated from the group, the focus shifted to Mandy Rose as a singles star. Liv and Sarah never stopped teaming with each other so I think that's where the disconnect falls.
The IIconics
"Best friends" is NOT a term the #IICONICS throw around lightly – and their bond is exactly what they think will make them the first-ever @WWE Women's Tag Team Champions at #WWEChamber. pic.twitter.com/cURxnMHyFp

— WWE (@WWE) February 16, 2019
I'll be wearing my IIconics shirt to the Toyota Center in support. I don't think they'll win but I'll be rooting for them the whole way. Their real-life friendship goes back farther than any other team so this is something they've dreamed about even before WWE. If they won, their promos would be absolutely unbearable in the best way possible. The fans want it. They just haven't realized it yet. I would love to see these two win at WWE Elimination Chamber.
WWE Championship Elimination Chamber Match
Daniel Bryan
I'm picking Daniel Bryan to retain. His current character and story are still gathering momentum so I would hate to see it get cut short. I'd like to see him take the belt into WrestleMania. The New Daniel Bryan works best when he has the belt that everyone wants.
AJ Styles
I wouldn't be surprised if Vince wants the title back on his golden boy heading into WrestleMania. It's safe and will likely produce solid results. A meeting with Randy Orton could be the biggest money match-up as those two have never feuded with one another.
Jeff Hardy
Unfortunately, he's my last option for picking up the win and should be one of the first guys eliminated. I would totally love to see Jeff headline a pay-per-view in 2019, but he's at the point in his career where a fresher feud needs to take the upper card slot on the grandest stage.
Randy Orton
He's not really doing anything at the moment. Randy is technically a heel but can easily be booked in either direction with the pops his RKOs create. Like Styles, he provides stability and star power. The fact that he's been laying low for the past month or so could mean they've been saving him for this. Orton hasn't had a singles feud with Styles or Samoa Joe. And the last time he had a program with Daniel Bryan, the roles were completely different.
Kofi Kingston
I've written an entire article about this and can probably do another one. After Tuesday's heroic effort in the gauntlet match, the wrestling community is behind Kofi Kingston more than ever. If WWE truly has Kofi in their future main event plans, maybe Mustafa Ali was pulled just to get Kofi in the match.
Kofi Kingston challenging Daniel Bryan is THE match I want to happen at WrestleMania and they have two months to build it. Kofi already pinned Bryan on Tuesday. If he goes into Mania as the challenger, that would mean he has to lose the Chamber match. However, if they go the Bray Wyatt route and give it to him early, I wouldn't exactly complain. It's what many of us want but let's temper our expectations before we get disappointed.
Samoa Joe
Similar to Orton, he's just been floating aimlessly without keying in on a specific feud. Samoa Joe becoming a babyface then starting a fresh feud with Daniel Bryan heading into WrestleMania has loads of potential.
---
As I previously mentioned, the current state of Daniel Bryan would work best with him going into WrestleMania as champion rather than chasing someone else. Samoa Joe or Kofi Kingston winning on Sunday would be an awesome thing, but creating a slow-burn culminating to a dethroning at 'Mania would be even better. Daniel Bryan has to be a good bet to win at WWE Elimination Chamber.