New Beginning in Osaka Fallout: New Japan's Reshaping Process
New Beginning has caused some discussions amongst the IWC. Let's read Valentin's assessment of the fallout!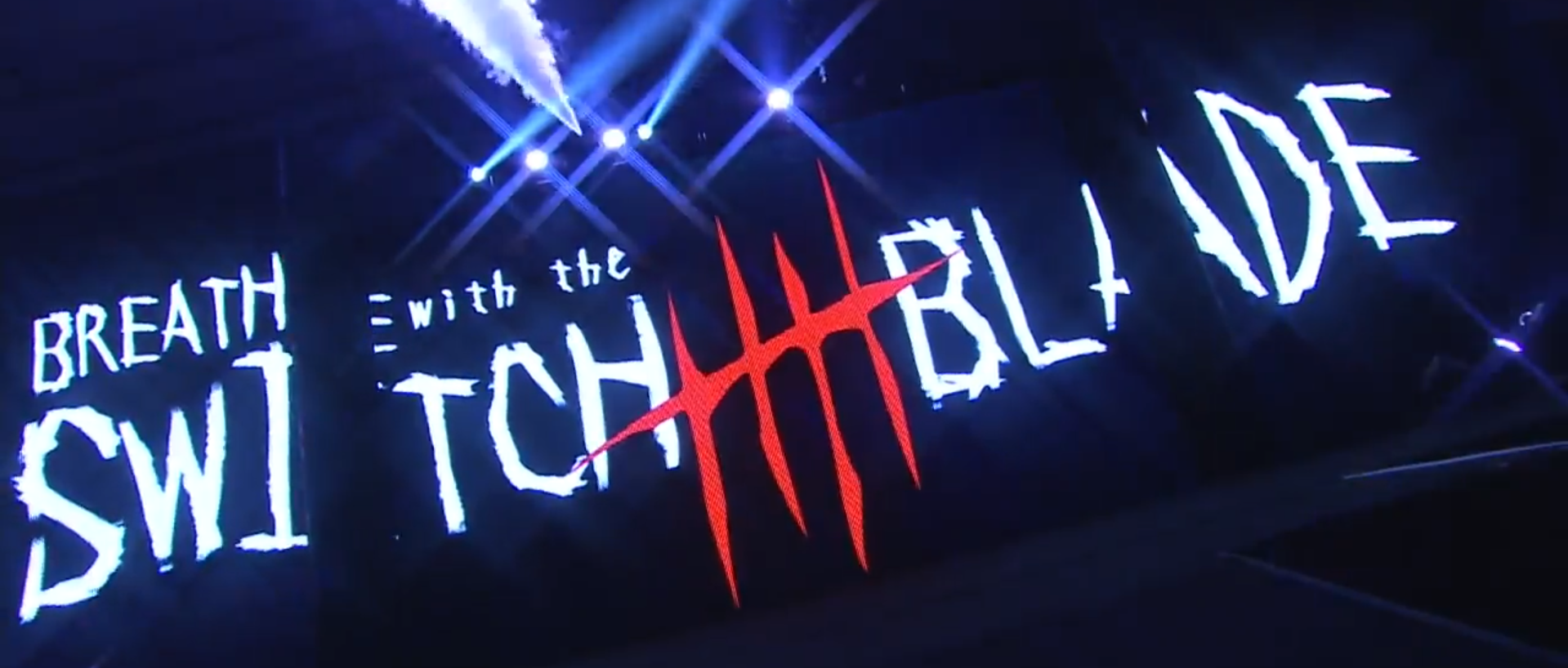 New Beginning has caused some discussions amongst the IWC. Let's read Valentin's assessment of the fallout!
New Japan's New Beginning tour just came to an end as these lines are written, and it is safe to say that the ending of the tour, which saw Jay White becoming the IWGP Heavyweight Champion, is making people discuss and wonder what is now next in New Japan's new era. With that said, let's discuss the perspective of a very exciting year, for New Japan Pro Wrestling.
 If you still were not convinced, there is indeed a new era in New Japan, starting fittingly during the New Beginning tour. In a similar, yet quite different fashion than how Kazuchika Okada began his rise as New Japan's newest top star, Jay White has done just that. It was only a matter of time for White, whom looking at his first year since coming back, was being built as a potential threat around the company's main event scene. Now that he is New Japan's top champion, we can only wonder what the Switchblade's reign will bring to the table, what impact it will have. None can say for sure, but to at least try to get an idea of what's to come, we need to take a more global view of New Japan's landscape. Some recent events can help us figuring things out.

 One other big event to occur during this last New Beginning show was Kota Ibushi's return, which saw him announce to the crowd that he would be staying in New Japan. Ibushi also announced he would be taking part in the New Japan Cup. The big news here being that Ibushi seems to now be fully committed to New Japan, so we can now expect him to get to the level he seemed destined to reach, which is being an established main eventer. As much as everyone knows how good Ibushi is, can we really say he's an established Heavyweight  star so far ?

 Sure, Ibushi won the New Japan Cup once, had great outings for the Heavyweight and IC championships over the years, as well as managing to claim the NEVER Openweight championship in December, but I think most people expect more at this point. Hiroshi Tanahashi has said himself that Ibushi has everything to be the future of New Japan, and with no storm inside of Bullet Club to be unwillingly apart of, there is nothing stopping Ibushi from getting to the spot he possibly should already be in. With the early ending to Tanahashi's potential last reign as Heavyweight champion, there will be a spot to fill when the Ace starts stepping out of what we tend to call "New Japan's big four". This year should give us some answers if whether or not Ibushi will be the man to eventually take that spot.

 Speaking of members of that "big four", let's now look at another big topic concerning New Japan's main event scene. Since recapturing the Intercontinental championship, Tetsuya Naito has made his intentions clear. The leader of L.I.J wants to hold both the Heavyweight and Intercontinental championships, at the same time. As it surely looks like 2019 will be another big year for Naito's group, it's quite easy to expect the faction's leader to get something more than a third IC championship run, as this chapter of his own story is reaching its end. Let's not forget that this summer, Naito will not have been Heavyweight champion in three years, which is quite long even in New Japan standards, when you are one of the company's top stars.

 Making history has been a recent trend with New Japan, and another opportunity to do just that is presenting itself with Naito.

 The point now is that New Japan needs to build up wrestlers for years to come, and it is not just be about Jay White becoming the Ace's main foe. It is also about re-establishing guys who have been waiting for their opportunity to rise, which are long overdue by now. New era tends to mean new faces, and while I've been focusing on the main event scene so far, it doesn't stop there.

 Without even mentioning the constant waves of Young Lions coming in, New Japan has started establishing new faces throughout the divisions in the last few years. Hiromu Takahashi and Taiji Ishimori in the Jr division, Roppongi 3K in the Jr tag team division, EVIL & SANADA both as a team and as singles competitors. Let's not forget about Zack Sabre Jr, Juice Robinson and Will Ospreay as Gaijins on the rise. The most recent example being Shingo Takagi, who will likely look further than being Jr Heavyweight Tag Team champion.
To make it short, New Japan has entered a reshaping process. The company is making a bet for the future, and if recent history has taught us one thing, it is that the last time such a bet has been taken, it worked out.

With that in mind, how do you envision New Japan's future ?
Andrew's G1 Climax 29 Ratings & Analysis: Night 7 A Block
KENTA and Okada may start pulling away in A Block! Who falls first? The Rainmaker or The NOAH Outsider?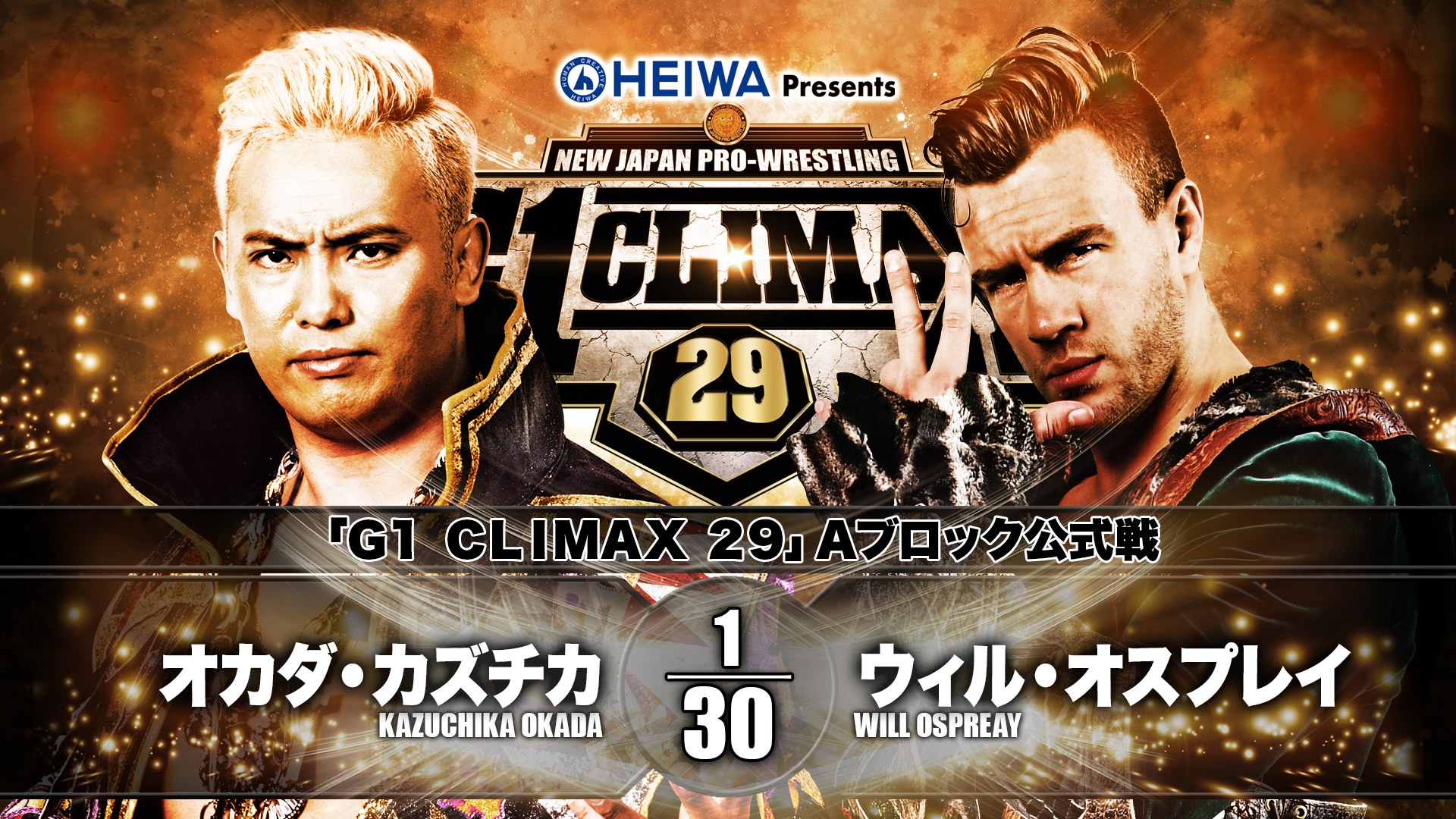 KENTA and Okada may start pulling away in A Block! Who falls first? The Rainmaker or The NOAH Outsider?
Aside from the big names being stuck in the middle of the pack, we've got poor little Zack Sabre at zero points. Can he twist Fale into a pretzel and figure it out?
Then we have Okada facing a banged up Ospreay, while KENTA takes on a rising EVIL.
Do we still have any undefeated participants in A Block after today?
Ratings:
Yota Tsuji & Juice Robinson vs Jon Moxley & Shota Umino: Shooter wins via Boston Crab @3:55 – ** 1/4
Taichi, Minoru Suzuki & Yoshinobu Kanemaru vs Toru Yano, Hirooki Goto & Yuya Uemura: Kanemaru wins via Deep Impact @8:50 – ***
Yujiro Takahashi, Chase Owens & Jay White vs Jeff Cobb, Tomoaki Honma & Toa Henare: Chase wins via Package Piledriver @9:50 – ** 1/2
Shingo Takagi, BUSHI & Tetsuya Naito vs YOSHI-HASHI, Ren Narita & Tomohiro Ishii: BUSHI wins via MX @7:35 – **
A Block: Zack Sabre Jr vs Bad Luck Fale: Sabre wins via Countout @6:30 – ** 1/4
A Block: Lance Archer vs Hiroshi Tanahashi: Tanahashi wins via Victory Roll @12:00 – ** 1/2
A Block: KENTA vs EVIL: KENTA wins via Go 2 Sleep @15:05 – *** 1/2
A Block: Kota Ibushi vs SANADA: Ibushi wins via Kamigoye @19:15 – *** 3/4
A Block: Will Ospreay vs Kazuchika Okada: Okada wins via Rainmaker @21:55 – **** 1/2
Analysis:
Still a lot of heat from their NXT past and Moxley's debut match in NJPW. Juice and Mox don't face each other until the end of their block schedule, but if this needed more heat…well this was gasoline. Juice and Mox stay on each other, brawl to the back while the Young Lions fight, but Mox apparently gets the best of the brawl. He returns to the ring to help Shooter, hit their Hart Attack tandem move and Shooter sinks in the Boston Crab.
There's history between Taichi and Goto centering around the NEVER Openweight Title, Yano and Suzuki have fun history and it looks like Uemura is stepping up to Suzuki. So there's a lot of fun moments, Uemura has a death wish trying to fight Suzuki, but it's still fun. A lot of moving pieces in this one that kept it very entertaining.
Honma got put through the paces, Jay White got tossed around a little bit by Jeff Cobb, but the Bullet Club tag partners proved to be more useful than Cobb's. Chase has picked up a few wins in the tag matches, so he might get some kind of push coming soon.
BUSHI continues to pick up pinfalls in these tag matches, and this sort of builds for Ishii and Naito, but not a ton happens. YOSHI-HASHI is there, Shingo looks like a million bucks and BUSHI wins the match, LOL. This was very paint by numbers.
Sabre jumps all over Fale at the start and tries a plethora of submissions to no avail. A kendo stick shot from Jado pushes the action to the outside. Fale and Bullet Club look to have an advantage, but Sabre dodges some double team tactics, grounds Fale with a Triangle Arm Bar, and then races to the ring to beat the 20 count. Fale couldn't make it back fast enough, so Sabre gets the first Countout win of this year's tournament.
Tanahashi is really showing the age and injuries this year, so all of these flukey wins just come off as forced. The match was slow, had moments of being interesting, but Tanahashi not even being 50% of what he used to be makes these hard to watch at times. Archer is getting over well, but Tanahashi winning at this point does hurt the credibility a little. I get the story they're telling, but unlike last year where Tanahashi could push through injuries, this year, they are much more obvious, and he's much more hampered.
EVIL took the fight to KENTA and then they went to the outside. Through the back and then into the crowd area next to the ramp. EVIL went for Darkness Falls on a bunch of a chairs, but KENTA stopped him and suplexed him onto said chairs. When it got back in the ring, EVIL tried to weaken the legs and KENTA went after EVIL's upper body to mitigate the power advantage. Heavily booed, KENTA played up heel nicely (I guess WWE did help for something), and eventually he gets the best of EVIL and lets him take a nap. KENTA moves to 4-0.
We get a solid match between two guys who are right on the precipice of the Main Event scene. Kota outsmarts SANADA early by not going for the stupid dueling Dropkick spot, and from then on it was an interesting struggle. Between fan support and the general "anything you can do, I can do better" pacing, this was entertaining, yet slow and felt too long in some spots. Both looked pretty good, but this could've been told faster and SANADA's perpetual struggles are a little frustrating for anyone who is a fan of his.
Okada and Ospreay were expected to blow the roof off, and well I'd say this was a damn good shot. Ospreay is obviously dinged up, but he fought through the pain and pulled off numerous flipping counters and found a few different ways to hit the Os-Cutter. They both let their personalities fly and this was a lot of fun to watch. Okada always has this older brother aura since he's the one that brought Ospreay to New Japan and Chaos, so whenever they get together, it's very much like two siblings trying to outdo the other. Ospreay had a great flurry at the end, flipping through a Rainmaker attempt, to try his Stormbreaker, but Okada flipped through that and hit a short arm lariat. Rolling Rainmaker and a normal Rainmaker later, Okada edges out the little brother. Great match.
Overall Score: 7/10
Well this night struggled cause the first two Block matches were really weak. The next two amped-up the intensity a little, but fell short of a memorable match. The main event was fantastic, but generally speaking this felt like it was slow, plateau'd for a while and only picked up at the end. Nothing out right awful, but a lot of matches that could've been a little better.
Still a solid enough night if you're following it all, but only the main event is worthy of seeking out individually. It is nice to see that everyone is on the board with some points. So if Okada and KENTA stumble a little, the rest of the block could plausibly catch up.
Block A Standings:
Kazuchika Okada: 4-0 (8 Points)
KENTA: 4-0 (8 Points)
Lance Archer: 2-2 (4 Points)
EVIL: 2-2 (4 Points)
Kota Ibushi: 2-2 (4 Points)
Hiroshi Tanahashi: 2-2 (4 Points)
SANADA: 1-3 (2 Points)
Will Ospreay: 1-3 (2 Points)
Bad Luck Fale: 1-3 (2 Points)
Zack Sabre Jr: 1-3 (2 Points)
Andrew's G1 Climax 29 Ratings & Analysis: Night 6 B Block
Juice Robinson, Tomohiro Ishii and Jon Moxley come in at the top of the standings. How do we see B Block take shape?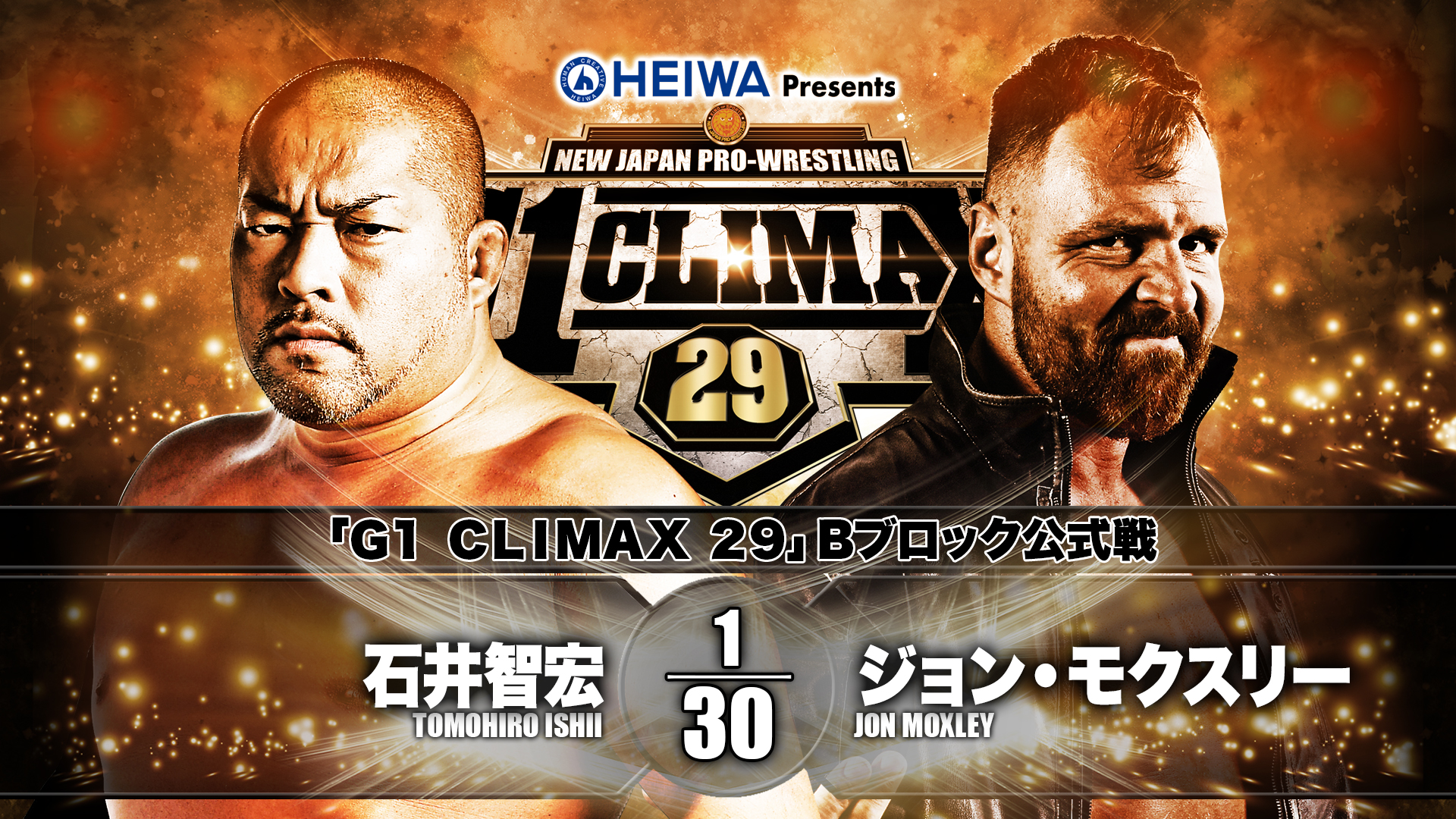 Juice Robinson, Tomohiro Ishii and Jon Moxley come in at the top of the standings. How do we see B Block take shape?
This whole day is based around two major things:
Will Jay White or Tetsuya Naito get a win?
Will Moxley or Ishii kill one another?
Let's find out!
Ratings:
Bad Luck Fale & Chase Owens vs Zack Sabre Jr & Yoshinobu Kanemaru: Fale wins via Grenade @4:50 – **
Tomoaki Honma & Hiroshi Tanahashi vs Minoru Suzuki & Lance Archer: Archer wins via EBD Claw Hold @9:50 – **
SANADA, EVIL & BUSHI vs KENTA, Kota Ibushi & Clark Connors: BUSHI wins via MX @9:02 – ** 1/2
YOSHI-HASHI & Kazuchika Okada vs Will Ospreay & Toa Henare: YOSHI wins via Fisherman Buster @8:45 – ** 1/4
B Block: Shingo Takagi vs Taichi: Takagi wins via Last of the Dragon @14:40 – ****
B Block: Jeff Cobb vs Juice Robinson: Cobb wins via Tour of the Islands @13:20 – *** 1/2
B Block: Toru Yano vs Jay White: Yano wins via Brass Knuckle Low Blow/Roll-Up @3:05 – ** 1/2
B Block: Tetsuya Naito vs Hirooki Goto: Naito wins via Destino @16:00 – *** 3/4
B Block: Jon Moxley vs Tomohiro Ishii: Moxley wins via Deathrider @20:35 – **** 1/2
Analysis:
Well Fale tried to outsmart the Rainmaker in his last G1 match, and that didn't go too well. So Sabre is being a whiny child, tried to step to Fale and for the most part, got brushed off. Fale isn't really in a position to eat another loss, but it's unusual for Sabre to be doing so poorly. I'm curious if Sabre continues this slide until maybe TAKA Michinoku returns to be his hype man, or Sabre gets off the schneid.
People, everybody dies. You know that, Lance knows that, Honma knows that…Kairi Sane knows that. This didn't really add much to things except the undercurrent of a quiet Minoru Suzuki is scary for the whole world. Also – Everybody Dies!
Now that SANADA and EVIL have had their match, there is some symbiosis back on the LIJ undercards. KENTA and Kota teaming together was a cute call back, but nothing of heavy merit came from this match. BUSHI continues to rack up positive momentum during these tags, Clark Connors is impressive for an LA Dojo Young Lion. So decent match, but aside from EVIL and KENTA brawling after the match and SANADA and Ibushi having a rather civil fan support battle, nothing too important for the impending matches.
Okada and Ospreay did have the crowd hot, but aside from a small flourish, this was mostly YOSHI and Henare. Surprisingly, YOSHI-HASHI has put together a few pinfalls in the tag matches, so that tends to actually play a role in the second half story telling. Ospreay may be on his way to a big upset since even if Okada seems to be positioned to win A Block, he won't make it through unscathed.
Now this was a fun match. It was a continuation of the Suzuki-Gun/LIJ drama, but Taichi has his own issues. Shingo is fighting as a Junior Heavyweight and Taichi moved up to Heavyweight last year, but was overlooked for the G1. So the fact that Shingo asks and gets in, yet Taichi moves up and was ignored has to bother him. With all of these little things eating through, Taichi brought out the Dangerous T that many of us have grown to love. Sure there was a brief moment of shenanigans with lovely Miho and the microphone stand, but 90% of the match was on the up and up. Pumping Bomber versus Axe Bomber was great, the callbacks to both of their mentors was wonderful and just generally speaking, when the Holy Emperor tries, those are great matches. Shingo getting the win won't sit well with Taichi, but we've got plenty more time to see how this all falls.
Juice starts off the match in a 3 way tie for first, but Cobb really needs a win to legitimize his tournament. Being undefeated in ROH for about a year, as well as all his other accolades, he needs to stop losing. Cobb showed a little more fire than usual in this match and took it to Juice. Juice has been in hard hitting affairs all tournament and it looks like Juice might've finally hit the wall. Should be interesting to see if Juice flounders from here or if he recovers.
Well the Chaos revenge tour has another stop with Toru Yano and Jay White. Jay has not gotten off to a good start and it's all his past decisions coming to bite him. This match…would be no different. Yano takes advantage of Gedo getting involved. Between Barbara Jean the turnbuckle pad and the brass knuckles from Gedo, Jay White's nuts didn't stand a chance. So Yano runs away with 2 more points and Jay's pride…and other things…are a bit sore.
Goto started off the tournament looking like a new man, Naito has also looked different, but for different reasons. Naito sitting in the basement with zero points and Goto with the renewed sense of purpose makes for an odd dynamic. This match is one of their usual ones, where it's quick bursts, hard hitting and a few solid false finishes. However, at multiple points Naito's usual tranquilo is shaken and you can see him show levels of concern. Goto being the one with the power in the match, makes for some unique interactions. Naito does pull off the win, but it's not for Goto's lack of trying and kicking out of one running Destino. Naito finally gets some points, but it's nothing near dominant enough to breathe a sigh of relief.
Moxley versus Ishii was the insane hard hitting match we expected. Ishii even flew. He hit a splash on Moxley through a table. The Stone Pitbull flew. Yes I realize there is a callback to Masato Tanaka in that move, but you don't understand, Ishii flew. Anyway, the beauty of Red Shoes as a referee is he understands each wrestlers personality, so he gives them a little more leash to do what they like to do. Moxley used weapons, Ishii egged it on, there were huge strikes, Ishii's torpedo style rising headbutts and just good violence. This was a bar fight and no one was upset. Moxley getting the win was a little surprising since most of us assume he won't be available for many if any later dates once AEW TV starts up. This was just a nice change of pace for the usual New Japan and/or Strong Style match.
Overall Score: 7.75/10
With a great Taichi match and Moxley changing the pace, this show was definitely something to behold. Jay White's continued spiral is more amusing than Sabre's since this seems like retribution where Sabre is just a punk bitch when he loses. Even with an uneventful undercard, the main Block matches kept everything moving upward and onward.
With Moxley as the sole 3-0, who unseats the Death Rider?
B Block Standings:
Jon Moxley – 3-0 (6 Points)
Toru Yano – 2-1 (4 Points)
Tomohiro Ishii – 2-1 (4 Points)
Juice Robinson – 2-1 (4 Points)
Shingo Takagi – 2-1 (4 Points)
Jeff Cobb – 1-2 (2 Points)
Tetsuya Naito – 1-2 (2 Points)
Hirooki Goto – 1-2 (2 Points)
Taichi – 1-2 (2 Points)
Jay White – 0-3 (0 Points)