(NOAH) WEEKLY NEWSLETTER VOL.24 ~ 24TH FEBRUARY 2019
With Eddie Edwards returning to NOAH, the Giant Baba Memorial and possible repairs to the IMPACT partnership; Hisame covers quite a bit this week!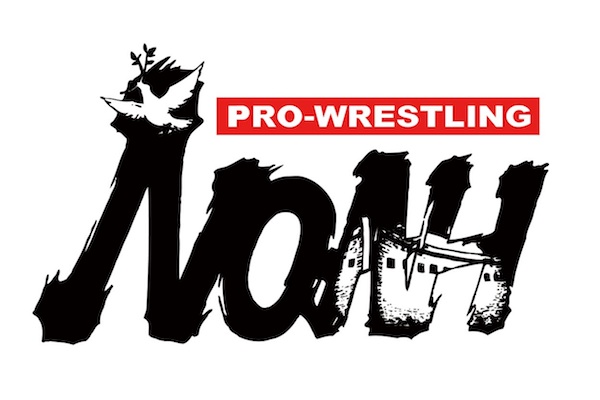 With Eddie Edwards returning to NOAH, the Giant Baba Memorial and possible repairs to the IMPACT partnership; Hisame covers quite a bit this week!
CURRENT TOUR RECAP
"Navigation for The Progress"
The 24th February will be the last time many will see the green ring in Korakuen outside of the Misawa memorial show in June (planned to take place in Tokyo and Osaka).
Minoru Tanaka said that his second request would be to headline "Great Voyage in Yokohama" on the 10th March in the GHC Junior Heavyweight title match.
Daisuke Harada has said nothing and is probably waiting to see how this turns out, Kaito Kiyomiya is naturally too polite to say anything (when by rights it should be himself, as champion, who says yes or no), and so it falls to Naomichi Marufuji, who is not too impressed with the idea.
After their tag match at Korakuen on the 24th, Minoru Tanaka wouldn't shake hands and left the ring. He and Harada had a vicious fight.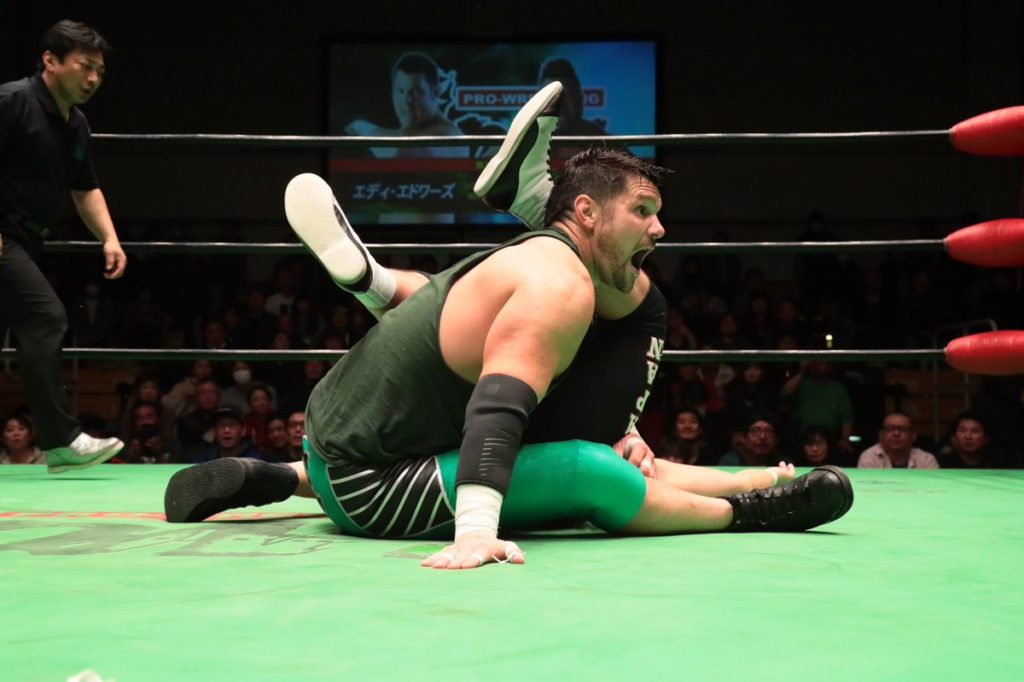 The mysterious "Wrestler X" who was replacing the injured Atsushi Kotoge, turned out to be none other than NOAH born and former GHC Heavyweight Champion, Eddie Edwards, who was wearing the Misawa green.
Fans called "welcome back", and some tweeted "welcome home".
To see him meant a lot to the people of Tokorozawa, as rural crowds outside of the Tokyo and Osaka metropolitan areas, don't often get surprises like this. After their match, Edwards and Kitamiya shook hands, and promised a good match for Korakuen.
You can't blame Edwards for looking fatigued, poor guy had a long haul flight out to Japan from the USA, and then from the airport, probably a drive out to Tokorozawa.
At Korakuen Hall, the fans were cheering loudly, and green and white paper tape was thrown for him, and after an intense battle, he and Kitamiya shook hands at the end.
Takashi Sugiura's team did not do too well again in their final pre-match before the elimination fight with The Hooligans, but Yoshiki Inamura displayed a lot of spirit, something he would carry over to Korakuen Hall too.
The elimination match on the 24th had the audience on the edge of their seats, as there was to be two outcomes; if The Hooligans lost, they disbanded, but if they won, then Sugiura entered their unit and was their slave. Fortunately, Sugiura didn't find himself washing Taniguchi's back, polishing Nagai's bald head (idea courtesy of Yuji Hino who had other less savory ideas), doing his laundry, licking KAZMA SAKAMOTO'S boots and carrying Cody's bags as his team against all the odds, prevailed.
Inamura gave a good fight, and Inoue was said to be the star of the match with Saito sacrificing himself to get the elimination, and it came down to Sugiura vs KAZMA. Sugiura won with the Olympic Slam.
Afterwards KAZMA challenged Sugiura to a match at "Great Voyage in Yokohama".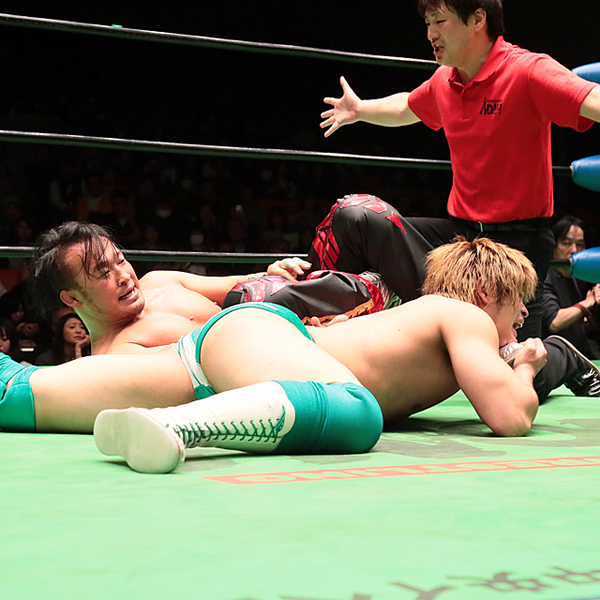 After being tortured by Naomichi Marufuji in Tokorozawa, (Boku Pro said you could hear Kiyomiya's screams around the hall), Kiyomiya went off to a fan event. Marufuji saw the picture of him smiling fans and said darkly, ""You smile, even after I have attacked your left arm. There will be more…more…."
On the 24th February at Korakuen Hall, Marufuji used a chicken wing on Kiyomiya. This is unusual for Marufuji, but I think that since he's discovered that his body is "older than I thought", he's going to be using more submission techniques now.
Kiyomiya managed to get the Chicken Wing Facelock on him, but it was all to no avail, with Marufuji making him tap out with a key lock submission hold.
Afterwards, with a cold smile on his face, Marufuji bent down and held the ice pack down on Kiyomiya's arm.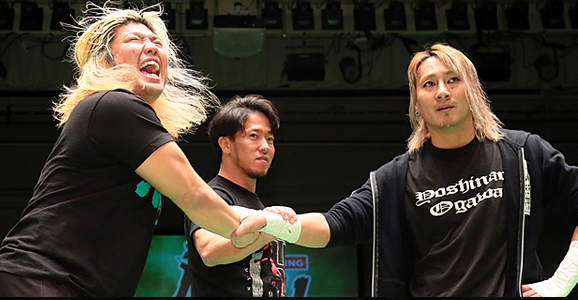 Yoshinari Ogawa and Kotaro Suzuki seemed to be falling apart in Tokorozawa as they got into an argument after Ogawa screamed at Suzuki, "why aren't you helping me?", and had to be held back by their teammates. However, they worked magnificently together at Korakuen Hall on the 24th and captured the GHC Junior Tag belts from The Backbreakers.
The split in their unit didn't come from them, it came from HAYATA, who attacked YO-HEY and then Ogawa, and then reunited with the other two members of RATELS who had also come out. Speculation had been made earlier in the evening when Tadasuke was seen talking to YO-HEY during their match, and then lingering at the side of the ring before leaving, that we might see another RATELS exodus.
Tadasuke and HAYATA have challenged for the belts (as per Daisuke Harada's request in the ring).
YO-HEY appears to be in a state of shock.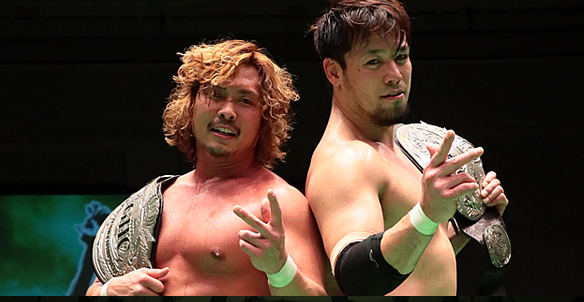 50 Funky Powers took on Katsuhiko Nakajima and Go Shiozaki for their first defense of the GHC Heavyweight Tag Titles. It was harsh match with no quarter given as all four laid into each other with kicks, chops and stiff punches (at both Quiet Storm, who I think might have been slightly dazed by it, and Yone, got kicked in the head by Nakajima).
After the match, Eddie Edwards and Masa Kitamiya came to the ring to challenge for the GHC Heavyweight Tag Titles. Edwards greeting the crowd and saying he had returned home to do this.
Nakajima warned them ominously, "Never take your eyes off us".
All the belts will be defended on March 10th at "Great Voyage in Yokohama".
Full recap: Tokorozawa Citizen Gymnasium
Full recap: Korakuen Hall

NEWS
CONTRACTS
With a new company now owning NOAH, each wrestler has had to renew their contact with the company. Details are sketchy as to who has and who hasn't (and I am expecting some to not), but it can be said with a degree of certainty that Quiet Storm, Naomichi Marufuji, Junta Miyawaki, Yoshiki Inamura and Kinya Okada have.
There was never any question of Naomichi Marufuji and Takashi Sugiura leaving, with Sugiura stating that he is going to finish his wrestling life in NOAH.

NOAH & IMPACT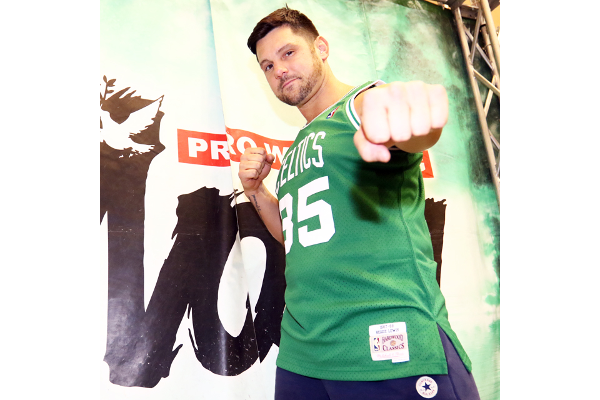 Eddie Edwards said in a recent interview ("Unorthodox in the USA: The Real Reason Behind A Revolution With Kotoge"), that NOAH and IMPACT were rebuilding their relationship. I think that both companies dealing with internal issues in 2018 was a big part of the reason that they had to let it slide for much of the year; NOAH of course having a cash flow problem, and IMPACT dealing with legal issues and then a jump to a different TV channel. However, with Eddie Edwards back in NOAH, and his challenge for Masa Kitamiya for the GHC Heavyweight Tag Titles, we could see once again NOAH and IMPACT appear on each others shows. Edwards has said that for the younger athletes, this especially good.

Giant Baba Memorial
Naomichi Marufuji teamed with Jinsei Shinzaka at the Giant Baba Memorial show on the 19th February.
Naomichi Marufuji has been called "Baba's last pupil" as he joined the All Japan dojo on March 7th 1998 and was therefore the youngest and newest trainee.
KENTA, however, never knew Giant Baba, Baba having passed away in January 1999 and KENTA joining the dojo later during the year, so he never knew him (neither did Takeshi Rikio or Takashi Sugiura, Rikio joining in August 1999 and Sugiura in 2000).
The tag match with Jinsei Shinzaki against Shun Skywalker and Masaaki Mochizuki more than made up for Marufuji's disappointing match against Tetsuya Endo in DDT that had taken place previously.
Afterwards he and Jinsei Shinzaki sat and discussed old times in All Japan in the post match interview, with Shinzaki recalling he had told young Marufuji to eat more.
Marufuji saying something to the affect that there wasn't that much food allotted in the dojo as Hashi ordered sparingly, and Kentaro Shiga (who was thin as a railing any way, and didn't put on weight until after a knee injury), didn't let people have too much. Marufuji did say that he hoped that Kentaro Shiga would have been there today.
I am afraid I don't have any information on Shiga after 2011.

KENTA
WWE have officially confirmed the release of KENTA, and despite the speculation, there has been nothing (and there won't be anything for ninety days) confirming any part of his future.
As far as NOAH goes, I doubt that he will sign with the promotion again, but it wouldn't surprise me if he at least made a few appearances as a Freelancer.
CURRENT CHAMPIONS
GHC Heavyweight Champion: Kaito Kiyomiya
GHC Junior Champion & IPW Champion: Daisuke Harada
GHC Heavyweight Tag Champions: AXIZ (Go Shiozaki and Katsuhiko Nakajima)
GHC Junior Tag Champions: Kotaro Suzuki & Yoshinari Ogawa
TOUR TIDBITS
~ YO-HEY & HAYATA got drunk on Jack Daniels, and YO-HEY was hungover when manning the autograph booth in Tokorozawa.
~ NOAH handed out blue glowsticks for 50 Funky Powers entry in Korakuen Hall
~ Kenoh called into Toshiaki Kawada's restaurant, Kawada asked him how the journey back to the Budokan was going, and Kenoh replied that it was "closed for repairs".
~ Mohammed Yone turned 43 on the 23rd February, a flower display was arranged for him in the Tokorozawa venue lobby, complete with blue balloons which is the 50 Funky Powers color.
~ Junta Miyawaki seems to be developing a new move (I think its a submission), he has also been noted to have really bulked up (not surprising given the amount he eats).
~ Hiroshi Yamato said he wants to fight as a NOAH Jnr from now on.
~ Kenta Kobashi came to Korakuen Hall on the 24th February, he looked very sad as he looked on the green ring, knowing it was soon to be replaced. While there he did an interview with Go Shiozaki for a magazine interview.
KING SHAMELESS CORNER
He's been good; Masao Inoue did better than expected so he probably feels he can't photograph him at the urinal, and perhaps his dog is now house-trained?
BROADCASTS
NOAH's Korakuen Hall show of the 24th February will be broadcast on Samurai at 10pm (JST) on Samurai TV on the 2nd March at 11pm.

BOOK CORNER
The ongoing translation of Naomichi Marufuji's "Heir To The Ark" can be found here
GREEN GUIDES
I have written some "Green Guides" to NOAH about restaurants owned (or in the case of Naomichi Marufuji managed by) NOAH wrestlers for those visiting Tokyo, who might like to go when on a visit. I have included maps, addresses, contact details, menu (where available), links, payment info etc.
I plan to add Toshiaki Kawada (although technically not a NOAH wrestler, but NOAH affiliated), Takeshi Rikio and Takuma Sano, but for now here are:
Muscle Grill (Naomichi Marufuji)
Steak Izakaya (Akira Taue)
Yoneya (Mohammed Yone)
LINKS
Masao Inoue interview ahead of clash with The Hooligans
Baba's Last Pupil: Naomichi Marufuji's fierce presence in battle
Naomichi Marufuji and Jinsei Shinzaki's Post Match Promo
Noah GHC Heavyweight Championship (article by Hikaru Inoue)

NOAH FROM THE VAULT (articles translated by Purodino)
Kenoh "Self" confessions
Picture credit: Noah GHC, Boku Pro.