Not Every WWE Superstar Is Going To AEW
Should we temper the AEW expectations? Hype is well and good. But chasing around every rumor, is a bit much, right?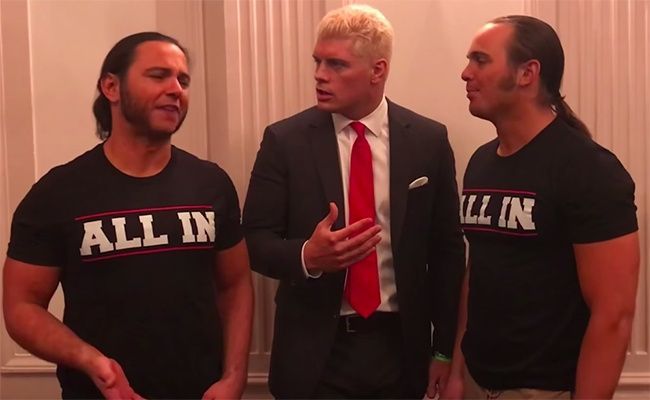 Steve Cook drops some well needed reality. Everyone sit down in a circle and listen to the smart man.
Fellow Wrestling Fans,
We stand here on the precipice of an interesting time in sports entertainment history. WWE has dominated pro wrestling for the past two decades and has turned into a true worldwide juggernaut. They have truly taken over the world, and are expanding their reach in more ways with each passing day.
Honestly, WWE's dominance has made the news reporting game pretty boring. Talent rarely ever leaves. WWE has been the main place for people to work as long as I've been writing about wrestling. Sure, from time to time wrestlers would end up in TNA or Ring of Honor. The lure of Japan kept some careers going. At the end of the day. WWE was going to employ anybody they really wanted to have. Other wrestling companies got the leftovers.
Not that I don't like leftovers…
Those days appear to be coming to an end. Even with WWE making more money than ever before, and producing more wrestling events in more areas of the globe than they have since the days when Hulk Hogan was time-hopping the globe & the WWF had three different house show loops, it seems like the days of talent only wanting to work for Vince McMahon are approaching their finish.
All Elite Wrestling has yet to run a show, unless you want to count All In as one. They're already making waves among hardcore wrestling fans and people that just want to see another product. Let's put to rest a common misconception. You don't have to hate WWE in order to be interested in AEW. I swear, there were people that watched the WWF, WCW & ECW back in the day. Choosing only one forever and ever isn't necessary, no matter what WWE homers or haters tell you.
I assume that at some point AEW will be producing wrestling on a consistent basis. They've already signed some names, but the one that's garnered the most attention so far is Chris Jericho. Jericho describes his signing as a signal to other wrestlers that AEW is a legitimate option. It's led to everybody wondering who will be next to make the jump, which is good buzz for an upstart company.
Buzz is good
The fact that people actually think that All Elite Wrestling is an option for WWE Superstars is a win. As long as TNA/Impact Wrestling has tried to be number two in this country, nobody's ever thought of them as a legitimate option for wrestlers that WWE actually wanted. The perception towards older wrestlers making their way to TNA was that they were slumming it. Most of these folks didn't argue the fact. With some rare exceptions, WWE got whoever they wanted, whenever they wanted them.
You also didn't hear too much dissension in the ranks either. It's safe to say that not everybody that worked for WWE was happy at any given point over the last twenty years, but people seemed content to keep their mouths shut & keep getting those checks. Maybe part of them wondered if they would be happier somewhere else, but money talked. Once you got to WWE, you could stay as long as you wanted. It's not like they're firing people unless they absolutely have to these days.
Ryder & Hawkins are even on TV
Now we're hearing about all this stuff. We haven't read so much about contract negotiations & people wanting releases since the fall of WCW. The idea of there being somewhere else to, along with the fact that WWE can more than afford to pay people what they're worth, means that wrestlers are going to weigh their options.
It's going to be very exciting for us wrestling fans. I'm going to ask you guys a pretty big favor. I typically don't do things like this, but I've seen some of the discussion on Twitter & I've seen some of the things trotted out as "news" here in the last few days. It's obvious what's going to happen now. Every time something happens involving a WWE talent, it's going to lead to speculation that they're heading to AEW. Dean Ambrose is leaving because he wants to go to AEW. Sasha Banks tweeted at The Revival because she wants to go to AEW with them. Undertaker took WWE out of his Twitter bio, so he's obviously going to be the first AEW Champion. Randy Orton mentioned to my best friend's cousin's sugar daddy that he'd take a meeting with Cody.
True Story
Can I get everybody reading this to agree on one thing? Can we not go bonkers over every little story involving a WWE wrestler and assume it means they're leaving the company? Hell, I'm still not 100% buying into Ambrose leaving until he's actually gone. Wouldn't be the first time an off-kilter Cincinnati guy worked the boys, the suits & the sheets.
There's going to be a lot of news put out there as long as AEW is viable. Some of it will be real, but some of it will be fake. I can guarantee you that wrestlers will be putting things out there to see if they can help their situation. Some of them already are.
We can read it & have fun. But I don't need the breathless assumptions that the entire 205 Live roster will be at Double or Nothing. Just take it down a notch or five, at least until the company is running shows & has champions.