#SmackdownTaped: Greg DeMarco's ACCELERATED Look At WWE Smackdown (2/19/19)
Greg saves almost an hour thanks to DVR on Smackdown Taped!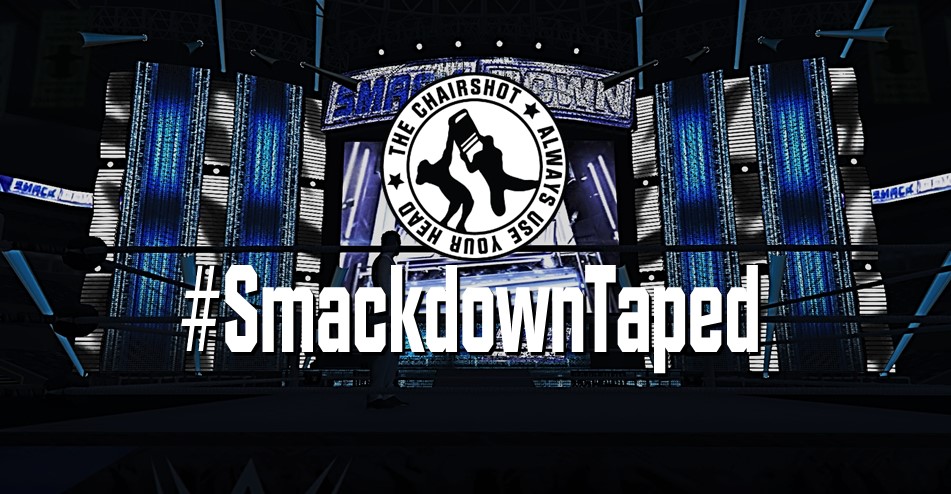 Greg DeMarco has the fastest finger in the west–on the FAST FORWARD button! How much of WWE Smackdown did he breeze through this time?
The experiment continies! What happens this week when Smackdown goes…yellow? The NXT 4 hits the blue brand this time around.
Shane McMahon enters!
FAST FORWARD the video package
Shane needs a haircut.
This was a good segment, except Miz and Shane aren't cool.
ANOTHER INTERRUPTION!
FAST FORWARD the entrance and the commercials
Aleister Black vs. ANDRADE! (with Zelina GAWDDAMM Vega)
Notice they're still using the NXT graphics
FAST FORWARD the video package
Accompanied by Aleister Black's wife…ANDRADE!
Great start, but now it's COMMERCIAL TIME!
It's cool that we get to see the action during commercials, but you know nothing major will happen. FAST FORWARD!
This pairing could main event WrestleMania 38. Let's make it happen!
KAYLA BRAXTON interviews Tommaso Ciampa & Johnny Gargano
Two guys are talking but it doesn't matter BECAUSE KAYLA BRAXTON
Cesaro did far too much talking here. And he kicked out Kayla!
FAST FORWARD entrances and commercials
The Bar vs. Tommaso Ciampa & Johnny Gargano
#SaveTagTeamWrestling
Notice that we have had "heel vs. heel" tag matches two nights in a row
Oh, btw, faces and heels no longer exist
FAST FORWARD the commercials
Ciampa and Gargano look really small against The Bar
And it was basically a fluke win for DIY
FAST FORWARD promo package and entrances
Asuka vs. Mandy Rose
But first…KAYLA BRAXTON!
This is just a reminder of why Asuka shouldn't promo–can we please get Mandy out here!
YES! MANDY IS HERE! BLURRY SONYA!
Shhhhhhhhhhhhhhhh Mandy is talking.
Mandy's been taking promo lessons from The Miz, eh?
How dare Lacey Evans interrupt a Mandy Rose match?!?!
FAST FORWARD the commercials
Mandy throws a better V-Trigger than Kenny Omega
I think Sonya missed a spot there
It doesn't matter, because MANDY WINS!
FAST FORWARD replays, videos, and entrances
Ricochet vs. Eric Young
SAnitY got booked? Woohoo! Too bad it's against an NXT guy–they're a surer bet than Ruthless Aggression era John Cena.
We could probably play a fun game of "Where has SAnitY been hiding?"
Another good showing for Ricochet, and it was good to see Eric Young, nothing to be critical of here.
And Ricochet ends with his Mr. Kennedy impersonation
More Kayla!
Yeah The New Day was there, too.
FAST FORWARD all sorts of stuff
Kofi Kingston, AJ Styles, & Jeff Hardy vs. Randy Orton, Samoa Joe, & WWE Champion The New Daniel Bryan
Kofi is part of a trio, but doesn't team with his partners.
FAST FORWARD more commercials
The action was good, but this was all about Kofi.
And Kofi gets the pin!
And Kofi gets the title shot!
Basically, this was the Kofi Kingston show.
Aaaaaaaaaaaaaaaaaand we're done.
Timestamp: 1:07:48 (Real time: 2:00:00)
Time saved: 52:12
Overall: Good show, better than Raw, but still an odd pace. Let's see what happens next week.