Stardom 8th Anniversary Results & Review 1/14/2019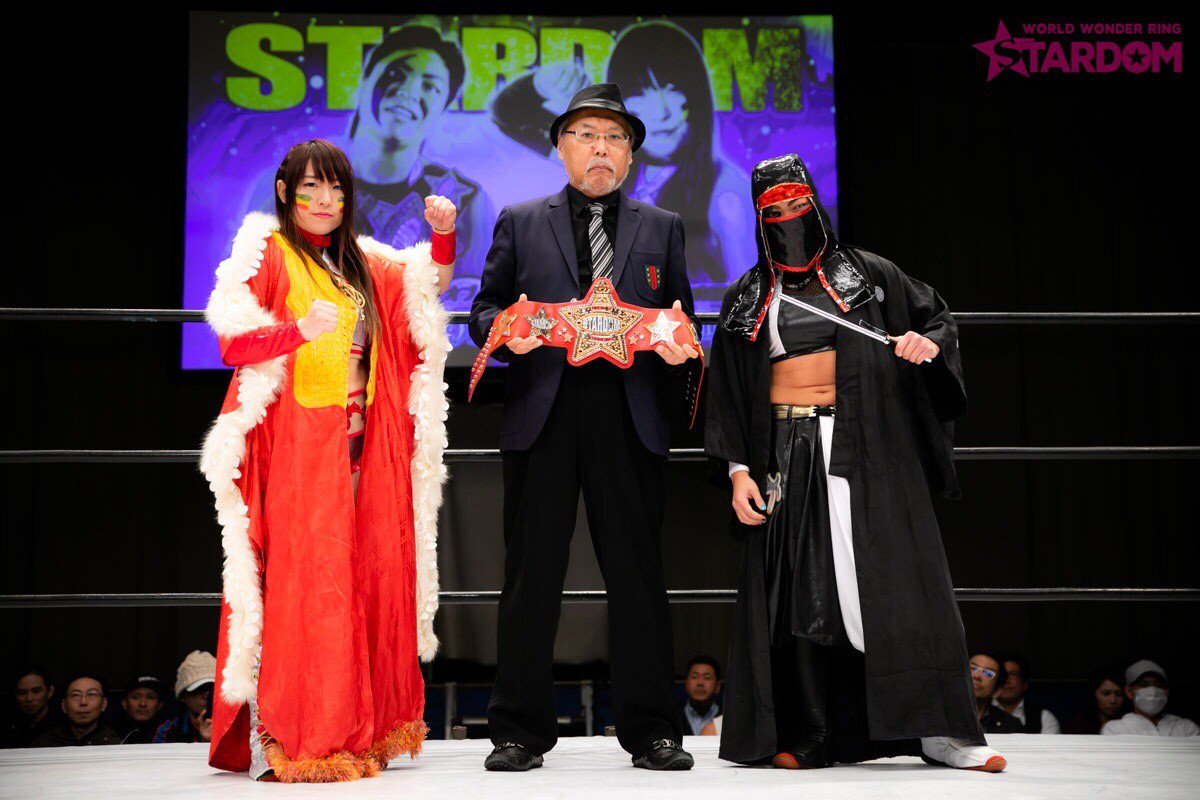 Stardom, the leader in Joshi wrestling, celebrates another year! Mathew brings us a breakdown of their anniversary show!
Welcome back as we adventure to Stardom for their eight-anniversary show!
Stardom has been around for about eight years now and they've been through so many changes from when they first started and they can only go up from here. We have some big matches planned for this show that you don't wanna miss and I'm excited to get right into it.
Will they start their anniversary show strong? Let's find out as we…dive right in.
Match Rating List
0 Stars: Dave Meltzer
1 Star: Vince Russo
2 Stars: Tony Schiavone
3 Stars: Eric Bischoff
4 Stars: Bruce Prichard
5 Stars: Jim Cornette
Singles Match
Natsuko Tora vs. Saya Iida
Review: Our opening match is a singles match between Natsuko Tora and the debut of Saya Iida. From the last show I covered, Saya came to the ring to challenge Natsuko to a match for this show in which she would accept. I don't have any info about Saya at this time but I do wish her luck here and excited to see what she'll do. Will Saya get a big win in her debut of does Natsuko defeat her?
For this match, I'm mostly focusing on Saya's abilities and how she faired in the ring since I didn't fully expect someone like another Utami to come in here to have a stellar match in her debut. How did Saya fair? I think she is so far better compared to the previous rookies we have currently outside of Utami since she pulled off stuff well when she needed to, she did fine selling and was just getting into the match. Natsuko is a great first opponent for someone like her since she is a solid worker to help work with the rookies in the promotion and made her look good in the match as well. Saya hits a few Dropkicks but Natsuko wouldn't bump them all as she landed on the ropes. Natsuko would try to get momentum back when she had Saya on her shoulders but Saya would get off to roll her up for a two count. Natsuko would miss a Splash off the second rope only for Saya to attempt a La Magistral but turned it into a different pin which looked different but not terrible. Natsuko would finally hit the Steamroller and a Splash off the top rope as she gets the victory.
After the match, Natsuko would congratulate Saya on her debut match as she said she will be a more complete wrestler in the future. Saya would thank her and promised the crowd that she would become a better wrestler as she requests to join JAN. Jungle Kyona would come into the ring and would quickly accept Saya as a new member of JAN. I think it's a good move for her and she can definitely learn from them. I wish her the best of luck on her new journey.
Now on https://t.co/q8dHnF58vW, Stardom's newest wrestler takes on the power of Natsuko Tora! It's the debut of Saya Iida! pic.twitter.com/E7TmCSWDLM

— We Are Stardom (@we_are_stardom) January 20, 2019
Rating: Tony Schiavone and three quarters
Gauntlet Tag Team Match
Alex Gracia & Starlight Kid vs. Hanan & Ruaka vs. Hina & Rina vs. Mary Apache & Natsumi
Review: Our next match is an elimination tag gauntlet as the participants consist of four teams and aside from Mary Apache and Starlight Kid, the rest of them are from the rookie class to give them a chance to try and showcase. As always, both teams will enter first and the next one will come out once one is eliminated. Which of these four teams will win it?
Our first two teams taking part in this match is Hina and Rina taking on Starlight Kid and Alex Gracia, so let's see how the sisters do against them. Hina and Rina are kind of showing a little bit of progress but are still very green and it shows in this match here. Starlight, of course, was the one to carry this part of the match and Alex didn't do a whole lot in the match just yet except for hitting a nice 619 on Rina. Starlight Kid would eventually hit the Rounding Frogsplash onto Rina to pin her as Mary Apache and Natsumi are next to come out. Alex and Mary had a fun little sequence to get the crowd into it before Alex would hit a nice Hurricanrana to get Mary down before having Starlight in the match with Natsumi. This part of the match was rather shorter than the previous one as Mary is in the ring with Alex again and Mary would Alex with a Lariat to eliminate her as Ruaka and Hanan are the final participants. Hanan doesn't last very long in the ring with Mary before she tagged Ruaka in to try and fight her off but doesn't really work as Mary hits a Rolling Senton onto her for a two count. Natsumi gets in the ring to apply the Paradise Lock before hitting a Double Stomp for another two count. Ruaka would try to fight her back with some forearms and tried to hit the Fisherman but Natsumi powered out of it and does a Frankensteiner to pin Ruaka and get the victory.
Rating: Tony Schiavone and a half
Six Man Tag Team Match
Oedo Tai (Hazuki, Jamie Hayter & Natsu Sumire) vs. Bobbi Tyler, Hana Kimura & Sadie Gibbs
Review: Our next match is our first six-man tag match of the evening with Oedo Tai members, Jamie Hayter, Natsu Sumire, and current High-Speed Champion, Hazuki take on Hana Kimura, Bobbi Tyler, and Sadie Gibbs. I'm sure Hana would like to get another shot at payback against Oedo Tai due to Jamie betraying her and the others. Will Hana's team get a victory or will Oedo Tai win this one?
I have no idea what the letters on Sumire's outfit mean on her outfit and since it is Sumire we're talking about, I'm kinda afraid to find out. Jamie would rush into her opponents to attack them before the bell would ring and the match starts to get underway. Jamie did take quite a beating early on in the match and it was expected since Hana wanted to get a little bit of retribution on her. Why is Hazuki so damn good? She keeps showing why she's great in that ring by being so damn consistent and able to work with just about anyone and give them a good match. Now that I saw more of both Bobbi and Sadie, I can safely say that I'm becoming fans of both these women after seeing their work in Stardom as they're a much better crop of gaijins compared to the ones they had last year. I thought it was a solid tag match with good enough wrestling from all six of these women, Hana is slowly starting to show off her character a little bit more here finally, Bobbi and Sadie are showing that they're wonderful additions to the roster, Sumire is Sumire, and Hazuki is still great. Most of the wrestlers are outside as Sadie does her dive to the outside, shades of Will Ospreay and gets the crowd into it before ducking Sumire's flogger. Sadie would hit a Twisting Moonsault on Sumire to get another victory and I'm getting a feeling that Stardom might have some plans for Sadie in the future with all these victories.
Now on https://t.co/q8dHnF58vW from Korakuen Hall! Oedo Tai take on Hana Kimura, Sadie Gibbs & Bobbi Tyler! pic.twitter.com/RkcAhbuxMX

— We Are Stardom (@we_are_stardom) January 23, 2019
Rating: Eric Bischoff and a quarter
Six Man Tag Team Match
STARS (Arisa Hoshiki, Mayu Iwatani & Saki Kashima) vs. Queen's Quest (AZM, Bea Priestley & Konami)
Review: We got another six-man tag match in the mix here as Queen's Quest members, AZM, Bea Priestley, and Konami take on STARS members, Arisa Hoshiki, Mayu Iwatani, and Saki Kashima. Last month, Mayu would have a small injury on her left leg that made her unable to compete for a short period of time but it looked like she was cleared to do this match. Not only is this Mayu's return match, but it is also her eight-year anniversary as a wrestler as well, so it's a big deal for her to be apart of his match. Do STARS win or will Queen's Quest reign supreme?
It looks like Bea finally changed her attire into something a little more badass and I gotta say that I'm digging the new look. Mayu, of course, will be starting it off and she would have a strong opening until she got kicked in the back as AZM would use this time to attack Mayu's injured leg to do some more damage to it for that little bit of heat from the crowd. I love how Bea was first one of my least favorites in the roster from 2018 to being someone that I wanna see more of in Stardom this year since she was made a lot of improvements in the ring as she's just more crisp with her delivery while adding some new stuff to her arsenal like a modified Bow and Arrow along with a Cross-armed Electric Chair onto Mayu. I got to see a little more of Arisa this time around not involved in a gauntlet match like the last time I saw her and I really love her kicks in the ring since she's very agile in the ring and makes them look vicious with the training she had recently.
I thought this was a much better tag match on this show and had fantastic delivery from all six of these women since they were able to tell a story in the ring, all of them doing enough to showcase to make a solid match. The selling with Mayu is still one of the best in the company with how she takes the moves and even her reactions while giving moves back in return when she had a little kick off with AZM, which Mayu won and fell down as she looked defeated despite kicking AZM out. AZM looked like she was going to make Mayu tap with the Fujiwara Armbar but Saki would break the hold before she hits a Springboard Bulldog onto both Konami and Bea to get them out of the ring and does a Splash to the outside. AZM went for a Wheel Barrel as Mayu caught her for a Dragon Sleeper which looked great and Mayu would hit the Moonsault off the top ropes, shades of her old finisher as she would pin AZM for the victory!
Rating: Eric Bischoff and three quarters
EVE International Title / SWA Undisputed World Women's Title Match
Viper (c) vs. Utami Hayashishita
Review: Our first of three title matches of the show as it's a battle between two Queen's Quest members, Viper and Utami Hayashishita. Utami claimed she wanted to go for all of the gold last month and she already has two titles under her belt with the Goddesses of Stardom and Future of Stardom Titles as she now challenged Viper for now just one, but two of her titles. Viper is currently the SWA Undisputed World Women's and EVE Internation Champion as she would gladly accept the challenge to her fellow member to see what the Super Rookie can do. Will Viper ruin Utami's goal or does Utami add two more belts into her collection?
The match went exactly how it needed to go, with Viper controlling most of the match due to her size while Utami struggles to try and lift her up for the Torture Rack. I know I talked about how Viper's matches are usually a hit and miss but this one was definitely a hit and possibly one of her best matches in Stardom since she just works so well with Utami and was able to showcase how good she is in the ring unlike when she fought the Hanan sisters. Utami I believe has solidified herself more like a star here in Stardom these past couple of months when she started going on this little crusade to win these championships to prove she is the new queen of Stardom. Viper would go on the attack for the majority of it with her Cannonballs which have proved to be pretty deadly to Utami as she does hit a couple of them in the match while Utami would keep failing to get the Torture Rack up on her.
When Utami eventually does pick her up, she would attempt the Reverse Steamroller to make it look a little sloppy but also expected due to Utami struggling to sell it, but at least she was finally able to lift her up for the time being. Utami gets hit with two more Cannonballs but she would kick out of them to keep the match alive. Viper goes to the top rope to hit the Splash but Utami rolls out of the way and quickly applies the Sleeper Hold to get here right where she wants her and she's not done as she would lift Viper up for the German Suplex Hold and would pin Viper to get the victory! Utami now officially has four titles under her belt and it looks like Stardom might actually go through with this plan of Utami All Belts for a little longer, but I do wonder what championship will she be eyeing next? My bet is the Artist of Stardom Titles next.
Rating: Bruce Prichard
Wonder of Stardom Title Match
Momo Watanabe (c) vs. Tam Nakano
Review: Our second title match is next as Momo Watanabe is set to defend the Wonder of Stardom Championship against Tam Nakano. This one has been a bit of a personal rivalry between the two as Tam looks like she's ready to show herself as a legitimate threat to Momo and to the rest of the Stardom roster with her new look and change in her persona a little bit. Momo looks like she might want to surpass Io Shirai's record for title defenses as this will be defense number eight and would be a bit closer towards that goal. Will Momo retain the title once again or will we finally have a new champion to dethrone the new ace?
The match would start with a little bit of a kickoff but the two evenly matched with the crowd giving them a round of applause. Momo would be the first one to take control of the match with Tam getting the underdog type of story treatment of this one and it makes sense since Momo has been on a roll lately by blowing away through most of her competition. Tam eventually got the upper hand on Momo when she would apply the Kneebar to weaken up her arsenal a little bit but Momo grabbed the ropes to break the hold. I thought this is probably Tam's best match in a while since she really stepped up her game these past few months and it shows right here how good she actually can be in the ring and in the top spot if they ever did give her a singles title run during her time there.
I think the last half of the match was the best part of it since it was more emotional between the two women and still evenly matched with a lot of close calls that it could go either way with one of them. When they were outside of the ring, Momo would attempt a Tequila Sunrise to the outside but Tam moved out of the way to hit a German Suplex outside of the ring and Momo went down. Momo would hit the Tequila Sunrise to top it off and she would quickly transition it to the Peach Sunrise to try and put Tam away with that instead of pinning her with just the one, but Tam would roll out of it to go for the pinfall and she almost got the win when Momo kicked out of it. Tam would kick Momo in the face and hits the Tiger Suplex as it looks like this could be it but Momo kicked out of it. Tam would bring Momo to the top rope to go for a Super Tiger Suplex but Momo would push her off and hits a Somato off the top rope for a two count! Momo would then pick Tam up for a Tequila Sunrise and Tam kicks out at two but Momo quickly picked her up for the Peach Sunrise and it connects this time as Momo retains the title in a great match!
After the match, Momo would give Tam some respect and also tell her that she's not on her level yet as she hopes Tam would get there soon so they could do this again. Tam would tell Momo that she won't give up on getting the white belt. Jamie Hayter and Sadie Gibbs would both come out to make a challenge to Momo and it looks like that Jamie will be taking on Momo next.
Now on https://t.co/q8dHnF58vW from Korakuen Hall! Momo Watanabe puts her Wonder of Stardom title on the line against challenger Tam Nakano! pic.twitter.com/Ptn7DMfA8B

— We Are Stardom (@we_are_stardom) January 24, 2019
Rating: Bruce Prichard and a quarter
World of Stardom Title Match
Kagetsu (c) vs. Jungle Kyona
Review: We're up to our main event now as Kagetsu is set to defend the World of Stardom Championship against Jungle Kyona. The two have reignited their rivalry during the 5 Star Grand Prix when they fought to a no contest due to the time limit, and then they would fight again in a Fatal Four Way where Jungle would actually get a victory over Kagetsu as she made a challenge to go for the title. This will be a big test for Kagetsu as she now has the main event with the title over anyone and has a big match to show she can be the main eventer when both red and white belts on the line. Will Kagetsu retain her title once again or will Kyona finally win the big one.
The match started off fairly even as the two would just start with chain wrestling in the ring and it has that nice little slow start in the beginning, which is fine since it'll pay off at the end of the match. Kyona started to get a little more momentum until Kagetsu would start with the heel tactics when she punched her in the gut with a pair of brass knuckles a couple of times before putting them away. Kagetsu would then pull the sleeve off of Kyona's arm to expose the injured elbow and she used this to start attacking her until Kyona rolled outside as Kagetsu would come out to attack her around the arena. The part did drag a little bit in my opinion but it also did the job when she slammed her elbow against the wall and does a Triangle Choke off the balcony to do more damage to Kyona's arm before getting her back into the ring. What I do love about this match is how Kyona sold the injury and used her emotions to tell the story in the ring, which Kyona can do great in if given the right opponent just like Kagetsu.
Jungle would try to get some momentum back as she attempts a Lariat as Kagetsu would hit her injured arm and instead of selling it more, she would unwrap the tape and hits another Lariat as it connected this time, causing Kagetsu to do a backflip from the power. Jungle would hit the Splash for a two count but KAgetsu would turn it around into a Kimura Lock as she locked it in tight as Kyona looked like she was going to tap out until she grabbed the ropes to break the hold. Kagetsu went to go for a Frankensteiner as Kyona caught her to drop her on her neck with a Powerbomb before picking her back up for a Sitout Powerbomb for a two count. Kyona would then try to go for the Jungle Bomb until she dropped Kagetsu as it appeared to spat green mist into her eyes when the referee wasn't looking and did it again before hitting the Michinoku Driver. Kagetsu would get to the top rope to hit the Oedo Coaster and instead of pinning her right then and there, she would pick her up for the Death Valley Driver and pins Kyona to get the victory in a great match!
After the match, Kagetsu told the crowd this was her sixth successful title defense and mocked Kyona asking if she really thought that she was going to wrestle a clean match from bell to bell and she called Hazuki into the ring now. Kagetsu announced that she would like to defend her title against her own Oedo Tai member next at the January 27th show as Hazuki would accept the challenge. I cannot wait for this match to go down.
Now on https://t.co/q8dHnF58vW! Kagetsu defends the World of Stardom title versus Jungle Kyona! pic.twitter.com/TcG8WVSkYQ

— We Are Stardom (@we_are_stardom) January 24, 2019
Rating: Bruce Prichard and a quarter
Overall: I thought it was a much better show compared to the last two I covered and it was exactly the show that needed to get them on the right track again. None of the matches were considered terrible, the six-man matches were fun, we had a successful debut, and three great title matches on top of it. Next show I'm gonna cover is the January 27th one which is also the 8th anniversary in Osaka. Be sure to look out for that one.
Favorite Match: Kagetsu vs. Jungle Kyona and Momo Watanabe vs. Tam Nakano
Least Favorite Match: Alex Gracia & Starlight Kid vs. Hanan & Ruaka vs. Hina & Rina vs. Mary Apache & Natsumi
Final Score: 8/10
Mitchell's NJPW WTL X Super Jr. Tag Results & Report! (11/27/22)
BOTH tournaments on one card!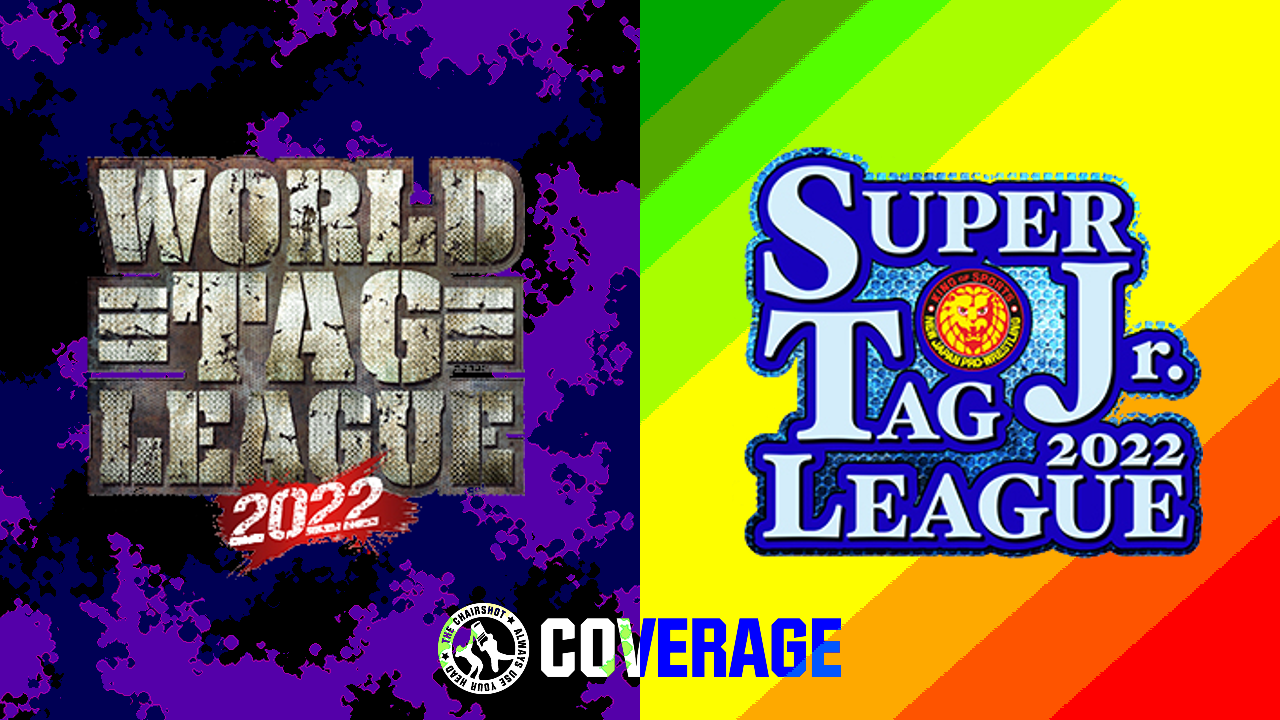 Double up the tag team action!
NJPW is going big with this crossover! Both World Tag League and Super Jr. Tag League are here for a massive match card!
OFFICIAL RESULTS
Super Jr. Tag League 2022

: KUSHIDA & Kevin Knight VS BUSHI & Titán; Bushi & Titán win.

World Tag League 2022

: Alex Coughlin & Gabriel Kidd VS Great-O-Khan & Aaron Henare; Khan & Henare win.

Super Jr. Tag League 2022

: Alex Zayne & El Lindaman VS SHO & Dick Togo; Zayne & Lindaman win.

World Tag League 2022

: Aussie Open VS Minoru Suzuki & Lance Archer; Aussie Open wins.

Super Jr. Tag League 2022

: Ryusuke Taguchi & Clark Connors VS Ace Austin & Chris Bey; Ace & Bey win.

World Tag League 2022

: Toru Yano & Hiroshi Tanahashi VS Bad Luck Fale & Chase Owens; Yano & Tanahashi win.

Super Jr. Tag League 2022

: YOH & Lio Rush VS DOUKI & Yoshinobu Kanemaru; Yoh & Lio win.

World Tag League 2022

: Shane Haste & Mikey Nicholls VS EVIL & Yujiro Takahashi; Shane & Mikey win.

Super Jr. Tag League 2022

: Robbie Eagles & Tiger Mask VS TJP & Francesco Akira; TJP & Akira win.

World Tag League 2022

: Hirooki Goto & YOSHI-HASHI VS Tetsuya Naito & SANADA; Goto & Hashi win.
PLAY BY PLAY
Here are the current
Super Jr. Tag League

standings!

Austin & Bey: 3-0, 6 points
Bushi & Titan: 2-1, 4 points
TJP & Akira: 2-1, 4 points
Zayne & Lindaman: 2-1, 4 points
Yoh & Lio: 2-1, 4 points
Eagles & Tiger Mask: 2-1, 4 points
KUSHIDA & Knight: 1-2, 2 points
Taguchi & Connors: 1-2, 2 points
Sho & Dick: 0-3, 0 points
Douki & Kanemaru: 0-3, 0 points
Here are the current
World Tag League

 standings!

Naito & Sanada: 2-0, 4 points
Suzuki & Archer: 2-0, 4 points
Aussie Open: 2-0, 4 points
Goto & Hashi: 1-1, 2 points
Khan & Henare: 1-1, 2 points
The Mighty: 1-1, 2 points
Chase & Fale: 1-1, 2 points
Yano & Tanahashi: 0-2, 0 points
Evil & Yujiro: 0-2, 0 points
Coughlin & Kidd: 0-2, 0 points
Super Jr. Tag League 2022: KUSHIDA & Kevin Knight VS BUSHI & Titán!
The #TimeJet is losing altitude, but the thing about time travel is that there's always time! Will they be able to get back up and get those points? Or will Black Mask & El Inmortal keep the momentum going with their "we just beat the champs" energy?
The teams sort out and fans can cheer! They rally as the two circle. Knight and Titan feel out a knuckle lock, then Knight taunts Titan with his height and reach advantage. So Titan SOBATS and puts Knight in a corner. Titan wrenches and whips corner to corner but Knight reverses. Knight runs in but Titan goes up and over and handsprings away! Fans cheer for the agility, and then he runs at Knight. Knight leaps up and over! Titan gets around, knuckle locks and CHOPS, then he goes up and up to tightrope walk and springboard, but into Knight's arms! Knight SLAMS Titan down!
Fans fire up as Knight BLASTS Bushi, then JUMPING SPLASHES Titan! Cover, TWO! Fans applaud and Knight brings Titan up to wrench. Tag to Kushida and fans cheer as Knight hands off the arm to an ELBOW BREAKER! Kushida drags Titan back up, wrenches and CLUBS the arm, then stalks Titan to ropes. Kushida whips Titan then hip tosses, to then cartwheel and dropkick! Cover, TWO as Titan slips out! Kushida watches Bushi closely as he wrenches Titan again. Tag to Kevin and Kevin takes the handoff. Knight wrenches the arm, tags to Kushida, and hands off the arm again. Kushida wrenches the arm then tags Knight.
Knight takes the handoff to wrench Titan, and then tags Kushida. Kushida goes up to drop an ax handle! Kushida brings Titan up and wrenches while Knight goes up. Fans rally as Kushida wrenches but Titan fights back. Kushida whips Titan corner to corner, but Titan goes up to CROSSBODY! But then Knight throws Titan down by his mask! Titan kips up and PELES Knight down! Titan hurries and tags in Bushi! Fans fire up and Bushi grinds his forearm into Kushida's face. The ref counts, Bushi lets off, and Bushi CHOPS! And CHOPS! Bushi pushes Kushida down, covers, ONE! Bushi calls Titan in and Titan stomps Kushida down.
LIJ put Kushida in a corner, whip corner to corner, then Bushi hits a back elbow. Bushi sets up, INMORTAL IN MOTION! Then a feed to a lift, MISSILE DROPKICK SPINEBUSTER! Cover, but Knight breaks it! Bushi drags Kushida up and fans rally. Bushi snapmares Kushida into a chinlock, and digs his knee into Kushida's back. Kushida endures but Bushi claws at Kushida's face! The ref reprimands, Bushi stops to wrap on a headscissor squeeze. Kushida endures and moves around, he gets the ROPEBREAK! Bushi lets off but he stomps Kushida down. Bushi drags Kushida up but Kushida KICKS Bushi's arm!
Kushida KICKS and KICKS, fans fire up and Kushida hits an ELBOW BREAKER on the arm! Titan tags in to stomp Kushida down! Titan snapmares and KICKS Kushida in the back! Fans fire up again as LIJ mug Kushida at the ropes. LIJ double whip but Kushida handsprings to DOUBLE BACK ELBOW! All three men are down and fans fire back up! Kushida rolls and hot tags Knight! Knight rallies with a SPLASH on Titan in one corner, SPLASH on Bushi in the other, then SPLASH on Titan! SPLASH for Bushi, but Titan BOOTS Knight! Titan goes up, but Knight DROPKICKS him down to the floor!
Fans fire up as Knight aims and PLANCHAS! Down goes Titan and Knight fires up! Fans rally as he drags Titan up and puts him in. Kushida Electric Chair Lifts, DROPKICK ELECTRIC CHAIR DROP! Cover, Bushi barrels in to break it! Fans rally up as all four men are down! Time Jet get up first, they whip Bushi to a corner, then Knight whips Kushida in. Bushi dodges Kushida, BOOTS Knight, then whips Kushida into Knight! Titan and Bushi knuckle lock so Titan can go up and up and tightrope walk to DOUBLE MISSILE DROPKICK! Fans fire up as Kushida spills out of the ring. Bushi builds speed and DIVES onto Kushida!
Fans fire up more as Titan brings Knight up. Knight fires off forearms and an uppercut! Knight runs, into a TORNADO DDT! Fans fire up more as Titan roars! Titan runs in to LOCO LARIAT! Bushi CODE BREAKERS! ANGEL INMORTAL!! Cover, LIJ wins!
Winners: Bushi & Titán, by pinfall (gain 2 points; Kushida & Knight earn 0)
Los Ingobernables de Japon continues on, but there's still a long way to go! Will Bushi & Titan keep up the pace to be a finalist? Has time run out for Kushida & Knight after all?
World Tag League 2022: Alex Coughlin & Gabriel Kidd VS Great-O-Khan & Aaron Henare!
The #MechanicalBulls have yet to put up points, while the Dominator & Ultimate Weapon made the Mighty fall. Will Coughlin & Kidd end up conquered? Or will they be defiant against the United Empire?
The Orchestrator, Gideon Grey, is of course here to give Khan & Henare their introductions. The teams sort out and Khan calls out Kidd. Kidd says alright and they start. They circle, fans rally, and the two feel out a grapple. Kidd facelocks, waistlocks, and keeps on top of Khan as he moves around. The two break and fans applaud. Kidd takes a crane stance to mock Khan, and they tie up again. Kidd powers Khan back but Khan pulls on an ear! Khan headlocks Kidd and grinds him down. Kidd endures, fights up, powers out and tags Coughlin. The Mechanical Bulls run Khan over, then split the wishbone!
Henare runs in but Coughlin kicks him first. Kidd knee lifts and Coughlin CHOPS Henare down! Kidd runs to SENTON, and fans fire up as Coughlin flexes. Coughlin drags Khan up to suplex and walk over to the corner! Tag to Kidd before the SLAM, and then Kidd stomps Khan down. Kidd mocks the Empire's pose, then hits a STANDING MOONSAULT! Cover, TWO! Kidd drags Khan up, but Khan shoots around to get a SLEEPER! But he also uses his ponytail! The ref reprimands, Coughlin shouts, "Stop choking him!" but Henare runs in to BLAST Coughlin off the apron! Khan holds on until the ref counts.
Kidd sputters while Henare ROCKS Coughlin on the outside. Khan ROCKS Kidd, CLUBS him to a corner, wrenches and CLUBS the arm, then knees low. Khan whips Kidd hard into the corner! Fans rally up as Khan bumps Kidd off buckles. Khan then sits on his throne! Fans applaud while Kidd sputters more. Khan pulls the arms back! The ref reprimands and counts, Khan hops down at 4. Tag to Henare and he drags Kidd up. Henare throws knees, snapmares and KICKS, then SENTONS! Fans rally up as Henare drags Kidd to a kneeling cover, TWO! Henare looms over Kidd, drags him back up, and KICKS him back down!
Henare drags Kidd up, tags in Khan, and Khan scoops Kidd to carry him around, before the SLAM! Kidd kneels for the cover, TWO! But then Khan DECKS Coughlin! Khan scuffs Kidd and kicks him around. Khan Mongolian Chops Kidd down! Fans fire up and Khan talks trash. Mongolian Chop! Kidd drops again but fans rally up. Khan stands Kidd up but Kidd blocks the chops! Khan tries to power Kidd down but Kidd powers back up! Fans fire up as the struggle back and forth continues! Kidd powers up and uses Tenzan Power Mongolian Chops! Fans fire up more as both men crawl! Hot tags to Henare and Coughlin!
The Android and Ultimate Weapon RAM shoulders, and they both roar! The forearms fly back and forth and fans fire up as they pick up speed! Henare roars and fires off a flurry! But Coughlin roars to knee low, UPPERCUT, and CHOP! Henare stays up so Coughlin whips him to the corner. Henare elbows him away, goes up and leaps, but into Coughlin's arms! OVERHEAD Belly2Belly! Fans fire up with Coughlin as he roars! Coughlin drags Henare for a short arm LARIAT! Cover, but Khan breaks it! Khan drags Coughlin up but Coughlin lifts Khan for a BIG back suplex! Coughlin shouts to Kidd, tags him in, and he whips Kidd in to clothesline Henare!
Coughlin whips Kidd back in to CHOP! Kidd hits an EXPLODER, Coughlin scoops Henare for a FALL AWAY SLAM! Kidd goes to the corner and goes up to MOONSAULT! Cover, TWO! Fans fire up with the Mechanical Bulls as they flex. They run in but Henare moves, the DOUBLE LARIATS take Kidd out! Khan wraps onto Coughlin with a HITSUJIGOROSHI! But Coughlin gets up and over to CHOP Khan on the back! Coughlin gut wrenches but Khan slips free to Mongolian Chop from behind! Khan scoops, Henare SCREW HIGH KICKS Coughlin before the TTD!! Khan steals the Tenzan Tombstone Driver!
The Empire roars and flexes now! Fans fire up for the "monster rage," but Kidd HEADBUTTS Henare! And HEADBUTTS again! But Henare body shots, ELBOWS, Kidd roars but the HEEL KICK hits! Then the RAMPAGE!! Cover, TWO!?!? Fans fire up as Kidd survives! Kidd dodges Henare, SUPERKICKS, and fires up! But Khan BOOTS him into the half nelson and torture rack! STREETS OF RAGE! Cover, The Empire wins!
Winners: Great-O-Khan & Aaron Henare, by pinfall (gain 2 points; Coughlin & Kidd earn 0)
The third time was not the charm for the Mechanical Bulls, and Khan wants the fans to cheer the Empire loudly! No, LOUDLY! The fans cheer more, and Khan promises that the entire United Empire will win tonight, from them to Catch 2/2 to Aussie Open! Will NJPW witness the full power of the United Empire here in Nagoya?
Super Jr. Tag League 2022: Alex Zayne & El Lindaman VS SHO & Dick Togo!
The #GLEATSAUCE burned the Wild Hips while the Murder Machine & Spoiler could not stop Ace & Bey. Will Zayne & Lindaman burn Sho & Dick with a fourth loss? Or can the House of Torture finally snatch one away?
But wait! Sho & Dick attack Zayne & Lindaman on the ramp! Sho and Lindaman brawl while Dick CLUBS Zayne up the ramp. Sho rakes Lindaman's eyes while Dick CHOKES Zayne! Then Sho & Dick mug Zayne, and hit a PILEDRIVER to the stage! Sho laughs at Zayne's pain while Dick CHOKES Lindaman! Sho disrespects the towel and the G-Rex title belt. Dick smacks Lindaman off the apron, then he and Sho whip Lindaman into railing! Sho puts Lindaman in the ring and the match finally begins. Dick stomps Lindaman, then Sho gets in so that they can both stomp. Fans boo and give thumbs down but Sho & Dick soak up the heat.
Dick & Sho drag Lindaman up, double whip him to ropes and then DOUBLE SPINEBUSTER! They hook up the legs, and sit Lindaman up for a DOUBLE KIMURA! The ref reprimands and counts, one of them is illegally in here. Sho & Dick let off, and Sho exits while Dick stomps Lindaman. Fans continue to boo but Dick drags Lindaman up to snapmare and FIST DROP! Cover, TWO! Fans rally but Dick wraps on a chinlock. Lindaman endures and fans rally. Lindaman fights up, throws elbows and gets free, but Dick reels him back in. Lindaman SAYANAGIS Dick down! Fans rally but Zayne is still down at the top of the ramp!
Dick drags Lindaman away, tags in Sho, and Sho stomps Lindaman. Sho gets the legs and brings Lindaman into a  BOW 'N' ARROW! Lindaman has the ROPEBREAK, but Dick slingshot sentons onto him! Fans boo as Sho brings Lindaman up for a POWER BREAKER! Cover, TWO!! Lindaman survives and fans fire up! But Sho laughs at Lindaman's pain and aims his bow. Sho drags Lindaman up and reels him in to tuck the arms. SHOCK- NO, Lindaman fights free with a back drop! Fans fire up as Zayne returns! But Dick trips Zayne off the apron! Fans boo but Sho drags Lindaman back into a POP-UP ARMBAR!
Lindaman moves around, but into the SNAKE BITE! Lindaman fades but fans fire up as Zayne gets in! Zayne stomps Sho down! Dick throws Zayne back out and Sho tags him in. Dick storms up to Lindaman, stomps him, then drags him up. Lindaman throws forearms and knees in return! Lindaman CHOPS Dick in the corner but Dick rakes the eyes! Dick argues with the ref to distract from Sho bringing in his wrench! Lindaman dodges and Zayne BOOTS Sho! Dick goes after Zayne, he and Sho double whip. But Zayne breaks the clothesline to DOUBLE RANA! Zayne schoolboys Sho and EDDY GORDO KICKS!
Zayne fires off elbows and a mule kick, then runs, but Dick gets a cheap shot in! Sho clotheslines Zayne and himself out! Dick CLBOBERS Lindaman! Dick reels Lindaman in but Lindaman fights the Pedigree! Dick CLUBS Lindaman, but runs into an EXPLODER! Fans fire up and rally for Lindaman. Lindaman fires up and he brings Dick up into a waistlock. But Dick victory rolls! TWO, Dick ghost pins! TWO, into the CROSSFACE! Lindaman endures being bent back while Sho sends Zayne into railing! Lindaman crawls his way over, but Sho grabs Lindaman's hand to bend the fingers! The ref reprimands and Sho lets go, but Dick rolls Lindaman away!
But Lindaman rolls it around to a cover! TWO!! Dick staggers up, Lindaman shoves him into Sho! GERMAN SUPLEX! Bridging cover, GLEAT SAUCE WINS!
Winners: Alex Zayne & El Lindaman, by pinfall (gain 2 points; Sho & Dick earn 0)
The House of Torture tried to take advantage but couldn't capitalize! Are Sho & Dick doomed? As for Zayne & Lindaman, will they keep turning up to heat to eat up the rest of the block?
World Tag League 2022: Aussie Open VS Minoru Suzuki & Lance Archer!
Mark Davis & Kyle Fletcher won big in their first World Tag League tournament main event while the Meanest Team in the Tournament tore down Yano & Tanahashi. Will "Dunk-Zilla" and "The Aussie Arrow" stay spotless? Or will they learn that #EverybodyDies makes no exceptions?
Fans clap along and are ready, they sing nice and loud, "KAZE NI NARE~!" Gideon returns but is a bit wary of Suzuki & Archer. Young Lion Oskar Leube has to fetch the mic for Gideon so he can give Aussie Open their introductions. Suzuki gives some toying kicks as Aussie Open get in the ring but Fletcher shoves Suzuki back! The ref keeps the peace and teams sort out. Fans fire up as the big men start! Archer and Davis circle, but Archer steps outside as fans cheer for Aussie Open. Davis steps outside, too, and they RAM shoulders! Both men stay standing, so they go around the way and run in, to RAM shoulders again!
Neither man falls, so they go into the ring. Archer runs, Davis drops but the hip toss is blocked! Archer blocks Davis' hip toss, but Davis blocks Archer's hip toss. Davis ducks Archer's lariat, then leaps over him! Archer scoops, Davis slips off, but Archer avoids the boot! Fans cheer that exchange, and Archer offers a fist bump. Davis isn't sure about that, so he just kicks and fires off forearms! Davis whips, Archer ducks 'n' dodges to CROSSBODY! Fans fire up as Archer laughs! Davis hurries away to his corner and Archer goes to his. Suzuki tags in so fans want to see Kyle! Davis stands up to tag Kyle, and fans rally as the two step to each other.
The two stare down, Suzuki pie faces Kyle but Kyle shoves him back. Kyle talks trash but Suzuki eggs him on. Kyle CHOPS, but Suzuki doesn't flinch. Fans fire up and Archer says Kyle F'd up now! Kyle eggs Suzuki on, and Suzuki CHOPS! Kyle drops to take a seat! Suzuki storms up on Kyle as he goes to ropes but the ref has Suzuki back down. Kyle stands back up and brushes himself off. Fans rally up and Suzuki wrenches an arm. Kyle wrenches back, wristlocks, but Suzuki kicks and wrenches. Kyle wrenches back again, but Suzuki wrenches him. Suzuki wrenches the other arm and steps through ropes to HOTSHOT the arm!
Kyle swings back but into a HANGING ARMBAR! Archer BLASTS Davis while the ref counts! Suzuki lets go at 4, he drags Kyle out, and Suzuki-Gun sends Aussie Open into railing! Suzuki twists Kyle's arm with a KIMURA! Kyle kicks and flails, he can't get out of it on the floor! Suzuki lets go to kick Kyle around while Archer stomps Davis against railing. Suzuki KNEES Kyle down, then bends him back against railing! Kyle claws at Suzuki but can't get him to let go. Suzuki ELBOWS Kyle down, then he goes to the ring. Tag to Archer and Archer fetches Kyle. Archer brings Kyle around to CHOKE in front of the timekeeper's area!
Archer SMACKS Kyle off the bell! Archer puts Kyle in the ring, taunts him over how Davis is still down, then Archer brings Kyle up for a short arm LARIAT! Tag to Suzuki and he puts on an ARMBAR! Kyle flails and kicks around, reaches out desperately, and finally has the ROPEBREAK! Suzuki lets off quickly to tag Archer back in. Archer puts Kyle in the corner, laughs at him, then runs corner to corner and back again for a BIG back elbow! He keeps moving, another back elbow! And then again, but Kyle dodges! Fans rally as Kyle crawls to the corner. Davis is back, but Archer keeps Kyle from him.
Kyle fires off forearms but Archer choke grips! Kyle breaks free, dodges, and SUPERKICKS! Archer drops to a knee and fans rally up. Hot tag to Davis! Davis breaks through the clothesline to BLAST Suzuki! Archer runs in and he blocks the boot, only for Davis to dodge the clothesline. Davis CHOP LARIATS in return! And again! And again! Fans fire up with Davis as he whips Archer to ropes. Archer reverses, Davis handsprings and ENZIGURIS! Davis roars, runs side to side, and SLIDING FOREARMS! Cover, TWO! Davis snarls and fireman's carries, and he manages to lift Archer! But Archer slips off, shoves, only for Davis to dodge!
Davis clotheslines Archer up and out of the ring! Fans fire up as Davis goes out and picks up a Young Lion! Davis runs with Ryohei Oiwa and Kyle has Yuto Nakashima! They SANDWICH Archer with the Young Lions! Fans fire up as Davis puts Archer in the ring. Tag to Fletcher, Aussie Open picks Archer up! But Suzuki clamps a SLEEPER on Kyle! Archer powers out to FULL NELSON SLAM Davis! Suzuki whips Kyle to a corner, runs in and BOOTS! Archer back elbows! Snapmare, PENALTY KICK, SPLASH! Cover, TWO! Tag to Suzuki and he runs at Kyle in the corner, another BOOT! Snapmare and PENALTY feint as Kyle covers up!
Suzuki waits for Kyle to literally let his guard down, and then he KICKS him down! Cover, TWO! Suzuki rallies the fans and he brings Kyle up. Kyle fires a forearm but Suzuki just grins and laughs. Suzuki ROCKS Kyle, stalks him, and eggs him on. Fans rally, Kyle stands back up, and Kyle ROCKS Suzuki! Kyle eggs Suzuki on so Suzuki ROCKS Kyle! Kyle fumes and fires up to ROCK Suzuki! The forearms go back and forth, faster and faster, and Kyle gets the edge! Kyle roars, but Suzuki DECKS him! Fans fire up with Suzuki and he drags Kyle up into a SLEEPER! Kyle is fading already, but Suzuki spins him to reel him in!
Suzuki Gotch lifts but Kyle powers out with a back drop! Davis triangle jump DROPKICKS Archer! Kyle runs to GAMANGIRI Suzuki in the corner, then suplexes for a BRAINBUSTER! Cover, TWO!! Fans rally up and Davis joins Kyle. Aussie Open hook Suzuki up, but Archer brings Davis away! Archer stomps a mudhole into Davis at the corner while Suzuki kicks Kyle's legs out, for a SLEEPER! Kyle is fading, Suzuki spins him around! Archer brings Davis up, too, but Davis slips off! Davis shoves Archer into Suzuki! BOOT and fireman's carry, POP-UP ROUNDHOUSE! Suzuki kicks Davis, CHOPS Kyle, and then fires off more CHOPS!
Fans rally as Suzuki CHOPS Aussie Open to their knees! Kyle blocks a chop, he and Davis double wrench to DOUBLE FOREARM! Kyle runs, LARIAT! But Suzuki stays up on rage alone! Kyle runs again but Suzuki ducks the lariat, only for Davis to LARIAT! But Suzuki still stays up! Suzuki roars, so Aussie Open LARIAT SANDWICHES him! Aussie Open hauls Suzuki up, COREALIS!! Cover, Aussie Open wins!!
Winners: Aussie Open, by pinfall (gain 2 points; Suzuki & Archer earn 0)
Maybe everybody dies, but Aussie Open is still alive! And they're still undefeated in World Tag League! Will Davis & Fletcher truly be the future of tag team wrestling?
Super Jr. Tag League 2022: Ryusuke Taguchi & Clark Connors VS Ace Austin & Chris Bey!
The Wild Hips got burned by The Sauce & G-Rex, and now they go up against the hot hand of the #InevitableFinesse! Will Taguchi & Connors turn the fourth round into good luck? Or will Ace & Bey continue to have an impact in the league?
Bullet Club Too Sweets, and the Wild Hips present two beers! Bey & Ace want some, so Connors brings out a few more! But they're a bit wet, so he and Taguchi wipe them off on their butts! Ace slaps the beers away, he and Bey don't want those anymore. Taguchi & Connors crack open theirs and have a drink, but then Ace & Bey attack! But Connors & Taguchi don't drop the beers! The bell rings, Ace & Bey whip Taguchi & Connors at each other, but they do-si-do with the beer! "Cheers!" and they cross-arm chug! Fans applaud but then Ace & Bey rush in again! Taguchi HIP ATTACKS Ace down while Connors just knees Bey away.
Taguchi and Connors chug while they WHIP HIP Ace! And WHIP HIP Bey! And then back to Ace! And then Taguchi whips Connors to HIP ATTACK Bey! Another WHIP HIP for Ace! Fans fire up as Wild Hips hip bump and never waste a drop! They finish chugging, and then Connors brings Ace up. Connors uppercuts Ace, whips him to ropes, but Ace holds ropes. Connors blocks the boot, flips Ace to the apron and ROCKS him! Fans rally as Connors runs Around the World, but Ace KNEES Connors first! Connors swipes but Ace handsprings around to PENALTY KICK Connors! Ace DECKS Taguchi and coordinates with Bey!
Bey builds speed, TOO SWEET CONJILO! Fans fire up as Bullet Club poses. Bey puts Connors in for Ace to stomp around. Ace stomps Connors, then hip drops the arm! Ace has the mounted armbar, and he brings out the ace up his sleeve! PAPER CUT! Ace hides the card, Bey says shush, it's a secret. Ace drags Connors up but Connors CHOPS! But that was the cut hand! Connors clutches his hand and Ace CLUBS him down. Ace stomps Connors down and digs his boot in. He lets off as the ref counts, then he tags Bey. Ace hooks Connors up, Bey runs, SWEEP KICK RUSSIAN LEG SWEEP COMBO! And then STANDING MOONSAULT LEG DROP COMBO! Cover, TWO!
Fans rally up while Bey swaggers around. Bey basement boots Connors, then UPPERCUTS him in the back! Cover, TWO! Fans fire up and Bey drags Connors up. Bey whips Connors to a corner, runs corner to corner, STINGER SPLASH! Bey brings Connors out to DISCUS HAYMAKER! Cocky cover, ONE! Bey cravats Connors to keep him down but Connors endures. Bey leans all his weight and even headstands, but the fans rally up. Connors fights up, throws body shots, but Bey KNEES him back! Bey runs at the ropes but Connors puts him on the apron. Bey hooks Connors up to keep him from Taguchi!
Bey KNEES Connors, slingshots up and over, and things speed up, Connors POUNCES Bey!! Both men are down and fans fire up again. Connors and Bey crawl, hot tags to Ace and Taguchi! Ace dodges to kick low and CHOP! Ace whips but Taguchi reverses to HIP ATTACK! Fans fire up again as Taguchi HIP ATTACKS at the ropes! And again! And then baseball slide to APRON HIP! Cover, TWO! Taguchi drags Ace up but Ace swings, into a back suplex! Ace lands on his feet to waistlock but Taguchi switches. Ace elbows free, runs, but Taguchi follows. HIP- NO, Ace turns that into an atomic drop! Taguchi hobbles and Ace says TOO SWEET YEARS OF DEATH!
But wait, Ace's hand gets stuck! Taguchi's iron cheeks clamp on! Fans fire up and Taguchi hops around, bringing Ace with him. Connors is in, he fires up, and he SPEARS Ace down! Fans fire up more as the Wild Hips combine their powers! "ORYA~!" CROSS HIPS!! Cover, but Bey breaks it! Bey SUPERMAN PUNCHES Connors, but Connors UPPERCUTS Bey! Then POUNCE HIP- NO, Bey dropkicks Taguchi out of the air! Ace HEEL KICKS Connors out of the ring! And then builds speed to hit the FLOP! Direct hit at the ramp! Fans fire up as Ace hurries to get on the apron. Triangle jump ENZIGURI!
Bey tags in, ONE TWO SWEET CUTTER!! And THE FOLD!! Cover, Bullet Club wins!
Winners: Ace Austin & Chris Bey, by pinfall (gain 2 points; Wild Hips earn 0)
And that's four in a row! Ace & Bey keep on going, is it truly inevitable that they will take the trophies?
World Tag League 2022: Toru Yano & Hiroshi Tanahashi VS Bad Luck Fale & Chase Owens!
The Joker & The Ace could not survive Suzuki-Gun while The General's Jewels blew up the House of Torture! Will Fale & Chase set off another Grenade? Or will Yano & Tanahashi make it a dud?
Yano & Tanahashi keep up the high school bad boy act. They squat, then show off the "SUGOI" muscles of Tanahashi. Bullet Club Too Sweets, then they squat. Yano & Tanahashi squat and then Bullet Club attacks! Chase throws Yano out, then he and Fale stomp Tanahashi! The bell rings, Bullet Club mugs Tanahashi, but fans rally up for The Ace. Chase whips Tanahashi to the corner, runs in but Tanahashi dodges! Tanahashi dropkicks Fale's leg, then blocks Chase's kick to DRAGON SCREW! Fans fire up as Tanahashi tries to scoop Fale! But Fale's too big! Fale CLUBS Tanahashi, scoops him, but Tanahashi slips free!
Tanahashi fires off fast hands, runs, but Fale runs him over! Fale drags Tanahashi to ropes, tags in Chase, and then Bullet Club stands on Tanahashi's back! The ref reprimands but they salute before stepping away. Fans rally for Tanahashi but Chase drags Tanahashi up. Chase bumps Tanahashi off buckles, tags in Fale, and then whips Tanahashi. Body shot, knee lift, LARIAT! Fale covers, but Yano breaks it! Chase sends Yano out and Fale tags him in. Chase drags Tanahashi up but Tanahashi forearms back. Chase BELL CLAPS Tanahashi, then throws him down by his hair! Chase has Tanahashi's head between his feet, to NECK TWEAK as he falls back! Cover, TWO!
Chase drags Tanahashi up, bumps him off buckles, and tags in Fale. Fale whips Chase in, Chase forearm smashes then Fale SPLASHES! Fale scoops and SLAMS Fale, then Chase climbs up. But Yano hurries over to spray Chase with his cleaning product! Fale CLOBBERS Yano for that, ROCKS him and scoops him, to SLAM him! Fale runs but Yano avoids the elbow drop! Chase CLUBS Yano, ROCKS him, then ROCKS him again. Fale stomps Tanahashi, then he and Chase both whip Tanahashi and Yano. But Tanahashi & Yano hold the ropes! They taunt Bullet Club, then get around them to RAM them into each other!
DOUBLE LOW- NO, Chase & Fale each catch Yano! The ref reprimands, but Tanahashi DOUBLE LOW BLOWS! Roll-up on Fale, Tanahashi & Yano win!!
Winners: Toru Yano & Hiroshi Tanahashi, by pinfall (gain 2 points; Fale & Chase earn 0)
The Once in a Century Talent has learned much from the Producer! And with that, they're finally on the board! Will The Joker & The Ace be able to pull off a late round comeback?
Super Jr. Tag League 2022: YOH & Lio Rush VS DOUKI & Yoshinobu Kanemaru!
The Men of the Hour are just outside the top spot while Japones del Mal & The Heel Master are lagging behind. Will Yoh & Lio keep up the momentum? Or will Douki & Kanemaru start playing spoiler?
As soon as the introductions are over, Douki & Kanemaru attack! Kanemaru is after Lio while Douki throws Yoh out. The bell rings and Kanemaru stomps a mudhole into Lio. Douki goes out after Yoh and CLUBS him while Kanemaru bumps Lio off buckles. Kanemaru whips Lio corner to corner, but Lio goes up and over and runs. Lio redirects himself, and again, then slides under the boot to SPRINGBOARD RANA! Fans fire up, but Douki kicks and CLUBS Lio! Yoh gets in, Douki kicks him. Douki runs but Lio and Yoh both handspring to dodge! They mule kick, front kick and ENZIGURI Douki, into a NECKBREAKER from Yoh!
Fans fire up while Douki bails out. Lio HANDSPRING KICKS Kanemaru off the apron, then builds speed with Yoh. But Douki & Kanemaru get in to dropkick their legs out! Douki kicks Yoh out of the ring and then whips him into railing! Kanemaru brings Lio up to whip, and dropkick the legs out again! Kanemaru SMASHES the knee on the mat, then tags in Douki. Lio hobbles and falls, Douki drags him back to drop an elbow on the leg! Douki has a toehold but Lio endures. Douki drags Lio over to put the leg on ropes and HIP DROP it! Lio clutches his leg but Douki stomps him. Douki distracts the ref so Kanemaru can CLUB the leg on the apron!
Kanemaru tags in with the ref none the wiser. Fans rally as Lio gets back in the ring, and Kanemaru stomps Lio down. Kanemaru BOOTS Yoh for good measure, then throws Lio out. Kanemaru distracts the ref so Douki can SMASH the knee on the floor! Douki then drags Lio up to put him in for Kanemaru to cover, TWO! Fans rally up but Kanemaru stomps Lio down. Kanemaru stalks Lio, stomps him around, but fans rally for "LI-O RUSH! LI-O RUSH!" Lio kicks, Kanemaru blocks it, and he keeps Lio from Yoh to flip Lio! Lio lands on his feet, but his leg jams! Douki grabs at Lio but Lio elbows him away.
Kanemaru runs in but Lio BOOTS him away. Kanemaru runs back in, Lio slips under, but Kanemaru grabs a leg! Kanemaru drags Lio away from Yoh, but Lio hops up to ENZIGURI! Hot tag to Yoh! Fans fire up as Direct Drive rallies on Suzuki-Gun! Yoh dodges Kanemaru, dodges again, and FLYING FOREARMS! Fans rally as Yoh brings Kanemaru up again. Yoh scoops, SLAMS, and climbs up the corner for a TWISTING SENTON! Cover, TWO! Fans fire up with Yoh as he drags Kanemaru up. Yoh reels Kanemaru in and suplexes, but Kanemaru slips out to waistlock. Yoh elbows free, runs, but into a dropkick to the legs!
Kanemaru drags Yoh around, steps through, and has the FIGURE FOUR! Douki intercepts Lio, throws him back out, then goes out after him. Kanemaru thrashes but Yoh endures the hold! Yoh reaches out, tries to turn Kanemaru over, but Kanemaru blocks it. Yoh drags himself and Kanemaru over, to get the ROPEBREAK! Fans cheer and Kanemaru lets go as the ref pries at the hold. Kanemaru stomps Yoh's leg, then drags him up, SHIN BREAKER! Kanemaru kicks the leg, runs again, but Yoh scoops! But Kanemaru slips through! Yoh reel shim back in to FALCON ARROW! Both men are down and fans fire up!
Yoh and Kanemaru crawl as the fans rally up. Hot tags to Douki and Lio! Lio blocks a kick to fire off palm strikes and an uppercut! Lio runs, but Douki follows, only for Lio to duck under and send Douki out! Lio DIVES and Douki is sent into barriers! Fans fire up as Lio puts Douki back in. Lio rallies the fans as he pounds the mat. Lio then runs to springboard, but Douki blocks Rush Hour! Douki waistlocks, Lio switches but Douki elbows free! Douki kicks and ENZIGURIS! Douki runs, and LARIATS Lio inside out! Douki DECKS Yoh for good measure and Kanemaru gets in. Kanemaru runs to UPPERCUT in the corner!
Douki climbs, Kanemaru scoops, BRITISH FALL to DIVING DOUBLE STOMPS! Cover, TWO, but into ITALIAN STRETCH #32! Lio endures and fights to his feet, and he moves around, only for Douki to drag him down and roll away from the ropes! ITALIAN STRETCH! But Yoh stomps Douki down! Douki HELL STABS Yoh in return! Fans rally as Douki aims at Lio from the apron. Slingshot, DAYBREAK!! Cover, TWO!?! Kanemaru sends Yoh into railing while Douki fires back up! Douki brings Lio around, wheelbarrows, SUPLEX DE- NO, Lio fights off the full nelson! Lio switches and feeds Douki to Yoh's JUMP KNEE!
Yoh roars, runs, but Douki uses the ref as a shield! ENZIGURI! Fans fire up as Douki goes back for Lio. Kanemaru has his whiskey and tags a swig! Douki brings Lio over, but Lio ducks! The WHISKEY MIST hits Douki! Yoh SUPERKICKS Kanemaru down! And then Yoh SUPERKICKS Douki! Lio fires up, runs, springboards, RUSH HOUR!! Yoh PLANCHAS Kanemaru! Lio hurries up top, for the FINAL HOUR!! Cover, the Men of the Hour win!
Winners: Yoh & Lio Rush, by pinfall (gain 2 points; Douki & Kanemaru earn 0)
The Heel Master trying to tip the scales ended up messing them up! Kanemaru & Douki are 0-4, will they be drinking to forget? As for Lio & Yoh, they're building up speed at just the right time, will they take over Super Jr. Tag League?
World Tag League 2022: Shane Haste & Mikey Nicholls VS EVIL & Yujiro Takahashi!
The Mighty Don't Kneel, but they fell to the United Empire, and the House of Torture could not beat Bad Luck. Who will have better luck here in the third round?
But as The Mighty make their entrance, SHO & DICK attack from behind! The House of Torture is stacking the deck right from the start! Fans boo as the House of Torture mug the Mighty! The ref reprimands but the match hasn't started so no one can be disqualified yet. Evil smacks Shane off the apron, then smacks him off it again before putting Shane in the ring. The bell rings and Evil uses the Mighty's towel to CHOKE Shane! Dick & Sho distracts the ref, but the ref finally sees that and counts. Evil lets off at 4, then kicks Shane around. Evil runs, but Shane UPPERCUTS! Shane snapmares and basement dropkicks!
Fans fire up and Shane throws his shirt at Evil. Shane stomps Evil, KICKS him around, then KICKS him more! Shane BOOTS Evil, reels him into a clinch, but Evil grabs at the ref! Evil then switches with Shane to RAM him into the ref! The ref falls out of the ring, fans boo, but Yujiro BLASTS Mikey off the apron! Evil throws Shane out, Sho goes after Mikey and rakes the eyes! Sho and Yujiro mug Mikey and go out into the crowd while Evil and Dick mug Shane and go up the ramp. Evil CLAWS Shane's back, fans boo more, but Evil lines Shane up for Dick to JAM in the ribs with a chair! Yujiro does the same to Mickey!
Fans tell Dick & Sho to go away but Dick just soaks up the heat. Evil suplexes Shane to the ramp! Evil grins and he looms over Shane. Evil scuffs Shane, drags him up, and even Dick helps bring Shane over to the ring. Shane fights back but Evil rakes his eyes! Fans rally as Evil puts Shane in and the House of Torture surrounds him. They all stomp away on Shane! Fans boo even harder but Evil just laughs. The House of Torture "put one out" on Shane, and then Sho drags the ref up. But Mikey goes after Sho! Sho rakes Mikey's eyes! The ref is back in the ring, Evil claws Shane's eyes again, then covers. ONE!!
Fans applaud as Shane refuses to go down easy. Yujiro tags in and he kicks Shane low. Yujiro kicks, snapmares, and drops a leg! And then an elbow! And then a headbutt! Cover, TWO! Evil is frustrated but fans fire up as Shane stays in this. Yujiro drags Shane up, bumps him off buckles, then tags in Evil. Shane hits back but Evil smothers him in the corner. The ref reprimands, Evil lets off and CHOPS! Fans rally and Shane hits back again, but Evil CHOPS again! Shane throws a forearm, but Evil pushes Shane back. Yujiro holds onto Shane and Evil winds up, but he CLAWS Shane's face! Fans boo again and the ref reprimands.
Evil lets off, then dares Mikey to get in and hit him. The ref keeps Mikey back, Evil puts Shane in a corner and tags Yujiro. Yujiro storms up to Shane, snapmares and basement BOOTS! Cover, TWO! Fans rally up but Yujiro kicks at Shane. Yujiro pie faces Shane but Shane throws body shots! Fans rally up and Shane throws more shots, but Yujiro kicks low. Yujiro runs, but Shane deflects the boot to UPPERCUT Yujiro down! Fans fire up as Shane crawls over, hot tag to Mikey! Mikey rallies on the Tokyo Pimp with lariats, then whips him to a corner for a clothesline! Mikey whips, Yujiro gets around and ducks an elbow, but right into a DDT!
Fans fire up and Mikey BLASTS Evil! Mikey fires up, runs corner to corner and clotheslines Yujiro! He whips corner to corner to clothesline again! Evil runs in but Mikey dodges, and Evil's clothesline hits Yujiro! Mikey whips Evil but Evil reverses, only for Mikey to come back and DOUBLE LARIAT Evil & Yujiro! Fans fire up again as Mikey roars! Mikey drags Yujiro up, reels him in, but Yujiro wrenches out and BITES Mikey's hand! The ref reprimands but Mikey kicks Yujiro. Mikey runs but Sho trips him up! Fans boo but Yujiro BOOTS Mikey down! Shane gets in but Yujiro blocks the kick and claws the eyes!
Yujiro throws Shane down and runs to basement BOOT! Evil digs his knee into Mikey's head at the corner, then he and Yujiro double whip corner to corner. Yujiro runs in to BOOT, Evil runs in to clothesline! Evil then hits a FISHERMAN BUSTER! Yujiro basement BOOTS again! Cover, TWO! Mikey is still in this and Sho is furious! Sho argues with the ref, but this outrage is just so Dick can use the SPOILER CHOKER on Mikey! Fans boo as Mikey endures, but then Shane whips Evil into railing! Shane BOOTS Yujiro, then sends Dick out! Shane BLASTS Sho, but Yujiro waistlocks. Shane switches, Mikey rushes over, HIGH LOW ROCK 'N' ROLL!
Evil runs in but Mikey gets around him to waistlock, BACK SUPLEX NECKBREAKER COMBO! Fans fire up with The Mighty as they roar! Shane and Mikey drag Yujiro up, trophy lift, THUNDER VALLEY!! Cover, The Mighty win!!
Winners: Shane Haste & Mikey Nicholls, by pinfall (gain 2 points; Evil & Yujiro earn 0)
They were battling the House of Torture 4v2 the entire time, and they still won! Will Shane & Mikey make a mighty comeback? Should the King of Darkness and team just admit that not Everything Is Evil?
Super Jr. Tag League 2022: Robbie Eagles & Tiger Mask VS TJP & Francesco Akira!
The Flying Tigers are back up are shooting down Suzuki-Gun, but Catch 2/2 is stinging from their first loss! Will Eagles & Tiger pile on? Or can the Public Enemy & Nova Fireball redeem themselves?
Oh look, Gideon Grey is back. He gives the IWGP Junior Heavyweight Tag Team Champions their introductions, as well as one for Red Shoes. Gideon makes a bit of fun of Tiger Mask, and then Catch 2/2 attack with dropkicks! The bell rings as Gideon bails out. Catch 2/2 double whip Eagles but he reverses to send TJP away. Eagles CHOPS Akira, then sends TJP into him to knock him down! Then Eagles dodges TJP's clothesline to mule kick a leg out. Eagles runs, DOUBLE SLIDING LARIAT! Fans fire up while Catch 2/2 bails out. Tiger & Eagles build speed, they DOUBLE DIVE! Down go the champs and fans fire up!
Eagles & Tiger drag Akira up and put him in. Fans chant along with "ROBBIE ROBBIE ROBBIE!" "OI OI OI!" Eagles brings Akira around to whip him into the corner, and then Flying Tigers DOUBLE KICK Akira! TJP rushes in but Eagles blocks a kick and hooks him up to TURBO BACKPACK! Cover, Akira breaks it! Tiger throws Akira out, Eagles CLUBS TJP to a corner, and throws some forearms. Flying Tigers kick, KICK, but TJP moves and the SUPERKICK hits Tiger! Eagles brings TJP up to whip but TJP goes up and over. Akira returns, TJP helps him to RAILGUN DROPKICK Eagles!
Fans fire up, Akira runs and wheelbarrows with TJP to BOOSTED CODE BREAKER Eagles! TJP runs to LARIAT Eagles down! Cover, TWO! Eagles survives but Akira dropkicks Tiger out of the ring. Catch 2/2 double whip and double hip toss into the POWERBOMB NECKBREAKER COMBO! Cover, but Tiger breaks it! Akira kicks Tiger back out, then TJP drags Eagles up. TJP bumps Eagles off buckles, then sits him down to dig his boot in. TJP mocks the "Robbie Robbie Robbie!" before he gives Eagles scrapes to the face. TJP runs side to side, to BOOT WASH! Fans fire up and they want another! TJP obliges, but Eagles SOBATS!
Eagles runs, but into a BOOT! But Eagles hits STANDING SLICED BREAD! Eagles crawls over, hot tag to Tiger! Tiger goes up top to CROSSBODY TJP! Akira gets in and hooks Tiger's arms. TJP runs in but Tiger BOOTS TJP away. Tiger then KANGAROO KICKS Akira away! TJP runs in again but Tiger scoops TJP for a BACKBREAKER! Cover, TWO! Tiger keeps cool as he whips TJP to a corner. Tiger ROUNDHOUSES TJP, then reels him into underhooks. TJP blocks the lift but Tiger keeps trying. TJP shoots around, Tiger switches but TJP elbows free. TJP runs, Akira tags in before the springboard LARIAT!
Fans fire up and TJP throws his shirt to the crowd! Free souvenir as TJP drags Tiger up. Akira climbs up the corner, DOUBLE STOMP REVERSE DDT COMBO! Akira drags Tiger to the drop zone and TJP goes up top for the MAMBA SPLASH! Cover, but Eagles breaks it!! Fans fire up while all four men are down! TJP and Eagles crawl to each other to go forehead to forehead. Eagles whips, TJP reverses and ROLLING SOBATS! TJP runs, but Eagles DROPKICKS! Akira runs in but Eagles ducks the enziguri! ROUNDHOUSE, SUPERKICK, and ENZIGURI! Fans fire up with Eagles and he cravats, for SLICED- NO, Akira slips free!
Eagles waistlocks but Akira victory rolls to STOMP 182! Fans fire up as Eagles and TJP flop out of the ring. Tiger staggers up, Akira is on him! Tiger switches, chicken wings, but Akira ducks and TJP's SUPERKICK hits Tiger! Akira then chicken wings Tiger to pop him up into a waistlock, but Eagles ENZIGURIS Akira again! Eagles then DIVES to take out TJP! Tiger SOBATS and TIGER DRIVERS!! Cover, TWO!?!? Akira survives and fans fire up again! Tiger keeps his cool as he brings Akira up. Tiger BUZZ- NO, Akira ducks and rolls Tiger up, TWO! Tiger rushes in but into an ENZIGURI! Akira reels Tiger in, but Tiger wrenches out, crucifix takedown! TWO!!!
But Tiger drags Akira into a REVERSE DOUBLE ARMBAR!! TJP runs in but Eagles wheelbarrows and victory rolls him, into a RON MILLER SPECIAL!! Catch 2/2 endure stereo submissions! TJP crawls over to Akira, to grab at Tiger's mask!" TJP drags Tiger off Akira! Eagles lets TJP go to kick him out. Flying Tigers drag Akira up but he fires off forearms! Akira CHOPS Eagles, runs, but Eagles spins him around! SOLE FOOD, into TIGER SUPLEX! Bridging cover, but TJP breaks it in time!! Eagles throws TJP back out and goes to the apron. Eagles and Tiger aim at Akira in the corner, DOUBLE KICK COMBO!
Akira sits down but Tiger drags him back up! Tiger hoists Akira up top then climbs. Fans rally as Tiger brings Akira up, but TJP trips Eagles! TJP Electric Chair Lifts Tiger! Akira adjusts, but Tiger slips off! Tiger gets under Akira's leap, but TJP dodges Tiger! Akira SUPERKICKS Tiger! Eagles springboards, but TJP DROPKICKS him outta the sky! But Tiger fires off KICKS on Catch 2/2! Then forearms! Tiger runs, into the ALLEY-OOP FACEBUSTER! Cover, TWO!!! Tiger survives and fans fire up again! But "CATCH! NI NI!" starts up. TJP sits Tiger up, the champs run, 2 BY 2!! Cover, Catch 2/2 wins!
Winners: TJP & Francesco Akira, by pinfall (gain 2 points; Eagles & Tiger earn 0)
The IWGP Junior Heavyweight Tag Team Champions redeem themselves in the fourth round! Will they make sure no one else gets a win off them for the rest of the league?
World Tag League 2022: Hirooki Goto & YOSHI-HASHI VS Tetsuya Naito & SANADA!
#Bishamon could not stop the future of tag team wrestling that is Aussie Open, but the Uncontrollable Charisma & Cold Skull are feeling just fine after two big wins. Will the Fierce Warrior & Head Hunter #GetBackUp? Or will Naito & Sanada help Nagoya be tranquilo tonight?
The jackets are put aside, but of course Naito takes his time with his entrance attire. The teams sort out, LIJ fist bumps, and fans applaud as Naito starts against Goto. Fans rally and chant for "NA-I-TO!" at the bell. Naito just stares at Goto, but then chants for "GO-TO! GO-TO!" start. The two circle, approach, but then Naito backs off. They circle more, approach again, but Naito backs off. Then they finally tie up, and Goto puts Naito on the ropes. Red Shoes calls the break and the two let off slowly. Goto pats Naito on the shoulder and fans applaud. But then Naito rushes Goto to put him on ropes!
Red Shoes counts, Naito pushes Goto but lets off as Red Shoes reprimands. Naito grins but Red Shoes tells him to let go of Red Shoes. Naito lets go, but Sanada pulls Goto's hair! Naito kicks low and Red Shoes reprimands them. Naito CLUBS Goto, whips him corner to corner, but Goto comes back to run him over! Goto DECKS Sanada, stomps Naito, then tags Hashi. Bishamon double whip and double shoulder Naito down! Then HIP TOSS SENTON! Sanada runs in but Bishamon kicks him low and drums away on him! Then Bishamon drums Naito! Fans fire up as Hashi drags Naito up. Hashi hangs Naito out to dry and Goto holds him, so Hashi can run side to side and dropkick! Cover, TWO!
Hashi keeps cool and drags Naito up. Hashi CLUBS Naito, CHOPS him, then CHOPS him again! Naito wobbles, but he blocks the whip by holding ropes! Hashi CLUBS Naito, mule kicks and whips, but Naito reverses! Sanada trips Hashi up and Naito dropkicks Hashi down! Goto rushes in but into a drop toehold and basement dropkick! Naito kicks Hashi out and LIJ goes after Bishamon. Naito whips Hashi into railing! Sanada stomps Goto down, Naito drags Hashi back up. Naito CHOKES Hashi on the railing! Red Shoes reprimands and counts, but Naito lets off to CLUB Hashi down. A ring count starts, Naito stomps Hashi down.
Naito goes into the ring at 10 of 20 but Hashi is still down at 13. Hashi sits up at 15, stands and slides in at 17! Naito drags Hashi up, cravats and throws shoulders. Hashi hits back but Naito CLUBS and whips! Naito runs to JUMP KICK, leg sweep, COMBINACION CABRON! Fans fire up for Naito's pose, then he tags in Sanada. Sanada stomps Hashi around, brings him up, and CLUBS him. Hashi staggers but Sanada CLUBS him again. Naito grabs hold of Hashi in the corner, and LIJ mugs Hashi. Sanada drags Hashi up, whips him to ropes, and ELBOWS him down! Cover, TWO! Fans applaud as Hashi hangs tough.
Sanada tags Naito and Naito drags Hashi up to a NECKBREAKER then PLUMA BLANCA! Naito thrashes Hashi around while taunting Goto. Goto gets in to stomp Naito, but Sanada throws Goto back out. Naito lets Hashi go, tags Sanada, and Sanada wrenches and whips Hashi corner to corner. Sanada runs in but blocks Hashi's boot! Sanada trips Hashi, and fans cheer as Sanada ties Hashi up. But Hashi powers out of Paradise! Sanada kips up and trips Hashi again, to put him in Paradise! Fans applaud and cheer and Sanada encourages them to get louder. The fans oblige, Sanada runs in and dropkicks Hashi out of Paradise! Cover, TWO!
Sanada drags Hashi up, suplexes, but Hashi fights that off! Hahi tries to suplex but Sanada fights that off. They fight for suplex control as fans rally and duel. Hashi gets Sanada up, but brings him into the HEAD- NO, Sanada fights the Head Buster! Hashi dodges the lariat, to hit a HEADHUNTER! Fans fire up while both men are down! Hashi and Sanada crawl, hot tag to Goto! Goto runs Sanada over, BLASTS Naito, then fires off forearms on Sanada! Goto whips Sanada to the corner for MURAMASA! And BULLDOG! Cover, TWO! Fans rally as Goto drags Sanada back up. Got fireman's carries, but Sanada fights free!
Sanada waistlocks but Goto elbows free! Goto runs but Sanada dropkicks his leg! Goto hobbles, so Sanada dropkicks him down! Fans rally while both men are down. Sanada crawls over, hot tag to Naito! Naito stomps Goto down, drags him up, and ROCKS Goto to a corner. Naito whips but Goto reverses. Goto runs in but Naito BOOTS him! Naito runs, wrenches Goto but Goto avoids the elbow! Goto deflects the boot to DISCUS LARIAT! Fans fire up while both men are down again! Goto crawls, hot tag to Hashi! Hashi runs Naito over, then elbows him down! Hashi whips, Naito holds the ropes and BOOTS back!
Naito runs to RANA Hashi down! Hashi goes to a corner, Naito runs in, but Hashi CHOPS him! Hashi mule kicks, turns Naito, and hits a NECKBREAKER! Cover, TWO! Fans rally and Hashi brings Naito up. Naito blocks the suplex, but Hashi keeps trying. Hashi throws body shots, suplexes, but Naito knees free! Hashi CHOPS! Hashi runs, but into a SPINEBUSTER! Naito drags Hashi back up, hoists him up top, then climbs up after him! But Hashi slips down and brings Naito off the corner! Naito fights free of the bomb, blocks a kick and CLUBS the leg, to CHOP again! Hashi fires up and the fans fire up with him!
Hashi runs corner to corner but Naito dodges! Sanada runs in to back elbow! Feed to Naito's atomic drop, and then Hashi fires off the big back elbows! Sanada keeps Goto on the outside as Naito goes up and reels Hashi in. ESPERANZA! Cover, TWO!! Hashi survives but Naito drags him back up. Fans rally as Naito wrenches and tilt-o-whirls, DESTI- NO, Hashi blocks and Goto gets in! G Y- NO, Naito kicks Hashi away and slips around Goto, Sanada DROPKICKS Goto down! Hashi runs in but into an atomic drop! KICK, ENZIGURI, BIG back suplex, rolling jackknife! TWO!!! Hashi escapes and fans fire up!
LIJ coordinate and they drag Hashi back up. Sanada gives Naito the boost but Hashi stops the tornado to send Naito into Sanada! Naito blocks a kick to give a kick, but Hashi suplexes Naito first! Fans fire up as all four men are down! Hashi and Naito stir, and Goto climbs back onto the apron! Hashi crawls to his corner, but Naito crawls to his, hot tags to Goto and Sanada! Sanada dodges Goto but Goto deflects the boot, only for Sanada to duck the discus! Sanada reels Goto in but Goto elbows Sanada away. Goto runs, but Sanada hurdles! And hurdles! And DROPKICKS! Fans fire up again as Goto bails out. Sanada goes to the ropes to PLANCHA!
Fans fire up and Sanada brings Goto back up. Sanada puts Goto in the ring and fans rally again. Sanada aims from the apron now and Goto stands up. Sanada springboards but Goto gets under! Goto fireman's carries, USHIGOROSHI! Fans fire up while both men are down again! Goto snarls and he drags Sanada up. Goto dragon sleepers, but Sanada spins around to suplex! Goto fights that, they fight for suplex control, but Goto lets off to DISCUS LARIAT! Fans rally even harder and Goto drags Sanada back up. Dragon sleeper, but Sanada drops to victory roll! TWO!!! Even Goto's surprised he escaped!
Sanada ELBOWS, ROLLING ELBOWS, then roars! Sanada runs, but Goto fireman's carries! Sanada slips off but Goto dodges, HIDDEN GAP SUPERKICK from Hashi! Fans fire up as Hashi CHOPS Naito off the apron! Bishamon call their shot, they say it's lights out! They stand Sanada up, hook him up, but Sanada BOOTS Hashi away! Naito trips Hashi and drags him out while Sanada spins things around on Goto! SKULL END!!! But Hashi whips Naito into railing! Goto endures and reaches out, but he's turning red! Goto starts fading! Sanada lets him go and puts him in a drop zone! Sanada goes up top, for ROUNDING BODY-
NO, Goto moves! Sanada lands on his feet, Hashi dropkicks him down! Naito ELBOWS Hashi down then basement dropkicks him! But Hashi's right up to LARIAT Naito! Fans are thunderous as all four men are down again! Goto and Sanada stir while Hashi and Naito roll out of the ring. Goto staggers up to his feet and powers up! Sanada sits up, BUZZSAW! Goto drags Sanada up, fireman's carries, USHIGO- NO, Sanada lands on his feet! Goto rushes in but Sanada gets around to O'Conner B- NO, Goto blocks the bridge, Hashi SUPERKICKS! Goto fireman's carries, FIERCE FLASH!! Hashi BLASTS Naito off the apron!
Bishamon sets Sanada up again, SHOTO!!! Cover, Bishamon wins!!!
Winners: Hirooki Goto & Yoshi-Hashi, by pinfall (gain 2 points; Naito & Sanada earn 0)
Los Ingobernables de Japon takes their first loss this World Tag League! Is there cause for concern that Naito won't make it to his final WrestleKingdom?
As for Goto & Hashi, Goto gets the mic to say, "Bishamon is back in Nagoya!" Fans fire up for that! Goto then says, "And… Cheering is back in Nagoya!" Fans cheer even more for that! Goto wants to literally hear it, "Who do you think will win World Tag League?" It's hard to say who the fans are cheering for, but then they join in a chant of "BI-SHA-MON! BI-SHA-MON!" Goto admits there are "mixed opinions. But next time we're here, it'll be after we win World Tag League and come back as champions!" Fans do like the sound of that. Goto finishes with, "Until then, it's lights out time! SHOTO!!"
Will Goto & Hashi use this momentum to go back-to-back as World Tag League winners and win the titles?
Here are the NEW
Super Jr. Tag League

standings!

Austin & Bey: 4-0, 8 points
Bushi & Titan: 3-1, 6 points
TJP & Akira: 3-1, 6 points
Zayne & Lindaman: 3-1, 6 points
Yoh & Lio: 3-1, 6 points
Eagles & Tiger Mask: 2-2, 4 points
KUSHIDA & Knight: 1-3, 2 points
Taguchi & Connors: 1-3, 2 points
Sho & Dick: 0-4, 0 points
Douki & Kanemaru: 0-4, 0 points
Here are the NEW
World Tag League

 standings!

Aussie Open: 3-0, 6 points
Goto & Hashi: 2-1, 4 points
Naito & Sanada: 2-1, 4 points
Suzuki & Archer: 2-1, 4 points
Khan & Henare: 2-1, 4 points
The Mighty: 2-1, 4 points
Yano & Tanahashi: 1-2, 2 points
Chase & Fale: 1-2, 2 points
Evil & Yujiro: 0-3, 0 points
Coughlin & Kidd: 0-3, 0 points
---
My Thoughts:
A great event for this series, and it's been a while since I've done an entire NJPW show. I really like that despite all their efforts in both tournaments, the House of Torture can't even buy a win. They're really the scrubs of NJPW at this point, but this is all making it bigger for when each team finally gets that one win to spoil someone's run. Great win for Yano & Tanahashi to finally score some points, and a great win for Aussie Open on Suzuki & Archer. And Khan was right, all of the Empire won tonight to prove they're a very strong faction.
Taguchi & Connors drinking beer while wrestling that first half of the match was funny stuff, but I figured Ace & Bey were going to stay undefeated. That first loss also has to be big, that might happen right as finalists are decided. Super Juniors are going again on Monday, which is a surprise when World Tag League is a round behind them. There are more 3-1 teams than I expected, Yoh & Lio are one of them and they're up next for Ace & Bey. They might give Ace & Bey a great match but I don't know if round five is where Ace & Bey take their first loss.
The main event was awesome stuff, and Bishamon winning was a bit of a surprise, but it really shouldn't since they won WTL last year. But this does put some pressure on Naito & Sanada, which is good for the story. It couldn't just be smooth sailing for LIJ, so this is a good time to get that loss out of the way and have LIJ push harder towards the finals.
My Score: 8.8/10
Mitchell's WWE Survivor Series Results & Report! (11/26/22)
WARGAMES!?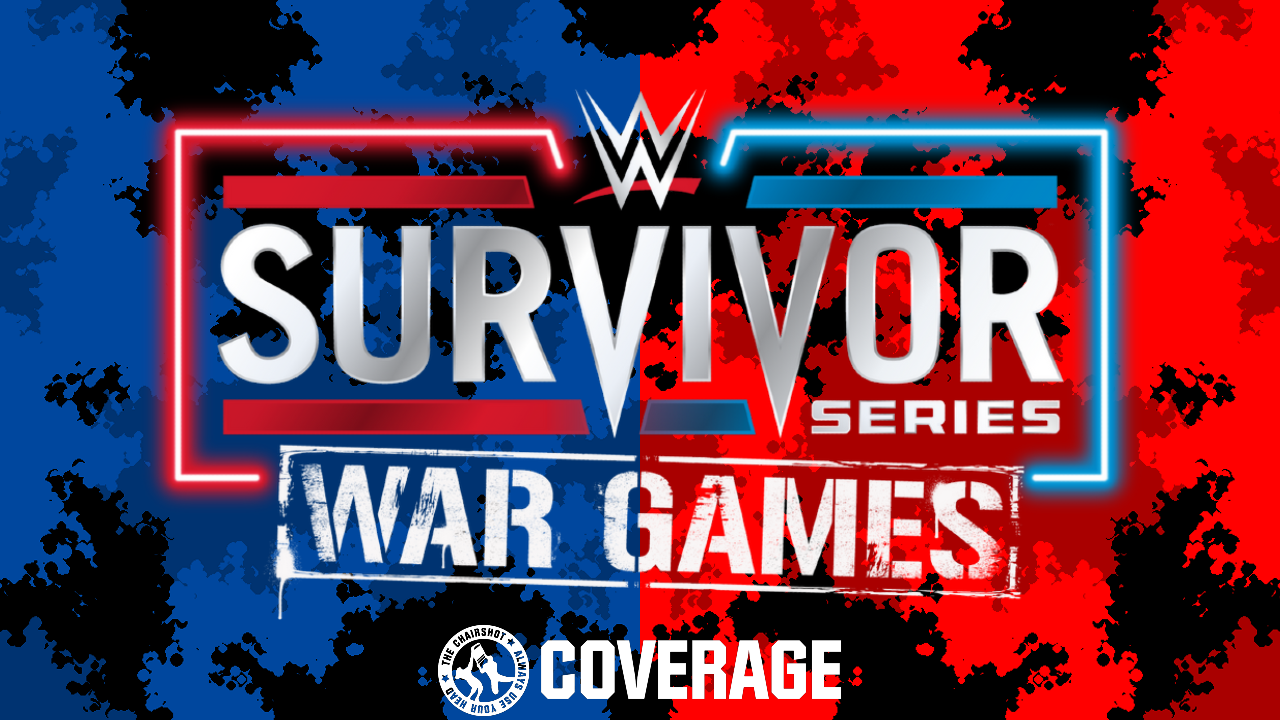 Survivor Series goes to war!
For the first time ever, WWE combines Survivor Series and The Match Beyond! Will The Bloodline still be standing after taking on five Brawling Brutes?
OFFICIAL RESULTS
Women's WarGames: Team EST VS Team Damage CTRL; Team EST wins.
AJ Styles w/ The OC VS Finn Balor w/ The Judgment Day; Styles wins.
SmackDown Women's Championship: Ronda Rousey w/ Shayna Baszler VS Shotzi Blackheart; Ronda wins and retains the title.
WWE United States Championship Triple Threat: Seth Rollins VS Bobby Lashley VS Austin Theory; Theory wins and becomes the new WWE United States Champion.
Men's WarGames: The Bloodline VS Team Brutes; The Bloodline wins.
PLAY BY PLAY
It's the Survivor Series Kickoff show!
Join Kayla Braxton, Kevin Patrick, Booker T, Jerry "The King" Lawler and Peter Rosenberg in discussing, analyzing and predicting all the action here tonight!
Backstage interview with Shayna Baszler & Ronda Rousey.
Megan Morant says we all saw what they did to Raquel Rodriguez, and Ronda pretends to feel terrible. Raquel got involved in their business, she started it, but they ended it. And it was the most fun Ronda's had in a long time. Shayna agrees there. But tonight, Ronda defends her SmackDown Women's Championship against Shotzi, and after what happened to Raquel, Shotzi says this is personal. Oh is it? They couldn't tell between all the whining and crying. Does Megan know what it's like to dislocate someone else's elbow, ripping the tendons and separating a part from themselves? It sounds like tearing a turkey leg off. Feels like it, too. Not that Megan would know.
But another sound that's so different is snapping an ankle. These two revel in the sounds of torturing another human, but will Ronda feel the wrath of the Wild Child soon enough?
Black Sabbath's War Pigs plays.
And Ozzy himself is here to sing, "Time will tell them they are power mad, making war just for fun! Treating people just like pawns in chess, wait until their Judgment Day comes!" But that day is now, as the cage descends! "Satan laughing spreads his wing! OH LORD, YEAH!" Ozzy himself says, "Welcome to WarGames! HAHAHAHA!"
Women's WarGames: Team EST VS Team Damage CTRL!
In a battle against Bayley, Dakota Kai, Iyo Sky, Nikki Cross & Rhea Ripley, Bianca Belair, Asuka and Alexa Bliss have recruited Mia Yim and THE MAN, Becky Lynch! This war for control of the Women's Division has gone #BigTime, but who will survive the sadistic steel?
The teams sort out and stepping up for her team is the RawEST Women's Champion herself! Bianca leads by example, and meeting her from Team DMG CTRL is #CobraKai, who has FOUR WarGames matches under her belt from her days in NXT! The door closes, the bell rings, and fans fire up as we get five minutes of 1v1. They tie up, go around, Dakota pulls hair but Bianca turns it around. Bianca dribbles Dakota  off buckles, then TOSSES her across the way! Bianca kicks low, brings Dakota up, but Dakota fights free of the bomb. But Bianca DROPKICKS Dakota into the second ring! Fans fire up as Bianca kips up.
Bianca storms over, but into a HOTSHOT! Fans rally for "E S T! E S T!" Dakota grins, Bianca chases Dakota in the gap, then drags her into the second ring with a waistlock for a SLAM! Bianca holds on, drags Dakota up again, then ripcords and whips her away. Bianca runs in but Dakota goes up and over. Bianca blocks the roll up and handsprings away. Dakota runs in but gets run over! Bianca paces around Dakota, drags her up and fireman's carries. Dakota blocks the lawn dart and CLUBS free. Dakota pulls the ponytail but Bianca blocks! Bianca uses her ponytail to whip Dakota at the wall! Dakota stops herself, dodges Bianca, but runs into a BACKBREAKER!
Dakota crawls to a corner while the clock ticks down. Bianca runs in but Dakota dodges to POST her! Then BOOT WASH her against the steel! Dakota digs her boot in and stomps away as we have two-and-a-half minutes left. Dakota mocks Bianca and fans are torn. Most boo and Bianca crawls away, but Dakota ax kicks her down! Dakota CLUBS Bianca, stalks her to the gap, and BOOTS her into the first ring! Dakota stalks Bianca and CLUBS her again. Dakota pushes Bianca to a corner, runs in, but Bianca elbows her away. Bianca BOOTS Dakota away, then slips into the gap to ROCK Dakota!
Fans fire up as Bianca rushes in, spins Dakota around and suplexes high and hard! Both women are down and fans fire up as we hit the one minute mark! Bianca kips up and fans rally again! Dakota swings but and they fire off fast hands! Fans fire up, Bianca shoves but Dakota dodges! Dakota kicks, avoids the hair whip, then SCORPION KICKS! Bianca staggers, Dakota runs in, roll but into the ALLEY-OOP BOMB! Bianca kips up again at 30 seconds! Bianca TOSSES Dakota into steel! And then back the other way! Dakota staggers up and Bianca reels her in, for a POWERBOMB into the steel!
The last ten seconds tick away, and now IYO SKY rushes in! The Evil Genius also has great WarGames experience, she dodges Bianca and handsprings! Bianca dodges but Sky SHOTGUNS then kips up! Fans fire up as now DGM CTRL has the numbers advantage for three minutes. Sky wrenches, whips and WRINGS Bianca, but she handsprings through! Bianca eggs Sky on, dodges her in the corner, but Sky goes up to FLYING RANA! Bianca ends up in the gap and her team shouts for her to get up. Kai & Sky surround Bianca, but she throws big forearms! Bianca DECKS Kai but Sky DIVES onto Bianca!
Kai & Sky have Bianca in the second ring, whip her to a corner, clothesline and back elbow, then a BOOT! Bianca sits down, SHINKANSEN arrives! BOOT WASH and SWINGING- Wait, Sky is going a little too hard. She boots Bianca instead, even though fans boo. Bayley tells them to shut up, like they could do what Sky did! Kai & Sky mug Bianca, drag her up, but Bianca blocks the double suplex TO DOUBLE SUPLEX THEM! Fans fire up and we're at the one minute mark! Bianca drags Kai up, chicken wings, but Sky springboards to MISSILE DROPKICK Bianca down! Sky & Kai stomp Bianca down at the ropes, then pace around.
We're under 30 seconds as Kai & Sky double whip Bianca into the steel! Bianca flounders but the countdown is back! And it's ASUKA who rushes to the ring! Fans fire up as the Empress of Tomorrow dodges Kai! They each dodge kicks but Asuka gets around to GERMAN SUPLEX! Sky rushes over and fans fire up to see the Joshi Strong Style rivalry reignite! They each evade, fire off forearms, and Asuka gest the edge! Asuka whips, Sky reverse but Asuka stops herself. She dodges Sky but Sky tiger feints and arm-drags! Sky dodges, whips, and ROCKS Asuka at the ropes! Sky runs but Asuka HIP ATTACKS! Asuka runs, Sky follows, dodges, but get a POP-UP KNEE!
Asuka URAKENS, URAKENS, SOBATS, KICKS, CHOPS and SWEEPS, to a SLIDING KICK! Fans fire up as Asuka hurries to a corner. Asuka climbs up but Dakota rushes her! They brawl up top across the gap! Asuka gets the edge, and goes all out with that KICK! Bianca helps out, and they drag Dakota from the top to a trophy lift! Bianca TOSSES Dakota into the steel! Asuka leaps to MISSILE DROPKICK Sky! Fans fire up but we're at one minute! Bianca and Asuka high-five and catch their breath. Asuka keeps on Sky, Bianca keeps on Kai, snap suplex! Sky and Asuka brawl, the countdown returns! Bianca digs her boots into Kai!
Nikki Cross rushes to the ring, but she doesn't get in the ring yet. Fans fire up as she brings out a kendo stick! Nikki sends that one in, and another, and then some trash can lids! Asuka storms over, but Nikki SLAMS the door shut on Asuka! Nikki keeps adding to her arsenal but Boston wants tables. Nikki leaves it at this, though, and she JAMS Bianca with a lid! Then SMACKS her on the back! Nikki SPLASHES Bianca in the corner, then goes up to TORNADO DDT! Nikki fireman's carries Asuka for a LANDSLIDE! Nikki fires up and fans fire up with her as she LASHES Asuka with her leather jacket! Bianca gets some, too!
Nikki shakes the cage, we're already under a minute as she just grins through the steel. Nikki SMACKS Bianca with a trash can lid, Sky & Kai mug Asuka. Nikki fishhooks Bianca's face, Kai gives her a kendo stick to make the camel clutch hurt even more! We're at ten seconds again as Sky hooks up Asuka in a camel clutch. Team EST sends Alexa! The Five Foot Fury dodges Nikki and SHOTGUNS Kai! She hits an STO on Sky, BOOTS Nikki, then ROCKS her with haymaker after haymaker! SHOTGUN! Fans fire up as Asuka and Alexa get some things. They double whip Sky, ROCK her with a right, then BULLDOG her on a trash can lid!
Bianca helps Alexa RANA Dakota onto a trash can lid! Fans fire up but Nikki fights back! Throat chop for Alexa! Nikki CLUBS Alexa, has a kendo stick, but Bianca grabs it from her! And BREAKS it on her knee! Nikki just laughs that off, and climbs up the cage! But Bianca stops her! Dakota and Iyo SMACK away on Bianca with kendo sticks! Nikki has reached the top of the cage, but escape does nothing but forfeit in this match. Alexa & Asuka SMACK away on Kai & Sky now with kendo sticks! Nikki just kicks her feet and smiles as she watches Bianca WHIPLASH Kai! And WHIPLASH Sky! But Nikki laughs as she SUPER CROSSBODIES them all down!!
Boston is thunderous for the insanity of Nikki Cross! And now the countdown returns! DMG CTRL sends Bayley! The Role Model finally gets involved now that her team has done enough damage. Bayley looks under the ring, and she brings out a LADDER! It may not be a table but fans still love seeing it! Bayley gets the ladder in and Dakota helps her bring it over. Sky SMACKS Bianca with a trash can lid while Alexa & Asuka go after Nikki. Bayley brings out another ladder?! This one enters the ring, too, the others keep scrapping, and fans chant, "We Want Tables!" Well Boston, HERE'S A TABLE!
Bayley drags the table over, Bianca RAMS Dakota into a corner, and Bayley gets the table in. Sky kicks Alexa into the second ring, Nikki wraps Asuka's arm around ropes, Bayley SUNSET BOMBS Bianca into buckles! Dakota helps Bayley set up the furniture, and they bring it over for Sky to put in the gap. They RAM the table into Bianca to trap her in the gap! DMG CTRL mugs Bianca, then smacks her off the table! Bayley says this is THEIR match now! DMG CTRL mugs Asuka & Alexa, snap suplex for Bliss! Nikki uses Bianca's braid to SMACK her head off the table! DMG CTRL help Sky with the LIONSAULT onto Alexa!
Fans boo as Bayley snap suplexes Asuka. Then DMG CTRL helps Kai DOUBLE STOMP Asuka! Bayley taunts Bayley, but the countdown is back. Team EST sends "Michin!" She grabs trash CANS, and CHUCKS them in at DMG CTRL! Bayley boots Alexa, stomps Asuka, but Mia keeps throwing in cans. Mia gets in and RAMS Bayley with one! Dakota leaps, but into a can! Nikki runs into a FLAPJACK! Sky swings but misses, Mia kicks the lid into Sky and JAWBREAKERS her off the edge! Mia drags Dakota around to TOSS into steel! Mia gives Kawada Kicks to Dakota through the ropes, and then she kicks Sky aside. Mia gives Dakota a SPIKE RANA onto a lid!
Nikki jumps on for a SLEEPER! Mia stays up as Nikki thrashes her around! Bianca fights free of the table in the gap! Bianca TOSSES Bayley to a ring, Asuka CLUBS Sky! We're under a minute as Mia DIVES from ring to ring to take out Bayley! Sky and Asuka try to drag the other down in a corner, Alexa is after Nikki, Bianca tries to set up the table. Bayley stops Bianca, but Bianca puts Bayley in the gap. Bianca DECKS Bayley, Mia and Kai meet at the other side. There's brawls in ever corner of these rings! Asuka and Alexa each try to suplex Sky and Nikki, then Bianca and Mia get control of Bayley and Kai. Bayley SUPERPLEXES Bayley!
Mia SUPERPLEXES Kai onto a trash can lid! Alexa SUPERPLEXES Nikki and Asuka SUPER GERMAN SUPLEXES Sky! And the countdown is back! DMG CTRL's last member is released! Rhea the Eradicator is loose! She DECKS Alexa, SHOTGUNS Asuka, HEADBUTTS Mia, BOOTS Bianca then stomps and KNEE SMASHES her! Alexa goes up but Rhea ROCKS her first! Rhea RAMS Bianca into Asuka, then ROCKS Asuka before she GERMAN SUPLEXES Bianca! Alexa LEAPS but Rhea catches her and suplexes her! And then TOSSES her into steel! Nikki is after Mia, Kai and Bayley go after Bianca.
Kai stomps Asuka, Rhea and Nikki mug Mia. Fans rally for the final entrant in Becky, but there's still over a minute left on the clock. Nikki laughs as she watches her team mug everyone else. Rhea puts Asuka in the PRISM TRAP! Sky runs and runs and runs, to BASEMENT DROPKICK Asuka out of the Prism! Bayley high fives her teammates, and they put Asuka in the gap. They drag her into the second ring, but Mia kicks Rhea down! Mia CHUCKS a can into Rhea at the corner! Mia fires up and runs in, FULL METAL CANNONBALL! Becky paces, Asuka fights off DMG CTRL, but Sky SHOTGUNS her down!
Mia DIVES, but Bayley catches her! Sky SMACKS away on Mia with a lid! Then Kai hits a DIVING DOUBLE STOMPS! But here comes THE MAN!! Becky storms right into the ring, and now WarGames can truly "begin!" Becky fires off forearms on everyone that steps to her! Sky fights back and shoves Becky away, but Becky puts her against the steel tp JUMP KICK! Kai runs in, Becky dodges to KICK her! Becky BOOTS Nikki, then Becky SMACKS Sky off ladder rungs! Becky fires off forearms and uppercuts, but then dodges! Nikki SMACKS Sky with a can! Becky kicks and SMACKS Nikki, then puts the can around Sky!
Becky brings Nikki around to SMACK off the can, then keeps in on Sky as she climbs up the corner! The MAN'S LEG DROP! Sky is down inside the can and fans fire up! Becky then grins as she stalks up to Bayley. Bayley is very afraid but Becky dares her to get up. "Come fight me, ya little bitch!" Bayley swings but Becky fires back! Fans fire up as they brawl back and forth, then Becky gets the edge! SOBAT! Becky stomps a mudhole into Bayley against the steel! Fans fire up but now Rhea steps to Becky. Becky swings but Rhea blocks! Rhea HEADBUTS Becky, pump handles, RIP- NO, Becky slips out! But Bayley returns!
Becky DECKS Bayley but Rhea hits RIPTIDE!! Cover, Asuka BUZZSAWS it apart! Bayley swings but misses and gets an URAKEN! Nikki is after Alexa, Dakota TOSSES Mia into steel! Rhea and Asuka brawl, but Rhea ducks! Becky blocks the uraken, and saves Asuka from Rhea. Becky dodges Rhea, Asuka hits her with BLUE MIST!! Fans fire up but Bayley CLOBBERS Asuka! Bayley ROCKS Becky, drags Asuka up and SMACKS her off buckles! But Becky rolls Bayley! TWO, and Bayley UPPERCUTS Becky! Bayley puts Becky in a Tree of Woe and taunts the fans. Bayley CHOPS Becky, then STOMPS her down!
"The Man? The Man?! I'm the damn Role Model!" Bayley drags Becky to the gap, wraps her up, ROSE PLANT ONTO THE STEEL!! Cover, Asuka breaks it! Nikki fires off on Asuka, Sky joins in. They double whip but Asuka reverses! Bianca sends Sky up, but keeps her from climbing. Sky kicks Bianca, Asuka goes after her! Everyone is swarming, Kai SMACKS Asuka with a can! DMG CTRL have Asuka and mug her, but Mia and Alexa join in! Then Bianca adds on! But Nikki SMACKS Bianca down with a kendo stick! DMG CTRL fight off Asuka and Alexa, and Nikki give Alexa a DRAPING NECKBREAKEAR!
Asuka and Kai fall, Bianca gets Bayley for a POWERBOMB! But Sky is up on the very top of the cage! SUPER OVER THE MOONSAULT!! Direct hit on Bianca and Mia but Sky's so wiped out, she can't cover! Boston loses its mind as ALL TEN women are down around this double ring! "This is Awesome!" and the ten start stirring here and there. Nikki RAMS into Alexa, then SLAMS her down! Nikki brings out HANDCUFFS! "You think I forgot? YOU THINK I FORGOT?!?!" She shouts but Alexa SLAPS her! So Nikki cuffs Alexa, Alexa resists, but Nikki still brings her over, Nikki reaches for the cage, but Alexa gets the cuff, to hook on to Nikki!!
Nikki is furious, but Alexa brings her off the ropes with an Electric Chair! For a SLAM onto a trash can!! They're both down while the others rise up. Rhea runs but Asuka dodges, CODE BREAKER! Asuka runs in to HIP ATTACK, but Rhea catches it! To TOSS Asuka into steel! "That's for my eyes!" But Mia CLUBS Rhea and tosses her to the other ring. They brawl, but Rhea hooks Mia up! But Mia sips out of Riptide to get a SLEEPER! Rhea runs to crash through the ladder!! Fans lose their minds all over again! Bianca and Becky stand against Bayley, Kai & Sky, where this all began at SummerSlam! And fans are thunderous for it!
The two sides talk trash, and then they brawl! But that's 3v2! Kai & Sky have Becky while Bianca scoops Bayley t SPINEBSUTER on a can! Kai hops onto Bianca but she fights Kai and Sky off! Torture rack for Kai, KISS OF- NO, Kai lands out, but into a MANHANDLE SLAM! Sky runs in, pops free of the clinch, but into a KISS OF DEATH!! Fans fire up as Bianca TOSSES Bayley into the gap! Becky knows fans want tables, so she and Bianca get the table! They position the table in a corner, Bianca puts Sky on the table and Becky goes up to the very top! Bianca puts Kai on the table, and stops Bayley from going after Becky!
Torture rack, KISS OF DEATH into the steel!! Becky is up at the top, for a SUPER MAN'S LEG DROP!! Cover, Team EST wins!!
Winners: Team EST, by pinfall
Now THAT was Big Time! Becky, Bianca, Asuka, Alexa & Mia stand tall together, having kept Damage Control from taking over! Is this just the beginning of another big time comeback for The Man?
The Bloodline meets in the private room.
Jey has something to talk with Roman Reigns about. "Uce, from day one, I knew as soon as we started hanging around with Sami Zayn, Uce, I knew he couldn't be trusted, Uce." He's why they lost the advantage! Jey heard Sami and Kevin Owens talking it up! Sami lied right to Jey's face! The only reason he didn't go get Sami was cuz Roman didn't give the order. So what're they gonna do about it? Roman says, "What're we gonna do? Jey, I don't know how to tell you. But this is what you're going to do. You're going to go out there and be the Right Hand Man and do what I say, while I'm going to be the Tribal Chief and worry about everything else. You understand me?" Jey says yes.
Roman tells Jey he will look Sami in the eye, man to man, and will know if Sami's telling the truth. Roman will know where Sami's loyalties lie. Just focus on tonight. Jey nods and fist bumps. Roman then tells Paul Heyman to get Sami. Heyman gets out his phone and makes the call. The confrontation is coming, but will Roman like the answer he gets when he confronts Sami tonight?
AJ Styles w/ The OC VS Finn Balor w/ The Judgment Day!
Once part of the same club, once good brothers, but now enemies torn apart by arrogance and darkness. This has to end somehow, but will it be the Phenomenal One that comes out on top? Or will Survivor Series be reeeeeeeal?
The bell rings and fans rally up as the two circle. They tie up, are in a deadlock, but Finn gets around to a waistlock. Styles wrenches out to switch, but Finn pulls at the arm in return. Finn goes to ropes, Styles lets go but then Finn headlocks. The ref counts, they both let off but then Finn shoves Styles away. Styles keeps his cool and circles with Finn. They tie up, Finn gets the arm and wrenches. Styles chinbars to get a facelock but Finn backs Styles into a corner, The ref counts, both men let off again, and Finn pats Styles on the shoulder. But Styles blocks his cheap shot! Styles CLUBS the leg, KICKS the leg out, then KICKS it again!
Styles KICKS the leg out again, drags Finn around, and DDTs the foot! Finn hobbles away as Styles says he'll pick Finn apart piece by piece! Styles ROCKS Finn, whips him corner to corner, then scoops Finn on the return for a BACKBREAKER! Fans fire up, Styles stalks Finn to a corner and has the leg. The ref counts but Styles lifts Finn for a SHINBREAKER! Fans rally as Styles tells Dom to shut up. Styles KICKS Finn's leg out, and Finn says, 'C'mon, AJ, we're boys!" Styles says, "Not anymore!" Styles throws hands but Finn gives them back! Finn backs Styles down, throws body shots, but Styles HEADBUTTS in return!
Styles HEDBUTTS Finn to back him down and Boston rallies up for Styles. Styles bumps Finn off buckles, Finn staggers away, but then Finn victory rolls and STOMPS Styles down! Finn springboard stomps again and again, but stops as the ref counts. Finn snarls as he walks on the bad leg and fans boo. Dom and Priest soak up the heat for Finn as Finn brings Styles up. Finn DECKS Styles, bumps him off buckles, then CHOPS! Finn whips Styles corner to corner, then brings him out to a BACKBREAKER! Cover, ONE!! Styles is showing his toughness but Finn snarls. Finn drags Styles up but Styles throws body shots!
Styles backs Finn down with forearms, whips, but Finn reverses. Styles sunset flips but Finn rolls through to basement dropkick! Cover, ONE!! Finn looms over Styles while fans boo, but he hooks Styles up with a cobra twist! Styles endures while Finn pulls on the hold. Fans rally up and Styles fights his way around, but Finn CLUBS Styles on the back. Finn shoves Styles to ropes, ROCKS him in the back, then does it again! Fans boo as Finn drags Styles back up. Finn shoves but Styles ROCKS Finn! Styles fires off more shots, whips Finn to ropes, but Finn turns hip toss into a cobra twist! Styles endures all over again!
Fans rally and the Good Brothers coach Styles up. Styles throws elbows into Finn's leg and gets free to hip toss! Finn gets up, Styles CLOBBERS him again and again! Styles snapmares, runs and SLIDING FOREARMS! Fans fire up and Finn staggers to a corner. Styles runs in to clothesline! Fireman's carry, USHIGOROSHI! Cover, TWO! Styles is annoyed but he keeps on Finn. Styles brings Finn up but Finn trips him to DOUBLE- NO, Styles avoids the stomp! Styles goes to the apron but Finn KNEES him in the ropes! And again, and again! But Styles blocks to DRAGON SCREW the leg in the ropes!
Fans fire up as Styles aims, but Priest distracts the ref so Dom can trip Styles! But Gallows & Anderson surround Dom! Gallows UPPERCUTS Dom, he and Anderson mug Dom, but Priest rushes over! The Good Brothers and the bad boys brawl and Boston fires up! Gallows TOSSES Dom away, then ROCKS Priest! Gallows DUMPS Priest over the barriers! Anderson keeps after Dom, the brawl spills into the crowd! Fans fire up, Styles DECKS Dom and sends him over the barriers for the Machine Gun! Those four all disappear into the night, Styles finally has Finn 1v1! But Finn counter atomic drop to a cover, TWO! Styles rolls Finn, TWO!
Styles torture racks but Finn slips free to sunset flip! TWO! Finn runs, ducks 'n' dodges, to SLINGBLADE Styles down! Finn snarls as he goes to the corner and takes aim. Fans boo but Finn runs at Styles, but into an ENZIGURI! Finn wobbles, Styles reels him in to suplex into buckles! Cover, TWO! Fans rally while both men are down. Styles rises up and he brings Finn up. But Finn RAMS Styles into the corner! Finn shakes his bad leg, but Styles catches him to roll! But Finn rolls through, DOUBLE STOMPS! Both men are down again but Finn grins as he stands back up. Finn hobbles and stomps Styles around.
Styles sits up, Finn stomps him down again, talking trash all the while. Finn talks trash to Boston, too, and then he stomps Styles more. Styles eggs Finn on and Finn kicks him more! "Is that all you got!?" Finn runs and BOOTS Styles! But Styles just fires up! Styles blocks the boot, fires off the Phenomenal Blitz, but Finn ducks under to dragon sleeper! But Styles fireman's carries! Finn slips out, ELBOW DROP DDT! Cover, TWO! Styles survives but Finn snarls as he goes to ropes. Finn drags Styles up, reels him in, and mocks the Clash! But Styles grabs a leg and drags Finn down! Finn kicks Styles away, ROCKS him, but Styles PELES!
Finn wobbles, but he PELES in return! Both men are down and Boston fires up! Finn and Styles stir, Styles goes to a corner. Finn runs in to CHOP! Finn whips Styles corner to corner, Styles reverses and clotheslines! Styles whips Finn out to put him back in! But Finn dodges to put Styles in the gap. Styles ROCKS Finn, slingshots, but into a fireman's carry! GUTBUSTER DROP! Cover, TWO! Finn is furious and he drags Styles up to a fireman's carry. USHIGOROSHI! Finn drags Styles up in a dragon sleeper, but Styles slips out of 1916! Styles ELBOWS Finn from a corner, goes up the corner, and QUEBRADAS into the ELBOW DROP DDT! Cover, TWO!
Both men are down from copying each other's signature favorites, but Styles drags Finn into a drop zone. Styles goes to the corner and climbs up top. Fans fire up as Styles 450's, but he has to roll through as Finn moves! Finn SHOTGUNS Styles down! Styles is in a drop zone and Finn laughs as he climbs up! Fans boo but Finn jumps, only for Styles to move! Finn's leg jams, Styles rolls him into the CALF CRUSHER!! Finn endures but Styles pulls way back on the leg! Styles pulls way back, but Finn DRIBBLES Styles' head on the mat! Styles lets go and both men are down on the mat again.
Fans rally up as Finn rises. Styles stirs but he's dazed from being treated like a basketball. Finn ROCKS Styles with a haymaker, and then another! Finn throws body shots in the corner, then more haymakers! Styles ROCKS Finn back! Styles backs Finn down, but Finn hits back. They go back and forth, faster and faster, and fans fire up! Finn CHOPS, Styles CHOPS back! Then ENZIGURIS! Finn goes to a corner, Styles runs in, but Finn puts him back on the pron. ENZIGURI, but Styles DECKS Finn! Styles adjusts, springboards, PHENOMENAL FOREARM!! Cover, Styles wins!
Winner: AJ Styles, by pinfall
The leaders battled for their teams, and in the end, this was phenomenal! But is this truly the end of the war? Or will Judgment Day come back around to tear down The OC?
SmackDown Women's Championship: Ronda Rousey w/ Shayna Baszler VS Shotzi Blackheart!
The Baddest Woman on the Planet has been acting more like a snotty bully as of late, but that's fine, because the Wild Child knows exactly how to handle bullies: step to them and expose them. This got a lot more intense after just last night when Ronda and Shayna broke Raquel Rodriguez's arm, will Shotzi avenge Big Mami Cool while taking the title? Or will Rowdy Ronda rip Shotzi apart like a Thanksgiving turkey?
The introductions are made, the belt is raised, and we see if Shotzi can TCB, tank care of business!
The bell rings, Ronda doesn't sweat Shotzi, but Shotzi fires off fast hands! Ronda SAYANAGIS Shotzi but Shotzi comes back with more fast hands! Another SAYANAGI, but Shotzi comes back! But Ronda ducks the enziguri to get an ANKLE LOCK! Shotzi endures, reaches out, but Ronda YANKS her from ropes. Ronda and Shayna both talk trash on Shotzi, but Shotzi rolls and throws Ronda away! Shotzi runs in to CANNONBALL! Ronda flops out of the ring and Shayna is actually a little worried. Shotzi builds speed but Shayna shoves Ronda away to take the DIVE! But Shotzi still drags Ronda up to RAM her into steel steps!
Shotzi puts Ronda in the ring, ROCKS her with a forearm, then ROCKS her again! Shotzi runs, BOOTS Shayna off the apron, but Ronda rushes over! Shotzi dodges to LARIAT Ronda from the ropes! Shotzi goes up top, leaps, CROSS- BODY SLAM! Ronda turns momentum around in a split second! Ronda kicks Shotzi around, kicks her hands out from under her, then CLUBS her down. "I could beat you with my feet!" But then Shotzi grabs a leg, trips Ronda, and stomps Ronda down! Shotzi roars, and drops a leg, but into a leg scissors! Ronda tells fans they're going to get an ankle for a souvenir!
Ronda puts on the ANKLE LOCK! Shotzi fights right up to ENZIGURI! Ronda still holds onto the foot, but she is wobbly! Ronda drags Shotzi up and wraps her up, rolls and has a STRAITJACKET LEGLOCK! Ronda says Boston doesn't care about Shotzi because they're not making any noise. Fans chant "We Want Sasha!" but Shotzi fights free to fire off fists! Ronda BOOTS Shotzi down then fires off at the ropes! Ronda drags Shotzi up, puts her through ropes and CHOKES her! The ref counts, Ronda looks at her "watch," then lets off at 4. But Shotzi CLOBBERS Ronda!! Shotzi sputters, but she drags Ronda up again.
Shotzi has Ronda on the ropes, for an APRON DDT!! It was a nasty landing and both women are on the floor. A ring count starts, but Shotzi stalks Ronda. Shayna rushes in but Shotzi BOOTS Shayna! Shotzi kicks off Ronda to hit a SLICED BREAD on Shayna! Shotzi refreshes the count, storms up on Ronda and blocks a boot to TOSS Ronda into the crowd! Shayna runs in, Shotzi TOSSES her, too! Here's that front row seat Shotzi promised last night! CROSSBODY and fans go toppling over! Fans nearby lose their minds seeing that! Shotzi stands up and drags Ronda back up. The ring count is climbing, Shotzi hurries to throw Ronda over the barriers.
We're at 7 of 10, Shotzi puts Ronda in at 8. Shotzi climbs but Ronda meets her with a KNEE! Ronda brings Shotzi around, SUPER SAYANAGI!! Ronda crawls to cover, TWO!!! Shotzi survives and Ronda is furious! Ronda drags Shotzi around, rolls to fireman's carry her, PIPER'S PIT!! Ronda says this is for the fans! ARMBAR!!! Shotzi taps, Ronda wins!
Winner: Ronda Rousey, by submission (still SmackDown women's Champion)
Shayna returns to hand the belt to Ronda while fans boo. Shayna was the real advantage for Ronda here, will anyone be able to stop the Baddest Woman on the Planet when she has back-up like that?
Sami Zayn meets with Roman Reigns.
He knows they wanted to talk, so is now a good time? The perfect time. How is Sami feeling? Good! Tonight's a big night, right? Always a big night for the Bloodline. But about last night… Was Sami talking to Kevin? Sami admits it, he was talking to Kevin. Roman sighs. Then he asks Sami this: Why'd he lie to Jey about it? Sami says he didn't lie, he just withheld information. But it was only because Jey had the match that night. The advantage was on the line, Sami didn't want to put things on Jey's plate. Jey already has trouble trusting Sami outright, Jey wouldn't have understood, Sami didn't want to put that on his plate.
And Sami didn't initiate, it was Kevin who talked to him. Kevin talked, then left, and that is the truth. And what was it that Kevin said? Kevin said that Sami should be the one to turn on The Bloodline before they turn on Sami. Kevin's Sami's friend, right? Or was. Roman gets that. But Roman wants Sami to understand that this is family. This is blood. Roman needs Sami to look him in the eyes and Roman needs to know if Sami is with them, or will stab them in the back. Sami say she is with Roman. Roman needs to understand that. There are five people on the whole planet allowed to be in this room: Heyman, the Usos, Solo, and Sami. That's not lost on Sami, that means the world to him.
It means the world to Sami that Roman took him in as family. Sami will not let Roman down tonight. He will not let Roman down any night. He is with The Bloodline. Roman looks at Sami, Sami looks at Roman, and Heyman watches them both. Roman stands up, and tells Sami to stand up. Sami does stand, and Roman smiles. Roman says, "Let's do it." Roman HUGS Sami! Sami thanks Roman, but then the look on Roman's face seems different. Did Sami really convince Roman he's genuine? Or is Roman the one who convinced Sami?
WWE United States Championship Triple Threat: Seth Rollins VS Bobby Lashley VS Austin Theory!
The Visionary and the All Mighty battled for this belt 1v1 and the Visionary won, and that didn't sit well with the All Mighty. But then, just as Lashley brutalized Rollins, the Youngest Mr. Money in the Bank did something with his briefcase never thought of before and he cashed in on the US title! Lashley kept Theory from taking the title, but now all three men will battle for this belt at the same time! Will Lashley take back what was his? Will Theory prove he isn't the future but the NOW of WWE? Or will Rollins #BurnItDown in Boston?
The introductions are made, the belt is raised, and we see if anyone can dethrone Seth Freakin' Rollins!
The bell rings and Lashley CLOBBERS Theory right out of the ring! Fans sing "OH~ OHH~ OHHH~!" and Rollins says okay, let's have this 1v1. Theory gets back in, Rollins CLOBBERS him right out! Lashley and Rollins brawl, Lashley RAMS Rollins into the corner and then RAMS him again and again and again! Lashley runs side to side to RAM Rollins, then hit a NECKBREAKER! Fans rally for Rollins but Lashley brings him around to suplex. Rollins knees free, CHOPS, but Lashley just glares at him. Rollins CHOPS, CHOPS, and ROLLING- NO, Lashley gets around but Rollins fights the full nelson! Rollins PELES Lashley away, runs in but is put on the apron.
Rollins ROCKS Lashley but Theory trips Rollins up! Theory RAMS Rollins into barriers! Theory snarls and stares Lashley down. Lashley storms out but Theory slides in. Lashley slides in but Theory fires off forearms and stomps! Theory rains down fists but fans boo. Theory drags Lashley up, but Lashley suplexes Theory! Lashley carries Theory around then SLAMS him down! Rollins springboards in, but into a back drop! Theory kick but Lashley blocks to ELBOW him away. Lashley then clotheslines Theory in a corner, then clotheslines Rollins in the other. Lashley RAMS into Theory, then he RAMS into Rollins!
Fans fire up, Lashley has Rollins but Theory runs in. Lashley catches Theory, COMPLETE SHOT DDT COMBO! Lashley fireman's carries Theory to then RAM into Rollins! Lashley roars and fans fire up! Rollins stagger sup, Lashley kicks low and gut wrenches to the Canadian Rack, AK-47! Cover, Theory drags the ref out! Fans boo but there're no disqualifications here for that. Theory runs form Lashley but Lashley drags him out of the ring to TOSS into the timekeeper's area! Fans fire up and Theory has a chair! But Lashley blocks it! Lashley throws the chair away, YANKS Theory into a fireman's carry, but Theory slips off!
Theory shoves Lashley but Lashley stops from being posted. Lashley ELBOWS Theory away, but Rollins FLYING KNEES! Direct hit on Lashley and Rollins RAMS him into steel steps! Fans fire up and Rollins hurries to pull the steps apart. But Theory CLOBBERS Rollins! Theory rains down fists, fans still sing "OH~ OHH~ OHHH~!" Theory has the steps and he RAMS Lashley down! Then he RAMS Rollins down! Theory puts the steps down a moment, but he sees Lashley getting back up. Theory picks the steels up to SLAM them into Lashley! Theory puts Rollins in the ring, somersaults and SHOTGUNS Rollins down! Cover, TWO!
Theory stomps away on Rollins but fans boo as he paces about. Theory drags Rollins up, bumps him off buckles, then throws haymakers and body shots. Theory digs his knee in but fans sing "OH~ OHH~ OHHH~!" Theory goes out after Lashley to SMACK him off the desk! Theory RAMS Lashley into barriers! Theory slides back into the ring to drag Rollins up, but Rollins cradles! TWO!! Theory CLOBBERS Rollins, covers, ONE!! Theory looms over Rollins, DECKS him, then pie faces him around. Rollins seethes as Theory talks trash and pushes him around. Theory ROCKS Rollins, pushes him around, and says this is HIS time!
Rollins ROCKS Theory! And again! And again! Rollins CHOPS, ROCKS, repeat! Fans "WOO~!" as Rollins CHOPS and CHOPS and CHOPS! Rollins whips, Theory reverses but Rollins CLOBBERS Theory! And again! And then redirects Theory to SLINGBLADE! SUPERKICK! Fans fire up and Theory bails out, Rollins builds speed to DIVE onto Lashley! Direct hit, and Rollins builds speed again to DIVE onto Theory! Rollins keeps moving, he DIVES and hits Lashley again! Rollins gets up but Theory runs in! Rollins sends him out, builds speed and FLIES! Direct hit on both opponents and Boston is thunderous!
Fans sing "OH~ OHH~ OHHH~!" as Rollins brings Theory up. Theory shoulders in, somersaults, but into a POWERBOMB! Cover, TWO! Both Theory and Rollins are down and Lashley slides in. Rollins hurries to kick Lashley back out, then he goes to a corner. Fans fire up and sing for Rollins again. Rollins soaks it all in, then aims at Theory, Rollins runs, but Lashley drags Theory out of the way! MILE HIGH SPINEBUSTER! HURT LOCK on Rollins! But Theory jumps onto Lashley for a SLEEPER! Rollins pries at the hold while Theory squeezes tight! Lashley lets Rollins go so he can TOSS Theory out of the ring!
Rollins returns to kick low and hook the arms! PEDIGREE!! Cover, TWO!! Lashley survives because Rollins isn't The Game, but fans rally up behind Rollins as he gets back up. Rollins drags Lashley into a drop zone and he hurries to a corner. Rollins climbs, PHOENIX- NO, Lashley moves, Theory throws Rollins out! Theory runs at Lashley, SOMERSAULT BLOCKBUSTER! Theory calls for it, fans boo but Theory drags Lashley up. Fireman's carry, A-TOWN D- NO, Lashley slips off to get the HURT LOCK!! Theory endures, pushes off the corner to get a cover! FROG SPLASH OUTTA NOWHERE!! Cover on Lashley, TWO!?!?
All three men are down and Boston cannot believe it! "This is Awesome!" as all three men start to stir. Rollins watches Theory go to ropes. Rollins storms over but Theory shoves back. Theory swings, misses, but he ELBOWS Rollins. Rollins PELES Theory, but Theory fireman's carries! Rollins slips off, runs and ROLLING ELBOWS! Then the turn and DRAEM SM- NO, Theory ducks to ROCK Rollins! Theory hooks the arms, but Rollins fireman's carries! Lashley drags Theory off into a DOUBLE HURT LOCK?!? How is Lashley doing that!?! But they both RAM Lashley into the buckles! Lashley runs, but Theory jumps over, Lashley POSTS himself!
Rollins ROCKS Theory, SUPERKICKS Lashley, DREAM SMASHER for Theory!! Fans are thunderous again and Rollins aims. Rollins sees his targets line up, he runs in to leap off Theory and STOMP Lashley! Theory whips, but Rollins throws Theory out but Theory ROCKS him back! Theory goes up top, Rollins is right after him! SUPERPLEX and roll through to a FALCON- SPEAR!!! Theory falls onto the cover, and Theory wins?!?!
Winner: Austin Theory, by pinfall (NEW WWE United States Champion)
Boston boos because they can't believe the sheer luck of Theory! The Youngest TWO-TIME United States Champion in WWE history leaves Boston victoriously, is he truly The NOW?
Jey talks with Roman again.
What did Sami say? Is he lying to Roman, too? Roman looked Sami in the eye and he saw everything he needed to see. Alright. Jey accepts that answer, but Roman is still very cryptic. Is this going to turn out good for Sami? Or very, very badly?
Men's WarGames: The Bloodline VS Team Brutes!
The Tribal Chief has done whatever he wants to whoever he wants in the WWE, all thanks to having The Usos, Solo Sikoa, and even the Honorary Uce, Sami Zayn, by his side. But now, there won't be any surprises, because they're all here in the open, and so are their enemies! Will Drew McIntyre, Sheamus, Ridge Holland, Pete Dunne & Kevin Owens take advantage of their numbers advantage win last night? Or can nothing stop a united Bloodline?
Stepping up first for the Brawling Brutes is the Bruiserweight! "Butch" enters his FOURTH WarGames, will that in itself be a powerful advantage? Stepping up for the Bloodline is Jey. Roman hugs it out with his Right Hand Man, will Jey make the family proud? The bell rings and the five minutes start ticking away. Jey and Dunne stare down from opposite rings and Jey talks trash. Dunne is snarling, Jey tells "Butch" he's in the big boy league! Dunne dares Jey to get in his ring, then! Jey steps through the gap, but he hesitates. Dunne keeps egging Jey on, fans chant, "Let's Go, Ucey!" Jey rushes in and Dunne is right on him!
Dunne fires off hands, whips and CLOBBERS Jey! Dunne drags Jey around to wrap an arm in a hammerlock. Dunne grabs the other hand, and he bends fingers back! And then the elbow! Jey endures but tapping out wouldn't matter now anyway! Dunne isolates that arm to STOMP it! Dunne puts that hand against the steel and he bends the fingers against the chain links! Jey fights but Dunne BOOTS the hand! Jey scrambles away, clutching his fingers, but Dunne is right on him at the ropes. Dunne wraps that arm around the ropes and tortures Jey with a hammerlock and chinbar! Dunne CLUBS Jey, then brings him around.
Dunne whips but Jey reverses to TOSS Dunn into steel! Jey CLUBS Dunne back down, then stalks him. Jey drags Dunne up for a POP-UP NECKBREAKER! Jey watches the clock as we are under two minutes. Dunne sits up but Jey eggs him on. Jey wrenches for an ARM CODE BREAKER! Dunne writhes and Jey circles around him. Dunne KICKS Jey's leg, kicks from below, but Jey DECKS Dunne! Jey clutches that bad hand as we reach one minute. Jey hammerlocks and whips Dunne into the steel! Dunne writhes and crawls his way to the other ring, but Jey follows him. Jey eggs Dunne on, but Dunne gets the fingers!
Dunne ends the fingers, and STOMPS them on the steel in the gap! Jey shakes out the hand as he crawls away, but Dunne is right after him. Dunne hauls Jey up to KIMURA! Jey gets to ropes to stay standing, and he SLAMS Dunne down! The countdown is done, the Brutes send Ridge the Fridge! Ridge storms in, he dodges Jey to run him over! And again! Ridge then ducks 'n' dodges to FLYING SHOULDER! Ridge helps Dunne get up and the Brutes bring Jey up. Jey mule kicks and UPPERCUTS Ridge! Jey whips, Ridge reverses but Jey KICKS him! Jey runs, into a POWERSLAM! Ridge waits for Jey to stand, he runs in and SPLASHES in the corner!
Ridge keeps going, another SPLASH! And then another SPLASH! And another! Dunne adds a forearm smash, Ridge comes back to SPLASH again! Ridge HEADBUTTS Jey down, then he and Dunne coordinate! They beat their chests, watch Jey rise, and then they HIGH LOW Jey down! Dunne and Ridge then isolate the arms, to DOUBLE KNEE DROP them! Jey crawls to a corner as he still has one minute all alone. Dunne bends the fingers again, then Ridge pulls on a leg! Jey can only endure as Dunne digs his knee into the hand, then STOMPS it! Jey flops away into the other ring as we reach 30 seconds.
Dunne and Ridge stalk Jey, torture his hands and arms again, and then STOMP both arms at once! The countdown is done, but the Brutes are waiting. Here comes Ji- No? Roman says SAMI is next? Jimmy accepts that, and this could be a test for the Honorary Uce! Sami takes his time walking to the ring, knowing the Brutes will be right on him. Sami calls to Jey, fans cheer on "SAMI USO!" as he walks up to the steps. Sami walks in, Dunne has Jey but Jey TOSSES Dunne into the steel! Jey and Ridge brawl, Jey whips but Dunne TOSSES Jey! Now Sami attacks! Sami fires off on Ridge, DUMPS him into the gap, and then stomps away on him!
Fans fire up as Sami jumps and stomps and kicks Ridge around! Sami has Ridge in a corner, he fires off haymakers,  but Ridge dodges to EuroUpper and EuroUpper and EuroUpper! Ridge fires off haymakers but Jey catches Ridge on the ropes. Sami DECKS Ridge! Sami pats Jey on the back but Jey pushes him away. Jey and Sami argue, but Dunne is up top! Dunne BOOTS Sami, BOOTS Jey, then MOONSAULTS them both down! Fans fire up as the Brutes regroup. Ridge storms up to pick bot Sami and Jey up! DOUBLE BACK DROP! We're under a minute now as Ridge dumps Jey into the second ring.
Ridge stomps a mudhole into Jey, then he backs up. Jey stands, Ridge runs in, but Sami pulls Jey out of the way! Ridge hits steel! Dunne goes after Sami but Jey goes after Dunne! Jey TOSSES Dunne into steel, but the countdown is done! Here comes the Scottish Warrior! McIntyre storms his way over, Jey and Sami are ready. McIntyre steps through the gap and both Sami and Jey go after him! He pushes them both away to CLOBBER Sami and TOSS Jey into steel! McIntyre TOSSES Jey into the other side! McIntyre then TOSSES Jey into more steel! McIntyre scoops Jey, to LAWN DART Jey into steel!
But Sami leaps! But McIntyre catches him! OVERHEAD Belly2Belly! McIntyre then clinches Sami in the other corner, for another OVERHEAD Belly2Belly! Jey staggers up, into a SPINEBUSTER! McIntyre says "I'm feeling pretty Ucey right now!" He drags Jey up to CHOP in the corner! McIntyre hoists Jey up top as we reach one minute on the clock again. McIntyre climbs up after Jey, fans are torn, but Sami trips McIntyre up! But Ridge TOSSES Sami into steel! Jey kicks McIntyre, fire hands on Ridge and Ridge falls. But Dunne springs up! Jey ROCKS Dunne, sends him tumbling away, but McIntyre sits up! SPIDER SUPLEX!
McIntyre gets out of the Tree, he dodges Sami, and hits a FUTURE SHOCK! But the countdown is over, and now the Bloodline sends Jimmy! McIntyre has Sami on the top rope but Jey trips McIntyre! Jimmy brings out a TABLE! Boston fires up as Jimmy sends in the furniture, and both Sami and Jey hurry to set it up. Jimmy sends in another table! And then a third! The Bloodline quickly turns the tables but Jey doesn't want Sami to bother. Jey will set this one up, and Jimmy tries to keep the peace. But Sami and Jey start shoving! Jimmy tells them all to chill, and Roman doesn't like what he sees.
The Brutes rush in but they get mugged 3v2! Jimmy tosses Dunne, and he tells Jey to help keep the Brutes down. The Usos mug McIntyre while Sami sets up a table. The Usos TOSS McIntyre into steel! Jimmy ROCKS Dunne then TOSSES him, too! Sami brings the table into the second ring, we have one minute left again as Sami and Jimmy set the table up against a corner. Jey stomps and kicks the Brutes down, then Sami stomps McIntyre in the corner. Sami stands on McIntyre, "This is the Bloodline!" Jimmy KNEES Dunne down, then Sami drags McIntyre up. Sami and Jimmy work together while Jey checks his hand.
But the countdown is finishing as McIntyre hits a GLASGOW KISS! Then one for Jimmy! Here comes KEVIN!! Jey ROCKS McIntyre, but Kevin is searching under the ring. Kevin finds chairs! Kevin throws those in a few at a time, then he storms up. Kevin JAMS Jimmy. JAMS Jey, then SMACKS Jimmy! Jey gets a chair, the chairs CLASH, then Kevin SMACKS Jey on the back! Kevin sets the chair down to DDT Jimmy on it! Then he CANNONBALLS into Jey! Fans fire up as Kevin goes up top, SWANTON BOMB onto Jey! Fans fire up again as Kevin gets the chair and CHUCKS it at Jimmy! Down goes Jimmy!
Kevin gets the chair back to SLAM DUNK it on Jey! But now Kevin and Sami meet. Ridge CLUBS away on Sami! Sami falls, Kevin and Jey brawl. Jey SMACKS Kevin with the chair! Jimmy rains down fists in Kevin while Ridge and McIntyre mug Sami. Jimmy SUPERKICKS Ridge, but Dunne JAMS Jimmy with a chair. Dunne SLAMS Jimmy's hand on a chair but Jey DECKS Dunne! McIntyre suplexes, stalls, and SLAMS Sami! Fans rally as McIntyre puts Sami in a corner. McIntyre stomps and ROCKS Sami on repeat. Dunne GAMANGIRIS Jey but Jimmy sets up a table. Kevin BACK SUPLEXES Jimmy through the table!
McIntyre CHOPS Sami, Ridge stomps Sami, Dunne forearm smashes Sami! We're under 20 seconds as McIntyre stomps away! The countdown finishes, and the Bloodline sends The Enforcer! Solo fires up and goes to the ring. The Brutes stomp a mudhole into Sami but Solo CLOBBERS Ridge! Solo fires haymakers on Ridge, Dunne fires forearm on Solo. Solo shoves Dunne away to LARIAT him down! Solo TOSSES Dunne into steel! Ridge uppercuts Solo over and over, whips, but Solo reverses! Ridge comes back, into a SAMOAN DROP! Fans fire up with Solo, and then he stares Kevin down. They both step into the gap, and they fire off haymakers!
Fans fire up for the brawl and Solo HEADBUTTS! Solo whips but Kevin reverses and Solo hits steel! But he just shrugs it off?! Solo snarls, but Kevin SUPERKICKS him! Solo stays up, another SUPERKICK! Solo is still up so Kevin stomps a bare foot! Kevin reels Solo in but Solo fights the bomb to back drop Kevin on the steel! Kevin writhes, we're at another one minute mark. And now, Solo stares down with McIntyre. This is for Clash at the Castle! They brawl with big haymakers, Solo ROCKS McIntyre but McIntyre BOOTS Solo! Solo SUPERKICKS and McIntyre goes to a corner! Solo roars and runs in, HIP- FLYING HEADBUTT!!
All eight men are down and the countdown is done! And finally, The Fella is in! Sheamus storms to the ring but Sami holds the door closed! Sheamus and Sami tug-o-war, but Sheamus wins that to then SLAM the door shut on Sami! Sheamus gets in to CLOBBER Jimmy, CLOBBER Jey, and CLOBBER Sami! Sheamus clotheslines Jimmy into the gap! Then he scoops Jey for an IRISH CRUSE BACKBREAKER! POWERSLAM for Sami! Fans fire up as the Celtic Warrior then goes to the corner of the second ring, for a DOUBLE FLYING LARIAT! Both Usos are down but Roman is preparing for his turn. Sheamus TOSSES Jimmy into steel!
Sami swings wild but misses. Sheamus clinches but Sami kicks free and fires off haymakers! Sami whips but Sheamus reverses to send him into steel! Sheamus helps the Brutes stand back up and fans fire up. The OG Brutes TRIP SPLASH Sami and the Usos against the steel! And then they fire off haymakers! McIntyre stomps Solo to keep him down while the rest get beat down! Solo HEADBUTTS away on Sheamus, whips him, but Sheamus fights the fireman's carry! Sheamus swings, but into a clinch! Sheamus fights that, too, while McIntyre smothers Jimmy. Sheamus and McIntyre stomp Solo and Jimmy down.
Sheamus fireman's carries Solo, he climbs up a corner, and hits Solo with a SUPER WHITE NOISE!! Both men are down, but the countdown is done! The Head of the Table finally joins the action, and WarGames can finally end! Roman helps the Bloodline regroup in one ring while the Brutes are all in the other. The ten men all stare down, fans fire up, and the chants of "UCEY! UCEY!" return. The Brutes rush the Bloodline and the brawl is on! Sheamus has Roman and Roman ROCKS Sheamus! Roman ROCKS McIntyre! Roman ROCKS Ridge! He ROCKS Dunne, then he ROCKS Kevin! The Tribal Chief locks 'n' loads to SUPERMAN PUNCH Sheamus!
Fans are torn as Roman looks around at the battlefield. Sheamus staggers up, Roman lets out the battle cry! But Sheamus KNEES Roman away and TOSSES him to the gap! Sheamus has Roman on the ropes, and McIntyre helps keep Roman there! But then the Bloodline go after them! Ridge and Dunne go after the Usos and Sami, somehow, someway, the Brutes put everyone in the Bloodline on the ropes! Fans fire up for a QUINTUPLE BEATS OF THE BODHRAIN! They all go past TEN, and then to TWENTY, and then to TWENTY-FIVE!! That's 125 beats in total!! Fans are thunderous as the Brutes all sort things out with the Bloodline.
Sheamus throws hands on Roman but Roman hits back! McIntyre and Kevin join in, they all have a bone to pick with Roman! The others go to stop the Bloodline, Sheamus swings but Roman ROCKS him with an uppercut! And another! Roman fireman's carries but Sheamus fights free to shove and KNEE Roman down! Fans fire up as Sheamus aims from a corner. "BROGUE! BROGUE!" And Sheamus runs at Roman, but Solo takes the BROGUE! Roman SPEARS Sheamus! Cover, Dunne breaks it in time!! Sami fires off on Dunne! "You know who that is?! That's the Tribal Chief! You understand who you're dealing with?!"
Sami ROCKS Dunne but Dunne ROCKS Sami! Jey runs in, but Dunne dodges and the SUPERKICK hits Sami!! Not that Jey really cares, but Jimmy gets mad at him. Dunne BOOTS Jey, hops up top, but Jey ROCKS Dunne! The Usos climb up and have Dunne, SUPER ONE D!! Cover, Ridge breaks it!! Ridge drags the Usos up, but they shove him away to DOUBLE SUPERKICK! Ridge wobbles, Roman SPEARS Ridge through the table!! Fans lose their minds as Roman crawls out of the wreckage. But right to McIntyre's feet! McIntyre drags Roman up, TOSSES him into the first ring, and then brings him towards a table!
McIntyre drags Roman up, reels him in, but Solo SUPERKICKS McIntyre! SPINNING SOLO through the table!! Solo roars, but Kevin gives him a STUNNER!! Cover, Roman breaks it! Kevin and Roman stare down now, and fans fire up seeing these two meet again! Kevin and Roman circle, Kevin shouts, "I'm not done with you! Not by a long shot!" Kevin SLAPS Roman, then the haymakers start flying! Roman ROCKS Kevin with an uppercut, runs in but into a STUN- NO, Roman powers out to SUPERMAN PUNCH! Kevin crawls, Roman steadies himself, "OOAH~!" Roman runs in, into a SUPERKICK! Kevin whips Roman for a POP-UP POWERBOMB!!
Kevin fires up, Roman staggers up, into a STUNNER!! Cover, Sami stops the ref!! Sami said he was on Roman's side, and this just proved it! Kevin glares at his best frenemy, but fans chant "SAMI USO!" Sami and Kevin stare down and Sami says it doesn't have to be like this. Kevin is a friend but Roman is Sami's family. Oh, is this family? Kevin has Roman, but he blocks Jimmy's superkick! Sami LOW BLOWS Kevin!! Fans boo, because it's one thing to show loyalty, but it's another to literally go below the belt! Sami seems conflicted about it, but he tells Roman that he did this for him. Roman nods, Sami runs in at Kevin, HELLUVA KICK!!
Kevin falls against Sami and Sami holds him up, and Sami looks at Jey. Sami pushes Kevin down into the drop zone, and he offers him up. Jey goes up, USO SPLASH!! Cover, the Bloodline wins!
Winners: The Bloodline, by pinfall
The Honorary Uso just turned on his friend of 25 YEARS to side with the Tribal Chief. And Roman hugs Sami for it! Even JEY hugs Sami!! With Sami finally sitting at the table on the Island of Relevancy, is there no stopping The Bloodline from running everything in WWE?
---
My Thoughts:
What a wild Survivor Series with WarGames for the first time. Obviously this was going to end up bookended by the WarGames matches, and with ladies first, they gave us an awesome opener, and from a strategic standpoint, it made so much sense to have Bianca, Kai & Sky start because they had WarGames experience. And the trend still stands, the team that wins numbers advantage loses. To be fair, I'm not sure how that serves the story with Bianca still Raw Women's Champion and Kai & Sky still the tag team champions. If it went the other way around, maybe there'd be something because Bayley would want one more shot at Bianca.
Now, with Becky getting the win, maybe Becky wants a Raw Women's title match but Bayley says "Not so fast!" and we get a great match between those two to name a #1 contender. Meanwhile, it can also set up Alexa & Asuka VS Kai & Sky again, but with Nikki stepping in to feud with Alexa instead. Also I like that Nikki's ring gear was a villainous recolor of her Almost Super Hero outfit, because there was clearly the lightning butterfly still on it. One detail that was played up well was Rhea and Mia not being able to join Judgment Day and OC since Styles VS Finn was right after.
Styles VS Finn was awesome stuff, and I did like that the Good Brothers brawled with Dom & Priest to the back. Styles winning makes sense with all the wins Judgment Day got through cheating, but I can't really say this was definitive. There's always a chance the factions just move on to other feuds, but I can't be sure how that would work, either. Shotzi VS Ronda was… Well, that apron DDT was awful, but probably because Ronda, through no fault of her own, just didn't wanna take it. Self-preservation is a hard instinct to fight off but you kinda have to as a pro-wrestler sometimes. Without that, things moved pretty smoothly, but it didn't help that Boston only wanted Sasha Banks to return and nothing else. And again, it was obvious that Ronda was going to retain, so that didn't help, either.
Great Triple Threat for the US Championship, and I suppose it's also a case of perspective how that finish felt. For one, a Spear that stops a Falcon Arrow, only to result in the third guy winning was very creative. Theory was either opportunistic or lucky, I saw it as lucky, but sometimes stuff happens differently live than planned on paper. Either way, Theory winning the title was a surprise, I thought Rollins was going to keep on rolling through the year. But maybe now Rollins and Theory feud 1v1 to prove who is truly the better man.
And we had great promos leading up the main event to keep in question whether or not Sami will stay loyal to The Bloodline. They did a great job keeping it rather vague on how Roman was feeling, and then it all showed itself in the match as Sami saves Jey, who was always doubting him, and even sinking to new lows to betray Kevin. Which is also great given Sami's story with Kevin because it was Kevin who betrayed Sami first in NXT, and now Sami betrayed Kevin here on a bigger stage. The Bloodline wins to also keep the trend of the advantage actually being a disadvantage, and now this must be pushing past the Rumble to give us something big for WrestleMania, which makes a lot of sense really. They stumbled onto something great with "Sami Uso" and they're going to keep it going.
My Score: 8.9/10