The Good, Bad and Ugly SmackDown Live (2/19/19)
Bobby gives us the Good, Bad and Ugly of SmackDown following Elimination Chamber!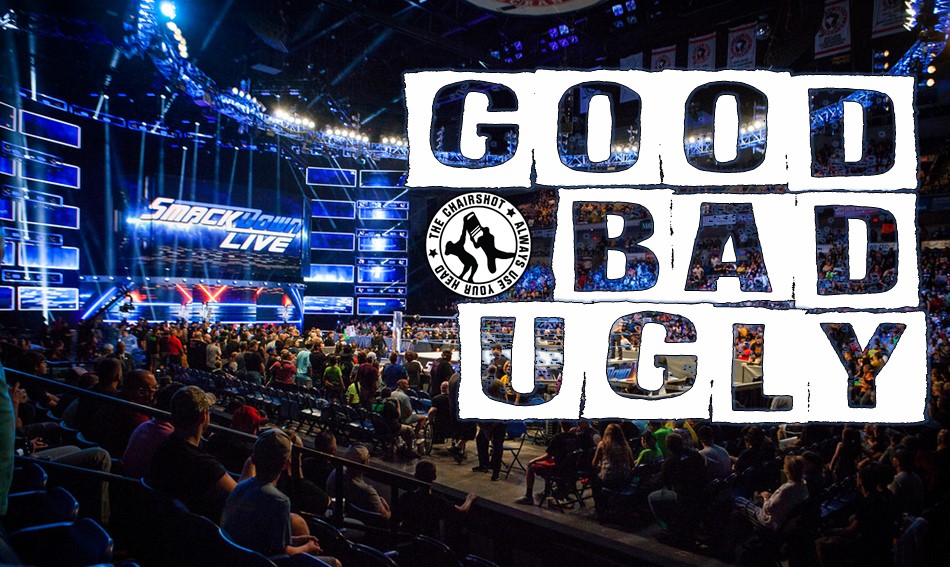 Bobby gives us the Good, Bad and Ugly of SmackDown following Elimination Chamber!
Raw was okay.  That's it.  NXT did their usual stellar job but the show had some major flaws.  It's nothing major and overall Raw was Good and more than got the job done.  The whole roster both NXT and WWE Raw and SmackDown have been going full steam and ready for this WrestleMania which speaking personally feels very special this year for some reason. 
GOOD
Shane McMahon
Here comes the money!  Shane took to business hyping the NXT call ups, when Miz interrupted and apologized to his partner.  Shane O Mac and Miz can work the hell out of a crowd and bring a ton of emotions every single time!  Sometimes things get crazy and not everything clicks especially when high risk is involved which messes these guys up every single match.  They still continue to show up every show and put in work.  We haven't seen their best stuff yet.  The Usos when they get loose out go wild and leave it all out there.  All legit vets that can work and will be present in the some fashion at WrestleMania.  It went a little bit slow and long but it was from the heart which WWE fans respect.  Uso's joined and taunted McMiz to a rematch in a mocking fashion.  Fastlane Rematch for the SmackDown Tag Team Championships.  Good by a heartbeat, the match Fastlane hopefully will be better than the last one.    
Andrade w/ Zelina Vega vs. Aleister Black
SD Live whipped out the big guns in this one!  Holy talent!  No need to build up this match, it is Good the way it is.  As usual we had talent showcasing kicks, strikes and high risk.  That is these guys comfort zone and it shows.  The NXT crew has only made things better as they always do.  Being used in the NXT personas has been a great way to keep them prominent and seemingly safe from being buried on the main roster.  Andrade was a huge NXT Star himself at one time and him and Black are a perfect blend.  Zelina Vega is a pleasant addition to Andrade every match as well and always finds a way to get involved effectively.  However before she could get involved in this one, Aleister Black hits "Black Mass" for the win.  Solid, clean match with two very talented Superstars. 
"DIY" Ciampa and Gargano (NXT and NXT NA Champions) vs. The Bar Shamus and Cesaro
The promo of Cesaro talking trash and The Bar laughing and belittling DIY was entertaining and very effective.  Good little hype promo.  This is a solid contrast of teams.  All four are extremely intense and physical.  DIY has all the speed and the little bit of crazy that helps when you need it.  The Bar is all precision, pain and power.  Really stiff match here, a lot of punishment on both sides.  It was fantastic though as NXT Talent continues to show up ready to rock out!  The Bar had this match on ice but out Ciampa got the blind tag and an over the top "roll up" on the "Swiss Superman" for the upset victory.  Awesome Match!
Non-Title Match- (SmackDown Women's Champion) Asuka vs. Mandy Rose
Mandy Rose wanted to fulfill Asuka's Challenge.  Mandy Rose with her sidekick Sonya Deville came down and Mandy Rose faced the Champ.  Out of the blue, Lacey Evans came out distracting everyone.  Sonya Deville stood in her way and turned her around.  Mandy Rose looked great in there and working with someone as Good as Asuka is a big thing for her.  Asuka is amazing and is a strong person to have that title.  Mandy Rose hit a vicious knee on the outside and later played an eye injury getting a cheap roll up for the win and pinned the SmackDown Women's Champion in this non-title match.    
Ricochet vs. Eric Young w/ Sanity)
Another very effective mix of talent here.  Eric Young who isn't seen enough being as Good as he is, facing the best of the best, Ricochet.  This is a potential blockbuster.  Honestly though considering who was working here, this was a pretty slow match at times.  Looked sharp though but not the usual speed of these two.  Finally after Eric Young had controlled the whole match, Ricochet started moving.  Eric Young got busted open and Ricochet continued his assault.  Ricochet took down the whole Sanity crew flying through the air.  Ricochet maintained and hit his "630" Splash for the win!  Okay match, and with Ricochet, far from being a Bad one.    
Kofi Kingston, AJ Styles and Jeff Hardy vs. Daniel Bryan (C), Randy Orton and Samoa Joe
Bryan, Orton and Joe, make Sanity look like a Boy Scout troop.  The heels isolated Jeff Hardy and took turns beating him down.  Rapid tags and effective offense kept them in control until Kofi Kingston got the tag and came in hot.  All hell broke loose, Kofi got slammed onto an announce table, with fighting all around.  Once things got back in the ring, AJ Styles got the tag from a beaten Kofi and AJ killed it but took some punishment as well.  Kofi came in again and shined!  Kofi went on to hit a "trouble in paradise" and pin the Champ, Daniel Bryan for the impressive victory. 
Shane O' Mac then announced that Kofi Kingston will be getting a title shot at Fastlane against Daniel Bryan.  Well-deserved and well done!
BAD and UGLY- No and No.
FINAL
Good- 6
Bad- 0
Ugly- 0
Overall
Nothing is perfect but SmackDown was Good.  There were a few blah spots and times where it could have been better overall, but it was a solid show.  It was entertaining and continued the party on the Road to WrestleMania. 
NXT is the next one on the agenda and never soon enough.  But we seemingly have had NXT action all week so far which has been a huge success.  The audience wins all around with the addition of NXT talent to Raw and SmackDown.  What will that mean for NXT now though?  Well I would say it will only make everyone else there even hungrier to shine.  Looking forward to seeing what's next!  Read the next Good, Bad and Ugly!