The Good, Bad and Ugly WWE NXT (2/20/19)
Well NXT is good most of the time. Is this a foregone conclusion or does Bobby find flaws with this episode?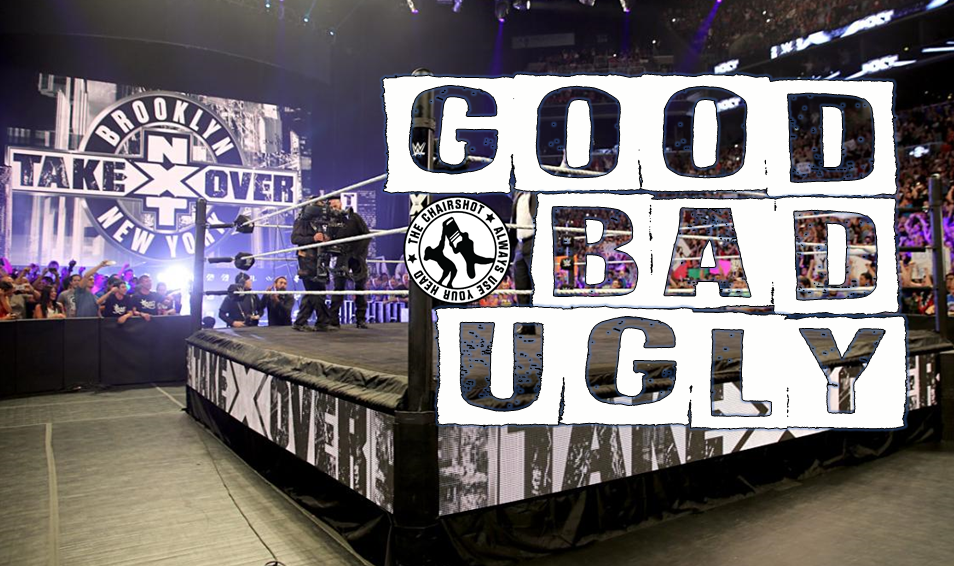 Well NXT is good most of the time. Is this a foregone conclusion or does Bobby find flaws with this episode?
Raw and SD Live are Good and done.  NXT is the real deal and helped Raw and SmackDown shine.  Not to be outdone the Main Event this week is a stunner.  Dream and Gargano will bring it no question.  No more hype needed, let's get down to ringside!
GOOD
Aleister Black vs. Roderick Strong
Hell of a way to open NXT or any show for that matter.  We have a member of Undisputed with a storied history and natural talent galore.  Then we have the guy, the big gun Aleister Black is also not going to drop the ball especially against someone who can work as well as Strong.  We had a lot of clean Good work here and a real tribute to wrestling.  As Good as Black is Strong fought hard and put up a lot of offense.  He took a lot of punishment also as Black is a master in there.  The top NXT Talent knows how to turn it off.  A few close falls for Strong but Aleister pulled through once again with a hard fought win!  "Black Mass" is a devastating move and seems to be the key that Black needs to keep on winning.  Undisputed Era Adam Cole and Bobby Fish came out and tried to beat down Aleister for his win on their boy but Ricochet ran in for the save allowing Aleister Black to get an edge backing off Undisputed Era.  Very Good, strong opening to a great show! 
Mia Yim vs. Xia Li
Xia Li is straight Mortal Combat.  This was a pretty decent match, not the best stuff ever but some creative spots and a lot of struggle.  Interesting how the talent was showcased here.  You don't see these two very often which says maybe a call up is coming for a few NXT Women's talent.  They will introduce and test out some newbies and pair them with current big shots.  Good Match here showing the audience something different.  Mia Yim Finished Her!  Shayna Baszler and her crew of hoodlums came out and jumped Mia but a crew from the back ran out to neutralize.  Again Good talent pairing up with newbies, which is a great idea and way to invest in the next ring of talent. 
NXT North American Championship- Johnny Gargano (C) vs. Velveteen Dream
WOW!  Now this is one hell of a Main Event here!  This is more than awesome and a real treat.  Although NXT always delivers and always has tremendous shows, this will be special.  Velveteen Dream is the truth, and Gargano is becoming a Mega Star every time he comes out.  Velveteen Dream straight up slapped the North American Champion stiff in the face.  Each guy doing what they do best, a lot of back and forth and a ton of entertainment value.  Dream showboating and hitting sick moves with a ton behind them and Gargano fighting back with all heart.  Johnny Champion started gaining momentum crushing Dream.  Dream again came back hitting some big moves to take back his spot.  They battled until the point of exhaustion, and simply just don't quit.  Every time one would get ahead the other would take it back.  It could have gone either way, Dream had Gargano set up and delivered a "Dream Valley Driver" off of the top and still, Gargano kicked out!  A true title match to the last minute, it was Velveteen Dream who shocked the world hitting a multiple "Dream Valley Drivers" and a huge "elbow off the top" winning the North American Championship!  Velveteen Dream delivered big time and now has a strap.  Biggest win of his career and will be one of many Championships that he will win.  What a sick match and amazing NXT Main Event!    
BAD- nope
UGLY- Nada
FINAL
Good- 3
Bad- 0
Ugly- 0
Overall
NXT is just that Good.  No need to be salty.  It delivers with elite level entertainment every time, like a well-oiled machine.  With these surprise NXT pop-ins this week, things are looking Good on the way to WrestleMania.  The Main Event was a work of art and one hell of a way to show off the high caliber talent that NXT offers.  Johnny Gargano is a star!  He is slowly becoming such a huge success and has unlimited potential. 
Good things happen to those who are patient.  Apparently Good things happen to impatient savage Wrestling fans as well.  WWE delivering the great content every show has been a joy as a fan, and it looks like the Good times will keep rolling.  Please like, share, comment and tell your friends.  See you soon on the next Good, Bad and Ugly exclusively on thechairshot.com