The Good, Bad and Ugly: WWE SmackDown (2/5/19)
Was the 2/5 WWE Smackdown rated Good, Bad, or Ugly?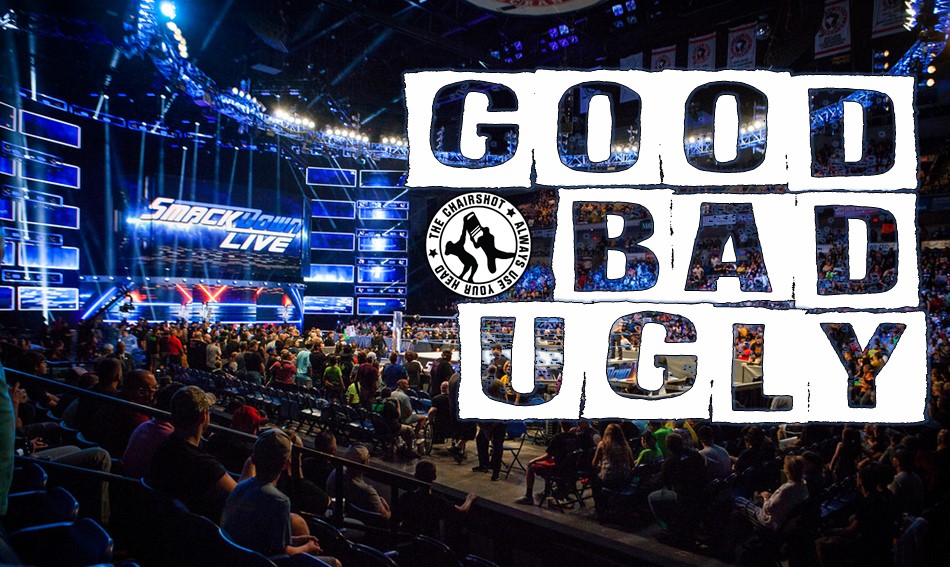 After rating Raw as marginally Good, Bobby Fernandes is back to evaluate the 2/5/19 edition of WWE Smackdown. How will it rate: Good, Bad, or Ugly?
Raw overall got a Good review however it wasn't up to par with the past Raw's as of late.  Luckily WWE has a lot of time between now and WrestleMania to get the momentum raging again.  It wasn't Bad either, just not as Good as it could have been.  SmackDown is still the superior of the two "brands" and looks to continue strongly to the big dance.  Elimination Chamber is also still to come and there is a long road left before WrestleMania.  Will SmackDown take a breather? Or will it explode as always with non-stop action?
THE GOOD
Charlotte Flair Opens the Show
Quite the opportunist, and usually not Bad on the microphone, Charlotte was over the top tonight and it wasn't Good.  Luckily for everyone Becky was in the crowd, suspension and all.  Lynch made her way into the ring and took control, until Triple H himself interrupted.  He then reiterated that Lynch shouldn't be there and needs to leave.  He then put "The Queen" in her place and dismissed her. 
Lynch just couldn't stop and antagonized HHH by making fun of Stephanie.  HHH called "The Man" a Martyr and a Coward.  He tore her down to the best of his ability citing that she is just plain scared trying to cop out, even so far as to accusing her of faking it.  Lynch smacked HHH for running his mouth in pure defiance, smugly smiled and gracefully left on her way.  GOOD open. 
Rusev (w/ Lana) and Shinsuke Nakamura vs. Luke Gallows and Karl Anderson
Having Rusev and Nakamura on television at any time is a Good idea.  Teaming them up is a great one.  Two fantastic personalities and pure talents who can play off of each other naturally, is just too Good.  It should be a cakewalk against "The Good Brothers."  Stated often when these guys are involved, there is an abundance of talent in this match.  Gallows and Anderson came into this with a big advantage however Rusev simply overpowered them. 
Anderson could not get a break as Rusev and Shinsuke took turns keeping him down.  Anderson just as he was about to lose the match hit a huge spinebuster tagging in Gallows.  Gallows cleaned house and knocked Nakamura out of the match.  Rusev looked like he was about to be finished but Lana rallied Nakamura back up, Nakamura made the save, and Rusev hit Anderson with a Machka Kick for the win.  Solid match.    
Mustafa Ali vs. Randy Orton
First off, Ali has a great opening, what a waste.  Orton is a Good fit to face Ali, as he is such a veteran and can still work.  Ali's resume is becoming vast and more impressive every time we see him.  Orton brutalized the young star.  Even when Ali fought back, he just couldn't get much early on.  Orton just kept up the pace and attacked constantly, even hitting a major superplex destroying the high flying Ali.  It looked like Ali was never going to be able to recover but little by little fought back.  Ali would not quit and kept fighting back.  Superkicks, and a series of high intensity attacks, Ali would finally get to compose himself.  Ali even countered the RKO and hit a devastating DDT for a close fall. 
Orton would not be denied and pulled Ali off the top backwards into an RKO for the win.  Classic style, clean and Good showing by these two.  Samoa Joe taking advantage as he does, got Orton into a "Coquina Clutch" and took his stand against his opponents at Elimination Chamber.  Daniel Bryan unexpectedly made his way to the ring, and Joe looked to attack before, Rowan intervened in an intense standoff. 
Daniel Bryan w/ Rowan
The typically "fickle" heel in his home state, seemed a bit more like his old self.  He is for sure a heel now though.  The same message and same attitude as of late, lecturing the masses.  Daniel Bryan for at least a little while was back in the driver's seat of the Yes Movement.  A shocker, above all else, Rowan then made his case.  Rowan whom I didn't know spoke, sounded shockingly Good.  The Planet's Champion continued his verbal assault, claiming that he is purposely getting all odds stacked against him to quiet his movement.  Even when Bryan would insult the audience they cheered him loudly.  This was a long promo, but given the hometown crowd, and the fact that he is the Champ, that is both acceptable and expected. 
Non-Title Match – WWE Champion Daniel Bryan (C) w/ Rowan vs. Jeff Hardy
Should be Good here.  Two vets, going at it on the Main Event of SmackDown.  Hell of a way to close the show.  This was back and forth, non-stop action.  Daniel Bryan took control though, breaking down Hardy.  Every time Hardy would get the upper hand, The Champ would cut him back down.  These guys are so professional, they don't stop.  Daniel Bryan was aggressive here and rightfully so, as Hardy needs to be completely destroyed or he will not stop. 
Hardy after getting close to defeat hit a huge Twist Of Fate and a Swanton but was pulled out by Rowan.  Hardy wins by DQ but before further damage could be done Samoa Joe attacked Daniel Bryan and locked in another Coquina Clutch.  Rowan made save and then destroyed Mustafa Ali who made his way out.  AJ Styles had enough and also ran down.  Styles took out Orton, Joe and anyone else that stood in his way.  AJ Styles was the last man standing ending this huge hype for the upcoming Elimination Chamber. 
THE BAD- No but things got a little… Ugly.
THE UGLY
Carmella and Naomi vs. IIconics vs. Sonya Deville and Mandy Rose
These are Good teams and a ton of entertainment value.  This match had a lot of potential.  Big things for both Sonya Deville and Mandy Rose could happen at any time.  Deville is nearly completely untapped talent, and could be a huge name if given the right push.  With the exception of Deville and Mella, this match was horrible.  There was subpar wrestling going on constantly, and it just wasn't Good.  In fact some was cringeworthy.  Mandy Rose while locked up with Naomi hit a huge Double Underhook Facebuster for the win and a place for her and Deville in the Tag Team Elimination Chamber Match.  This was an ugly match with some beautiful people in it.  Again the Good parts were Deville, and Carmella but the rest just was just ugly. 
FINAL
OVERALL
Much like Raw, something was a little off on this show, maybe they are taking a break, or maybe they are just tired.  It is hard to tell.  It still was Good, but not as Good as it has been. 
After another Good SmackDown, it is on to NXT Tomorrow night.  NXT is the only minor leagues that out due the majors.  The card tomorrow is stacked and Raw and SmackDown are in the books.  Hopefully NXT will be full steam and can help this week push onward to the future.