The Importance Of The FIRST Women's WrestleMania Main Event
How important is it for the women to send us home on WrestleMania?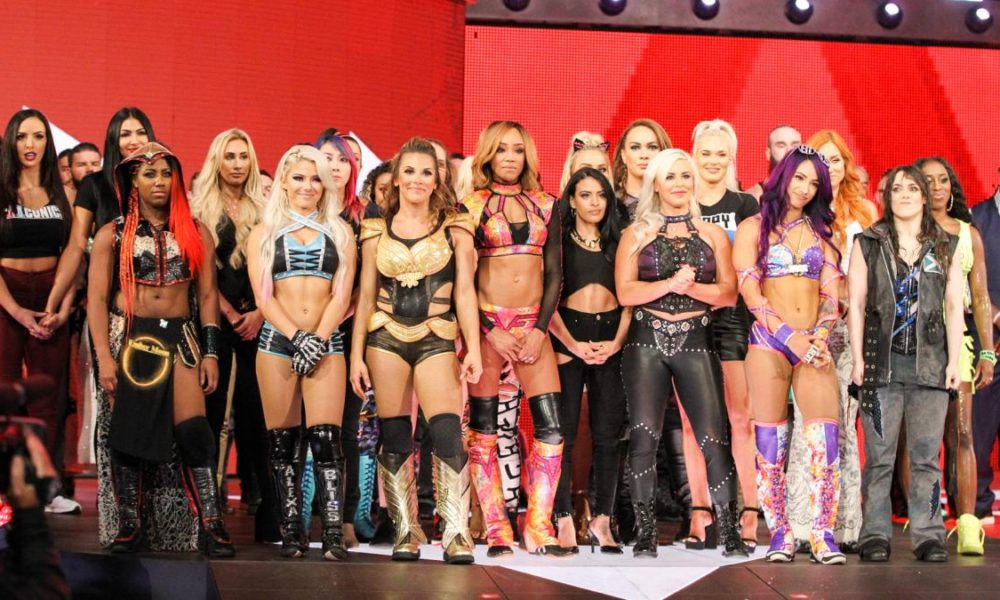 Are we finally on pace for the women to send us home on WrestleMania? Juan gives us his take!
Women's wrestling in just a few months will have one of its most historic night, in April 7th, WWE will present it first ever WrestleMania main evented by women making it one of the biggest accomplishments in women's wrestling history. Ronda Rousey, Becky Lynch and possibly Charlotte Flair will wrestle in this match that will change history forever.
7 women made this possible
In the history of wrestling women like Manami Toyota, Chyna, Mae Young, Trish Stratus, Alundra Blayze, Lita and many others are important figures in the history of women's wrestling and there legacy helped wrestling achieve new heights.
A few years ago, women's wrestling was perceived or looked at by most fans (I include myself in this category) as the bathroom breaks of WWE shows. For those who don't remember, women's wrestling was generally always consider filler and would be given only 2 to 5 minutes to wrestle a match, and let's not forget some of the bad storylines they were given.
7 women in the modern era changed things for the Better in WWE. The first one was Ronda Rousey, back on her days in UFC she showed the entire world women can be a draw on contact sports and even be the main event of this shows. Ronda is an important factor of today's culture on women's wrestling in WWE. Paige and AJ Lee during this ''dark ages'' of women's wrestling they were setting the bar on the main roster with the little they were given, and they made possible that not only men, but all WWE fans wanted more for women in the WWE main roster.
The 4 Horsewomen of WWE ( Lynch,Banks,Flair and Bayley) during their run in NXT they were the ultimate changers of women's wrestling in WWE. Amazing matches and great work rate from them saw how if you give women a chance, they will take it and succeed with it. These 7 women made possible the idea of women being part of the main event of WrestleMania.
The unsung hero
WWE likes to give credit to Stephanie McMahon for the change WWE has made in women's wrestling but, the credit should be given to Triple H. The Game and NXT, he was the one who believed in women and that bet turn out to be a massive jackpot for him and saw in him as the perfect and only person capable of taking control of WWE creative once Vince retires.
Triple H and NXT would later be the perfect ground for women to show their abilities in the ring instead of relying on sex appeal programs and most importance in ring work was more important over looks.
The rise of: The Man
2018 started as a terrible year for women's wrestling with the controversy of women not wrestling in Saudi Arabia or the terrible booking of Asuka, Carmella, Nia Jax and Alexa Bliss in the first half of the year. But everything changed when WWE botched Becky Lynch's heel turn and gave birth to The Man.  
Becky Lynch roasting Charlotte Flair and anyone in the WWE roster on twitter day after day made her stock rise in WWE's eyes and for a while the most entertaining act in SmackDown Live and all WWE.
Becky Lynch during a SmackDown invasion of RAW and The Man attacking Ronda and her performance after being punched in the face by Nia Jax made everything fall into place. Her match with Ronda was cancelled by these events and the plans of the first ever women's main event took shape.
More change to come
This WrestleMania main event Will change WWE in a lot of positive ways. Ronda Rousey and Becky Lynch have proven women don't need ''sexy segments'' for women to be the main focus of a show, women's wrestling in WWE is changing for the better, looks are still a important factor in the mind of Vince McMahon specially in women.
But, what will WWE do next? Women need more, maybe WWE will give more PPV main events or even better 2 women's only PPV. WrestleMania will change women's wrestling in WWE forever.