With a week filled with a lot of Japanese events, what makes Andrew's Top 5 Matches of the week?
Now last week was dominated by WWE matches, and that just added to a month that already had two NXT matches. So our last week's winner was, WWE Championship Men's Elimination Chamber Match. 
Finally, just as a way to potentially mix up the monthly vote, we have a week filled with Japanese matches. One sneaky American match made it's way into the Top 5, but let's see how this plays out.
5. Giant Baba Memorial Show: Hiroshi Tanahashi & Yoshitatsu vs Kento Miyahara & Daisuke Sekimoto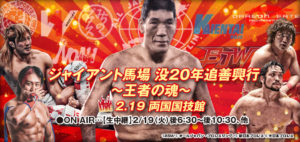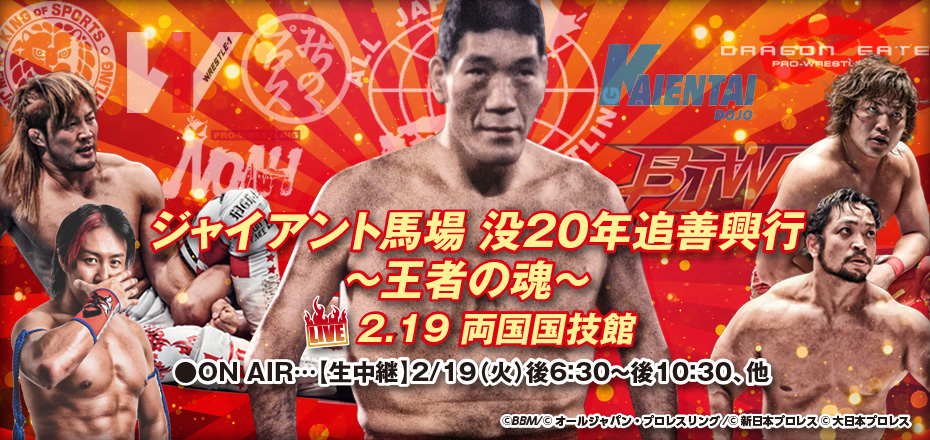 From My Review:
Kento comes out with the current and original Triple Crown Championship belts. Very nice tribute for Baba's memorial show. Surprisingly the crowd is a Kento crowd. The Kento chants drown out the Tanahashi chants, so Yoshi and Tana play heel for most of the match. This was exactly what you'd expect from an All Star match. EVEN Yoshitatsu held his own. Sekimoto looked great and hit his I'm Helping Double German Suplex – at least that's what I call it. When Kento did his against the post spot to Yoshitatsu, the referee saw Tanahashi coming over, called him faster and instructed him to pull Kento's hair to break up the hold. Slingblades and Blackouts aplenty, this was a fun match and definitely worth being the main event. Kento playfully chided Tanahashi after the match, but the crowd started chanting for Tanahashi to join the Triple Crown Champion, and they both pose while saying a combination of one another's catch phrases. Very nice moment.
Winner: Kento via Shutdown German Suplex Hold
Rating: **** 1/4
4. AJPW: Jr Battle of Glory: Hikaru Sato vs Seiki Yoshioka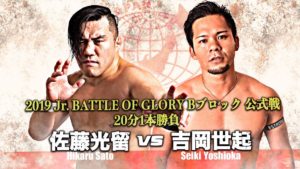 This was a huge match for the Junior league. The previous match had Black Tiger VII upset Atsushi Aoki. Which means, this match was winner take all. Yet because Seiki came in with 6 points and Sato with 4, Seiki had a slightly easier path at win or draw.
Sato is one of those wrestlers that can either take bumps and get destroyed (see his Giant Baba Memorial match) or actually be technically impressive. We saw flurries of strikes, armbar submissions and suplexes. Both men were doing everything they could think of to try and finish the match, and Seiki was just trying not to lose. This was entertaining as hell, and one of the best matches of the tournament.
If you enjoy Junior Heavyweight/Cruiserweight style wrestling, this tournament had a good mix of things.
Winner: TIME LIMIT DRAW
Rating: **** 1/4
3. NXT: North American Championship Match: Johnny Gargano (c) vs Velveteen Dream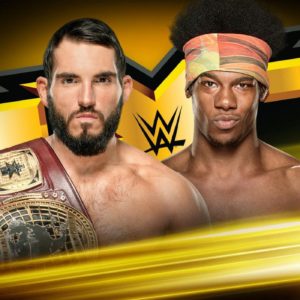 From Demarco's Review:
Dream, of course, earned a championship opportunity by winning the World's Collide Tournament at Axxess in Phoenix. He selected the North American Championship for his shot. Tommaso Ciampa watching from the rafters works for me, because we all know this is continuing. That was a SHOT from Velveteen Dream to Johnny Gargano's mouth.
Dream doesn't need to show off the technical skill, especially when he doesn't have a ton of it. That's not what he has, and that's not why he's over. Long term, Dream's career isn't going to be about championships. It's about being an iconic character. But he will have some accolades, and this is one. I actually hated Dream winning with the Purple Rainmaker. In this case, it makes more sense for him to pull out a win with something else, really giving fans that shocking high.
Winner: Dream via Purple Rainmaker Elbow
Rating: **** 1/4
Honorable Mentions:
AJPW Excite Series: World Heavyweight Tag Titles: Yuji Okabayashi & Daisuke Sekimoto (c) vs Jake Lee & Ryouji Sai
Winner: Okabayashi via Golem Splash
Rating: ****
Honor Rising: ROH World Championship: Jay Lethal (c) vs TK O'Ryan
Winner: Lethal via Lethal Injection
Rating: *** 3/4
Impact: Impact Tag Team Titles: LAX vs Lucha Bros (c)
Winner: Lucha Bros via Spike Fear Factor
Rating: *** 3/4
Giant Baba Memorial Show: Naomichi Marufuji & Jinsei Shinzaki vs Masaaki Mochizuki & Shun Skywalker
Winner: Marufuji via Perfect Inside Cradle
Rating: *** 3/4
Honor Rising: ROH TV Championship: Hirooki Goto vs Jeff Cobb (c)
Winner: Cobb via Tour of the Islands
Rating: *** 3/4
AJPW Excite Series: Finals Jr Battle of Glory: Seiki Yoshioka vs Koji Iwamoto
Winner: Iwamoto via Koko no Geijustsu
Rating: *** 1/2
Honor Rising: Jay Lethal, Hiroshi Tanahashi & Kazuchika Okada vs The Kingdom
Winner: Lethal via Lethal Injection
Rating: *** 1/2
NXT: Aleister Black vs Roderick Strong
Winner: Black via Black Mass
Rating: *** 1/2
Honor Rising: Zack Sabre Jr vs Shota Umino
Winner: Sabre via Half Crab
Rating: *** 1/2
WWE Raw: DIY vs The Revival
Winner: DIY via Meeting in the Middle
Rating: *** 1/2
Honor Rising: NEVER Openweight Title: Will Ospreay (c) vs Dalton Castle
Winner: Ospreay via Stormbreaker
Rating: *** 1/2
Honor Rising: Hirooki Goto & Will Ospreay vs Jeff Cobb & Dalton Castle
Winner: Ospreay via Stormbreaker
Rating: *** 1/2
Honor Rising: Matt Taven & Vinny Marseglia vs Shingo Takagi & Tetsuya Naito
Winner: Naito via Destino
Rating: *** 1/2
AJPW Jr Battle of Glory: Black Tiger VII vs Atsushi Aoki
Winner: Tiger via Super High-School La Magistral
Rating: *** 1/4
Honor Rising: ROH Tag Team Championship Juice Robinson & David Finlay vs The Briscoes (c)
Winner: Briscoes via Froggy Bow
Rating: *** 1/4
WWE SmackDown Live: DIY vs The Bar
Winner: DIY via Cradle
Rating: *** 1/4
Honor Rising: Toa Henare & Jonathan Gresham vs Zack Sabre Jr & TAKA Michinoku
Winner: Gresham via Octopus Hold
Rating: *** 1/4
Impact: Eli Drake vs Eddie Edwards
Winner: Edwards via Jacknife Cradle
Rating: ***
WWE Raw: Ricochet & Finn Balor vs Lio Rush & Bobby Lashley
Winner: Ricochet via 630 Senton
Rating: ***
Honor Rising: David Finlay, Juice Robinson,Toa Henare & Tomoaki Honma vs Guerrillas of Destiny & The Briscoes
Winner: Juice via Roll-up
Rating: ***
Impact: Desi Hit Squad vs Trey & Dez
Winner: Trey via Meteora
Rating: ***
Giant Baba Memorial Show: SANADA & BUSHI vs Jake Lee & Koji Iwamoto vs Shota Umino & Ayato Yoshida
Winner: SANADA via Moonsault
Rating: ***
NXT UK: UK Women's Championship: Toni Storm (c) vs Rhea Ripley
Winner: Storm via Storm Zero
Rating: ***
Honor Rising: Robbie Eagles vs Marty Scurll
Winner: Scurll via Crossface Chicken Wing
Rating: ***
2. NJPW-ROH Honor Rising: IWGP Heavyweight Tag Team Title Match: Guerrillas of Destiny vs EVIL & SANADA (c)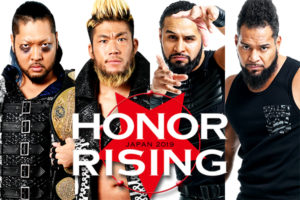 From My Review:
EVIL and SANADA tend to have G.o.D.'s number in big matches. But damn, this match took a little bit of time to pick up, but when it did, it was great. EVIL and SANADA kept trying to go for Magic Killer, but Tama countered it twice. Guerrilla Tactics took out EVIL and then they finish SANADA with the Super Powerbomb that was given to them by Gedo and Jado. Great tag match. Ain't nobody ready for Guerrillas.
Winner: G.o.D. via Super Powerbomb
Rating: **** 1/2
1. AJPW Excite Series: Triple Crown Championship Match: Kento Miyahara (c) vs Suwama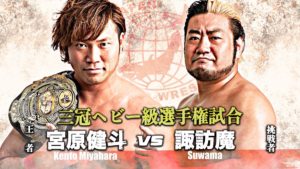 Well Suwama is effectively in the Tanahashi position of AJPW. He was the Ace for so long, and now he's a bit older, still a hell of a force, but the face of All Japan is Kento.
This match started off as a trade off. Kento dominated Suwama, took him to the ramp and dropped him with a Brainbuster. The referee came out to admonish Kento and force him back to the ring, and when he got around to checking on Suwama, Suwama was slowly staggering to the ring. Kento got cocky and went for an Apron Running Knee, but missed and crashed into the railing. Then this match turned into Suwama's show. Crazy spot had Kento in a Tree of Woe, with Suwama on the outside pulling his neck back and basically Bow and Arrowing him with the turnbuckles.
Eventually Kento got his bearings back and we saw a hell of a fight. Blackout knee strikes from Kento, Double Chops and Powerbombs from Suwama. Both men kicked out of one another's BIG finisher. Those being Suwama's Giant Slam and Kento's Shutdown German Suplex Hold.
No matter how hard Suwama fought, he couldn't escape Kento's second attempt at the Shutdown, and that was all.
Winner: Kento via Shutdown German Suplex Hold
Rating: **** 3/4
Thoughts:
So to make this short and sweet, I'm picking, Guerrillas of Destiny vs EVIL & SANADA. Even though I thought Kento and Suwama was a slightly better match, I was really just impressed with Honor Rising. G.o.D. brought it hard, put on a fantastic match, a few story wrinkles played out as well…so I'm just tickled by how much I liked the match and the show.
I harp on it, because ROH shows tend to really just disappoint me or seem to fail a bit. I'm aware that both teams in this match were New Japan teams, but given the fact that last year's Honor Rising was painful no matter who was involved, I went in with criminally low expectations.