TV Network To Air AEW Weekly TV Revealed ?
Has AEW leaked out the identity of the network that will be airing AEW weekly TV?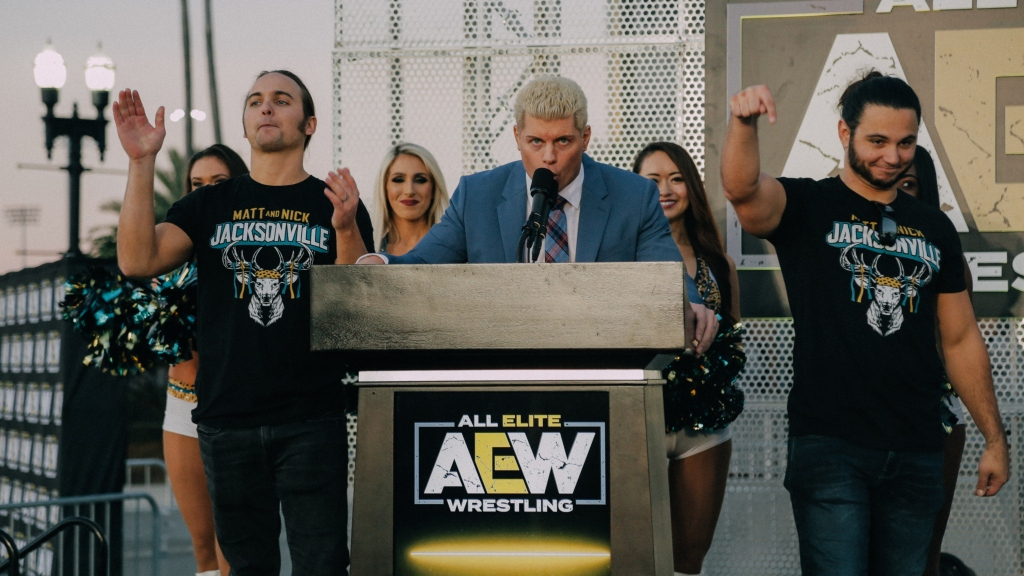 Today, tickets for All Elite Wrestling Double Or Nothing went on sale, and if you were lucky enough to either have a pre-sale code, or were able to purchase tickets, consider yourself lucky as tickets sold out in 4 minutes. AEW shared the news via their Twitter account.
#AEW #DoubleOrNothing Sat, May 25th#SOLDOUT in 4 Minutes#THANKYOUhttps://t.co/BVyw1bPbla pic.twitter.com/SepBKq7UnC

— All Elite Wrestling (@AEWrestling) February 13, 2019
Pay close attention to the above tweet. Click on the picture in the tweet. Notice anything of interest? I'll wait………If you missed it, the bottom of the picture contains the logo for the AXS television network. One can only speculate that AXS will be the networking that will air AEW this fall. It does makes sense on the one hand as the network does broadcast NJPW and WOW. However, it makes even less sense as the rumors that have been making the rounds from Dave Meltzer is the network deal AEW was looking at was a better network/deal than Spike TV had with TNA/IMPACT and was supposed to be the best non WWE TV deal since WCW was in existence in 2001. Chris Jericho has also claimed on his podcast that he would not have signed up with AEW if there wasn't negotiations ongoing for AEW to air on a major network.
I can't really say I classify AXS as a major television network. In fact, when I think of the top five networks that AEW would have signed on with based off rumor, I wouldn't even have considered AXS.
However, one could also speculate that AXS will air highlights or a condensed package of material from the upcoming Double Or Nothing event, and the upcoming, unnamed Jacksonville, FL event.