WWE Week In Review: February 18-24, 2019
With some surprising call ups and interesting happening on the Network TV; how did the week go for WWE? Tiffany gives us her take!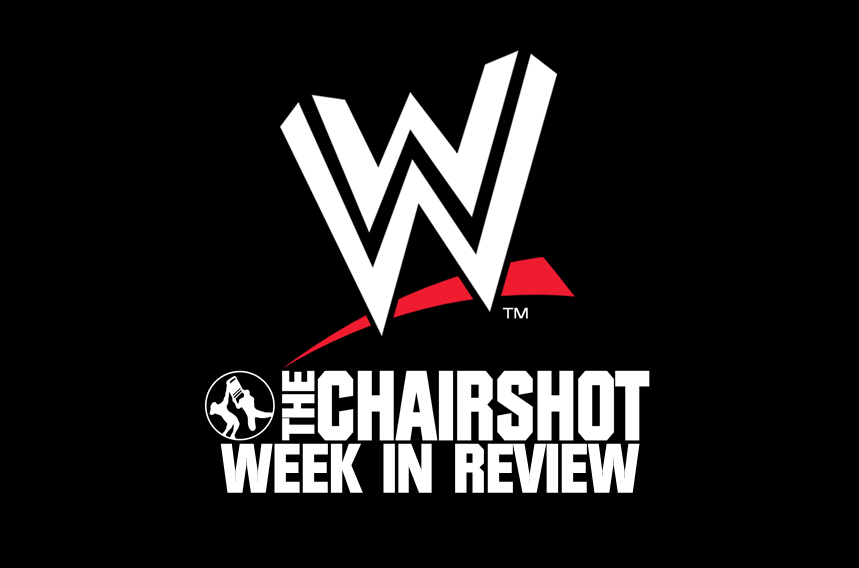 With some surprising call ups and interesting happening on the Network TV; how did the week go for WWE? Tiffany gives us her take!
Elimination Chamber is in the rearview mirror and now the WWE Universe turns their attention to Fastlane and WrestleMania.
RAW
Triple H: I actually loved Triple H's segment this week. He always seems like such a proud father when one of the NXT guys/girls gets called up. It's no secret that NXT is his baby and he has worked incredibly hard to make it successful. He also has to be proud of the fact that he's getting ready to go into the Hall of Fame as part of Degeneration X, along with HBK, X-Pac, Chyna, Road Dogg, and Billy Gunn.
NXT Guys: I'll admit that I was very skeptical when Trips made the announcement about the call-ups since Ciampa and Gargano hold the top titles in NXT. It was very well done and it give a cold Main Roster audience a chance to meet some of the top guys in NXT outside of the fever pitch that is WrestleMania weekend.
Baron Corbin vs Braun Strowman: We went from a really great moment for Triple H to one of the crappiest matches I've ever seen. WHY is this feud continuing and when are people going to realize that Strowman stinks?! Best that can be said is that Strowman won, so they're tied. The moment with Heyman was odd, considering that Strowman isn't going to be involved with Lesnar for the foreseeable future, thank God.
Heyman: I love Heyman as a promo guy, he can really whip up a crowd, but his promos about Lesnar are as stale as they get.
Finn Balor/Ricochet/Lashley/Rush: I LOVED this match, at least the Balor/Ricochet end of it. Lashley is still boring and Rush is still annoying. The match was really great and Ricochet made a great impression on the fans, though you wouldn't know it by the crowd noise.
Dean Ambrose: Since Dean had three segments, I'm going to put them all here. I've said before that I fully believe that the whole 'He's leaving after WrestleMania' is a work and this week helped solidify that. You typically don't give a departing superstar three segments one with the COO and another top star, a match, and then another segment with another top star. The match against McIntyre sucked because Dean barely got out of the box, but it's clear that they're building McIntyre for something big, so this Ambrose Girl isn't panicking just yet.
As for the Ambrose/Rollins interaction, I have a few theories on what exactly is going on, but I'm going to wait and see how WWE plays it because they have to tread a lightly to keep from getting bashed.
Lucha House Party vs Hawkins and Ryder: I could NOT get into this match. I don't care about Hawkins or his losing streak and Lucha House Party gets on my nerves. It was a good match, but it seems like WWE's either building toward a Ryder/Hawkins feud or they're going to give Hawkins a win on a big stage.
Heavy Machinery and Lacey Evans: I'm going to be blunt and say I can't STAND Lacey Evans or her gimmick. However, her interaction with Heavy Machinery was fun and made for a funny dynamic.
DIY vs Revival: This was a match straight out of NXT and I loved it. Ciampa and Gargano are an amazing team and putting them with the Revival guaranteed a great match, which is exactly what happened. Too bad the crowd didn't appreciate it.
Kevin Owens: I'm not a fan of Owens, so I really didn't pay attention to what he was doing, but he was a great competitor and it'll be nice to have him back on the roster.
Sasha and Bayley: I loved this segment with Boss-Hug over the Tag Championships. I still hope one set of tag champions will mean a separate show for the women in the near future. Samoan Dynasty's appearance and promo weren't a surprise, but Tamina speaking was. This will probably be the big tag feud for the women heading into WrestleMania and I'm fine with that.
Elias vs Aleister Black: Part of the reason I'm not terribly worried about Ambrose after he was squashed by McIntyre is because of this segment, which went very similarly to the Ambrose/McIntyre bout. I was extremely impressed with Black and his Undertaker-esque gimmick and I think he'll do pretty well on the main roster.
Ronda Rousey vs Ruby Riott: After the BS squash match at Elimination Chamber, I was glad that WWE gave Ruby Riott a chance to have the match she's capable of having against Ronda Rousey, but Rousey's performance left a little to be desired, but it was a good match and Riott and her Squad got to show how good they were before the expected finish.
Thoughts: This was a good RAW, especially when compared to previous weeks. The NXT call ups were done really well, though I did notice that they weren't put up against older, more established guys, they were put with other NXT call ups. Corbin vs Strowman was the only really crap match of the night and a lot of stories moved forward.
The one really bad thing about RAW was the audience. A lot of people have made excuses about the lousy crowd in Lafayette, but to sit there and basically give the wrestlers nothing is just ridiculous, especially when there were a lot of great matches.
SmackDown
Shane and Miz: This was a really great segment, I was honestly surprised that they didn't have Miz somehow blame Shane for them losing, Miz owned up to the loss like a man. I'm not surprised that there will be a rematch with the Usos, I'd actually been wondering how long the 'No Rematch' thing would last, so that will be a fun match for FastLane.
Aleister Black vs Andrade Almas: This was the first of the NXT call up matches and it was a great starting point. Black and Almas had a wonderful rivalry in NXT and it was fun to have it showcased on the Main Roster.
Jeff Hardy and AJ Styles: This was an interesting segment and seems to be sowing the seeds for a potential feud for these two down the road.
The Bar vs DIY: This was a little bit of an aberration from the NXT Calls Ups vs NXT Call Ups that WWE did on RAW…a little. Sheamus was not part of NXT, but Cesaro was in the very beginning.
This was a FANTASTIC match between these two teams! They really tore the place down and DIY got to show what a great team they were. The scary spot with Ciampa's knee was definitely justified, but there's been no word that he or Sheamus was seriously hurt outside of giving everyone a scare.
Asuka vs Mandy Rose: I don't have much to say about this whole segment except: WTF?! I'm not an Asuka fan, but WWE's booked her championship run terribly and then having her lose in a stupid way to Mandy Rose was just ridiculous.
Charlotte Flair: I know a lot of people have been making a big deal over the injuries Charlotte and Ronda suffered from Becky, but I've had to use crutches a few times in my life and Charlotte's arm didn't look all that different from how the underside of my arms looked after using the crutches.
That said, I'm glad to see even a little storyline movement since we didn't get any on Monday.
Ricochet vs Eric Young: This was another NXT vs NXT match up and it was a great one. SaNity has barely been used since their call up, so seeing them get some air time was a lot of fun. WWE seems to really be invested in putting the new guys over because all of them were 2-0 for their Raw/SmackDown appearances.
Six Man Tag Match: This was such a good match, which I fully expected it to be given the people involved. Bryan's assertion that he wasn't going to face anyone he'd beaten in Elimination Chamber was interesting and kind of spoiled what was probably going to happen.
Much like last week and Sunday, Kofi was the star and him getting the pin on Bryan was nice, but a little frustrating when you remembered that Mustafa Ali never got his one-on-one with Bryan after pinning him. I honestly don't think Kofi's going to beat Bryan at Fastlane, but it was exciting to see him finally get his chance to shine and he'll have a great match with Bryan.
Thoughts: This was a really good episode of SmackDown, all the stories were moved forward. Mandy Rose vs Asuka was the big clunker of the show because it was so stupid. I'm really excited for Kofi, but I'm not optimistic enough to believe he'll win.
205 Live
TJP vs Humberto Carillo: This was a really good match. Carillow has got tons of potential, but I hate him being with Gulak and Gallagher. It's just very cringe-inducing to have white guys trying to 'teach' a POC how to do their job the 'right' way. I realize that that's the point, but this gets a little too close to RL politics for my comfort. Still, it was a good match and Carrillo's definitely making an impression on people.
Tony Nese proved why he's a good heel with his promo on Dar and him planting his flag as possible challenger to his good 'friend', Buddy Murphy. I almost want Nese to win just to see who will be the face and who will be the heel in this.
Mike and Maria Kanellis: This was another really good interview. Kanellis finally seems to be finding his footing in 205, but he definitely suffers from a lack of attention. Hopefully, that'll change over this year.
Ariya Daivari vs Johnny Lyons: This was a really good match. Daivari is getting a chance to shine out of the shadows of Itami and the other people he's been a sidekick to. I'm not familiar with Lyons, but he did a really good job selling. It wasn't a long match, but it's clear that Daivari is trying to make a name on his own and I hope it works out.
Buddy Murphy: This was a really good promo for Murphy. Murphy tooting his own horn while massaging the facts is classic heel stuff. It'll be interesting to see who faces him at Wrestlemania.
Mike Kanellis vs Cedric Alexander: This was an AMAZING match! Kenellis proved that he was more than capable of hanging with the top tier talent of 205. My one gripe was the screwjob-ish finish. I love Cedric Alexander, but I don't want another round of him vs Murphy. Kanellis won the match and should be moving on. I have a feeling that Maria's going to raise hell about this next week because it was so close.
Thoughts: Really good episode of 205, as usual. Lots of great matches and promos. It's nice to see them gearing up for WrestleMania instead of Fastlane.
NXT UK
Mark Andrews and Flash Morgan Webster vs Coffey Brothers: This was SUCH a good match, it easily could've been the main event of the show. Andrews and Webster should be considered contenders for the Tag Team Titles.  That said, I wasn't surprised by the Coffey's winning, they needed a win a lot more than Andrews and Webster did.
Nina Samuels: This was a 'huh?' promo, especially since it wasn't followed by a match.
Jordan Devlin: I was happy to see Devlin bounce back from When Worlds Collide because he was a star in that tournament. I'm also glad that the feud with Banks will continue, I just hope it gets re-started soon.
Kay Lee Ray: This was an interesting vignette for her. I'm not familiar with Ray, but her vignette was very impressive.
Trent Seven: I loved this match. Seven was another one that needed a victory after losing in the tag title tournament. Thorne is definitely a talent to watch, but he was there to put a notch in the win column for Seven, but Seven made him look good in defeat.
Jack Gallagher: There's been rumors of some of the guys on the Main Roster who are from the UK wanting to go to NXT UK because it's closer to home and it seems Gallagher might be one of those people. He'd be an interesting addition to NXT UK.
Joseph Conners: I'm going to be honest, Conners gives me the weirds, that might be the point, but I just want to put that out there. I am intrigued by the feud between him and Ligero and Conners claiming that the win was a fluke.
Grizzled Young Veterans: I really liked this segment. GYV have fully embraced being 'No F**ks Given' heels and that makes it fun to watch. The potential feud with Lorcan and Burch promises to be a brutal one but hopefully it'll be more than just a slugfest because both teams are capable of doing it.
Toni Storm vs Rhea Ripley: This was my favorite match this week! Storm and Ripley tell such an amazing story in the ring and this was definitely that. Storm still has trouble making her opponent look like a threat without making herself look stupid, but that's improving, thank God. I'm thankful that Storm retained, but there really isn't anyone to step up right now except Ripley.
NXT
Aleister Black vs Roderick Strong: If his dominant performances on RAW and SmackDown weren't a sign that WWE is high on Aleister Black, his amazing match against Undisputed Era's Roderick Strong solidified it. Black and Strong had a great match but it's clear that Black is being groomed for big things after he managed to get a win over Strong. I also appreciate the ongoing storyline of Black and Ricochet being aligned against the Undisupted Era.
Four Horsewomen: I honestly didn't get this segment. Did Baszler and company honestly think a room full of professional wrestlers and/or athletes were really going to be intimidated by her and her friends? It just made her look insecure and petty.
Bianca Belair: I believe I've said before that I'm not a fan of Belair, so I just rolled my eyes through her whiny, sore loser, promo. She's no longer undefeated and Io Shirai won her opportunity to face Baszler fair and square.
Dusty Rhodes Tag Team Classic: I'm SUPER excited that they're bringing this back, I don't remember if they did one last year or who won, but this is always an enjoyable tournament and the names picked are really good.
Mia Yim vs Xia-Li: This was SUCH a good match. Xia Li has improved since her first appearance in the first Mae Young Classic. I'm a huge fan of Mia Yim and I was glad to FINALLY see her get a win since WWE's booking of her has been questionable, in my opinion. I hated the Four Horsewomen running into another match that didn't concern them, but I love Yim basically telling Baszler to f**k off, can't wait for that match.
Candice LeRae, Johnny Gargano, and Tommaso Ciampa: This was a fun little segment that seemed to build on Gargano and Ciampa being friends again, whether Candice likes it or not. I wish they'd find something for Candice to do other than playing the concerned wife.
Matt Riddle: I'm not going to lie, I can't stand Matt Riddle, so I barely paid attention to what he had to say. I don't think Ohno's gone, or done with NXT, but we'll have to see.
Johnny Gargano vs Velveteen Dream: This was a very good main event for NXT. Gargano and Dream are really good together in the ring. That said, I'm very disappointed that Gargano's first singles title run was so short, I don't think Ricochet even got a rematch. Also, Ciampa's involvement was interesting. It's looking more and more like the DIY reunion is just another mind game by Ciampa, but we'll see.
Overall Thoughts: This was a really good week for WWE, all the shows put together solid matches and moved the stories along, and RAW and SmackDown only had one clunker a piece, which wasn't bad. It's clear that WWE is really playing it safe until after Fastlane when the WrestleMania build will really start, but this was a fun week.
BWN Nerds' Movie Review: Godzilla vs Kong (2021)
Big boy monster throw down of the year! The Nerds return with a current movie review, and this one should be interesting. Is Dave too forgiving? Is Patrick taking his role as the German judge too seriously? Find out where the overall ratings lands between these two!
Welcome to this week's edition of the Nerd Review!  Every week the Nerds give you their take on a different movie from the Nerdosphere.  This week Dave and Patrick review the fourth installment of kaiju cinematic universe Godzilla vs. Kong!
The Flick:  Godzilla vs. Kong (2021)
What's it About:  A researcher believes a hollow world beneath the Earth's surface is the birthplace of the mighty Kaiju.  He convinces and old friend to help him take the mighty Kong to find his birthplace even if it means incurring the wrath of the King of Kaiju Godzilla.   The battle between the two alpha Kaiju could result in the end of all mankind.
Metacritic Score: 59
The Nerds' Take on Godzilla vs Kong (2021):
Dave It is time for the Main Event of Legendary's MosterVerse, the showdown we have been waiting for: Godzilla v. Kong. If you have been following along with our Nerd Reviews, then you knew this was coming. What you don't know is whether we feel the climax to the series is worth your time or not. Well allow me to give you my take on that topic.
Plot wise, it has been some five years since Godzilla defeated Ghidorah and things have been relatively quiet and peaceful. Meanwhile, on Skull Island, Monarch has created a dome like structure to observe and try and control Kong. Kong has developed a relationship with a little girl, Jia, who seems to be the last surviving member of her clan. Jia has, for lack of a better term, been adopted by Dr. Ilene Andrews. Jia is deaf and she seems able to communicate with Kong through sign language.
Halfway across the globe, Apex Cybernetics is engaged in some sort of experimentation that attracts the attention of Godzilla, who shows up and annihilates their facility in Florida. Godzilla's attack shatters humanity's notion that he is their friend. Bernie Hayes is an employee of Apex, but he also hosts a Podcast focusing on conspiracy theories involving the Titans. He is soon joined by Madison Russell (from Godzilla: King of the Monsters) who is a fan of the Podcast, and her friend Josh as they start poking around the remains of the Apex site in Florida. We soon discover that Apex is looking for a massive power source that they believe is located in Hollow Earth. Hollow Earth is really more of an Earth within the Earth (Middle Earth, perhaps?) and the quandary is how to survive the trip to Hollow Earth. Nathan Lind is a Hollow Earth expert whose brother perished in a prior expedition to Hollow Earth due to a reverse gravitational effect. But Apex has developed vehicles that can survive the voyage. They just need Kong to lead them there.
In the process of transporting Kong to Antarctica, which has an entry point to Hollow Earth, Godzilla senses his old rival and attacks. Godzilla definitely gets the better of this battle, forcing the expeditionary force to transport Kong by air to Antarctica to avoid detection by Godzilla. Kong gets the group to Hollow Earth and it becomes clear there has been an ancient rivalry between Kong's ancestors and Godzilla's. Kong discovers an axe made out of portions of Godzilla's ancestor's skins. Back on the surface, Bernie, Madison, and Josh have been whisked away to Hong Kong and they discover what Apex is really up to….Mechagodzilla. Mechagodzilla can be telepathically controlled and it is Dr. Serizawa's son who is pulling the strings, using the severed head of Ghidorah to do so. The problem is that to utilize Mechagodzilla to its full potential, they require more power, much more power to be exact. This is where the search for the Hollow Earth power source comes into play.
Mechagodzilla is activated and this attracts Godzilla. Godzilla also senses what Kong is doing in Hollow Earth and he sends a blast of atomic breath from Hong Kong to, in essence, the center of the Earth. Kong and the Hollow Earth expeditionary force follow the hole made by Godzilla to the surface. Everyone emerges in Hong Kong for a massive fight between Kong and Godzilla. Kong fares better this time around but is ultimately rendered near death by Godzilla. At about this time, Mechagodzilla is imbued with the power source from Hollow Earth and he also achieves sentience. This leads to the big brawl between Godzilla and Mechagodzilla and it is a mismatch in favor of Mechagodzilla…. until Kong is revived, evening the odds in an enormously predictable moment. Godzilla supercharges Kong's ax with his atomic breath and the two Titans take down Mechagodzilla. Godzilla and Kong show each other a sign of respect and go their separate ways. Apparently, there can be two alpha Titans after all.
Let's talk about the good stuff first: the monster fights. They are all fantastic. The battles between Kong and Godzilla feel as big as you would expect. They are titanic clashes in every sense of the word. Godzilla fans will have bragging rights after watching this movie because it is clear that Godzilla whups Kong's ass on more than one occasion. Kong fans save face though by noting that without Kong, Mechagodzilla would surely have triumphed. As for Mechagodzilla, his appearance in the movie was not a secret and he did not disappoint. The clash between Godzilla and Mechagodzilla was done very well to show just how much more powerful Mechagodzilla was and why it took the combined might of Godzilla and Kong to turn the tide. If massive Kaiju action is your thing, then Godzilla vs Kong is definitely your movie.
Now for the bad: The people. Now, I know what Patrick is going to say. That the movie shifts the focus to the people too much and detracts attention from the monsters. I know he thinks the concept of humans using a defibrillator on Kong is absurd. I am OK with those points in a movie like this. The problem I have with the people is this: They don't matter. Not at all! They are white noise in the purest sense of the word. 90% of the characters are wholly uninteresting and meaningless. They add little to the plot and just get in the way. So, to be real, Patrick and I are, to a certain extent, talking about different sides of the same coin. The exceptions to this involve Jia, who is quite important to the whole notion of establishing Kong as the "good guy", and Bernie, who is a fun character and kind of represents a microcosm of conspiracy theorists that are quite common in the real world today. Bernie epitomizes the notion that just because you are paranoid, doesn't mean they aren't watching you. But, beyond those two, the characters are quite dull and just felt very pointless.
As far as this being the series finale, I greatly enjoyed the movie. The dynamic between Kong and Godzilla is interesting and keeps you engaged, regardless of whether you are rooting for one, the other, or both. There are some interesting concepts in the movie, specifically how Hollow Earth is different than you might expect and much more interesting, no matter how far-fetched the idea might be. Interestingly, this movie really showcases just how bad ass Godzilla is. I am not sure why it took three movies to get it right, but I digress. Then there is Kong, who ends up being a multi-layered creature that is shown even more heroically than he was in Kong: Skull Island. As for me, I always favored Kong over Godzilla and I left the movie feeling fine with the outcome of everything. If there is a downside it's that it appears the MonsterVerse has come to an end, just when it was getting really good. That's too bad. As for Godzilla vs Kong, the awesome action sequences and special effects vastly outweigh the issues involving the people. This is a very good final installment (we think) in this franchise. It is the best of the movies involving Godzilla. I still liked Kong: Skull Island more, but this was a close second.
Dave's Rating: 4/5
Patrick:  Here we are again covering the fourth film in the Warner Brothers/Legendary produced Kaiju Monster universe.  And once again this film somehow finds a way to mess up a simple concept.  If you recall, in my review of Godzilla King of the Monsters I said good kaiju movies minimize the involvement of human beings in the film and let the monsters take center stage.  Unfortunately, the folks at Warner Brothers still have not quite grasped the concept here in its fourth Kaiju film. The result is an uneven film that shines when the monsters are on screen and leaves me tuning out when the focus shifts to the little primates.
In this fourth installment, we learn that Monster research organization Monarch I closely monitoring Kong.  Going so far as to create an enclosure around Skull Island so that he is safe from Godzilla.  This of course will not last because, well, humans.  One human in particular, a man named Nathan Lind comes with the backing of a mysterious tech corporation called Apex to search for "Hollow Earth." Hollow Earth is a world beneath the surface of our Earth that is believed to be the birthplace of all Kaiju.  Lind visits his friend and Monarch researcher Ilene on Skull Island.  Lind believes Kong is the key to finding this hidden world.  Despite knowing, Godzilla will attempt to kill Kong, Ilene agrees to embark on the expedition.  Of course, Godzilla attacks and we get the first of three rounds of monster battling that we paid for.
Unfortunately, to get to round two and three, the audience has to sit through overwrought dialogue and subplots all in an attempt to help the audience connect to the experience.  It's all really boring.  You know why?  PEOPLE DON'T WATCH KAIJU MOVIES FOR THE HUMANS. But, I digress.  Naturally the tech corporation Apex is not on the up and up with Lind.  Color me stunned, but Apex turns out to be the real enemy to both Kong and Godzilla.  I haven't even covered the conspiracy theory guy and his gang of teenagers trying to expose Apex from the inside.  Again, no one cares because, read it aloud…NOBODY WATCHES KAIJU MOVIES FOR THE HUMANS.
But this isn't the end of the dumb.  The audience is treated to an ancient history between Kong's ancestor and the other Kaiju where we see Kong find the ancient axe of his ancestors.  Because a monkey wielding an axe is cool looking.  Did I mention Kong can charge the thing up with Godzilla's radioactive breath?  AWESOME?  How about the humans using a high tech battery as defibrillator to revive a dying Kong?  Just dumb on top of dumb followed by more dumb.  And humans.  All of the humans.
The cast for Godzilla vs. Kong is quite the list of names.  Alexander Skarsgard essentially fills the role of human protagonist Nathan Lind.  Honestly, he is the only human character given anything to work with.  Kyle Chandler is back in his role as researcher Mark Russell, but if you blink you miss him.  Millie Bobby Brown is also back as Madison Russell, but horribly wasted in a sidekick sort of role to the previously mentioned conspiracy theorist.  She is limited to trying to discover why Godzilla has started attacking human cities.  Someone of her talent could have and should have been used better.  There are tons of other folks in this movie, and yet I struggle to understand why we needed them all.  All they do is distract from what the audience wants to see which is GODZILLA and KONG FIGHT.
Ok.  So what's good about this film?  Well, the Kaiju.  The special effects team outdid themselves crafting these battles.  Kong and Godzilla's bouts all feel epic.  I was also impressed with how much more well lit some of the night scenes were.  As Kong and Godzilla battle at night in a Chinese city, everything is well lit without appearing phony.  The choreography of the battles are terrific, albeit a little silly at times.  Again, radioactive monkey axe.  But the joy of Godzilla vs Kong is in these epic clashes.  I watched the movie on HBO Max, I can only imagine how amazing it would have appeared on an IMAX movie screen with Dolby sound shaking my eardrums.
I came into Godzilla vs. Kong with pretty low expectations.  I want to stress that I loved, loved, loved the action sequences involving the Kaiju.  Unfortunately, you have to sit through an inordinate amount of human exposition to get to those epic moments.  That's not to say the humans and their stories need to be gone entirely.  The audience does need a guide and some context.  But Godzilla v. Kong would have been so much stronger with a pared down human side of things and a focus on the monsters. It seems Warner Brothers and Legendary pictures still haven't learned the key to Kaiju: it' all about the monsters.
Patrick's Rating: 2.24/5.0
Overall Nerds' Rating on Godzilla vs Kong (2021): 3.12/5.0
NXT Minus 6: Stand and Deliver…After
Brad breaks down the NXT Takeovers and his favorite matches! Do you agree?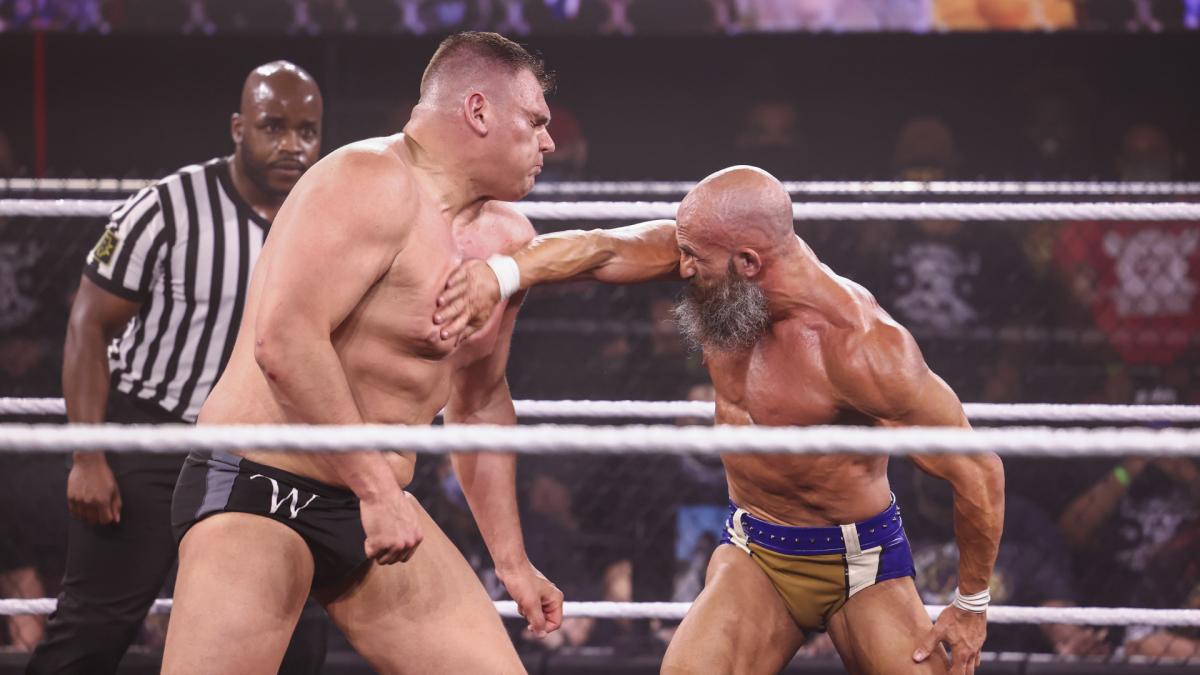 These are the six best matches from Takeover week, plus a new bonus feature! 
6. Jordan Devin versus Santos Escobar, 4.3 stars Devlin turned in a star making performance. His moonsault off the ladder was absolutely perfect and batshit crazy. Escobar is technically so sound, everything he hits looks great, and he's top notch on the mic. But he's not a cruiserweight, and I will never forget that fact. Still, an exciting match that surpassed my expectations.  
5. Tyler Bate versus Noam Dar, 4.3 stars This match was a blast. Both guys have such a wide array of moves, you'll never see the same match twice from either of them. The only thing holding this back was the Heritage Cup format. I like it, but it's hard to have the sustained exchanges necessary to elevate a match to greatness. The breaks slow things down right as they are speeding up. Give these two a straight 20 minutes for the NXT UK championship #1 contender, and you're look at a MOTY.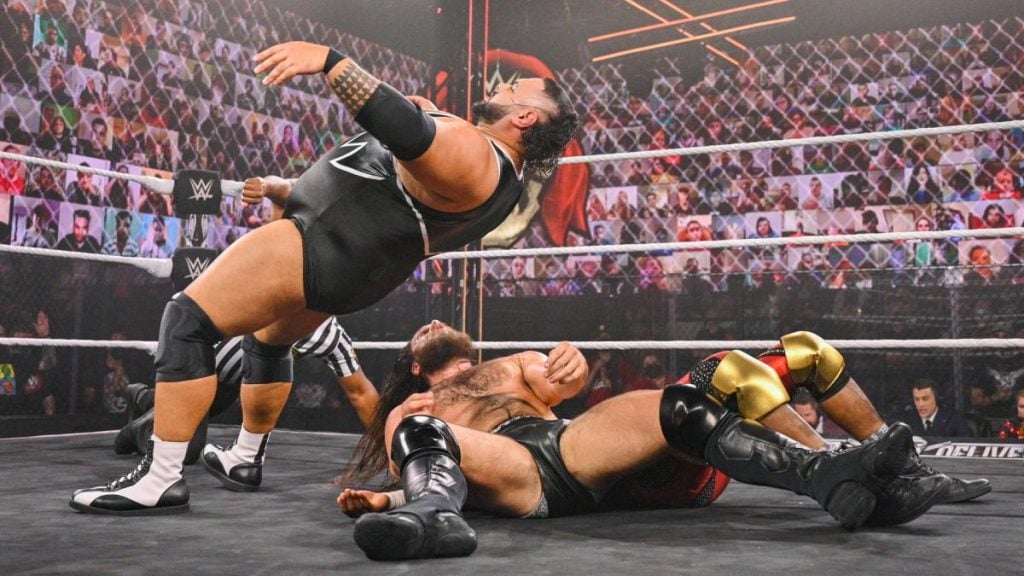 4. Gauntlet Match, 4.4 stars Another match that was just pure fun. Leon Ruff continues to prove he's not a fluke champion. Cameron Grimes is 100% working the rich hillbilly gimmick. They made the right call by getting L.A. Knight and Dexter Lumis out quickly. And in another star making performance, Swerve Scott started the match against flyweight Ruff and ended it against Bronson Reed. That kind of versatility is enough to earn my #3 Star of the Night. 
3. Io Shirai versus Raquel Gonzalez, 4.5 stars
This was the intense, inspired Shirai I don't think I've seen since her match with Dakota Kai at Takeover 30. If this was her last match, as some are speculating, then she's leaving on a high note worthy of her greatness. As good as Gonzalez was in ring, her performance after the match was even better. You could tell she kept flipping from "Holy crap, this is real and I couldn't be happier" to "Yes, I'm a bad ass and I'll power bomb every one of you chumps." 
2. MSK versus Legado Del Fantasma versus Grizzled Young Veterans, 4.5 stars
Some other federation might be on their level, but nobody does tag teams better than NXT. All three teams got considerable time to shine. In a match stuffed with terrific action & individual performances, Wes Lee shined the brightest. His hot tag was Cesaro-level awesome, and his athletic ability rivals Ricochet. He is a star in the making, and his performance earned him my #2 Star of the Night.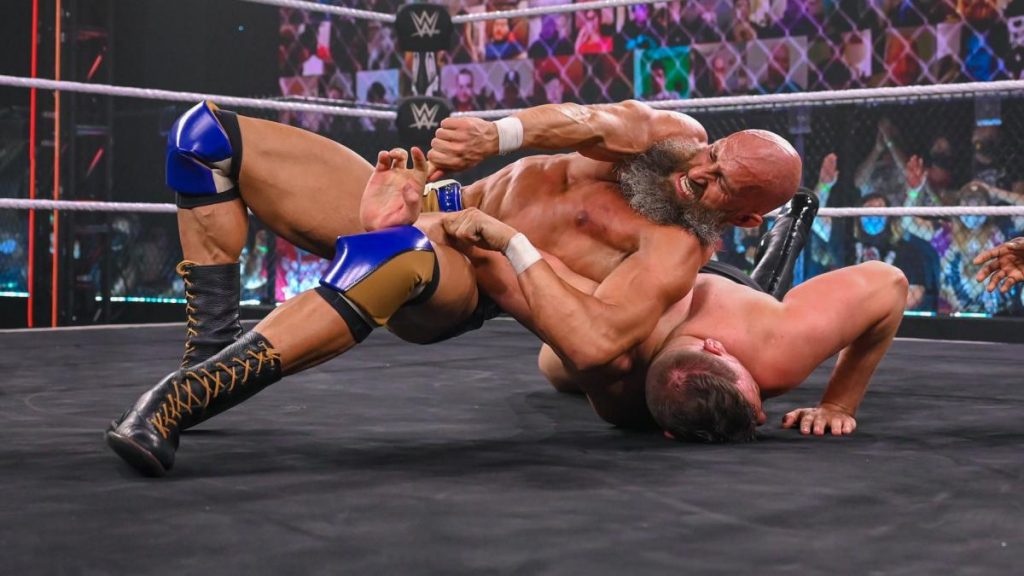 1. WALTER versus Tommaso Ciampa 4.7 stars
I gave Ciampa about a 1% chance of winning. Despite the lack of necessary drama, these two told a masterful story with near flawless execution. Something about WALTER brings out the best in whoever he faces. He did it with Tyler Bate and Ilja Dragunov. He did it with Ciampa. This was easily his best performance since his return from neck surgery. People say he's a brawler, while guys like Johnny Gargano and Roderick Strong are known for their gas tank. Ciampa showed that he can run with the best. His effort against WALTER earned him the respect of Imperium and my #1 Star of the Night.