Ronda Rousey defended the Raw Women's Championship against Ruby Riott in the fourth match at WWE Elimination Chamber.
In case you forgot, WWE once again showed us the video of Vince McMahon suspending Becky Lynch and replacing her with Charlotte Flair (WOOOOOOOO!) against Ronda Rousey in the supposed main event of WWE WrestleMania 35. We also saw the highlights of Charlotte "re-injuring" Becky Lynch's knee in Alexandria over the weekend, and of course Charlotte made her entrance. The greatest heel in the business today spent a few minutes with Charly Caruso to remind everyone that she doesn't need anyone's approval–Becky Lynch does.
https://twitter.com/totaldivaseps/status/1097312416956858368
Ruby Riott attacked Ronda Rousey early, but it was for naught as Ronda had little issue thwarting the offense. (t took 1:14 for the fans to start chanting for Becky Lynch. A short time later, Ronda would make Ruby Riott tap out (officially, for me, 1:40).
https://twitter.com/totaldivaseps/status/1097313614925647872
The real purpose then came out, as Charlotte Flair entered the ring for a stare down with Ronda Rousey, only to be attacked by Becky Lynch. Rousey watched on, but Becky attacked her, too.
Ronda Rousey tapped Ruby Riott out at 1:40 to retain the Raw Women's Championship.
---
Follow along with Mitchell's WWE Elimination Chamber Coverage!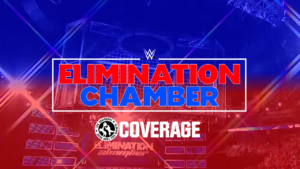 ---