Andrew's 1st Round New Japan Cup 2019 Ratings & Analysis
Andrew's bringing all of the first Round of the New Japan Cup! That's what the people want, right?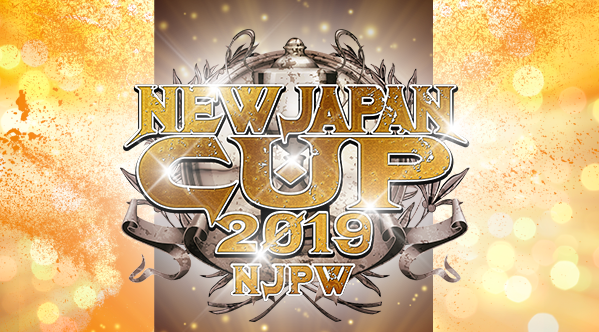 Andrew's bringing all of the first Round of the New Japan Cup! That's what the people want, right?
Well now look at how fancy the New Japan Cup is feeling this year. Allowing other champions to participate and extending the field to 32, since this tournament feeds into the main event slot of G1 Supercard against Jay White.
A few new faces, a few under utilized veterans, New Japan Cup debuts and just a regular smorgasbord of NJPW talent. Sadly for David Finlay, an injury at Honor Rising forced him out of the tournament. So what could've been a break out moment for him, instead goes to the master of the Funky Weapon, Ryusuke Taguchi!
Let's see how the first round panned out!
Ratings:
YOSHI-HASHI vs Manabu Nakanishi: Yoshi wins via Butterfly Lock @12:25 – *** 1/4
Taichi vs Tomoaki Honma: Taichi wins via Dragon Sleeper @17:55 – ** 3/4
Juice Robinson vs Chase Owens: Owens wins via Package Piledriver @24:40  – *** 1/2
Yuji Nagata vs Tomohiro Ishii: Ishii wins via Vertical Drop Brainbuster @21:40 – **** 1/2
Lance Archer vs Toa Henare: Archer wins via Blackout @11:15 – ** 1/4
Hikuleo vs Mikey Ncholls: Nicholls wins via Mikey Bomb @9:00 – * 3/4
Bad Luck Fale vs Will Ospreay: Ospreay wins via Hurricanrana @11:40 – ***
Michael Elgin vs Kazuchika Okada: Okada wins via Rainmaker @24:10 – **** 1/4
Ryusuke Taguchi vs Hiroyoshi Tenzan: Taguchi wins via Cradle @12:10 – ** 1/2
Hiroshi Tanahashi vs Shota Umino: Tanahashi wins via Texas Cloverleaf @14:45 – *** 3/4
EVIL vs Zack Sabre Jr: ZSJ wins via Ground Octopus Stretch @15:40 – ****
Tetsuya Naito vs Kota Ibushi: Ibushi wins via Kamigoye @20:40 – **** 3/4
Toru Yano vs Davey Boy Smith Jr: Yano wins via Roll-up @7:25 – * 1/2
Colt Cabana vs Togi Makabe: Cabana wins via Superman Cradle @5:30 – ** 1/4
Satoshi Kojima vs Minoru Suzuki: Suzuki wins via Gotch Style Piledriver @13:45 – *** 3/4
SANADA vs Hirooki Goto: SANADA wins via Moonsault @20:45 – **** 1/4
Analysis:
So now as many know, YOSHI-HASHI is a rolling ball of disappointment, but going against the veteran Nakanishi…he's got a shot. Nakanishi will be known to some by the name of Kurosawa in WCW. However, he looks much different now and this match was interesting. Nakanishi really fought hard and even dominated a good bit of the match, but YOSHI-HASHI managed to show some resiliency. A match that by most accounts should've been a snack break, was a solid venture. Nakanishi tried a Slingshot Plancha to the outside (it sortuv worked) and YOSHI tried to utilize his speed and youth to generate an advantage. Granted, the Butterfly Lock is a very unimpressive maneuver, so that made the finish look a little goofy, but the match was still a solid start to the tournament.
Taichi not only is holding on to Iizuka's Iron Fingers, but he also did a through the crowd entrance. Honma is still trying to build himself back up after his neck injury, so this is a bigger match for Honma than Taichi. Even though Taichi has established a bad reputation for being lazy, dismissive and generally a heel that Japanese fans can't tolerate – he's reduced the irritating aspects of his persona since becoming a heavyweight. Another match that ended up being a little better than expected, with Taichi winning without use of the Iron Fingers and in a different way than usual.
Juice versus Chase was definitely a big surprise. Not just because Chase ended up winning, but the amount of time and how much of a back and forth battle it truly was. My assumption is this was done to set up a US title defense for Juice since it's fallen into obscurity a little. Damn good match.
Ishii is always good for an old school Strong Style match. Nagata also proved that even at 50, the man can still put on a hell of a match. Ishii busted Nagata's mouth open in the earlier parts of the match, but this was extremely good. The match remained close and even though most had to assume Ishii was going to win, Nagata made him earn it.
We get an interesting match here. Archer is the obvious favorite, but he's also never advanced past the first round in all of his previous NJC attempts. So the young Toa Henare had a puncher's chance at pulling out the upset. Henare caught Archer by surprise with his power on numerous occasions, but Archer was eventually too much. Nothing special, but building more on the Henare character is what this was for.
Mikey Nicholls aka Nick Miller the recently released one half of The Mighty, returns to New Japan against Hikuleo. No offense to Mikey, but Leo is young, pretty green and coming off of injury…so this was the low point of the first round.
Ospreay and Fale put on a decent match. Ospreay worked from underneath because of his rib injury, size difference and Jado interfering. So the way the match was framed was alright, but the Hurricanrana finish was sloppy along with the obvious camera angle showing Fale's shoulder up…that took the wind right out of the 'surprise win'.
Another wrestler returning from injury is Michael Elgin. Most of his efforts against Okada are usually stand out matches, and this isn't any different. Both men also prove their familiarity by stealing moves. Okada does a Buckle Bomb and Elgin Bomb, where Elgin pulls off the Rainmaker. Still unable to overcome the current Ace of New Japan, Elgin falls to a flush Rainmaker. Very good match.
Taguchi, Taguchi, Taguchi. He finds a way to add a unique quirk to all his matches, and this one was Mongolian everything. Tenzan showed a bit of annoyance by copying the way Taguchi throws grounded hip attacks, but it was still amusing. Taguchi kept the match entertaining, especially when he landed a Bumaye. The finish was a cheeky cradle variation where Tenzan kicked out right as the 3 came down.
If you want to see the definition of a star making match, Shota vs Tanahashi is the perfect example. Shota came out firing and really took things to The Ace. Shota even attempted a Cloverleaf Hold to make a point to Tanahashi. The outcome was mathematical, but Tanahashi showed concern during the match, and the crowd bought into near falls, Umino made him earn the win. Shota will be something special.
ZACK SAYBAH TIME! Since EVIL got over the hump by beating Sabre prior to the tag title defense earlier this year, ZSJ wasn't a lock to win this. EVIL showed great familiarity, the ability to counter a lot of what Zack threw and just maintained the power edge most of the match. EVIL proved he was on a similar level to the submission God, but ZSJ still managed to land and Octopus Hold, bring EVIL to the ground and just stretch him until he tapped. So far this 3rd day is really shaping up to be the best one.
Kota and Naito…well damn. We all had this penciled as the match of Round 1, and it really held up. A few twists on moves (like the Combinación Cabrón on the apron). Words won't really do it justice. There was a ton of strikes, nice near falls for both wrestlers and that finish…Ibushi basically doing a Tiger Driver '91 into the Bombaye was just sick. Damn impressive match.
Yano has a tendency to always get a round 1 victory…somehow. He beat Davey Boy last year by count out shenanigans and Suzuki himself doesn't have a great record against him. So in not a great match, but an entertaining/amusing exchange, Yano edges out DBS with a roll-up.
We got more of a mixed wrestling and comedy match. Not bad for what it was, but it wasn't a barn burner, more just cute and a little surprising since it sets up a Round 2 match between Yano and Cabana.
Two old rivals, going at it like two people with no love loss. This was a hard hitting affair, with just enough outside Suzuki-Gun stuff to remind you it was a Minoru Suzuki match. Great stuff here, very entertaining and just generally a nice watch. Not quite as balls to the wall Strong Style as Nagata/Ishii, but still damn good.
They did a great job at showcasing how even SANADA and Goto really were. Both had amazing flurries of offense and counters for one another's signature moves. I really enjoyed the fan survey in the middle of the ring to start with, to see who was more favored.  Fans seemed to sway a little towards SANADA, but both got really good reactions.
Round 1 Overall Score: 6.5/10
The matches with the unproven players really did prove the talent gap between the top and bottom. So this wasn't a bad first round of a tournament since each day's main event made it all worth it. Day 3 was easily the best day of Round 1.
Let's remember that this is a further expanded field than usual, so some of these guys were basically given the test drive to larger stages. I'd say everyone performed fairly well, and honestly Hikuleo's match was the worst, but he's also the most green of all the participants. So I'd say everyone met their expectations or exceeded them (Nakanishi, Umino and Chase Owens come to mind).
Round 2 Match Ups:
Tomohiro Ishii vs Taichi
Chase Owens vs YOSHI-HASHI
Mikey Nicholls vs Kazuchika Okada
Will Ospreay vs Lance Archer
Hiroshi Tanahashi vs Ryusuke Taguchi
Kota Ibushi vs Zack Sabre Jr
Colt Cabana vs Toru Yano
Minoru Suzuki vs SANADA