Andrew's 2nd Round New Japan Cup 2019 Ratings & Analysis
New Japan Cup second round action! The Cup is well known for some upsets, so let's see what we got!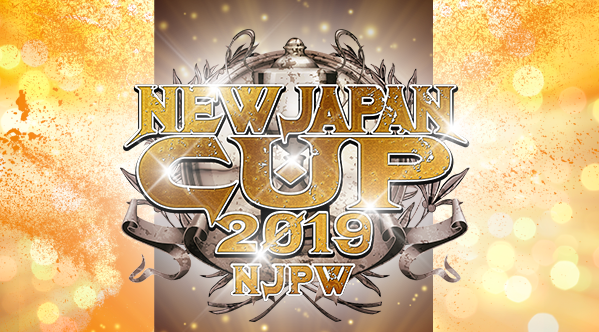 New Japan Cup second round action! The Cup is well known for some upsets, so let's see what we got!
This round we get an interesting mixture of styles. Men that are trying to prove themselves, main eventers in trap matches and the comedy stylings of Colt and Yano.
With all of that, we should get a little bit of something for everyone.
Ratings:
YOSHI-HASHI vs Chase Owens: YOSHI wins via Karma @14:10 – ** 1/4
Tomohiro Ishii vs Taichi: Ishii wins via Vertical Drop Brainbuster @22:55 – ****
Will Ospreay vs Lance Archer: Ospreay wins via Stormbreaker @18:10 – *** 1/2
Kazuchika Okada vs Mikey Nicholls: Okada wins via Rainmaker @17:25 – *** 3/4
Ryusuke Taguchi vs Hiroshi Tanahashi: Tanahashi wins via Dragon Suplex @17:20 – *** 1/4
Zack Sabre Jr vs Kota Ibushi: Sabre wins via Orienteering with Napalm Death @16:10- ****
Colt Cabana vs Toru Yano: Cabana wins via Superman Pin @7:50 – **
SANADA vs Minoru Suzuki: SANADA wins via Moonsault @28:45 – **** 1/4
Analysis:
Chase Owens took YOSHI up the ramp a little and ran him down and rammed him into the ring, ala his infamous gif from September 2018. Chase even yelled to commentary, " I just YOSHI-HASHI'd YOSHI-HASHI!". It was amusing and the match was alright. It went too long and YOSHI still doesn't have people's confidence as evidence by the silence of the crowd. YOSHI stringing some wins together could mean he's going to get a chance at a push, but people have yet to buy in.
Taichi did his usual cowardly heel stuff a little, but then the match turned. Taichi got the crowd behind him, and actually put in effort. There was a great moment where he threw Red Shoes at Ishii, and went to the corner to decide on the weapon to us. He started to grab the bag with the Iron Fingers, but shook his head and got his mic stand. When Ishii stood up and told Taichi to hit him with it, Taichi had a moment of pride and integrity and threw the mic stand away and the strike exchange started. Both men showed glimmers of their teachers in good ways Tenryu for Ishii and Kawada for Taichi. If this continues, this is a Taichi I think everyone can rally behind.
Fun match that continues the story of Ospreay beating heavyweights and finding ways to pull off Stormbreaker on the bigger men. A few awkward moments and bad camera angles hurt a few moves, but it was definitely one of Archer's best singles matches ever. Plus Ospreay was the very first person to kick out of Blackout.
Nicholls brought a lot of intensity and split open Okada's chest with some chops. Hard hitting ordeal, but the Rainmaker prevailed in the end. Ending sequence with Mikey Bomb and Rainmaker attempts was fun, Rolling Rainmaker to set up the classic was a nice touch. Good match.
Taguchi had a few cute spots and eventually turned up the seriousness, but it went the way many expected. B-Triggers and Bumayes a plenty, but after fighting out of the most believable near fall of being in a prolonged Ankle Lock, Tanahashi put together enough to edge out the purveyor of Funky Weapons.
Going into this match Kota has a 2-1 record against Sabre, even though Sabre's lone win came in last year's New Japan Cup. This match was a nice back and forth that showed off Sabre's technical prowess and Ibushi's short temper. The ending sequence was a lot of counters and transitional moves, so it was quite intense.
Cabana and Yano are very similar since they are more comedy before technical skill, so you should know what you're getting into. This was good comedy. It ends with Yano trying to hit Cabana with a turnbuckle pad, misses and hits himself in the head. Cabana trips him and then does the SUPERMAN! For the…up…set? It was entertaining. Cornette would have a stroke, but I was amused.
This match has a good bit of history from All Japan and crossover issues between Suzuki and SANADA's mentor Keiji Mutoh (Great Muta). Going into this match SANADA only had 1 win over Suzuki out of 6 singles meetings. Suzuki dominated a good portion of this match, and just brutalized SANADA. However, SANADA showed great resiliency and the unrelenting drive to beat Suzuki. There was a good exchange of submissions in the middle of the ring with Suzuki finding Knee Twists and an Indian Deathlock to try and break Skull End, but SANADA wouldn't give up. Suzuki basically gassed himself out, and one more Moonsault attempt was the end of Suzuki.
2nd Round Overall Score: 7.25/10
Good round with most New Japan Cup brackets busted (including mine). Most of the bigger upsets came in the later shows, but we did get pretty solid matches from everyone. YOSHI-HASHI is getting a little bit of a push, so maybe people will start buying into him. Maybe? Not me at the moment, but maybe soon. SANADA hasn't put to rest the specter of Minoru Suzuki, but he got over the hump a little.
Also let's not forget that Zack Sabre got a win that threw people into a tizzy. It makes sense, because the contrast in styles has always proven the two men to be equal. So many people expected Ibushi to get a run since he signed the contract but, that's also being accustomed to the Western style of rewarding people just because. Ibushi and Naito are most likely in like for some big stuff the next year or so, but New Japan tells stories with their main talent, they don't just throw things at the wall and see what sticks.
Quarter Finals Matches:
YOSHI-HASHI vs Tomohiro Ishii
Kazuchika Okada vs Will Ospreay
Zack Sabre Jr vs Hiroshi Tanahashi
Colt Cabana vs SANADA