Andrew's Impact Wrestling Against All Odds 2019 Ratings & Analysis
Impact Wrestling brings back Against All Odds, which is fitting for the fact it's in Las Vegas! Did Impact hit the jackpot, or bust?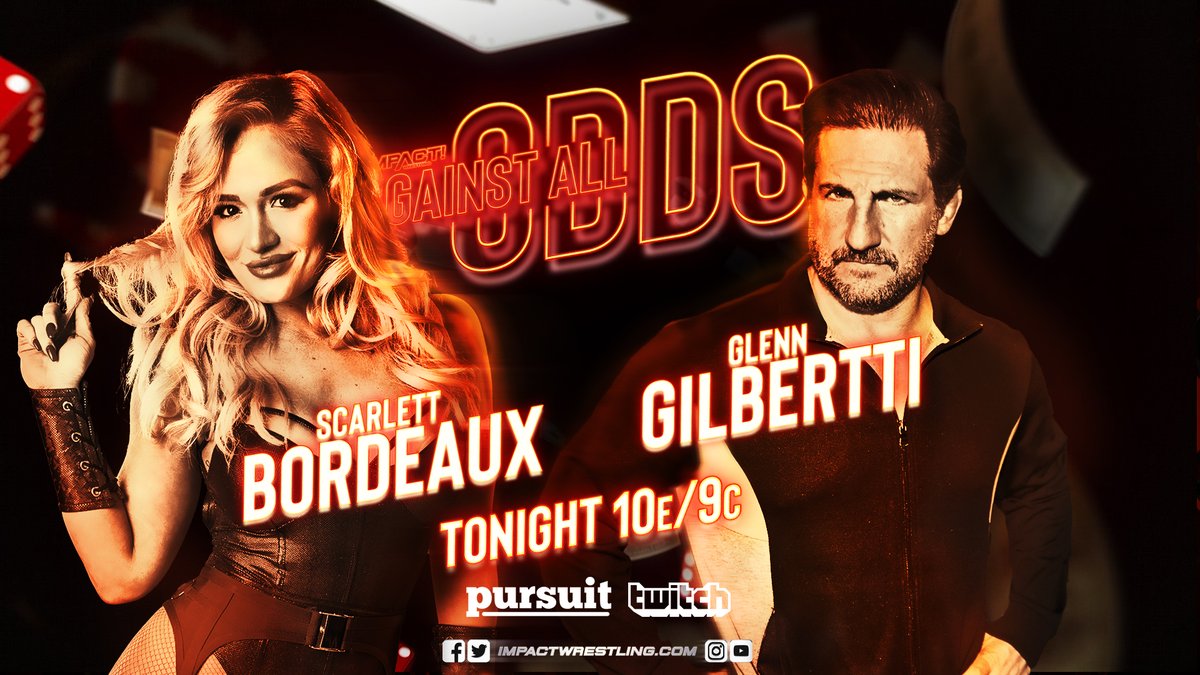 Impact Wrestling brings back Against All Odds, which is fitting for the fact it's in Las Vegas! Did Impact hit the jackpot, or bust?
Even though there aren't many matches announced for this show, we should get some good story movement.
Glenn has to put up or shut up, Rosemary is on her trip to hell to retrieve the Bunny's soul and Taya has an powerhouse of an opponent for the Knockouts title.
So let's do the damn thing!
"Shut up and wrestle turkey boy."@Lady_Scarlett13 is having none of @TheRealDisco's nonsense. #IMPACT

WATCH NOW – https://t.co/jyZYT6QL46 pic.twitter.com/QYXiYfdPV5

— IMPACT (@IMPACTWRESTLING) March 30, 2019
Ratings:
Glenn Gilbertti vs Scarlett Bordeaux: Scarlett wins via Avalanche Powerbomb – **
Knockouts Championship: Jordynne Grace vs Taya Valkyrie (c): Grace wins via Count Out – ** 3/4
Brian Cage vs Killer Kross: Kross wins via Doomsday Saito – *** 1/4
Analysis:
Show starts off with LAX calling out the Lucha Bros and it seems like commentary says it's an unsanctioned match. But it's so unsanctioned that there is no ref, security tries to separate them and I guess it was just a more of a scheduled brawl. LAX stands tall after putting both Pentagon and Fenix through tables, but it wasn't a match, just some brawling. After the brawl LAX challenges Lucha Bros to Full Metal Mayhem at Rebellion.
Well now, this was actually more competitive than I anticipated and not too bad. It wasn't like Disco's match against Jacquelyn in WCW, he actually landed a few moves. Some clubbing blows, Russian Leg Sweep, Garvin Stomps and a Village People's Elbow. As soon as he hit her, the boos came nicely. He was his own undoing cause he thought it would be cute to hit her with 10 Count Punches in the corner, and instead Scarlett reaches up, claws his back and hits the Avalanche Powerbomb for the pinfall.
GWN Flashback: AJ Styles vs RVD World Championship Match from April, 19,2010 IMPACT!
Tessa comes out to the ring to demand Gail's apology and resignation. Tessa goaded Gail along the apologies and then had to get in her own digs. Ends her volley running down the fact that Gail's era are known for Bra and Panties matches and wrestling in Jello, so Gail can't lace her boots. Gail announces that she's coming out of retirement to beat her ass, and Tessa does a great Ric Flair impression. Where she went from cocky, to scared out of her mind, and Gail beat her down a bit. Was it obvious, yes. But Gail is one of the best ever, so thank god she's back. Match confirmed for Rebellion.
.@gailkimITSME is COMING OUT OF RETIREMENT to kick @Tess_Blanchard's ass at Rebellion in Toronto. #IMPACT

TICKETS: https://t.co/qXpKQR3zQJ pic.twitter.com/gwwltUWmXi

— IMPACT (@IMPACTWRESTLING) March 30, 2019
Knockouts match starts pretty strong. Taya dominates most of the early portion before the commercial break. Taya generally seems to be having fun and toying with her opponent a bit. After the commercial break Jordynne catches Taya with a Belly to Belly Suplex and the match gets a little more back and forth. Taya misses a Moonsault and rolls to the apron. Johnny comes out, Taya says she injured her ribs and they try to walk out. So the count out happens and Brian Cage comes out to try and get a piece of Johnny. So what had the potential to be a great match, got cut short by shenanigans. Kross jumps Cage and drives his arm into the ring post.
So the Cage versus Kross match starts immediately after the scuffle. This was a hell of a match with Cage fighting from underneath because of the early attack. Sadly the finish hurt this match quite a bit. Johnny and Taya helping Kross is one thing, but then the referee counts to 3 after Cage kicked out of 2 Doomsday Saitos. Like, is John E. Bravo the new Hebner? It was just clunky and dumb. Was it supposed to be a screw job? Does John Bravo just suck? Ugh.
The Undead Realm segment closes the show. It definitely has that Buffy the Vampire Slayer/cheesey feel, but not awful. James Mitchell has a ring set up in hell and Rosemary has to fight her way through the people to get to HIM. One of the opponents was Luchasaurus, Kiera Hogan followed them to help out Rosemary. HIM appears, and His Infernal Majesty is played by none other than Kevin Sullivan, the Taskmaster! As Rosemary finds out that Sullivan basically said it's his realm so she has no power to bargain. Su Yung tries to kill her with a Freddy Krueger glove, but Allie pushes her out of the way and takes the blades to the throat. So Allie goes off to AEW the same way Adam Cole went to NXT, dead.
Overall Score: 5.5/10
Okay-ish? This was an somewhat entertaining two hours of nothing. The fact that there were only 3 matches isn't too bad, but the fact that 2 ended in controversy, the GWN flashback lingered too long on the RVD celebration portion and the first match, while good for what it was, was mostly a tongue in cheek gimmick. Plus, I think Stevie Wonder saw the Gail coming out of retirement angle, so even though that should've been a big reveal, it wasn't really profound.
So I didn't hate my life for 2 hours, but I can't really say this show was necessary to watch -EXCEPT – for the Undead Realm since they killed off Allie (and the cameos are fun). Ya, for a TV special this was barely a serviceable TV episode, much less being a named event. Little disappointed in general, but like I said, not awful.
Twitch Views:
Week 1: High – 10,350 / Low – 8,500
Week 2: High – 8,000 / Low – 6,500 
Week 3: High – 8,500 / Low – 7,900  
Week 4: High – 7,100 / Low – 5,300
Week 5: High – 7,450 / Low – 5,650
Uncaged: High – 9,000/ Low – 8,000
Week 6: High – 8,025/ Low – 5,300
Week 7: High – 14,400/Low – 9,800
Week 8: High – 7,200/Low – 4,500
Week 9: High – 9,700/Low – 4,000
Week 10: High – 4,900/Low – 4,150
Against All Odd: High – 8,255/Low – 4,300
Well the interesting thing about the numbers is that Scarlett was early in the show, and didn't pop the number. The number jumped about 7k for the Tessa/Gail segment and Knockouts match. It never dropped below 7k after spiking, but it was definitely around 5k for the first 45 minutes or so. I think we've establish that 6-8k are the current pool of IMPACT Twitch viewers. Some weeks spike and some weeks flop, but I think we've got enough of a sample size.
I'm going to stop doing the Twitch views until after Rebellion. Last year after a damn good Redemption and Slammiversary, the Pop TV numbers were a bit stronger. So if Rebellion goes back to the 2018 formula and not whatever Homecoming was, they might pop a number.
Also just a closing thought, I hope the last few weeks were building to stuff since the last few weeks have been some of their weaker shows. Here's to hoping!
Andrew's IMPACT Match Ratings & Results: 3.23.2023
The Go Home to Sacrifice! PPV this week, Mania weekend special next week! Fun times for Impact!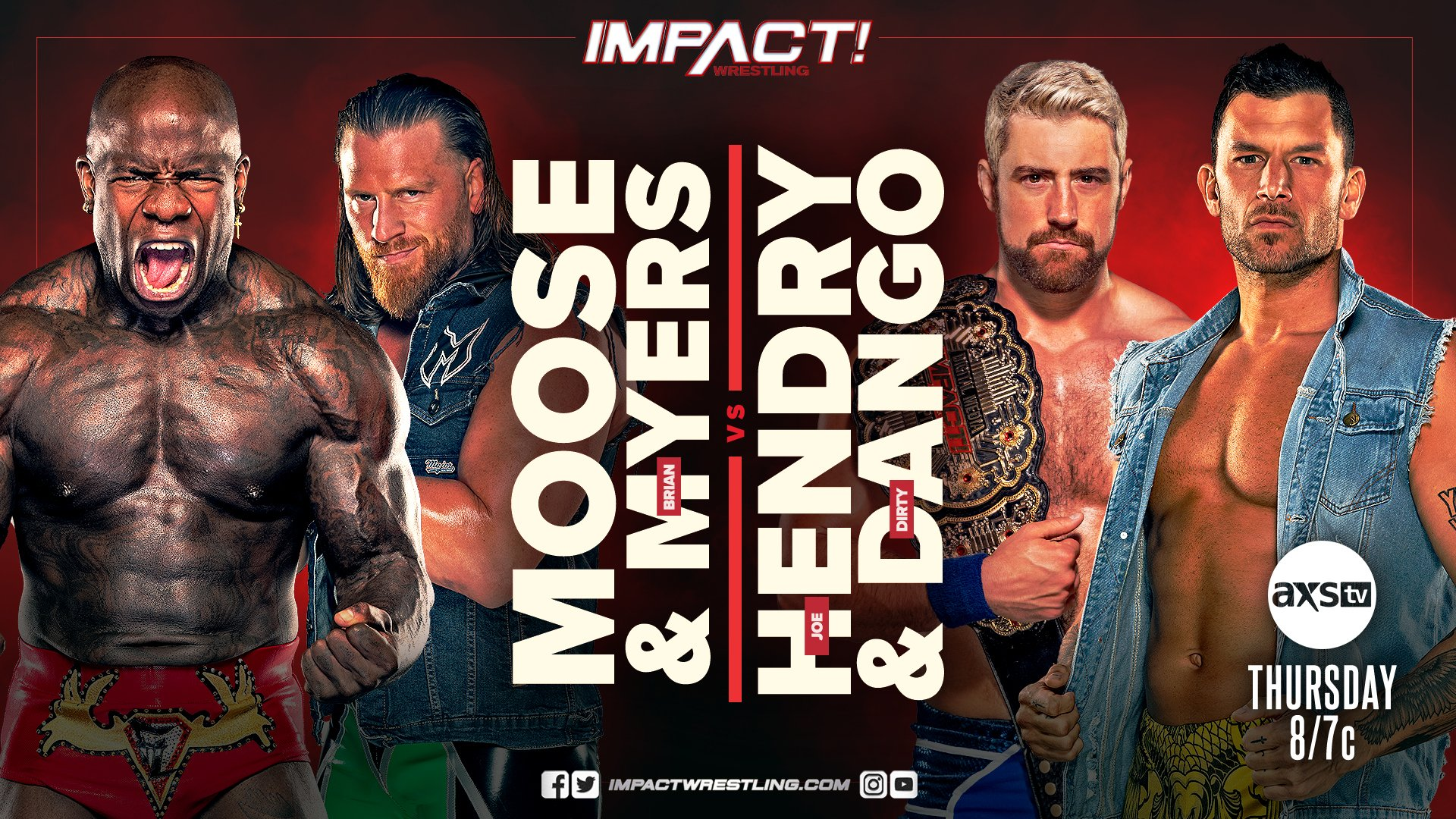 It's the Go Home to Sacrifice! I think there's definitely more than a 33 1/3% chance that I'll at least tolerate the episode. But with all of the fun pairings with Sacrifice participants we get the potential for a ton of story beats. We also might get a clearer picture of whatever the endgame is for The Design (doubtful though).
With all that, let's hop into the show and kick off with how Kenny King and Eddie Edwards are exactly feeling about their Frankenstein problem.
.@KennyKingPb2 and @TheEddieEdwards want @PCOisNotHuman "On Ice"!#IMPACTonAXSTV pic.twitter.com/blVnhWPv4p

— IMPACT (@IMPACTWRESTLING) March 24, 2023
Ratings:
The Design (Deaner, Kon, Angels w/Callihan) vs Time Machine (Alex Shelley, Kushida, Chris Sabin): Kushida wins via Hoverboard Lock – *** 1/4
Savannah Evans w/Gisele Shaw & Jai Vidal vs Deonna Purrazzo: Deonna wins via Crucifix Bomb – ** 1/4
Masha Slamovich & Bully Ray vs Tommy Dreamer & Mickie James: Bully wins via Piledriver – ** 1/4
Dirty Dango & Joe Hendry vs  Brian Myers & Moose: Myers wins via Roster Cut – ** 1/2
Results:
The Design (Deaner, Kon, Angels w/Callihan) vs Time Machine (Alex Shelley, Kushida, Chris Sabin)
Well Kushida does enjoy mixing it up with Heavyweights…and he starts against Kon. Kushida tries to chop down the tree, gets stifled, Shelley tags in to try and assist but they both meet the brick wall of Kon. Kon tags in Deaner and Shelley is getting worked over. Blind tag from Sabin, Deaner gets spun around and kicked in the face for a quick near fall.
All six mix it up a bit before Time Machine gets the best of it, they post Angels in the corner, Hesitation Dropkick from Sabin while Angels is retrained and we get a quick tag bringing Shelley back in to work over Angels left arm. I guess you can see they made him a…one winged angel – okay no more FF7 references. I feel dirty. Kushida lays in the grounded Bow and Arrow Liger Style, and Angels is just get rocked.
Eventually Angels manages to get away from Sabin and tag in Deaner, then The Design start quick tags and stomping away on Sabin in their corner. The Design tries to set up a tandem move, Sabin manages to escape and tag in Kushida. Hot tag with a few quick spots, Running Crossbody, Pele Kick, and then Shelley comes in. They go for some Time Splitters action but Angels interrupts it, so he receives the Time Splitters tandem offense of the PK to the Arm and Kon stunned on the apron eating a Back Handspring Kick, big Dive from Kushida puts an exclamation point on the Time Machine momentum.
Commercial break, we come back to Kushida and Shelley going for the Enzuigiri/Shotei combination, but Deaner moves and Shelley kicks Kushida. Angels gets tagged in and we see The Design put some stuff together. After a Spine Buster/Frog Splash combo, they set up a Double Doomsday and finally the MCMG portion of Time Machine come in for the save. Things start breaking down into signature spams, Angels looks to have the advantage until her stumbles just a little and the triple team starts.
They look for Outatime, but Deaner breaks it up, then Callihan slides in to just protect Deaner. He even stands there and asks the Guns to hit him. So Callihan gets rocked and Kushida flies in with the Hoverboard Lock for the win.
There was a vignette for The Coven, which checks that weird IMPACT spin since they love to play in the Shadow Realm. Not bad, just not work showing in the article.
JESUS H CHRIST – they are rebranding Raj Singh as Champagne Singh? I hope this is a short lived attempt at relevance, because he is talentless. Raj was the worst part of the Desi Hit Squad and somehow he's stuck around the longest. I don't get it…he's cringe, can't cut a promo and wrestles like trash. 
Savannah Evans w/Gisele Shaw & Jai Vidal vs Deonna Purrazzo
Deonna takes the offense right to Savannah, which is dumb; but Deonna does love to be the female Minoru Suzuki. By that I mean, just fighting the opponents fight for a little bit until the gameplan eventually kicks in. So it looks dumb, but let's see if it continues to be dumb.
The match has been fairly basic, but not awful, hence why its hard for me to really highlight anything. Savannah hits some nice power moves, Jai and Gisele tend to jaw and be petty distractions but never physically get involved. Deonna tries to fire up with a few quick Chops, but Savannah puts the brakes to the that and hits a great Snap Suplex. Deonna absorbs some offense, tries to use a little bit of join manipulation and momentum to give herself a few openings. Savannah stops Deonna, goes for a Backbreaker, but Deonna counters.
Deonna runs the ropes, hits a few big Knee Lifts, Russian Leg Sweep, float over, Fujiwara…but Savannah grabs the ropes. Savannah stalls Deonna's offense attempts, catches her with a beautiful Northern Lights Suplex Hold for 2. Full Nelson Slam attempt, Deonna drops down, rolls through, tries to use the ropes to her advantage, but Gisele and Jai finally makes their presence really felt. Deonna hits the ropes, Jai grabs her, Savannah swings, misses Deonna and wipes out Jai, Gisele eats a Pump Kick from Deonna. Deonna flies through the attempts slam, Crucifix Bomb from Deonna, and Deonna gets the pinfall.
Post match 3 on 1 beatdown begins! Deonna has no friends left, so she eats a Full Nelson Bomb and Denouement, and she's left laying. 
Flashback Moment: Sacrifice 2010, Team 3D vs Beer Money vs MCMG, #1 Contender for the TNA Tag Team Championship Match
Masha Slamovich & Bully Ray vs Tommy Dreamer & Mickie James
Dreamer and Bully circle a little, Bully tries to take a swipe at Mickie and then goads her to tag in. Bully keeps talking crap but Masha demands to be tagged in. So Masha and Mickie start off, while Mickie is trying to keep her eyes peeled for Bully while getting the best of Masha early after a Thesz Press, Sole But, Flapjack, Kip Up. But Mickie allows herself to be distracted a little, Masha returns the Sole Butt and clocks Mickie to drop her and tag in Bully. Bully talks too long before the Elbow Drop, so Mickie rolls away and Dreamer tags in. So the babyfaces are getting the best of the early going until Bully grabs Mickie's hair as she runs the ropes while the ref is distracted.
Bully cheap shots Dreamer, tries to grab the Kendo Stick and threaten Mickie but the referee stops him. Bully starts man handling Mickie, tags Masha back in and Masha is literally whipping her around by her hair. Same time Lariats give Mickie the chance to tag out, simultaneous tags on the guys and Dreamer is doing…as hot of a tag as he can. 10 Count Punches, Bites his head, Cutter, but Masha breaks the pin. Flip, Flop and Fly in stereo, Dreamer calls for a WAZZUP, Mickie does a Diving Polish Hammer to Bully's balls. Then Dreamer shoves Mickie and tells her to get the tables.
Masha does one of the ugliest dives I've ever seen on Mickie, but its effective. Bully hits a Low Blow while the referee is messing with the table, Piledriver from Bully and the Bully wins it for the team.
Masha tells Bully to set up the table after the match. Bully is about to Powerbomb Mickie, but Jordynne Grace hits the ring with a Kendo Stick. Bully turns, Jordynne hits the ropes for a Spear but Bully moves and Jordynne cuts Mickie in half.  
Is @SteveMaclin getting into the heads of #RichSwann, @FrankieKazarian, and @Walking_Weapon?#IMPACTonAXSTV pic.twitter.com/1iDn0ehHMx

— IMPACT (@IMPACTWRESTLING) March 24, 2023
Next week is going to be more of a hype show for Mutiverse United. There will be a few never broadcasted matches, but since its WrestleMania Weekend, that takes precedence. 
Dirty Dango & Joe Hendry vs  Brian Myers & Moose
Joe Hendry's doing his usual promo after his music, but Dango also grabs a microphone which throws off Hendry a little. So when Hendry says "Say the only two words that matter" – Dango interjects with SUCK IT. Fun ways to tap dance around trademarks. 
Hendry and Myers start off which actually plays nicely into the story. Hendry invoked Myers' rematch clause, so of course he wouldn't be opposed to mixing it up before the PPV. Dango gets tagged  and tries to get Moose to dance. Moose's leg shakes a little like he has to fight the urge to dance, and then charges at Dango. Little things like that reminds everyone that Moose is a likable performer, he's just a heel right now, so he's trying to ignore his fun side. Myers comes back in, Arm Trap Suplex, Tornado DDT where he kicks off of Moose who's trying to interrupt. They wipe out Moose and Myers, Hendry puts his hands in the air for the wave, but Dango thinks it should be something else. Moves Hendry's hands a little and then does a SUCK IT.
Off the commercial, Falcon Arrow from Dango, he tries to go to the top but Moose distracts Dango and Myers throws him off the top rope to the outside. Dango tries for the Cradle Counter Roll, but Myers blocks long enough to tag Moose. So Moose blindsides Dango before the 1 count even happens. Myers Knee Lift, holds onto Dango's ankle and reaches to tag in Moose. So Dango is just getting totally singled out. Dango kicks Moose away, Moose tries for Go To Hell, but Dango keeps swinging, rocks Moose a little and then the Diving European Uppercut gives Dango the space he needs for the tag.
Simultaneous tags, Myers gets caught mid Crossbody, Sack of Shit from Hendry and then Joe Kips Up. Hendry tries a Trust Fall, Myers slips it, Enzuigiri, but then Hendry hits the Pop-Up Powerbomb for 2. Moose is in, Dango is in, Dango gets dumped out, Moose hits the Lights Out on Hendry. Roster Cut from Myers, 1-2-3.
Josh Alexander walks out to the ring after the Maclin/Swann shenanigans. Josh punctuates his promo with saying Maclin is afraid of failure, afraid of being a man without a purpose, afraid of being a Forgotten Son. Maclin's music hits and he chuckles at the line and gives Josh a little kudos. 
Maclin is cutting a perfect heel promo since he's validating everything Josh said, and even presents video evidence of how much scouting he's doing to avoid failure. However, through his validation he's also poking holes in Josh's confidence. Josh tries to say it changes nothing and he's a fighting champion and tries to challenge Maclin now…because now Josh is scared. Like Frankie said, Maclin is doing it "My Way". So he says no to the challenge and that he wants to take it in Josh's home town. 
Overall Score: 7.25/10
Now I usually get bored with promos to close a show, but they both played their parts perfectly. Josh with the strong babyface opening trying to discredit the opponent as just another victim of circumstance; but Maclin bringing the receipts like he just walked into H&R Block was beautiful. I've enjoyed a lot of Maclin's run in IMPACT, but this is the cherry on the top. He NEEDS to win the title, he's perfect since you could see in Josh's face and body language his confidence is a little shaken.
I also appreciated a few of the little storytelling beats, like in Hendry's match. Opening against Myers plays into the story, and then Moose hitting the Lights Out and then walking out of the ring just watching his handy work as Myers hits the Roster Cut for the win. Proves everything both men said leading up through this story. Deonna also being the best wrestler in the Knockouts division, but still not capable of beating a 3 on 1 with no friends played well towards something. It's either going to culminate in Mickie and Deonna burying the hatchet frenemies style, or we'll see Deonna having to evolve into a more straight forward babyface since she can't play the heel or tweener with no friends.
The Twitter feed didn't have the segment with The Death Dollz, but potentially writing off Taya by bringing Su Yung/Susie/Susan back works well since it gives JesSICKa a chance at an angle, Su could always side with The Coven, they can play in the paranormal nicely for a few more months. I just really hope they don't return JesSICKa to Havok. Havok got stale and pathetic, whereas JesSICKa is entertaining both in and out of the ring.
But hey, tomorrow is Sacrifice, so watch your Steiner Math promos and strap in for the PPV!
Andrew's IMPACT Results & Match Ratings: 3.16.2023
Frankie Kazarian in the main event, Taylor Wilde with a title shot, Heath on the card, Vladimir Kozlov sightings and Johnny Swinger shenanigans. Is it 2023 or 2010?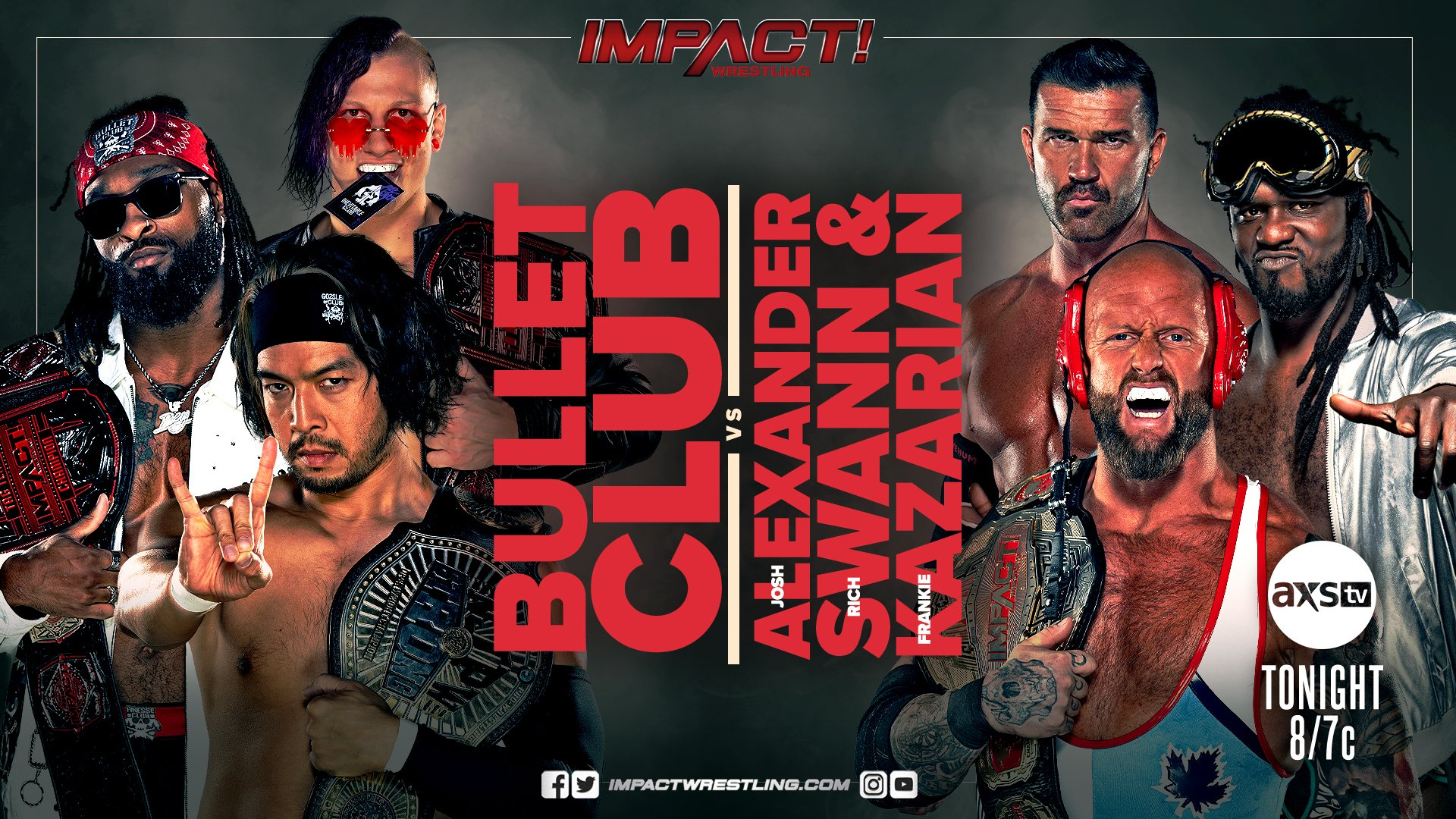 Sufficed to say, No Surrender and the lead up exhausted my tolerance for IMPACT. That coupled with the brain damaged Busted Open Radio segment, I really couldn't have cared less about the product. So I removed myself from it for a few weeks hoping I can come back to it a little refreshed and less annoyed.
There's been title changes, twists and turns with Eddie Edwards and apparently Deonna Purrazzo might be in the midst of a face turn. These are all solid things, hopefully I don't hate everything though.
"Death Dollz ASSEMBLE!!!!"@WeAreRosemary @thetayavalkyrie @FearHavok #IMPACTonAXSTV pic.twitter.com/xNximXcxAP

— IMPACT (@IMPACTWRESTLING) March 17, 2023
Ratings:
Mike Bailey & Jonathan Gresham vs Crazzy Steve & Black Taurus: Bailey wins via Ultima Weapon -***
Steve Maclin vs Heath: Maclin wins via K.I.A. – ** 1/2
Johnny Swinger w/Zicky Dice vs Jai Vidal w/Savannah Evans & Gisele Shaw: Vidal wins via Running Knee – *
Knockouts Tag Team Titles: The Coven (Taylor Wilde & KiLynn King) vs Death Dollz (Taya Valkyrie & Rosemary w/JesSICKa) (c): King wins via Reverse Powerslam – ** 3/4 – TITLE CHANGE!!!
Josh Alexander, Frankie Kazarian & Rich Swann vs Bullet Club (KENTA, Ace Austin & Chris Bey): Bullet Club wins via ABC 1-2-SWEET – *** 1/4
Results:
Mike Bailey & Jonathan Gresham vs Crazzy Steve & Black Taurus
Gresham has Steve pushed against the ropes early, and just when we expect the typical kind of boring start, Steve bites Gresham, Bailey tries to break it up but Taurus throws him out. A WAZZUP inspired tandem move, but it's a Dropkick from Taurus instead of the Headbutt. Gresham tries to fight both men off, Taurus accidentally clocks Steve which gives enough of an opening for Gresham to tag in Bailey. A few quick kicks and the Running Shooting Star Press for 2. Buzzsaw Kick attempt, but Steve catches his foot and bites his toes. A quick flurry from both leads to the fall down and crawl to your tag partner spot.
Taurus is in first, he drops Gresham off the apron, Torture Rack flip into a Backbreaker from Taurus then the Pop-Up Samoan Drop. Gresham protects Bailey, Moonsault from both on the two Decay members. Buzzsaw Kick for only a 1, Gresham hits him with the Sliding D, but Steve pushes Gresham onto the pinfall pile. Tornado Kick corner spot from Bailey, Ultima Weapon for the victory.
It wasn't a long match, but they fit in a lot of fun spots, hard hitting action and damn good execution. 
.@swinger_johnny has no idea @TheJaiVidal is a wrestler… @GiseleShaw08 @SavannahEvansNV #IMPACTonAXSTV pic.twitter.com/sV4SETxkVn

— IMPACT (@IMPACTWRESTLING) March 17, 2023
Steve Maclin vs Heath
So I have never been a huge fan of Heath, but he has been able to put together some solid work in IMPACT. I'm never gonna have any faith in him winning matches that matter, but he's at least proven to be a better wrestler than WWE allowed him to show.
A few trade spots, then Heath telegraphs the Back Body Drop and Maclin hits him with a Facebreaker combination before Heath dumps him over the top rope and we head to commercial. We come back and Maclin was in charge, but Heath fights back, nearly throws a few things together but he misses the big Lariat and then gets caught with Back Breaker counter.
Combination punches, Knee Lift, Power Slam for 2 from Heath. Maclin tries to counter but eats a Spinebuster and another 2 count. Heath tries a Wake Up Call, but Maclin throws him into the corner, Tree of Woe, Caught in the Crosshairs, K.I.A. – Maclin wins.
HE'S ALIVE! @PCOisNotHuman is in VEGAS! #IMPACTonAXSTV pic.twitter.com/Q32lO5gPTt

— IMPACT (@IMPACTWRESTLING) March 17, 2023
Johnny Swinger w/Zicky Dice vs Jai Vidal w/Savannah Evans & Gisele Shaw
Swinger tries to start off with the old school test of strength, but Jai just Dropkicks him, Atomic Drop, his own version of a People's Elbow, and then starts working Swinger over in the corner. Swinger yells at Zicky asking him why he never said the kid could go, but as Zicky gets kicked; Swinger actually takes advantage of things.
A rope choke and a slingshot into the Camel Clutch, but Savannah pulls him out and then they get kicked out for all of the obvious interference. Gisele is arguing with the ref and Deonna blind sides her from the entrance. Deonna looks like a great Mob Wife. Jai hits a Flying Knee and puts down Swinger.
Eddie comes down to the ring, still using the Honor No More music. He claims he's finally got his past behind him, even though we've seen PCO walking to the building the whole time. Kenny King goes full Casey Jones and clocks PCO with a hockey stick. Superkicks and steel chairs try to keep the French Canadian Frankenstein down, but he keeps getting back up. 
They try to pin him against the post with the ring stairs, but PCO erupts out and attacks. Kenny the Kendo stick rocks PCO, and Kenny King with a Blockbuster, Boston Knee Chairshot. Kendo Stick shot on the chair against PCO's head and both Eddie and King think its over. 
.@DirtyDangoCurty believes in @joehendry! @milanmiracle @WWEKozlov #IMPACTonAXSTV pic.twitter.com/NAK9R9a0KE

— IMPACT (@IMPACTWRESTLING) March 17, 2023
Knockouts Tag Team Titles: The Coven (Taylor Wilde & KiLynn King) vs Death Dollz (Taya Valkyrie & Rosemary w/JesSICKa) (c)
KiLynn and Taya start, and Taya has a few issues with the Short Arm Knockdown + Kip Ups spot. Its not too bad looking, just obviously a little wrong. The gorgeous witch comes in to face the demon, and Rosemary tries to bite off Taylor's face, both partners come in, Coven gets dumped out and we go to commercial. After the break KiLynn is in full mount raining down fists on Rosemary.
Taylor uses the ropes for her new cute Draping Leg Choke before the referee makes her break the move. After Rosemary counters a few corner charges, Rosemary hits the Upside Down for her own illegal choke move. KiLynn tried to stop Rosemary's tag, but nope. Taya starts womanhandling KiLynn and Blue Thunder Bomb for 2. Taya with the Hip Attack Face Wash, then the Seeing Shadows Knees…for another 2 count. Taya tries to charge at KiLynn, but dodge and Taylor manages to use the ropes for hit Taya. All four women are in, Taylor and Rosemary neutralize one another, big kick from Taylor leads to KiLynn hitting a Reverse Powerslam for the win!
A little sloppy at times, but generally fun and a decent first showing for this new dark magic faction. 
Josh Alexander, Frankie Kazarian & Rich Swann vs Bullet Club (KENTA, Ace Austin & Chris Bey)
Kaz and Bey start off, and early on its more of a test to see if Kaz can still keep up at the old X Division pace. There's a small hiccup when Bey rolls back before Kaz is in position for the Headscissors Pick, so when they do the spot, it does look a little goofy. Ace and Swann come in next and they have much better chemistry. Even though some spots don't look as smooth as one would expect, they still work. Which of course tells us that KENTA and Josh are next. KENTA lands a few big kicks, but then Josh catches him, Rolling Senton, then all six men come in for a quick kerfuffle and commercial break.
We come back and Bey hits this buttery smooth Overhead Screw Kick on Swann. Ace of BEYce tandem work, for 2. A little Click Click Boom leads to another 2 count against Rich. A little fun with the ref, Bey throws Rich into KENTA and Ace's feet, then they go for a little Scott Hall reference. Bey brings Rich to the corner, asks who to tag and Ace does the point to KENTA in true NWO fashion. KENTA works over Rich for a little bit, until the Double Lariat spot. Frankie comes in, levels the playing field hits a Double DDT on the tag champs but then gets rocked by Bey. Wobbly legs and all, Kaz gets to Josh to tag out.
Powerbreaker from Josh, Rich tags in for a 450 and a 1-2-Ace grabs Rich's foot and pulls him out. Ace gloats and eats the Josh low Crossbody. KENTA and Ace team up to take out Josh before Rich wipes out Ace again. Bey tries a dive but gets kicked in the face. Slingshot from Bey but Kaz is there to catch him with a Cutter into the bodies. Rich crawls in the ring and Ace does the heads up thing by throwing Bey in at 9. Rich is winning the early trade, Triangle Kick from Ace, Slingshot DDT from Kaz, Busaiku Knee from KENTA, Josh tries to go for the C4 Spike but he notices Maclin watch the match. ABC 1-2-SWEET and Bullet Club wins!
Overall Score: 7.5/10
Well okay, maybe a few away helped. I loved the complete lack of the Dreamer/Bully angle beyond the mention of their upcoming match. PCO is always entertaining even if it's extremely redundant at this point, Santino and Joe Hendry…that's just comedy gold. The concept of cashing in someone else's rematch clause because you want revenge as the champion is so stupid, but so logical. Gresham and Bailey have this weird respect rivalry budding that could just give us a few bangers this year or form a damn good tag team. The Coven picking up the win could be an easy out for Taya since I'm pretty sure I saw something about her doing some AEW shows. Deonna being on the face side of this current drama is a logical move for her to start playing babyface, and Josh showing some cracks in his armor is perfect for Maclin.
I'm still in the Jersey boat of Maclin should take the belt off of Alexander. A few mind games, a few more wrinkles and it could really be a thing. Do it you cowards! Put the strap on Maclin!