Andrew's Impact Wrestling Against All Odds 2019 Ratings & Analysis
Impact Wrestling brings back Against All Odds, which is fitting for the fact it's in Las Vegas! Did Impact hit the jackpot, or bust?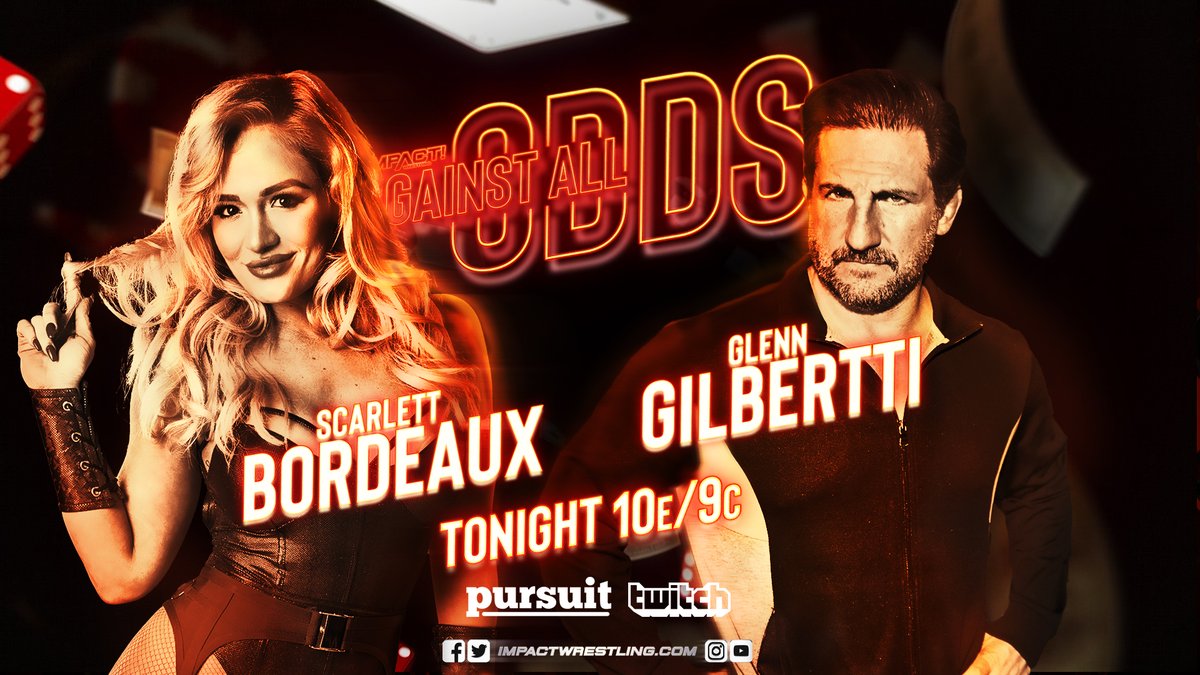 Impact Wrestling brings back Against All Odds, which is fitting for the fact it's in Las Vegas! Did Impact hit the jackpot, or bust?
Even though there aren't many matches announced for this show, we should get some good story movement.
Glenn has to put up or shut up, Rosemary is on her trip to hell to retrieve the Bunny's soul and Taya has an powerhouse of an opponent for the Knockouts title.
So let's do the damn thing!
"Shut up and wrestle turkey boy."@Lady_Scarlett13 is having none of @TheRealDisco's nonsense. #IMPACT

WATCH NOW – https://t.co/jyZYT6QL46 pic.twitter.com/QYXiYfdPV5

— IMPACT (@IMPACTWRESTLING) March 30, 2019
Ratings:
Glenn Gilbertti vs Scarlett Bordeaux: Scarlett wins via Avalanche Powerbomb – **
Knockouts Championship: Jordynne Grace vs Taya Valkyrie (c): Grace wins via Count Out – ** 3/4
Brian Cage vs Killer Kross: Kross wins via Doomsday Saito – *** 1/4
Analysis:
Show starts off with LAX calling out the Lucha Bros and it seems like commentary says it's an unsanctioned match. But it's so unsanctioned that there is no ref, security tries to separate them and I guess it was just a more of a scheduled brawl. LAX stands tall after putting both Pentagon and Fenix through tables, but it wasn't a match, just some brawling. After the brawl LAX challenges Lucha Bros to Full Metal Mayhem at Rebellion.
Well now, this was actually more competitive than I anticipated and not too bad. It wasn't like Disco's match against Jacquelyn in WCW, he actually landed a few moves. Some clubbing blows, Russian Leg Sweep, Garvin Stomps and a Village People's Elbow. As soon as he hit her, the boos came nicely. He was his own undoing cause he thought it would be cute to hit her with 10 Count Punches in the corner, and instead Scarlett reaches up, claws his back and hits the Avalanche Powerbomb for the pinfall.
GWN Flashback: AJ Styles vs RVD World Championship Match from April, 19,2010 IMPACT!
Tessa comes out to the ring to demand Gail's apology and resignation. Tessa goaded Gail along the apologies and then had to get in her own digs. Ends her volley running down the fact that Gail's era are known for Bra and Panties matches and wrestling in Jello, so Gail can't lace her boots. Gail announces that she's coming out of retirement to beat her ass, and Tessa does a great Ric Flair impression. Where she went from cocky, to scared out of her mind, and Gail beat her down a bit. Was it obvious, yes. But Gail is one of the best ever, so thank god she's back. Match confirmed for Rebellion.
.@gailkimITSME is COMING OUT OF RETIREMENT to kick @Tess_Blanchard's ass at Rebellion in Toronto. #IMPACT

TICKETS: https://t.co/qXpKQR3zQJ pic.twitter.com/gwwltUWmXi

— IMPACT (@IMPACTWRESTLING) March 30, 2019
Knockouts match starts pretty strong. Taya dominates most of the early portion before the commercial break. Taya generally seems to be having fun and toying with her opponent a bit. After the commercial break Jordynne catches Taya with a Belly to Belly Suplex and the match gets a little more back and forth. Taya misses a Moonsault and rolls to the apron. Johnny comes out, Taya says she injured her ribs and they try to walk out. So the count out happens and Brian Cage comes out to try and get a piece of Johnny. So what had the potential to be a great match, got cut short by shenanigans. Kross jumps Cage and drives his arm into the ring post.
So the Cage versus Kross match starts immediately after the scuffle. This was a hell of a match with Cage fighting from underneath because of the early attack. Sadly the finish hurt this match quite a bit. Johnny and Taya helping Kross is one thing, but then the referee counts to 3 after Cage kicked out of 2 Doomsday Saitos. Like, is John E. Bravo the new Hebner? It was just clunky and dumb. Was it supposed to be a screw job? Does John Bravo just suck? Ugh.
The Undead Realm segment closes the show. It definitely has that Buffy the Vampire Slayer/cheesey feel, but not awful. James Mitchell has a ring set up in hell and Rosemary has to fight her way through the people to get to HIM. One of the opponents was Luchasaurus, Kiera Hogan followed them to help out Rosemary. HIM appears, and His Infernal Majesty is played by none other than Kevin Sullivan, the Taskmaster! As Rosemary finds out that Sullivan basically said it's his realm so she has no power to bargain. Su Yung tries to kill her with a Freddy Krueger glove, but Allie pushes her out of the way and takes the blades to the throat. So Allie goes off to AEW the same way Adam Cole went to NXT, dead.
Overall Score: 5.5/10
Okay-ish? This was an somewhat entertaining two hours of nothing. The fact that there were only 3 matches isn't too bad, but the fact that 2 ended in controversy, the GWN flashback lingered too long on the RVD celebration portion and the first match, while good for what it was, was mostly a tongue in cheek gimmick. Plus, I think Stevie Wonder saw the Gail coming out of retirement angle, so even though that should've been a big reveal, it wasn't really profound.
So I didn't hate my life for 2 hours, but I can't really say this show was necessary to watch -EXCEPT – for the Undead Realm since they killed off Allie (and the cameos are fun). Ya, for a TV special this was barely a serviceable TV episode, much less being a named event. Little disappointed in general, but like I said, not awful.
Twitch Views:
Week 1: High – 10,350 / Low – 8,500
Week 2: High – 8,000 / Low – 6,500 
Week 3: High – 8,500 / Low – 7,900  
Week 4: High – 7,100 / Low – 5,300
Week 5: High – 7,450 / Low – 5,650
Uncaged: High – 9,000/ Low – 8,000
Week 6: High – 8,025/ Low – 5,300
Week 7: High – 14,400/Low – 9,800
Week 8: High – 7,200/Low – 4,500
Week 9: High – 9,700/Low – 4,000
Week 10: High – 4,900/Low – 4,150
Against All Odd: High – 8,255/Low – 4,300
Well the interesting thing about the numbers is that Scarlett was early in the show, and didn't pop the number. The number jumped about 7k for the Tessa/Gail segment and Knockouts match. It never dropped below 7k after spiking, but it was definitely around 5k for the first 45 minutes or so. I think we've establish that 6-8k are the current pool of IMPACT Twitch viewers. Some weeks spike and some weeks flop, but I think we've got enough of a sample size.
I'm going to stop doing the Twitch views until after Rebellion. Last year after a damn good Redemption and Slammiversary, the Pop TV numbers were a bit stronger. So if Rebellion goes back to the 2018 formula and not whatever Homecoming was, they might pop a number.
Also just a closing thought, I hope the last few weeks were building to stuff since the last few weeks have been some of their weaker shows. Here's to hoping!
Andrew's Impact Wrestling Ratings & Analysis 7/12/2019
Slammiversary was a great PPV! What does Impact bring to the table after a successful event?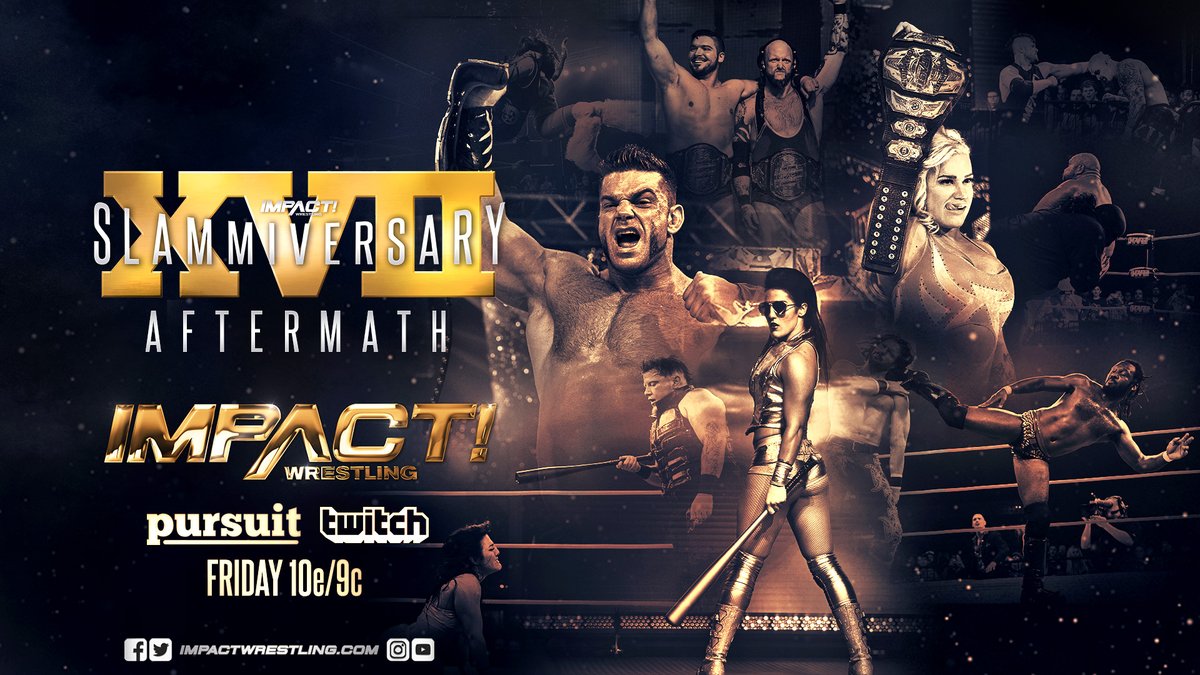 Slammiversary was a great PPV! What does Impact bring to the table after a successful event?
With the news of some people being free agents along with all of the title defenses, we've got some work to do!
Wait…Don Callis and Josh Matthews are in front of a Slammiversary LED screen?
We're getting a clip show? OH- a clip show with 1 new match and the full main event of a A Night You Can't Mist.
Really? You follow up a hot PPV with a clip show.
Talk about not understanding momentum.
Ratings:
IMPACTplus Match: Michael Elgin & Johnny Impact vs The Great Muta & Tommy Dreamer: Muta wins via Shining Wizard – ***
Kiera Hogan vs Jordynne Grace vs Madison Rayne: Grace wins via Grace Driver – ***
Analysis:
Well I must've overlooked something, since this is mostly a clip show. Seems like they're going over the Slammiversary matches with post match comments interspersed from wrestlers.
Surprisingly, Melissa is on the Skype host of Twitch chat duty tonight. She just got married and this is a clip show and she's still around. Points for her.
Ugh – yup just clips of before and after promos for Killer Kross vs Eddie Edwards. I don't really care. These feel like they should be extras for the Slammiversary DVD, not a standalone IMPACT episode.
Jimmy Jacobs weighs in on the Monster's Ball information. Gotta love the Zombie Princess.
To give you an idea of what we've been dealing with:
.@TheTayaValkyrie beat the odds and defeated @WeAreRosemary, @realsuyung & @FearHavok in a VIOLENT Monster's Ball for the Knockouts Championship at Slammiversary!

WATCH HERE: https://t.co/sWu6SEiYN7#IMPACT pic.twitter.com/JKqYkxtmqB

— IMPACT (@IMPACTWRESTLING) July 13, 2019
Oh now we get to hear the thoughts of the Real Deal now. D'lo Brown discusses the tag team match.
The best thing to come from these post match comments was the promo Konnan cut on The North afterwards. Still definitely a waste of time episode, but Konnan is still fire on the stick.
After @OfficialEGO & @Walking_Weapon retained the Tag Team Championships at Slammiversary, @Konnan5150 sent them a very direct message!

WATCH HERE: https://t.co/sWu6SEiYN7#IMPACT pic.twitter.com/CnLDbgmd3E

— IMPACT (@IMPACTWRESTLING) July 13, 2019
Well thankfully they trimmed out the portion of the Night You Can't Mist main event so we didn't see the long stall because of the shitty fan. As for the match, it was a good house show style match. A few moments of awkward spots, physical comedy and Muta slides in with a broom, Kid Ref admonishes him and he decides to just sweep the ring a little like he had no ill intent. Solid match honestly, the fact that Muta goes over after some Misting shenanigans was just a nice moment.
Tommy joins Josh and Don talking about Tessa versus Sami Callihan. The interviews afterwards definitely drive home the fact that Sami has respect for Tessa. It was a well done video package, but this really shouldn't be a stand alone episode.
Petey Williams joins the aftermath show to discuss Swann and Johnny. Nothing really of merit was said or shown, especially since most of us figure Johnny lost since his contract was up. So trying to frame it in a sports way, doesn't really resonate with this generation of wrestling viewer. I mean that more by available information, not hands down "smart" remarks.
So we know where it's going. They talk about Cage and Elgin with Scott D'Amore and it seems like this angle might persist. Since Cage won with a wrestling move and not his usual seek and destroy style, Elgin is taking that as a moral victory. Any matches with those two will be good stuff, but got this has been hard to sit through.
Well this women's Triple Threat was kind of a mess early on. Mistimed spots, competitors or referees out of position, awkward transition and partially missed moves. Granted, they had a good amount of time and kept the intensity up, so it helped to save the match from an enjoyment and storyline perspective. Things culminate with Grace getting the win, but Rayne turns heel. So Hogan and Rayne gang up on Grace, and Hogan walks out exchanging glances with Rayne, but never quite cementing if they will be a team moving forward.
Overall Score: 3.5/10
A clip show with one new match and one match from a show last month. I mean, Jesus this was not a good idea. Yes the video packages were solid, sure they helped to flesh things out a little bit…but holy hell it was a boring show. Plus you have to wonder how people who paid for the PPV must feel when a good bit of the footage was given away during this clip show.
Of course Twitch viewers were the lowest they've ever been since people were not happy with a clip show.
Just a dumb choice coming off the heels of a great PPV.
Andrew's Impact Wrestling Slammiversary 2019 Ratings & Analysis
Slammiversary is always one of Impact's big two shows. Last year righted the ship. Do we get another great show?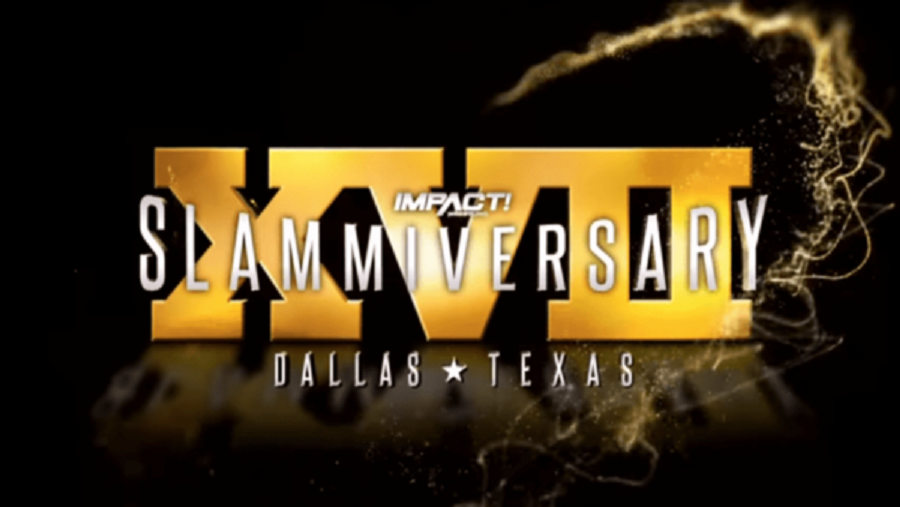 Slammiversary is always one of Impact's big two shows. Last year righted the ship. Do we get another great show?
We've got a whole lot going on for this show. Elgin tried to take out Cage when he debuted. The North winning the titles on Friday turned the Tag Title match into a Triple Threat.
Let's also not forget the IWC buzzworthy angle with Sami and Tessa having their intergender war.
So it's time to find out what kind of show we get!
Ratings:
Jake Crist vs TJP vs Trey vs Willie Mack: Mack wins via 6 Star Frog Splash @9:45 – *** 1/4
Impact Tag Team Championship: Dez & Wentz vs The North (c) vs LAX: The North retain via Gutwrench Powerbomb @7:30 – ** 3/4
First Blood: Killer Kross vs Eddie Edwards: Edwards wins via Broken Kendo Stick Shoved in the Mouth @11:45 – ***
Moose vs RVD: Moose wins via Spear @13:55 – ** 1/2
Knockout's Championship Monster's Ball: Havok vs Su Yung vs Rosemary vs Taya Valkyrie (c): Taya retains via Super Piledriver @11:55 – *** 1/2
X Division Championship: Johnny Impact vs Rich Swann (c): Swann retains via Phoenix Splash @15:10 – **** 1/2
IMPACT World Championship: Brian Cage (c) vs Michael Elgin: Cage retains via Double Legged Cradle @14:30 – **** 1/4
Sami Callihan vs Tessa Blanchard: Sami wins via Piledriver @15:00 – **** 
Analysis:
Impact has a tendency to start off with the fast paced X Division matches, but I didn't notice this adjustment. I thought it was a TJP open challenge, but now I guess this is basically a ranking match for the X Division. Great quick action, a long tease on the Tower of Doom (thank god it didn't happen), but TJP puts Trey in the Romero Special, Jake pins him since he's technically on his back and then Willie Mack comes off the top rope with a stomp to break it all up. Just great action with no real hiccups except questionable camera work.
So the match was apparently a tornado tag match? Hey I'm fine with that, I just wish it was explained. Match was fast, The North were taken out early, but, once they got in the match, their power was definitely noticeable. Numerous pin attempt break ups thanks to Ethan Page's power. A weird point in the match, Santana got pushed off the top rope and immediately said something about his leg. Refs and medical personnel come out, which causes a weird lull in the match. The match was good, but that odd stop hurt the flow of the match. Could it be a work? Could it be real? I think Santana was hurt a few weeks ago, so it's not out of the realm of possibility that he tweaked something. Either way, The North retain and LAX are protected if this is part of a story to write them off TV.
Killer Kross comes out looking like a cross of Vampiro and Seven with the white face paint and black eyes. Given the whole set up, Edwards had to win this match. It was a brutal back and forth with a few weapons and power spots on the outside. After eating 3 Boston Knee Parties, Eddie realized he needed to step it up, so he snapped Kenny in half and shoved the broken side into Kross' face. Once the ref pulled them apart, Kross' face was pouring blood from the mouth and Eddie was victorious. Kinda what you'd expect of a gimmicky First Blood match.
RVD comes out to prove he's still the Whole F'n Show, while Moose looks to start moving up the ladder for possible bigger matches. RVD played the greatest hits and Moose got caught a few times trying to one up RVD. A sloppy Frog Splash, introducing a chair (dumbass), and just generally getting ahead of himself. However, RVD played up his position after a drop toe hold into a chair, and spent too damn long pandering on the top rope. A missed 5 Star Frog Splash, lead to Moose hitting his Spear and grabbing the win over the legend.
Monster's Ball had a bit of a twist this time around since James Mitchell was trying to get Su Yung to agree to making Havok champion. So it was effectively a team against 2 others. Lots of chairs, cookie trays, tables and of course tacks. We saw a big Side Effect through the table from Taya to Rosemary. Havok hits a Super Tombstone on Su Yung and looks to win the match, but Taya recovers and throws a chair to break up the pin, and then pins Su Yung to retain her title. Taya barely escapes, but not a bad match.
We saw a lot of character work between Johnny and Bravo, which definitely helped carry the slower spots. Swann took out Bravo towards the end when both we trading big cool moves. One move of note coming from Rich Swann, being a Cartwheel Standing Phoenix Splash. That just looked cool. Johnny attempted Starship Pain, and even though he supposedly hit it (you'd think after a decade he'd know how to position people), Rich kicked out. Rich hit a nice 7 strike blitz and 2 Lethal Injections, ole shock and awe tactic. Top Rope Phoenix Splash allowed Swann to retain the title. Damn good match.
Well now, big boy match with big boys doing big boy things. This was a great display of power moves and athletic moves, since neither guy is one dimensional. Elgin worked over Brian Cage's back, and it played into the match a few times. Cage couldn't land the Drill Claw, because his back went out. Right when everything was looking good for Elgin, he hits a Buckle Bomb, lifts Cage for the Elgin Bomb, but Cage rolls through, Sunsets Elgin and sits down into a Double Legged Cradle, ala how Okada beat Jericho (and got the first fall on Omega in the 2 out of the 3 falls match). So after all these power spots, the match ends with a basic wrestling move. Great stuff.
Sami and Tessa had most of the internet buzz coming into Slammiversary, so it makes sense this goes on last. Tessa came out hot knocking Sami out of the ring and then going for Triplicate Suicide Dives. Sami catches her on the third and swings her into the guardrail. At that point we get a lot of Sami laying Tessa out a few times and then turning his back on her for a count out or general disrespect. We get two referee bumps that allow for baseball bats and a low blow from Tessa. Tessa connects with Magnum, but Sami kicks out. Tessa defiantly does the oVe thumbs up, thumbs down in Sami's face, and he snaps off a Piledriver for the win. A shock to many that Tessa didn't go over, but Sami grabs his bat and hers, walks over to her trying to recollect herself in the corner, and instead of continuing the beating, he just hands her, her bat and walks off.
Overall Score: 8/10
A damn good show that paid off where it needed to and gave us some possible future stories. Rhyno returning to make the save for Callis and Gore Elgin is hopefully leading to more. Not sure if it was a one off since he never took the mask off, or if we could see Elgin lock horns with Rhyno. Personally, a run in Impact to re-establish that he isn't a joke could be a good thing for Rhyno.
I also really liked that Sami went over in the main event. He was treating her equally the entire time, him winning a big feud could set him up for a World Title shot and Tessa comes out looking great too since he was a hell of a fight. X Division will be interesting since Willie Mack won the opening 4 way, and since Rich retained. Do we see a turn soon or will it just be two buddies wrestling for the title?
Either way, damn good show and it's nice to see Impact continuing to deliver big matches and solid shows even if they are the butt of many jokes with low visibility.