Andrew's Impact Wrestling Against All Odds 2019 Ratings & Analysis
Impact Wrestling brings back Against All Odds, which is fitting for the fact it's in Las Vegas! Did Impact hit the jackpot, or bust?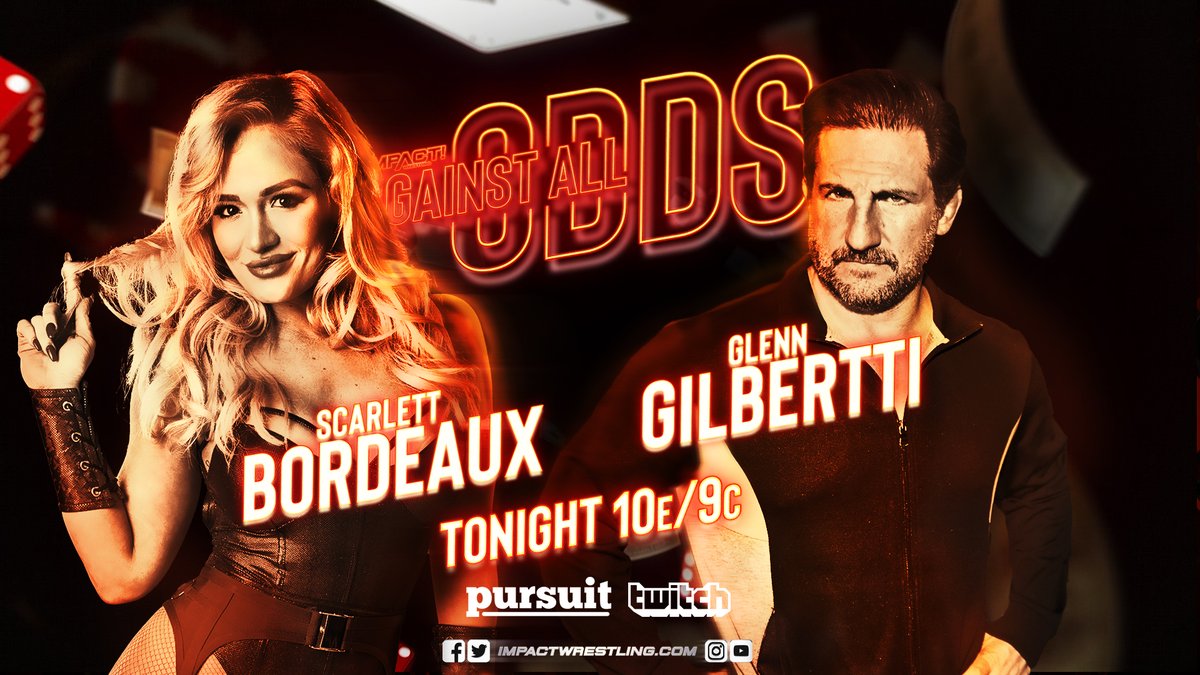 Impact Wrestling brings back Against All Odds, which is fitting for the fact it's in Las Vegas! Did Impact hit the jackpot, or bust?
Even though there aren't many matches announced for this show, we should get some good story movement.
Glenn has to put up or shut up, Rosemary is on her trip to hell to retrieve the Bunny's soul and Taya has an powerhouse of an opponent for the Knockouts title.
So let's do the damn thing!
"Shut up and wrestle turkey boy."@Lady_Scarlett13 is having none of @TheRealDisco's nonsense. #IMPACT

WATCH NOW – https://t.co/jyZYT6QL46 pic.twitter.com/QYXiYfdPV5

— IMPACT (@IMPACTWRESTLING) March 30, 2019
Ratings:
Glenn Gilbertti vs Scarlett Bordeaux: Scarlett wins via Avalanche Powerbomb – **
Knockouts Championship: Jordynne Grace vs Taya Valkyrie (c): Grace wins via Count Out – ** 3/4
Brian Cage vs Killer Kross: Kross wins via Doomsday Saito – *** 1/4
Analysis:
Show starts off with LAX calling out the Lucha Bros and it seems like commentary says it's an unsanctioned match. But it's so unsanctioned that there is no ref, security tries to separate them and I guess it was just a more of a scheduled brawl. LAX stands tall after putting both Pentagon and Fenix through tables, but it wasn't a match, just some brawling. After the brawl LAX challenges Lucha Bros to Full Metal Mayhem at Rebellion.
Well now, this was actually more competitive than I anticipated and not too bad. It wasn't like Disco's match against Jacquelyn in WCW, he actually landed a few moves. Some clubbing blows, Russian Leg Sweep, Garvin Stomps and a Village People's Elbow. As soon as he hit her, the boos came nicely. He was his own undoing cause he thought it would be cute to hit her with 10 Count Punches in the corner, and instead Scarlett reaches up, claws his back and hits the Avalanche Powerbomb for the pinfall.
GWN Flashback: AJ Styles vs RVD World Championship Match from April, 19,2010 IMPACT!
Tessa comes out to the ring to demand Gail's apology and resignation. Tessa goaded Gail along the apologies and then had to get in her own digs. Ends her volley running down the fact that Gail's era are known for Bra and Panties matches and wrestling in Jello, so Gail can't lace her boots. Gail announces that she's coming out of retirement to beat her ass, and Tessa does a great Ric Flair impression. Where she went from cocky, to scared out of her mind, and Gail beat her down a bit. Was it obvious, yes. But Gail is one of the best ever, so thank god she's back. Match confirmed for Rebellion.
.@gailkimITSME is COMING OUT OF RETIREMENT to kick @Tess_Blanchard's ass at Rebellion in Toronto. #IMPACT

TICKETS: https://t.co/qXpKQR3zQJ pic.twitter.com/gwwltUWmXi

— IMPACT (@IMPACTWRESTLING) March 30, 2019
Knockouts match starts pretty strong. Taya dominates most of the early portion before the commercial break. Taya generally seems to be having fun and toying with her opponent a bit. After the commercial break Jordynne catches Taya with a Belly to Belly Suplex and the match gets a little more back and forth. Taya misses a Moonsault and rolls to the apron. Johnny comes out, Taya says she injured her ribs and they try to walk out. So the count out happens and Brian Cage comes out to try and get a piece of Johnny. So what had the potential to be a great match, got cut short by shenanigans. Kross jumps Cage and drives his arm into the ring post.
So the Cage versus Kross match starts immediately after the scuffle. This was a hell of a match with Cage fighting from underneath because of the early attack. Sadly the finish hurt this match quite a bit. Johnny and Taya helping Kross is one thing, but then the referee counts to 3 after Cage kicked out of 2 Doomsday Saitos. Like, is John E. Bravo the new Hebner? It was just clunky and dumb. Was it supposed to be a screw job? Does John Bravo just suck? Ugh.
The Undead Realm segment closes the show. It definitely has that Buffy the Vampire Slayer/cheesey feel, but not awful. James Mitchell has a ring set up in hell and Rosemary has to fight her way through the people to get to HIM. One of the opponents was Luchasaurus, Kiera Hogan followed them to help out Rosemary. HIM appears, and His Infernal Majesty is played by none other than Kevin Sullivan, the Taskmaster! As Rosemary finds out that Sullivan basically said it's his realm so she has no power to bargain. Su Yung tries to kill her with a Freddy Krueger glove, but Allie pushes her out of the way and takes the blades to the throat. So Allie goes off to AEW the same way Adam Cole went to NXT, dead.
Overall Score: 5.5/10
Okay-ish? This was an somewhat entertaining two hours of nothing. The fact that there were only 3 matches isn't too bad, but the fact that 2 ended in controversy, the GWN flashback lingered too long on the RVD celebration portion and the first match, while good for what it was, was mostly a tongue in cheek gimmick. Plus, I think Stevie Wonder saw the Gail coming out of retirement angle, so even though that should've been a big reveal, it wasn't really profound.
So I didn't hate my life for 2 hours, but I can't really say this show was necessary to watch -EXCEPT – for the Undead Realm since they killed off Allie (and the cameos are fun). Ya, for a TV special this was barely a serviceable TV episode, much less being a named event. Little disappointed in general, but like I said, not awful.
Twitch Views:
Week 1: High – 10,350 / Low – 8,500
Week 2: High – 8,000 / Low – 6,500 
Week 3: High – 8,500 / Low – 7,900  
Week 4: High – 7,100 / Low – 5,300
Week 5: High – 7,450 / Low – 5,650
Uncaged: High – 9,000/ Low – 8,000
Week 6: High – 8,025/ Low – 5,300
Week 7: High – 14,400/Low – 9,800
Week 8: High – 7,200/Low – 4,500
Week 9: High – 9,700/Low – 4,000
Week 10: High – 4,900/Low – 4,150
Against All Odd: High – 8,255/Low – 4,300
Well the interesting thing about the numbers is that Scarlett was early in the show, and didn't pop the number. The number jumped about 7k for the Tessa/Gail segment and Knockouts match. It never dropped below 7k after spiking, but it was definitely around 5k for the first 45 minutes or so. I think we've establish that 6-8k are the current pool of IMPACT Twitch viewers. Some weeks spike and some weeks flop, but I think we've got enough of a sample size.
I'm going to stop doing the Twitch views until after Rebellion. Last year after a damn good Redemption and Slammiversary, the Pop TV numbers were a bit stronger. So if Rebellion goes back to the 2018 formula and not whatever Homecoming was, they might pop a number.
Also just a closing thought, I hope the last few weeks were building to stuff since the last few weeks have been some of their weaker shows. Here's to hoping!