Andrew's Pro Wrestling NOAH Spring Navigation 3.29.2019 Ratings & Review
Pro Wrestling NOAH decided to stream another show through their YouTube! Andrew gives the run down along with a little insight!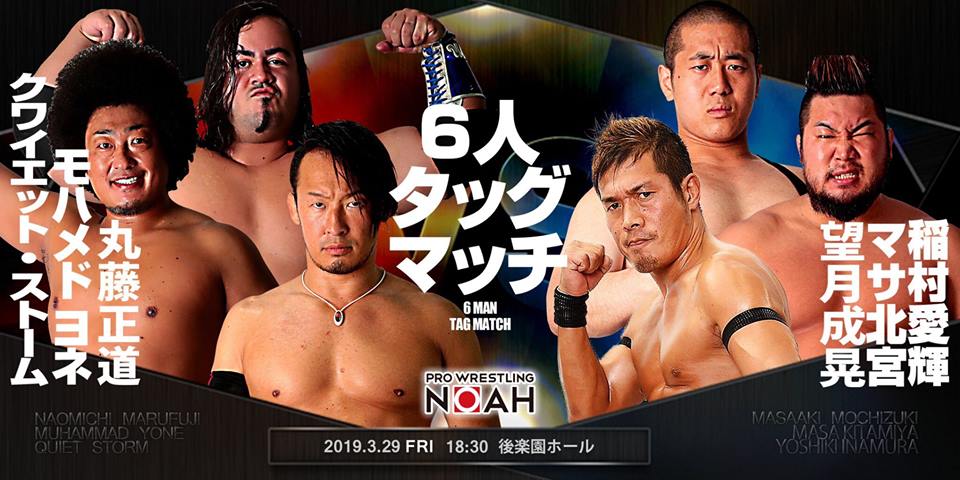 Pro Wrestling NOAH decided to stream another show through their YouTube! Andrew gives the run down along with a little insight!
With Global Tag League starting on April 6th, this show is pivotal in setting up some storylines and general tension.
So sit back and get to know the faces that will help carry the revamped NOAH into the future.
Ratings:
Ratel's (Daisuke Harada & Tadasuke) vs Back Breakers (Hitoshi Kumano & Hajime Ohara): Harada wins via German Suplex Hold @11:05 –  ** 1/2
Mitsuya Nagai & Kinya Okada vs Masao Inoue & Akitoshi Saito: Saito wins via Death Sickle @10:50 – * 1/2
Maybach Taniguchi & Junta Miyawaki vs KAZMA SAKAMOTO & Takashi Sugiura: Sugiura wins via Olympic Slam @11:30 – **
Masaaki Mochizuki, Masa Kitamiya & Yoshiki Inamura vs 50 Funky Powers (Muhammad Yone & Quiet Storm) & Naomichi Marufuji: Yone wins via Funky Buster Bomb @17:10 – ***
GHC Junior Heavyweight Tag Title Match: Minoru Tanaka & Hi69 vs Stinger (Kotaro Suzuki & Yoshinari Ogawa) (c): Suzuki retains via Requiem @16:45 – *** 3/4
AXIZ (Katsuhiko Nakajima & Go Shiozaki)  & HAYATA vs Kaito Kiyomiya, Kenoh & YO-HEY: Nakajima wins via Vertical Spike @20:55 – *** 3/4
Review:
Harada and Ohara are two of the best Juniors in the business, so everything they do looks good, flows well and is generally enjoyable. This match however didn't have much weight, so it was just a solid match with nothing super cool. It did appear that Kumano challenged Harada for the IPW Junior Title after the match (Harada pinned Ohara, so it makes sense).
Okada is still a Rookie, so those who watch New Japan understand how most Young Lion w/ Veteran versus full Veteran tag matches go. Okada showed a lot of fire and good power, Saito fell or sandbagged the kid during a Gutwrench Suplex, but it did what is was supposed to. Atsushi Kotoge comes out with a cape for Nagai and keeps trying to get him all in on their Revolution tag team for the Global Tag League. Nagai seems tolerant yet he still thinks it's stupid. Like playing a game your little brother likes, and your parents told you to not be a complete ass.
Along the same lines as the last match since Miyawaki is a Rookie. But KAZMA and Maybach have some tension. They were both in the now disbanded Hooligans stable and still have tangible heat. KAZMA is tagging with Sugiura so this was arguably a warm up, where Maybach's League partner isn't on the card today. Good way to set up more weight to tournament matches.
Solid enough 6 man that was supposed to get us kinda to where I expected. After their match at the Baba Memorial, as soon as I saw Masaaki Mochizuki's name in this match, I expected him to be enough for Marufuji to change his tune about joining the Global Tag League or reignite some kind of spark for the Genius of NOAH. It was a subtle exchange where Marufuji beckoned him back in and they just pointed at one another and did a few hand signs to mimic tagging or agreement, and both shook on it afterwards. Not sure if it was agreeing to a one on one, or they just have yet to officially announce the team. But either way, it's worth noting.
After picking up a victory at the Hakata Star Lane Memorial show, Hi69 set out a challenge for the tag belts. Tanaka and Hi69 started off quickly, culminating in Hi69 hitting a Stuka Splash, driving Suzuki through a table. But once the match got back in the ring, it was less lopsided. Suzuki ate a lot of offense from both Hi69 and Tanaka. Tanaka kept trying the Cross Armbreaker, but Suzuki found ways out of it three times. Ending the match with Requiem countering the last Cross Armbreaker attempt. Since Tanaka is the Junior Heavyweight Champion, Suzuki earned himself a shot at the singles title, and made that challenge known to Minoru after the match.
The trash talk started flying with the upcoming Tag League. AXIZ are the current Heavyweight Tag Team Champions, Kenoh and Kaito put a mark on them as the 'wanted team'. So they are building up the feud between those four, along with the marital discord of YO-HEY and HAYATA (YO-HEY used to refer to HAYATA as wife when they were teaming together). So this match achieved a lot of story progress, as well as giving Nakajima a pinfall over the current GHC Heavyweight Champion Kaito Kiyomiya. So Nakajima should have a title shot upcoming after the tag league. Shiozaki and Nakajima seem to really enjoy one another's company and make a great team. If they main event circled around Kaito, Kenoh, Go and Katsuhiko for the remainder of 2019, I see no issue with that. Fans seem to appreciate all four, and all four are young enough to help build NOAH into the future.
Overall Score: 6.5/10
For New Japan fans that caught the show, this had more of a "Road to" feel. It wasn't a bad show, but it's purpose was to build on the main event scene and storylines that will permeate through the Global Tag League. So yes this show wasn't really designed to have any huge MOTY contender matches, but it was solid throughout and enjoyable.
Also it was nice exposure for all of the NOAH Rookies. By receiving their own match it should help them show defined personality, instead of being a blur like many of the New Japan Young Lions tend to become.