Andrew's WWE Fastlane 2019 Star Ratings & Analysis
Andrew drops in some ratings and analysis for Fastlane! How do we get to WrestleMania from here?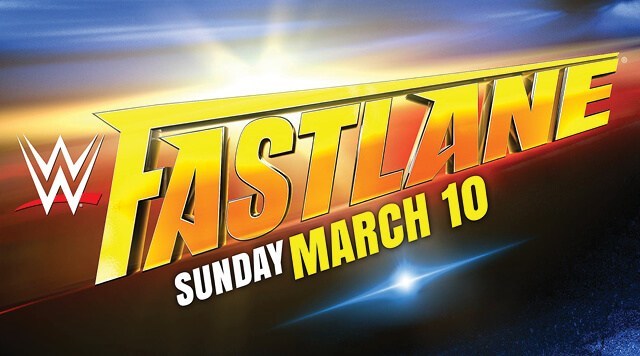 Andrew drops in some ratings and analysis for Fastlane! How do we get to WrestleMania from here?
Fastlane hasn't really rattled the imagination on many. It definitely has that nearly house show feeling of the endings are a little obvious, let's just get through it and onto Mania.
It would be nice if the show impressed, but WWE has a tendency to make the Internet crowd…pessimistic, at best. So I guess we should see where this lands?
Let's go!
Ratings:
KICKOFF: Xavier Woods & Big E vs Shinsuke Nakamura & Rusev: Woods wins via Up Up Down Down @13:20 – *** 1/4
SmackDown Tag Team Title Match: The Usos (c) vs Shane McMahon & The Miz: Usos retain via Inside Cradle @14:10 – *** 1/4
SmackDown Women's Championship: Mandy Rose vs Asuka (c): Asuka retains via Crescent Kick @6:40 – ** 1/2
Handicap Match: The Bar vs Kofi Kingston: The Bar win via White Noise @5:15 – -* (yup that's negative)
Raw Tag Team Triple Threat: The Revival (c) vs Bobby Roode & Chad Gable vs Aleister Black & Ricochet: Revival retain via Shatter Machine @10:50 – *** 1/2
United States Championship Fatal 4-Way: Andrade vs R-Truth vs Samoa Joe (c) vs Rey Mysterio: Joe retains via Coquina Clutch @10:50 – **** 1/4
WWE Women's Tag Team Titles: Sasha Banks & Bayley (c) vs Nia Jax & Tamina: Bayley retains via Hurricanrana @7:05 – *
WWE Championship Triple Threat: Daniel Bryan (c) vs Kevin Owens vs Mustafa Ali: Bryan retains via Knee Plus @18:45 – *** 3/4
Charlotte Flair vs Becky Lynch: Becky wins via DQ @8:45 – *
The Shield vs Baron Corbin, Bobby Lashley & Drew McIntyre: The Shield win via Cerberus @24:50- ****
Analysis:
A surprisingly long and competitive match given the fact that Rusev and Shinsuke haven't been positioned very well. Decent enough match, but I don't think anyone is surprised or particularly cares. The most interesting thing to come from this was the McMahon's wanted to see Kofi right before the match.
Miz came out in Browns colors and a Cleveland is Awesome shirt, he was insanely babyfaced. The match told a great story and had a bunch of nice moments including Miz doing more top rope moves since his dad preferred high fliers. Shane had a great Coast to Coast interception on the Uce Splash. Miz went to the top to try and win with a Frog Splash, but knees up and an Inside Cradle stopped that. BUT WAIT-THERE'S MORE! Shane turns heel with the rest of his family and lays into Miz hard, including a Triangle Choke right in front of Miz's father.  It's an odd time in wrestling when Miz is a believable babyface and that cemented it with the hometown love and the style of beat down. Great stuff, perfect professional wrestling match and aftermath.
This was a decent match, granted nothing spectacular but the swerve at the end with Sonya lifting up the apron to grab a kendo stick, but Mandy slipped on the ring skirt and got caught by a Crescent Kick from Asuka.
So Vinny Mac tells Kofi the Championship match will be a Triple Threat and tells Kofi to go out to the ring. He figures it's for the WWE Championship, but he gets screwed again and thrown into a Handicap match against the Bar. This just lasted too long. I get the screw Kofi angle, but this was unnecessarily long. The crowd even started chanting boring. I hope we don't get 3 weeks of misdirection crap. So now the question is, will the beat up Kofi still be involved in the WWE Championship match tonight, or is this just leading down a Vince rabbit hole?
Elias is apparently playing the breaks between matches just to be on the show? A few snarky remarks about previous matches. He's like exposition no one asked for…AND I LIKE ELIAS.
Raw Triple Threat went mostly as assumed. Spotty and Roode & Gable were thrown in to eat the pin. Car crash moment when Ricochet tried to Frakensteiner Scott Dawson into everyone else on the outside, and Dawson's foot got caught…so it just looked rough. But the match was fine, just really nothing more than a good match.
Even though it was only announced earlier in the day, this 4 Way was better than the match on SmackDown. Little wrinkles with Carmella, Zelina, Andrade and R-Truth. They kept the heat with Rey and Andrade around, but also proved they have good chemistry working together, even if inadvertently. Joe retaining is fine and came about well. Oh, R-Truth made more John Cena references, so this match was just a treat for people who've been watching weekly.
Sloppy match. Numerous screwed up spots and stumbles. Just overall hard to sit through. Oh Nia and Tamina go after Beth Phoenix, Nattie tries to make a save, so I guess we're gonna get that match. Cause that's what people have been asking for…yup…
Well it did end up being a Triple Threat, but the third wasn't Kofi, it was…Mustafa Ali? Oh for Christ's sake. The crowd started with the "We Want Kofi" chants and took a while for them to engage in the match. It was alright enough, but I honestly checked out of it. A few cool spots but Ali was added to eat the pin, even Helen Keller could see that. So the suspension of disbelief was fractured, the story was awkward when both Owens and Bryan were telling Ali he didn't deserve the spot, but Owens worked with him occasionally. So yea..bad psychology, but decent enough ring work. The finish was different as well, so that was cool, but not as good as it could've been without the shenanigans.
This wasn't so much a match as a means to an end. Charlotte got cocky and was playing around with Becky the entire match. Then when she's about to put her away with the Figure 8, Ronda shows up and hits Becky so Charlotte loses by DQ. It all makes sense, and now we get the Triple Threat we expected for WrestleMania.
Elias interlude again…these are really stupid. But at least he hasn't been interrupted all night. Lacey Evans makes her usual appearance. Renee has a good line for Lacey of "She can knock you out and butter your biscuits". Corey is confused, but it was funny.
OH! Randy Orton RKOs Elias out of nowhere (but he already said good night so it doesn't count as being interrupted), but AJ is also there to hit Orton with a Phenomenal Forearm. So I guess this finalizes the Randy vs AJ for Mania angle. People need to stop hiding under the ring though, sheesh.
It started off simple enough, but at some point it breaks down intelligently. Corbin's team try to split the members of the Shield up. The issue came from having to jump around from in the crowd back to the ring. But hey, as the Swan Song for The Shield, this was a hell of a spectacle. The story went well enough, they hit all the right beats, the crowd was invested and you could tell Ambrose, Reigns and Rollins were enjoying it. Nice moment, Shield winning was never really in question, but it was a fun way to send the Shield home.
Overall Score: 7.5/10
Good show. Aside from the impromptu Handicap match and the awful Women's Tag, this was a good show. It told the stories it needed to, things were moved along to the WrestleMania angles and the in-ring action wasn't bad at all. Fastlane goes in the books as a solid last stop before the big show!
Admittedly it did feel a little overbooked at times, especially with all the match tweaks and inventing a match. But that's neither here nor there since the show and competitors made it work, more or less.  Shane turning made complete sense, granted I'm not sure where we go with Roman and the Women's Tag Titles. IIconics made some noise during the Pre-show, but I'd still prefer the Trish and Lita match. So that gives us reasons to tune in this coming week.
Steve Cook's Top 5: STOMPS!
Given the current Universal Champion, and the name of the most recent PPV, stomps make sense. Steve Cook thinks so too! Check out his Top 5!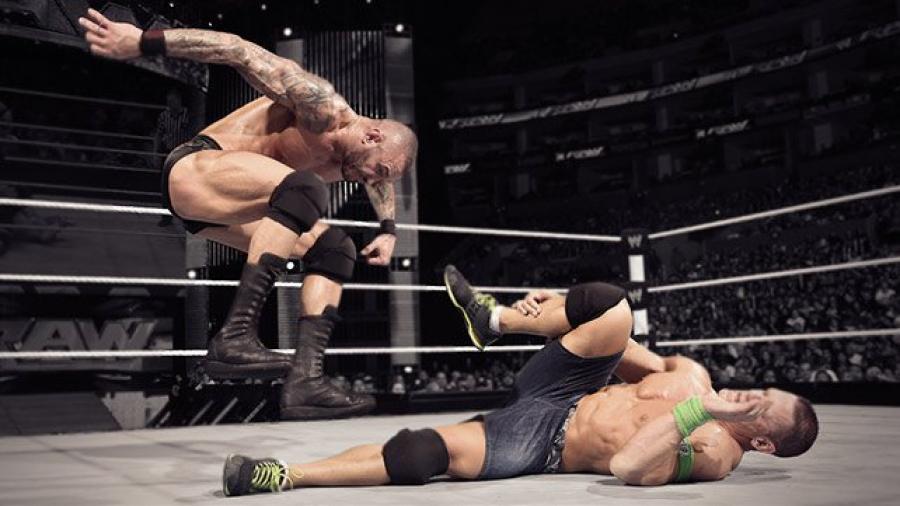 Given the current Universal Champion, and the name of the most recent PPV, stomps make sense. Steve Cook thinks so too! Check out his Top 5!
I've been sitting here all week thinking of things to write about relating to WWE Stomping Grounds.
The other Chairshot writers have taken every take possible on Shane McMahon, and he's not even on the show. Most of the matches are lame rematches from Saudi Arabia, and I get yelled at every time I talk about that area of the world. The show is in Tacoma, Washington, and the only interesting wrestler from that state is Daniel Bryan so it's not like we can make a top 5 out of that.
OK, there might be two. Jack Evans has been billed from Parkland, Washington. But a Top 2 column would be even lamer than the column I've cooked up for today.
It's Stomping Grounds Sunday, so we're talking about stomps! Yeah buddy! Top 5 Stomps for ya!
5. Shawn Michaels Tuning Up The Band
HBK was known for his finishing superkick known as Sweet Chin Music. Sometimes he'd just blast somebody with it, but often he would set up the move by repeatedly stomping the mat. If you go to 18:30 & 27:00 of that classic match up there you'll see it. The fans would get all excited since they knew what was coming. It seemed to me like Michaels was telegraphing the move, and sometimes people would manage to avoid it after the band was tuned up. But as far as fan excitement while a finisher was set up goes, few finishing moves can compare to Sweet Chin Music.
4. Seth Rollins' Stomp
The current Universal Champion is known for stomping his opponents into oblivion, so you knew he would have a place on this list.
Back on the indies, he would do some crazy stomps in the corner before hitting the Buckle Bomb, which I'm pretty sure was banned after he killed Sting with it. Not the best of ideas hitting a Social Security recepient with it.
3. Super Dragon's Curb Stomp
I'm guessing that Super Dragon's work hasn't aged well. I haven't watched any of his matches in a very, very long time. But back in the mid-2000s, he was a guy that got a lot of hype, and for good reason since he curb stomped fools.
Yes, he wore a mask & pajamas. But he was still a fearsome man. Just ask any fans that tried to get frisky with him.
2. The Garvin/Orton Stomp
How can you not love a man that tries to stomp every single joint on a person's body? Well, after watching most of Randy Orton's career, I can kind of understand. But back when Ronnie Garvin did it, it was pretty awesome.
I'm pretty sure Bristol falls in the old Southeastern territory region, so that's a perfect choice of song.
Honorable Mention: Rhea Ripley's Entrance Stomp
I wish I had a better YouTube video available of this, or a GIF or something. If NXT UK gets more popular we can make it happen. Just take my word for it that it's a pretty badass entrance stomp on television. I'm still very high on the 22 year old Australian and buying all of her stock. I'm not as high on the guy that tried to take his shot here and got nothing in return.
1. The Mongolian Stomper's Stomps
When somebody is nicknamed "The Stomper", you have to respect their stomps. Archie Gouldie was a legend in Calgary & Knoxville, which are two random places to be a legend in but it happened. The Stomper was a legit top heel in the territories he frequented, mostly because he would stomp the bejeezus out of whoever was in his path.
Interesting story behind the headgear shown in some portions of that video. The gimmick was that Stomper had an inner ear problem, so the more noise the fans made, the more difficulty he would have doing things. What a great way to get heat! Jim Cornette has told tales about how Stomper would lose matches in seconds in more podunk places to make sure he would get out of the building alive. I'm not even sure if I believe these stories, but they sound really good!
As I said in a recent 411 column, Cornette would have named a Smoky Mountain Wrestling show Stomping Grounds and put Stomper in the main event against more current heels and it would have worked.
Andrew's Top 5 Matches: Week Ending 6/23/2019
We know the drill by now. Top 5 Matches of the week. Do you agree or disagree? Let your opinion be known!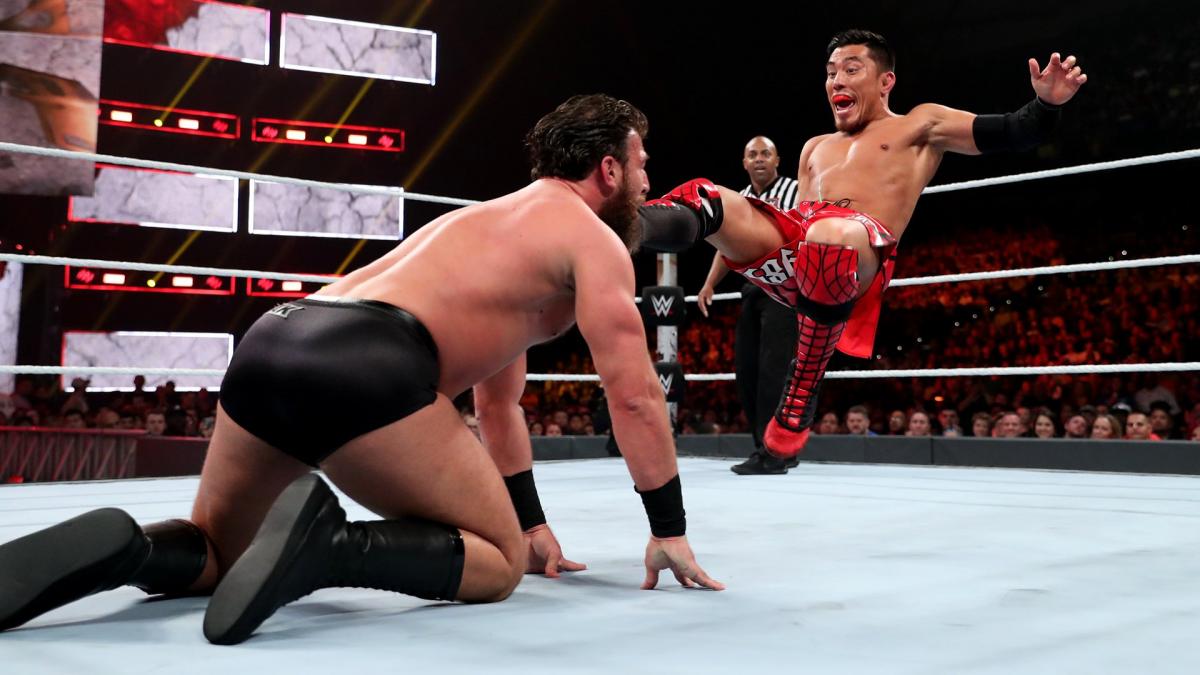 We know the drill by now. Top 5 Matches of the week. Do you agree or disagree? Let your opinion be known!
Covering Stomping Grounds meant I couldn't see WrestleCircus. So let's just hope nothing great happened there.
Last week's vote was a nail biter. The variety of product spread out a lot of votes but two rose to the top. Winning by one vote, AAA Tag Team Championship: The Young Bucks vs Lucha Bros.
So with all that out of the way, let's see what we got out of Stomping Grounds and others, during a fairly quiet week.
5. NXT: Adam Cole, Bobby Fish & Roderick Strong vs Velveteen Dream, Tyler Breeze & Matt Riddle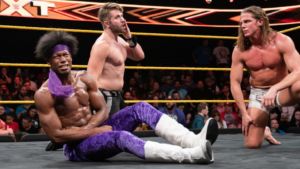 Snippet from Mitchell's Review:
Riddle pries his way out and throws elbows, but Fish rakes the eyes. Fish stomps Riddle down then tags Cole. Cole gives Riddle stomps then taunts him. Cole hits Dream hard just because! Riddle CHOPS Cole and throws big hands from all sides! But Cole stomps the bare feet. Cole fakes Riddle out with the muel kick, but leaps into a Bro Trigger! Hot tags to Fish and Breeze! Breeze rallies on the Undisputed Era! Forearm, forearm and SUPER MODEL KICK! Fish mule kicks and runs but into an enziguri! Fish flounders and Breeze hits another forearm. Breeze reels Fish in but Fish counters to a fireman's carry. But Breeze slips out to give Fish a Beauty Shot! Cover, but Strong drags Fish to safety! Or so they think, as Breeze builds speed. But Dream tags in!?
Dream and Breeze argue and they don't see Strong tag in. Cole SUPERKICKS Riddle down! Breeze and Dream double SUPERKICK Cole! But Strong's super knee hits Breeze into Dream! Then Strong drags Dream up for End of Heartache!! Cover, the Era wins!!
Winner: Strong via End of Heartache
Rating: *** 1/2
4. IMPACT: Rich Swann vs Johnny Impact vs Michael Elgin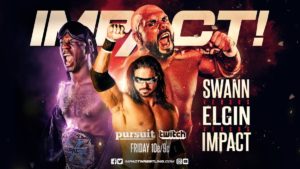 From My Analysis:
Impact main events have been really impressive last few weeks and this one fell a little short of that mark, but not by much. Many moves missed by just a hair or looked too cooperative to really get full marks, but it was a fun match. Swann getting the pin on Johnny was a spot. John E. Bravo comes out to help Johnny beat down Rich. Elgin doesn't want Johnny to use the big red X, but doesn't seem against destroying Swann. But Brian Cage's music hits, and comes out with a plan. Gorilla Press tosses Johnny out of the ring, has a quick back and forth with Elgin and then does the full Kevin Nash putting the cigarette out flair, before hitting a Jack Knife Powerbomb on Elgin.
Winner: Swann via 450 Splash
Rating: *** 1/2
3. AJPW Dynamite Series Day 2: Yusuke Okada vs Hikaru Sato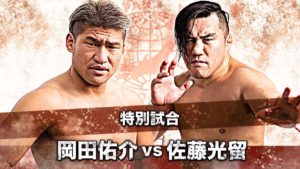 This was a special singles match. Special because Okada and Sato requested this match, in honor of Atsushi Aoki. Aoki was a fellow stablemate, friend, and to Okada, a mentor. He was head trainer in the dojo, a corner stone wrestler since Akiyama returned to AJPW. This was their gift, to their fallen friend.
During introductions Okada was crying, the crowd was crying, and notably, the referee came out in an all blue outfit as his own dedication. We got a match that Aoki would be proud of. Even though he was a Junior, Aoki was very technical and mat based in his approach. He would only go to the top ropes on occasion, and his proteges did the same.
The weight and significance of it all must've continued to hit Okada during the match. He wasn't as crisp, attempted a very sloppy Step Up Tornado DDT from the ropes and just generally seemed to not be there. It was all understandable, and the match was still very good and showed they both learned a lot from Aoki and cared deeply. So from an emotional aspect, this match was a 10 out 5. But from a technical aspect, the hiccups did hurt it a little.
After the match, they had words for their friend, they played Aoki's music, Dory Funk sent a video message and all of Evolution posed together one last time: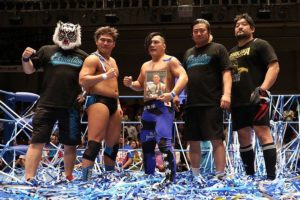 Winner: Sato via Ude-Hishigi-Gyaku-Juji-Gatame
Rating: *** 3/4
Honorable Mentions:
AJPW Dynamite Series Day 2: All Asia Tag Titles: Jake Lee & Koji Iwamoto vs Kazumi Kikuta & Ryuichi Kawakami (c)
Winner: Lee via High Angle Backdrop
Rating: *** 1/2
WWE Stomping Grounds: Sami Zayn & Kevin Owens vs Xavier Woods & Big E
Winner: Owens via Stunner
Rating: *** 1/2
AJPW: Nobe Bryant, Odinson & Parrow vs Shuji Ishikawa, Suwama & Super Tiger
Winner: Suwama via Manriki Sleeper
Rating: *** 1/2
WWE Stomping Grounds: Steel Cage WWE Championship Match: Dolph Ziggler vs Kofi Kingston (c)
Winner: Kofi via Escaping the Cage
Rating: *** 1/2
GCW Crushed Up: GCW Championship: Nick Gage(c) vs Tony Deppen
Winner: Gage via Chokeslam onto back of chairs
Rating: *** 1/2
WWE Stomping Grounds: Raw Women's Championship: Becky Lynch (c) vs Lacey Evans
Winner: Becky via Disarm-Her
Rating: *** 1/4
IMPACT: Jake Crist vs Tessa Blanchard
Winner: Tessa via Magnum
Rating: ***
SmackDown Live: Dolph Ziggler vs Xavier Woods
Winner: Ziggler via Superkick
Rating: ***
WWE Stomping Grounds: SmackDown Live Women's Championship: Alexa Bliss vs Bayley (c)
Winner: Bayley via Bayley to Belly
Rating: ***
WWE Raw: Seth Rollins vs Daniel Bryan
Winner: Rollins via Stomp
Rating: ***
GCW Crushed Up: Dan Maff vs Mathew Justice
Winner: Maff via Burning Hammer through Door
Rating: ***
WWE Stomping Grounds: SmackDown Live Tag Team Titles: Heavy Machinery vs Rowan & Daniel Bryan (c)
Winner: Bryan via Small Package
Rating: ***
2. WWE Stomping Grounds: Cruiserweight Championship: Akira Tozawa vs Drew Gulak vs Tony Nese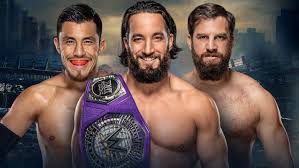 From my Analysis:
Constant action defined this match. Gulak kicked things off with a Dropkick at the bell, and it was pedal to the metal from there. Tozawa breaks up the Gu-Lock with his Top Rope Senton, which the camera didn't focus on, so it was cool to see Tozawa just crash down from the sky. Each man had a legitimate shot at different points in the match. Gulak however took advantage of the situation, tried to TKO Nese, but Nese wiggled out to the apron, Drew dodged Tozawa's Dropkick, grabbed Tozawa and hit the TKO for the win. Gulak finally gets the belt, which is a bit overdue, and he didn't win via submission. Things should be interesting on 205 Live. Great start.
Winner: Gulak via TKO
Rating: ****
1. WWE Stomping Grounds: United States Championship: Samoa Joe (c) vs Ricochet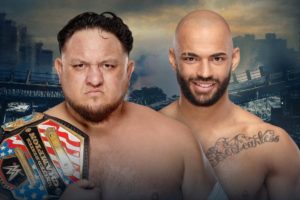 Snippet from Mitchell's Coverage:Ricochet keeps his cool as he heads for another corner. He climbs up and aims, but Joe gets up. Ricochet jumps over but Joe scoops him for a powerslam! Cover, TWO! Joe grows frustrated, but keeps his eyes on Ricochet as Ricochet stirs. Joe drags Ricochet up but Ricochet throws forearms and CHOPS! But Joe CHOPS back again! Ricochet stands so Joe whips, Ricochet handsprings, but into a full nelson! Ricochet breaks free but still gets a German Suplex! Joe runs as Ricochet rises to LARIAT! Cover, TWO!! Ricochet survives and Joe is shocked. Joe glares at Ricochet as he clamps hands on the shoulders. Joe drags Ricochet up for another urenage, but Ricochet fights out! Ricochet boots but Joe blocks it, to FLIP Ricochet!
Joe puts on the Coquina Clutch! But Ricochet climbs the ropes! Ricochet hotshots Joe down! Joe is in the drop zone, and Ricochet climbs up again! Ricochet 630 but he has to roll through! Joe LARIATS Ricochet, but Ricochet springs back up! CODE BREAKER! Ricochet keeps going and gets back up top! Ricochet tries again, 630 SENTON! Cover, Ricochet wins!!
Winner: Ricochet via 630 Senton
Rating: ****
Thoughts:
Well the B-rated PPV ended up taking the top 2 spots this week! That could say something about the level of competition this week, but let's look at the positive!
My vote goes to the Cruiserweight Triple Threat. I'm happy Gulak finally won the belt, hopefully he can help bring a level of excitement/interest back to 205 Live. Since it really seemed to lose it's luster after Cedric and Buddy were called to the main roster.