Andrew's WWE Raw & SmackDown Live Ratings & Analysis (3/25 + 3/26/2019)
Andrew breaks down the two main roster WWE shows! Did SmackDown run away with the quality again? Does Raw at least put up a fight?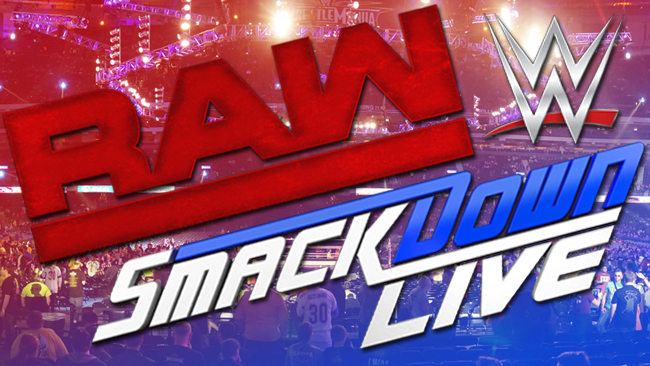 Andrew breaks down the two main roster WWE shows! Did SmackDown run away with the quality again?
Right before Raw, we got confirmation that the Ronda, Becky and Charlotte match will go on last. So that starts off great momentum for the flagship show.
SmackDown Live still has to reveal how we're getting Kofi to WrestleMania. Most of us believe it's inevitable, but how do we get their?
Let's find out!
Raw Ratings:
Ronda Rousey vs Sarah Logan: Rousey wins via Armbar – N/A
Charlotte Flair vs Ruby Riott: No Contest – N/A
Becky Lynch vs Liv Morgan: Lynch wins via Jacknife Cradle – N/A
Bobby Lashley & Jinder Mahal vs Finn Balor: Balor wins via Coup de Grace – * ½
Aleister Black & Ricochet vs The Revival: Ricochet wins via 630 Senton – ** 1/2
Sasha Banks vs Natalya: Sasha wins via DQ – **
Baron Corbin vs Apollo Crews: Corbin wins via End of Days – * ¼
Kurt Angle vs Samoa Joe: Angle wins via Submission Counter Pinfall – * ¾
Last Man Standing: Drew McIntyre vs Dean Ambrose: McIntyre wins via Claymore – ** 1/4
Analysis:
We start off with a bad promo from Ronda with 3 mic drops, a lame Beat the Clock challenge…great…Raw is off to a roaring start.
Then we get another real gem with a microphone, ugh, Lio Rush tries to string together a sentence to say that he isn't cleared so for Finn's handicap match Jinder will take his place. Now I don't mind Jinder as much as the rest of the IWC, but I'm not blind enough to not realize Jinder has no build, no heat, and is just a pointless body to eat the pin. Lashley did play Fling the Singh at the end of this travesty, so that was a redeeming factor.
Elias skits in New York, yeah…these are dumb. I completely hate what they've been doing with Elias the last month or so. I liked his mini-feud with Jarrett and Road Dogg, and then he's been in limbo looking like a jabroni.
Now sadly what I consider the best match of the night is next up, and it still wasn't great. Lots of poorly timed moves, odd camera angles, just general sloppiness made this match more of a chore than it should've been. Also the one dimensional way they are portraying Aleister and Ricochet as Kicks and Flips can only last so long before it's boring. And…I'm bored.
So if you listen to any of the podcasts I'm on, you should know I love Roman Reigns and Drew McIntyre. But Samoan Sex Machine and Scottish Psychopath aren't enough to save this sinking ship. Drew storms out and says nothing new, just rehashes everything he said last week. Roman answers, and the best line of this exchange was Roman saying " Roman accepts your challenge", or something like that. Since Drew was playing with the real name paints, Roman drawing the hard line and reciprocating the imagery was perfect. The brawl was fine, but Drew taking the short cut shows a confusion in his character. Mister Hardwork and no short cuts when he came back, has been all about short cuts since he first teamed with Corbin. So I just don't like the stereotypical heel direction when he was doing well with the previous concept.
Dean wants a Last Man Standing match with Drew. Why? Dean can't beat Drew and this challenge is received with the malaise of a fart in church. Leaving or not, Dean needs a goddamn point.
I feel like my take on this match may have been hampered by general disdain for the overall show up to this point. The match was fairly solid, but the DQ finish was obvious and when the Samoans showed up I just felt my eyes roll so hard I got Yahtzee. The crap after made Beth look strong, even receiving the YOU STILL GOT IT, chants, but what no one has got, is my attention.
Hart Foundation gets announced as Hall of Fame inductees, basically so we can watch Nattie cry again. For cryin out loud…
Moment of Bliss with Braun and the SNL morons. If I didn't have to cover this, I would've changed the channel to literally anything else. The SNL guys are overacting and stiff in their delivery all at the same time. The attempted jokes are so bad Carlos Mencia wouldn't steal them and I was so happy when this was over. Alexa was the only decent one in this when she had her cute little evil way of making things official. Also before it gets said, we should be used to celebrities having matches or getting involved in things for WrestleMania. I'm not mad they're in the match, I'm mad they aren't funny or talented enough to not just be a walking Cringe Storm.
Baron Corbin Sucks, buy the damn shirt.
Seth Rollins uses other people's names to try and pop the crowd. Sheesh, and people say Triple H always needs help getting over? Seth is more inept alone than Wes Briscoe, okay maybe not that bad since Seth at least has a formula for decent enough matches. But damn dude, try and get over without name dropping a list longer than Jericho's 1004 Holds.
The best part of the Joe vs Angle match was the beginning. Joe walks up, they have a few words and he rocks Angle with a headbutt, hearkening back to Angle's TNA debut when the headbutt roles were flipped. As for the match, Joe carried it to something presentable, but Angle's farewell tour has been…let's say, rough.
Triple H comes out to respond to Batista and it was done with more levity than some people expected. But let's remember the set up for this match was because Trips wouldn't take Batista's claim seriously. So in no way, shape or form, should Hunter be taking this seriously when he believes Batista is a washed up quitter who had to beat up an old man to make a point. I fully expect Trips to not take the match seriously at first until Batista fires up and some of 'The Animal' comes back, forcing Trips to take it seriously, winning and preserving his career by the skin of his teeth.
Drew and Dean is a worse match than 2 weeks ago when we thought Dean was murdered. Not many weapons were used, Dean pulled himself under the ring, the whole thing was just devoid of suspense or intrigue. At least Drew won.
Overall Score: 4/10
Holy lame Groundhog's Day Batman! I understand the Beat the Clock challenge was a good way to showcase all three women without the risk of either taking a pin or look weak, but ugh. Riott Job needs to get revamped or validated for these to matter even a little. Everything just felt like hollow matches we've already seen, somehow with less meaning than the last time and lower quality all around.
Mediocre wrestling and uninspired match participants just killed whatever momentum this show had.
SmackDown Live Ratings:
SmackDown Women's Championship: Asuka (c) vs Charlotte: Charlotte wins via Figure 8 – *** ½ – TITLE CHANGE!!!
Kurt Angle vs AJ Styles: AJ wins via DQ – N/A
Tag Team Gauntlet: ****
Xavier Woods & Big E vs The Club: New Day wins via Up Up Down Down
Xavier Woods & Big E vs Rusev & Shinsuke Nakamura:  New Day wins via Up Up Down Down
Xavier Woods & Big E vs The Bar: Xavier wins via Roll-Up
Xavier Woods & Big E vs The Usos: New Day wins via forfeit
Xavier Woods & Big E vs Rowan & Daniel Bryan: New Day win via Count-Out
Analysis:
I like the opening. Even though Gauntlet matches are getting a little old, Vince's concept of put up or shut up was nice. I also liked New Day pointing out that Daniel Bryan is a hypocrite. Good emotion from New Day, Daniel played the bratty heel well and Vince was actually really good.
Charlotte gets handed a match – wait – a match against Asuka – wait- a title match! Now this was a pretty damn good match, if there weren't two commercial breaks and that picture in picture thing, the match might've ranked higher. Charlotte had a level of desperation and Asuka was a little quicker and frenetic with her movements compared to their match at last year's WrestleMania. Not gonna lie, I expected Mandy Rose or Sonya Deville to interfere, but Charlotte winning is generally better. SmackDown's women's division is pretty depleted and awful with Becky and Charlotte on Raw, so instead of struggling to try and make an opponent for Asuka, give everyone a damn good match and put it on a perceived top talent. Maybe this leads to the Mania match being a unification match, but honestly Asuka is off the hook. People can't be upset she lost the title when they poke fun at the fact that Asuka's reign has been about as uninspired as Shinsuke's first US reign.
Kurt and AJ has a small exchange before Randy Orton pops in and RKO's AJ. So technically, Kurt loses this match unless WWE changes it to a no contest, but this was a fine way to have Kurt rescue AJ by Olympic Slamming Orton and the two fan favorites standing tall.
Miz is soooo damn good. The match didn't need a gimmick, but Falls Count Anywhere gives Shane something to jump off of and with how this all played out Miz got to look kind of badass. Maybe he tapped into his Marine character a little. ALSO SAnitY was on TV for a solid enough chunk of time. So that's good for them.
Well now, I love how hot New Day started things off. They dispatched of Gallows and Anderson in what felt like 2 minutes and was more than ready for Rusev and Shinsuke. Rusev and Shinsuke do get in some solid offense and look good, so at least they haven't gotten fully relegated to trash, but New Day gets the best of Shinsuke and hits the Up Up Down Down. The Bar coming out in the third position was really great since they've had close battles at 100%, so New Day would have to dig deep with some damage on themselves. Hard fought match where Big E took a hell of a beating, but knocking Cesaro off the apron and rolling up Sheamus was enough to edge out the win. The angry Bar puts E through a table and then we hear The Usos music. Usos stay very true to character and a beaten New Day looks up while they grab mics and say they already have their respect and Kofi deserves the spot, so they forfeit the match. Thanks to the small promo and the friendship/respect the Usos have for them, New Day was able to get a small breather before Rowan and Bryan come out. Though the finish was a little goofy, with everything New Day and Kofi have been through, the emotional investment was there. Not an overly solid announce table on top of a 6'8″ behemoth, keeping him down for a 10 count is believable, when you already have the crowd bought in. Rowan could've been covered in Teletubbies and we all would've just been happy to see New Day finally overcome the odds for Kofi.
Overall Score: 8.5/10
Great show! Surprising title match, that ended up being a quality match, story advancements for all of the main SmackDown matches at WrestleMania and the feel good moment at the end with New Day granting Kofi his well deserved shot at the belt. This was one of those shows where everything felt like it had weight. Plus the face locker room surrounding the ring to congratulate New Day and even Byron Saxton basically saying "screw this, I'm gonna celebrate too" was a nice way to cap off how much it meant. Hell Asuka was seen around the TV with the faces, she just lost her title, but supporting Kofi outweighed her own disappointment.
Little things really helped make this something special, and then getting the big pay offs really made this feel like a big special road to WrestleMania.