Andrew's WWE Raw & SmackDown Live Star Ratings & Analysis (3/11 & 3/12/2019)
Andrew brings the WWE Raw and SmackDown after a pretty good Fastlane ratings!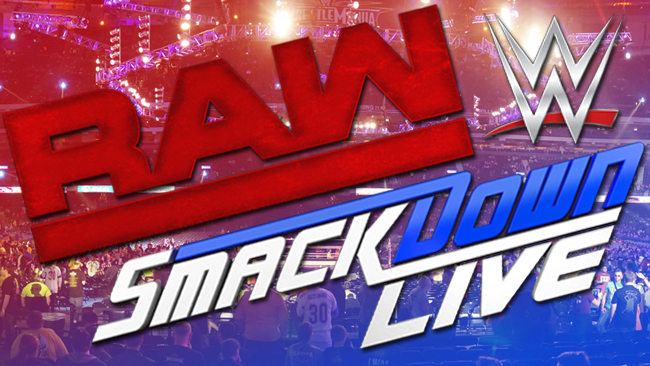 Andrew brings the WWE Raw and SmackDown after a pretty good Fastlane ratings!
Given how well Fastlane hit me, I'll admit I was interested to see which direction we were going with things like The Shield members, Kofi Kingston and the looming AJ Styles vs Randy Orton match.
Let's see if WWE paid off post-PPV intrigue with some real movement…or if they just splashed around the shallow end for a while.
Raw Ratings:
Seth Rollins vs Shelton Benjamin: Rollins wins via Stomp – *** ¼
Intercontinental Championship Match: Finn Balor (c) vs Bobby Lashley: Lashley wins via Spear – ** ¾ – TITLE CHANGE!!
Aleister Black & Ricochet vs Bobby Roode & Chad Gable: Black wins via Black Mass – ** ¼
Natalya vs Nia Jax: No Contest – N/A
Kurt Angle vs Apollo Crews: Angle wins via Angle Slam – **
Falls Count Anywhere: Dean Ambrose vs Drew McIntyre: McIntyre wins via Claymore – *** ¼
Review:
Well the show started off luke warm for me personally. Yes the Shield got to kinda say goodbye, but I had no interest in the faction getting back together for the millionth time, but good for the people. Then the fact Dean and Roman walked off leaving Seth to continue pontificating about his Mania match. Paul Heyman comes out and admittedly the way Seth kinda cut him off changed Heyman's usual promo shtick, so this was a decent back and forth – WILD SHELTON BENJAMIN APPEARS!
Even though Heyman framed the attack as a hired gun type thing, I hope this leads to Shelton being the new Paul Heyman guy. Shelton looks great, is an accomplished amateur wrestler and his only real weakness is promos…which Heyman can cover for easily. Solid match too with Seth.
Finn and Seth have a moment as Finn comes out for his match. Okay, so Lashley has looked better last month or so in the ring, and Lio's interference worked for the match…but I don't know. Aside from probably wedging and IC title match onto Mania or the Pre-Show (wouldn't be the first time), I don't really like the title changing hands here.
Corbin says douchey words running down Roman, the crowd goes to sleep, no one cares, Baron. Corbin. Sucks. (buy the shirt).
Ronda Rousey continues her tirade on running down the fact that she's better than everyone and the fake scripted pro wrestling stuff. Dana Brooke comes out looking like she spent too much time in a tanning bed, and just weird. She cuts a decently impassioned promo about loving WWE even though she's low woman on the totem pole and never on TV. Wants to accept the usual open challenge, Ronda kicks her away like trash and beats the hell out of Dana until refs show up to break it up.
This tag match is just academic after the finish from Fastlane. NXT guys go over, decent enough for the time allotted. Revival repay the post match beating the NXT stars gave them at Fastlane, so we're leading to another match between Black-O'shea and The Revival I suppose.
Moment of Bliss announces Alexa is the host of Mania. It was obvious from the way it was hyped in the show, and who cares? What do hosts really do?
One of the unfunny SNL tried to give Braun a car as an apology, but it's all a cheap ploy to sell a new Braun toy with a breakable car. SHILL!
Elias has some funny things, No Way Jose interrupts, Elias gets mad and beats him up and a few conga line peoples. I got nothing…this kinda was just there. Sadly they are missing the boat a little with Elias unless they turn around this dumb "tries to sing songs but gets interrupted by everything and anyone" thing. It feels like such a dumb filler spot just to keep him on TV in lieu of a real story.
Harlem Heat getting officially announced for the Hall of Fame is great. They were a WCW staple, had great feuds with the Steiner Brothers, Nasty Boys and many others. Plus we all know what Booker accomplished alone, and now he joins HBK and Ric Flair as the only 2x Hall of Fame inductees.
Nia and Nattie was short because Beth got involved. Thank god, Nia is painful to watch in the ring.
Triple H and Batista have a solid back and forth. A few cute barbs thrown, my favorite being the "Guardians of the Independent Scene"  line from Triple H about Batista's security team. But generally a solid promo. It doesn't make me any more or less excited, but the match should be decent.
Angle announces his farewell match will be at WrestleMania. But he wants one more match in his home town and they feed him Apollo Crews. It was okay, didn't really do anything for Apollo, but Kurt got to stand tall in Pittsburgh one more time. So it was nice.
Roman comes out for his match but Drew McIntyre jumps him from behind. Roughs him up, one normal Claymore dazes the big dog and then a Claymore into the ring post 'concussed' him.  Because once doctors and refs get Drew off of him, the doctor says he needs to pass the screening, Seth comes out to walk Roman back to the doctor's office, Triple H comes around the corner and Dean cuts him off wanting a Falls Count Anywhere match. Stupid, stupid man. Dean has had no luck against Drew and it doesn't start tonight. The match was solid but a typical WWE style Falls Count Anywhere match with some cool spots and some dumb goofy spots. Ending the match with a Claymore whilst Dean's head was in a guardrail was cool.
Overall Score: 6.5/10
Not a bad show, a few beats annoyed me but generally an above average show. McIntyre looks like a monster, Shelton returning and not looking like a scrub is nice, not being subjected to much of Nia and the feel good moment for Kurt were all nice enough. So aside from the things I already stated I didn't really enjoy, it wasn't a bad show. Good follow up to a good PPV.
SmackDown Ratings:
Aleister Black & Ricochet & The Hardy Boyz vs The Bar & Shinsuke Nakamura & Rusev:  No Contest? –  ***
Asuka vs Sonya Deville: Asuka wins via Asuka Lock – *
Andrade & Samoa Joe vs Rey Mysterio & R-Truth: Rey wins via Cradle – ** ¾
Daniel Bryan & Rowan vs Mustafa Ali & Kevin Owens:  Rowan wins via Iron Claw – **
Review:
Shane is out first with the Best in the World trophy in the middle of the ring. He demands to be introduced as such, and just plays up the dickishness. Plays the rich and entitled angle well, and just tells Miz flat out that they can resolve things at Mania. No dancing around or anything, just straight up declaration since he's the boss.
8 man tag was fine. Everyone got their stuff in, it was pretty fun, but the highlight was New Day just not caring anymore and going after the heel team. So I don't know if this was officially a No Contest or Heels win, but a more serious New Day is kinda neat.
Usos promo buried everyone except the Hardyz, so that's a match that could be really good.
Randy Orton and AJ have a little promo battle and it was glorious. Orton runs down the charade that AJ built the SmackDown house when Orton was dominating while AJ was elsewhere. Yes Orton flubbed one line, but the recovery was fine. AJ tried to call the RKO a bootleg Diamond Cutter and Randy just smirks and says "Oh like you and your Indy friends don't steal things?" – and he just holds up the Too Sweet hand gesture. That was the nail in the coffin there, Randy won that promo battle and seems motivated. So this could be special.
Mandy costs Sonya the match with apron shenanigans. So I guess we're gonna see them break up soon, since the dissension angle is a little obvious after Mandy being petty tonight.
IIconics are treasures, love them.
Becky throws the crutch to the side and walks down to give her promo. No surprisingly, Charlotte comes out and even though I usually hate her talking, she did well here. Basically quoted Greg Demarco saying Becky lucked into HER main event and she's only been hot 6 months as opposed to 4 years. Granted I liked Becky's whole spin that she's in Ronnie's head and planned the Ronda interference. But Charlotte did take the spotlight back by the end of this little exchange.
This match felt like a pivot. Since many people started thinking Samoa Joe vs John Cena was the Mania match, but with Kurt Angle's announcement…Rey winning could just be the back up plan. It works well enough and Rey is definitely a big name worthy of the Mania match. But that's just how I saw this, pure speculation.
Our main event wrestling match was kind of flat. The action was okay, the finish was just abrupt and I didn't expect like 15 minutes to be left for the New Day/Vince segment. I like the Claw Hold being back in some rotation, but I'm just not a huge fan of Rowan.
This final segment was great. Good emotion and energy from each member of the New Day and Kofi definitely hit relatable notes for people who work long hours, don't complain at their jobs or just generally feel overlooked.  Vince tells Kofi he has to run the gauntlet against Randy Orton, Samoa Joe, Cesaro, Sheamus and Rowan. So all the beef might get in the way of Kofi's dream.
Overall Score: 6 /10
Show was okay, but the fact that Shane and AJ Styles both just pointed at the sign, cut out the story aspect and just went 'Let's finish this at WrestleMania'. We all knew that's where it was headed, but maybe trying to tell a story to get there instead of 3 weeks of treading water, possible tag matches and just pointless stuff to fill time, would've been appreciated. Granted it's not awful since next week has a gauntlet that will be most of the show and allows for the US title and Tag Titles to get fleshed out.
The show still fell a little flat since nothing new was really learned. Orton being motivated was cool and Kofi getting screwed YET AGAIN adds to what we've already seen. So not bad, just really not an episode you need to watch. If you missed this week and watch next week, you won't be confused.
Chris King: One More Spear and Jackhammer for Goldberg?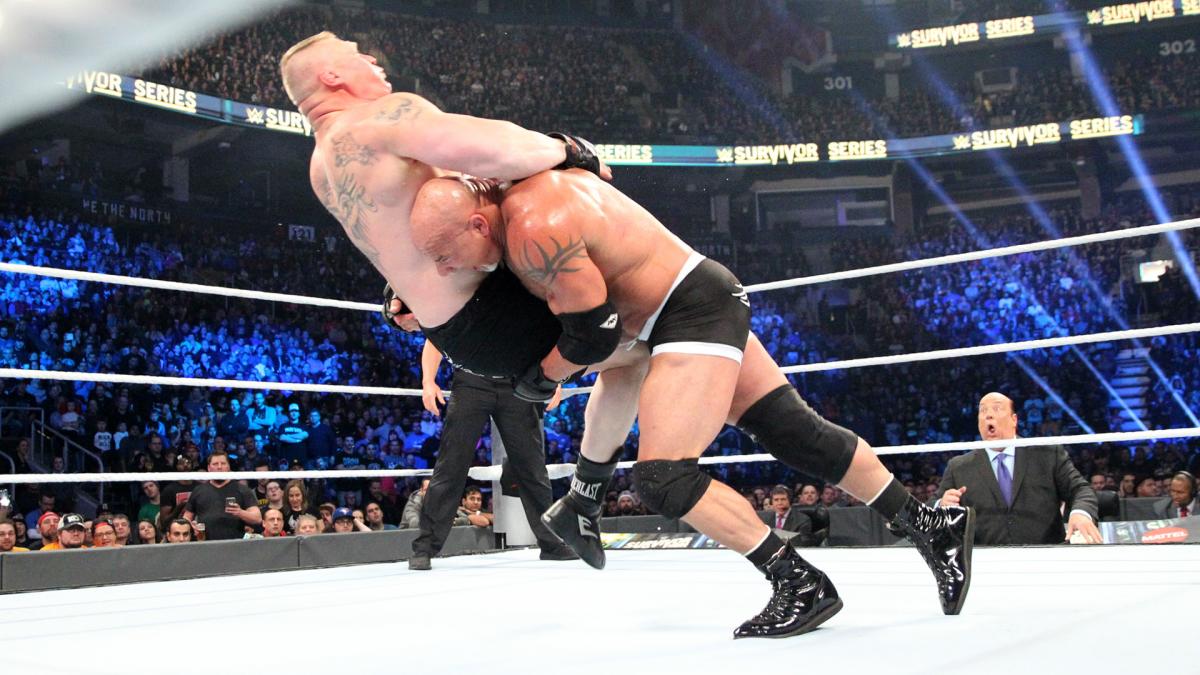 After his WWE Super ShowDown with The Undertaker wasn't well received, is there room for Goldberg to have more "proper sendoff" to end his career?
By now you've heard the troubling news that during Goldberg and The Undertaker's first-ever-match something went terribly awry; Goldberg smashed his head square into the ring-post, instantly he began bleeding profusely and was knocked out. What followed was extremely hard to watch; several signature maneuvers were horribly botched, and I was 100% concerned for both superstars's health and well-being. This is not what we hoped would occur, and this should not be the last image of Goldberg that we witness in WWE.
There was speculation that Undertaker was furious at Goldberg for his performance that appeared absurd to me; how could Undertaker a locker room leader held in such high respect get into a screaming match backstage? On top of that there was also rumblings about Vince McMahon the CEO of WWE, was fuming, and had to break things up between the legends. He apparently told both superstars they were finished wrestling careers were over.
Thankfully the rumors were quickly refuted by not only WWE officials who were in Saudi Arabia, and TalkSport's Alex McCarthy, and Mike Johnson on PWINSIDER.
Goldberg has admitted he was knocked out during his match with Undertaker at #WWESSD and that is why the final minutes were what they were.

Undertaker was angry with how the match went, but reports suggesting things got heated backstage with Goldberg aren't true, I'm told.

— Alex McCarthy (@AlexM_talkSPORT) June 8, 2019
Mike Johnson confirmed that after chatting with WWE officials he can confirm that after the bout Goldberg was too weak to muster up the energy to engage in a heated altercation.
Johnson said: "I have not heard one person with any legitimacy claim this as being true. In fact, when I asked about that rumor, it was quickly shot down by those who were actually in Saudi Arabia, so I tend to think that story is 100% fiction."
Goldberg the WCW veteran was last seen in the squared circle on the Post-Mania-Raw, twenty-four hours after dropping the Universal championship to Brock Lesnar. The WWE Universe gave him a standing ovation for his love for the business throughout his illustrious twenty-year pro wrestling career.
Goldberg has battled some of the biggest wrestlers in WWE; The Rock was his first feud after his arrival in 2003 at the Backlash pay per view, followed by his almost year-long rivalry with HHH and "Evolution" where he won the World Heavyweight championship. He finished his initial run in the company in 2004 in a "Battle of Behemoths" with Lesnar. In 2019, there are many new powerhouses since he left the company in 2004. Below I will be listing the 5 Potential Opponents for his final match in WWE.
5 Best-Suited Opponents For The Final Goldberg Match
5. Goldberg vs. Brock Lesnar
Brock Lesnar toppled Goldberg for-the-first-time in his WWE career at WrestleMania 33; after a humiliating loss at 2016 Survivor Series, in a "Shocking" one minute and twenty-seven seconds. This was Goldberg's first official match in WWE in twelve years; the two powerhouses have had a total of three encounters, they have manifested a buzz that surpassed all the other matches on the pay per view card. Despite the fact that Goldberg and Lesnar faced in each other only two years ago, it doesn't rule out the possibility that Goldberg won't come back for retribution. While this contest in the past has not been well-received by the WWE Universe, there's still a sliver of a chance these Titans' will go to war one final time.
With Lesnar as "The Beast in the Bank" his adversary could once again cost him the Universal or WWE Championship cash-in; reminiscent to 2004 No Way Out pay per view where Eddie Guerrero was challenging Lesnar for his WWE championship, and Goldberg (who had been given a front row ticket by Raw commissioner Stone Cold Steve Austin). He would then deliver a "Devastating" spear to cost Lesnar his championship, which led to their first clash at WrestleMania XX. Goldberg could cost Lesnar his opportunity and the two competitors could then revisit this hard-hitting personal rivalry.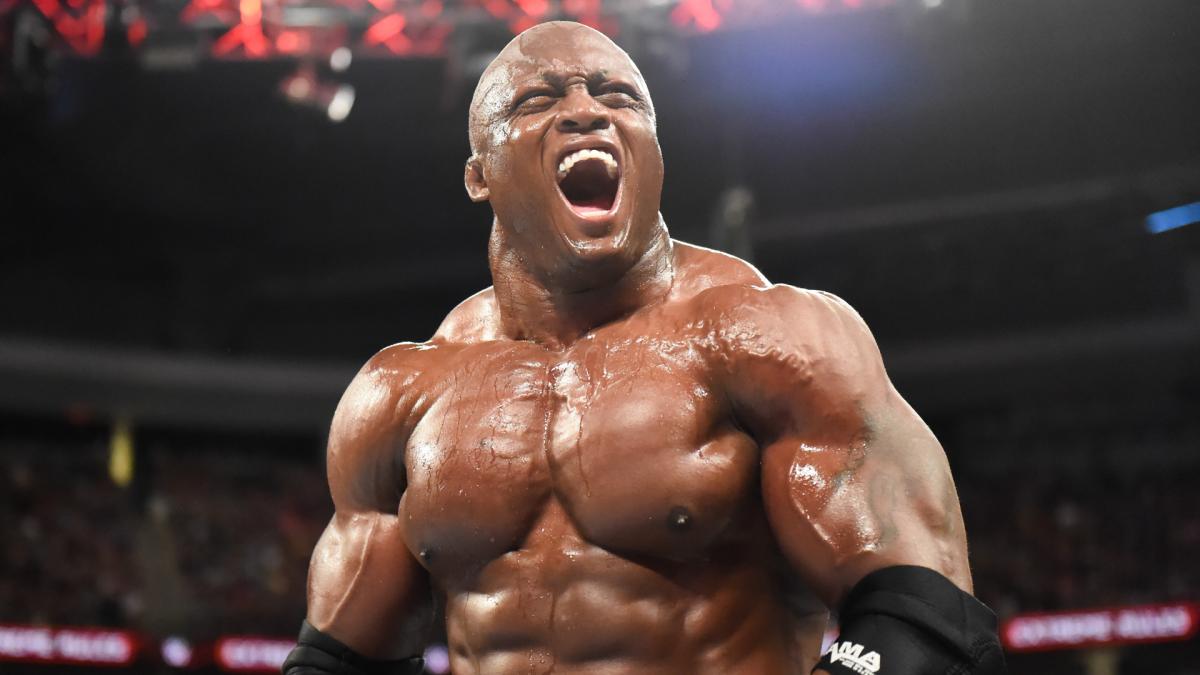 4. Bobby Lashley
It's still surreal to me that these two powerhouses have never crossed paths in both of their WWE tenures. Bobby Lashley returned to WWE after making an "Impact" (Pun intended) on the Raw after Mania 34. Despite being the fan-favorite to dethrone Lesnar at 2018 SummerSlam, Lashley was upset by Roman Reigns who eventually captured the Universal Championship. Goldberg vs. Lashley will still be a "Big Money" match that will put butts in seats and sell out arenas. This the kind of "once in a lifetime" physical confrontation contrary to Rock/Cena at WrestleMania 28 that people from all over the world would tune in to watch. The WWE Network could see a "massive" increase in subscriptions, and the weeks leading up to their collision we would most certainly be a pull-apart brawl and someone could likely to be taken to jail.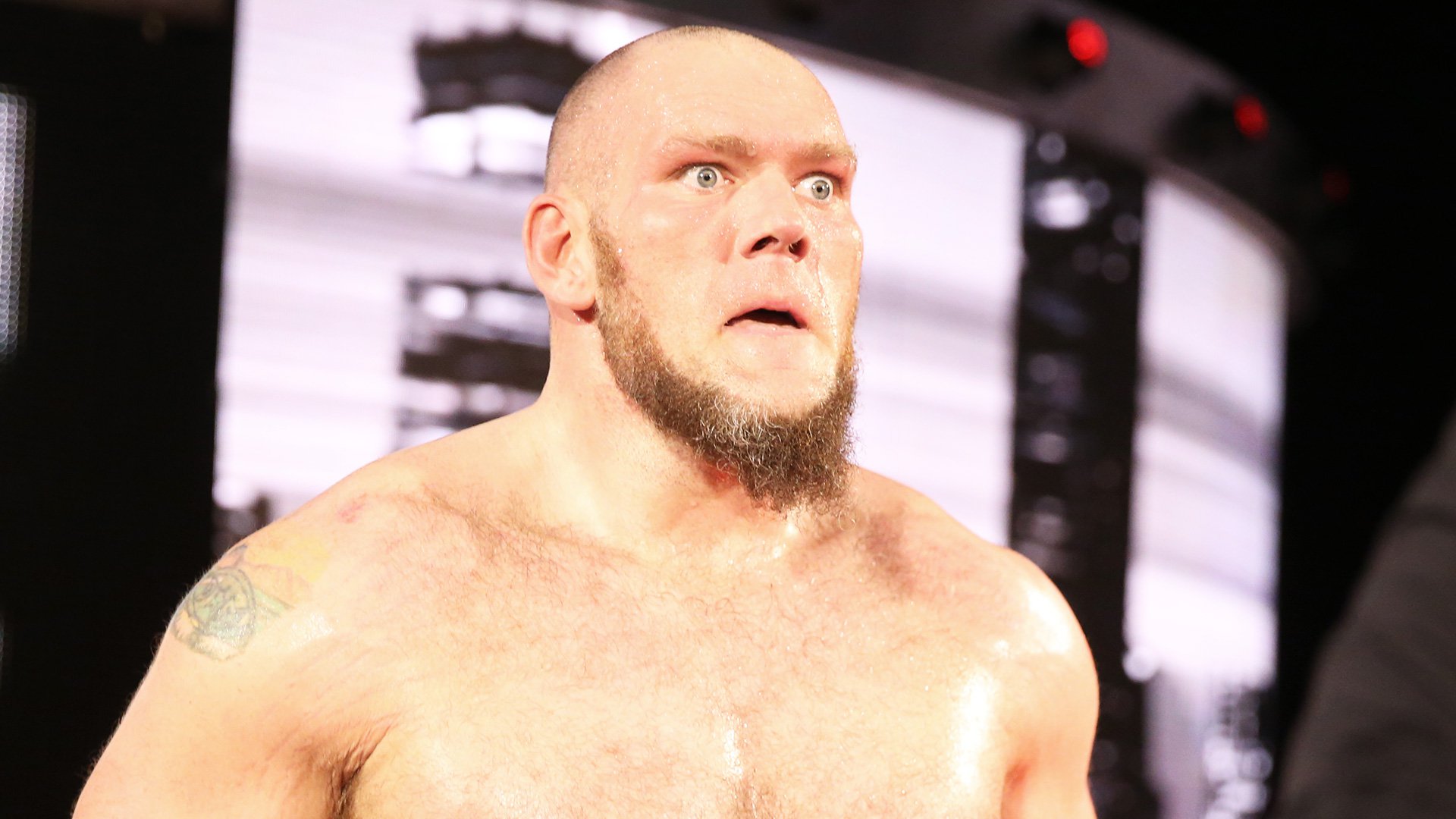 3. Goldberg vs. Lars Sullivan
"The Freak" Lars Sullivan has been leaving a pile of bodies on his path of destruction since his arrival on Monday nights. Currently, he's annihilating the Lucha House Party, but after he's finished bullying smaller wrestlers "," Sullivan is going to be hungry for "Real" competition. Enter Goldberg. This wouldn't do much for the WCW titan but it sure would be a "Huge" rub for the recent draftee. Sullivan was penciled into battle John Cena at WrestleMania 35 "," but due to health reasons, it never happened. This victory over a legend of this caliber could catapult "The Freak" to the top of the food-chain in WWE.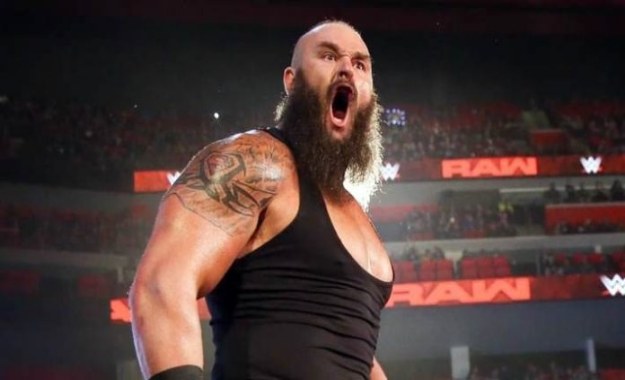 2. Braun Strowman
To say "The Monster Among Men" has been mistreated would only be the tip of the iceberg. Strowman was the "Hottest" wrestler in 2017 with his horror-themed assaults on Roman Reigns. Unfortunately for Strowman, his name wasn't "Roman Reigns" and despite his best efforts he never captured the Universal Championship.
Strowman was on a path of destruction until he went toe-to-toe with Universal champion Lesnar at 2017 No Mercy; in what should have been his coronation as the next champion, Strowman was crushed within a matter of minutes. Last year at WWE Crown Jewel in Saudi Arabia he was heavily-favored to walk out with the vacated Universal championship; and instead WWE thought it was wise to start a lengthy program with Baron Corbin (who clocked Strowman in the back of the head with the title), and Lesnar dropped "The Monster Among Men" with 5 F5's to start a second title-reign with the Universal championship. To say Strowman deserves a "Monumental" win would be a HUGE UNDERSTATEMENT!
1. Goldberg vs. Roman Reigns
The announcement of this match is enough buzz to sell-out WrestleMania 36. "The Big Dog" Roman Reigns has done it all in his short eight-year career, some accomplishments other wrestlers only dream to achieve. He defeated the seemingly-unbeatable Undertaker in his second loss in decades. Reigns is a Grand-slam champion, a three-time WWE Champion and former Universal Champion. Ever since the two crossed paths on the road to WrestleMania 33; and delivered a double-spear to Strowman on January 12, 2017, I believe this dream match has been quietly penciled in. Now that there may be "One More Match" for Goldberg before he calls it quits, this is the only true contest!
Chris King: The 3 Best Scenarios For The New Bray Wyatt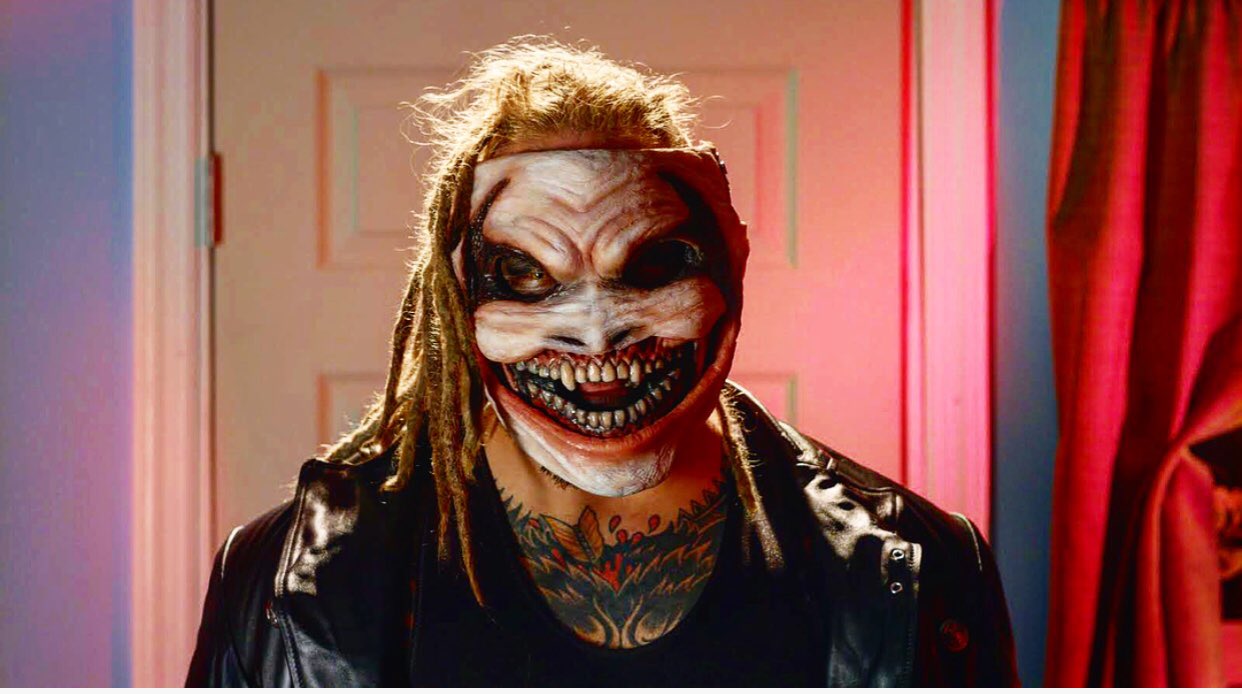 Chris King ponders the ways you can use Bray Wyatt once he makes his return to in-ring (or at least in-arena) competition for WWE.
Today we were given some exciting news about the next step in the enigma known as "The New Bray Wyatt". PWINSIDER announced that for the first time since the resurgence of Wyatt, he would be live at next weeks Monday Night Raw in Los Angeles, CA.
The happy, overjoyed and ever so creepy Mr. Rogers burst on our screens on April 23, 2019, after he was involved in a car accident in August 2018. Wyatt welcomed us into his "Firefly Funhouse" and we met his friends Abby the witch, Mercy the buzzard. The sight of him destroying a cardboard cutout of the "Eater of Worlds," the bad man and self-proclaimed loser was unsetting as it was reassuring WWE was finally giving him a fresh start.
As the weeks progressed so did the disturbing revelations; on May 27, 2019, Wyatt like a little kid on Christmas morning asked the WWE Universe if they wanted to see his "secret" and what's he's really been working on? Abby, Mercy, and the newest addition Rambling Rabbit covered their eyes in horror; the atmosphere changed, the vibe of this whole segment was drastically altered, and Wyatt morphed into "The Fiend". A terrifying monster with a Slipknot mask that even puts Finn Balor's Demon to shame. His voice was threatening and the phrase "let me in" has been sounded so scary until now.
With no indication that he will be live in the ring, this opens up a realm of infinite possibilities. The segments have worked as best as they can, and now is the perfect time to let the WWE Universe see him face-to-face. I will be sharing with you what I believe are the three best scenarios that can build Wyatt back up as an unstoppable force.
3. Bray Wyatt challenges Finn Balor for the Intercontinental Championship at Extreme Rules
Do you remember the horrible match we were supposed to see at 2017 TLC? Wyatt as his awful "Sister Abigail" alter-personality was set to face "The Demon," but the contest was scrapped due to illness. We instead were blessed with the "Outstanding" dream match between Balor and AJ Styles, both men who competed in NJPW before arriving in WWE.
Even though we saw "The Demon" end the feud at SummerSlam; ever since the unveiling of "The Fiend" I have been dying to see both alter-egos clash one more time. Someone needs to take the Intercontinental title off Balor, so can make the transition back to the main-event championship scene.
Ever since his severe shoulder injury hampered his Universal Championship title-reign to 44 hours, Balor has been criminally misused as mid-card level talent. Wyatt could be a great Intercontinental champion if given the correct booking, and intriguing storylines.
2. Bray Wyatt confronts Aleister Black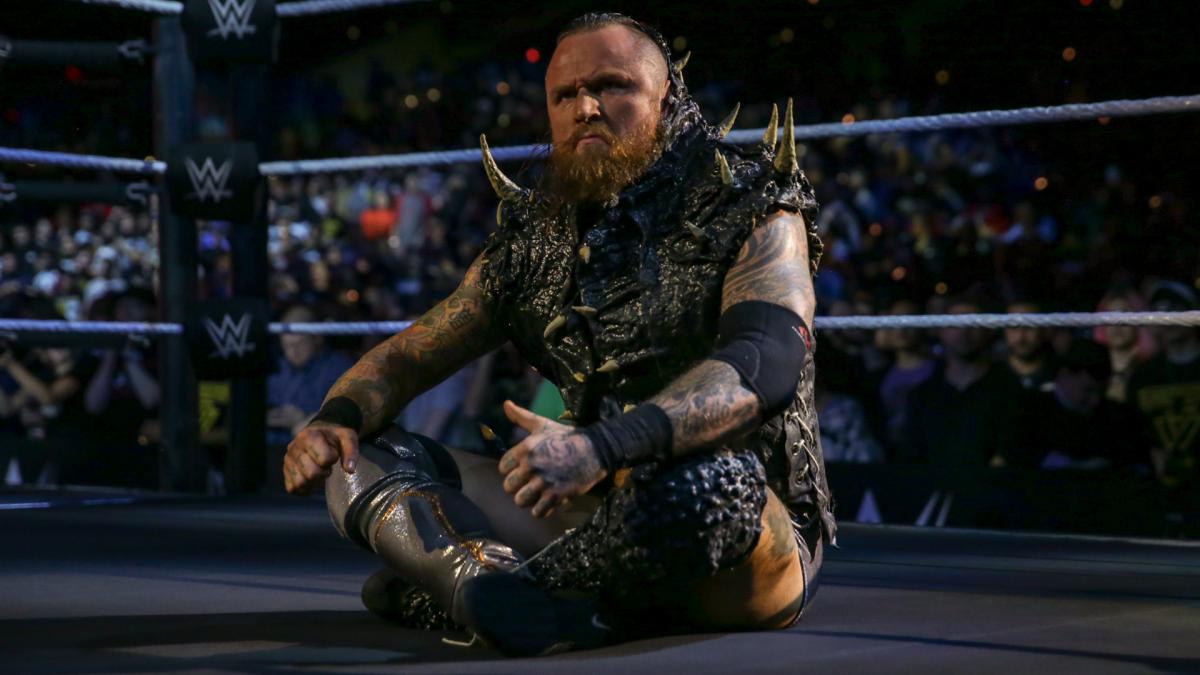 Aleister Black, a recent SmackDown Live draftee has been "begging anyone to knock on the door and fight him," as of now no one has stepped up. Black is an ominous individual; nobody really knows his motives, and everyone should be scared. In NXT he portrayed a babyface; making all his opponents "fade to black" all for the richest prize in the black and gold brand, the NXT Championship.
If Wyatt and Black confront each other; they will create tremendous magic inside and outside of the squared circle. Their promos would be straight fire, as would their matches. The only downfall is Wyatt will fall right back into the hole; he just recently emerged from, Black is not losing his first match on SmackDown Live!
1. Bray Wyatt challenges Kofi Kingston for the WWE Championship at Extreme Rules
In 2017, Cena celebrated his unprecedented sixteenth world heavyweight championship title reign after toppling AJ Styles at the Royal Rumble. He quickly lost the title to someone more deserving; Wyatt who had not held a singles championship since his arrival in 2015, the WWE Universe in unison chanted "YOU DESERVE IT" and you're damn right he did. Which is why I have to beg the question; why in the blue hell did WWE have Randy Orton a veteran who's already had his opportunities, defeat Wyatt in one of the most underwhelming WrestleMania matches??
I remember writing a prediction for the contest and I clearly said Orton will lose so Wyatt's talents aren't wasted again, and how wrong was I? Now is the time for Wyatt to jump right back into the WWE Championship scene; Ziggler will get his steel cage match at Stomping Grounds, but he's not taking the title. Which is going to leave Kofi wide open for a fresh challenger.
Now before you get upset, I'm not saying Kofi should immediately drop the title. I can see him holding it until the end of the year. But, by next year Wyatt needs to be WWE Champion, to repay him for the mistreatment in the past.