Andrew's WWE Raw & SmackDown Live Star Ratings & Analysis (3/11 & 3/12/2019)
Andrew brings the WWE Raw and SmackDown after a pretty good Fastlane ratings!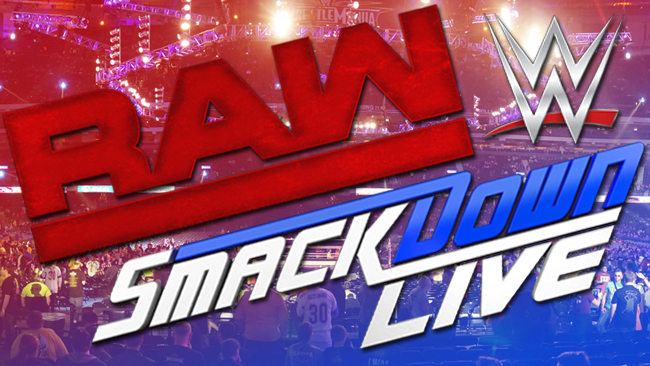 Andrew brings the WWE Raw and SmackDown after a pretty good Fastlane ratings!
Given how well Fastlane hit me, I'll admit I was interested to see which direction we were going with things like The Shield members, Kofi Kingston and the looming AJ Styles vs Randy Orton match.
Let's see if WWE paid off post-PPV intrigue with some real movement…or if they just splashed around the shallow end for a while.
Raw Ratings:
Seth Rollins vs Shelton Benjamin: Rollins wins via Stomp – *** ¼
Intercontinental Championship Match: Finn Balor (c) vs Bobby Lashley: Lashley wins via Spear – ** ¾ – TITLE CHANGE!!
Aleister Black & Ricochet vs Bobby Roode & Chad Gable: Black wins via Black Mass – ** ¼
Natalya vs Nia Jax: No Contest – N/A
Kurt Angle vs Apollo Crews: Angle wins via Angle Slam – **
Falls Count Anywhere: Dean Ambrose vs Drew McIntyre: McIntyre wins via Claymore – *** ¼
Review:
Well the show started off luke warm for me personally. Yes the Shield got to kinda say goodbye, but I had no interest in the faction getting back together for the millionth time, but good for the people. Then the fact Dean and Roman walked off leaving Seth to continue pontificating about his Mania match. Paul Heyman comes out and admittedly the way Seth kinda cut him off changed Heyman's usual promo shtick, so this was a decent back and forth – WILD SHELTON BENJAMIN APPEARS!
Even though Heyman framed the attack as a hired gun type thing, I hope this leads to Shelton being the new Paul Heyman guy. Shelton looks great, is an accomplished amateur wrestler and his only real weakness is promos…which Heyman can cover for easily. Solid match too with Seth.
Finn and Seth have a moment as Finn comes out for his match. Okay, so Lashley has looked better last month or so in the ring, and Lio's interference worked for the match…but I don't know. Aside from probably wedging and IC title match onto Mania or the Pre-Show (wouldn't be the first time), I don't really like the title changing hands here.
Corbin says douchey words running down Roman, the crowd goes to sleep, no one cares, Baron. Corbin. Sucks. (buy the shirt).
Ronda Rousey continues her tirade on running down the fact that she's better than everyone and the fake scripted pro wrestling stuff. Dana Brooke comes out looking like she spent too much time in a tanning bed, and just weird. She cuts a decently impassioned promo about loving WWE even though she's low woman on the totem pole and never on TV. Wants to accept the usual open challenge, Ronda kicks her away like trash and beats the hell out of Dana until refs show up to break it up.
This tag match is just academic after the finish from Fastlane. NXT guys go over, decent enough for the time allotted. Revival repay the post match beating the NXT stars gave them at Fastlane, so we're leading to another match between Black-O'shea and The Revival I suppose.
Moment of Bliss announces Alexa is the host of Mania. It was obvious from the way it was hyped in the show, and who cares? What do hosts really do?
One of the unfunny SNL tried to give Braun a car as an apology, but it's all a cheap ploy to sell a new Braun toy with a breakable car. SHILL!
Elias has some funny things, No Way Jose interrupts, Elias gets mad and beats him up and a few conga line peoples. I got nothing…this kinda was just there. Sadly they are missing the boat a little with Elias unless they turn around this dumb "tries to sing songs but gets interrupted by everything and anyone" thing. It feels like such a dumb filler spot just to keep him on TV in lieu of a real story.
Harlem Heat getting officially announced for the Hall of Fame is great. They were a WCW staple, had great feuds with the Steiner Brothers, Nasty Boys and many others. Plus we all know what Booker accomplished alone, and now he joins HBK and Ric Flair as the only 2x Hall of Fame inductees.
Nia and Nattie was short because Beth got involved. Thank god, Nia is painful to watch in the ring.
Triple H and Batista have a solid back and forth. A few cute barbs thrown, my favorite being the "Guardians of the Independent Scene"  line from Triple H about Batista's security team. But generally a solid promo. It doesn't make me any more or less excited, but the match should be decent.
Angle announces his farewell match will be at WrestleMania. But he wants one more match in his home town and they feed him Apollo Crews. It was okay, didn't really do anything for Apollo, but Kurt got to stand tall in Pittsburgh one more time. So it was nice.
Roman comes out for his match but Drew McIntyre jumps him from behind. Roughs him up, one normal Claymore dazes the big dog and then a Claymore into the ring post 'concussed' him.  Because once doctors and refs get Drew off of him, the doctor says he needs to pass the screening, Seth comes out to walk Roman back to the doctor's office, Triple H comes around the corner and Dean cuts him off wanting a Falls Count Anywhere match. Stupid, stupid man. Dean has had no luck against Drew and it doesn't start tonight. The match was solid but a typical WWE style Falls Count Anywhere match with some cool spots and some dumb goofy spots. Ending the match with a Claymore whilst Dean's head was in a guardrail was cool.
Overall Score: 6.5/10
Not a bad show, a few beats annoyed me but generally an above average show. McIntyre looks like a monster, Shelton returning and not looking like a scrub is nice, not being subjected to much of Nia and the feel good moment for Kurt were all nice enough. So aside from the things I already stated I didn't really enjoy, it wasn't a bad show. Good follow up to a good PPV.
SmackDown Ratings:
Aleister Black & Ricochet & The Hardy Boyz vs The Bar & Shinsuke Nakamura & Rusev:  No Contest? –  ***
Asuka vs Sonya Deville: Asuka wins via Asuka Lock – *
Andrade & Samoa Joe vs Rey Mysterio & R-Truth: Rey wins via Cradle – ** ¾
Daniel Bryan & Rowan vs Mustafa Ali & Kevin Owens:  Rowan wins via Iron Claw – **
Review:
Shane is out first with the Best in the World trophy in the middle of the ring. He demands to be introduced as such, and just plays up the dickishness. Plays the rich and entitled angle well, and just tells Miz flat out that they can resolve things at Mania. No dancing around or anything, just straight up declaration since he's the boss.
8 man tag was fine. Everyone got their stuff in, it was pretty fun, but the highlight was New Day just not caring anymore and going after the heel team. So I don't know if this was officially a No Contest or Heels win, but a more serious New Day is kinda neat.
Usos promo buried everyone except the Hardyz, so that's a match that could be really good.
Randy Orton and AJ have a little promo battle and it was glorious. Orton runs down the charade that AJ built the SmackDown house when Orton was dominating while AJ was elsewhere. Yes Orton flubbed one line, but the recovery was fine. AJ tried to call the RKO a bootleg Diamond Cutter and Randy just smirks and says "Oh like you and your Indy friends don't steal things?" – and he just holds up the Too Sweet hand gesture. That was the nail in the coffin there, Randy won that promo battle and seems motivated. So this could be special.
Mandy costs Sonya the match with apron shenanigans. So I guess we're gonna see them break up soon, since the dissension angle is a little obvious after Mandy being petty tonight.
IIconics are treasures, love them.
Becky throws the crutch to the side and walks down to give her promo. No surprisingly, Charlotte comes out and even though I usually hate her talking, she did well here. Basically quoted Greg Demarco saying Becky lucked into HER main event and she's only been hot 6 months as opposed to 4 years. Granted I liked Becky's whole spin that she's in Ronnie's head and planned the Ronda interference. But Charlotte did take the spotlight back by the end of this little exchange.
This match felt like a pivot. Since many people started thinking Samoa Joe vs John Cena was the Mania match, but with Kurt Angle's announcement…Rey winning could just be the back up plan. It works well enough and Rey is definitely a big name worthy of the Mania match. But that's just how I saw this, pure speculation.
Our main event wrestling match was kind of flat. The action was okay, the finish was just abrupt and I didn't expect like 15 minutes to be left for the New Day/Vince segment. I like the Claw Hold being back in some rotation, but I'm just not a huge fan of Rowan.
This final segment was great. Good emotion and energy from each member of the New Day and Kofi definitely hit relatable notes for people who work long hours, don't complain at their jobs or just generally feel overlooked.  Vince tells Kofi he has to run the gauntlet against Randy Orton, Samoa Joe, Cesaro, Sheamus and Rowan. So all the beef might get in the way of Kofi's dream.
Overall Score: 6 /10
Show was okay, but the fact that Shane and AJ Styles both just pointed at the sign, cut out the story aspect and just went 'Let's finish this at WrestleMania'. We all knew that's where it was headed, but maybe trying to tell a story to get there instead of 3 weeks of treading water, possible tag matches and just pointless stuff to fill time, would've been appreciated. Granted it's not awful since next week has a gauntlet that will be most of the show and allows for the US title and Tag Titles to get fleshed out.
The show still fell a little flat since nothing new was really learned. Orton being motivated was cool and Kofi getting screwed YET AGAIN adds to what we've already seen. So not bad, just really not an episode you need to watch. If you missed this week and watch next week, you won't be confused.
King: This Week In AEW
Brandon gives us an update on the goings on in AEW!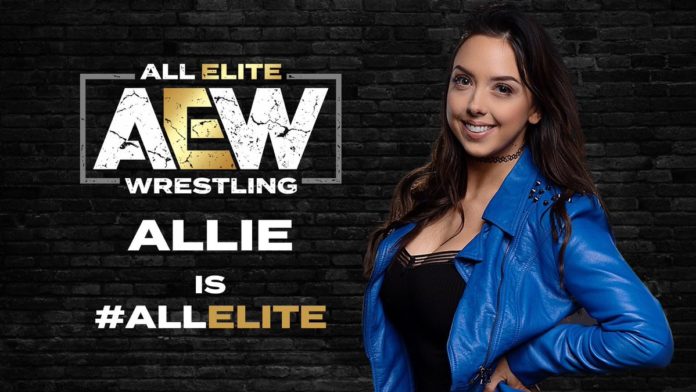 Brandon gives us an update on the goings on in AEW! 
What's happening everybody? It goes as no surprise that All Elite Wrestling is gaining more and more steam with each passing week. Most of its momentum is attributed to the ongoing weekly YouTube series, Road To Double Or Nothing, which is a spinoff of the highly acclaimed YouTube series, Being The Elite. BTE followed The Bullet Club's "Elite" of Cody, Young Bucks, Kenny Omega, and "Hangman" Adam Page through a series of adventures that related with various storylines concerning them in ROH and NJPW.
Let's now fast forward to this week's news within AEW, which some of which was captured during the RTDON series. One particularly noteworthy item was Brandi's signing of former SHIMMER and Impact Knockouts Champion, Allie. She'll be going along with what is already quite a list of names within the Women's Division which includes the likes of Bea Priestly, Dr. Britt Baker, Penelope Ford, and Aja Kong (not to mention Brandi herself). It's also apparent that some sort of championship belt is in design and could almost certainly be ready by Double Or Nothing. According to a couple of sites, the belt could very much resemble the old Mid-South Championship, but right now it's all speculation, but one would imagine it'll get revealed May 25th.
Another big item that came this week actually started off the week, when The Young Bucks won the AAA Tag Team Championships from their Double Or Nothing opponents, Pentagon Jr and Rey Fenix, collectively The Lucha Bros. Cody and AEW went to Mexico, as they have a partnership with the globally known promotion. Cody, who's still recovering from knee surgery, made his presence known but was attacked by Taurus, Konnan and Texano. However, later in the night, The Bucks challenged the champs, and to no surprise, the match was simply great. The brothers Jackson won with a Meltzer Driver/Indietaker to obtain the belts, but if that match was any small indication as to how their match will be at Double Or Nothing, folks, we're in for something special.
While it's under strong encouragement for everyone to peep BTE and Nightmare Family's Road To Double Or Nothing every week, understand that All Elite is growing and growing on a weekly basis. The excitement is building towards it being easily the most anticipated PPV so far of 2019. With matches like Bucks/Lucha Bros, Omega/Jericho, and SCU/members of OWE, the stories going into this event remain intriguing and incredible signings help elevate the suspense of what's to come. With rumors of the legendary Jim Ross being in discussions with AEW show this could likely be the next big thing of the sport and all that can be said is…stay tuned. Until next week folks!
Greg DeMarco's Three Stars Of The Night: WWE Smackdown (3/19/19)
Was Kofi Kingston the obvious choice for the First Star?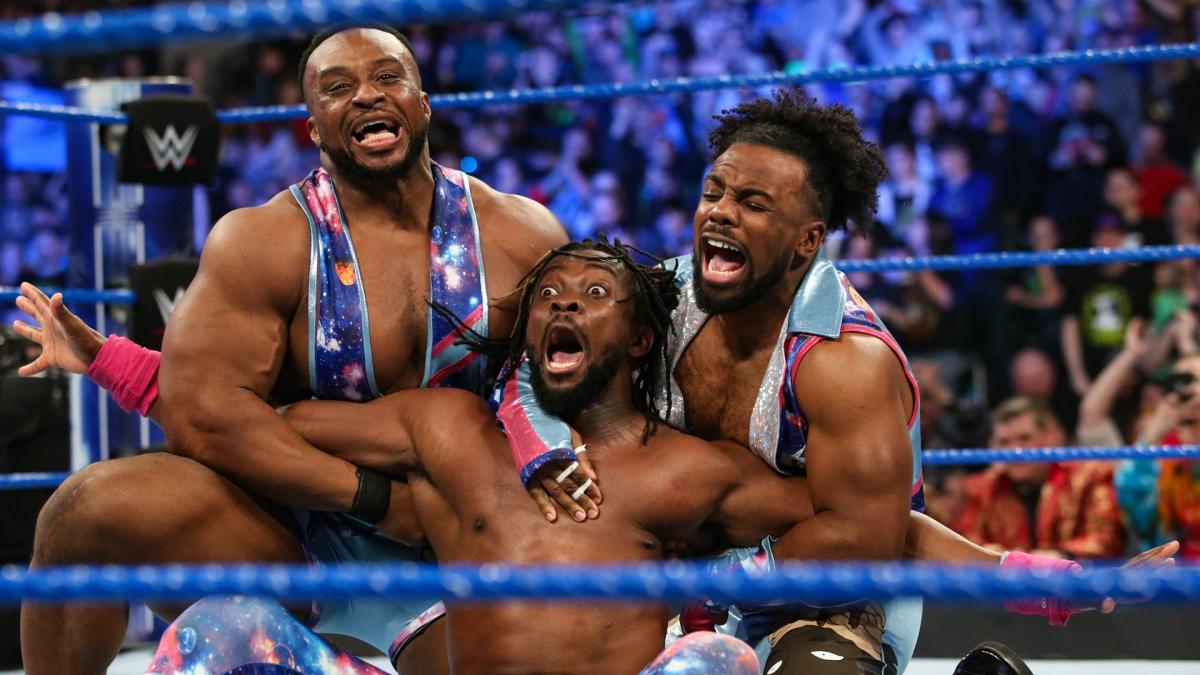 Greg DeMarco brings the Three Stars of The Night back once again with the March 19 episode of WWE Smackdown!
Smackdown was a pivotal episode on the Road To WrestleMania, as the world waited for Kofi Kingston to solidify his spot at WrestleMania. And in true WWE brilliance, Vince McMahon pulled the carpet out from under Kofi's feet, continuing the story for a little longer. Now, it's Three Stars time…shall we?
The Third Star:
The Miz is one of the greatest heels WWE has ever seen, even if you don't want to admit it. Now, he's a big babyface, and he's standing opposite another great heel in Shane McMahon. Conventional wisdom would say that Miz should be a heel and Shane a face, but the roles are flipped and it's working. It was interesting to see The Miz call out Vince McMahon along the way, but Vince is the baddiest of bad bad guys in the history of ever, so it works. Either way, Miz delivered in this promo, and got his coveted spot on the Three Stars.
The Second Star: Elias
Randy Orton is one of the most underappreciated wrestlers in WWE. We're headed to WrestleMania 35–Orton appeared at his first WrestleMania at #20. He faced The Undertaker at 21. Triple H at 25, ten years ago. And he's still going strong. Orton worked his ass off for Kofi, and he's delivering a great program with AJ Styles on the Road to WrestleMania.
Honorable Mention: The IIconics, Cesaro, Daniel Bryan, Kevin Owens, Charlotte Flair, Becky Lynch.
And now… a distinction usually reserved
for the top performer of the night …the first star!
The First Star: Kofi Kingston
If you need me to explain to you why Kofi Kingston is the First Star, you should pick up a new hobby. Or at least, hit me up on social media and we can talk about what he did here, and has been doing since the build to Elimination Chamber. WWE keeps throwing curveballs, and they very well might continue through WrestleMania itself, but Kofi will come out on top. He did just that tonight, until Daniel Bryan (well, really Vince McMahon) showed up.
---
Who are your Three Stars of WWE Smackdown Live? Comment on social media @ChairshotGreg, @theCHAIRSHOTcom, and use the hashtag #UseYourHead!
---
In hockey, a game's "Three Stars Of The Night" represent the top three performers of the night. For more clarification, I defer to this Pittsburgh Gazette explanation:
"The tradition dates to the 1936-37 season, when Imperial Oil became the principal sponsor of Hockey Night in Canada radio broadcasts and was seeking a way to promote one of its products, Three Star gasoline. The idea of doing so by selecting the top three performers in a particular game purportedly came from a Canadian advertising agency.
Many clubs do recognize the player with the most three-star selections with an award or trophy, usually in conjunction with a corporate sponsorship, at the end of the season (or sometimes, each month). All six Canadian franchises, for example, have an affiliation with a well-known brewery.
The NHL keeps track of its own Three Stars Of The Night selections, but that is done on a league-wide basis. The league employs a system that awards 30 points to a first star, 20 to a second star and 10 to a third – a running total can be found on the league's website – but it does not present an award based on them."
In hockey tradition, the first star represents the best of the three, but all three are considered to be receiving a high honor.