Chairshot Wrestling News Shuffle: Commentary on Kurt Angle's WrestleMania Opponent, The Young Bucks In AAA, Main Roster Stars On NXT and More! (3/18/19)
News here! Today we have commentary on Kurt Angle's WrestleMania Opponent, The Young Bucks In AAA, Main Roster Stars On NXT and More!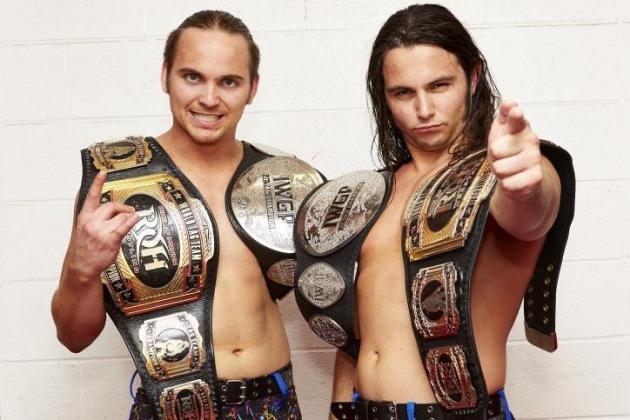 News here! Today we have commentary on Kurt Angle's WrestleMania Opponent, The Young Bucks In AAA, Main Roster Stars On NXT and More!


Finn Balor Mystery Partner Is…..??? (Possible Spoiler)
RAW will feature an interesting tag team match this week. Bobby Lashley and Lio Rush will team up to take on Finn Balor and a mystery partner. Much speculation has made it's way around the internet this weekend as to who Balor's partner will be. Many wrestling news outlets have noted that Sami Zayn has been cleared to wrestle, and is a candidate to team up with Balor.
Jason's Take
Zayn would make sense, as it has been rumored he has been cleared for a return for some time now.
Kurt Angle To Reveal WrestleMania Opponent On Raw
WWE has noted that Kurt Angle plans to announce his WrestleMania opponent on RAW. Along with the speculation of the partner of Balor, news as to who will face Angle has been speculated since he announced his retirement last week. Many have speculated that it will be John Cena, as John Cena made his main roster debut facing Angle in the same building that RAW will be held at on Monday. WWE also listed six potential opponents on their Instagram account, which includes Cena.
Jason's Take
I said last week in the news shuffle that Cena makes the most sense. It is an intriguing matchup in which no storyline is really needed, but the history is already there. If I were a betting man and wanted to bet on a longshot, I would go with the Undertaker. Although very unlikely, if there were a match for Undertaker, this would be it
WWE Teases Main Roster Stars On NXT
Back in November of last year, HHH talked about the possibility of main roster stars wrestling on NXT stating:
"I think you could be at a place where you see main level talent stay at NXT. I think we're also at the point where you can see some talent on Raw and SmackDown that has had success or not had success or for whatever reason aren't being utilized, they could go back into NXT." He noted that he sees NXT as a third brand and "I think you could see a lot of these talent become mainstays in the brand that they're in — NXT included."
WWE's Twitter account Tweeted names asking what they were doing Wednesday nights.
Hey, @DanaBrookeWWE @WWESheamus @WWECesaro @LukeHarperWWE & @WWEFandango…

What are you guys up to Wednesday nights at 8/7c? #WWENXT #NXTPOV pic.twitter.com/EcUjihhIV9

— WWE NXT (@WWENXT) March 16, 2019
Jason's Take
The Bar is an interesting choice to jump to NXT. I can see Fandango and Dana Brooke back on NXT. Dana Brooke was a bright spot during her time on NXT. I don't know what happened to her with the move to the main roster but it feels something was lost in transition. Dana Brooke can compete, and there are a lot of talented women on the NXT roster that she can have entertaining matches with.
The Young Bucks Win AAA Tag Team Championship
Saturday night at the AAA Rey de Reyes event, the Young Bucks defeated the Lucha Bros to win the AAA Tag Team championship. The Lucha Bros. had initially won the tag titles after defeating Rey Escorpion and El Texano Jr. However, after the match, Konnan confronted the new champions, the lights went out and The Young Bucks appeared in the ring and a match was made for the tag titles.
Jason's Take
This adds a bit more to the teams match at Double Or Nothing. That match should be very entertaining.
Chelsea Green Suffers Broken Wrist
At this week's NXT tapings, Chelsea Green suffered a wrist injury in a dark match.
Wishing @ImChelseaGreen a speedy recovery! https://t.co/nrQbWOpOdM

— WWE NXT (@WWENXT) March 14, 2019