CMLL's Review & Results 3/24/2019
Joe keeps us all up to date with the goings on in CMLL! Let's see what went on this past week along with his expert analysis!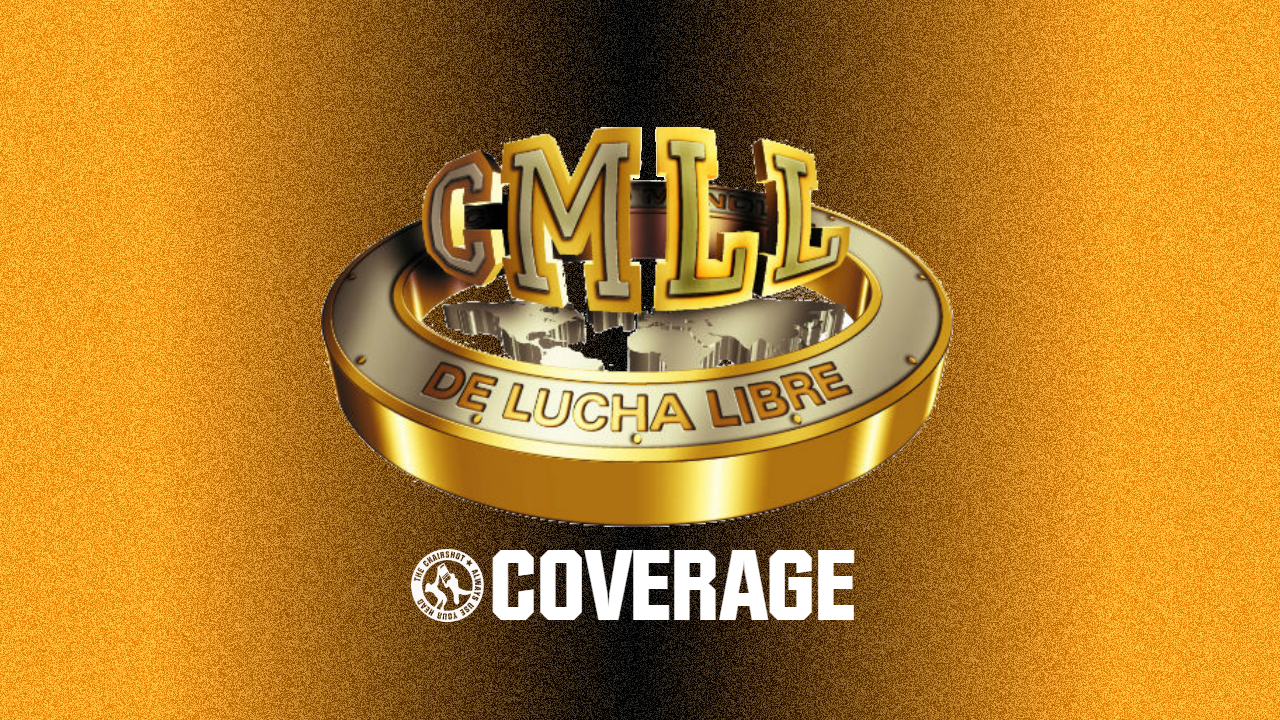 Joe keeps us all up to date with the goings on in CMLL! Let's see what went on this past week along with his expert analysis!
Arena Puebla
Sonic, Rey Samuray, and Astro vs Police Man, Fuerza Chicana, and Sombra Diabolika
For some reason Astro and Sombra came out at the same time. Samuray and Police Man tie up. They start to fight for position. Fuerza gets in next with Sonic and they grapple. They fight for position and drag each other down. Astro and Sombra come in next, our mates who walked out together. Astro hits a 619 then an arm drag. Chaos breaks out and Fuerza hits a canadian destroyer on Samuray. Police Man hits a back breaker then stretches Astro for the fall. First Fall: Police Man back breaker stretches Astro for the fall.
Police Man works over Sonic and takes him out. They team up on Astro and then work on Samuray. Sonic ducks a double team attack then hits a double arm drag. Samuray runs in front the ramp and hits a clothesline on Fuerza. Samuray hits a victory roll off the top on Sombra then Astro splashes him for the pin. Samuray hits a lionsault on Fuerza then Sonic submits him with an arm bar. Second Fall: Sonic submits Fuerza Chicana with an arm bar.
Samuray flips into the ring and keeps flipping. Police Man watches him instead of attacking. Samuray goes for a bouncing attack on the ropes but Police Man just throws him to the outside. Sombra drop kicks Astro and hits a senton and pins him. Police Man holds up Sonic and Fuerza hits a code breaker for the win. Third Fall: Fuerza Chicana pins Sonic with a code breaker.
Winners: Police Man, Fuerza Chicana, and Sombra Diabolika
Star Black, Tigre Rojo Jr, and King Jaguar vs Raziel, Cancerbero, and El Perverso
Raziel and Rojo start the match out grappling. Jaguar and Cancerbero come in next and they go back and forth grappling too. Star Black comes in next with Perverso and they do some ground grappling as well. Tigre comes in and gets pulled down by Raziel. Rojo gets launched into Raziel and Cancerbero and gets power bombed. Jaguar goes for a head scissors but gets slammed by Cancerbero. Star Black gets caught in a weird submission by Perverso for the fall. First Fall: Perverso submits Star Black with a head squeeze submission.
Cancerbero beats on Jaguar in the crowd. Raziel beats on Rojo on the ramp. Star Black gets worked over by Perverso. Jaguar gets teamed on followed by Rojo as he tries to make the save. Rojo gets launched into the ring to hit an arm drag on Cancerbero. Raziel stops him in his tracks. Jaguar attacks Raziel from behind, then Perverso attacks Jaguar from behind. Star Black then hits a backwards head butt on Perverso and pins him. Jaguar then gets Cancerbero in a stretch submission. Second Fall: Jaguar submits Cancerbero with a stretch. 
Jaguar and Cancerbero go back and forth to start and Jaguar gets the advantage and poses. Rojo kicks Raziel then hits a cross body followed by a back breaker. Star Black enters with Perverso next. Black hits a handspring head butt on Perverso then gets him in a hurricanrana but Raziel and Cancerbero come in to break it up. Cancerbero hits Rojo with a top rope slam and gets the pin broken by Jaguar. At this point everyone starts trading big submission moves and they get broken up. Black hits a moonsault but it gets broken up. Cancerbero and Raziel bounce Star Black and Perverso drop kicks his butt. Cancerbero and Raziel slam each other on Rojo then Perverso hits a senton. Raziel submits Rojo with a surfboard stretch. Star Black gets slammed and Perverso hits a frog splash for the win. Third Fall: Perverso pins Star Black with a frog splash.
Winners: Raziel, Cancerbero, and El Perverso
El Audaz, Stigma, and Drone vs Templario, El Felino, and Tiger
Templario and Audaz start and waste no time going back and forth. Tiger and Stigma enter next and tie up. Felino tackles Drone when he enters so his midget can attack him. Midget interference is perfectly legal. Drone drop kicks Felino to the outside but Templario intercepts and stops him from diving to the outside. Audaz catches Templario in a pinning combo and Stigma hits a jaw breaker on Tiger. First Fall: Stigma pins Tiger with a jaw breaker.
Audaz and Templario start the round and Audaz gets him to the outside then hits a pose but kinda botches it. Stigma comes in and runs wild on everyone taking them out to the outside and then he poses. Now it's Drone's turn to replicate. Drone goes back and forth with Tiger and gets the better of him and hits knees to the corner. Felino attacks him from behind and gets him in a leg lock as Templario and Tiger pull his teammates off of the apron. Second Fall: Felino submits Drone with a leg lock.
Audaz gets teamed on to start this round. They move their sophisticated attack to Drone. Drone jumps out of the way and hits a middle rope dive on Tiger. Stigma and Audaz hit arm drags on Felino and Templario then hit dives through the middle rope. Back in the ring Drone hits a flying knee to Tiger. Tiger hits a sunset flip that Drone rolls out of and kicks him. Tiger hits a flapjack then suplex for a two count. Stigma hits a single leg enziguri on Tiger. Audaz hits a cross body on them and Drone hits a dive to the outside on Felino. In the ring Templario catches Stigma with a power bomb and Tiger hits Audaz with a back stabber for the win. Third Fall: Tiger pins Audaz with a back stabber.
Winners: Templario, El Felino, and Tiger
Angel de Oro, Niebla Roja, and El Valiente vs El Terrible, Cavernario, and Bestia del Ring
Bestia and Terrible get in the ring and start laying the boots to Angel and Niebla. Eventually everyone gets taken out and it's time to work over Oro. I'm not sure Terrible should be working after he dislocated his shoulder but it's Mexico. Roja tries to beat on Terrible but Bestia attacks him from behind. Finally Cavernario hits the slingshot splash on Valiente for the pin. First Fall: Cavernario pins Valiente with a slingshot splash.
Valiente and Roja get beat on and then they move to Oro. This so far feels like the Dos Leyenda main event where the technicos got worked over most of the match. Valiente hits a big monkey flip on Cavernario and Roja and Oro pushes Terrible and Bestia into each other and get them in a dual leg lock submission. Valiente gets Cavernario in a surfboard submission for the fall. Second Fall: Valiente submits Cavernario with a surfboard stretch.
They fight on the ramp to start then Roja leaves Bestia. After some posturing and brawling Oro and Bestia go back and forth. Oro hits a hurricanrana on him to the outside and then poses. Valiente works around Cavernario and dodges his attacks. Valiente gets him to the outside and hits a big middle rope dive and in the ring Roja and Oro try to pin Bestia and Terrible with hurricanrana pins, but Roja got power bombed by Terrible for the pin while Oro got Bestia with a hurricanrana. So now there is ref confusion. I have no clue what was ruled. The ref raised Bestia and Roja's hands. So I'm assuming a draw. Third Fall: Oro and Terrible got pins.
Winners: Draw
LA Park, Volador Jr, and Hijo del LA Park vs Ultimo Guerrero, Euforia, and Gran Guerrero
Los Guerrero's get into the ring and Ultimo attacks LA Park. He starts whipping everyone with a part of his attire. Park gets tripped and Hijo tries to save his father but to no avail. They do the Los Guerrero's triple team attack on Volador. They drag LA Park to the outside and do the triple team attack on him. Ultimo removes Park's belt and whips him. Park kicks Ultimo to the outside then hits a high velocity dive through the middle rope on him. Volador hits a back stabber on Euforia and Hijo hits a code breaker on Gran Guerrero for the fall. First Fall: Hijo Del LA Park pins Gran Guerrero with a code breaker.
Hijo checks on his dad during the break. That was a crazy middle rope dive. There's some posturing to begin this round. Park has his belt now and they whip Gran's back. Gran eggs them on though. Gran eggs the crowd on then Hijo does the same. Hijo then fights off a double team and feigns a dive and poses. Volador head scissors Euforia to the outside and then poses. Ultimo and Park go back and forth. Park hits a running attack then does his classic pose. Euforia and Gran come in to team up on Park. They go for the Los Guerrero's triple team attack on both Volador and Hijo at the same time. Park gets in the ring with all three of them at once. Los Guerrero's then get Park, Volador, and Hijo in a triple submission for the fall. Second Fall: Los Guerrero's submit the Park family with a triple submission.
Park and Ultimo brawl in the crowd. Euforia brawls with Hijo in the crowd too. Back in the ring and Park is being whipped with his belt. Now he's egging on Gran. Park dodges an attack and hits a double clothesline and Euforia and Gran. He throws Ultimo to the outside. Hijo works on Euforia now. Park performs a fake sunset flip into an arm drag. They go back and forth and Volador and Hijo hit hurricanrana's on Euforia and Gran for a close two. Gran choke slams Hijo for a two count and Euforia does something that wasn't caught on camera to Volador. Hijo hits a code breaker off the top on Gran for a close two. Volador and Hijo go for dives but get pulled out of the ring. In the ring Park actually hits his old finisher, the sunset flip power bomb just barely on Ultimo for a two count. Ultimo gets his neck crank on Park but Park breaks out. Park hits a final cut on Ultimo for a two count. Park moves and Ultimo falls out of the ring. Euforia and Gran kick him to the outside, and then Gran hits the chokeslam on Volador and Euforia a power bomb on Hijo for another two count. Euforia gets super kicked by Volador then back stabbed by Hijo. Volador hit a hurricanrana on Gran all for another two count. Ultimo distracts the ref and Gran and Euforia foul Hijo and Volador and then Park kicks the ref to break it up. Park dodges Ultimo's triple team. He then walks to the ref and removes his mask and hands it to Ultimo. The ref sees it and DQs Ultimo. Beautiful baby face paying back the cheating heel with his own tactics. Third Fall: LA Park wins via DQ trickery. 
Park does a miserable job at hiding his face. Ultimo cuts a promo. I mean if you want to see what LA Park looks like watch this show. Park gets the mic and wants to run it back and in English Ultimo says, No problem with me.
Winners: LA Park, Volador Jr, and Hijo Del LA Park
Arena Mexico Tuesday
Fantasy and Angelito vs Mercurio and Pequeno Olimpico
Olimpico and Fantasy start the match out engaging and grappling. Angelito cross body's an entering Mercurio which leads to grappling. Angelito goes to flip on Mercurio but messes up. Mercurio postures and then whips Angelito who hits a hurricanrana. Mercurio gets Fantasy in a modified camel clutch. Olimpico holds Angelito in place and Mercurio leg drops him from the top for the pin. First Fall: Olimpico pins Angelito after Mercurio leg drops him from the top.
Fantasy gets worked on to start then they work on Angelito. After being doubled team for a while Fantasy avoids an attack  and Angelito hurricanrana's Mercurio tot he outside. Fantasy hits a middle rope spanish fly on Olimpico for the pin. Angelito gets Mercurio in a standing guillotine but then sits out for a slam. Second Fall: Angelito pins Mercurio with a standing guillotine slam.
Fantasy and Mercurio go back and forth with Fantasy hitting a hurricanrana. Angelito hit an arm drag on Olimpico for bring him to the outside and pose. Fantasy gets Mercurio in a figure four but Olimpico breaks it up. Olimpico choke slams Fantasy and Angelito breaks it up. Angelito hits a drop kick on Olimpico. Angelito hits a springboard splash on Olimpico for the pin and Fantasy hits a power bomb on Mercurio for the win. Third Fall: Fantasy pins Mercurio with a power bomb.
Winners: Fantasy and Angelito
Magnus, Robin, and Star Black vs Nitro, Disturbio, and Hijo del Signo
Magnus and Signo engage to start the match. They get a few take downs each and fight for position. Nitro and Star Black enter in next and they start grappling as well. Robin and Disturbio come in next and go back and forth till Signo enters to help double team. Disturbio hit knees to the corner on Robin and pins him. Nitro hits a drop kick to the butt from the top rope on Star Black and Signo pins him. First Fall: Signo pins Star Black after Nitro hits a drop kick to his butt.
The rudos team up on the technicos to start this round. Trying to beat them into submission. Robin pulls down Disturbio then hurricanrana's Signo to the outside. Star Black gets Disturbio in a pinning combo for the fall. Magnus pins Signo with a back stabber. Second Fall: Magnus pins Signo with a back stabber.
Magnus hits back breakers on everybody to start this round and gets himself pumped up. Robin gets stalled when he comes in and gets beat on. He gets launched up and hits a hurricanrana on Signo. Star Black almost gets pinned by Disturbio. Nitro hits a splash on Magnus for the pin. Third Fall: Nitro pins Magnus with a top rope splash.
Winners: Nitro, Distrubio, and Hijo del Signo
Blue Panther Jr, Guerrero Maya, and Black Panther vs Misterioso, El Sagrado, and Tiger
Maya and Misterioso start out grappling. Sagrado comes in and works over Black Panther. Tiger then works him over as they keep him away from his corner. Finally Black Panther makes the tag to Blue Panther and he hits back breakers on everyone. Maya gets Tiger in a victory roll for the pin. First Fall: Guerrero Maya pins Tiger with a victory roll. 
Sagrado and Maya start off this round going at each other. Maya hits arm drags on Sagrado and Misterioso. Tiger and Blue Panther trade strikes and Panther drop kicks him to the outside. Sagrado hits Black Panther with a basement drop kick for the pin and Tiger gets Blue Panther in a leg lock. Second Fall: Tiger submits Blue Panther Jr with a leg lock. 
Blue Panther Jr gets worked over to start. Panther gets slammed then Sagrado hits an elbow drop. Maya then gets teamed on. Rudos pose and Maya gets Sagrado to the outside then hits a dive through the middle rope. Both Panther's take out Tiger and Misterioso then Blue hits a dive through the middle rope on Tiger, then Black hits one on Misterioso. All the technicos get pinning combos and everyone clearly kicks out but the ref claims Misterioso didn't so Blue Panther Jr wins it for them. Crowd boos a little. Third Fall: Blue Panther Jr pins Misterioso with a pinning combo.
Winners: Blue Panther Jr, Guerrero Maya, and Black Panther
Blue Panther, Kraneo, and Volcano vs Bestia del Ring, Hechicero, and Kawato San
Volcano starts with Kawato and there couldn't be a more different set of skills and styles. Match soon breaks down in a brawl. Hechicero hits a knee strike on Kraneo in the corner. Kawato hits Panther with a missile drop kick for the fall. First Fall: Kawato pins Panther with a missile drop kick.
Hechicero works on Volcano to start this round. Kraneo then gets teamed on some. Volcano dodges an attack and he and Kraneo sandwich Bestia. Volcano splashes him and Kraneo leg drops him. Second Fall: Volcano pins Bestia after a splash and leg drop from Kraneo.
Volcano does some acrobatics and gets the advantage on Hechicero to start. Kraneo is in with Kawato next but Hechicero quickly comes in to work him over. Kraneo throws Bestia to the outside and splashes Hechicero. Panther and Kawato go at it for a bit until Volcano comes in to take on Hechicero and Bestia. Kraneo gets drop kicked into the corner and then hit with a knee strike by Hechicero. Bestia hits a top rope senton on Volcano for the pin. Hechicero submits Kraneo. Third Fall: Hechicero submits Kraneo with a leg lock.
Winners: Bestia del Ring, Hechicero, and Kawato San
Mistico, Atlantis, and El Valiente vs Negro Casas, Rey Bucanero, and Templario
Atlantis and Bucanero tie up and start fighting for position. Valiente and Templario come in and start going back and forth. Negro Casas gets in with Mistico but quickly gets him in a sharpshooter and his teammates fight the others off. First Fall: Negro Casas submitted Mistico with a sharpshooter.
Atlantis gets worked on to start this round. Templario takes out Mistico next and then show downs with Valiente. Templario kicks Atlantis to the outside next. Mistico gets hammered on by Negro Casas. The rudos pose and Mistico and his team knock them to the outside. Atlantis gets Bucanero in a single leg crab and Valiente gets Templario in a leg lock. Mistico and Casas brawl on the outside. Second Fall: Valiente submits Templario with a leg lock.
Casas and Valiente strike each other back and forth. Valiente takes him out then hits an arm drag on Bucanero. Atlantis comes in and monkey flips Templario. Valiente hits a dive through the middle rope on Templario. In the ring Mistico gets Negro Casas in a pinning combo for the pin. Third Fall: Mistico pins Negro Casas with a pinning combo.
Winners: Mistico, Atlantis, and El Valiente
(Welterweight Championship) Mephisto (Champion) vs Dragon Lee
There is some posturing to start but they finally tie up and engage. They finally get to the ground and trade some submissions. Mephisto catches Dragon Lee in a transition and sits on it for the pin. First Fall: Mephisto pins Dragon Lee with a pinning combo. 
Mephisto throws Lee in the air and kicks him. Mephisto works over Dragon Lee for the beginning of this round. Dragon Lee catches Mephisto in a victory roll for the fall. Second Fall: Dragon Lee pins Mephisto with a victory roll.
They fight more back and forth now to start this round. They trade rapid fire strikes in the corner. Lee drop kicks Mephisto to the outside then hits a dive through the middle rope. Back in the ring Lee gets him down and does a running drop kick in the corner. Lee goes for a hurricanrana off the apron but Mephisto drops him for a power bomb. They go back and forth some more. Mephisto hits a GTS for a close two count. Lee hurricanrana's Mephisto to the outside then hits a dive over the top rope. Lee hits a sit out power bomb but Mephisto stops the refs hand from coming down on the 3. Dragon Lee gets caught in a school boy but kicks out, then they get up and Lee hits a standing spanish fly. Mephisto kicks out and they go to the top and Mephisto catches him with a top rope face buster but Lee kicks out. Lee trips Mephisto back on the turnbuckle and does the double foot stomp spot. Lee then picks up Mephisto and hits a falcon arrow for the win. Third Fall: Dragon Lee wins with a falcon arrow.
Winner: Dragon Lee
Arena Mexico Friday
Star Jr and Stigma vs Grako and El Coyote
Grako and Star start the match off fighting for position on their feet. They start to grapple on the ground. Coyote and Stigma come in next and they fight back and forth. Star and Grako come back in and Star hits a head scissors. Star gets crotched by Coyote. Stigma drop kicks Coyote into Star for a german suplex. Grako catches Stigma with a power bomb then Star kicks him. Coyote gets Star down and Grako hits an elbow drop for the pin. Coyote hits a double underhook suplex off of the top for the fall. First Fall: Coyote pins Stigma with a double underhook suplex off of the top.
Coyote works over Stigma and Grako works on Star on the apron. Grako and Coyote continue to work them over. Star hits a head scissors arm drag on Grako and Coyote for a come back. Stigma hits a guillotine leg drop on Grako for the pin. Star hits a snow plow on Coyote for the fall. Second Fall: Star Jr pins Coyote with a snow plow.
Star and Coyote exchange strikes to begin this round. Star kicks him to the outside then Grako comes in to beat on Star. Star gets him to the outside then hits a running hurricanrana off of the apron. In the Ring Coyote hits a power bomb and senton on Stigma for a two count. Star hits a tornado splash on Grako for the pin and then Stigma hits a jaw breaker on Coyote for the win. Third Fall: Stigma pins Coyote with a jaw breaker.
Winners: Star Jr and Stigma
Marcela, Kaho Kobayashi, and Mystique vs Dalys, Amapola, and Reyna Isis
Marcela and Isis start out in this match up and they start to fight and grapple on the ground. They go back and forth for a while hitting big moves. Marcela hits a back breaker then shotgun drop kick bringing Isis to the outside. Amapola comes in with Mystique now and they go back and forth. Mystique hits an arm drag to the outside bringing in Dalys and Kaho. Dalys works over Kaho and hits a drop kick while she is stuck in the ropes. Kaho gets up and hits a missile drop kick then dives through the middle rope on Dalys. Mystique gets Amapola in an arm bar and Marcela hits Isis with a michinoku driver for the fall. First Fall: Marcela pins Isis with a michinoku driver. 
Dalys and Marcela start out and go back and forth. Marcela hits a hurricanrana off of the top rope onto Dalys. Dalys trips Marcela and ties her in the ropes and hits a knee attack. Mystique comes in and gets teamed on. Kaho gets drop kicked to the outside. Marcela hits a hurricanrana on Amapola and then hits a face plant on Isis. Kaho and Mystique hit sentons followed by Marcela for a two count. Marcela hits a diving senton on Isis on the outside. In the ring Dalys hits a power bomb on Isis for the pin while Kaho submits Amapola with an abdominal stretch. Kaho gets Dalys in a pinning combo but Amapola interferes so the ref DQs her since she had just submitted. Second Fall: Kaho wins via DQ because Amapola disobeyed the ref.
Winners: Marcela, Kaho Kobayashi, and Mystique
Stuka Jr, Flyer, and El Audaz vs Polvora, Vangellys, and Kawato San
What a rudos team we have here. A Japanese young lion, a Mexican Nationalist, and a Nazi or German general rather. Flyer and the young lion start the match out. They go back and forth doing some moves and transitions. Polvora and Stuka come in and work back and forth really fast. Audaz hits a cross body on Polvora but Vangellys enters and kicks him. The Technicos get the rudos to the outside and then all three technicos perform dives. Back in the ring Flyer hits a Spanish Fly on Kawato for the pin and Audaz flips off the top rope onto Vangellys for a hurricanrana pin. First Fall: Audaz pins Vangellys with a hurricanrana pin. 
Flyer uses his speed to his advantage on Vangellys and then dodges a double team attack. The rudos end up teaming on them and Polvora hits a face buster off the top rope followed by Kawato hitting a double foot stomp off of the top rope for the pin on Stuka. Vangellys pins him. Second Fall: Vangellys pins Stuka after a Polvora face buster off of the top followed by a Kawato double stomp.
Flyer tries to fight off a team up attack. Stuka dodges all the triple team efforts and the rudos fall to the outside of the ring. Stuka, Audaz, and Flyer then do moonsaults off the same turnbuckle to the outside. Kawato does a canadian destroyer to Flyer, then Audaz does one to Kawato, then Polvora does one to Audaz. Stuka catches Polvora in a pinning combo for the win. Third Fall: Stuka pins Polvora with a roll up for the win. 
Winners: Stuka, Flyer, and El Audaz
(Match Relampago) Cavernario vs Forastero
They posture for the first thirty seconds then finally lock up and engage. Forastero rolls to the outside and Cavernario goes for a dive but Forastero runs into the ring quick and hits a spear. Forastero continues to work on Cavernario after that. Cavernario hits a back breaker out of nowhere to change momentum. Cavernario hits a hurricanrana to the outside and then hits a dive over the top rope. Cavernario whips Forastero into the barricade. Cavernario hits a snap suplex for a two count. Cavernario then hits the slingshot splash but Forastero kicks out of that as well. Forastero hits a drop kick to the corner on Cavernario for a two count. Forastero drop kicks Cavernario to the outside then hits a dive through the middle rope. Cavernario back in the ring sneaks a lean back camel clutch on Forastero but Forastero grabs the ropes. Forastero slams Cavernario then hits a swanton bomb and wins. Forastero pins Cavernario with a swanton bomb.
They're throwing money in the ring after that match so they really liked it. Forastero challenges Cavernario for his championship. Of course he accepts.
Winner: Forastero
Angel de Oro, Niebla Roja, and Titan vs Mr. Niebla, El Terrible, and Bestia del Ring
Terrible and Bestia jump Oro and Roja during the introductions. They brawl a bit and Bestia and Terrible hit a double power bomb on Oro and Bestia pins him. Terrible slams Titan and Mr. Niebla hits a splash off of the top rope on Titan for the fall. First Fall: Mr. Niebla pins Titan with a top rope splash.
Terrible brawls with Oro in the crowd. Oro, Titan, and Roja continue to get beat on at the start of the second round. They set up for a triple power bomb on Roja but Bestia and Mr. Niebla turn around allowing Roja to pin Terrible with a hurricanrana. Second Fall: Niebla Roja pins Terrible with a hurricanrana.
They brawl on the outside in between rounds. Finally back in the ring Oro and Bestia go at it. Oro gets him to the outside and goes for a dive but fakes it. Roja and Terrible start jawing off now. Terrible works him over then postures to the crowd. Roja fights back with a shotgun drop kick. Roja drop kicks him to the outside then poses. Titan hits a hurricanrana on Mr. Niebla. Oro then launches Roja into Bestia and Terrible for a double drop kick. Oro and Roja then hit dives through the middle rope. Titan gets a pinning combo on Niebla but he kicks out. Titan kicks Niebla to the outside then hits an asai moonsault. Bestia hits a senton splash on Roja for the pin and Terrible beats Oro with a styles clash. Third Fall: Terrible pins Oro with a styles clash.
Winners: Mr. Niebla, El Terrible, and Bestia Del Ring
Caristico, Volador, and Diamante Azul vs Ultimo Guerrero, Euforia, and Gran Guerrero
Caristico and Gran Guerrero start out the main event of the show. They go back and forth trading transitions and light moves. Azul and Ultimo start fighting on the outside. Caristico gets tossed to the outside and then Volador gets worked on. Volador gets hit with a double press slam off the top. Caristico gets drop kicked off of the apron to the outside. The Los Guerrero's triple team move is done on Diamante Azul. Euforia submits Azul with a gory special and Ultimo and Gran submit Volador and Caristico with camel clutches. First Fall: Euforia submits Diamante Azul with a gory special.
There is brawling that takes place during the break and it continues into the next round. Caristico gets attacked in the corner. Azul comes in from the ramp to hit a double clothesline. Caristico dives off of the top rope to the outside onto Ultimo Guerrero. Azul hits a german suplex on Gran for the pin. Volador hits a back stabber on Euforia for the fall. Second Fall: Volador pins Euforia with a back stabber.
Volador and Gran start out in the final round. Volador hits a big head scissors to the outside. He then super kicks Ultimo. Caristico hits a hurricanrana on Gran after being launched by Euforia. Caristico then hits one on Euforia. An arm drag to the outside is hit on Ultimo but he moves to avoid a dive by Caristico. Azul hits a double japanese arm drag on Gran and Ultimo. Azul hits a high hip toss slam on Euforia. Azul goes out to the ramp to do an attack back in but Ultimo stops him in his tracks. Gran rolls out of the ring and Volador hits a hurricanrana. Azul then hits a flip dive off the ramp onto Gran. In the ring Caristico hits a head scissors into a Fujiwara arm bar on Ultimo for the win. Third Fall: Caristico submits Ultimo Guerrero with a Fujiwara arm bar.
Winners: Caristico, Volador Jr, and Diamante Azul
Andrew's G1 Climax 29 Ratings & Analysis: Night 5 A Block
KENTA, Lance Archer and Kazuchika Okada are setting the early A Block pace! Something's gotta give. Who comes out undefeated?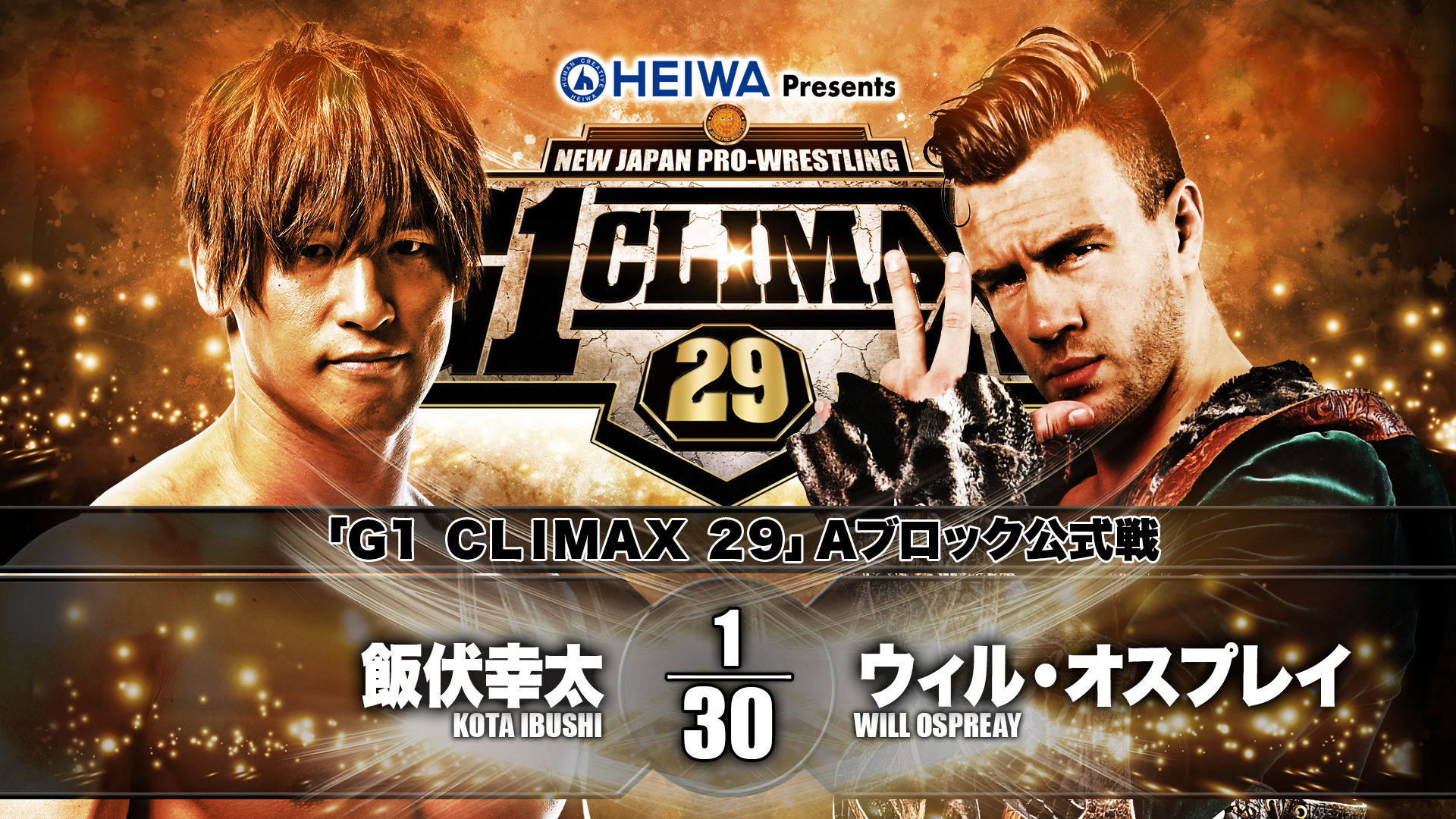 KENTA, Lance Archer and Kazuchika Okada are setting the early A Block pace! Something's gotta give. Who comes out undefeated?
Shmoxley in the opening tag team match means we should start off fun. Tanahashi and Sabre are in the battle of, well, someone needs to get at least a point out of that.
Then we've got Ospreay and Ibushi who are banged up but most likely still going to be psychopaths in the ring. Let's get ready for the carnage, I mean, no…I meant carnage.
Ratings:
Shota Umino & Jon Moxley vs Tomohiro Ishii & Yuya Uemura: Shooter wins via Fisherman Suplex Hold @5:45 – ***
Hirooki Goto, Jeff Cobb & YOSHI-HASHI vs Toa Henare, Yota Tsuji & Juice Robinson: YOSHI wins via Butterfly Lock @9:30 – ** 1/4
Tomoaki Honma, Ren Narita & Toru Yano vs Jay White, Chase Owens & Yujiro Takahashi: Owens wins via Package Piledriver @8:50 – ** 1/2
BUSHI, Tetsuya Naito & Shingo Takagi vs Taichi, Minoru Suzuki & Yoshinobu Kanemaru: Suzuki wins via Gotch Style Piledriver @8:35 – ** 1/2
A Block: KENTA vs Lance Archer: Kenta wins via Game Over @12:00 – *** 
A Block: SANADA vs EVIL: EVIL wins via Everything is Evil @18:10 – **** 1/4
A Block: Bad Luck Fale vs Kazuchika Okada: Okada wins via Double Legged Cradle @10:15 – ** 1/2
A Block: Zack Sabre Jr vs Hiroshi Tanahashi: Tanahashi wins via Triangle Counter Pin @13:55 – *** 3/4
A Block: Kota Ibushi vs Will Ospreay: Ibushi wins via Kamigoye Knee @27:15 – **** 3/4
Analysis:
Moxley and Ishii start off trying to kill one another. This is a great opener and the respective Young Lions have to pull their veteran off as to not incur a disqualification. The Young Lions then take the bulk of the match and Shota has definitely picked up a few mannerisms from Moxley that we slowly see him unlocking. This may be our evolution of Shooter, but for an opening match this was very fun and the fact Moxley and Ishii just want to fight added for a neat dynamic.
Juice and Cobb are both respectful Gaijin faces, so not a lot of heat for this match. Plus YOSHI-HASHI was in it, so I could've downed a few Valium and been more invested in staring at a wall. Pork Chop Sandwiches later, and YOSHI-HASHI wins with that awful Butterfly Lock. Great…I can now taste colors.
So Yano wanted to get him a piece of the Jay White on the down turn, but Jay tried to still play the calculating heel. Honma put in a bit of decent work but Narita was obviously the one sent out to eat the pin. Narita held his own against Yujiro and Chase, but Chase eventually stopped playing with his feud and hit the Package Piledriver to tie things up in a nice little bow.
Shingo took a hell of a beating in this match. Kanemaru played random interference and Taichi took Shingo to the woodshed. Naito also continued his distaste of Taichi and Suzuki while being a little protective of Shingo at points. Now being the unabashed fanboy of Shingo, yet also a subscriber to Holy Emperor weekly, I'm very torn about this whole thing. The match played up the G1 tensions and the LIJ vs Suzuki-Gun tensions very well, but my heart knows not which to root for.
Lance is a good foot taller than KENTA and that was the story of the first 75% of this match. Lance was shrugging off the strikes of our returning striker. KENTA was getting effectively crushed, until Lance pushed the anime comeback button and said "You're fucking Hideo! That's who you are! HIDEO!" – which prompted the anime comeback in KENTA. KENTA managed to even lift Lance for a few things, but relied heavily on the dropkicks and strikes. He couldn't quite pull off the Go 2 Sleep, so he went to his Crossface submission, Game Over. And boy howdy, it was game over! (I will see myself out after that)
EVIL and SANADA have this brotherly rivalry in LIJ. Being former 2 time IWGP Heavyweight Tag Champions, familiarity is obvious. SANADA starts off the match quickly and this is definitely a match of quick bursts when the one gets an advantage. I guess they are transitioning SANADA away from the Paradise Lock since this is the second match where he had it mostly on, but "something happened" and the opponent gets out of the move. We get a bunch of great back and forth, but something that continues to plague SANADA is his limited moveset when it gets down to crunch time. EVIL pulled out a plethora of tricks, including using the referee as an anchor for the Magic Killer. Whereas, SANADA sticks to Dragon Sleeper variants, into Skull End attempt or a Moonsault. With how over SANADA is, I really expect him to start getting more crunch time maneuvers. EVIL wins and quickly wants to bury the hatchet by extending the LIJ fist bump. SANADA bumps fists, and all is fine in our ungovernable world.
Fale tends to have Okada's number in tournaments, and he starts off by attacking him in the back and dragging him out. So we get a typical Bullet Club brawl with heel tactics and ref bumps, but Okada perseveres. Okada is able to lift Fale a few times, but can't hit the Rainmaker, and wins via the wrestling move he tends to fall back on, the Double Legged Cradle.
Well both Tanahashi and Sabre come into this match 0-2, so there's a level of desperation that both bring to the table. Sabre wrestled circles around Tanahashi, and Tanahashi just tried to keep up for most of the match. After countering the High Fly Flow, Sabre locks in a Triangle Arm Bar, but Tanahashi floats over for the bridging pin counter. The Ace finally has 2 points!
There have been well known injuries for both of these men, and they played into the story of the match well. Focusing on each other's injuries, calling back to their Wrestle Kingdom match and just a generally high energy and high impact match. Watching this match, you have to assume one of them will die with their style, but it is damn entertaining. Everyone expected this to be a great match and it delivered.
Overall Score: 8/10
Well we had a lot of good storylines and matches that mostly paid off. Lance Archer has been doing great work, Fale and Okada was at least somewhat entertaining and the cripple fight in the main event was fantastic. The inner faction turmoil was now squashed, so we can have a nice tournament while The Ace gets a few points over the petulant British child.
So great show, great entertainment, and generally a good time. I can only hope the B Block carries equal weight.
Block A Standings:
Kazuchika Okada: 3-0 (6 Points)
KENTA: 3-0 (6 Points)
Lance Archer: 2-1 (4 Points)
EVIL: 2-1 (4 Points)
SANADA: 1-2 (2 Points)
Hiroshi Tanahashi: 1-2 (2 Points)
Will Ospreay: 1-2 (2 Points)
Bad Luck Fale: 1-2 (2 Points)
Kota Ibushi: 1-2 (2 Points)
Zack Sabre Jr: 0-3 (0 Points)
Mitchell's WWE NXT Results & Report! (7/17/19)
Who is the first to challenge the champ?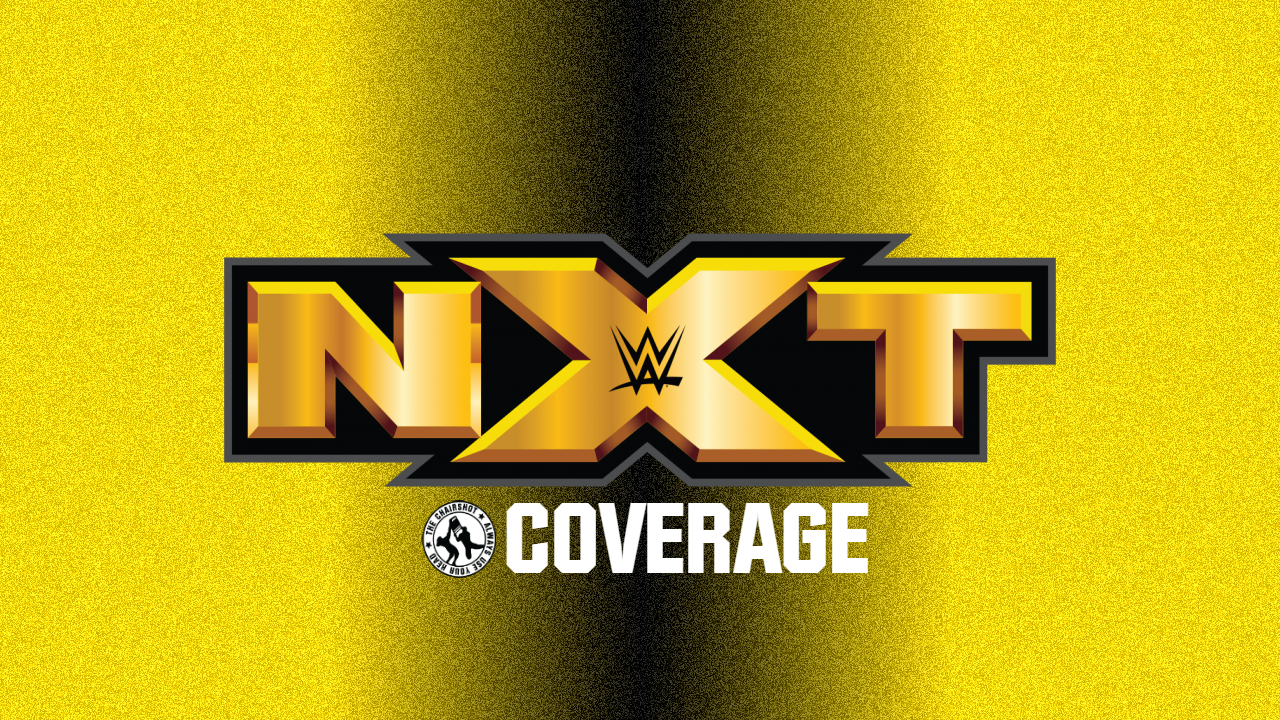 The NXT Champion returns to Full Sail, BAYBAY!
After making some stops on his Championship Celebration Tour BAYBAY, Adam Cole finally returns home! And he's even daring to put the NXT Championship on the line tonight! Who steps up to the challenge?
OFFICIAL RESULTS
Matt Riddle VS Arturo Ruas; Riddle wins.
NXT Breakout Tournament: Bronson Reed VS Dexter Lumis; Reed wins and advances to the next round.
Apollo Crews VS KUSHIDA; KUSHIDA wins.
NXT Championship: Adam Cole VS ???; No Contest.
PLAY BY PLAY
Matt Riddle VS Arturo Ruas!
Bro… NXT brings some Evolve as the Original Bro takes on the Brazilian Tiger! Both men had great wins during the Evolve 10th Anniversary Special, but who will win what is surely going to be a fight?
The bell rings and Riddle fist bumps Ruas to show this is still respectful. They test each other with jabs and kicks, but they keep their space. Riddle goes for a leg but Ruas sprawls. Riddle gets the waistlock and slam, but Ruas switches on the mat. Ruas rolls Riddle and wants a sleeper but Riddle rolls out to switch with Ruas. Fans rally and cheer for the Bro as he scrapes Ruas off his leg. Riddle and Ruas approach and Ruas tries some hands. Riddle throws them back then powers Ruas to a corner. The ref counts but Ruas turns things around, only for Riddle to hop on! But Ruas powers out to a slam! Ruas goes for the arm but Riddle holds tight. Ruas CHOPS Riddle but Riddle rolls to go for Ruas' arm! Riddle gives back the CHOP as he works on the grip.
Ruas rolls and slips out to then get a facelock. Riddle pops out and gets his hands up, and fans cheer again. Ruas tries his capoeria stance but Riddle fires through it. Riddle has a leg but Ruas trips him up! Riddle gets the ropebreak and Ruas lets go. The two get up again and the dukes are up. Riddle tries kicks but so does Ruas. Riddle just gets Ruas with his foot! Ruas shrugs it off and tackles Riddle! But Riddle has the leg guard and elbows. Ruas tries palm strikes but Riddle gets away. Riddle comes back with hands, but misses his kick to block Ruas' and boot Ruas down! Ruas kicks from the mat then trips Riddle up! Ruas rains down hands but Riddle heel kicks back, FINAL FLASH KNEE! Riddle rains the rights, Ruas can't defend himself! The ref calls it!
Winner: Matt Riddle, by stoppage
Ruas gets #Broverwhelmed by Riddle, but Riddle doesn't get to celebrate long! Someone attacks from behind! They wear a hoodie so we can't see who they are as they stomp Riddle out! But then the hood comes off, it's KILLIAN DAIN! And he drops big sentons on Riddle! The Beast of Belfast throws Riddle out of the ring hard, then goes out to run him over! Dain rains down rights, then throws him by his hair! Riddle crawls to retreat but Dain keeps on him with stomps. Dain CLUBS Riddle then kicks him into the apron. Dain clobbers Riddle over and over, and drops a fourth senton! Fans boo the Belfast barbarian as he rains down more rights.
Dain hauls Riddle up to throw him to the stage. Riddle crawls but Dain kicks him while he's down. Dain runs and drops a fifth senton, and they both crash through the floor!! Dain promised to take everything from everyone, is Riddle just the first victim?
The NXT Tag Team Champions, the Street Profits, have a special edition of #StreetTalk!
This very special edition is rather quiet as they talk about the fact that, while the titles say the Street Profits are the champs, there are others that think the belts are theirs. Dawkins and Fords know Kyle O'Reilly and Bobby Fish are the ones running around trying to own the place. They disrespect the Profits. Nah, fam. These titles are serious. If the Profits weren't serious, how did they win the ladder match? How did they win period? But if reDRagon wants to see the smoke, come see them. The Profits will still be the champs, "and that… is undisputed." Will the Profits burn O'Reilly & Fish when they finally go 2v2?
NXT shares fan footage from Saturday.
Marina Shafir had only just pulled into the parking lot, when Mia Yim attacked! The Head Baddie in Charge gave one of the MMA Horsewomen a taste of their own medicine as she beat Marina down, and then SLAMMED the door shut on her! Is this going to get Shayna Baszler's attention?
NXT Breakout Tournament: Bronson Reed VS Dexter Lumis!
The opening round of this inaugural tournament wraps up with perhaps the most physically imposing men of the field. First is the menacing maniac hailing from an "undisclosed location," whose thousand yard stare into your soul might be reason enough not to fight him. Second is the bar brawler from Australia's Black Forest, who welcomes anyone to test his Australian Strong Style. Who joins Angel Garza, Jordan Myles and Cameron Grimes in the semifinals?
Lumis frames Reed like a picture but Reed looks to crush Lumis with his hand. They tie up and Reed headlocks Lumis. Lumis pulls hair then powers out. Reed runs Lumis over but Lumis is right up! That surprises Reed, but he swings a clothesline. Lumis ducks and runs but Reed follows to run Lumis over! Reed scoops Lumis but Lumis slips out, shoves and elbows Reed out of the ring. Lumis then runs to FLY! But Reed gets free, only for Lumis to land on his feet!? Reed dodges Lumis to crossbody Lumis down! Fans fire up for this as Reed drags Lumis up. Reed puts Lumis in the ring and stands him up, but Lumis throat chops. Lumis whips and trips Reed into ropes! Reed gasps for air but Lumis rains down rabid rights. The eerily stoic Lumis is now fired up as he stomps Reed around.
Lumis frames the picture and pulls on Reed's ears. The ref reprimands Lumis so he shifts to a neck wrench. Fans rally up and Reed fights up, but Lumis throws him back down. Lumis drops ax handles and elbows, then puts the neck wrench back on. Fans rally again and Reed endures. Lumis licks Reed?! Perhaps he wants a taste of Reed's pain. But Reed only gets mad and fights his way up. Reed throws forearms but Lumis knees low. Lumis runs but into Reed's powerslam! Both men are down as Lumis clutches his ribs. Lumis is up but Reed follows to rally with forearms and elbows. Reed whips and back drops Lumis high and hard! Lumis leans on the ropes, Reed runs and bounces Lumis off the ropes, and runs him over with his full body! Cover, TWO!
Reed keeps going and drags Lumis up for a suplex. Lumis slips out to back suplex Reed! And then kips up to a leg drop! Cover, TWO! Lumis keeps his cool and goes to a corner while Reed is down. Lumis climbs up top, frames the picture, and leaps, to flop! Reed lifts Lumis for a back suplex SLAM! The straps come down and now Reed climbs!? Reed leaps, SUPER SPLASH! Cover, Reed wins!
Winner: Bronson Reed, by pinfall; advances to the second round
Australian Strong Style advances! Will he continue to make a big splash when he goes up against Cameron Grimes next?
Tyler Breeze has a new NXT photoshoot.
Prince Pretty finishes up and Cathy Kelly asks for an interview. Breeze agrees, so long as they walk and talk. Cathy walks with Breeze about losing to Roderick Strong. Well the thing about NXT now is that it's good to have someone watching your back. So Breeze either adapts or- The Forgotten Sons walk in and can't believe there's another "blast from the past." But Steve Cutler tells Breeze this isn't the old NXT, this is not the Tyler Breeze Show. This is the NXT where real men compete.
Breeze is a man, check the beard. But yeah, Breeze hasn't been here awhile, but good to see Cutler and Wesley Blake are still stuck here. And didn't Jaxson Ryker used to be Buddy Murphy? The Forgotten Sons say Breeze's jokes are why he's never been taken seriously. Ryker is a savage, and Breeze has never faced a man like him. Well guess what? Breeze has seen everything he needs. Will Breeze still be gorgeous after a going against the Gunner?
The #EvilGenius will return to action next week!
Io Shirai's new entrance, new look and new attitude came with the simple message: "I don't need anyone." Will this new attitude be what she needs to make it back to the top? Her return match against American Ninja Warrior, Kacy Catanzaro, will test that theory!
Apollo Crews VS KUSHIDA!
The Time Splitter is still undefeated in NXT, and he is willing to take on anyone and everyone from within the WWE! Now SmackDown's rising star returns to Full Sail to test the Super Junior, will Kushida's streak continue?
Full Sail "Welcome Back!" Apollo as he heads to the ring. The bell rings and Apollo shakes hands with Kushida to show this is a respectful match. The two circle and tie up, and Apollo gets out of Kushida's grip. Apollo comes back to get the waistlock and throw Kushida down. Kushida works his way up and around to waistlock and facelock. They roll around and Kushida holds on to then float all over Apollo, back to a gator roll and cover, TWO! Apollo ducks the Penalty Kick just in time, and Kushida lets him know how close it was. Fans duel as the two circle and tie up again. Apollo headlocks but Kushida powers out, only for Apollo to run him over. Things speed up and Apollo shows his agility, but so does Kushida! They keep moving and Apollo dropkicks Kushida right down!
Apollo strikes a pose before he wrenches and whips Kushida corner to corner. Apollo hits a corner clothesline then whips again, but Kushida slides out. Kushida plays cat 'n' mouse to then handspring heel kick Apollo down! Apollo is down but Kushida goes out to fetch him. Kushida puts Apollo in, then goes after the arm. Kushida headbutts the shoulder then runs, but into a pop-up gutbuster! Both men are down and fans rally up. Apollo stands to drag Kushida up, then suplexes and holds Kushida up for over 20 counts! Cover, TWO! Apollo keeps on Kushida with a chinlock and thrashes him about. Kushida endures and fans rally up.
Kushida stands, fights back, then runs, but into Apollo's elbow! Apollo drags Kushida back up to throw haymakers. Apollo throws hands in the corner then whips Kushida corner to corner again. He hits a big splash then a big overhead suplex! Cover, TWO! Apollo drags Kushida up again for forearms, backing Kushida down to a corner. He whips Kushida corner to corner agian but misses the splash this time! Kushida throws forearms back! Apollo mule kicks, runs to a corner, but Kushida catches his headscissors to KICK Apollo down! Fans rally as Kushida gets up first.
Kushida forearms Apollo at the ropes but Apollo reverses the whip. Kushida handsprings to back elbow Apollo down! Apollo is in the corner, Kushida runs in, but Apollo boots Kushida away. Apollo runs but into Kushida's hip toss! Kushida cartwheels and dropkicks to add on! Apollo gets to a corner as fans fire up with Kushida. Kushida goes to the apron to kick Apollo out of the corner! Then step-in springboards in for a tornado DDT! Cover, TWO! Kushida drags Apollo up and wrenches the arm to a shoulder breaker. Kushida runs and slides under to kick away on the arm. Apollo catches the kick, then blocks the takedown counter! He fireman's carries but Kuhisda slips out to a waistlock. Apollo standing switches, but Kushida elbows free. Kushida runs into a BOOT! Cover, TWO!
Kushida survives but Apollo drags him up for a deadlift German Suplex! But Apollo holds on for a second, a la the Gold Medalist, Kurt Angle! The third German is a release, and leads to a standing shooting star! Cover, TWO!! Kushida survives again and Apollo is shocked. Full Sail is thunderous for "Both These Guys!" as Apollo stands Kushida up again. Apollo trophy lifts but Kushida slips out. Kushida catches Apollo to give him a buckle shot! Then Kushida springboards, huricanrana but Apollo rolls through, TWO!! Kushida Peles but Apollo enziguris! Both men are down and fans are loving "NXT! NXT!" for this match.
A standing count begins and Apollo slowly sits up. Apollo gets up at 4 to go to the apron. Apollo then climbs, but Kushida hurries over. Kushida stops Apollo with a forearm, then throws more as he climbs. Apollo gives forearms back, and the two start trading. Apollo sends Kushida down, but Kushida is up to handspring heel kick Apollo back! Kushida climbs up and stands Apollo, for a SUPER ARMBAR TAKEDOWN! Apollo flails and works his way up to his feet. He drags Kushida but Kushida rolls Apollo away, SAKURABA LOCK! Apollo endures the kimura but taps out, Kushida wins!!
Winner: KUSHIDA, by submission
An incredible battle brings Apollo and Kushida to their limits, but it is the Super Junior's streak that continues! How long will it take the Time Splitter to fight for a title?
Backstage interview with Keith Lee.
The Limitless One moves into his second year in NXT beginning, but what are his feelings towards his tenure here? "Tenure" makes Lee think of "progress," but what progress has he made with his stop-and-go momentum? Lee has been here a year now, but what is the real keyword? Opportunity. Opportunities were supposed to be set at his feet, but… It feels more like Lee has been passed over. There is the Breakout Tournament, but why wasn't that here when Lee arrived? And now there's this new guy, Damien Priest, and he's all the buzz. But maybe Lee should change the narrative. Maybe Lee should be the one that replaces Priest in everyone's conversations. Will Limitless #LiveForever against the Archer of Infamy?
NXT Championship: Adam Cole VS ???
He's back, BAYBAY! Adam Cole's victory lap finishes with Full Sail, and he's promised a title defense just for the fun of it. Cole picks up a mic to say, "For the past few weeks, I've been traveling all across the globe on the BAYBAY Championship Tour." What he did is to show the morons what a true champion is. He showed us what true power is! And while he's been gone, the Undisputed Era has been taking care of business. There is now an #UndisputedPowerSwitch in NXT, but Cole is a fighting champion. Anyone, anytime, anywhere! And that starts tonight! And against… Johnny Gargano?!
A video of Gargano plays, from when he shared the NXT Championship belt with the aspiring wrestlers in Cleveland. It was such a surreal moment for those young stars, and so… "Twan Tucker, c'mon down!" And he's here in NXT! Cole says it's good to see him again. Hopefully Twan realizes this is the opportunity of a life time. And he promises this will just be the two of them, no Undisputed Era around. This is a fair chance to slap the taste out of Cole's mouth. Oh so it's just Cole and Twan? Too bad, because Twan didn't come alone! Twan brought JOHNNY GARGANO!! Cole is in shock as Johnny Wrestling storms out and past Twan, to brawl with Cole! Gargano rallies, blocks a superkick and gives a SUPERKICK! Then one from the apron!
Gargano chases Cole and throws hands as they go around the outside. Cole throws Gargano into railing and retreats up the stands, but Gargano still chases him down! Gargano rains down hands and Full Sail is thunderous! Gargano CHOPS and punches Cole against the railing, then pushes him back to ringside. Cole keeps retreating, but Johnny Badass keeps coming. But Cole elbows Gargnao back! Cole whips but Gargano reverses to send Cole through barriers! Gargano hops on to rain down hands and bounce Cole off the floor! Referees rush out to drag Gargano away. Cole stands tall with his title, until Gargano FLIES off the stage!!
Referees go after Gargano again but he still goes after Cole! They end up in the ring, Cole kicks low to run, but gets a SUPERKICK! And then the DIY style, into GargaNO Escape! Cole taps, but it doesn't matter right now, Gargano wants to hurt the cocky champ! Referees pry at the grip around Cole's neck, but Gargano lets go when he's satisfied! Gargano defended the honor of The Land, but will he bring the title back in yet another match with Adam Cole, BAYBAY?
NXT GM William Regal responds to this chaotic ending!
As seen on WWE's YouTube, Regal sees things between Adam Cole and Johnny Gargano will not be over so easily. So his choice is to give Gargano and Cole another Best 2 Out of 3 Falls, but where Gargano chooses one stipulation, Cole chooses another, and if need be, Regal chooses the third. In other words, NXT brings back the Three Stages of Hell!! What will Gargano and Cole choose to do to each other in order to finally, decisively, and indisputably end this feud?!
---
My Thoughts:
WOW that was an incredible episode for NXT! We waste little time getting to hard hitting action as Arturo Ruas makes his debut (ignore when he was Adrian Jaoude) and against Matt Riddle. It was great to see legit MMA-trained wrestlers give us just samples of what they can legitimately do, and what a great choice to make this a TKO, referee stoppage win as opposed to a pin or submission. It really ups Riddle's power, which he'll need after Big Damo destroyed him. It was a great spot to have them break the stage, but it was easy to see the exact panel on the stage they were going to break. I'm reminded of old cartoons, where you could tell if something was about to move because it was slightly different in shade. That aside, Dain VS Riddle is going to be awesome!
We got an awesome "fan filmed" section where Mia Yim went off on Marina Shafir. I'm surprised they didn't have a response promo from Shayna, but we can definitely get that next week. If anything, Mia might do something like this to Jessamyn Duke so Shayna will have no one in Toronto. Meanwhile, Io Shirai's Heel persona starting her in-ring journey is going to be great, but I'm sure this all leads to her and Candice LeRae for at least the "post" TakeOver episode. Reed VS Lumis was a pretty solid opening round finale, and both guys got great shine. The second round is going to be even greater with Garza VS Myles and Grimes VS Reed. Street Profits gave us a quiet but strong promo, solidifying that Toronto will feature all parts of Undisputed Era to either make or break the #drapedingold prediction.
Kushida VS Apollo, WOW! This is the Apollo we've been wanting to see back in the ring, but the main roster doesn't use him nearly enough. Kushida keeps rolling, so he'll definitely be primed for a title match after Toronto onto Chicago for Survivor Series weekend. And the announcement of Cole having a title match on NXT TV set up expectations, such as a ridiculous squash, what we got was so much better! Twan let Gargano go right after Cole and their brawl all over the arena was great. And now hearing that we're getting the (not officially named) return of Three Stages of Hell, this is going to give us the truly decisive and truly over-the-top finale to this saga between Gargano and Cole. There are any number of things the three falls can be, and you know they're doing all three falls, Toronto is going to be insane.
My Score: 8.6/10