Cook: Dana Warrior on WWE Creative? Why Not?
Why not Dana Warrior?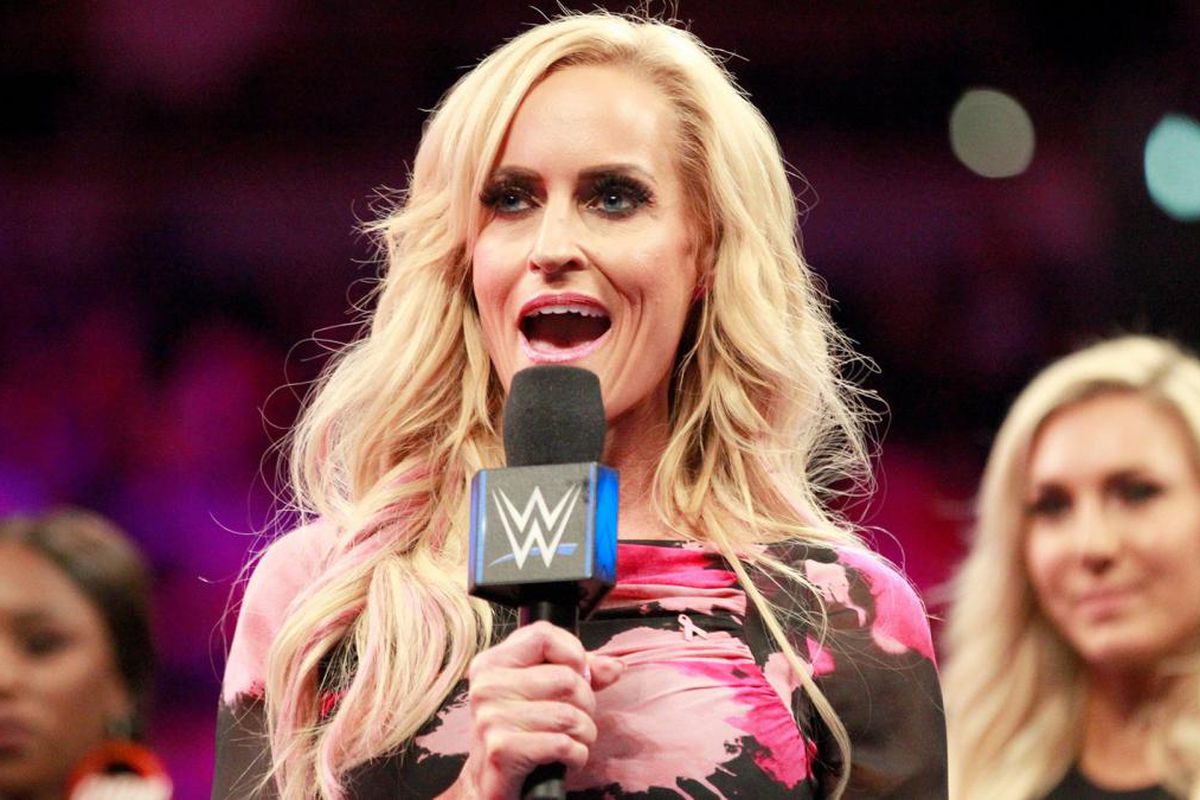 Dana Warrior, widow of The Ultimate Warrior, has joined WWE creative and fans went nuts. But Steve Cook asks "Why not Dana Warrior?"
One of the things that us wrestling fans complain the most about is WWE Creative. Ironically enough, one of the things us wrestling fans know the fewest details about is WWE Creative. We've gained insight through the years from former writers, though one may say that their differing accounts somewhat limit the insight we've gained.
We don't know who comes up with the storylines we see play out on Raw, SmackDown & other shows. It's not like there's credits at the end of each segment listing out writers & producers. Sometimes we find out years after the fact who pitched things, or who was involved with tweaking things and making them better or worse. Especially with a company like WWE that has such a huge Creative department, it's pretty much impossible for an outside observer to tell you who's good at writing the sports entertainment and who sucks at it.
We can tell you who was good. And we can tell you who sucked.
Past tense.
So I'm not one of those people that gets all worked up over WWE's latest creative hires. Like when they hired Freddie Prinze Jr. many years ago…my main hope was that his wife would be on Raw. I had no idea if he had any knowledge of pro wrestling, or could write a good soap opera or whatever, so why would I get all mad about WWE hiring him?
There have been a couple of additions to WWE Creative lately, at the very least in a trial/consultant role. One of them is Bruce Prichard, and I take my hat off to him for making the most out of his podcast. Dude got back in WWE & gained a fanbase that believes whatever he says. Well done. Bruce is an old school sports entertainment guy and is in league with the things Vince McMahon finds entertaining, so he'll add that to the process.
Another recent addition is Dana Warrior. Dana, the widow of former WWE Champion Warrior, has worked for WWE as an Ambassador in the years since Warrior's death. We typically see her at the Hall of Fame ceremony to present the Warrior Award, and during Breast Cancer Awareness Month when WWE does the "Unleash Your Warrior" campaign.
I'll be honest with you, folks. I don't know what types of ideas Dana Warrior brings to the table. I don't know how long she's watched wrestling. Examples of her creative writing aren't easy to find. Reportedly she was brought in for "a female perspective", which I have no doubt she brings. I have nothing good or bad enough to base an opinion on. Maybe she'll do great, maybe she won't.
Apparently the Internet has all kinds of insight into Dana Warrior's writing ability that I don't. They've been losing their minds over the idea of Dana having anything to offer to WWE Creative since the news was reported. I can figure out the three main reasons why without much thought…
She was married to Warrior
There's a healthy portion of the IWC that has a hatred in their hearts for the Ultimate Warrior that knows no bounds. To be fair, Warrior said some hateful stuff in his life & I am with the people questioning the usage of his likeness for things like breast cancer awareness that he wouldn't have given a hoot about when he was alive. Just like when WWE tried to name a battle royal after the Fabulous Moolah, the legacy makes things complicated.
That being said, I'm not going to dismiss Dana's ability to contribute because of the sins her husband committed. What happened to judging people based on their own merits? Am I supposed to dismiss everybody that has been friendly with anybody I find morally reprehensible? That doesn't sound like an intelligent way to live life, especially as a bleeding heart liberal living in Kentucky.
She's a woman
Not that I'm saying that everybody in the Internet Wrestling Community is a sexist. It's just I've noticed over the years that whenever women get some creative power, the complaints tend to ramp up. Stephanie McMahon was blamed for everything bad to come out of WWE Creative for years on end. The idea of Christy Hemme joining TNA's creative team was ridiculed. Madison Rayne got a little less flack than Christy did, but the bottom line remains.
Booking wrestling matches has always been a bit of a boys' club. Adding women to the mix makes people uncomfortable…even some the fans watching the stuff. Somehow we take issue with women writing stuff for male characters, but are more than fine with men writing for female characters. Weird, right?
We complain about everybody they hire for Creative
When's the last time WWE hired somebody on the writing team that we all thought was a good idea? Paul Heyman? Most of them are people we've never heard of, but hear a bit in their resume that we don't like. David Lagana wrote an episode of Friends, so we wondered what the heck that had to do with wrestling. I'm pretty sure somebody else wrote an episode of Homeboys In Outer Space, though that may have also been Lagana. We even complain about the wrestling people. I remember being confused when Dusty Rhodes was hired for creative. He hadn't exactly done the best work in TNA just before getting the job.
When we make all of these complaints for all of these reasons, we're all missing one important point: It all goes through Vince McMahon anyway. What does it matter if it's Dana Warrior, Paul Heyman or Freddie Prinze Jr. pitching the ideas when the same guy's making the final decision?
I say give Dana a chance. We might find out years from now on whatever the next thing that comes along after podcasts is that she had a ton of great ideas that powered WWE through 2019. Stranger things have happened.
King's WrestleMania Rewind: Charlotte Flair vs. Asuka from WrestleMania 34
Chris king is back with one of the most underrated matches in WrestleMania history–Charlotte Flair vs. Asuka!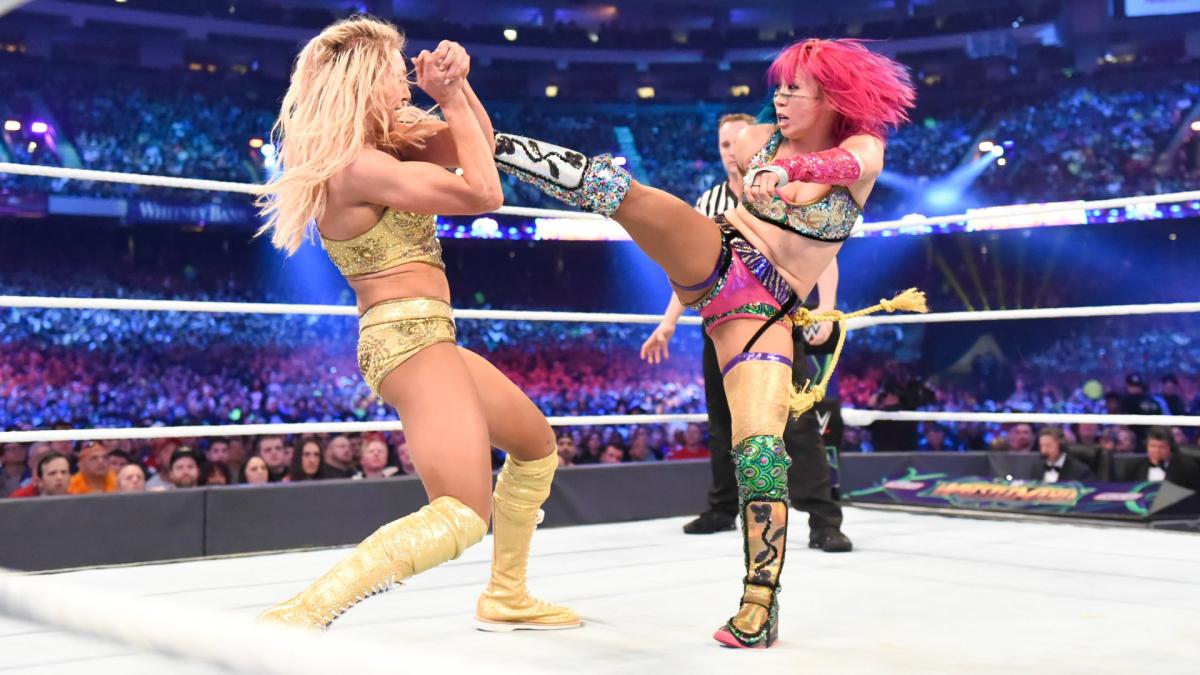 Chris king is back with one of the most underrated matches in WrestleMania history–Charlotte Flair vs. Asuka!
We look back at Charlotte Flair vs. Asuka at WWE WrestleMania 34. 'The Empress of Tomorrow' put her unprecedented and historic undefeated streak of 914 days on the line against 'The Queen's' SmackDown Women's Championship.
For years, this was considered a dream match while Asuka dominated the roster in NXT, while Flair won numerous championships on the main roster on both Raw and SmackDown. The Empress made her long-awaited debut on the September 11th episode of Raw and began to tear through the competition.
Asuka outlasted all twenty-nine other women in the historic first-ever Women's Royal Rumble match to challenge for the title of her choosing. At Fastlane, she made her choice.
The WWE Universe was so excited for this match myself included. Both superstars delivered a fantastic performance on the Grandest Stage of Them All executing counter after counter. Asuka showed off some nasty-looking kicks to her opponent, and Flair hit a thunderous Spanish Fly off the top rope. Flair was seconds away from defeat at the hands of The Empress but she locked in Figure Eight and Asuka was forced to tap out.
I can't even begin to explain how shocked I was at this outcome, as nearly everyone expected The Empress to continue her undefeated streak and walk away with the women's title. This controversial decision was the downfall of Asuka's momentum. She would ultimately win the SmackDown Women's Championship at the 2018 TLC pay-per-view in the triple-threat ladder match.
Fast forward to this year when Asuka has recently returned with her Japanese-inspired persona Kana. Kana is dangerous and ruthless and is heading into a championship with Bianca Belair at WrestleMania 39. The Empress has regained all her momentum and is highly favored to walk away with the Raw Women's Championship. Let's hope that Asuka and Belair can tear the house down and deliver an A+ grade match both women are fully capable of.
King: Dominik Mysterio Needs To Do This At WrestleMania
Chris King is here with what WWE should do with Dominik Mysterio at WrestleMania in his long-awaited match against his father Rey Mysterio Jr.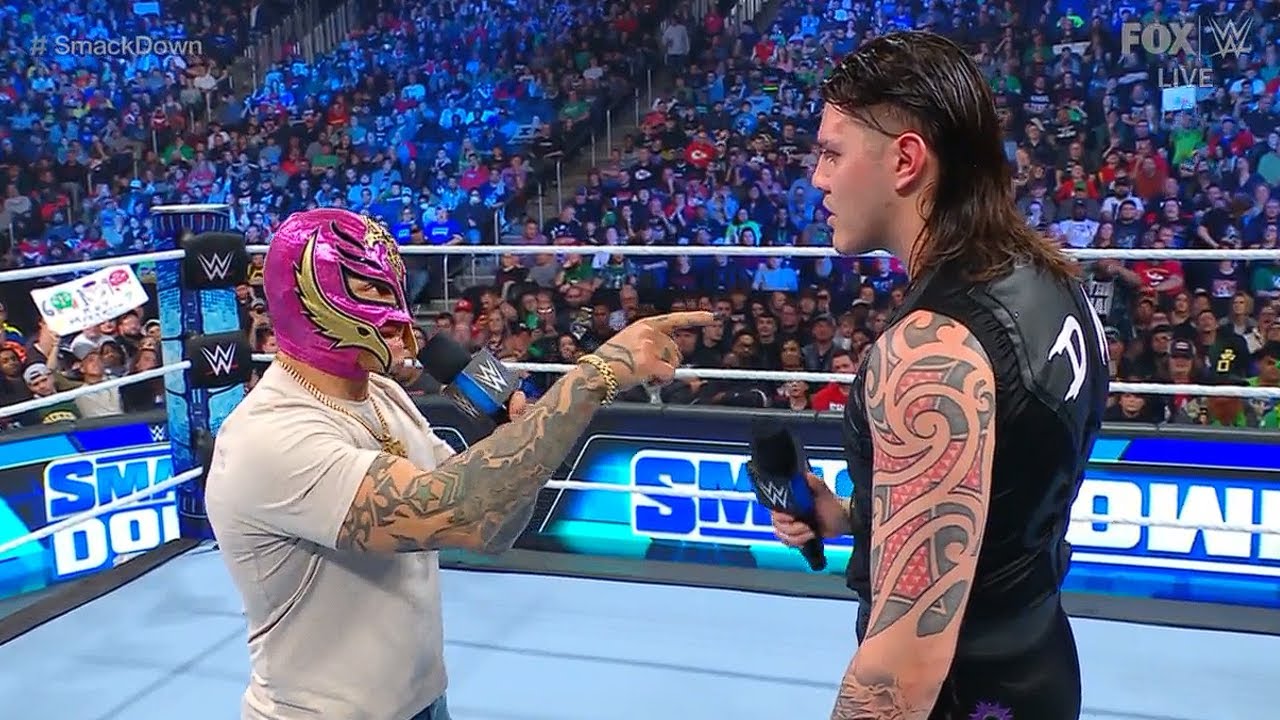 Chris King is here with what WWE should do with Dominik Mysterio at WrestleMania in his long-awaited match against his father Rey Mysterio Jr. 
On this week's episode of Friday Night SmackDown, Rey Mysterio finally snapped and beat some sense into his disrespectful punk-ass kid Dominik. The member of the Judgement Day came out to push his father again for a match on the Grandest Stage of Them All, this time with his mother and sister at ringside. The ungrateful punk told his mom to "Shut Up," as a father even I wanted to jump through the screen and whoop his ass.
Back in October of last year, Mysterio made the emotional decision to possibly quit the company but, instead, Triple H persuaded the Lucha libre superstar to move over to SmackDown to avoid his son. This came after Dominik shockingly turned on his father at Clash at the Castle. Mysterio did everything he could to refuse his despicable son's challenge for Mania but, a man can only be pushed so far. Mysterio will be inducted into the 2023 WWE Hall of Fame and I expect Dominik to embarrass his father during his speech to further this personal feud.
Yes, the WWE Universe hates Dominik and wants to see him get the ever-loving crap kicked out of him but, this feud is missing a special ingredient to capitalize on the biggest heat possible. Throughout this feud, Dominik has made mention of the legendary Eddie Guerrero on several occasions going back to the "iconic" 2005 feud.
I know WWE might not want to go this route but, Dominik MUST come out to Eddie Guerrero's theme at Mania. The disrespectful punk needs to come out in a lowrider to garner nuclear heat. It doesn't matter if The Judgement Day comes out and causes interference for Dominik to get the win, all that matters is that both superstars get the biggest payoff of this nearly year-long feud. Just imagine the Roman Reigns heat after he defeated The Undertaker and multiply that by ten. Dominik portrays the perfect heel and he truly is the missing ingredient that The Judgement Day needed to grow and evolve into a top faction.