Fight or Flight: The Ongoing Drama of The New Day in WWE
The angle that has everyone talking…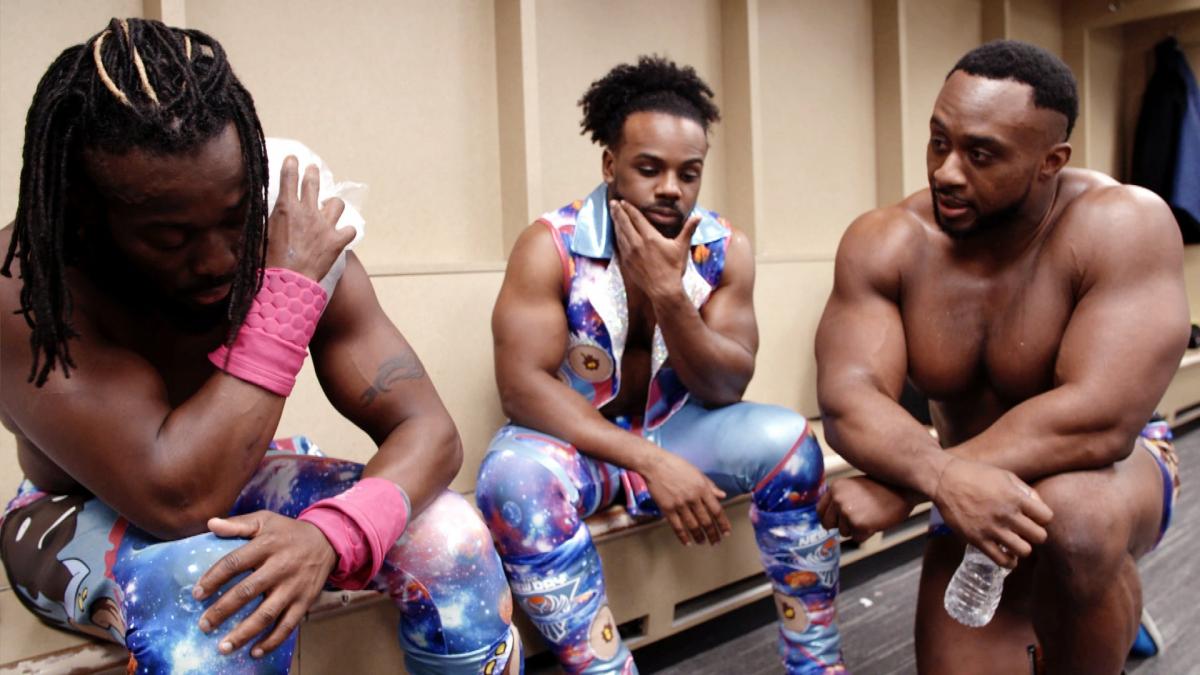 The New Day is at a crossroads, or so WWE would have everyone believe. The typically fun-loving trio has hit a wall and is contemplating quitting the company due to recent events involving Kofi Kingston's pursuit of the WWE Championship.
It's all storyline of course. Maybe Big E and Xavier Woods were instructed to vent on social media, or maybe they pitched the idea and WWE signed off on it. Either way, the three Superstars are likely not going anywhere any time soon. So what is the point of all this?
In a perfect world, unity is the most important thing. E, Woods and Kingston have had each other's backs for nearly five years, making them the longest running faction in WWE history. No matter what challenges have come their way, they've faced them together. The New Day has always been about the whole, not the one.
To find that kind of loyalty in any walk of life is a rare thing indeed. But that's especially true in the pro wrestling business, where tag teams and stables come and go all the time. Eventually, a talent's gaze shifts from the group to a championship. The lust for that championship becomes all-encompassing and sooner or later, the faction falls apart.
It happened with Triple H in D-Generation X and Evolution. It also happened with Seth Rollins in The Shield. But these are just two examples where the prize became more important than the partnership. 
But in the case of The New Day, this has not happened. Kofi's world championship dreams lay dormant for many years before he finally got his shot versus Daniel Bryan. Kingston was a champion with his two best friends and that was enough for him. It was also enough for the fans.
Indeed, when the WWE faithful speculated on The New Day's demise, Big E was often the one predicted as the breakout star. He was just too big and too charismatic to not stand out from his New Day brothers. 
Most of the possible scenarios involving Big E included him turning heel, with Woods and Kingston perhaps remaining a tag team. It was similar to Batista's turn on Evolution, except Big E would be the heavy. He would leave his best friends in ruins, while he rose to the top of WWE. So is that still a possibility?
As fans try to find some sort of deep meaning here, the conversation regarding The New Day's breakup is returning to the forefront. While it's indeed refreshing to see a faction that takes care of its own, The New Day is still comprised of competitive Superstars. Competitive Superstars want to win and that means taking every opportunity available to do just that.
So if the carrot of championship gold was dangled in front of Big E, would he bite? Most fans would likely say yes. Of the three, Big E is the one that seems to be the more inclined to go heel and take advantage of the situation. But is that really the case?
— Florida Man (@WWEBigE) March 20, 2019
Xavier Woods has never really been portrayed as the primary mastermind behind The New Day, but that's exactly what he is. He is the architect of the group and just like Seth Rollins, he might jump at the chance to become the next big thing. So where does that leave Kofi?
Kofi is perhaps the least likely to go heel here. He's just so likable and his character has so much heart, it's hard to imagine WWE fans turning on him. Of course if Kingston were to side with Vince McMahon to not only get his title opportunity but also perhaps win it? Then all bets are off. Kofi Kingston would become public enemy No.1.
It's definitely an intriguing proposition. Kingston has never had the chance to fully flex his muscles as a heel. He would surely be up to the test and he may just impress everyone with his range as a performer. But in the likelihood of possible outcomes, this is one that is perhaps slim at best. 
The fact is that for many WWE fans, the time has come to look deeper. Simply destroying Kofi Kingston on a regular basis in order to get him over seems incredibly simple and frustratingly repetitive. There has to be more to it than that. Right? Even if Kofi wins the WWE Championship at WrestleMania 35, which many believe he will, does everything just go back to normal with The New Day afterward?
We have kept other skills on deck for a reason…. pic.twitter.com/3B2IrqKqrE

— ✈️ GDC Wed/Thurs✈️ (@XavierWoodsPhD) March 20, 2019
But in the imperfect world of WWE, the ends justify the means. Or they don't at all. It really depends on what day of the week it is. On one hand, Woods and E look like cowards for wanting to just cut and run. Top babyfaces stay and fight. They battle to the death if it means never giving the heel the satisfaction of owning the day. Babyfaces have much more honor and pride than to just walk away.
However on the other hand, maybe it's indeed Kofi who wants to stay and fight. He could suddenly begin to see Big E and Xavier Woods as cowards as well and even chastise them for it on TV. How could they even contemplate walking away when The New Day has never backed down from a fight? Just that attitude alone could be enough to cause Woods and E to turn heel on Kofi. Then The New Day would be in tatters, just like every faction before them.
But in this modern PC world, the idea of leaving because the job you love doesn't love you back, is pitch perfect. Sometimes it's not enough to stay the course and keep striving to be the best. Sometimes it's best to know when to move on, if only for the sake of maintaining sanity. 
Despite what the truth is here, it's obvious that everyone is talking about this angle. Fans are invested and that's the most important thing. Kofi Kingston is the right player in the right moment and the crowd is on this journey with him. They're also with The New Day as a group. Every twist and turn adds even more compelling layers to this storyline. Whether or not it will all mean anything in the end, remains to be seen.
King's WrestleMania Rewind: Charlotte Flair vs. Asuka from WrestleMania 34
Chris king is back with one of the most underrated matches in WrestleMania history–Charlotte Flair vs. Asuka!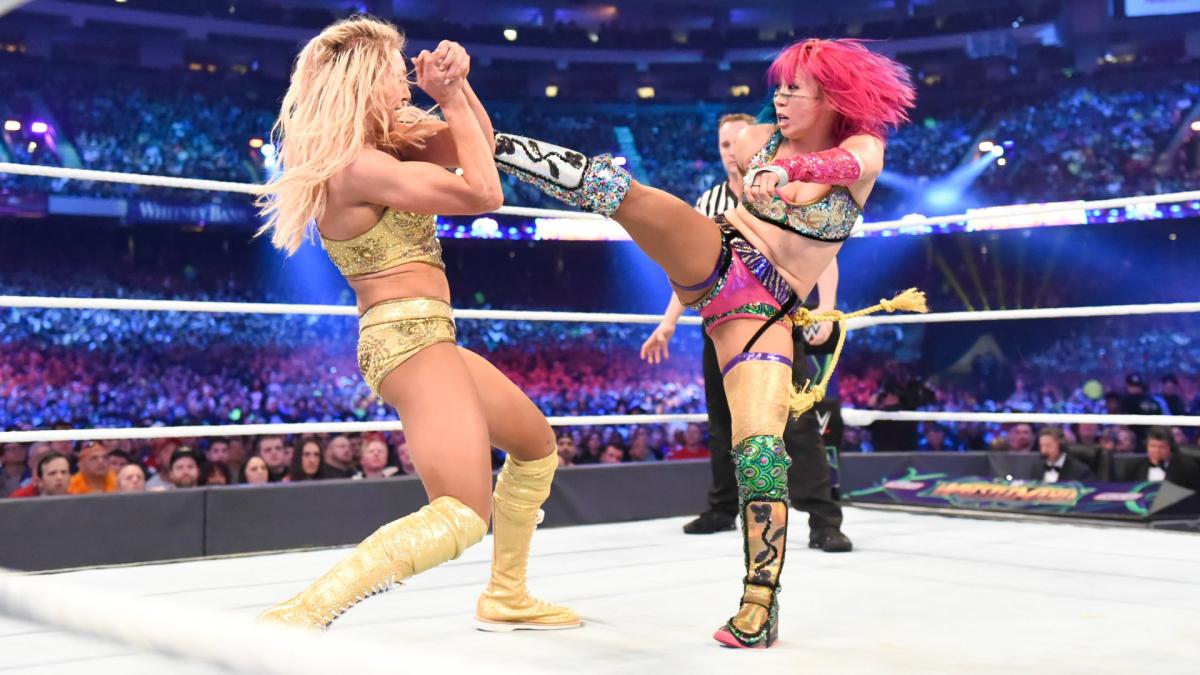 Chris king is back with one of the most underrated matches in WrestleMania history–Charlotte Flair vs. Asuka!
We look back at Charlotte Flair vs. Asuka at WWE WrestleMania 34. 'The Empress of Tomorrow' put her unprecedented and historic undefeated streak of 914 days on the line against 'The Queen's' SmackDown Women's Championship.
For years, this was considered a dream match while Asuka dominated the roster in NXT, while Flair won numerous championships on the main roster on both Raw and SmackDown. The Empress made her long-awaited debut on the September 11th episode of Raw and began to tear through the competition.
Asuka outlasted all twenty-nine other women in the historic first-ever Women's Royal Rumble match to challenge for the title of her choosing. At Fastlane, she made her choice.
The WWE Universe was so excited for this match myself included. Both superstars delivered a fantastic performance on the Grandest Stage of Them All executing counter after counter. Asuka showed off some nasty-looking kicks to her opponent, and Flair hit a thunderous Spanish Fly off the top rope. Flair was seconds away from defeat at the hands of The Empress but she locked in Figure Eight and Asuka was forced to tap out.
I can't even begin to explain how shocked I was at this outcome, as nearly everyone expected The Empress to continue her undefeated streak and walk away with the women's title. This controversial decision was the downfall of Asuka's momentum. She would ultimately win the SmackDown Women's Championship at the 2018 TLC pay-per-view in the triple-threat ladder match.
Fast forward to this year when Asuka has recently returned with her Japanese-inspired persona Kana. Kana is dangerous and ruthless and is heading into a championship with Bianca Belair at WrestleMania 39. The Empress has regained all her momentum and is highly favored to walk away with the Raw Women's Championship. Let's hope that Asuka and Belair can tear the house down and deliver an A+ grade match both women are fully capable of.
King: Dominik Mysterio Needs To Do This At WrestleMania
Chris King is here with what WWE should do with Dominik Mysterio at WrestleMania in his long-awaited match against his father Rey Mysterio Jr.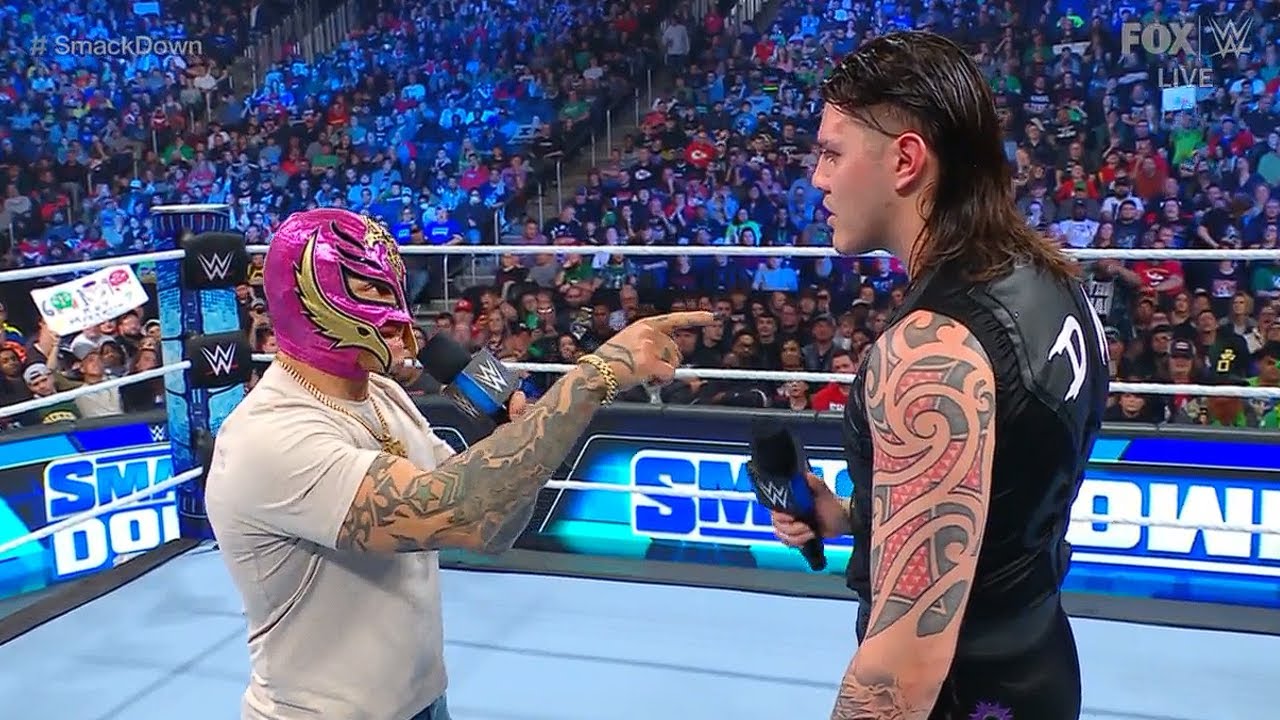 Chris King is here with what WWE should do with Dominik Mysterio at WrestleMania in his long-awaited match against his father Rey Mysterio Jr. 
On this week's episode of Friday Night SmackDown, Rey Mysterio finally snapped and beat some sense into his disrespectful punk-ass kid Dominik. The member of the Judgement Day came out to push his father again for a match on the Grandest Stage of Them All, this time with his mother and sister at ringside. The ungrateful punk told his mom to "Shut Up," as a father even I wanted to jump through the screen and whoop his ass.
Back in October of last year, Mysterio made the emotional decision to possibly quit the company but, instead, Triple H persuaded the Lucha libre superstar to move over to SmackDown to avoid his son. This came after Dominik shockingly turned on his father at Clash at the Castle. Mysterio did everything he could to refuse his despicable son's challenge for Mania but, a man can only be pushed so far. Mysterio will be inducted into the 2023 WWE Hall of Fame and I expect Dominik to embarrass his father during his speech to further this personal feud.
Yes, the WWE Universe hates Dominik and wants to see him get the ever-loving crap kicked out of him but, this feud is missing a special ingredient to capitalize on the biggest heat possible. Throughout this feud, Dominik has made mention of the legendary Eddie Guerrero on several occasions going back to the "iconic" 2005 feud.
I know WWE might not want to go this route but, Dominik MUST come out to Eddie Guerrero's theme at Mania. The disrespectful punk needs to come out in a lowrider to garner nuclear heat. It doesn't matter if The Judgement Day comes out and causes interference for Dominik to get the win, all that matters is that both superstars get the biggest payoff of this nearly year-long feud. Just imagine the Roman Reigns heat after he defeated The Undertaker and multiply that by ten. Dominik portrays the perfect heel and he truly is the missing ingredient that The Judgement Day needed to grow and evolve into a top faction.