Greg DeMarco's WWE NXT Star Ratings & Review (3/13/19 edition)
Two great matches, and three great storyline developments. That's good TV!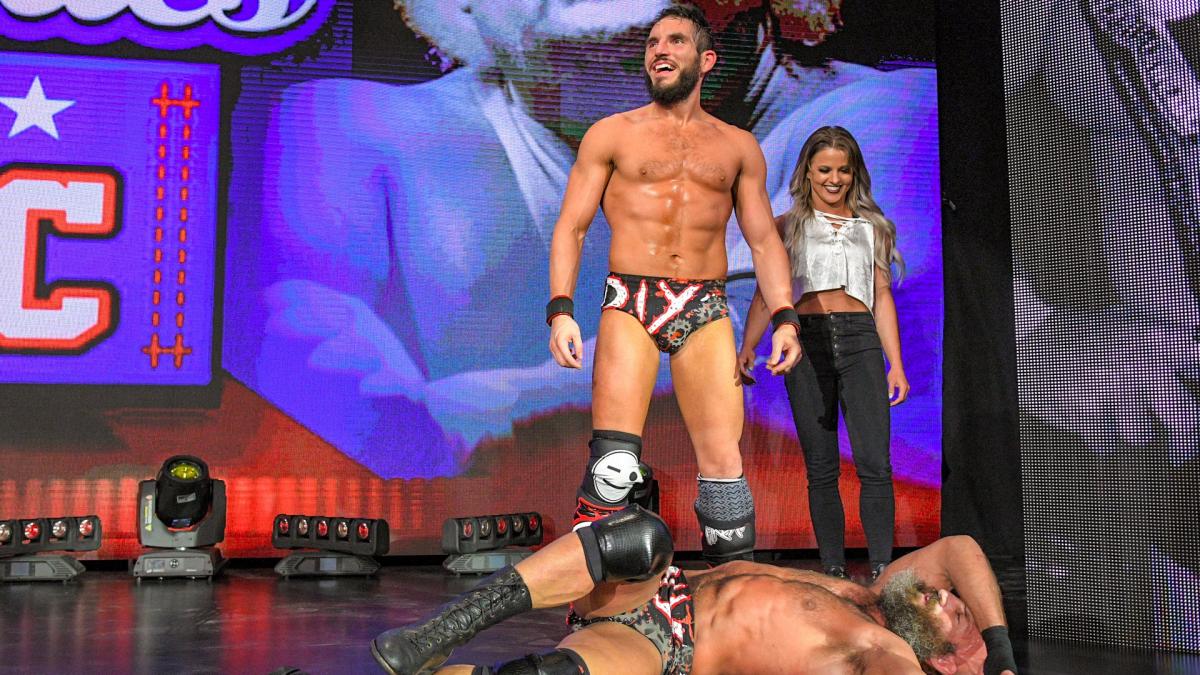 Greg DeMarco takes you inside a blockbuster edition of WWE NXT as we have the semifinals of the Dusty Classic and more!
We have quite the edition of WWE NXT here, with three major matches and almost no filler! NXT sometimes finds themselves in a rush to get to Takeover, but in this case I'll take it.
Dusty Rhodes Classic Semifinal Match: The Forgotten Sons (Wesley Blake & Steve Cutler, with Jaxson Ryker) vs. Moustache Mountain (Trent Seven & Tyler Bate) – ***1/4
Moustache Mountain have to be two of the most likable wrestlers on any WWE brand. You can legitimately imagine hanging out with them at a bar (where they will drink you under the table).
This tournament is tailor made for The Forgotten Sons, who could be huge with a win. Granted, the same can be said for The Street Profits and Marcel Barthel & Fabian Aichner–all who lost in the opening round.
Ryker putting Blake's foot on the rope to break up a pinfall is so old school–I love it.
Still wonder why this can't be Blake & Murphy on the main roster.
Led by some heel shenanigans, The Forgotten Sons win and head to the finals.
#1 Contender's Match: Io Shirai vs. Bianca Belair – ***
Side note: Shayna Baszler on commentary is fantastic. "One's a nobody from Japan, and the other I've already beaten."
Shirai and Belair, along with Kairi Sane and Mia Yim, are revitalizing and basically reloading the NXT Women's Division.
Belair is a great example of a "fighter," a WWE character who isn't a face nor a heel, and it works. Shirai, of course, is a mega-babyface. I don't need to tell you Baszler is a heel…and one of the best in the business.
Great match was going before Baszler got involved, bringing Kairi Sane out as well. It all made sense, and I am fine with it.
Side Note: I kinda love Dominik Dijakovic trying to fight Keith Lee in a Performance Center ring. When you want to fight someone–when it's become personal–it doesn't matter where. Nice touch.
Dusty Rhodes Classic Semifinal Match: Black Flash (Aleister Black & Ricochet) vs. #DIY (NXT Champion Tommaso Ciampa & Johnny Gargano) – ****
DIY wearing matching tights, and having a new Titan Tron video is such a great touch.
Ciampa clutching Goldie while looking at Gargano, who "knows what he's doing" is a level if deep subtlety that you just don't see anymore. That's Ole Anderson level shit.
I do need to point out that this is typical for WWE tag teams, meeting the requirements of Patrick O'Dowd's Vicious Cycle Of WWE Tag Team Booking.
It wasn't that long ago in WWE where this would have been the obvious TV main event two weeks before Takeover Phoenix.
Ricochet looking at Aleister Black as to make sure it's okay that he's sitting next to him in the ring? Another great touch.
Tommaso Ciampa applies the best chinlock in WWE today. Yes, this is a real thing. Randy Orton would be proud.
Actually, Ciampa has stolen a good bit of his act from Randy Orton. Don't @ me.
Gargano gets hurt, and Ciampa has to go it alone. This, of course, is a throwback to Takeover: Chicago, when Ciampa got hurt…and we all know what happened there! (Ciampa turned on Gargano.) It's coming.
It took two finishers after a 2-on-1 advantage to pin the NXT Champion. That's how it should be.
Black Flash wins, and they'll face The Forgotten Sons in the finals. If you know anything about WWE booking, you know this ends up. #SaveTagTeamWrestling
The post-match developments with Gargano and Ciampa were nothing short of brilliant. I am not mad that Ciampa ended up hurt, at least in terms of the storyline. I'd give the show ending segment five stars, easy. A small detail is Ciampa tossing the NXT Championship–something he's obsessed with–aside for it, showing that he has one obsession bigger than Goldie. Gargano's smile when he stopped Ciampa's turn–brilliant.
The whole thing–brilliant.
I know we don't get Gargano vs. Ciampa at Takeover: New York, and I am okay with that. They can revisit this down the road on the main roster. For now, I see it as a satisfying ending.